One minute Instant Pot Curried Quinoa Pilaf - Pulav is my recipe for a go-to weeknight dinner. Well, I am sure that you knew that you could make quinoa in 1-minute in your Instant Pot, but did you know you could make a complete meal in 1-minute? Yes, one minute is what it takes for this yummilicious dish. This nutritious fare is vegan and gluten-free. Total winner!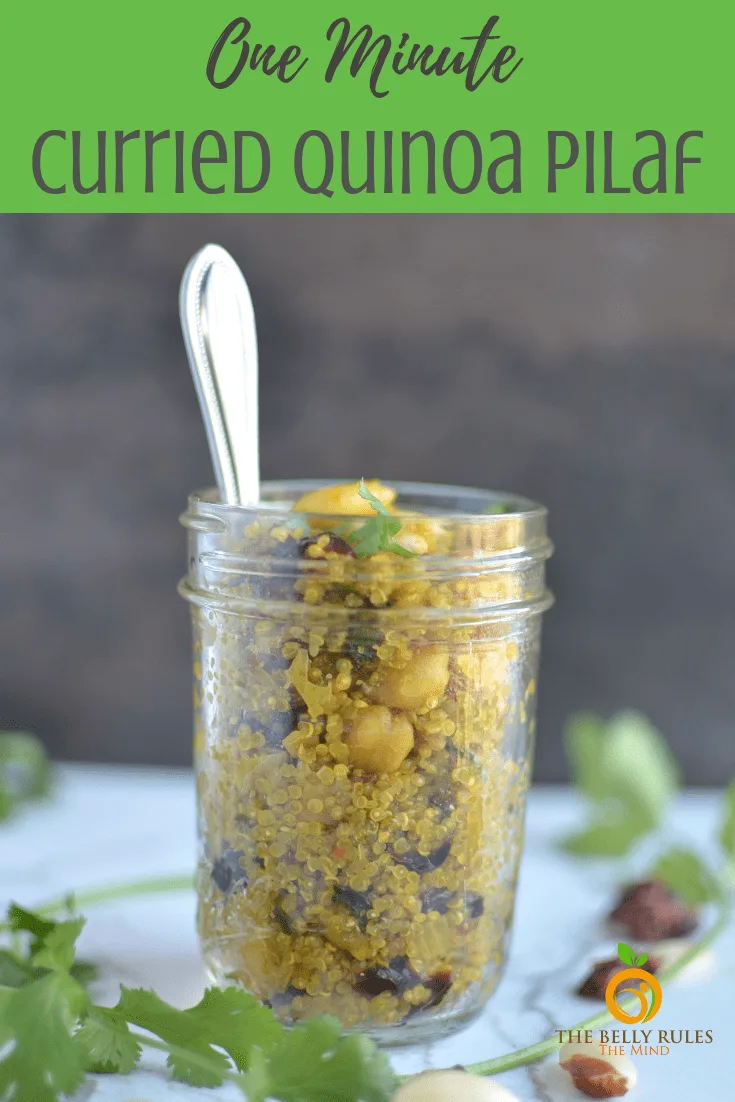 With resolutions of healthy eating, you do not want to stay in the kitchen thinking about what to make and then spend time making it. Eating healthier does not mean you cannot eat tasty food. This flavorful Curried Quinoa Pilaf will make you fall in love with Quinoa. It probably one of the best recipes to have someone try Quinoa. It cannot get easier than this awesome One minute Instant Pot Curried Quinoa Pilaf.
Quick and Easy One Minute Quinoa Pilaf
Who doesn't love simple hassle-free cooking, especially when it comes to weeknight dinner? My life is becoming more and more hectic with after-school activities of both my kids & the Blog. I would not want to compromise on eating healthy and preparing homemade food for my family. I am leaning towards one pot meals that are fast, healthy and satisfying. This one- Minute Instant- pot curries quinoa pilaf/ pulav is healthy has wonderful flavors and packed full of healthy ingredients. Quick to assemble, it's perfect for taking to work for lunch or enjoying as a versatile side dish.
Easy Instant Pot Recipe and we love it
If you have not fallen in love with your instant - pot yet we will give enough reasons AKA easy, delicious instant pot recipes to fall in love with it! You love how quickly it cooks so many things, and how care-free it is. No stirring, no checking in short no babysitting!! And if it finishes early it just automatically keeps things perfectly warm. This is the age of Instant- Pot. If you are not comfortable using the Instant pot, we would highly recommend reading Mastering the Instant Pot in 3 Buttons to get a quick overview of the features you can use for preparing most recipes.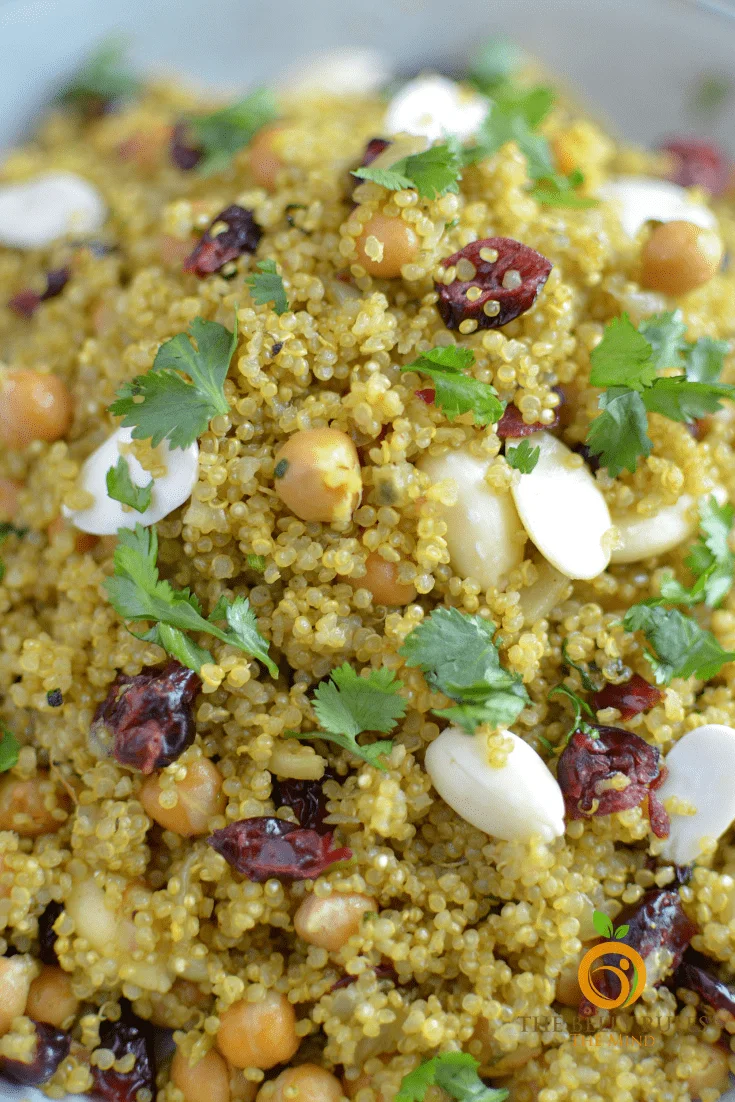 This curried quinoa Pilaf/Pulav with chickpeas is a filling vegetarian dinner that's topped with dried cranberries and almonds for a warm, hearty bowl of delicious! It is a perfect Meatless Monday meal. This pilaf is perfect as a light lunch or as a side with dinner. My husband took it to work with him for lunch two days in a row with deliciously awesome tasting homemade yogurt and loved it. I LOVE one-pot wonder meals, and the Instant Pot makes it all so fast and simple to feed the family healthy meals.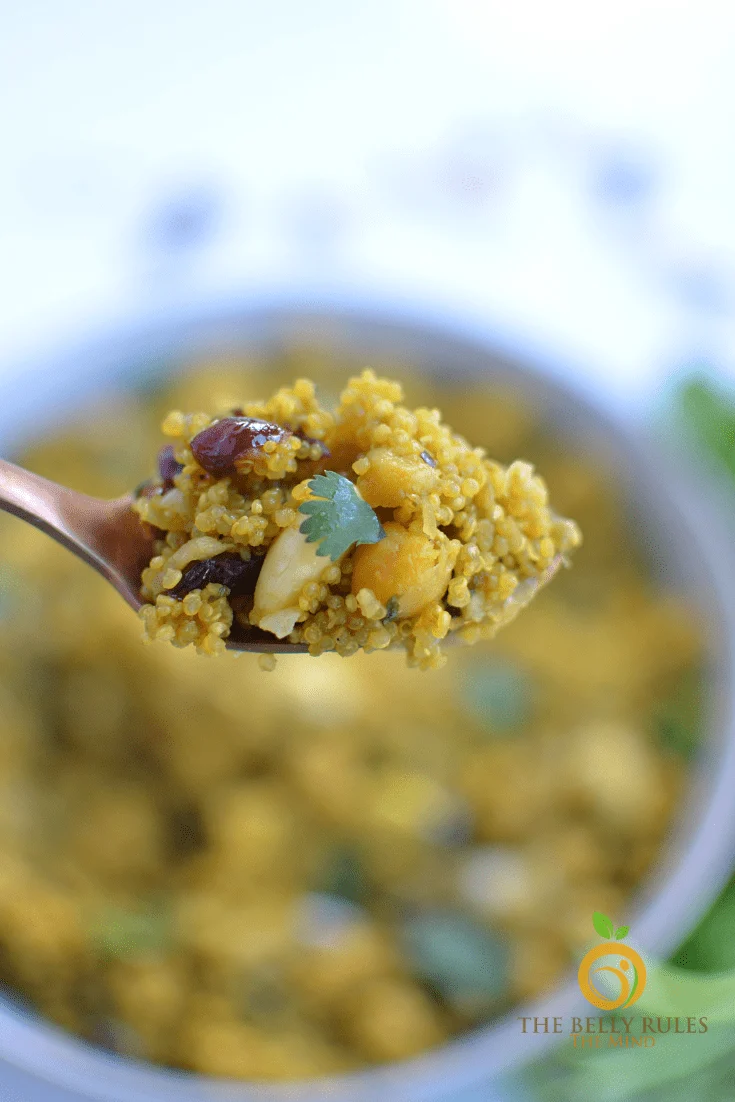 Benefits of key ingredients of this Quinoa Pilaf - Pulav
An easy, healthy lunch/ dinner with nutty, moist, creamy golden Quinoa. Flavorful, filling, and great leftover too! The pressure cooker makes this simple recipe fast to make and completely hands-free! The key ingredients of the Quinoa Pilaf recipe are stars on their own and take it to the next level when they come together. Given below are some quick benefits of the ingredients.
Quinoa: As you all know is a Super Grain and I love to incorporate in it my family diet once a day. It's high in fiber, high in protein and light on the tummy. Quinoa also contains heart-healthy fats and folic acid. Checkout our other Quinoa Recipes
Chickpeas: Chickpeas, also known as garbanzo beans, are part of the legume family. They are high in vitamins, minerals, fiber, and protein. Due to the high protein content, they are perfect alternatives to meats and are used quite frequently in vegetarian and vegan meals. Check out our other Garbanzo Bean Recipes
Cranberry: Cranberry contains anti-oxidants which help in slow aging. Cranberry contains more anti-oxidants than blueberry and it is one of the top sources for anti-oxidant. Check out our other Cranberries Recipe
Almonds: Almond is considered a 'superfood' due to the presence of a high amount of nutrients in it. It also contains a lot of anti-oxidants that is concentrated in the brown skin. You get vegan milk made out of almonds. Check out our other Almonds recipe
Turmeric: Turmeric also known as Haldi in India is known to be an Ayurvedic superfood. Back home in India, it's a home remedy for cold and cough, Anti-Inflammatory effects, Antiseptic effects and Boost Immunity. As they say In India, there is a Haldi doodh for every ailment.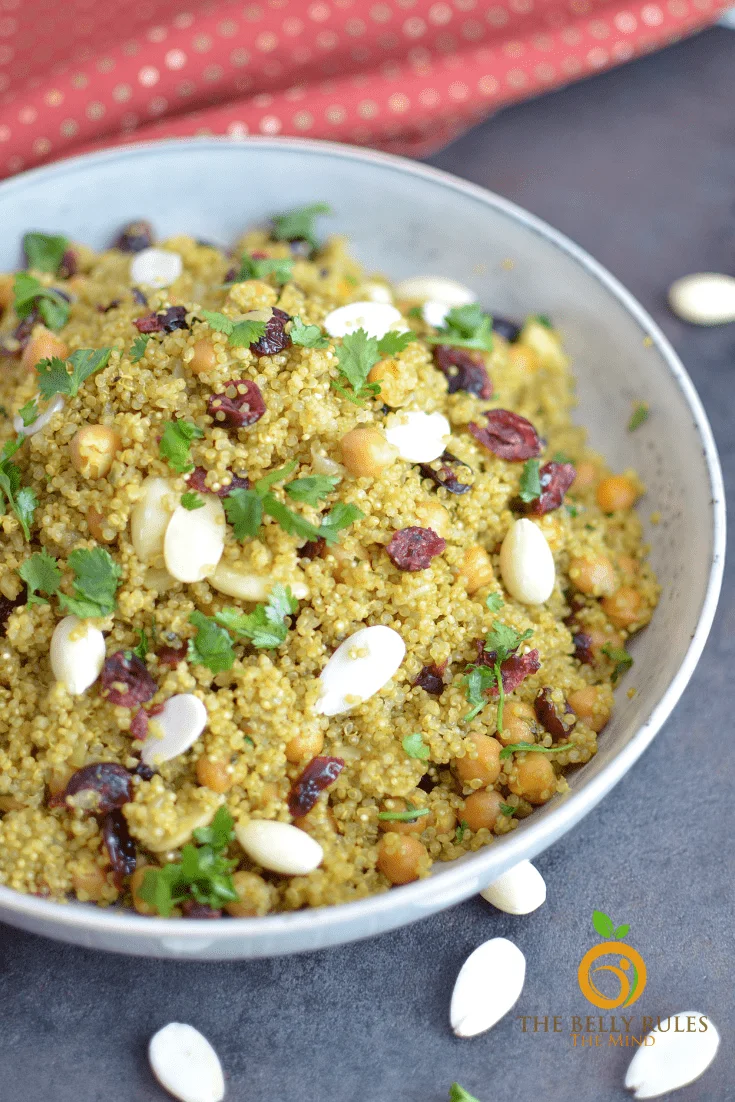 Serving Curried Quinoa pilaf/ pulav
No matter how you prepare it, the spices, sweet elements, and earthy quinoa really go great together. Did I tell you that this one minute instant pot curried pilaf/ pulav recipe is VEGAN, no butter/dairy or meat products used. However, I enjoy it with a glass of salted buttermilk to balance the warmth of spices. My hubby like it with homemade yogurt cucumber relish.
It is best served warm or at room temperature. If serving the next day, keep refrigerated, then bring to room temperature before serving.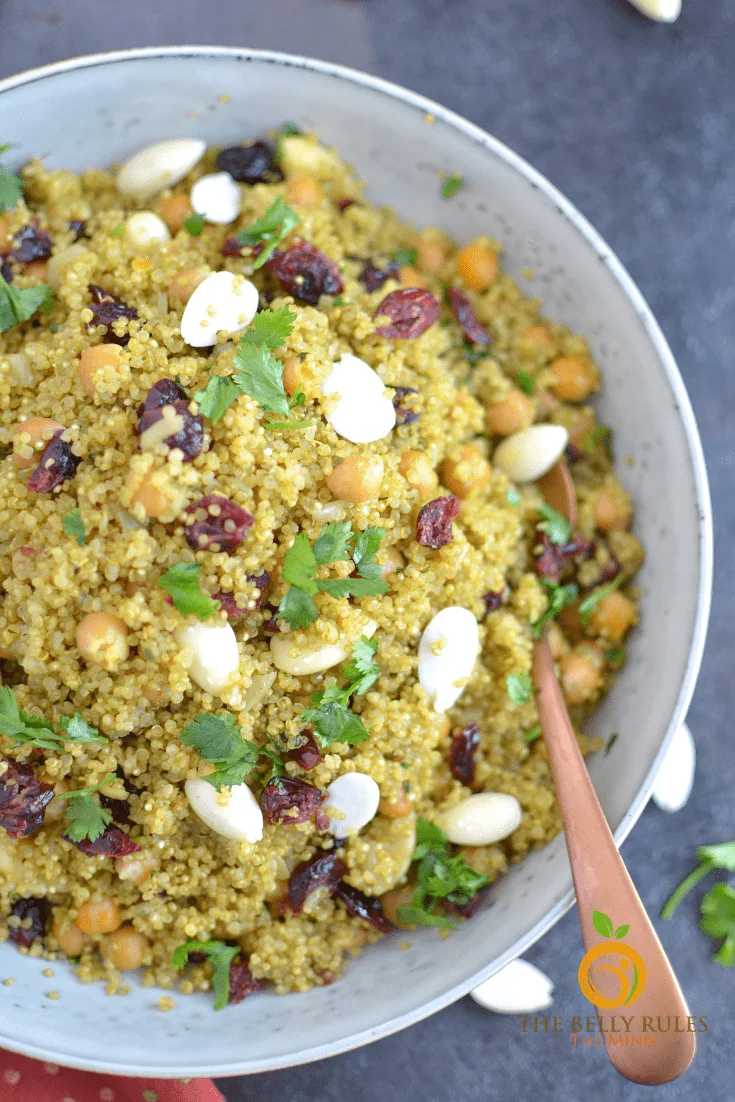 What Chickpeas / Garbanzo beans should I use?

As Quinoa cooks in under a minute in the instant pot, you need to add pre-cooked chickpeas to the recipe. You can use canned or homemade boiled chickpeas. Also, you can replace chickpeas with cooked cannellini beans too!
Is this Quinoa Pilaf / Quinoa Pulav recipe freeze friendly?
Yes, you can freeze it up to 3 months in one-time use portions. Simply thaw in the fridge overnight or over the counter.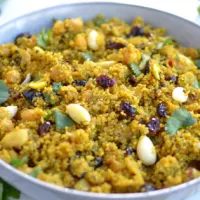 One minute Instant- Pot Curried Quinoa Pilaf- Pulav
Additional Time:
10 minutes
One minute Instant Pot Curried Quinoa Pilaf - Pulav is my recipe for a go-to weeknight dinner. Well, I am sure that you knew that you could make quinoa in 1-minute in your Instant Pot, but did you know you could make a complete meal in 1-minute? Yes, one minute is what it takes for this yummilicious dish. This nutritious fare is vegan and gluten-free. Total winner!
Ingredients
½ tablespoon Olive oil (for plant-based, saute your onion in vegetable broth)
1 large yellow onion / diced
½ teaspoon turmeric powder
½ teaspoon cumin powder
½ teaspoon Red chill flakes
1 teaspoon Curry powder
salt to taste
2 cup uncooked quinoa/washed
2.25 cup vegetarian broth (or water)
1 (15 ounce) can chickpeas, rinsed and drained
½ cup dried cranberries
1/4 cup cilantro/ chopped
½ cup almonds/ soaked and peeled
Instructions
Wash and rinse Quinoa.
Press SAUTE mode on the Instant Pot.
When the message HOT pops on the screen add olive oil .
Add in onion and sauté for few mins.
Add in Turmeric powder , Cumin powder, Curry powder,Red chill flakes , salt to taste and stir it nicely .
Add in the washed uncooked Quinoa and 1 can of cooked chickpeas.
Stir it well and add the water in the pot.
Close the lid and make sure the vent is set to closed. Push the manual button, make sure pressure is on HIGH and reduce time to 1 minute.
While the pot comes to pressure and cooks, peel the soak almonds and and chop some cilantro.
When the pot beeps several times it has finished cooking.
Do not open the lid and allow the pressure to release naturally over about 10-15 minutes.
You will know it is ready when the pin to the side of the pressure valve drops.
Open the lid add in the peeled Almonds , Cranberries and chopped cilantro .Mix well.
Serve warm or cold topped with more almonds slices.
Notes
Follow the steps below to easily peel the almond skin
Place your raw almonds into the boiling water. Let them boil for exactly one minute.
Drain the almonds immediately in a colander and rinse them with cold water to cool them.
You'll notice that the skins will be slightly shriveled.
Use your fingers to gently squeeze or pinch the almonds and loosen the skin they will pop out very easily