This Easy Vegetarian Instant Pot Tortilla Quinoa Soup Recipe has all the flavors you'd expect in a Mexican inspired soup! It is a delicious vegetarian, gluten-free version that is filled with fiber and protein – make it for a busy weeknight dinner or enjoy it as your weekly meal prep! This recipe requires just a few ingredients and an instant pot to make.
Fall is one of the most beautiful times of the year in Virginia, and traveling throughout the state during this season can reveal an abundance of color as it is getting cooler outside and its perfect time to make some delicious soups in your Instant Pot. Let me tell you a secret I love soup year-round, so if it's warm, raining, snowing, soups are perfect comfort bowl of goodness!
Vegan & Vegetarian Tortilla Soup Recipe Video
What is tortilla soup made of?
Tortilla soup is a common Mexican soup served in most restaturants and usually has a base of tomato or chicken. This Vegetarian version of the tortilla soup is warm, tasty and full Of Beans, Corn, Spices, Quinoa And Of Course – Tortilla Strips On Top! You're Going To Love This Hearty, Delicious Soup That Can Be Enjoyed All Year Long – Especially In The Fall! You can add jalapenos, lime and cilantro, and whatever else you'd like to add based on your preference.
Like most pressure cooker recipes, this Tortilla Soup is ridiculously easy, so it's a great meal to prepare when you know you can't give your full attention to the stove ;) This is a peoples' soup LAZY or BUSY. This tortilla soup is vegetarian, has a good amount of heat, a smoky flare, some quinoa for heartiness, and the best toppings ever.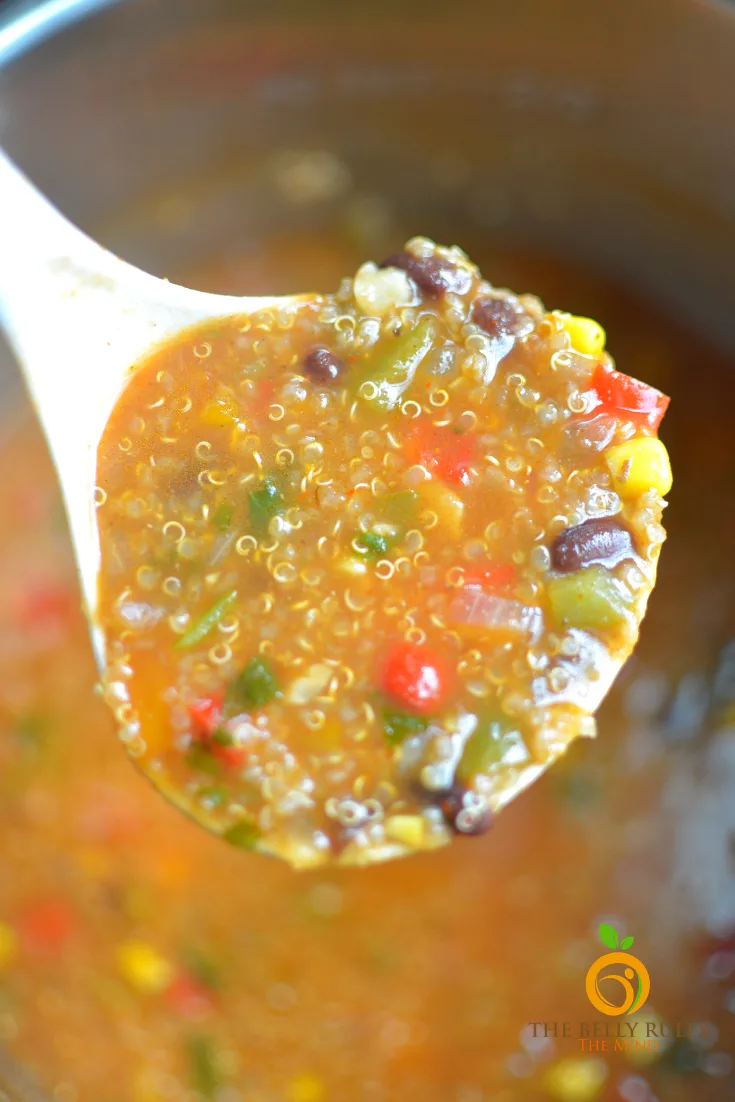 Quick,Easy, and Super Tasty Tortilla Soup in under 10 minutes
This Instant pot soup is super flavorful yet minimally prepped soup that can be thrown in the Instant pot and its ready to eat in under 10 minutes. This Instant pot Quinoa Tortilla Soup also happens to be vegetarian and healthy so whether it is Meatless Mondays, perfect fall weather, or soup season this soup is perfect.
This soup is a favorite in our home. We make it at least 2 times a month, if not every week. whenever I make this soup I double the recipe because everyone asks for leftovers the next day A simple combination of vegetable broth, onions, garlic, fresh jalapenos, lots of cilantro, and a few basic spices. AND it makes a great school lunch or office lunch!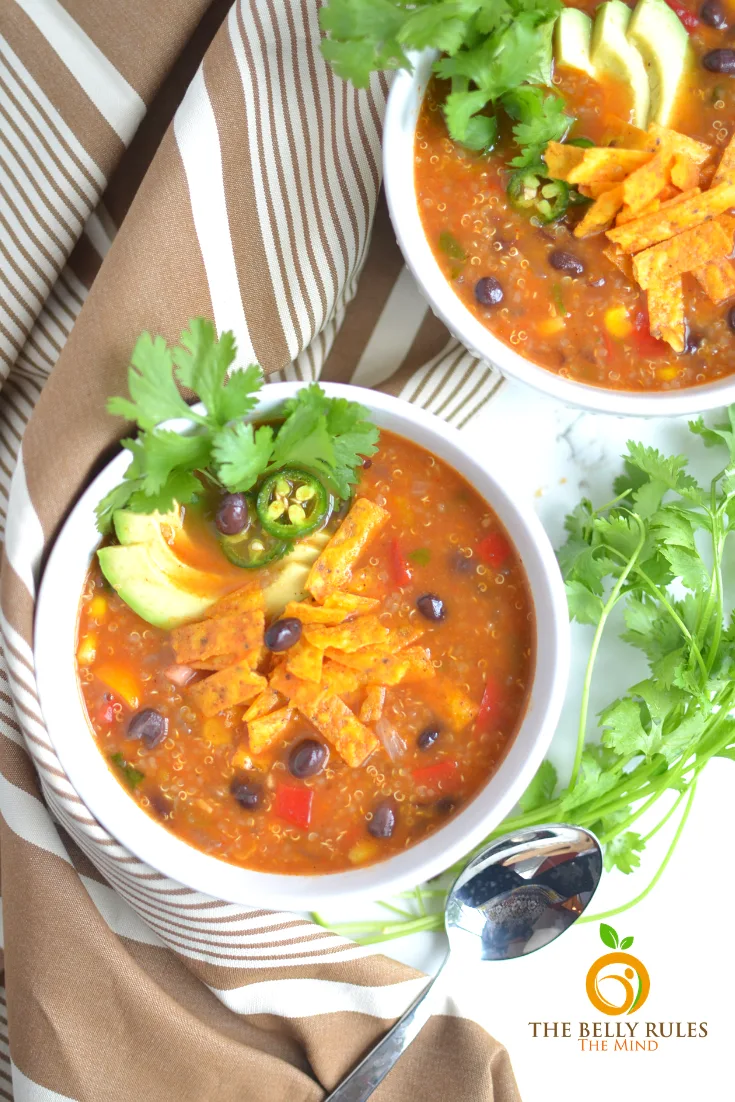 Use your favorite toppings to take this recipe to the next level
This is an easy recipe to add to your weekly meal rotations! This Vegan Tortilla Soup recipe is healthy, filling, and family-friendly! No fancy ingredients…simple, yet delicious, making it the best tortilla soup you've ever had. With any tortilla soup, it's all about the toppings. I like to add crushed tortilla chips, sliced avocado, cheese (optional), and maybe even a dollop of sour cream or greek yogurt. Oh, and some fresh cilantro too.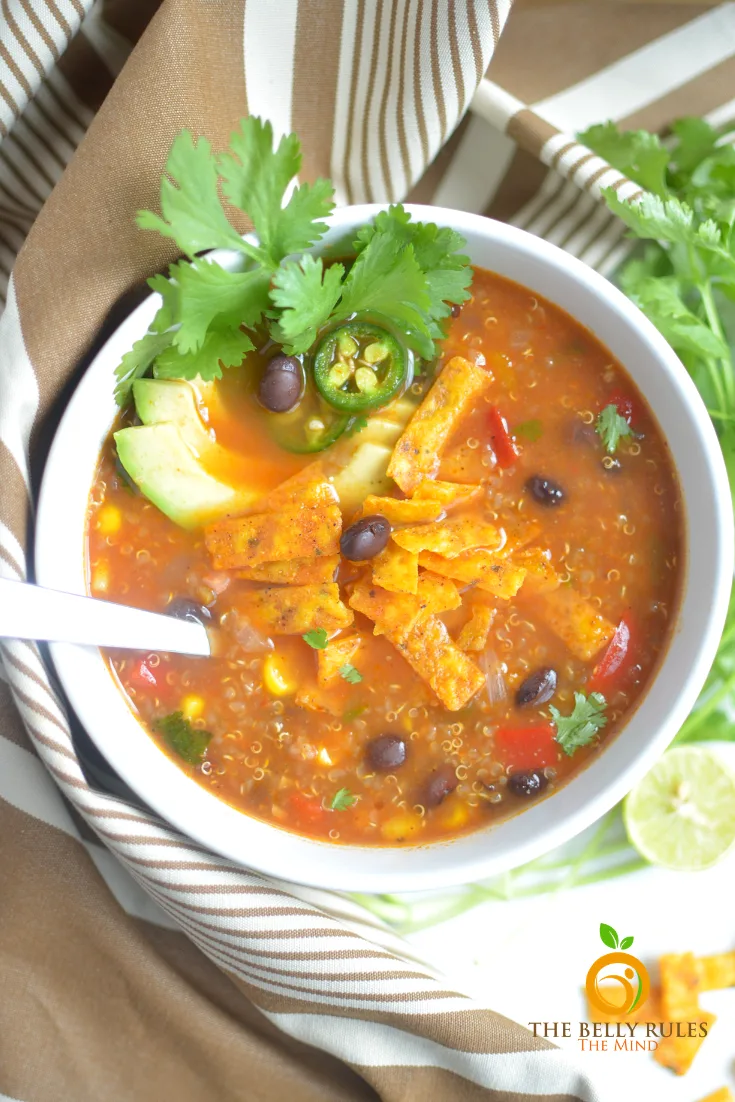 How do you prepare Tortilla Quinoa Soup?
Can we talk about how EASY this soup is to make? It's all made in the instant pot or your pressure cooker!
Put everything in the Instant Pot. Mix it all together to combine.
Then cook for 3 minutes.
If you haven't jumped on the quinoa train yet, you're seriously missing out. It is actually a seed. It is also gluten-free, a complete protein and a nutritional powerhouse. It's little wonder why it is being called a superfood. Do checkout more quinoa recipes from our blog

IT'S ALL ABOUT THE TOPPINGS!
My family loves this soup and I promise -You're going to love this soup too! I promise.
We love to make this soup when we have friends or family coming over for dinner. It makes a lot of soup and you can always double the recipe if you need to make more servings. It's great to serve for a crowd because everyone can just ladle themselves a bowl of it and top it with whatever toppings they'd like. We like to do sour cream, tortilla strips, avocados, cilantro, cheeses, etc. This soup is also awesome the next day. Tastes just as great as leftovers!
Get your kids involved and let them cut the corn tortillas with a pizza cutter into any shape they want before baking in the oven or air fryer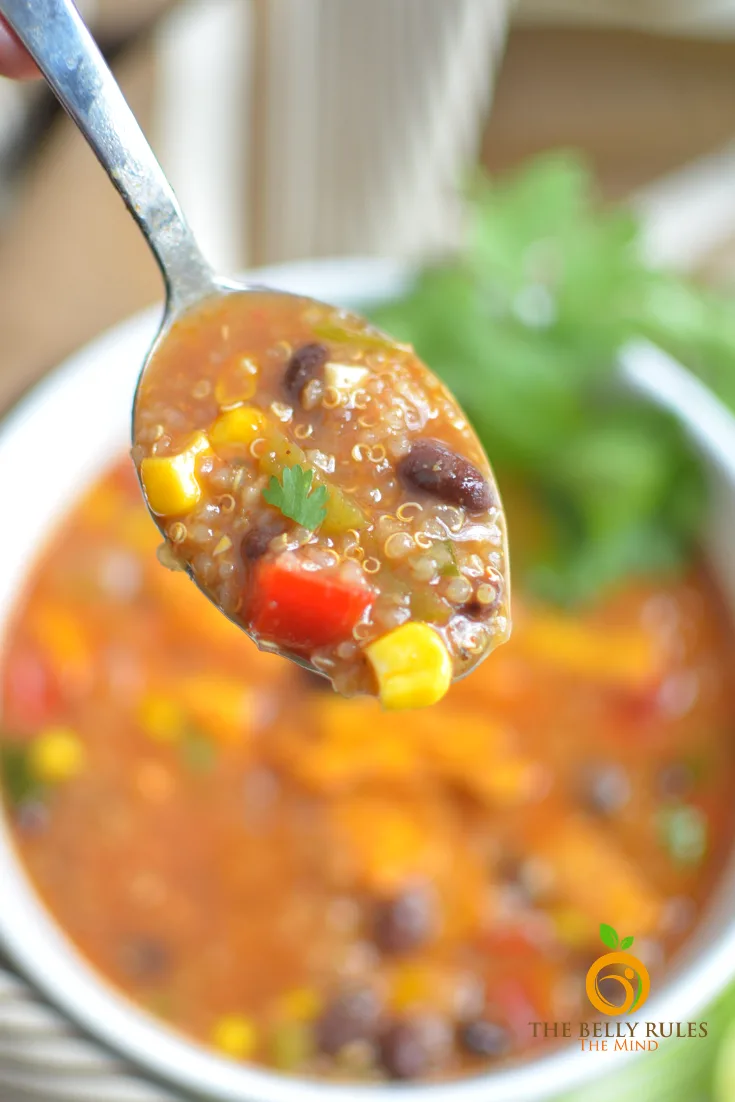 Customize to your choice
I believe soups are one of the easiest recipes to make for people of any cooking level. Mostly because you really can't go wrong. Even if the measurements aren't 100% perfect, there's a pretty good chance your soup will turn out good anyway. It's a great vegetarian and vegan option for families on a budget. Keep it vegan by omitting the optional cheese and sour cream toppings or use dairy-free and vegan substitutes.
HOW TO STORE TORTILLA QUINOA SOUP
This soup will last for about one week in the fridge, though you can also freeze it! Store in individual portions in an airtight container or freezer-safe baggie. When ready to eat, simply reheat in the microwave or on the stove.
TIPS & TRICKS
Don't skip the little squeeze of lime juice into your bowl, it really adds the next level to the soup
You could easily make this soup on the stovetop or the slow cooker, just cook until the Quinoa is cooked ( fully bloomed)
This would pair well with my easy Mexican Rice
Are you a big fan of soups? Try out these falvorful super tast soups prepared in an instant pot

Are you a foodie that loves Mexican Food? Look no further and try our super tasty Mexican Recipes
Cauliflower burrito bowl
Sounds good to you? If you make this recipe, Don't forget to come back and leave your feedback and star rating. We would be THRILLED if you would take a pic and tag us on Instagram @dbellyrulesdmind or Facebook @thebellyrulesthemind
Instant Pot Tortilla Quinoa Soup
This Easy Vegetarian Instant Pot Tortilla Quinoa Soup Recipe has all the flavors you'd expect in a Mexican inspired soup! It is a delicious vegetarian, gluten-free version that is filled with fiber and protein – make it for a busy weeknight dinner or enjoy it as your weekly meal prep! This recipe requires just a few ingredients and an instant pot to make.
Ingredients
2 teaspoon olive oil ( skip If you want the recipe plant- based)
1 medium yellow onion, diced
3 garlic cloves, minced
1 bell pepper, diced
2 tablespoon tomato paste
7 cups low sodium vegetable stock
3/4 cup white quinoa, rinsed and drained
1 can black beans, drained and rinsed
2 teaspoon smoked paprika
1 cup cooked corn kernels, fresh or frozen
salt to taste
1 tbsp taco seasoning
juice, 1 lime
1 tsp cumin powder
optional: 1/4 teaspoon cayenne pepper, or more for extra spicy
1/2 cup fresh cilantro, chopped
2 cups Tortillas chips
For garnish
avocado, tortilla strips, cilantro, green onion, or toppings of choice
Instructions
Instant pot instructions
Press Saute . When hot add olive oil, onion, garlic, bell peppers , black beans, corn and tomato paste , all the seasoning , vegetable broth and quinoa to Instant Pot .
Close the lid.Cook on high pressure for 3 minutes, then do a quick release of the pressure.
Stir and add cilantro , lime juice Ladle into bowls then top with crispy tortilla chips ,jalapeno, cilantro and avocado. Serve and enjoy!
Stove top Instructions
In a large pot over medium-high heat, add olive oil.
Add in yellow onion and saute until translucent (about 3-4 mins).
Put garlic cloves and cook for 1 more minute.
Add in bell pepper and cook for another minute.
Top with diced tomatoes, vegetable stock, quinoa, black beans and corn.
Add in spices and bring soup to a boil.
Once boiling, cover with lid and simmer for 20 minutes.
Remove lid and simmer for an additional 20 minutes.
Top with lime juice, cilantro and cayenne if using.
Add to bowls and sprinkle with toppings of choice.
Recommended Products
As an Amazon Associate and member of other affiliate programs, I earn from qualifying purchases.