Instant- pot Meal prep Quinoa burrito bowl is a healthy twist to a popular Mexican takeout favorite. Its made easily in the pressure cooker/instant pot in under 1 minute! Easy to customize and perfect for busy weeknights. This quinoa burrito bowl recipe is loaded with flavor and packed with protein, fiber, and good fats and it's perfect for healthy meal prep/ lunch-box idea! Come fall in love with this Instant pot Quinoa Burrito Bowl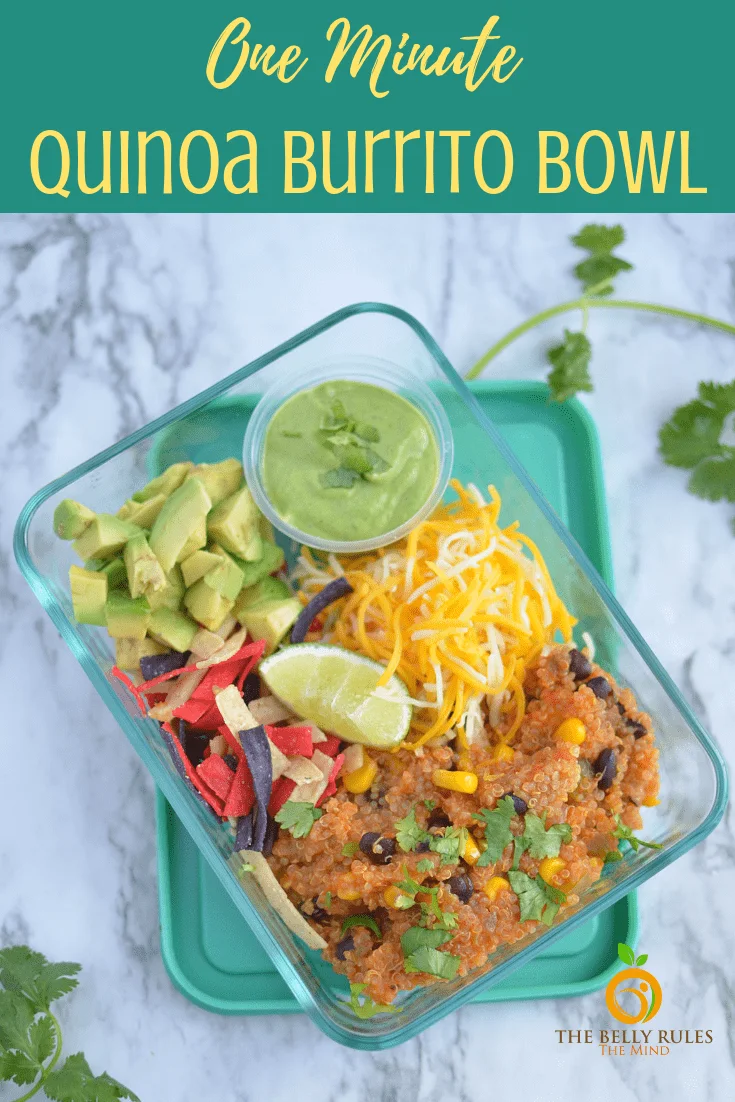 Quinoa Burrito bowl video recipe
Quinoa Burrito bowl recipe is an excellent meal-prep recipe
Eating healthy does not have to be difficult if you know the secret of meal prep! This is exactly what I'll be needing/ eating to help me reset after the holiday season! This Quinoa burrito bowl is packed with all my favorite healthy foods, and it's the perfect meal prep/lunch box idea. Kids love it in their lunchbox and an empty lunchbox is what every parent wants to see. The Instant Pot Meal Prep Quinoa Burrito Bowl is a delicious one-pot option for work week lunches – all you need is Quinoa and fresh or frozen veggies for it to taste like your favorite chipotle takeout!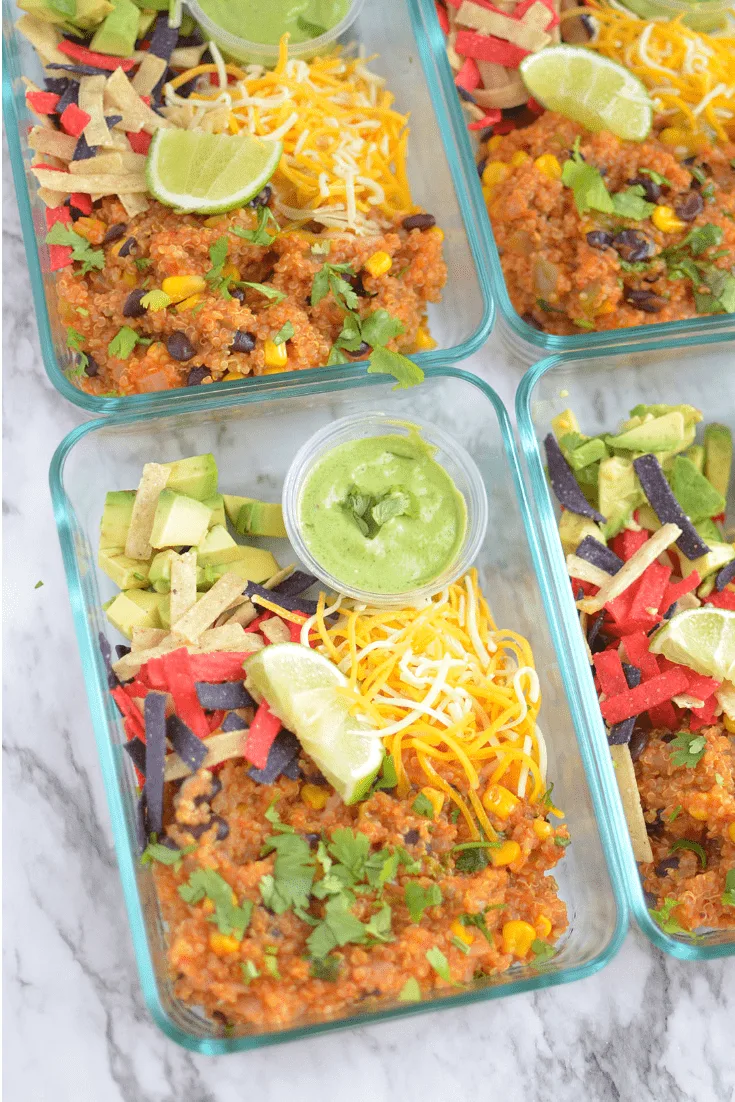 Healthy Quinoa Burrito bowl is what you need for a takeout fakeout!
The burrito bowl is a big favorite at our house. We love a good takeout fakeout at home. It's so much tastier and healthier than what you can get at the local Mexican restaurant. Both my boys and even my hubby is crazy about it so we are giving it a healthier touch to this easy we can enjoy it more often at our house. This recipe is definitely one of my go-to it's filling, has all your veggies, superfood grain its all in one and is just bursting with flavor without even compromising on the health factor either! This Instant Pot quinoa burrito bowl has all those classic flavors of our burrito bowl recipe!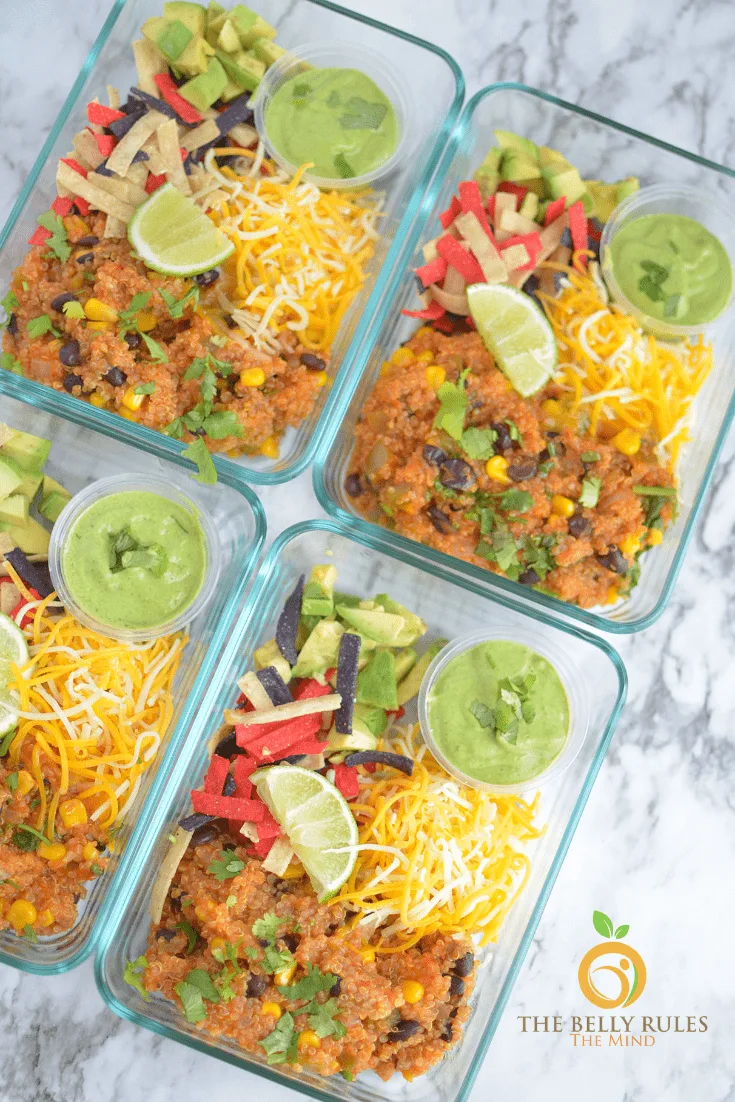 The Quinoa Burrito Bowl recipe gets easier with an instant pot/pressure cooker
Do you guys have an Instant Pot? It is my all time favorite kitchen gadget right now. Honestly, I can't rant enough about my Instant Pot in terms of how helpful it's been with meal prep. You literally dump everything in, cook 1 minute (not including the time it all comes to pressure) and then divide it all up. We had shared the instant pot method of making the traditional burrito bowl with rice and wanted to try something healthier than that. The experiment to make this Quinoa Burrito bowl was done multiple times to ensure we get it perfect and an awesome recipe with a healthier twist with minimal efforts was created. This Instant Pot quinoa burrito bowl is like a regular burrito bowl with all your favorite tex mex toppings – and it's perfect to take for lunch in some meal prep bowls!
Plan your week's recipes and include this wonderful Quinoa Burrito Bowl
I love meal planning, not to mention meal prepping. It's just something I have done since I learned cooking from my mom and its a habit now. It eases out the pain of evening dinner and planning for a lunchbox. I would plan meals for our family for five days or one week at a time. I learned the value of dedicating quality time to meal planning for one full week at a time. It takes some effort to plan a menu, but once you have it and grocery list, your mornings and evenings are less stressed. NO more making quick runs and asking hubby to get stuff from the grocery store ;)
This bowl checks all those boxes. Everything cooks together in the Instant Pot. Portion it into the container of your choice. Top with all of the best things. And that's it. You're done! We're talking 15 minutes start to finish and your fridge is stocked with healthy lunches for the week. BOOM.
The flexibility of this recipe makes it extra budget-friendly!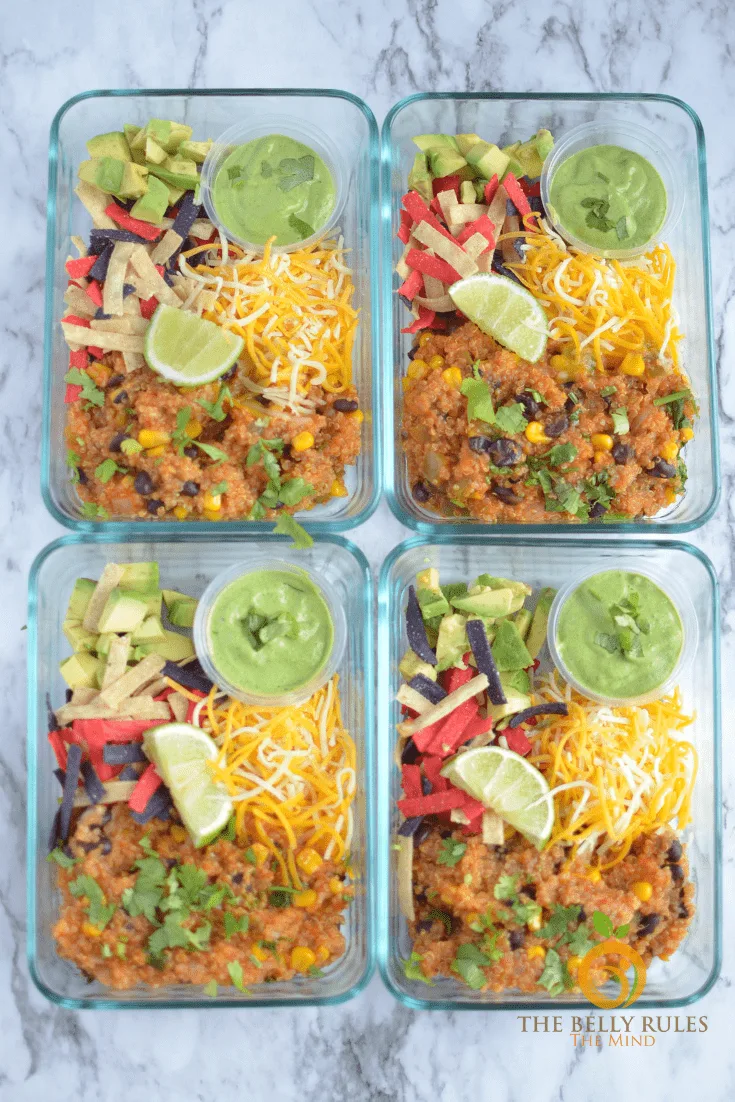 What can you serve with this Instant Pot quinoa burrito bowl?
You can top off the yummylicious burrito bowl with the 5 minute Avocado cilantro dressing, tomatillo salsa verde, fresh mango salsa, roasted salsa, cheese, Tortilla chips, lettuce, lime/ lemon, sour cream. The possibilities are limitless, you can add your favorite topping. Do share in the comments section what other toppings do you usually love.
What is the serving size for the provided measurements? Can you double the servings you are preparing?
I created this quinoa burrito bowl meal prep recipe to make 4 moderate sized meals, but this recipe can easily be doubled if you want to make more meals or bigger meals. You can even divide the ingredients in this recipe to make 3 bigger meals instead of 4 moderate sized ones.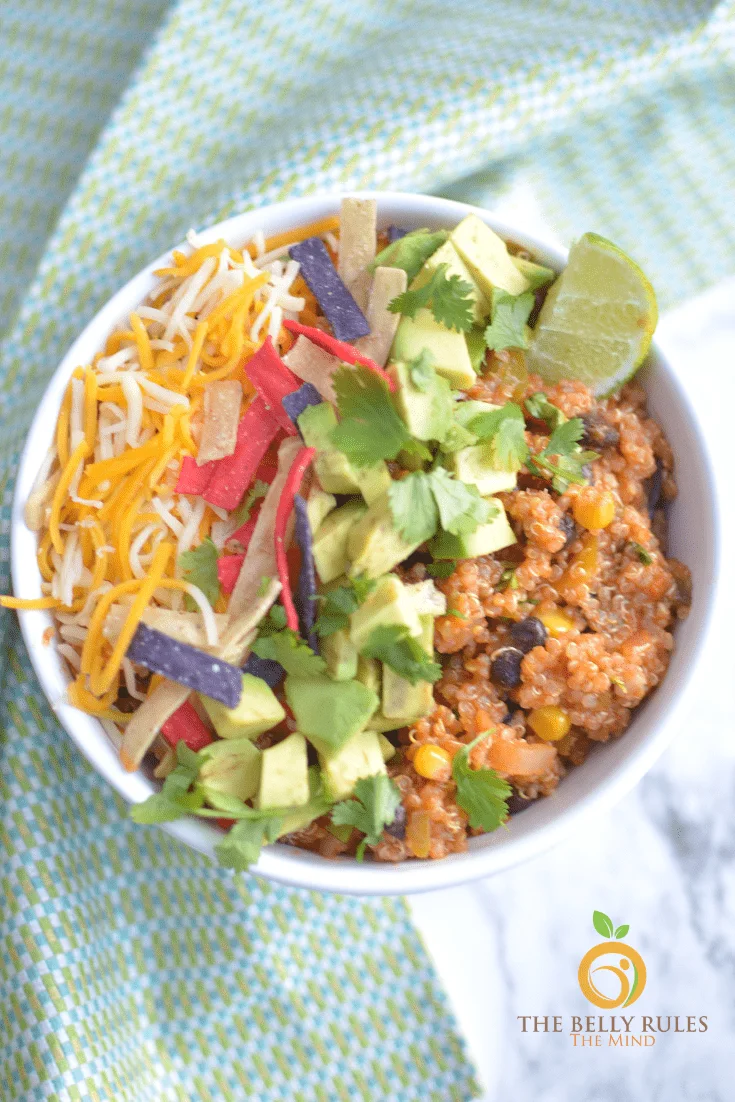 Quinoa Burrito bowl is a freezer friendly recipe
Yes, absolutely. This easy takeout dish would be great for Sunday meal prep. To cut down on time: The best part about these "bowls?" You can turn them into tacos or wraps – even collard wraps to keep it light or you can eat them with tortilla chips. Serving them in a gettogether on that mini tortilla scoop chips is another way to spice it up. You can easily customize this Instant pot Quinoa burrito bowl. You don't have a certain veggie on hand? Don't let it STOP you! Dump in some other veggie or whatever you have on hand already works. If you keep a well-stocked pantry and freezer like I do you are good to GO! I always keep my pantry stocked up with black beans/ kidney beans/ chickpeas. I always have Corn and Peas in my freezer so I am already halfway to dinner
Instant pot Meal Prep – Quinoa Burrito Bowl
Additional Time:
10 minutes
Instant- pot Meal prep Quinoa burrito bowl is a healthy twist to a popular Mexican takeout favorite. Its made easily in the pressure cooker/instant pot in under 15 minutes! Easy to customize and perfect for busy weeknights. This quinoa burrito bowl recipe is loaded with flavor and packed with protein, fiber, and good fats and it's perfect for healthy meal prep/ lunch-box idea! Come fall in love with this Instant pot Quinoa Burrito Bowl
Ingredients
1 tablespoon olive oil (or avocado oil)
1 green bell peppers
1 cup of frozen corn
1 yellow onion, diced
2 cup dry white quinoa
2 cup veggie broth or water (
1 cup salsa or 1 can diced tomato with chill
1 teaspoon chili powder / red chill flakes
1 teaspoon ground cumin powder
1 (14.5 ounce) can black beans, drained and rinsed
1 lime /cut in quaters
2 tablespoon cilantro/ chopped
salt to taste
Toppings ;
Shredded cheese / optional
Baked tortilla strips
Lettuce / optional
lime
Instructions
Hit the Sauté button on your Instant Pot
When the display says Hot, add oil to the insert.
Add onion to the IP and Green bell peppers and cook for 2 -3 minutes, stirring frequently.
Hit the cancel button on the IP to turn off the heat.
Add black beans, corn,quinoa ,salsa Salt to taste , taco seasoning , red chill flakes.
Stir well and add the vegetable broth or water stir to cover all the quinoa. Place the IP lid on, and make sure the steam release valve is sealed.
Set the IP to Manual or Pressure Cook for 1 minute. When it's done pressure cooking, let the pressure naturally release for 10 minutes, then open the steam valve to release pressure. Carefully remove the lid once the pressure is fully released and the pin has dropped.
Add cilantro and stir to combine.
To Assemble : Divide the quinoa burrito bowl into 4 meal prep containers (1/2 to 3/4 cup each). Cover and refrigerate for max 5 days.
To serve:Heat the bowl in the microwave for 2 minutes or until heated thoroughly. Place some baked taco strips , some shredded cheese, avocado cubes, lime and our avocado dressing
Notes
If your IP is giving you BURN message, do not add tomatoes when mentioned. Add everything else and add tomatoes at the very end. Do not stir after adding the tomatoes
Recommended Products
As an Amazon Associate and member of other affiliate programs, I earn from qualifying purchases.
Nutrition Information
Yield

6
Serving Size

1
Amount Per Serving
Calories

351
Total Fat

14g
Saturated Fat

3g
Trans Fat

0g
Unsaturated Fat

10g
Cholesterol

6mg
Sodium

699mg
Carbohydrates

50g
Fiber

14g
Sugar

8g
Protein

13g
All information and tools presented and written within this site are intended for informational purposes only. We are not a certified nutritionist and any nutritional information on TheBellyRulesTheMind.net should only be used as a general guideline. This information is provided as a courtesy and there is no guarantee that the information will be completely accurate. Even though we try to provide accurate nutritional information to the best of our ability, these figures should still be considered estimates.