WAY BETTER than take-out ???-This teriyaki fried rice is filled with colorful veggies and makes a delicious one-pot dinner idea! Flavors blend well and are delicious! it's ready in 20 minutes which makes it family friendly for busy weeknight dinners. I know we can all appreciate that. Don't worry about pulling out all of those pots and pans. Instead, grab your favorite INSTANT POT and you are ready to go!
Delicious Instant Pot Teriyaki Fried Rice Bowl Video Recipe
Delicious Instant Pot Teriyaki Fried Rice Bowl
Today we're sharing with you one more of our favorite Asian-inspired, way better-than-takeout meals: a sweet and savory Teriyaki Fried Brown Rice. Tell me you love fried rice as much as we do ?‍♀️Because my kids can eat this dish every day, well not literally, however you get the idea. We make Teriyaki fried rice mopre often as we love everything about it and our homemade Teriyaki sauce just makes things so easy.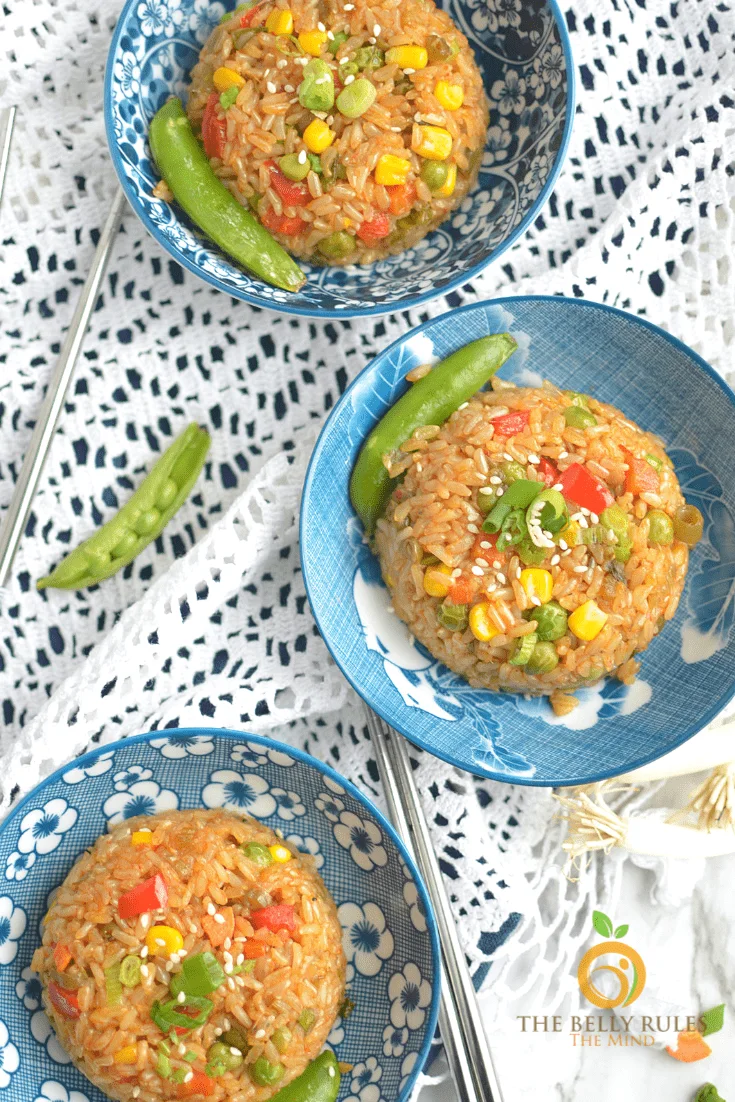 We love Asain Cuisine almost as much as we love Mexican or Indian. For me, it's about how fast you can cook Asian food. ?‍♀️ No offense to our Mexican and Indian readers. A few sauces, seasoning, protein, veggies, quick stir fry and you are done! Most nights, after all the classes and driving the kids around for their activities, we just want dinner in 30 minutes. Since the first time I made our own homemade Teriyaki sauce, we ended up using it in fried rice, Teriyaki Brussel sprouts and even in Chow mein noodles! But just in case you don't have the time to make your own sauce, use one from your favorite store bought.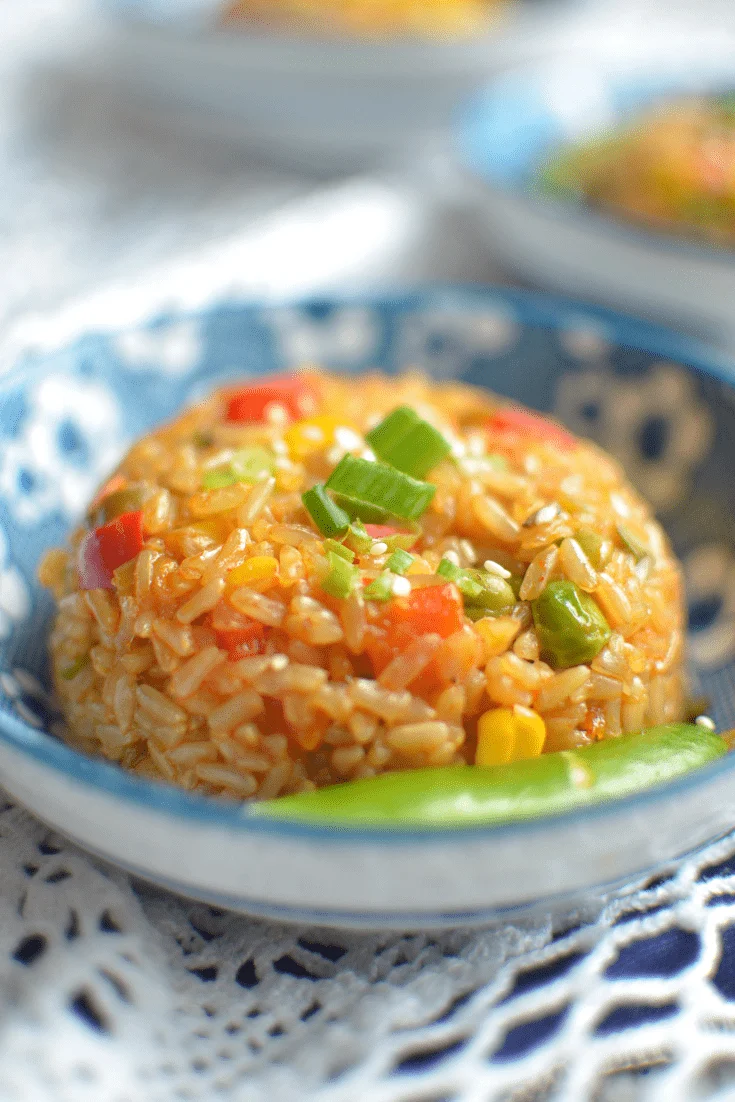 A kid-friendly awesome Fake-out Take out recipe!
As a mom of two boys, I prefer to cook food at home as much as possible, however sometimes kids get cravings for something sweet or some specific dish from a specific restaurant. Yes we do go out once in two weeks to the kids favorite restaurants, however we cannot run to a restaurant everytime my kid wants to eat something specific. To top that off with different eating habits of both my kids. I can see myself going crazy here, and feel that making things at home with the things you can control is one of the most blessed things in the world. As with most international cuisines, the local Asian restaurants are localized to match the flavor and pallets of people trying out that cuisine. Most of the food in these restaurants is being pre-made and then served to the customer on a plate by putting everything together. So making our favorites at home makes me feel better as a mom as I can ensure a healthy meal for your whole family. We control what goes into the bowl and we can have the kids eat veggies in different ways as possible, It's full of veggies and if you prefer, you can add different veggies like broccoli even cabbage.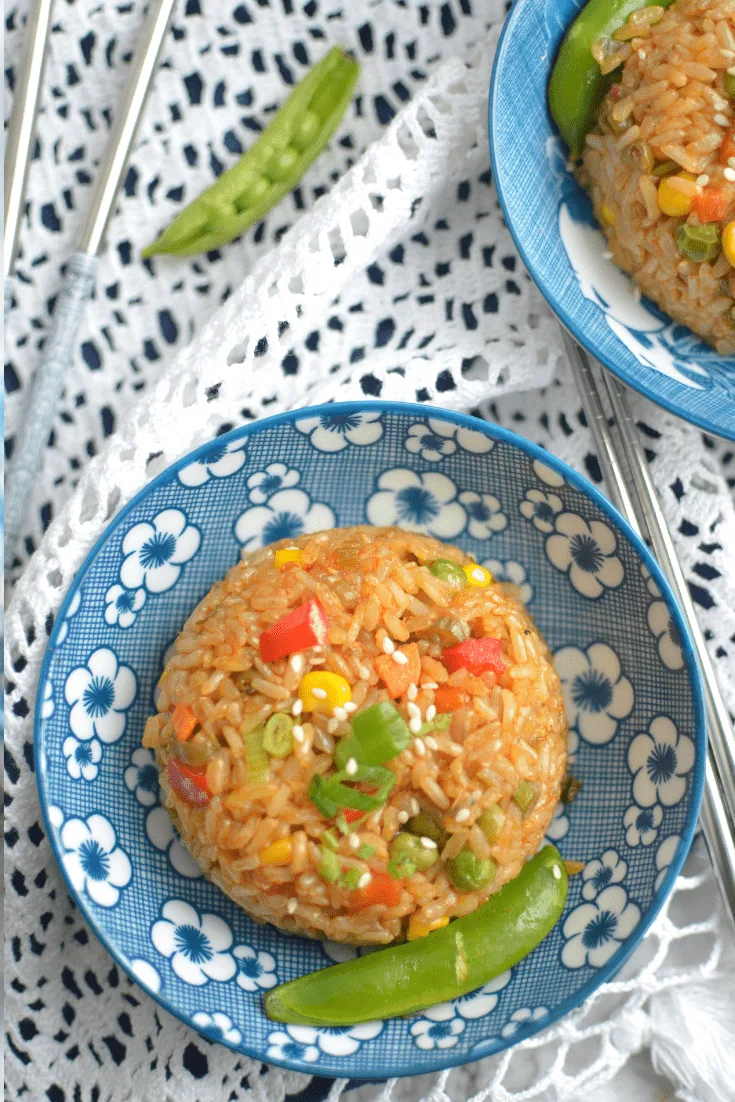 Homemade Teriyaki Sauce and how can we make it gluten-free and low-carb soy sauce recommendation
Why buy store bought when you can make it at home within minutes! It is homemade and absolutely delicious, plus I know every ingredient it is made with! In our option, the best low-carb and gluten-free substitute for traditional soy sauce is the coconut aminos. which tastes delicious and it's made from the coconut sap. It looks like soy sauce because it's dark and salty in flavor, but it's soy-free, gluten-free and low-carb too. Another great gluten-free soy sauce is Tamari. It tastes very much like the traditional soy sauce, but it's gluten-free. However, Tamari is not low-carb.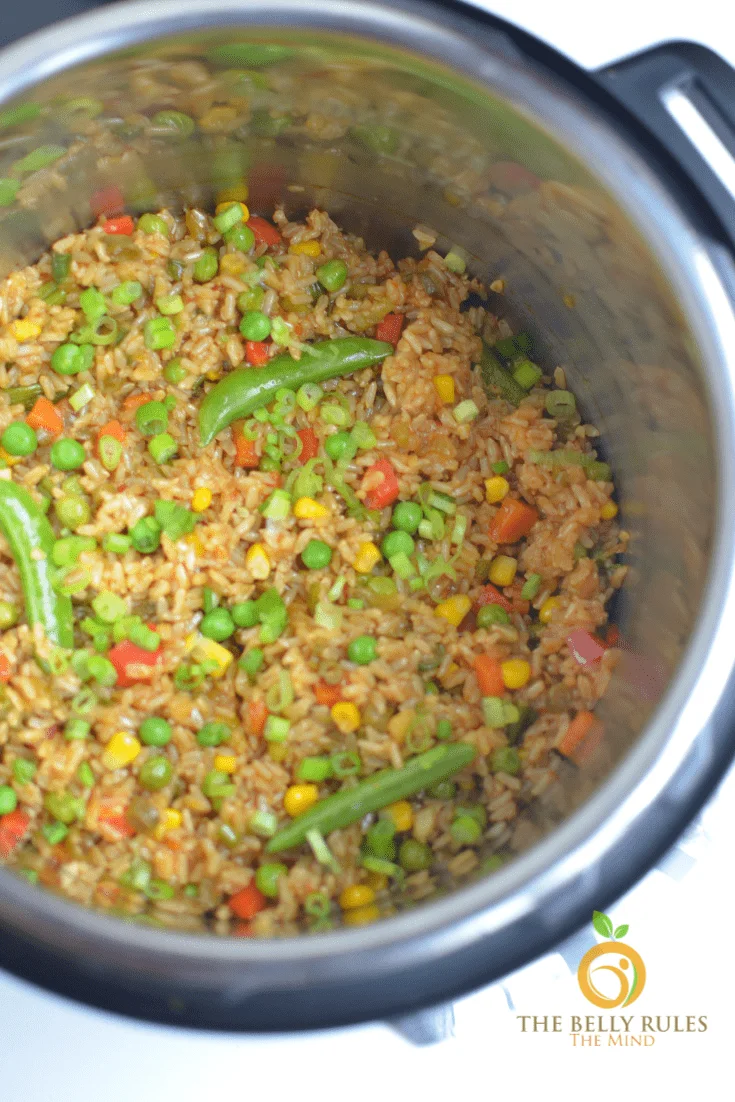 What kind of rice do we recommend for the Teriyaki Fried Rice?
For the base of my Teriyaki Fried Rice, brown rice is definitely my preferred type. It is 100% whole grain brown rice which makes it a nutritious option and it has a rich, nutty flavor
Not only does this meal is a winner with kids, but it also dishes out great nutrition. Carrots, peas, celery, and onions are loaded with fiber and diverse phytonutrients. Whole grain brown rice provides additional fiber and B-vitamins. cashews add protein and healthful fats. If you are not too big a fan of brown rice, you can use rice of your liking.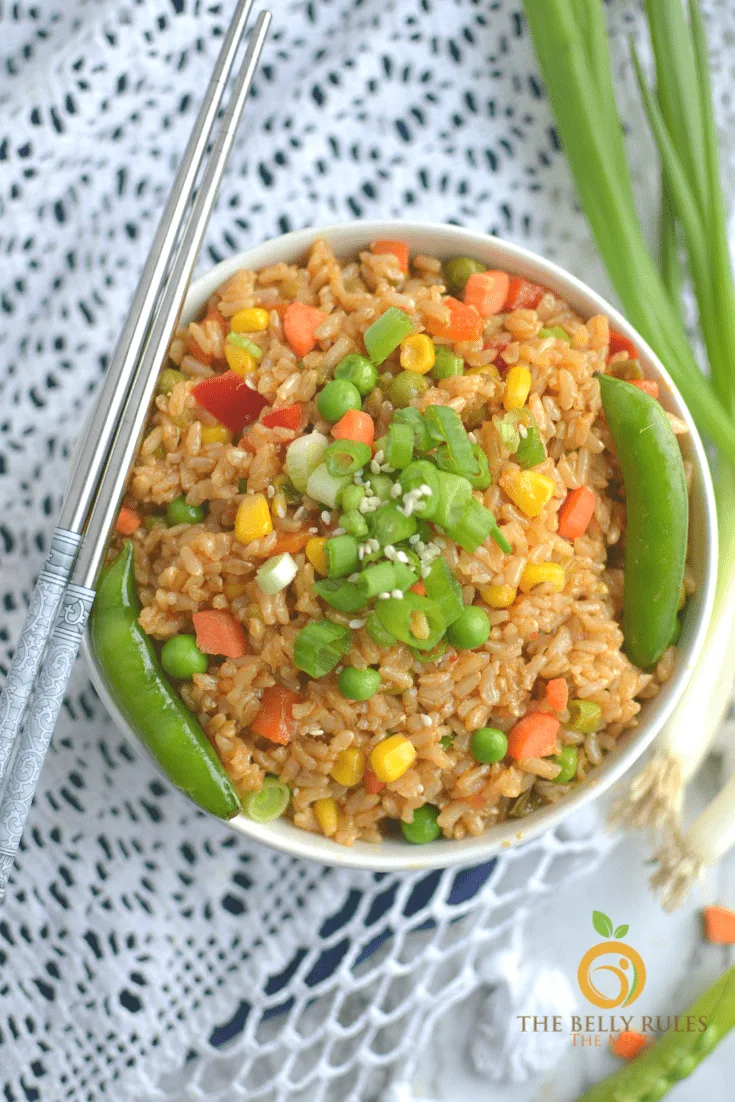 Having challenges while cooking Rice in Instant Pot?
Please check out our post that gives you a tried and tested process to make rice in Instant Pot. We have tried different types of rice and have provided you the best process for the same. You can check this out here
What rice is good for fried rice? Can we use a day old rice or Basmati Rice be used for fried rice?
Medium to long grain rice works the best. You can use Jasmine rice which will produce fluffy, sturdy grains that won't clump or fall apart when you are sauteing. Shorter grain rice tends to be softer and sticks together. Totally Yes! It is also a very popular choice with Indian cultures. If you are planning to use Jasmine Rice or Basmati Rice, please check the notes for the appropriate time and water ratio.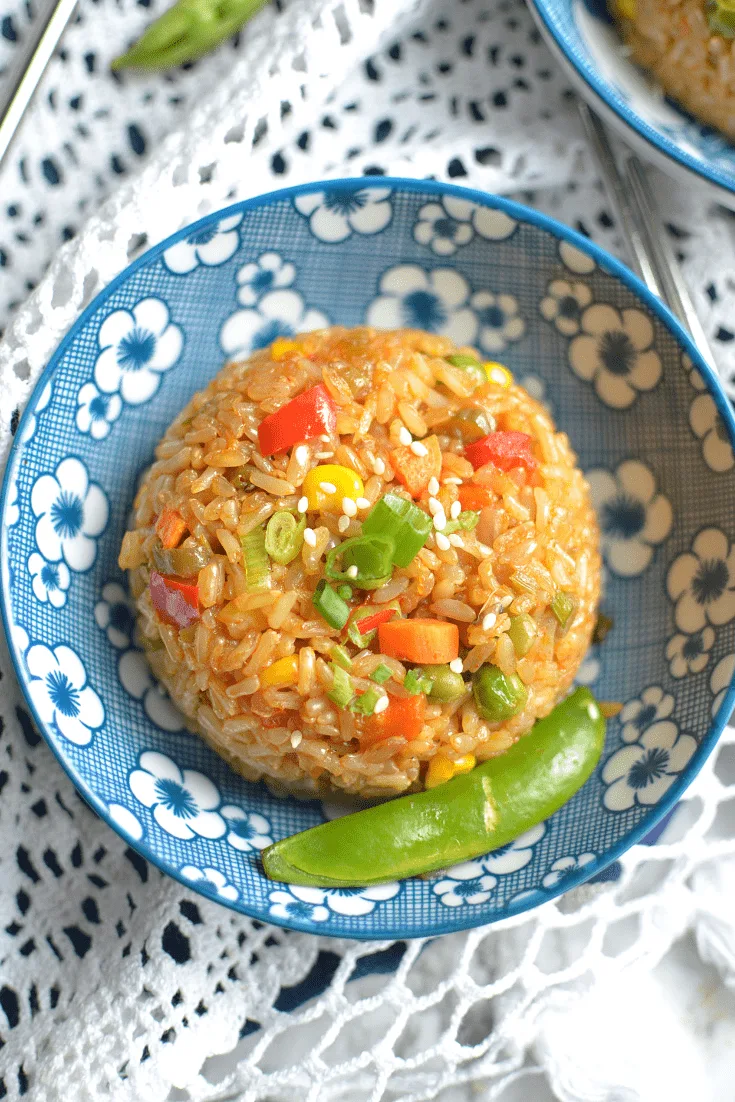 Some tips and tricks for making fried rice:
Try using Sesame oil it adds amazing flavor to the recipe. If you don't have sesame oil you can skip it and still enjoy this Teriyaki fried rice. we have on occasion used either tofu/pineapple/cashews/ tempeh in this recipe. You can add as much or as little veggies of your choice!
What dishes go well with fried rice?
Instant pot Vegetable Chow mein
Instant pot Teriyaki fried rice
WAY BETTER than take-out 🥢🥡🥢-This teriyaki fried rice is filled with colorful veggies and makes a delicious one-pot dinner idea! Flavors blend well and are delicious! it's ready in 20 minutes which makes it family friendly for busy weeknight dinners. I know we can all appreciate that. Don't worry about pulling out all of those pots and pans. Instead, grab your favorite INSTANT POT and you are ready to go!
Ingredients
1 small white onion, chopped
1/2 cup frozen peas
1/2 cup chopped celery
1/2 cup carrots /diced
1/4 cup red bell pepper/ diced
1/4 cup frozen corn
1/4 cup chopped green beans
2 cup uncooked brown rice
2 cup of water
2 teaspoon olive oil
1 tablespoon chopped garlic
1/2 tablespoon chopped ginger
1 teaspoon vinegar/ of your choice
1 teaspoon sesame oil
1 tablespoon soy sauce
3 tablespoon Teriyaki sauce
green onions, chopped for garnish
sesame seed for garnish /optional
Instructions
In a bowl add water, vinegar ,soy sauce,teriyaki sauce, sesame oil and stir to mix.
Rinse and drain brown rice and set aside.
Press 'Saute' function and allow the HOT to pop up.
Add olive oil to the hot inner pot.
Add the chopped ginger and garlic and stir
Add the onions and saute for 1 to 2 minutes, stirring often.
Add in the chopped carrots , green beans and celery and stir.
Press Cancel. .
Add in the rinsed brown rice.
Give it a stir and add the teriyaki mixture which we made in the star. (Push down the rice with a spatula to make sure all the rice is submerged in the liquid.)
Close the lid and pressure cook on high pressure for 18 minutes.
Let the pressure release naturally (NPR) for 10 minutes and then release any remaining pressure using the Quick Release (QR) method.
Open the lid and add in the remaining thawed frozen vegetables (corn./ Peas/ Sugar snap peas and red bell pepper)
Gently stir the teriyaki fried rice and vegetables until combined.
Close the lid again and let the vegetables and rice rest in the heat for about 2 minutes (make sure your IP is on cancel mode).
Open the lid sprinkle some green onion and sesame seed ( Optional )and transfer rice to a serving bowl.
Notes
For Jasmine or Basmati Rice
1 cup water
6 minutes high pressure
Natural release
Recommended Products
As an Amazon Associate and member of other affiliate programs, I earn from qualifying purchases.
Nutrition Information
Yield

6
Serving Size

1
Amount Per Serving
Calories

150
Total Fat

4g
Saturated Fat

1g
Trans Fat

0g
Unsaturated Fat

3g
Cholesterol

0mg
Sodium

379mg
Carbohydrates

26g
Fiber

4g
Sugar

4g
Protein

4g
All information and tools presented and written within this site are intended for informational purposes only. We are not a certified nutritionist and any nutritional information on TheBellyRulesTheMind.net should only be used as a general guideline. This information is provided as a courtesy and there is no guarantee that the information will be completely accurate. Even though we try to provide accurate nutritional information to the best of our ability, these figures should still be considered estimates.