Instant Pot Whole Roasted Cauliflower served in a thick creamy Indian Masala Sauce. A perfect centerpiece for the holiday season, this dish is sure to wow the crowd. Exotic yet easy to make. Can be made ahead of time.Vegan & Gluten-Free but full of rich flavors and aroma. Video Recipe.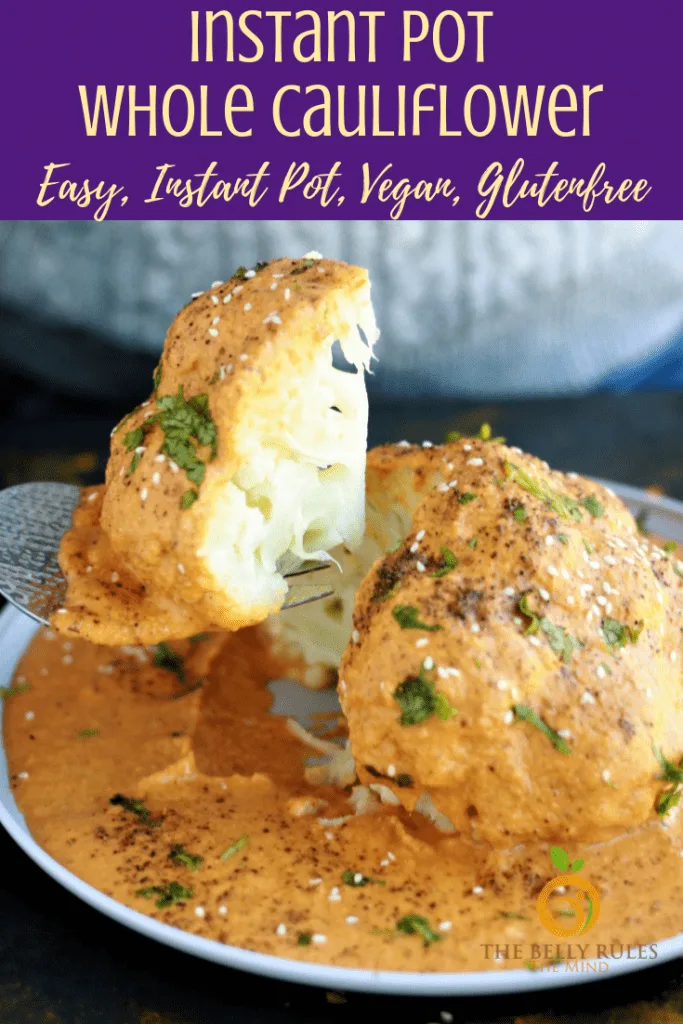 Whole Roasted Cauliflower with Indian Masala Sauce
Also known as Gobhi Musallam, a vegetarian Mughlai dish from northern India. Traditionally the whole cauliflower head is packed with dry spices and then covered with a rich, flavorful sauce and then roasted. However, my grandma often pressure cooked it on a stove stop pressure cooker, since it was much easier. She made it on special occasions and it was always a show stopper. Never failed to impress a crowd. So for a long time I wanted to make this recipe in the Instant Pot and I am so happy that I finally got around it. Yay!!! Prep the sauce, pressure cook the cauliflower, plate it and your done.
BTW incase you are wondering if the Instant Pot is really worth it if you already have a pressure cooker?Or may be you already have an Instant Pot and haven't gotten started yet, make sure you check out our post Is the Instant Pot Worth it? We share several reasons why we love our Instant Pot and how to master it with just 3 buttons along with some really easy recipes.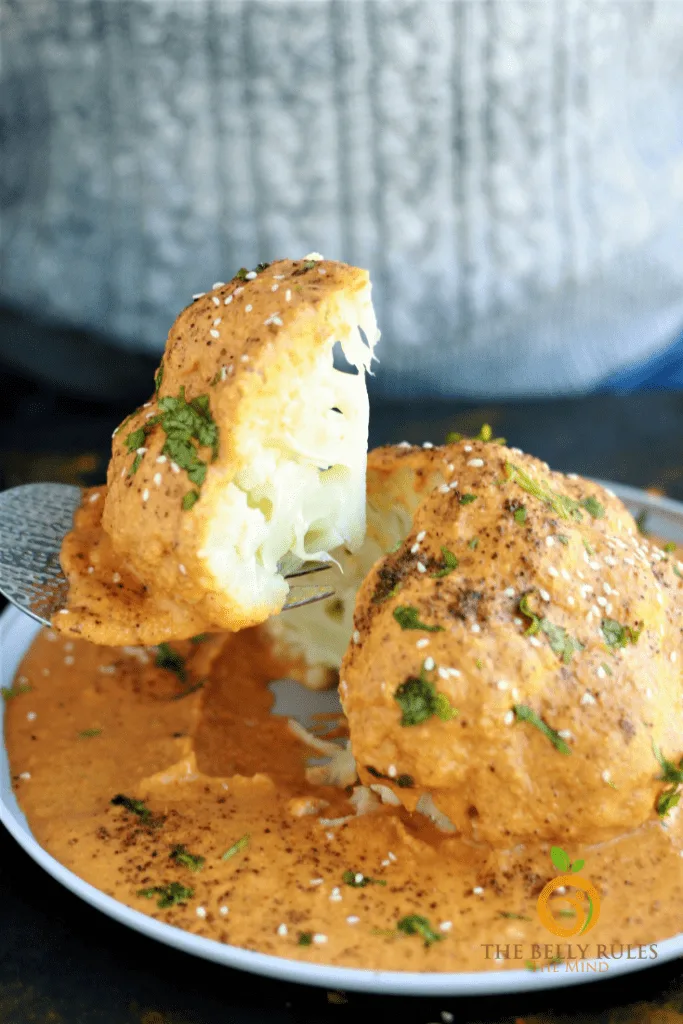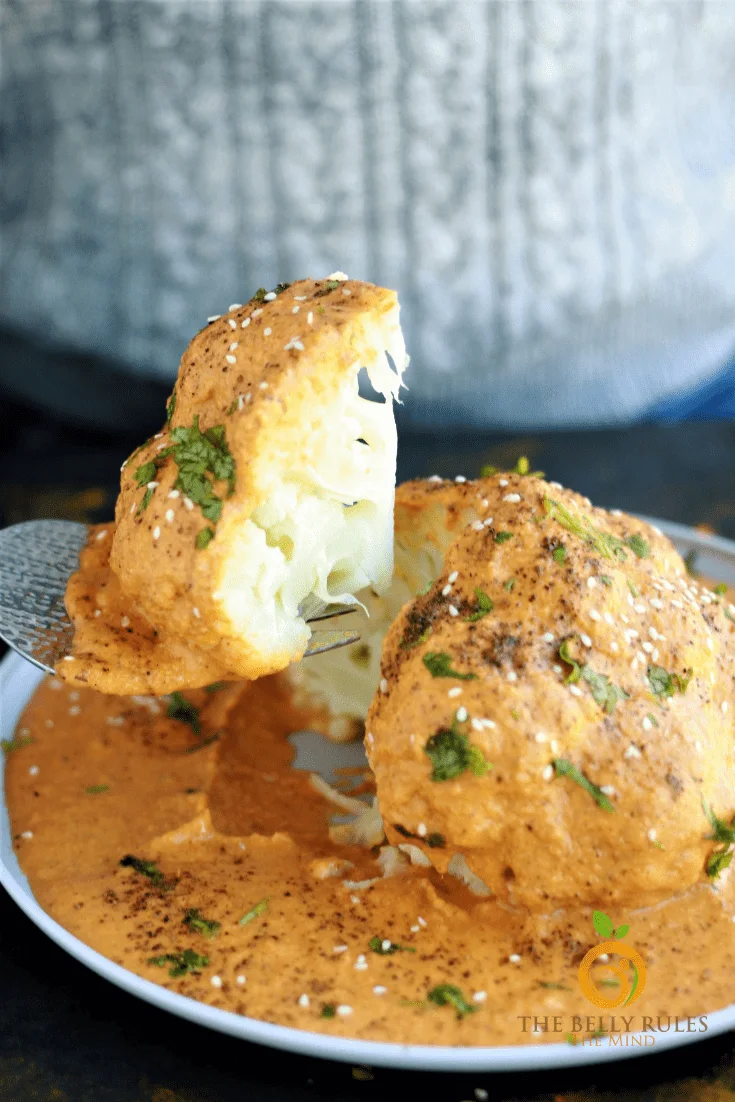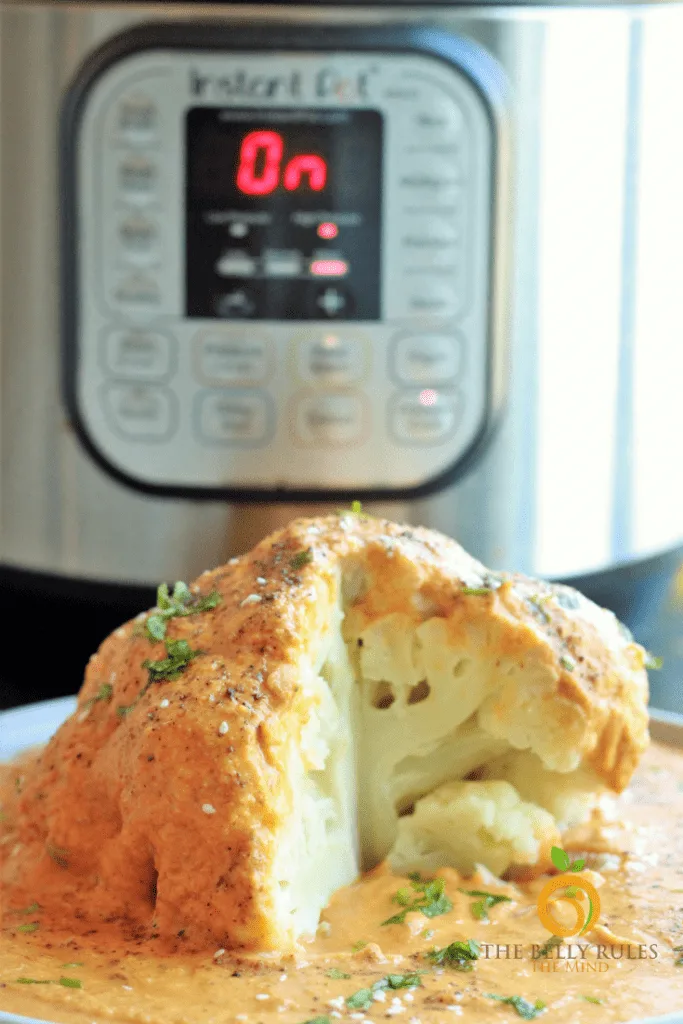 Traditionally this Cauliflower head is packed with stuffed with spices before it's cooked with the sauce. Back home in India, Cauliflower heads are not to tight, given the warm temperatures. However here in the US, cauliflower heads are very tight. It becomes hard to separate to stuff the spices while making sure the rest of the cauliflower is intact. So to make sure the cooked cauliflower head isn't bland, the trick is to flavor the sauce with lots of spices and herbs.
The Indian Masala Sauce
The sauce is a thick, rich in flavors and aroma and has a burst of flavors. Typically it's an onion tomato based gravy. The onion tomato saute is flavored with Indian spices like cumin seeds, black cardamom, green cardamoms, cloves, black peppercorns, bay leaves, coriander powder, turmeric, red chilli powder, garam masala and some ginger and garlic. Don't let the ingredient list discourage you to try this exotic cauliflower dish. It might seem a lot but you will realized in the video that it's a pretty straight forward recipe.
If you don't have a few spices readily available and you really do want to try making this Whole Roasted Cauliflower, you can use our minimalist Tikka Masala Sauce or the 30 Minute India Masala Curry too. The sauces can be made ahead of time and frozen too. I typically make a large batch and freeze it. Makes life so much easy when hosting a large crowd.
Trust me, it's all about the sauce in this recipe. Ideally the sauce should be a little more flavorful than you typically would make any Indian sauce, because when you pour it over the pressure cooked cauliflower, the flavors will get diluted to just the perfect taste. For the thick creamy texture, it's best to add cashews soaked in almond milk. You could either use an immersion blender to make a paste of the onion tomato mixture with the cashews and almond milk. Since I don't have one, I used my Ninja to make a paste. Slowly add hot water to make sure the paste is really fine and smooth and give it another blitz. You don't want it to be coarse.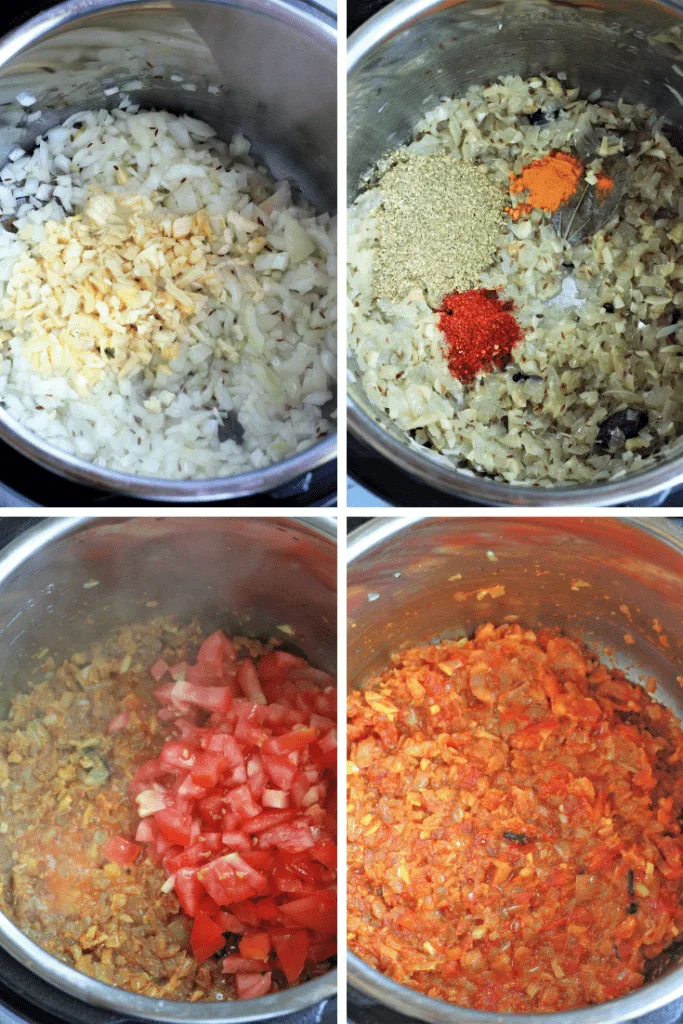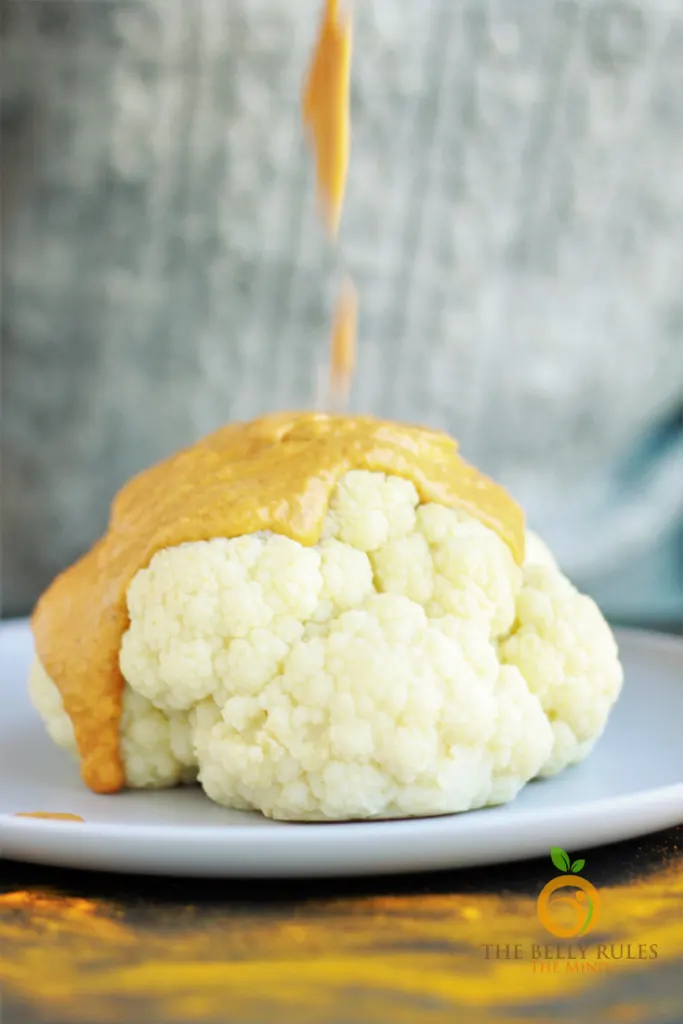 How to cook a whole roasted cauliflower in Instant Pot?
This is the big question! When I wanted to make this recipe, this was exactly the question I was looking up online. Afterall this is a crucial element of the recipe. To get the perfectly cooked cauliflower head without it being to mushy or breaking apart. After a couple failed experiments I finally got the hang of the perfect way to cook a whole cauliflower head in an Instant Pot. It turned out exactly how I wanted it should be, soft and tender but yet a little firm, if you know what I mean.
The trick here is to thoroughly wash the cauliflower head, trim off the leaves and the bottom. Pour some water into the inner pot. Add some salt, it keeps your cauliflower from being bland. Fold the trivet and place the Whole cauliflower on the trivet. Pressure cook on high pressure for 00:00 minutes. What happens is the time taken to build the pressure inside is enough for the cauliflower to cook. Also another important step to get the perfectly cooked cauliflower head is - the quick release before the cauliflowers gets mushy. This is a fail-proof recipe and you can't go wrong with this for sure!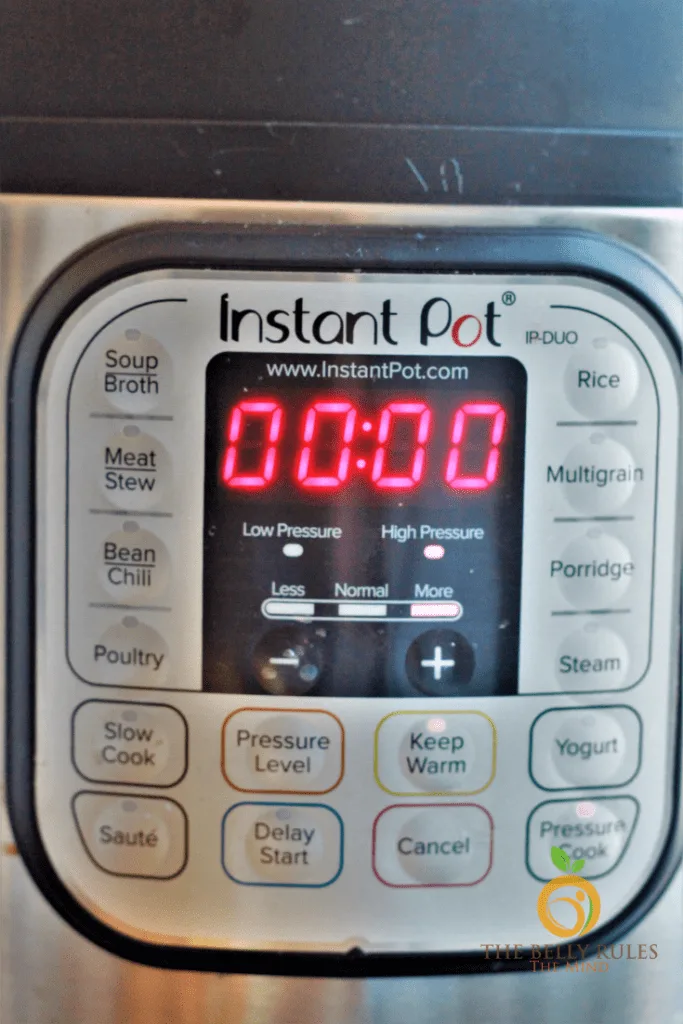 Plating
Once the sauce and the cauliflower are ready, you can start plating. Keep the Cauliflower in a serving tray or plate. Pour some of the sauce on top of it until it's completely covered. You will want to keep some sauce for later when serving. At this point you can choose either choose to broil the cauliflower for a couple minutes or just garnish it as is. If you broil the cauliflower, pour the remainder of the sauce on the cauliflower and then garnish it. For garnishing, I have used roasted sesame seeds, garam masala and chopped cilantro. Slice it like a pie and serve.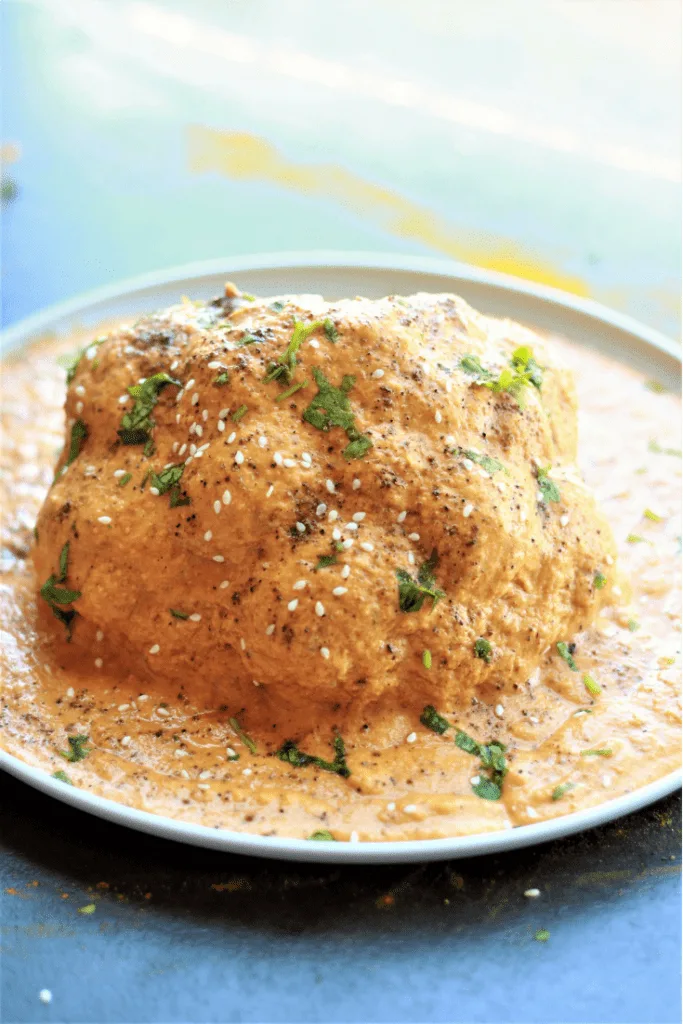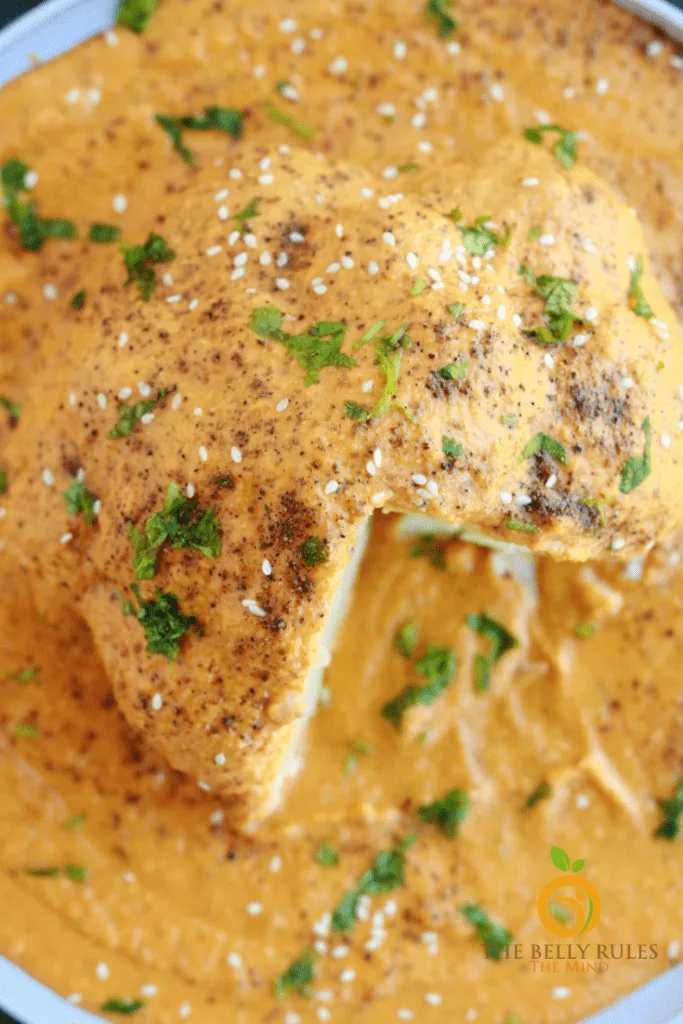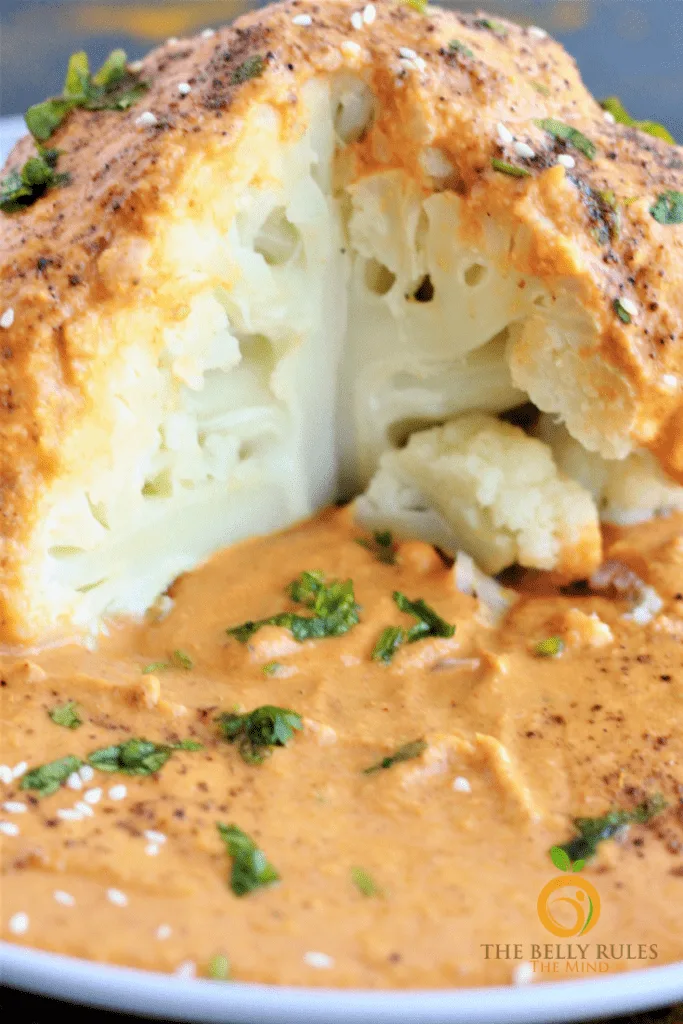 Tips and Tricks
When pressure cooking the cauliflower, it's always a good idea to salt in the water so the cauliflower doesn't taste bland.
You could you a colored cauliflower if you'd like.
The number of people will determine the size of the cauliflower or multiple cauliflowers
You could also use cauliflower florets instead of the whole cauliflower for this recipe. Just add the sauce to the florets.
What do I serve it with?
It goes really well with any Indian flatbreads like naans, kulchas, parathas, rotis or rice. Check out our post on How to make Perfect Rice in the IP everytime, here. You can choose to make just plan rice with it or the Indian style Zeera(cumin) rice. You can find both recipes here.
Instant Pot Whole Roasted Cauliflower Video Recipe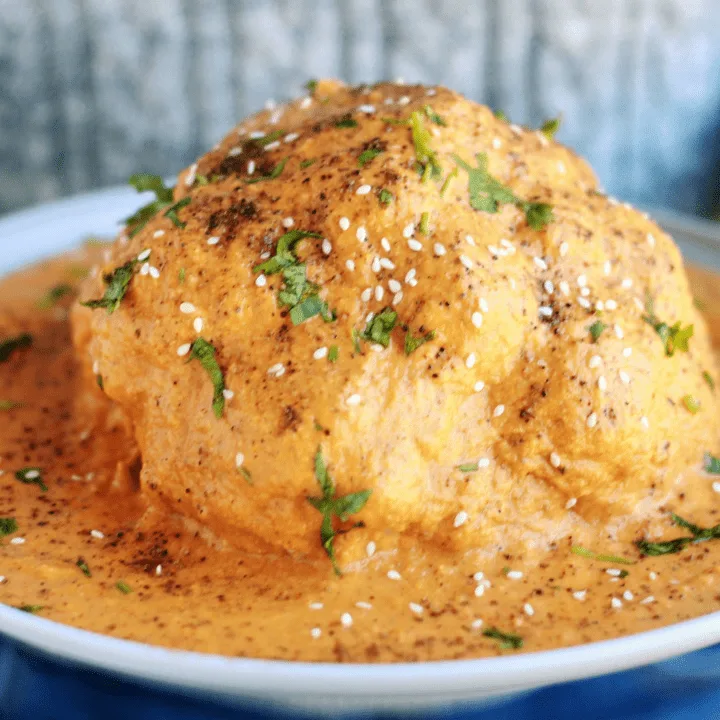 Instant Pot Whole Roasted Cauliflower in Indian Masala
Whole roasted cauliflower, served with a thick creamy Indian Masala Sauce. A perfect centerpiece for the holiday season, this dish is sure to wow the crowd. Exotic yet easy to make. Can be made ahead of time.Vegan & Gluten-Free but full of rich flavors and aroma.
Ingredients
1 whole cauliflower head
2 large onions, diced
5 tomatoes, diced
1/2 cup cashews, soaked in 1/2 cup almond milk
1 teaspoon ginger chopped
1 teaspoon garlic copped
2 tablespoon oil
1/2 teaspoon cumin seeds
2 black cardamoms
1 green cardamom
3 cloves
4 peppercorn
1 bay leaf
1/2 teaspoon turmeric powder
1 teaspoon coriander powder
1 teaspoon red chilly powder (optional)
1/2 teaspoon garam masala
1 tablespoon cilantro, chopped
1 teaspoon roasted sesame seeds (optional)
Salt to taste
2 cups water
Instructions
Heat Instant Pot to "Saute." Add oil, cumin seeds, cloves, peppercorns, black cardamoms, green cardamom and bay leaf. Stir.
Add onions. Add ginger garlic. Add salt and cook until onions are translucent.
Add in the spices at this point, coriander powder, chilly powder, and turmeric. Cook for another 2 minutes while stirring occasionally.
Add in the chopped tomatoes and mix well. Cook until the the oil starts separating. Remove the bay leaf and black cardamoms.
If you have an immersion blender, throw in the cashews and milk and blend into a smooth paste. Slow add hot water..
If you don thave an immersion blender than make a use your blender to make a smooth paste, adding hot water slowly.
Now thoroughly wash the cauliflower and remove the bottom.
Add the trivet and a cup of water to the Instant Pot.
Set Instant Pot to High "Pressure" for 00:00 minutes. Turn valve to Seal. When the timer goes off, turn valve to Vent to Quick release the pressure.
Keep Instant Pot open and allow the cauliflower to cool.
Plate the Cauliflower in a serving dish and pour half the sauce made earlier.
You may choose to broil the dressed cauliflower for a couple minutes.
Garnish it with cilantro, garam masala and roasted sesame seeds.
Freezer Meal
To make ahead or turn into a freezer meal: Make as directed and then pour into a glass jar or glass container. Freeze or refrigerate until ready to eat.
Thaw it if frozen or warm it up in a sauce pan before use.
Recommended Products
As an Amazon Associate and member of other affiliate programs, I earn from qualifying purchases.
Nutrition Information
Yield

8
Serving Size

1
Amount Per Serving
Calories

161
Total Fat

10g
Saturated Fat

1g
Trans Fat

0g
Unsaturated Fat

8g
Cholesterol

0mg
Sodium

150mg
Carbohydrates

16g
Fiber

5g
Sugar

6g
Protein

5g
All information and tools presented and written within this site are intended for informational purposes only. We are not a certified nutritionist and any nutritional information on TheBellyRulesTheMind.net should only be used as a general guideline. This information is provided as a courtesy and there is no guarantee that the information will be completely accurate. Even though we try to provide accurate nutritional information to the best of our ability, these figures should still be considered estimates.