These Low Carb Stuffed peppers are vegan and gluten-free and some awesome Tex-Mex flavors! A great dish for Meatless Mondays or any other day of the week options! I'm swapping the Rice with riced veggies. These stuffed peppers will provide the nutrition you need for a healthy, balanced meal!
How is your week going?? Me and my boys R2 & R3 spent most of ours working on house stuff. Cleaning out their closets ( whats needed and not ), rearranging before the new school year starts. Me & my better half also happened to find a little bit of time to have a much-needed date night that involved delicious, unhealthy, carb-loaded food! This Low Carb Vegan Stuffed Pepper is our way to detox :P after indulging. This recipe goes excellent with our 5 minute Avocado Cilantro dressing.
Can I bake them ? Can I Air-fry them?
Incase you are wondering how is the stuffing low carb, we used Green Giant Riced Veggies Kohlrabi to cut them down. Green Giant Riced Veggies are an exciting new way to eat veggies that are a gluten-free, low calories food. You can enjoy them as a great alternative to rice, potatoes, and pasta. These Low Carb Stuffed Peppers can be baked , Air- fryed or made in an Instant-pot too!!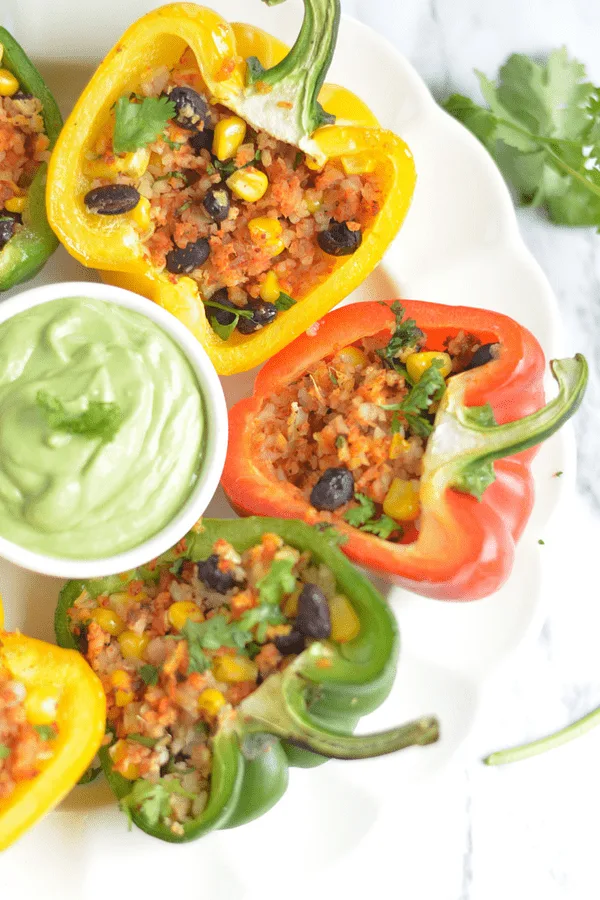 So here we are! Back to "THE BELLY RULES THE MIND" way of eating and thank goodness that these Low Carb Stuffed Peppers are just too good! If you find yourself struggling to make a low carb dish, don't you worry. We've got your back!! This recipe is extremely delicious, and super easy to make! Add this to your healthy recipes list right now!
All you need is Sweet peppers, of course! The other things you'll need are Green Giant Riced Veggies Kohlrabi, spices (listed below), and a baking dish. They're SO easy to make, you have to make it to believe it !!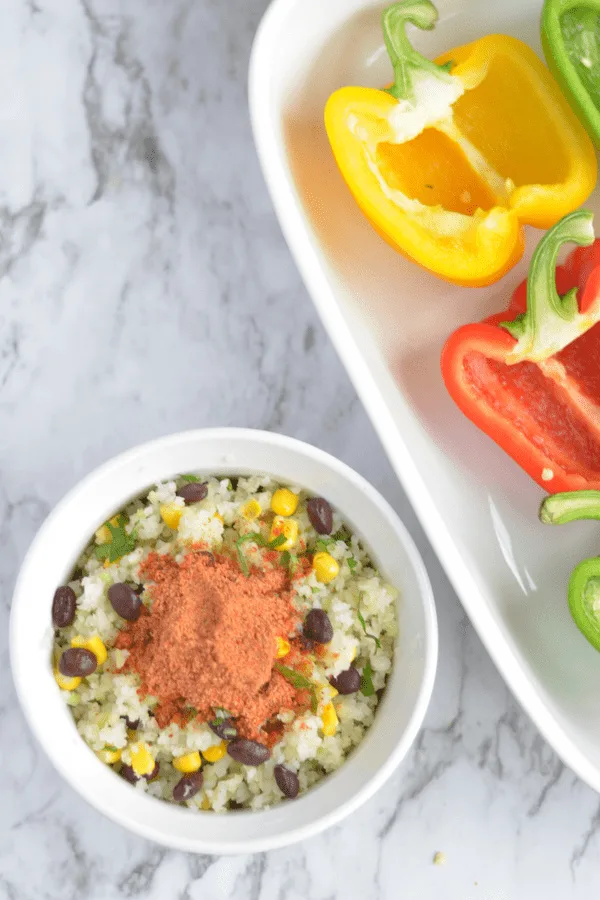 Why we loved using Green Giant Riced Veggies Kohlrabi
All I did was microwaved the Green Giant Riced Veggies Kohlrabi for 6 minutes (as per instructions ) and simply transferred it in a sieve to remove any excess water from steaming. You can even squeeze the excess water by hand ;) That's it!!! No chopping or taking out gadgets to make this. Simply microwave, drain and you're ready for your meal. What we love about Veggie Giants Riced Veggies is that it contains 85% fewer calories than the leading brand of white rice. Another interesting aspect is that the Riced Veggies have no sauces or seasonings, so you can prepare them just the way you want.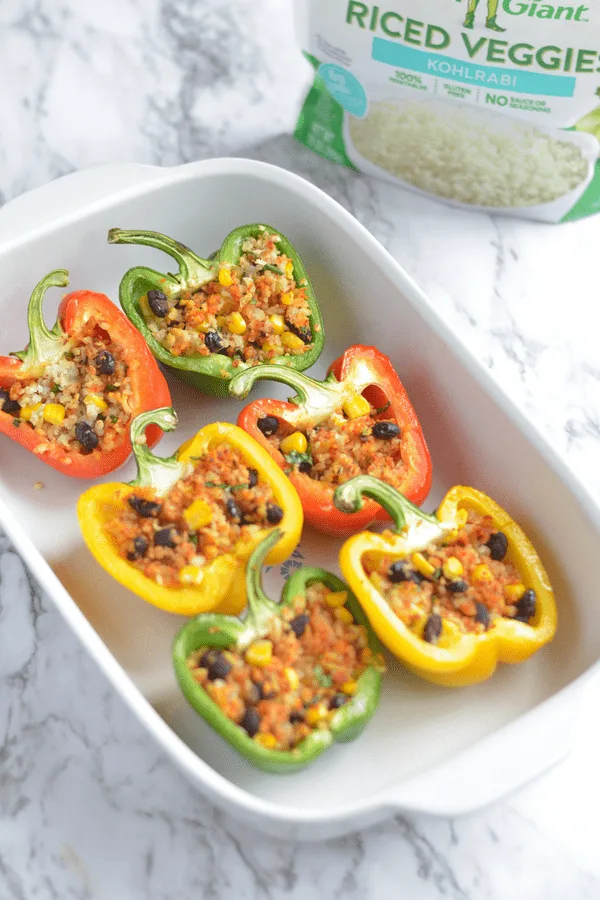 So what is Kohlrabi?
Delicious, tender, Bell pepper nests with the goodness of Green Giant Riced Veggies Kohlrabi to boost your energy. oh wait!! Chances are that you looked up kohlrabi because you've never heard of them. What does kohlrabi taste like?
If you are unfamiliar it is a vegetable in the Brassica family along with cabbage, broccoli, and cauliflower- and is just as nutrient dense. Kohlrabi can be eaten cooked or raw. The word Kohlrabi is German and translates to "cabbage turnip". And that's exactly how I would describe its flavor. Kind of cabbage and kind of turnip, with a hint of sweetness and a peppery bite. it is difficult to find many recipes that use this flavorful vegetable. This one is wonderful!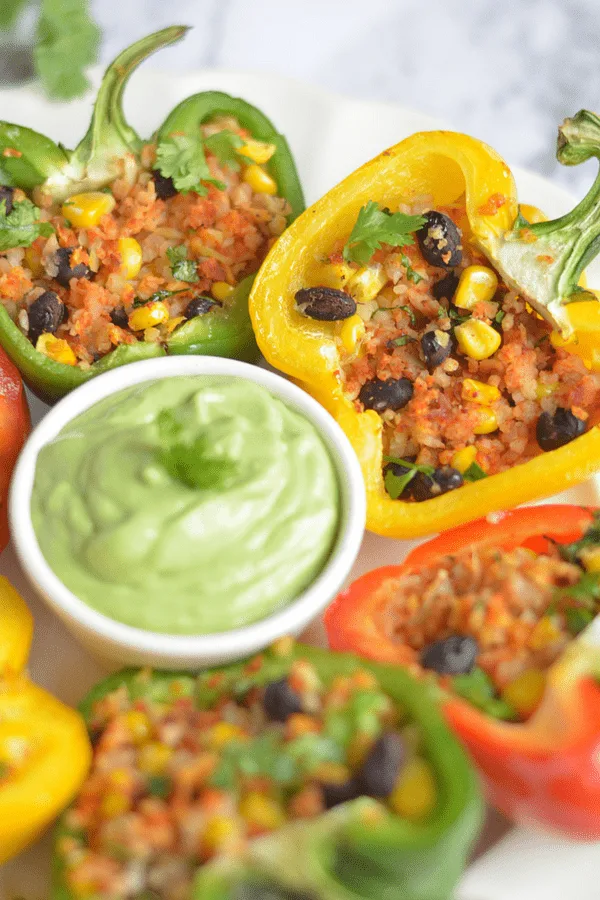 Don't be intimidated by Kohlrabi! My kids and hubby gobbled them up in record time! They had no idea the peppers were stuffed with a strange vegetable! The addition of the tex-mex spices really complimented the mild spiciness of the kohlrabi and the corn added the perfect level of sweetness. Together all of the flavors worked so well together.
The Green Giant Riced Veggies Kohlrabi come in different varieties like Carrot, Broccoli, Beets, Butternut Squash, so I'm planning another recipe very soon.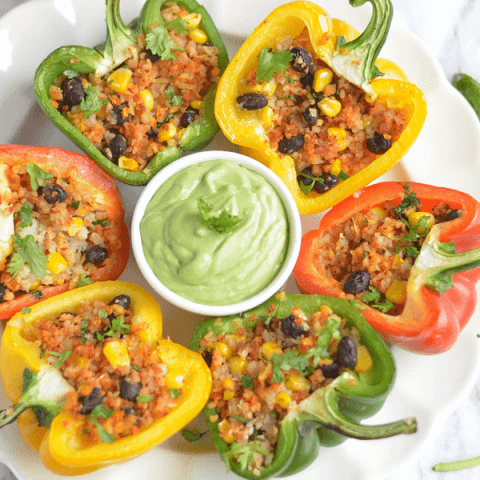 Low Carb Stuffed Peppers (Vegan & Gluten Free)
Ingredients
4 sweet bell peppers/ cut in half & seeded
3 cups green giants kohlrabi riced veggie
1 jalepeno / chopped
1 cup corn kernels
1/2 cup canned black beans/ drained and rinsed
handful chopped fresh cilantro leaves
Tex-mex seasoning ( you can use any store bought or make yours at home see below for homemade tex- mex seasoning )
1 teaspoon cumin
1 teaspoon garlic powder
1/2 teaspoon onion powder
1/2 teaspoon chili powder, or more to taste
Kosher salt and freshly ground black pepper, to taste
Instructions
Preheat oven to 350 degrees F.
Microwave the kohlRabi rice veggie for.... minutes (as per instructions ) and simply transferred the steam spiral in a sieve to remove any excess water from steaming.
In a bowl, combine kholrabi, green chiles, corn, beans, , cilantro, cumin, garlic, onion and chili powder, salt and pepper, to taste.
Spoon the filling into each bell pepper cavity. Place on prepared baking dish, cavity side up, and bake until the peppers are tender and the filling is heated through, about 15 -20 minutes.
Serve immediately.
Notes
INSTANT POT directions
Put the cup of water into the inner liner of the pressure cooker.
Place stuffed peppers on a trivet in the Instant Pot. They will be sitting above the water.
Put the lid on and close it, turning the steam release knob to the Sealing position.
Press the Pressure Cook/Manual button,for 6 minutes. Make sure High Pressure is selected.
Let the pot sit and it will enter the Natural Pressure Release phase (around4 mins)
Remove peppers with tongs to a plate and serve
AIR FRYER Directions
Stuff the peppers and place in the basket of the air fryer. (I did 4 the first round, 2 the second to make them fit.)
Cook for 10 minutes at 355*, carefully open
Cook for an additional 5 minutes if not cooked or until peppers are slightly soft