Masala Puffed Rice is a quick snack that has achieved a legend status for street foods especially in the Western region of India. It is eaten with a spoon or scooped with a chip. Its a go-to snack with your evening tea or coffee. It's a common belief that this snack originated in Mumbai (India) and there are not many theories that deny this fact. Coming from Mumbai myself, I have enjoyed this snack after school and college hours as a quick way to get going. It's an efficient to-go snack that can be given to your kids in a lunch box as well.
Before I share today's recipe and story, I need to add a recipe disclosure: This recipe may just be the BEST and EASIEST snack you've ever made. Sitting with your laptop and working on recipes and looking at food pictures for 4-6 hours can lead to instant cravings for food, that automatically pulls me towards my pantry :P. Due to these cravings, you can give in to unhealthy snacks that may have an ill-effect on your health and your plans to lose weight.
In this scrumptious jar snack, the sev and puffed rice are sautéed in oil with a dash of spices. This helps the flavors to sink in well, and also keeps the Masala puffed rice crisp and nice for some days. A cup of this Masala Puffed Rice with tea is enough to keep you full for a while. On top of all that, it is so tasty that it will be enjoyed by everybody.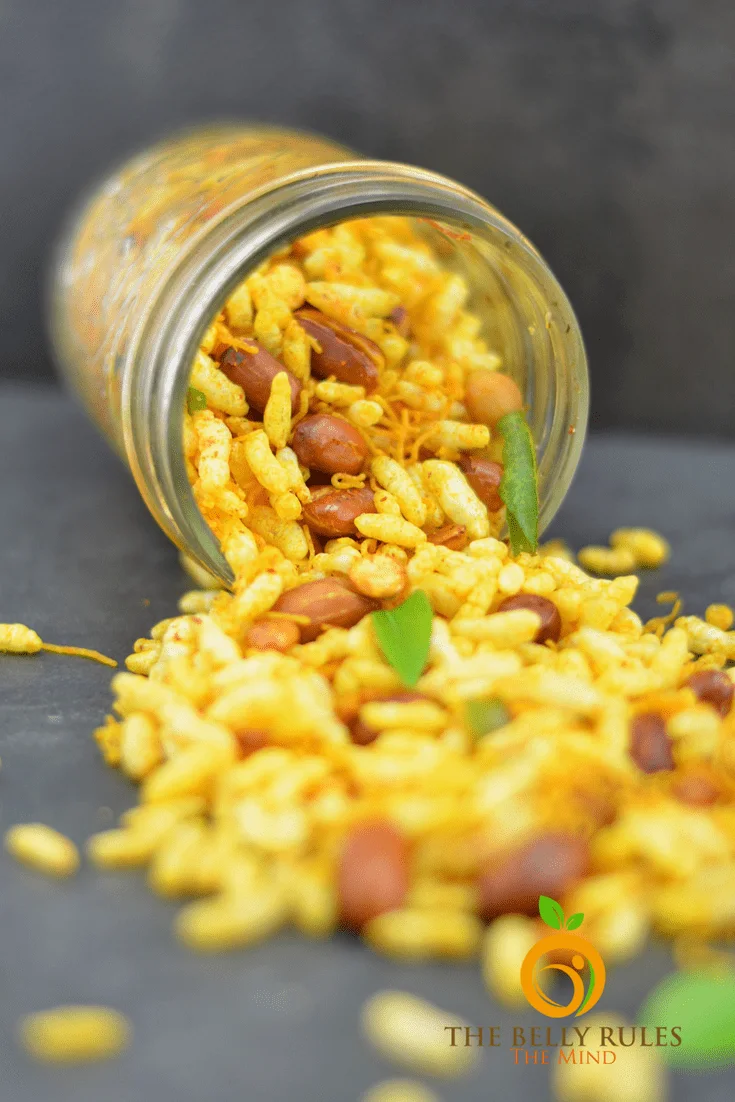 This masala puffed rice can also be used to make chaat like bhel puri. For Bhel, you can add some shredded carrots, chopped onions, tomatoes, and cucumbers to make an instant bhel. I always make masala puffed rice in bulk and store it in an airtight container, even my hubby R1 likes to take it to his office and stock their offices' common snack area with this snack.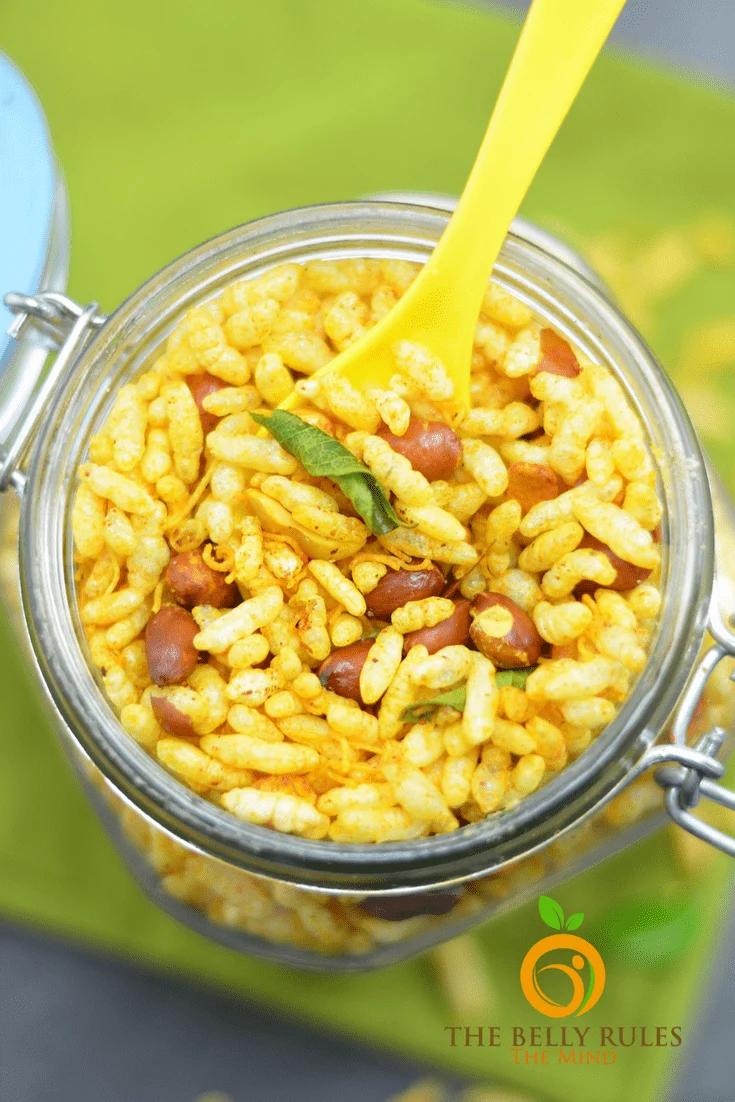 You don't have to stick to the quantities I have mentioned, feel free to make any changes as per your palate. Increase or decrease nuts (try out other nuts of your choice). I sometimes add Almonds or cashews, I just grab what I see first in my pantry :P
NOTE: You can also make these Masala Puffed Rice with puffed brown rice, which is inexpensive and easy to find either online Arrowhead Mills brands, ( available on Amazon) or in health food stores. Aside from that, you can use chia and flax (and healthy Omega-3 fatty acids!) as well as sunflower seeds and almonds for texture and crunch.
Masala Puffed Rice
Ingredients
2 Tbsp-Olive Oil
1 Cup -Peanuts/Raw
1/2 Cup Roasted Gram dal /Dalia
10-15 -Curry leaves
2 teaspoon Asafetida /hIng
2 tsp-Turmeric/Haldi
Salt to taste
8 Cups-Puffed rice / brown puffed rice
2 Tsp-Red chili powder
1 cup Sev fried chickpea noodles/ optional
Instructions
Heat oil in a pot, add peanuts and stir well.
Add Roasted Gram dal and curry leaves, asafoetida, turmeric, salt and mix well.
Add in puffed rice ad stir well .add in the red chili and mix well to combine.
Add sev and again mix it well.
Serve with Tea and Enjoy !!