This copycat Olive Garden Minestrone soup is made with fresh vegetables, protein-packed beans, and vegetable broth. Super easy to make and is ready in a jiffy.
My whole family (SR3 as I fondly call them)  is crazy about Italian cuisine.  We are so fond of pasta that we used to visit Olive Garden every other week. I say "used to" because I started making their favorite dishes at home. It goes easier on the wallet and excellent on the health factor. I can control what vegetables go into the dish. Today I would like to share the recipe for Olive Garden style Minestrone Soup. I am sure most vegetarians that go to Olive garden prefer the minestrone soup over salad.  The taste is the same and you can have it whenever you want.. its that simple to make  :D.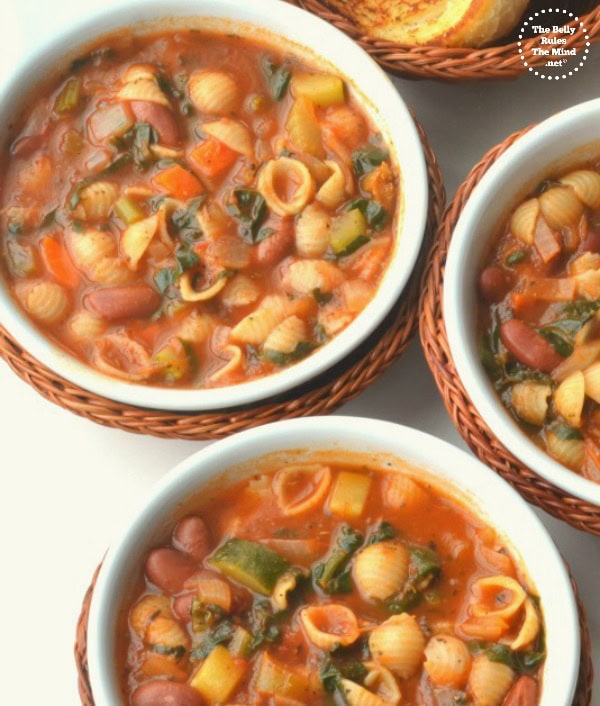 So now you know our recipe for today is a homemade version of Olive gardens Minestrone soup > It is easy to make, tasty & is a One-pot recipe  :D. Now that is my Kind of meal/recipe. Less cleaning, less effort to make and everyone in our home likes it.
Just make a pot, serve yourself a bowl & Enjoy! You can also serve the bowl of soup as a meal by adding pasta, onion, zucchini, baby spinach, celery, and carrot elevate the taste of the broth. Garlic, red kidney beans, and finely chopped fresh oregano round out the flavor, making it the perfect hot choice for cold nights. You can also add a dash of white beans for a more hearty soup meal & serve it with fresh sliced baguette toasted with olive oil & Italian herbs.
Soup is unbelievably easy to make that it's sure to become a staple in your house this winter. Just top with some red pepper flakes and parmesan as per your liking. Serve warm for a meal your family will fall in love with!.. Now that happens a lot in Bollywood movies! LOL.  Do review the video at the end of the post to have a quick view of how easy it is to make the soup.
Enjoy the super quick video of this recipe :D
Ingredients
2 tablespoons olive oil
1 cup onion finely chopped
1/2 cup carrots chopped
1/2 cup celery chopped
1 zucchini chopped
2 garlic cloves / minced
1 can petite diced tomatoes do not drain
1 can kidney beans drained & rinsed
1 can tomato sauce
7 cups low sodium vegetable broth
1 Tbsp italian seasoning
salt more or less to preference
1/2 teaspoons pepper
1-1/2 cup spinach leaves
1/2 cups shell pasta
Instructions
instant pot version
heat oil on 'sauté' high.
add the onion in the instant pot and sauté until lightly caramelized, about 3 minutes.
Add carrots and celery, sauté 1 minute.
Press the Keep Warm/Cancel button.
Add remaining ingredients. Securely lock the pressure cooker's lid and set for 6 minutes on 'High'.
Perform a 'quick release' to release the cooker's pressure
Add olive oil in a large pot over medium heat. Add the onion, carrots, celery, zucchini.
Let cook for 5-6 minutes until tender, stirring occasionally.
Add the diced tomatoes, beans, tomato sauce, vegetable broth, italian seasoning salt and pepper. Stir together and let come to a low boil. Once boiling, turn down the heat to medium and let simmer for 10-15 minutes.
Add spinach and dried pasta shells. Let cook until pasta is done.
Taste and add more salt or other spices if wanted.
https://thebellyrulesthemind.net/one-pot-minestrone-soup/