Copycat Olive Garden breadsticks are our spot on version of the classic dish. These soft, buttery breadsticks are as delicious as the ones they serve in the restaurant in the comfort of your home. Pair them with your favorite pasta or soup and salad for a treat you and your family will love!
LET'S BE FRIENDS ON PINTEREST! WE'RE ALWAYS PINNING TASTY RECIPES!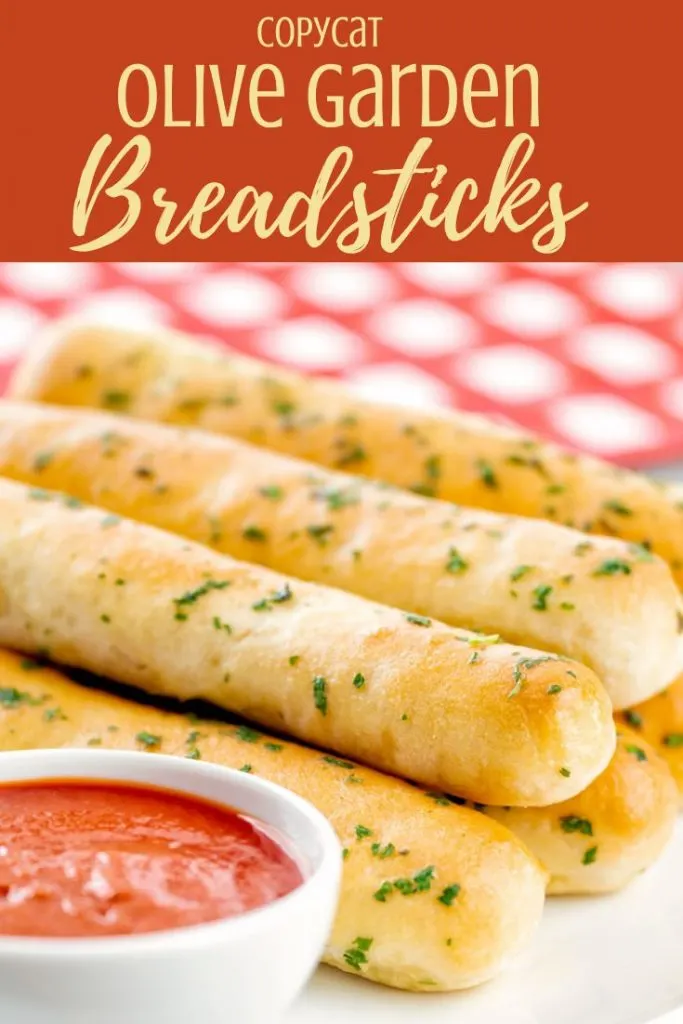 Jump to:
Watch the video
What are copycat Olive Garden Breadsticks?
Olive Garden is a popular Italian restaurant chain famous for its breadsticks. They come free and are endless with every meal. We love using them to soak up the extra sauce or salad dressing.
The breadsticks are served hot and fresh from the oven and are coated with butter, garlic, and parsley. You can use this copycat recipe to make these famous breadsticks at home any time you want to enjoy the taste of the Olive Garden but not go out.
If you love the Olive Garden, make sure to check out our Olive Garden Copycat Minestrone Soup. It pairs so well with these breadsticks!
And if you love bread as much as I do, be sure to check out our Ciabatta bread recipe. It also goes great with soup or you can use it for your favorite sandwiches.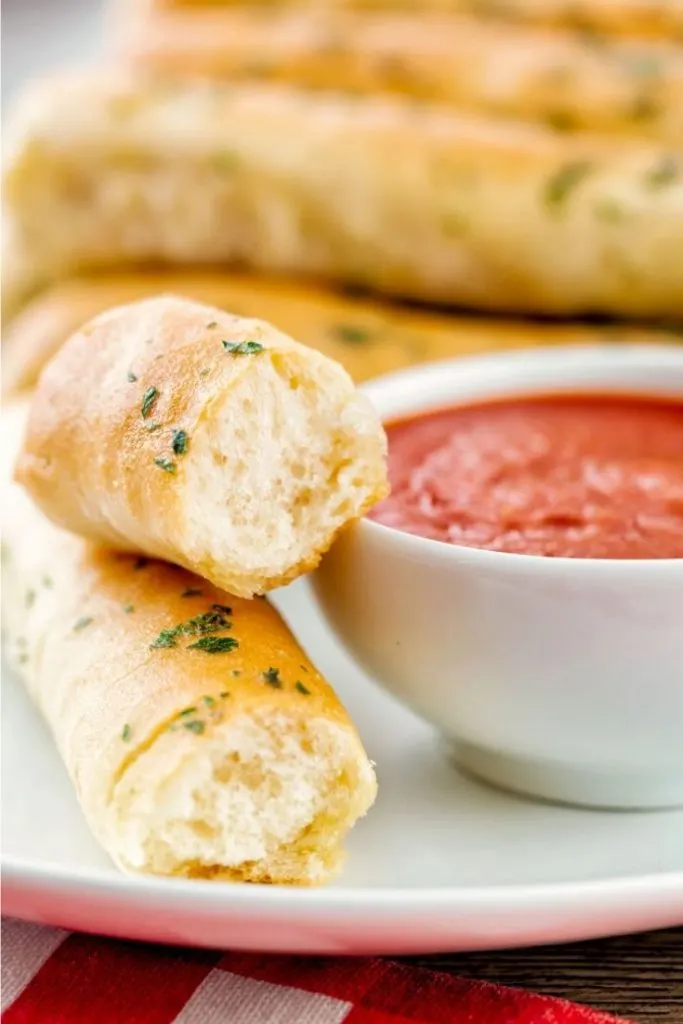 Why you will love this recipe
Let's face it, the best part of the Olive Garden is the breadsticks. They go with everything from their delicious salad to any of their mouth-watering entrees.
This copycat Olive Garden breadsticks recipe tastes just like their famous breadsticks and also goes well with just about any entree or appetizer. They are also super easy to make and don't require a trip to a restaurant to enjoy!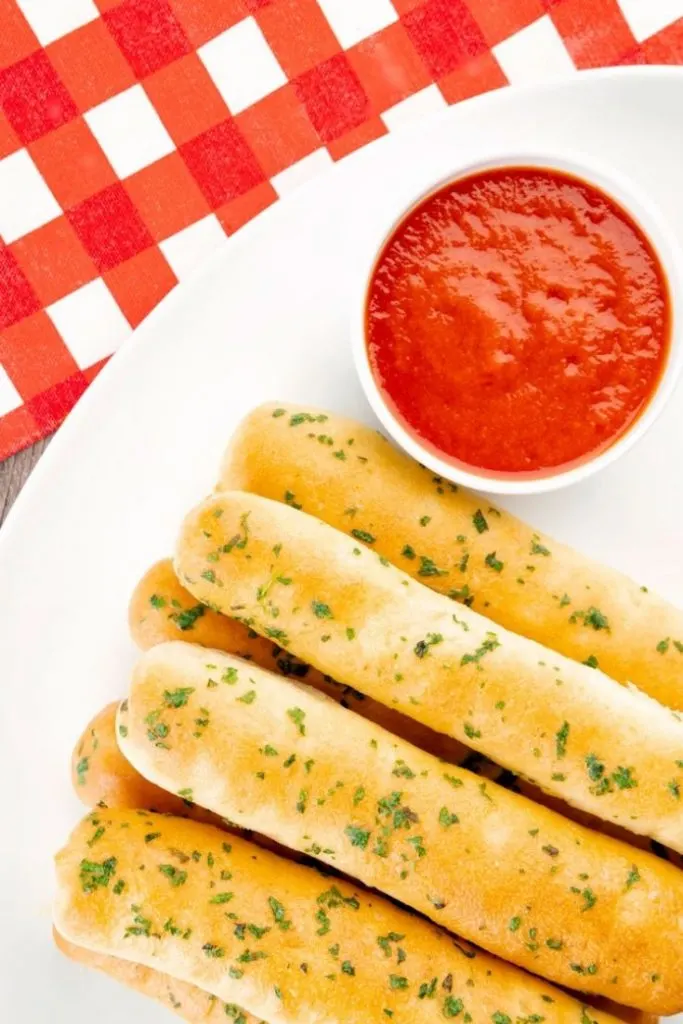 What you'll need for the breadsticks
These copycat Olive Garden breadsticks don't need a lot of ingredients. You probably have many of them on hand. Here's what to gather when you are ready:
All-purpose flour - You could use whole wheat or bread flour, but it could change the flavor and texture slightly. I recommend using plain all purpose flour.

Active yeast - You can use packets or loose yeast.

Sugar - Sugar is needed to help activate the yeast.

Salt

Water warm - Make sure it is lukewarm or only slightly warm to the touch. If it is too hot, it can kill the yeast, but if it is too cold, the yeast won't activate.

Canola oil or butter - You should use canola oil if you want to make them vegan.

Butter melted - Melted butter goes on top, but olive oil works for a vegan option.

Garlic powder and parsley
How to make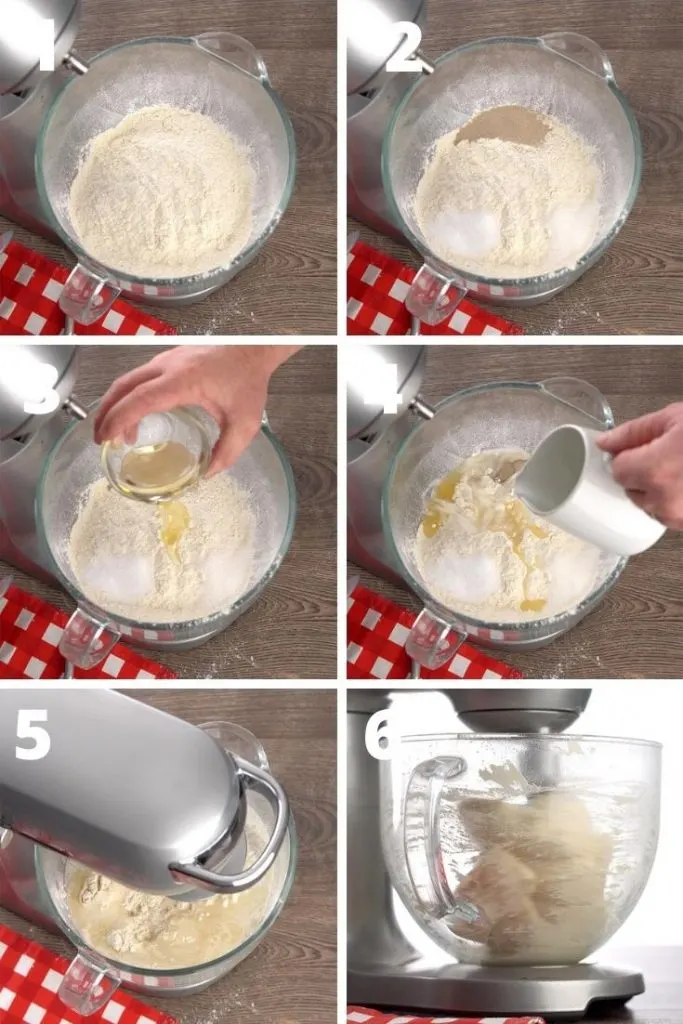 First, combine all ingredients, except for topping ingredients, in the bowl of a stand mixer. Next, place the dough hook attachment on and mix until combined on low speed.

Once it has come together, keep mixing for about 5 more minutes or until the dough has formed a soft, slightly sticky ball. It will not pull away from the side of the bowl completely.

Next, place the dough in your Instant Pot and proof it on the medium yogurt setting for 45 minutes. If you don't have the yogurt function, you can cover the bowl and allow it to rise in a non-drafty part of the kitchen for about 1-1/2 hour.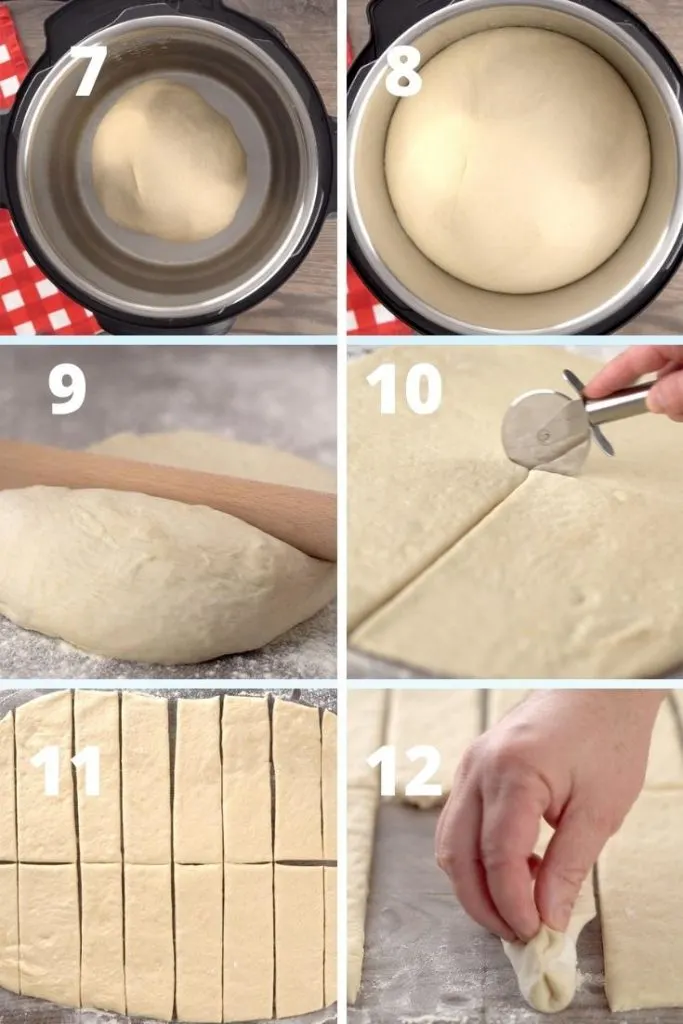 When it is done, the dough should have roughly doubled in size. Before removing the dough from the bowl or inner pot, punch it down in the center. Next, lay the dough on a floured surface and roll into a roughly 12 x 16 inch rectangle.

To make it really easy, use a pizza cutter to cut into 16 equal sized pieces.

Next, pinch the long sides of each piece together to form a breadstick shape and place the sticks with the pinched side down on a greased baking sheet. Finally, cover them with a towel and allow them to rise for another 20 minutes.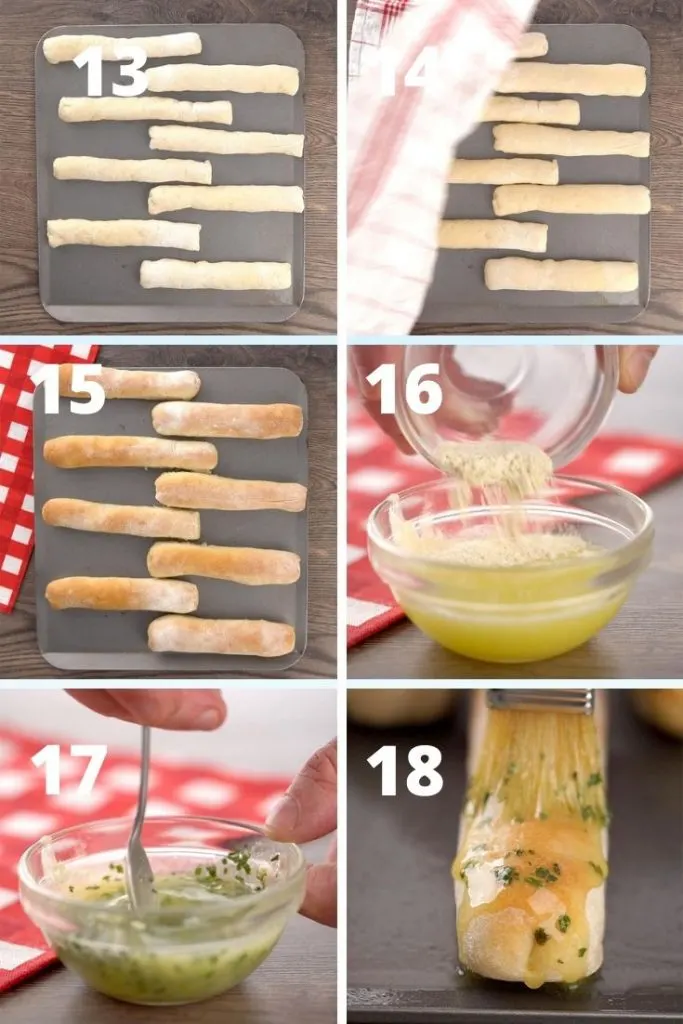 Once the breadsticks have risen, bake them in a preheated oven at 375° for 15 to 17 minutes.

In the final minutes of bake time, mix the garlic powder, Dried Parsley or Italian seasoning, and salt together. Next, melt the butter and mix in the seasonings. Once you remove the breadsticks from the oven, brush them immediately with the mixture.

Serve the breadsticks fresh from the oven with your favorite soup, marinara sauce, dipping sauce, or entree. Enjoy!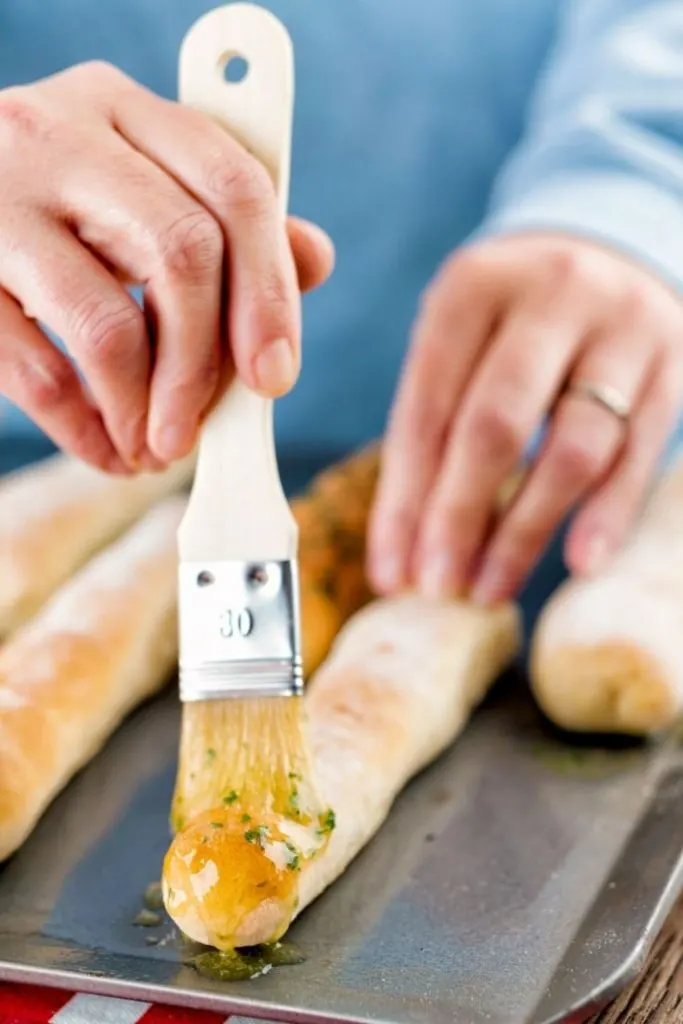 How to make the breadsticks in an air fryer
To make the breadsticks in your air fryer, follow all the directions to make the dough. But instead of placing them in the oven and preheating your oven, you'll need to preheat your air fryer.

To bake the sticks in the air fryer, first let the breadsticks rise in the tray of the air fryer for 30 minutes.

Once they have risen, place the tray in the air fry and cook for 10 to 12 minutes on 400 F.

Finally, brush the tops with herb butter when they are out of the oven.
Pro tips and tricks
These breadsticks are super easy to make. You can make the process even easier by following some of these easy tricks.
Make sure you use lukewarm or only slightly warm water to help the yeast activate in the dough.

Don't over-knead the dough! About 5 minutes with the dough hook is all you need.

Allow the dough and then the breadsticks time to rise before baking.

Bake until the tops have started to turn light golden brown.
Are Olive garden breadsticks vegan?
The original Olive Garden recipe is not vegan because it uses butter to make the sticks and to top them.
But you can easily make these breadsticks vegan by using canola oil in the breadsticks and olive oil to top them. Though they will still taste amazing, they will not have the exact flavor of the Olive Garden.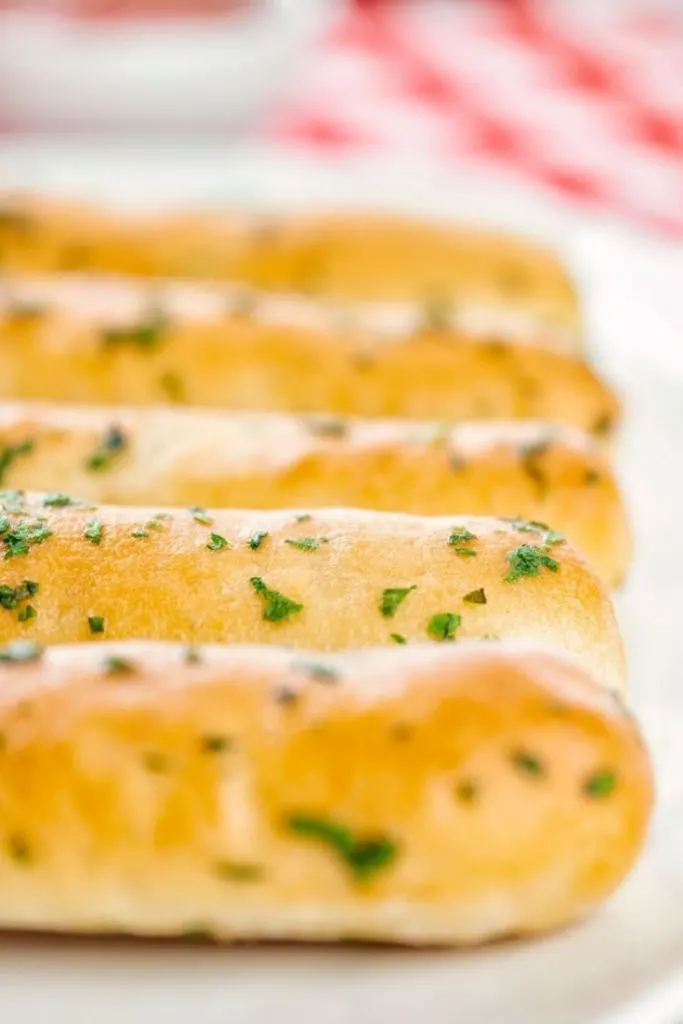 Can Olive Garden breadsticks be frozen?
Yes! You can freeze the breadsticks once you make either the dough or bake the sticks.
To freeze the dough, allow it to rise and then tightly wrap the dough in plastic wrap. Place the plastic wrap in a freezer safe back and squeeze out all the air. Finally, place the dough in the freezer for up to 6 months.

When you are ready to make them, thaw the dough in the fridge overnight and then allow them to come up to room temperature before rolling out into sticks.

To freeze fully baked breadsticks, skip brushing them with melted butter and place the sticks a freezer safe bag once they have cooled down. Freeze them for up to 6 months. To reheat, allow them to thaw overnight and then bake in the oven for about 15 to 20 minutes or until warmed through at 300 degrees.
How do you reheat breadsticks
There are two ways to reheat breadsticks.

The first way is to preheat your oven to 300 degrees. When it is warm, place the breadsticks on a cookie sheet and bake for about 5 to 10 minutes or until they are warmed through.

The second way is to place one or two on a microwave safe plate and cover with a moistened paper towel. Once covered, you need to microwave the sticks for about 15 seconds or until warmed through.

For best results, I recommend brushing fresh butter or oil on top when you reheat them. If you know you will have leftovers or you make ahead, leave the butter topping off until you are ready to heat and serve them.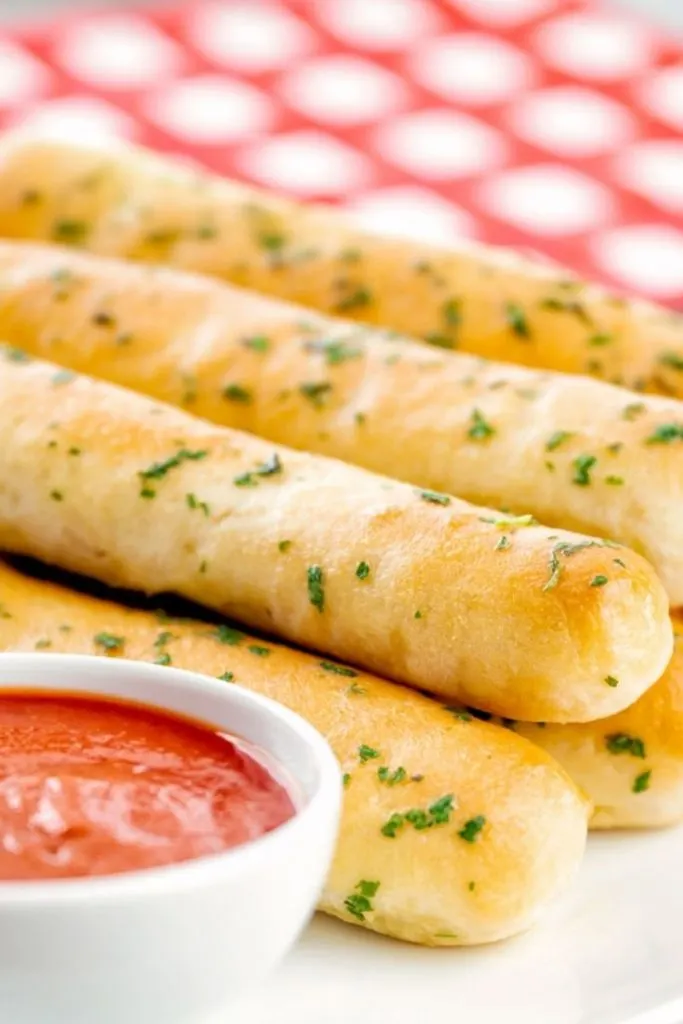 How to serve
These copycat Olive Garden breadsticks are best served warm from the oven with the melted butter brushed on top. They are a great appetizer and go well with just about any meal, salad, or appetizer.
If you love soup as much as I do, you can serve it with either our Sopa De Fideo or Broccoli Cheese soup. They are great dippables and a great way to soak up the last little bit of soup.
Another great way to serve the breadsticks is as an appetizer at a get together or just for your family when you want a simple snack. When I serve it as an appetizer, I often make a fresh batch of our homemade Marinara Sauce to dip into.
How long do breadsticks last
These breadsticks should last for several days on the counter. Be sure to let them cool and place them in an airtight container. You may want to place a few paper towels with them to help prevent moisture. They should last for about 5 to 6 days.
You can also store them in the fridge for about 6 to 7 days. If you freeze them, they should last about 6 months.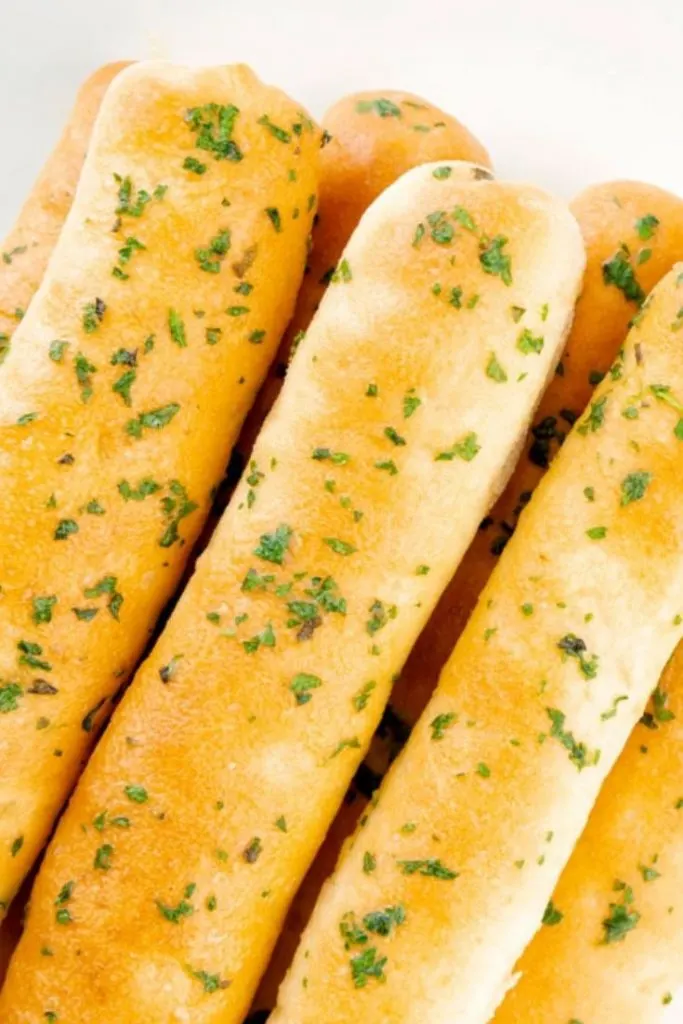 More delicious Bread Recipes
If you love bread and want more ideas, you should definitely check out some of these other popular bread recipes:
More Delicious AIR - FRYER recipes you will enjoy:
Let us know what you think
If you try these Olive Garden breadsticks? If so, don't forget to let us know what you think and how you served them! Be sure to take a pic and tag us on Instagram @dbellyrulesdmind or Facebook @thebellyrulesthemind!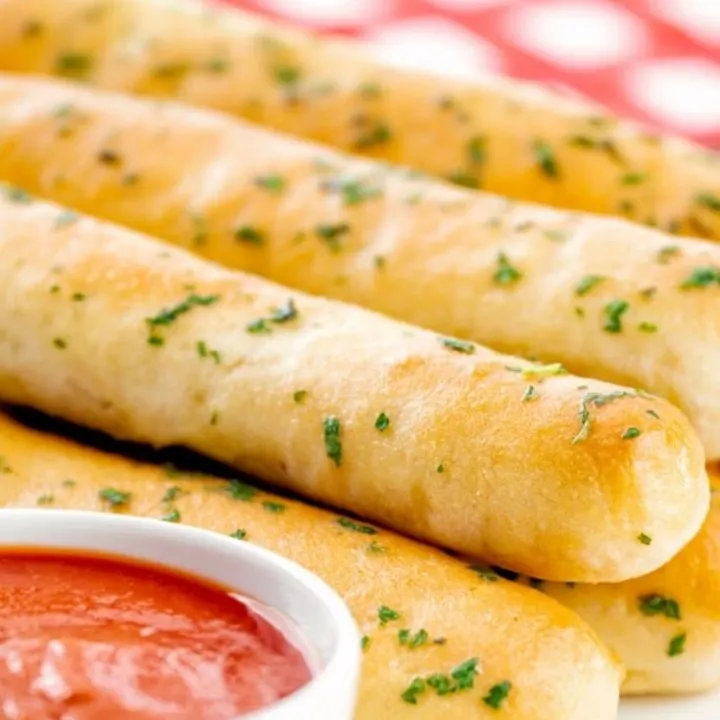 Copycat Olive Garden Breadsticks
Total Time:
1 hour
5 minutes
Copycat Olive Garden breadsticks are our spot on version of the classic dish. These soft, buttery breadsticks are as delicious as the ones they serve in the restaurant in the comfort of your home. Pair them with your favorite pasta or soup and salad for a treat you and your family will love!
Ingredients
3 -1/4 cups all-purpose flour
1 pkg active yeast
1 tbsp. sugar
2 teaspoon salt
1- 1/4 cup water warm
2 tablespoon canola oil or butter
Topping
3 tablespoons butter melted
1 teaspoon each garlic powder and dried parsley or Italian seasoning
Instructions
Combine all ingredients (except for topping
ingredients) in the bowl of a stand mixer and mix using the dough hook until combined on low.
Continue mixing about 5 minutes, adding just a
little more flour if needed.
Dough will be soft and slightly sticky; it won't
completely pull away from side of bowl.
Proof the dough in the Instant Pot on the medium
yogurt setting for 45 minutes.(If you do not have that simply cover in a bowl and let rise on the counter for 1-1/2 hour) .
Punch down risen dough and lay out on the floured surface. roll dough into a 12 x16 inch rectangle.
Use a pizza cutter to slice into 16 pieces.
Pinched the long sides of each piece together to form a breadstick shape.
Place sticks pinched side down on a greased baking sheet, cover with towel, and let rise about 20 minutes.
Bake at 375° for 15-17 minutes.
Mix the garlic powder, Italian seasoning and
salt.
Brush each breadstick with melted butter and
seasoning.
Serve immediately with soup or marinara sauce!
Recommended Products
As an Amazon Associate and member of other affiliate programs, I earn from qualifying purchases.
Nutrition Information
Yield

16
Serving Size

1
Amount Per Serving
Calories

67
Total Fat

5g
Saturated Fat

2g
Trans Fat

0g
Unsaturated Fat

3g
Cholesterol

6mg
Sodium

176mg
Carbohydrates

6g
Fiber

0g
Sugar

1g
Protein

1g
All information and tools presented and written within this site are intended for informational purposes only. We are not a certified nutritionist and any nutritional information on TheBellyRulesTheMind.net should only be used as a general guideline. This information is provided as a courtesy and there is no guarantee that the information will be completely accurate. Even though we try to provide accurate nutritional information to the best of our ability, these figures should still be considered estimates.