Vegan Overnight Oats with Mango & Blueberries are the easiest nutritious breakfast ever! Get the fiber from oats, protein from chia seeds, sweetness from fruits and low calories from nut milk. Healthy no-cook make-ahead. 5 ingredients, 5 minutes. Vegan. Gluten-Free. Dairy-Free. Lactose-Free.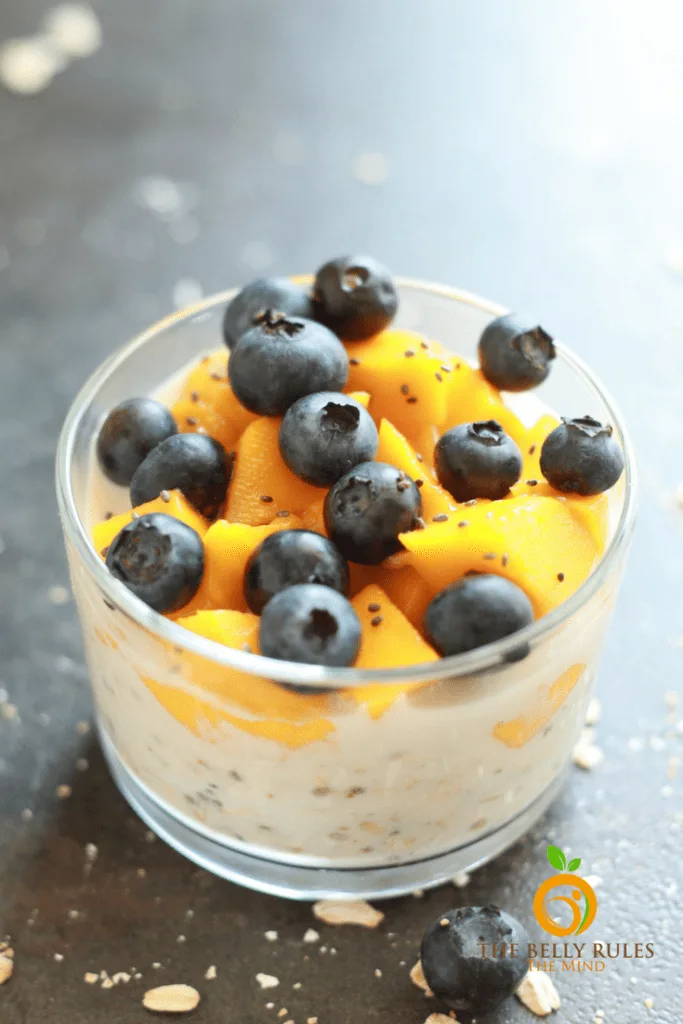 Overnights Oats make a perfect breakfast for busy weekday mornings. Just a little 5-minute prep the night before and these breakfast cups make life so convenient and healthy in the morning. Not only are these overnight oats delicious but they are nutritious too. Best of all the permutation combinations are endless and overnight oats can be customized to your taste. Lately, I have been enjoying overnight oats everyday. Somedays for breakfast while some days for lunch. Yes for lunch!!! When I want to feel fuller but not consume a lot of calories or fat, these overnight oats, make an awesome lunch option too.
Combine oats with chia and it's a powerhouse combo.
Oats are whole grains that are nutritious
Oats are a good source of carbs and fiber
Oats contain more protein than other grains
Oats are rich in antioxidants
Oats are heart healthy
Oats contain soluble fiber beta-glucan that helps reduce cholesterol and blood sugar levels, promotes healthy gut bacteria and increases feelings of fullness
Chia is super-high in fiber
Chia are proved to halt diabetes and reverse it
Chia boost energy & metabolism
Chia are rich in omega 3 fatty acids
Chia are a great source of plant-based protein thus helps build muscle and lose weight
Combine the above with the goodness of fresh fruits and nut milks. Now that is a bowl/glass/jar of nourishment. I think adding fruits like mangoes and blueberries, naturally sweetens the overnight oats and enhances the flavors too. Of all the fruits I use, mangoes and blueberries are my favorite additions to overnight oats. This time of the year, both these fruits are naturally sweet that I don;t feel the need to add any sugar. This version of vegan overnight oats is inspired by our Vegan Chia Oats Breakfast Parfait, except that this is much simpler.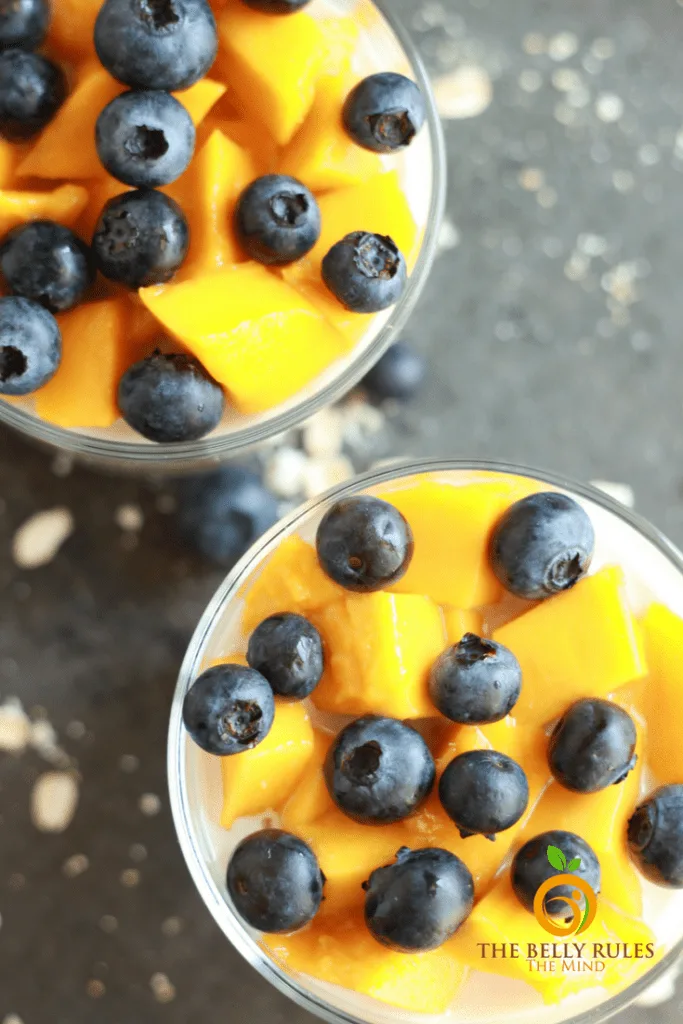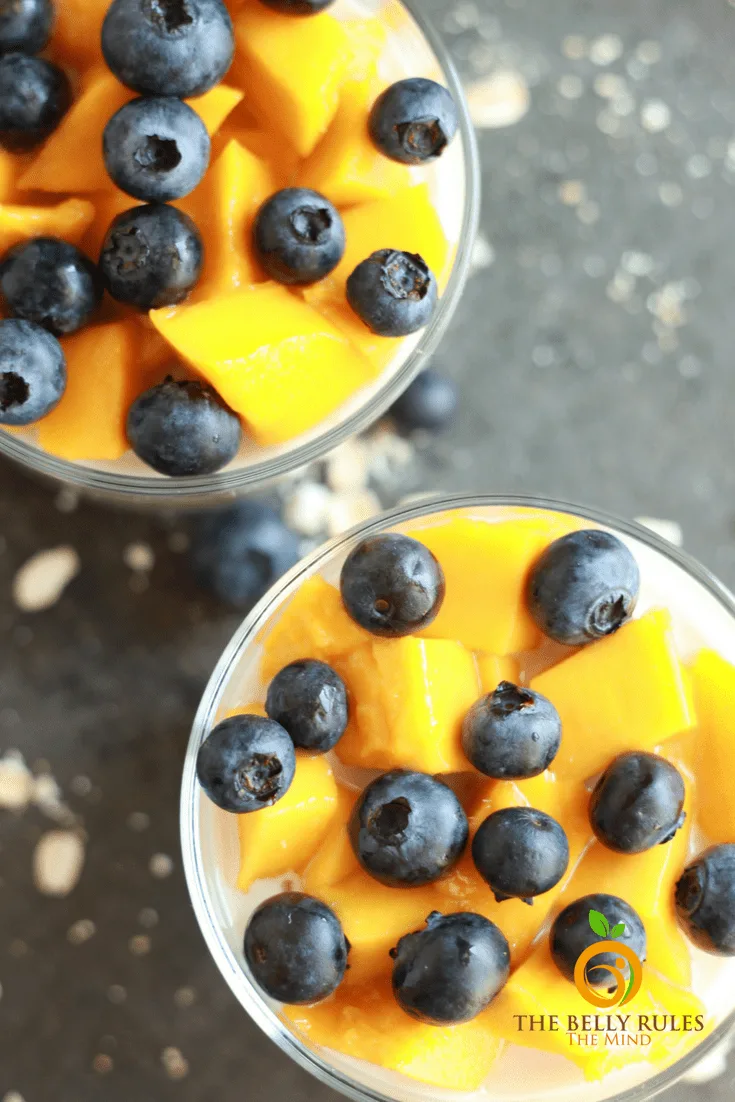 What I love about these Vegan Overnight Oats is that, breakfast comes together very easily. I can enjoy the goodness of oats, chia, fresh fruits and nut milks in one jar. It's easy to put this together with just 5 minutes of prep times and only 5 ingredients. I can make this ahead of time, a day prior for breakfast or sometimes even lunch or dessert. All ingredients are plant-based. Dr.Mystery is a big fan of these and I love it when he requests these Vegan Overnight Oats with Mango & Blueberries. I got my mom to try them too and she liked it too. It's always a hit.
Everybody for whom I have made these, have really liked it. So make sure you don't forget to try it too. I know for sure you will love the flavors, especially when these fruits are in season. When you do try them, don't forget to tag us using the hashtag #tbrtm on Instagram or Twitter. Feel free to customize it, add a nut butter or dried fruits and nuts or seeds, make it your own. This surely is a must try because it is simply so delicious and nutritious!
Here are some more breakfast recipes from the blog using Oats, check them out.
Instant Oats Kheer / Pudding, Vegan & Gluten-Free
Banana Bread with Oats
Vegan Overnight Oats with Mango & Blueberries
Ingredients
1/2 cup gluten-free rolled oats
2 tablespoon chia
2/3 cup milk of your choice (soy, hemp, rice, almond, dairy), I used unsweetened almond milk.
1 cup mangoes
1/2 cup blueberries
1 teaspoon monkfruit in the raw (if required)
Instructions
Do ahead in time
In a 16 ounce jar, soak the oats & chia seeds with milk. Refrigerate it overnight
In the morning, add fresh mango chunks and bluebrries.
If required sweeten with monkfruit in the raw.