Take one look at this delicious sandwich and you will quickly realize that this is not your traditional vegetarian sandwich. This is something special; it's called the Bombay Sandwich – Vegan Masala Sandwich. Loaded with sliced veggies, masala aloo( Potato) and topped with chutney ans sev. This Bombay sandwich or Masala Sandwich is arguably one of the best vegetarian sandwich ever. It's super delicious, and exploding with amazing flavors and ready to rock your socks off!
So what is a Bombay Sandwich – Vegan Masala Sandwich?

Bombay sandwich as the name suggests is a sandwich specifically originating from Mumbai or Bombay as it used to be called before the renaming happened.  Love a good sandwich? Look no further; this simple vegetable sandwich from the streets of Mumbai is bursting with flavors.
The Bombay sandwich recipes are typically prepared in a unique toaster which is very much used by most Mumbai street food vendors. The toaster helps gives a crisp and cone triangle shape by locking the sides of toast. I have used a similar toaster for this recipe however, you can enjoy this sandwich by making it on a cast iron pan or a grilled sandwich maker.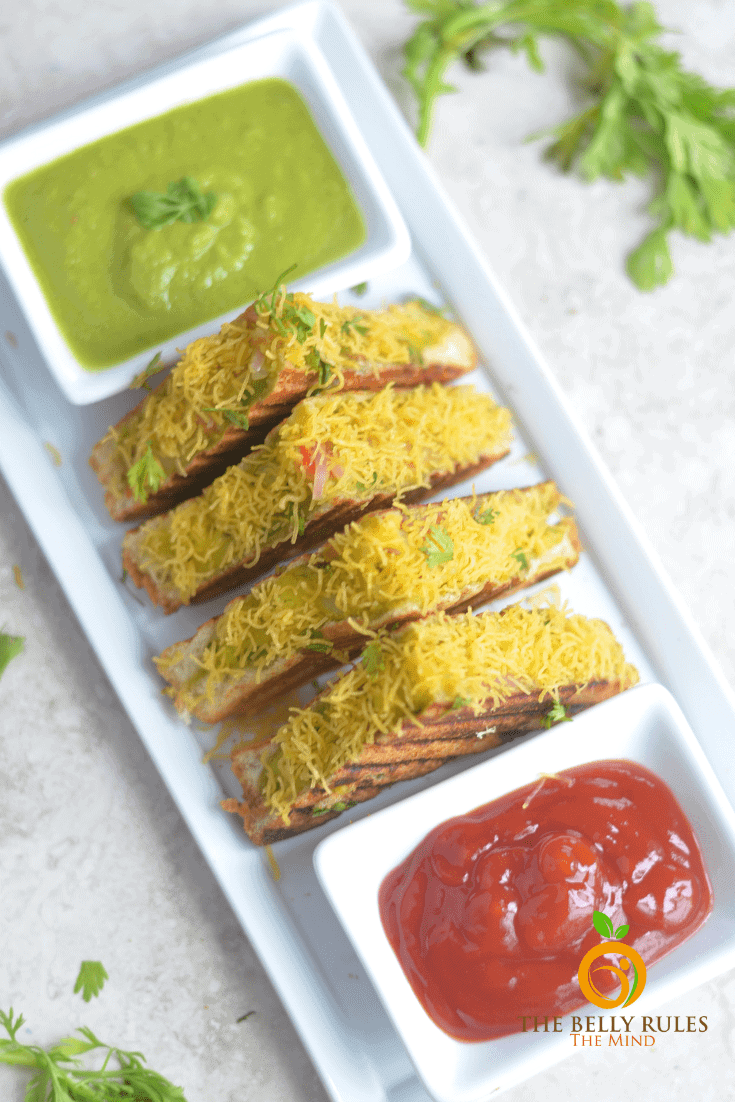 Well, let me start by saying Did we just skip Fall? We had extremely hot weather and suddenly the whole week has been so cold, cloudy and rainy!  A huge drop in weather always makes us uncomfortable. On another note School and extracurricular activities are in full swing now and I am happy to see my boys settle into the daily routines so well, especially my little one R3 so Proud of him! He has been a champ, getting up on time, eating his breakfast at home, lunch at school… I am a Happy mom <3. As a mom, I cannot ask for more.
Coming back to the recipe, yes I didn't forget about it :P. Being born, bought up and spoiled in Mumbai where you had such delicious street food options and you could always find food whatever time of the day. This was one of my favorite binge on food and I wonder how I missed sharing this recipe with you all. The Bombay sandwich is available at every nook and corner of a street in Mumbai; From in front of the college, to near a railway station, school, bus stop, shopping malls. Yes, these street vendors are way more than Starbucks stores here :-). After Vada Pav / Aloo Bonda, this veg sandwich from Bombay / Mumbai is second most favorite Street Food snack enjoyed by almost everyone. There are many versions of this simple Bombay Sandwich – Vegan Masala Sandwich, the one we have featured is the toasted one.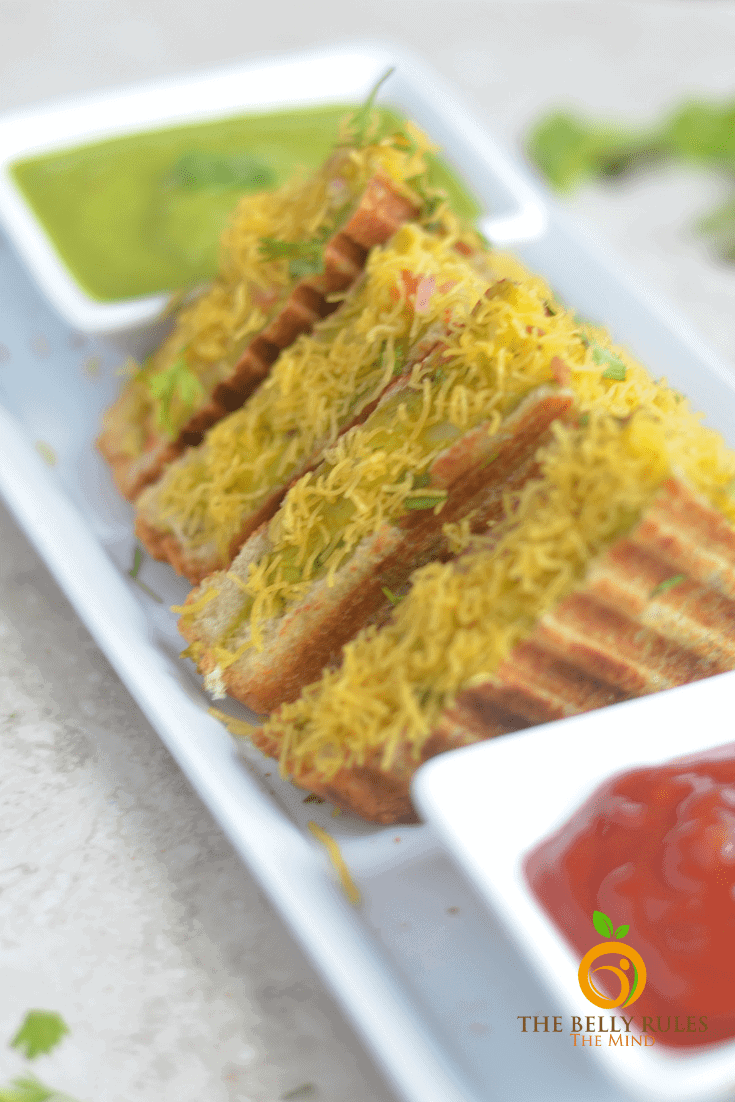 Vegan sandwich recipes cannot get any easier than this super simple than this Bombay sandwich. Don't take my word for it; make it and see for yourself.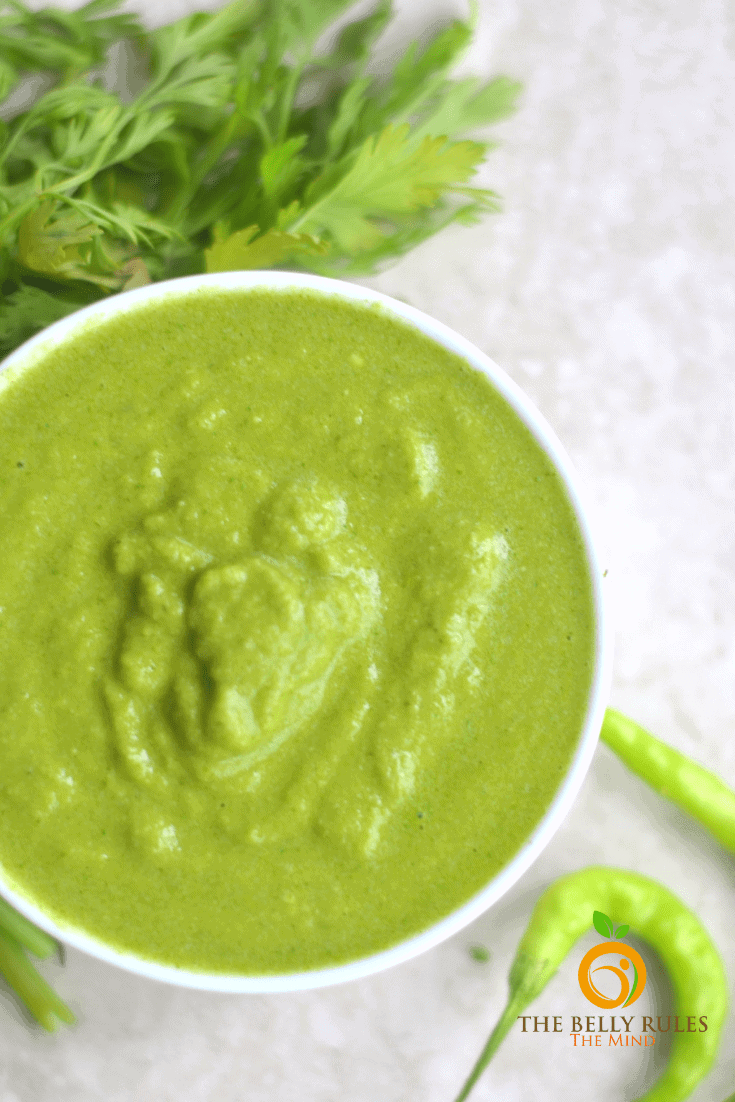 So what makes the sandwich special?
There are a few things that make this sandwich way different than regular vegetable sandwiches. It's the Bombay Sandwich Chutney, the preparation of the filling (masala aloo). Read below to get more insight :-).
Bombay sandwich Chutney –  Try this vibrant chutney, and you'll see why it's such an iconic snack in India and one of Mumbai's favorite street foods. I have used my Multipurpose green chutney to spread on the bread slices. This is such a versatile chutney as the name suggests you can use as a sandwich spread or dip for fritters / Pakodas. The best part is you can make this in a big batch, and freeze it. When you want to use it, just defrost or thaw them and you will never be out of Green chutney ever again. It's ready to use anytime you want. I usually prepare a huge batch in fall just before the veggies become expensive.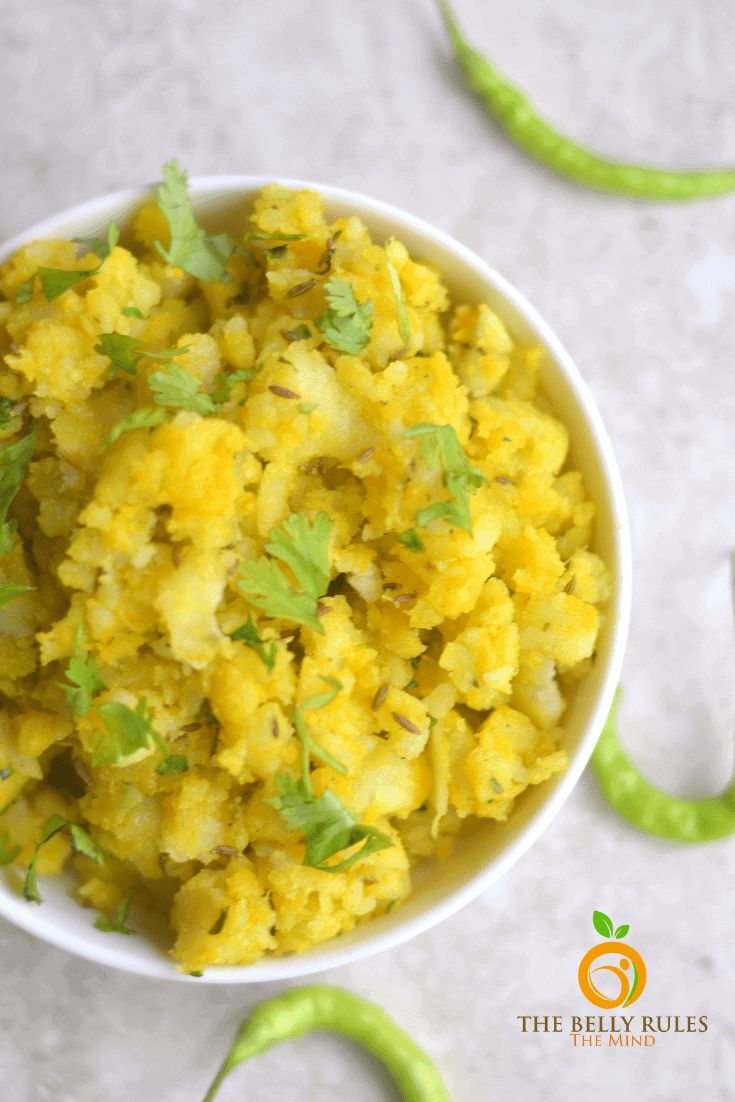 Potato masala/Aloo masala – another key ingredient in this Bombay Sandwich. It's so simple yet it gives an amazing taste to this Bombay sandwich. You can make this ahead of time and refrigerate it. All that is left to do is assemble the sandwich. You can add various flavor enhancers like the black salt based chaat masala, Bombay sandwich masala (yes you can get this from the store), and the sev ( crispy thin strands of gram flour).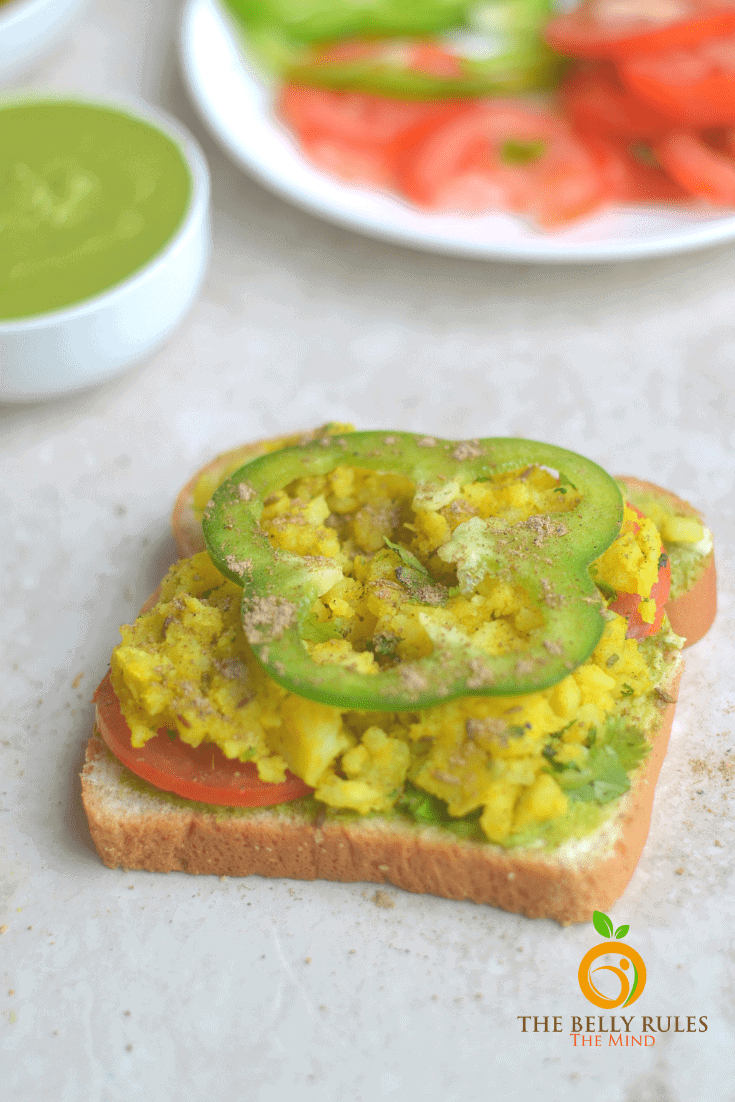 What type of bread should I use?-
Bombay sandwich is usually made with white bread, however, you can use whole wheat, wholemeal, multigrain or Udi's gluten-free bread depending on your preferences. As I have said earlier, the magic is in the chutney and the aloo masala.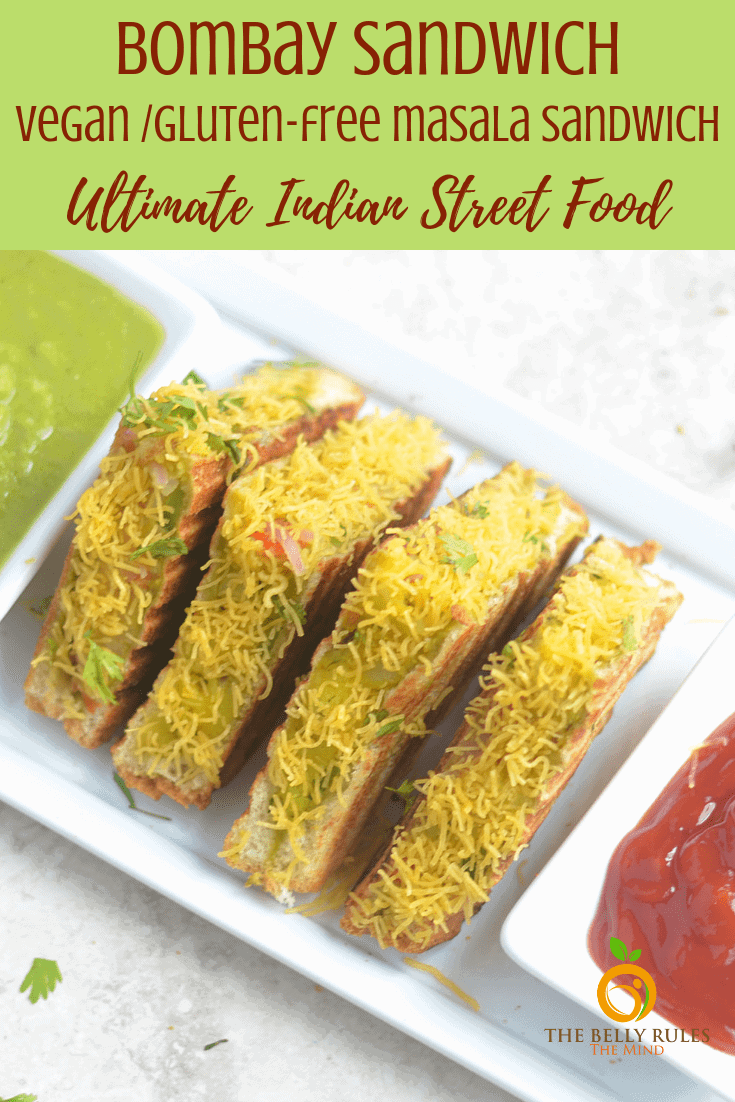 Have fun making it.💁 Do tell me how you fared once you have stuffed yourself with all the goodness that you can now make at home. No need to travel to Mumbai✈️
Bombay Sandwich – Vegan Masala Sandwich
Ingredients
potato filling
2 tsp oil
1 tsp cumin seeds
1 inch ginger /chopped
½ tsp turmeric powder
3 boiled potato/ mashed
1 tsp chaat masala
salt to taste
some coriander leaves/ chopped
other ingredients
8 slice bread white / brown/( Udis for gluten free bread)
¼ cup green chutney
1 onion sliced
1 tomato sliced
8 big capsicum rings
3 tsp butter/vegan butter of your choice
¼ cup sev
1 tbsp chaat masala
Instructions
In a medium pan heat 2 tsp oil and add Cumin seeds jeera, chopped ginger and
saute. add the boiled and mashed potato.add Salt to taste , turmeric, ½ tsp chaat masala and chopped cilantro and mix well. aloo masala stuffing is ready.
Spread butter on the bread slices , then the green chutney.
Top on one bread slice with 2 slices of tomato and 2 slices of onion.
Spread aloo masala evenly on the bread.
Top with 1 ring of capsicum and sprinkle chaat masala.
Cover with another bread slices and spread some butter on the top of the bread.
Toast the sandwich till its golden and crispy
Cut the masala toast sandwich into 4 pieces
finally, sprinkle sev and chaat masala before serving masala toast sandwich
https://thebellyrulesthemind.net/bombay-sandwich-vegan-masala-sandwich/