Bombay sandwich is a super delicious street side food that is very common on the streets of Mumbai. Take one look at this delicious sandwich and you will quickly realize that this is not your traditional vegetarian sandwich. This is something special; it's called the Bombay Sandwich - Vegetable Sandwich. Loaded with sliced veggies, masala aloo( Potato) and topped with spicy chutney and sev.
[avatar user="soniyasaluja" size="thumbnail" align="right" link="https://thebellyrulesthemind.net/about-us/" target="_blank"]Soniya.Saluja[/avatar]
LET'S BE FRIENDS ON PINTEREST! WE'RE ALWAYS PINNING TASTY RECIPES!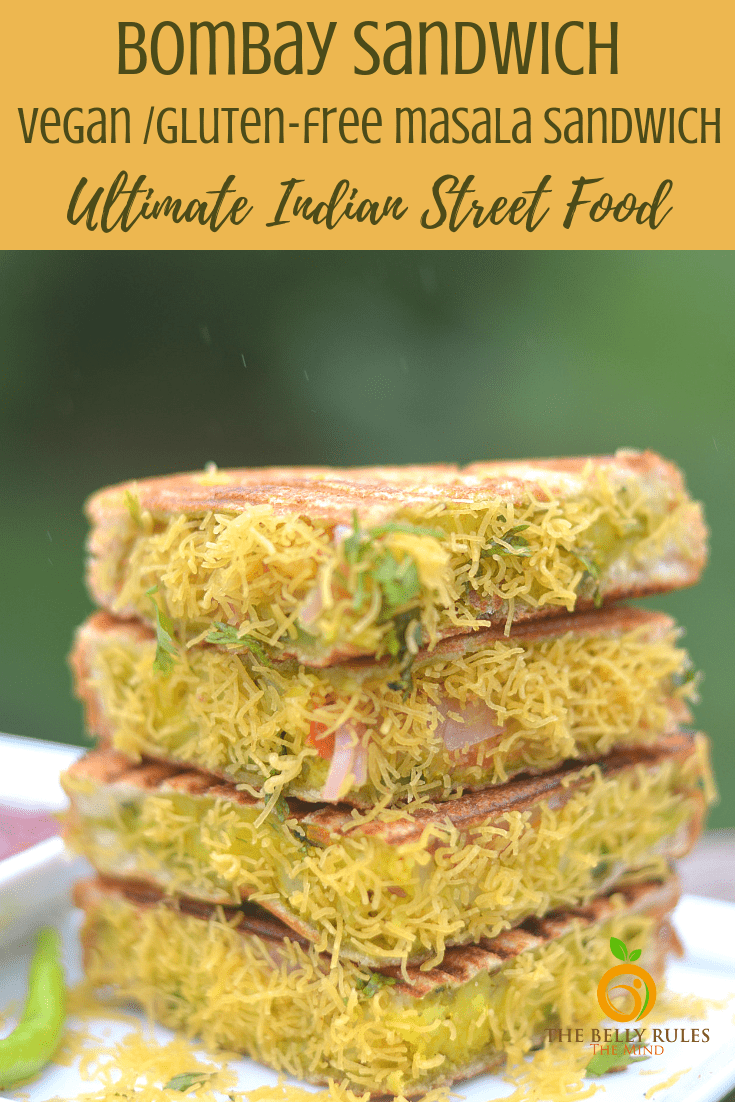 What is a Bombay Sandwich - Vegetable Masala Sandwich?

Bombay sandwich as the name suggests is a sandwich specifically originating from Mumbai or Bombay as it used to be called before the renaming happened. Love a good sandwich? Look no further; this simple vegetable sandwich from the streets of Mumbai is bursting with flavors.
The Bombay sandwich recipes are typically prepared in a unique toaster which is very much used by most Mumbai street food vendors. The toaster helps gives a crisp and cone triangle shape by locking the sides of toast. I have used a similar toaster for this recipe however, you can enjoy this sandwich by making it on a cast iron pan or a grilled sandwich maker.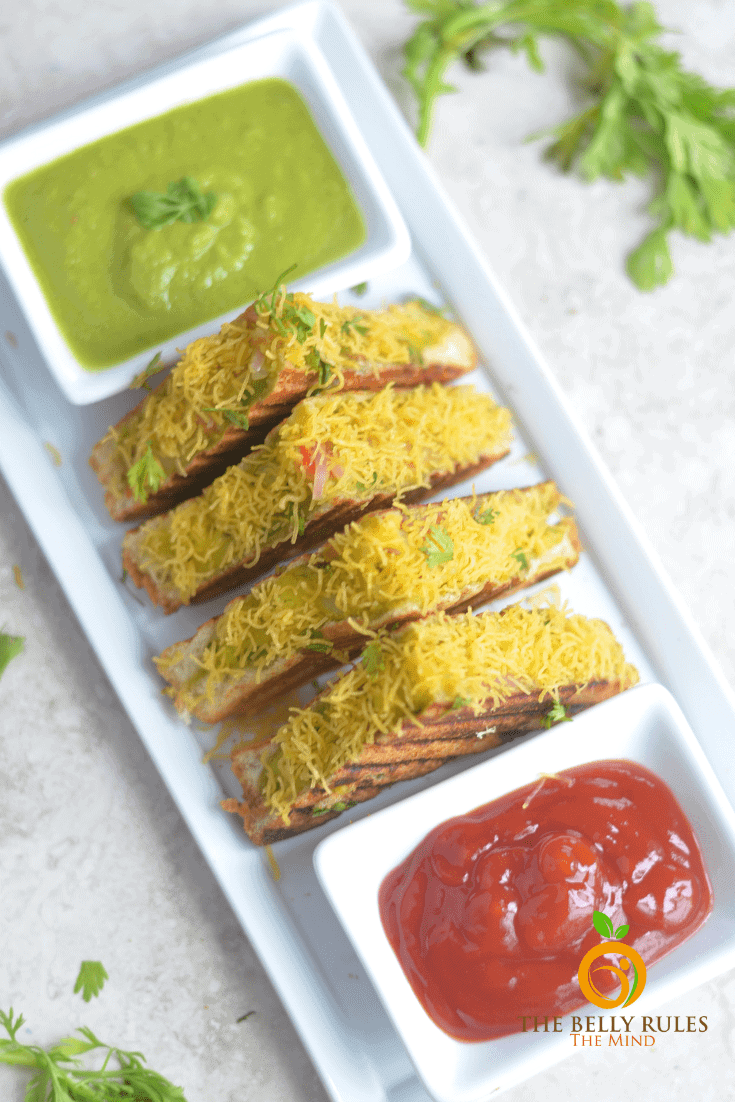 Bombay Sandwich is an excellent Lunchbox Option!
Thinking about what to put in your kids lunchbox? I can assure you that your kid will love to see this in the lunchbox. Most importantly it will be all gobbled up. My son R3 loves to see this Bombay sandwich in his lunch box and when I do send it in the lunch box, I know it will come back empty. It is not too difficult to make and comes together very fast.
What is Grilled Bombay Sandwich / Grilled Vegetarian Sandwich?
The Bombay sandwich is available at every nook and corner of a street in Mumbai; From in front of the college, to near a railway station, school, bus stop, shopping malls. Yes, these street vendors are way more than Starbucks stores here :-). After Vada Pav / Aloo Bonda, this veg sandwich from Bombay / Mumbai is second most favorite Street Food snack enjoyed by almost everyone. There are many versions of this simple Bombay Sandwich - Vegan Masala Sandwich, the one we have featured is the toasted one. It cannot get better than the grilled version. The crunch takes the sandwich to the next level.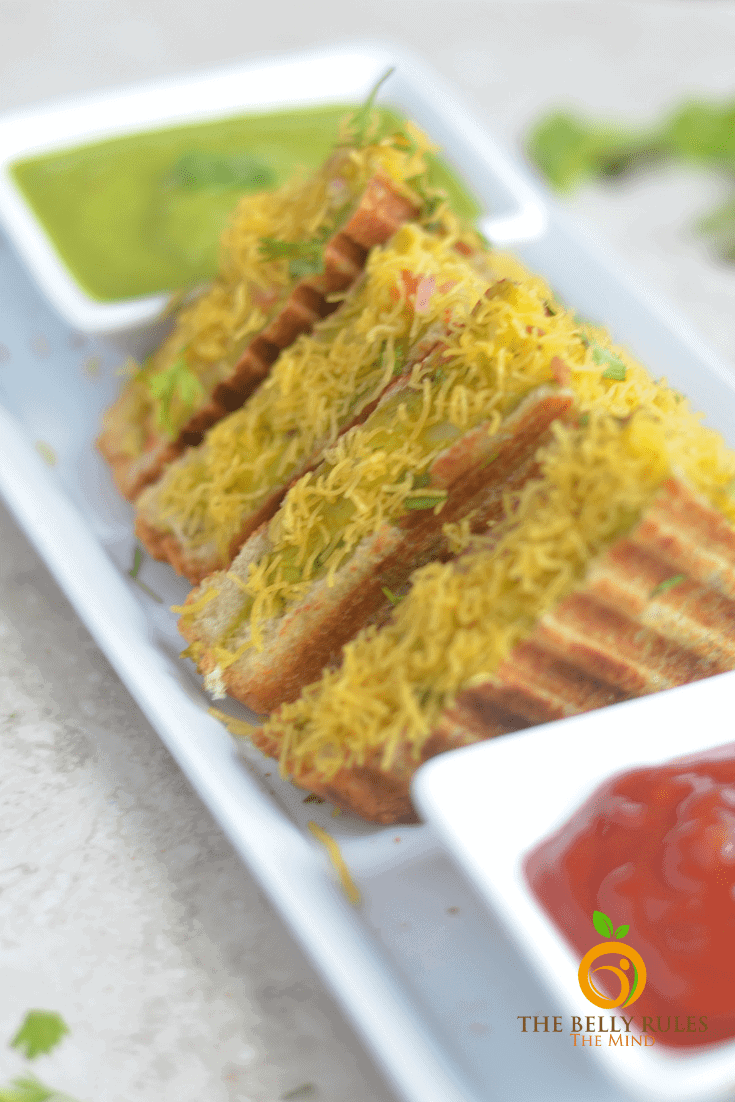 Bombay Sandwich can be an awesome Vegan Sandwich
Substitute the butter with vegan butter and you still have a completely awesome sandwich. Vegan sandwich recipes cannot get any easier than this super simple Bombay sandwich. Don't take my word for it; make it and see for yourself.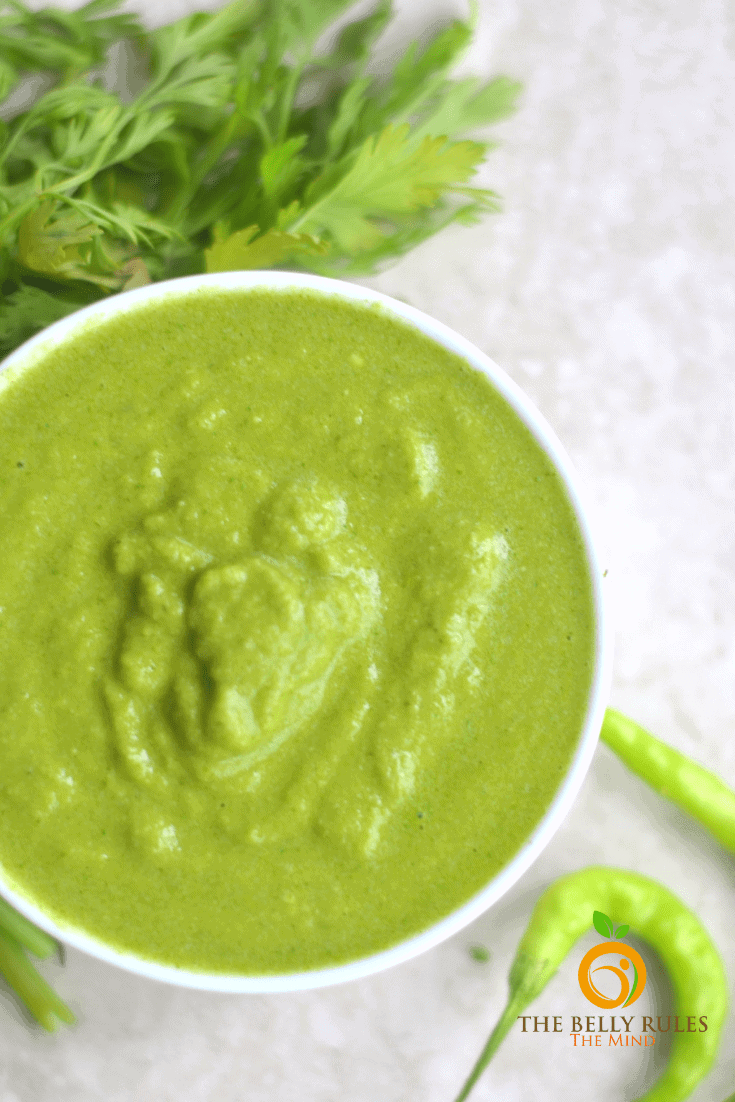 What are the ingredients of Mumbai sandwich?
There are a few things that make this sandwich way different than the regular vegetable sandwiches. It's the Bombay Sandwich Chutney, and the preparation of the filling (masala aloo). Read below to get more insight :-).
Bombay sandwich Chutney - Try this vibrant chutney, and you'll see why it's such an iconic snack in India and one of Mumbai's favorite street foods. I have used my Multipurpose green chutney to spread on the bread slices. This is such a versatile chutney as the name suggests you can use as a sandwich spread or dip for fritters / Pakodas. The best part is you can make this in a big batch, and freeze it. When you want to use it, just defrost or thaw them and you will never be out of Green chutney ever again. It's ready to use anytime you want. I usually prepare a huge batch in fall just before the veggies become expensive.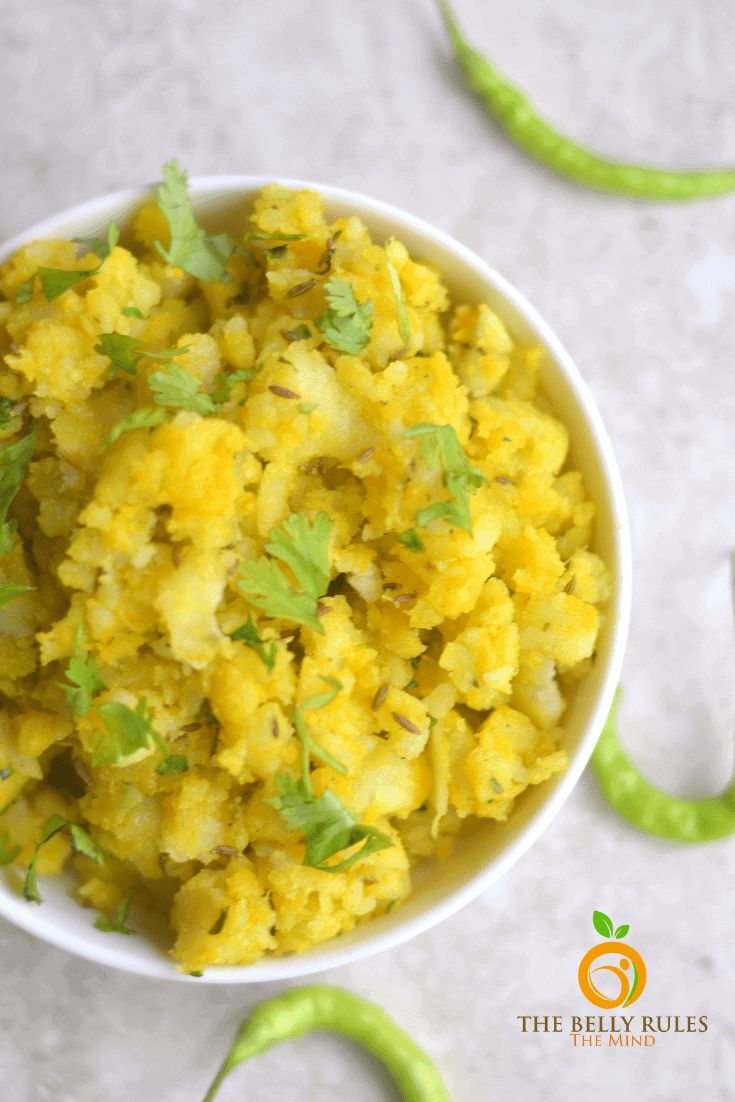 Potato masala/Aloo masala is another key ingredient in this Bombay Sandwich. It's so simple yet it gives an amazing taste to this Bombay sandwich. You can make this ahead of time and refrigerate it. All that is left to do is assemble the sandwich. You can add various flavor enhancers like the black salt based chaat masala, Bombay sandwich masala (yes you can get this from the store), and the sev ( crispy thin strands of gram flour).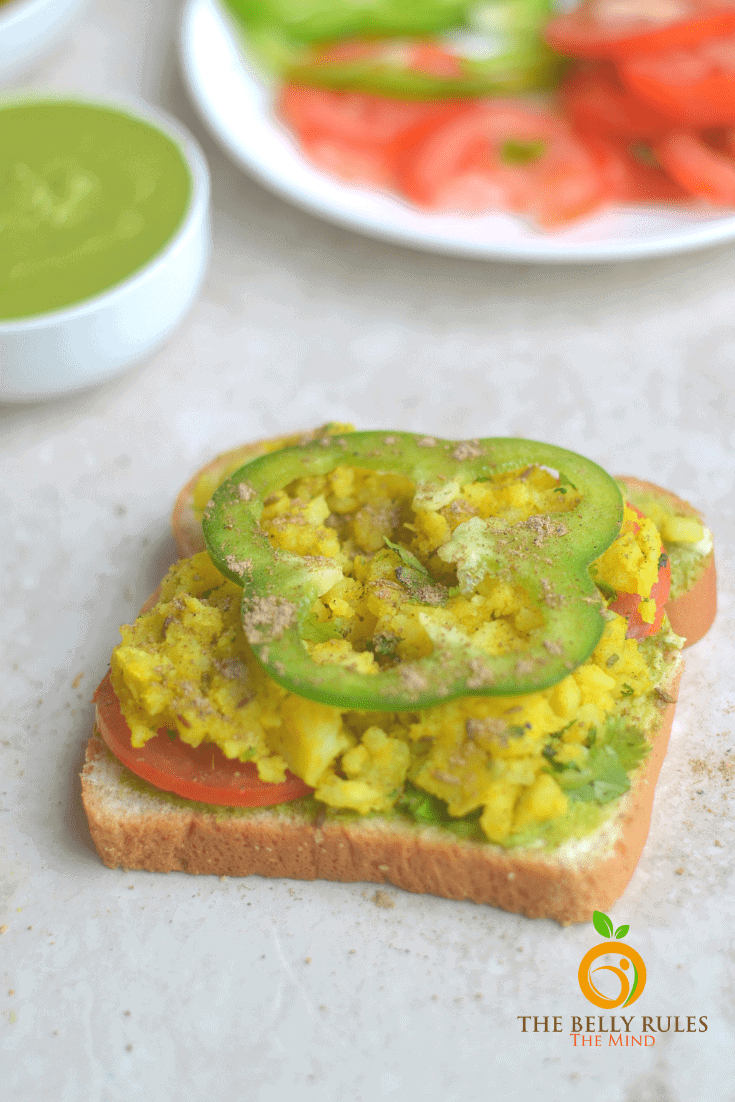 What type of bread should I use?
Bombay sandwich is usually made with white bread, however, you can use whole wheat, wholemeal, multigrain or Udi's gluten-free bread depending on your preferences. As I have said earlier, the magic is in the chutney and the aloo masala.
How to make Vegetable Sandwich - Step By Step Recipe?
You will need to prepare the main ingredients first before you start assembling this wonderful Bombay Sandwich. Prepare the multi-purpose chutney with a twist. Take a bunch of mint, 3-4 cloves of garlic, 1 teaspoon cumin seeds with salt, lemon, sugar, 3-4 green chillies, ripe avocado and olive oil and whirl it in your favorite mixer / grinder. You are ready with one main ingredient
Masala Potato is next in line- You can boil the potato in the instant pot by following the instructions here. In a medium pan heat 2 teaspoon oil and add Cumin seeds / jeera, chopped ginger and saute. Add mashed boiled potato, salt, turmeric, chaat masala and chopped cilantro. Mix them well and your masala potato is ready.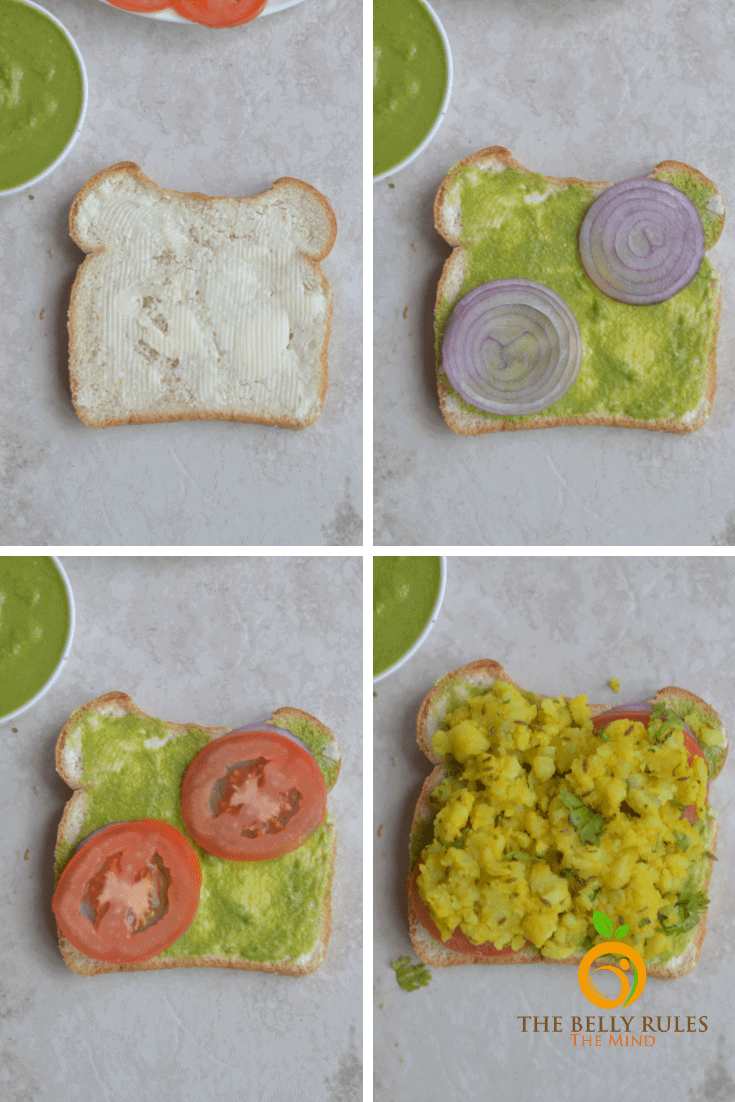 Apply butter and chutney on two slices of bread followed with a layer of masala potato, tomato, onion slices, one ring of bell pepper.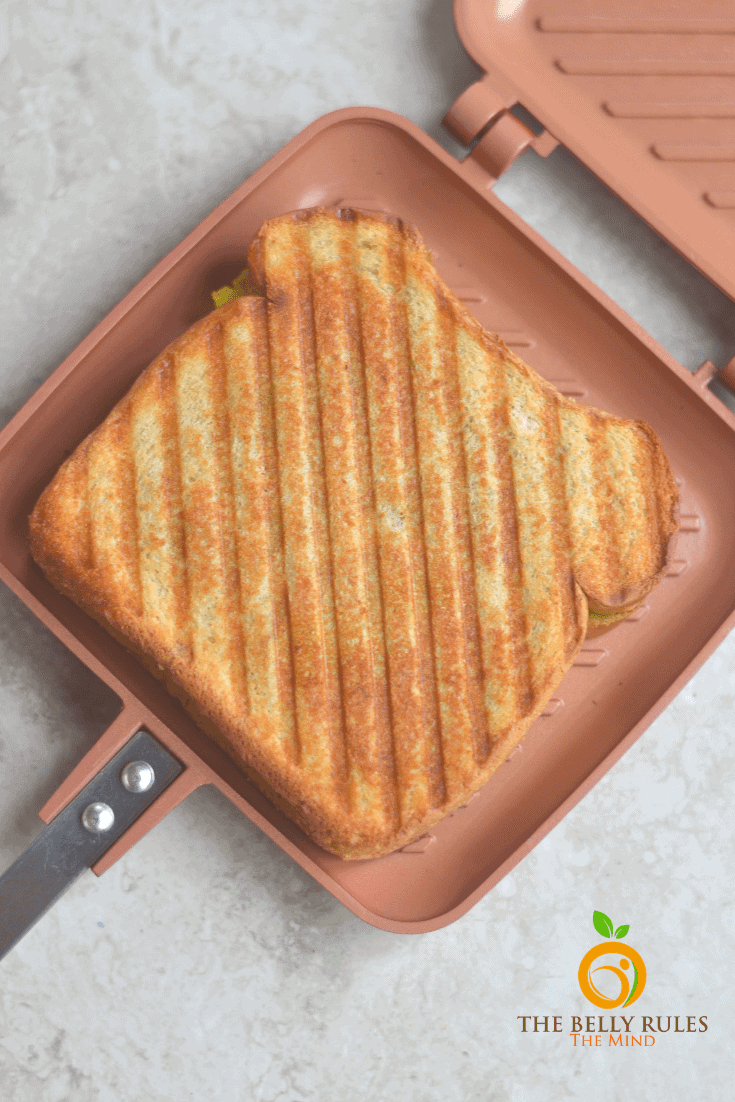 Toast the sandwich in a toaster till it is golden and crispy. Garnish them with sev and you are ready to go!
Have fun making it.💁 Do tell me how you fared once you have stuffed yourself with all the goodness that you can now make at home. No need to travel to Mumbai✈️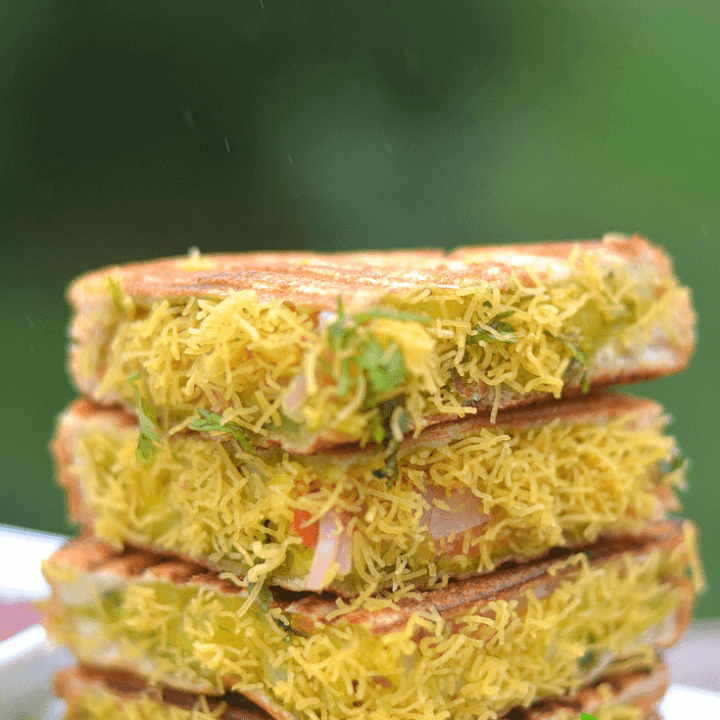 Bombay Sandwich – Vegetable Sandwich
Take one look at this delicious sandwich and you will quickly realize that this is not your traditional vegetarian sandwich. This is something special; it's called the Bombay Sandwich - Vegetable Sandwich. Loaded with sliced veggies, masala aloo( Potato) and topped with chutney ans sev. This Bombay sandwich is arguably one of the best vegetarian sandwich ever. It's super delicious, and exploding with amazing flavors and ready to rock your socks off!
Ingredients
For Potato Filling
2 teaspoon oil
One teaspoon cumin seeds
1 inch ginger /chopped
Half(½) teaspoon turmeric powder
3 boiled potato/ mashed
1 teaspoon chaat masala
salt to taste
some coriander leaves/ chopped
Other Ingredients
8 slice bread white / brown/( Udis for gluten free bread)
¼ cup green chutney
1 onion sliced
One(1) tomato sliced
8 big capsicum rings
¼ cup sev
3 teaspoon butter/vegan butter of your choice
1 tablespoon chaat masala
Instructions
For boiling the Potato
You can boil the potato in the instant pot. Follow the instant pot instructions here

For the Potato Stuffing
In a medium pan heat 2 teaspoon oil and add Cumin seeds / jeera, chopped ginger and saute.
Add the boiled and mashed potato.
add Salt to taste ,
Add turmeric, ½ teaspoon chaat masala and chopped cilantro and mix well.
Aloo/ Potato masala stuffing is ready.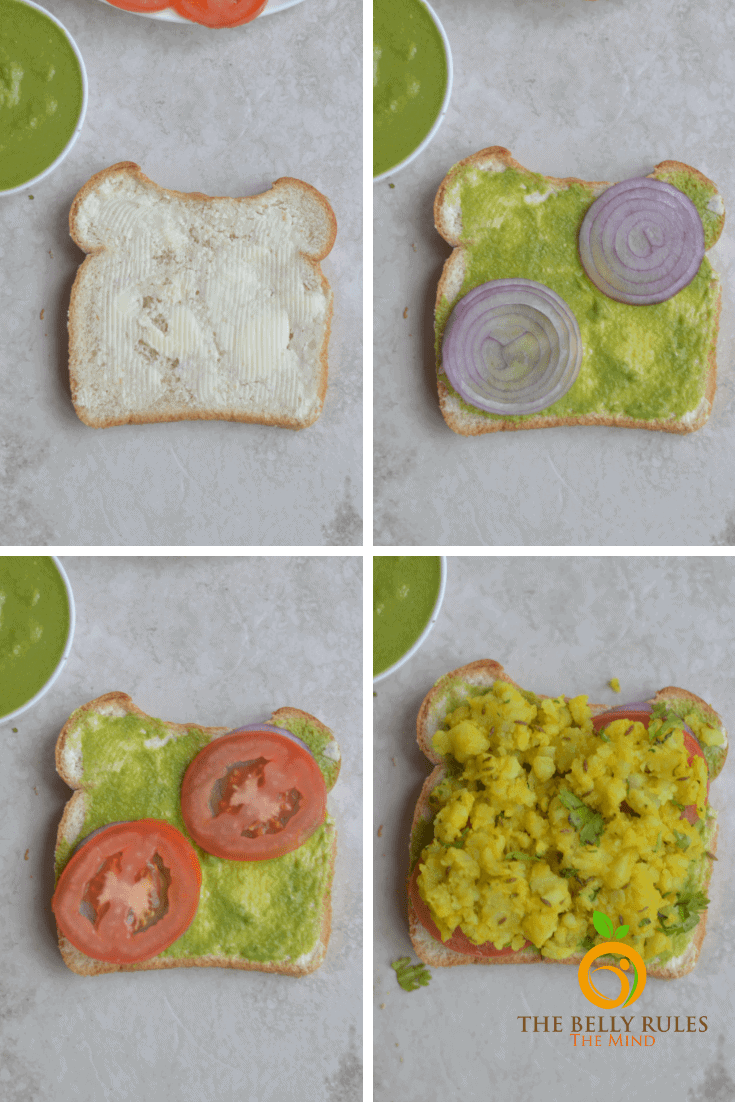 Steps for The Sandwich
Spread butter on the bread slices , then the green chutney.
Top on one bread slice with 2 slices of tomato and 2 slices of onion.
Spread Aloo / Potato masala evenly on the bread.
Top with 1 ring of capsicum and sprinkle chaat masala.
Cover with another bread slices and spread some butter on the top of the bread.
Toast the sandwich till its golden and crispy
Cut the masala toast sandwich into 4 pieces
finally, sprinkle sev and chaat masala before serving masala toast sandwich
Recommended Products
As an Amazon Associate and member of other affiliate programs, I earn from qualifying purchases.
Nutrition Information
Yield

5
Serving Size

1
Amount Per Serving
Calories

341
Total Fat

10g
Saturated Fat

4g
Trans Fat

0g
Unsaturated Fat

6g
Cholesterol

12mg
Sodium

90mg
Carbohydrates

56g
Fiber

6g
Sugar

3g
Protein

9g
All information and tools presented and written within this site are intended for informational purposes only. We are not a certified nutritionist and any nutritional information on TheBellyRulesTheMind.net should only be used as a general guideline. This information is provided as a courtesy and there is no guarantee that the information will be completely accurate. Even though we try to provide accurate nutritional information to the best of our ability, these figures should still be considered estimates.