This Cranberry Orange Bundt cake is gluten-free and is simply bursting with flavor. Wonderful combination of fresh tart Cranberries and lightly sweetened Orange creates a moist and delightful cake. We're not kidding when we say that you won't be able to get enough of this Cake. The perfect Cake for breakfast, snacking or dessert. Perfect recipe for all new Instant-pot owners!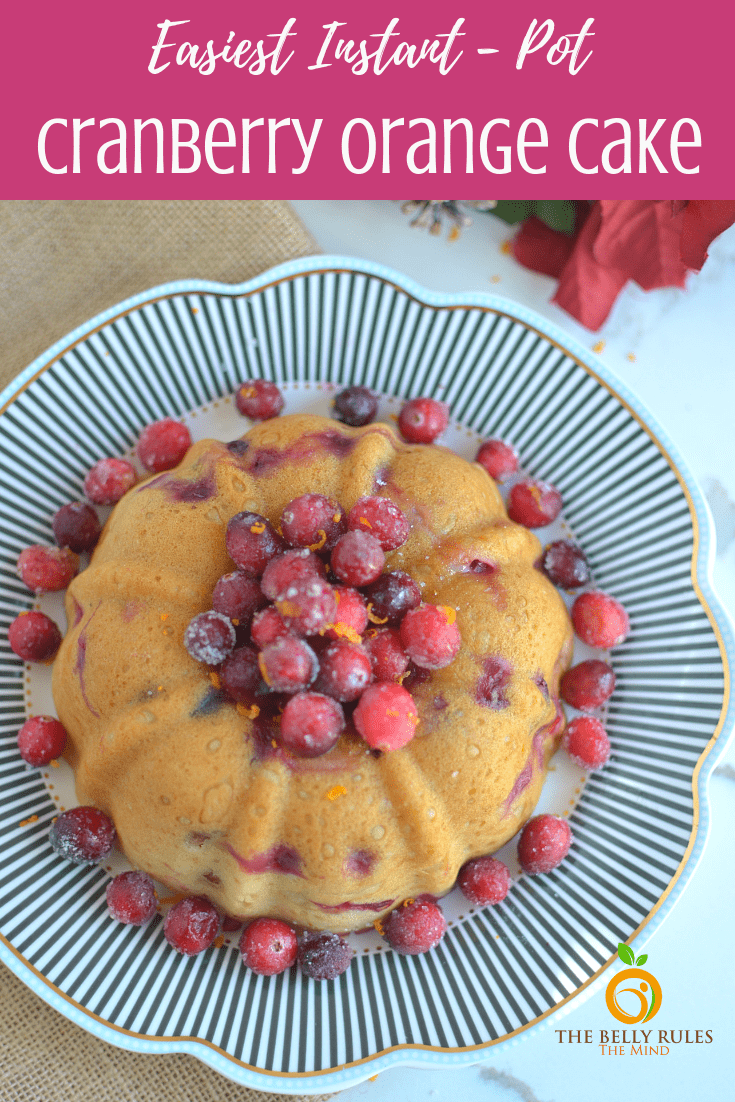 Wish Happy Holidays to your friends and family with this Cranberry Orange Cake
This recipe has been a favorite of mine for a long time, especially during the holiday season! Cranberry-Orange is a classic pairing during the holiday/winter season. You just need a few basic ingredients to make this delicious cake. Flavorful cranberries and oranges go together perfectly. I think that cranberries 🍒+ 🍊orange were meant to be together. It's just a match made in heaven!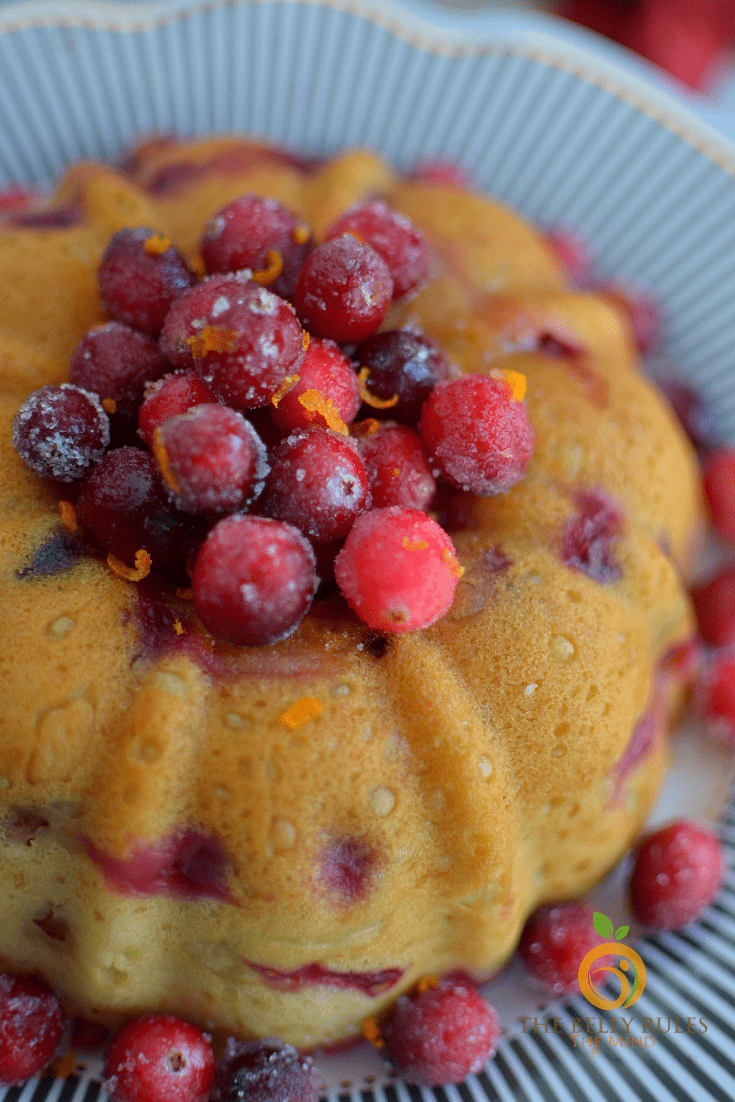 Anvita & Myself are in love with our instant pot! Did you get one yet or are planning to get one for Christmas? Want to know if the hype about IP is worth it? If you now are a proud owner of the Instant pot, you can master Instant pot in JUST 3 buttons! Also, check out some other great Instant Pot Recipes!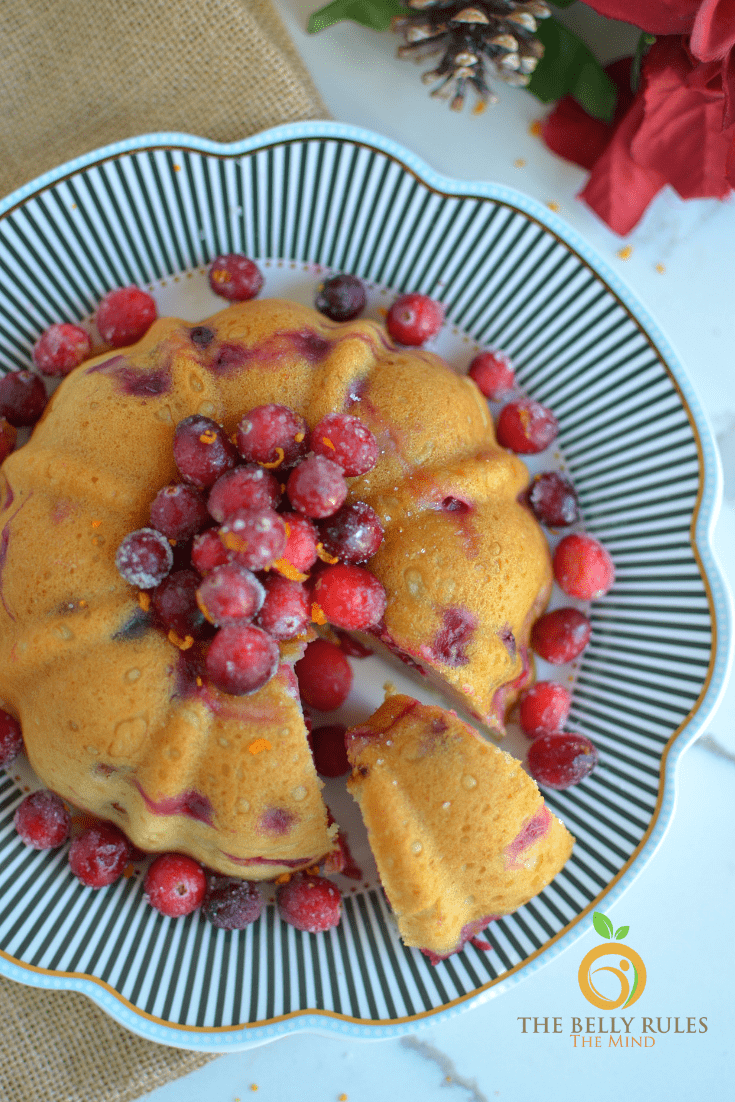 This Instant pot cranberry orange bundt cake is one of those cakes which basically screams holidays to me. It is pure heaven to eat. The recipe is incredibly easy and straightforward and always turns out perfect every time. Safe to say, this Instant pot Cranberry Bundt Cake is a keeper recipe for sure! Did I mention its egg-free too! This Cranberry Orange Cake does not need a reason to be made, and you will love how easy it is to make yourself. Skip the holiday cakes from the store and enjoy this yummylicious homemade cake. Check out our 5 Ingredient Christmas fruit cake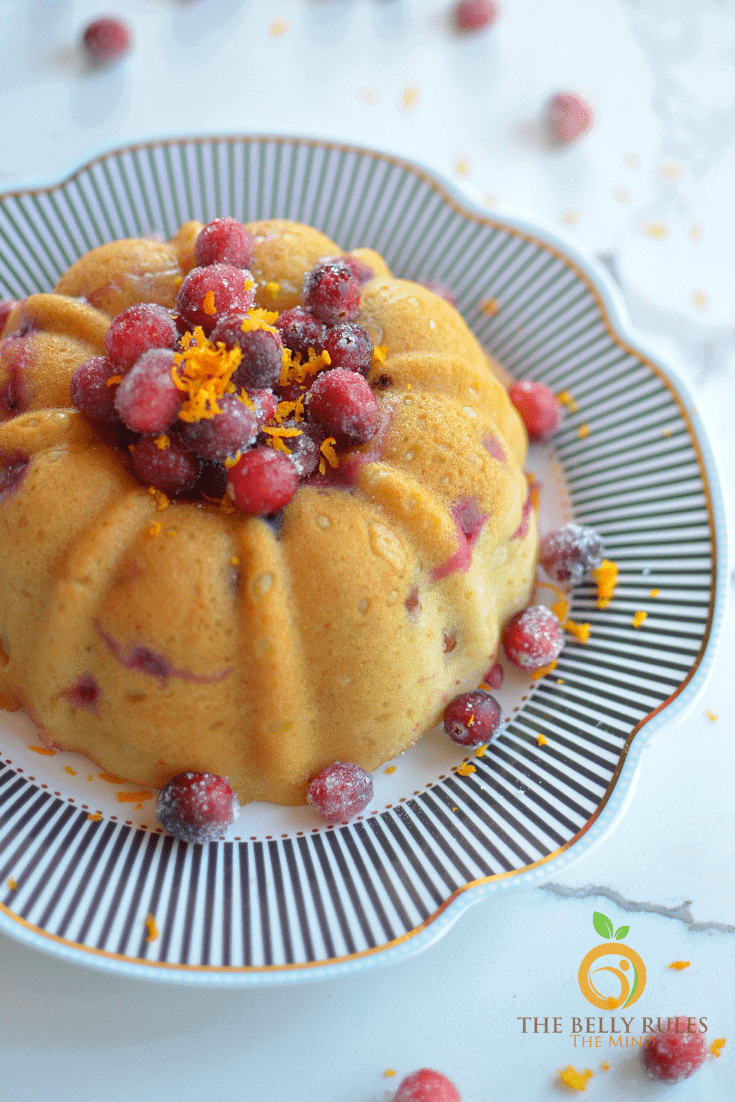 Can I swap ingredients in this Cranberry Orange Cake?
I make this several times with my kids during the holiday season. Cranberry Orange Bundt cafe is quick, delicious and easy to make. It is like an explosion of flavor in your mouth and the best part is you can eat them for breakfast with coffee/tea. We make different version of this all cake all the time fresh cranberries are not available throughout the year, sometimes swapping them for strawberries, blueberries, blackberries, cherries or raspberries.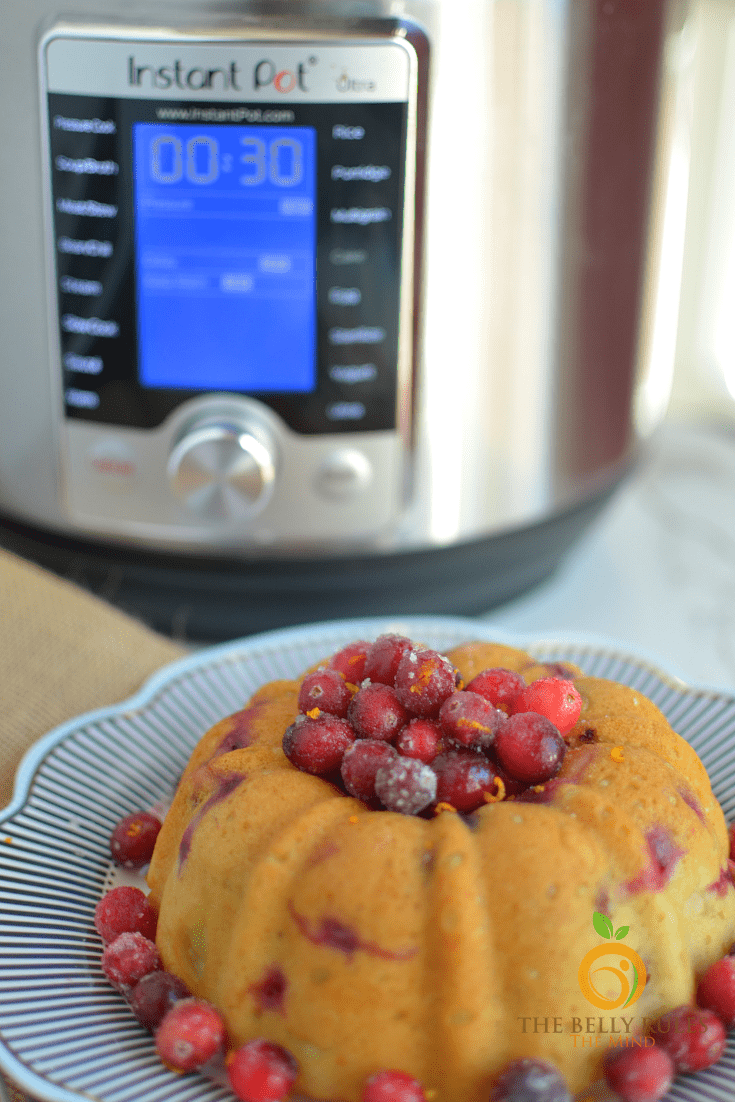 The batter is very simple to make with just a few ingredients, just gluten-free flour with xanthan gum, sugar, orange juice, baking soda, Apple cider vinegar salt, coconut oil, homemade yogurt, and fresh cranberries. If you are big nut lover adding nuts to the recipe works too.
Serve up a slice with a lovely cup of tea, or have it with breakfast or in the afternoon as a snack. It makes a great edible gift for the neighbors too. It's always nice, whatever time of day you eat it!
If you don't know how perfectly Cranberry and Oranges go together, this Cake Recipe will definitely prove it to you! It is sensational.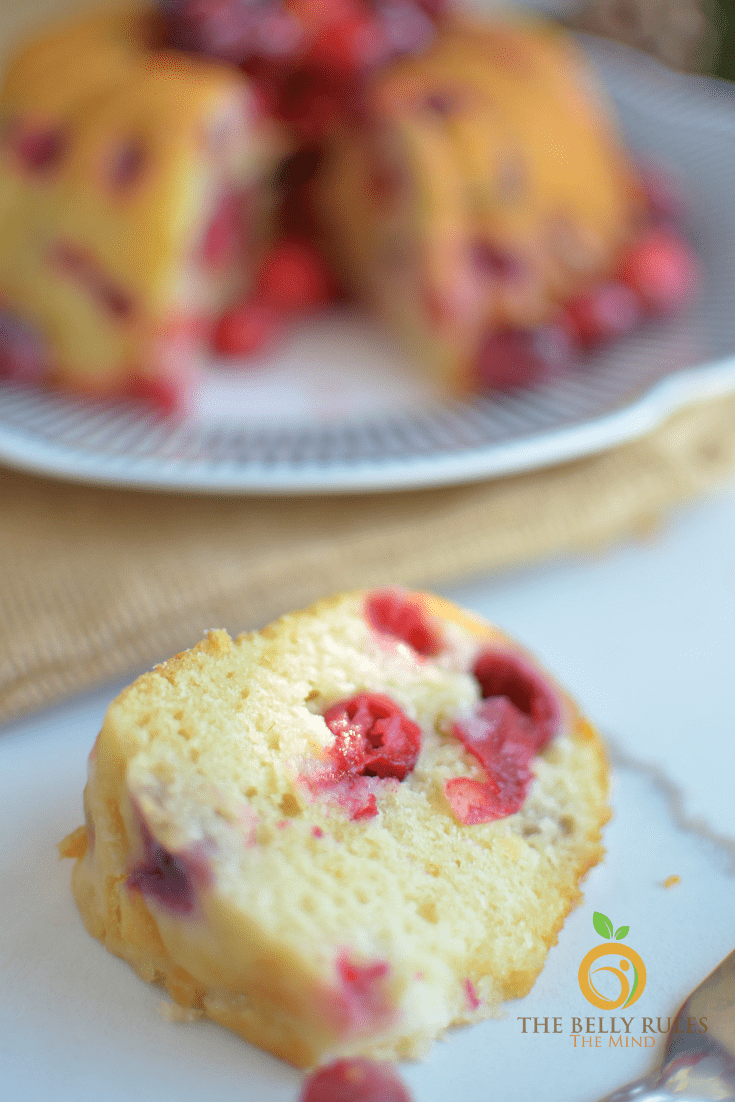 This cake looks yummylicious, how can I make this cake if I do not have an Instant Pot?
Don't worry you can still enjoy this cake! Check out notes on how to bake this cranberry orange bundt cake in the oven.
Is this Cranberry Bundt cake freezer friendly?
This bundt cake can also be made ahead and frozen. If there are only two of you at home, it would be a nice idea to freeze in portions and simply defrost to room temperature whenever you fancy a slice or two of amazing cranberry orange Bundt Cake.
Can this cranberry orange cake be made Vegan?
Of course!! You can use any of your favorite vegan yogurt. There are no eggs in this recipe as well so it is as simple as that.
This instant pot Cranberry orange bundt Cake smelled incredible. It very hard to resist digging in while it cooled down, but you know what? It's worth the wait! It is moist, delicious and has bits of tart Cranberry in every bite. Next time I will be making them in the egg bite molds !! Enjoy!
I often make it as a year-round dessert when I'm entertaining since it's easy to make, frugal, it can be made ahead, and everyone loves it!
Check out the Cranberry Orange Bund Cake Video Recipe below
We'd love to hear from you and what you thought of our Instant pot Cranberry orange bundt cake recipe. Did you make any changes or add some other goodies? Let us know in the comments below.
Instant- Pot Cranberry Orange Bundt cake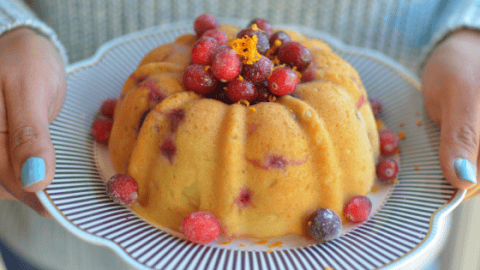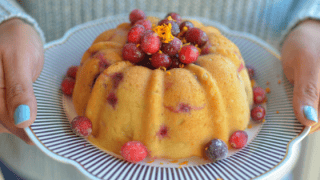 Ingredients
1-1/2 cup gluten free flour /All Purpose flour/whole wheat flour
1/2 tsp Baking Soda
1 tbsp apple cider vinegar/ vinegar
3/4 cup Yogurt
5 Tbsp coconut oil
1/2 cup sugar
1/2 cup fresh Orange juice
1 Tbsp Orange Zest
1 cup fresh cranberries / chopped
Instructions
To get started, add the 1½ cup of water to the Instant pot and add the trivet that came with your Instant pot
Grease a 6 inch bundt pan with oil and keep aside.
In a bowl add the gluten free flour , baking soda , fresh cranberry & orange zest and mix it.
In another bowl, whisk together yogurt sugar , orange juice and apple cider vinegar .
Add the oil to the orange juice and mix until incorporated.
Mix the wet and dry ingredients but do not over-mix.
Place a long strip of foil that is rolled into the Instant pot over the trivet with the sides coming up to the top. Pour the mixture into your bundt pan, and cover the bundt pan with foil , then place the bundt pan over the foil on the trivet. (We will be using the foil strip as makeshift handles when we remove the bundt pan from the pot after cooking.)
Place the lid and turn until locked. Set it on bake/cake mode for 30 minutes and allow your cake to bake/cook. cranberry orange cake from the Instant Pot. (Be careful as your bundt pan will still be hot.) Check with a toothpick in the middle of the cake if done.
Cool completely on the wire rack before serving.
Notes
It is necessary that you do a natural release.
If you are making this in a IP duo pressure cook it instead of cake mode.
You can use All purpose flour or / whole wheat flour to bake this cake.
If you like to bake :
Preheat the oven at 375 *f. Grease a 7 inch loaf pan with oil and sprinkle some flour over it and coat it.proceed with the step mentioned above
and bake for 30-35 minutes. Check with a toothpick in the middle of the cake if done.
Cool the cake in pan for 10-15 minutes before taking it out .
Recommended Products
As an Amazon Associate and member of other affiliate programs, I earn from qualifying purchases.