Cereal Chivda (Savory Trail Mix) namkeen - a Spicy, crunchy,and addictive, makes a great tea time snack. Share it with your friends instead of purchased sweets from stores for Diwali, or any festival ...Do try this super easy snack this Diwali!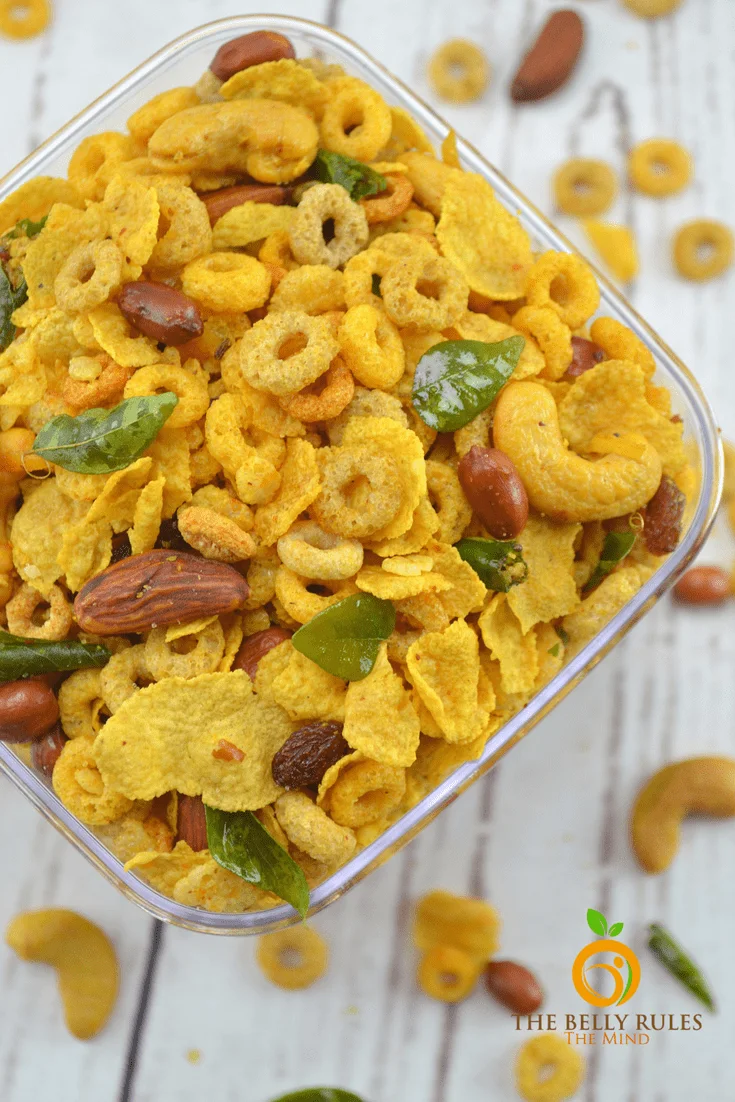 Diwali.. the festival of lights is almost here. Its the time of the year when we exchange sweets and savories with our beloved ones. People make a lot of the savories at home... like Puran Poli, Karanji, Poha chivda, Rava ladoo, chakli etc. In preparation for Diwali, I am making something simple yet delicious and am sharing it here. It is a quick and easy snack recipe.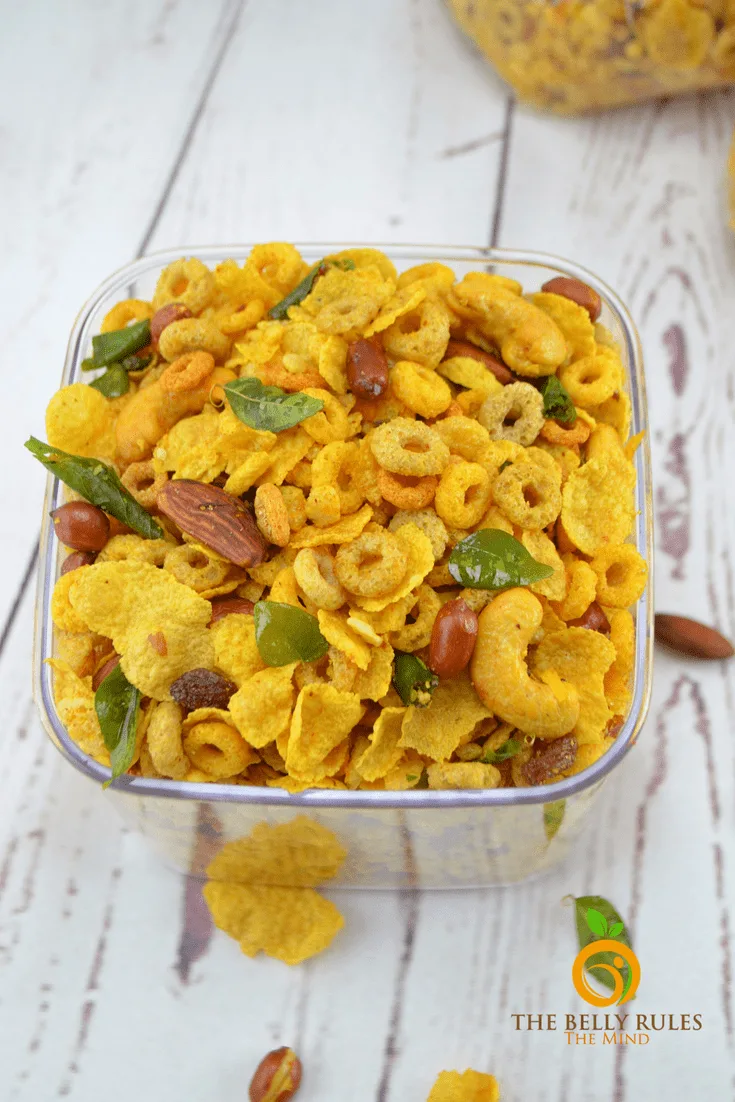 Diwali season brings back a lot of amazing memories of my childhood like learning how to make Rangoli and Kandils learned making Rangoli and Kandil (Lanterns), the fire crackers, the lights.. its just amazing. The experience cannot be described in words. We do miss celebrating Diwali In US at the level as India, but we still try to make it special and memorable for our loved ones.
While I may have mentioned Diwali here, however one of the primary reasons to make this is R1. Being in an office with diverse cultures, his team has a snack area where each member brings some snack to share with the team. These are usually snacks from a grocery store usually Haldirams for my R1. I don't mind having Haldirams once in a while, however if it becomes your daily share snack, I have my reservations. Preservatives and other Unknown ingredients are the main reason for my reservations. Coming back to the snack time ritual, I would rather give him this and a few other snacks that I can make at home for taking it to office. Now of course, it will be unwise to indulge on these as they are to be eaten in small portions. No pressure of going to the store to get snacks and this keeps my hubby R1 happy :-). Do check out our recipe for Masala peanuts and roasted Moong for other snack recipes.
So today I am sharing a Low calorie snack for this festive season. Made a fresh batch of Cereal chivda with cornflakes, cheerios, rice puff for our upcoming festival.
This Vegan Cereal Chivda/Savory Trail mix has Cornflakes, Multigrain Cheerios, rice krispies, lentils, curry leaves, peanuts, almonds, Cashews,Raisins, shredded coconut and some spices.
Evening time is the worst when it comes to eating a healthy snack :) This is also what I call the DANGER TIME where many of us tend to eat wrong foods. This hunger is where our taste buds suddenly awaken wanting chat pata nashta! ! Wiser choices here
Make this crispy, crunchy snack ahead of time and store in an air-tight container
Carry this snack in your bag to work.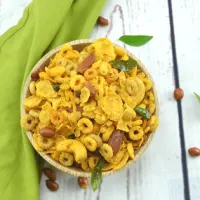 Cereal Chivda (Savory Trail Mix) Vegan
Ingredients
2 cups Corn Flakes Cereal
2 cups Multigrain cheerios
2 cup rice Krispie cereal/ rice puffs
1 cup Peanuts/raw
1/2 cup Roasted Chana dal / Dalia
1/4 cup dried coconut/ shredded
1/2cup cashew halfs/almonds
1/4 cup raisins
1tbsp Cumin seeds
1 tablespoon Mustard seeds
1/2 teaspoon or to taste Red chilly powder
1/2 teaspoon turmeric powder/haldi
a generous pinch Asafetida /Hing
10curry leaves
5 green chilles
salt to taste
2tbsp Oil
Instructions
Heat the oil in a wide pan/Kadai over medium high heat. After oil is moderately hot add Asafetida/hing and mustard seeds.
As mustard seeds crack add and curry leaves.
Lower the heat to medium low, stir-fry for about 30 seconds; add peanuts ,chana dal ,Cashews and shredded dried coconut stir-fry for some time .. be patient if you don't roast it properly, the peanuts and the chana dal will taste raw .
Add green chilli, chili powder, turmeric, and salt mix it well.
Add rice crispy cereal and corn flakes and cheerios stir the mixture gently ,mix it well quick and turn off the heat.
Chivda is ready.
Let the cereal chivda cool of to room temperature before serving.
Cereal chivda can be kept for several days in airtight container.
If you land up trying this recipe, don't forget to send us you pictures on Instagram and tag us. Or drop in your review on our Facebook page. Check out our Pinterest boards for all the healthy eating inspiration you'll ever need.