Most of us indulge in crackers purchased from stores. In India we call them biscuits and they are a perfect snack for tea time. It can be in the morning or early evening. Today I am sharing with you another biscuit recipe.
Digestive Biscuits are similar to a Graham cracker, but a lot more cookie-like .... and a lot more elegant and most important it is without all those nasty preservatives that crackers purchased from stores have. These are great for the kids, very simple to make, very few ingredients needed which we usually have in our pantry . They taste so much better than store bought. They are delicious with tea and fruit. I also use them when I make no bake cheese cake too.
Some Fun Facts about these biscuits :
These biscuits were developed during the latter part of the 19th century to increase fiber in Victorian diets, they originally contained bicarbonate of soda, they were thought to aid in digestion. They are practically health food!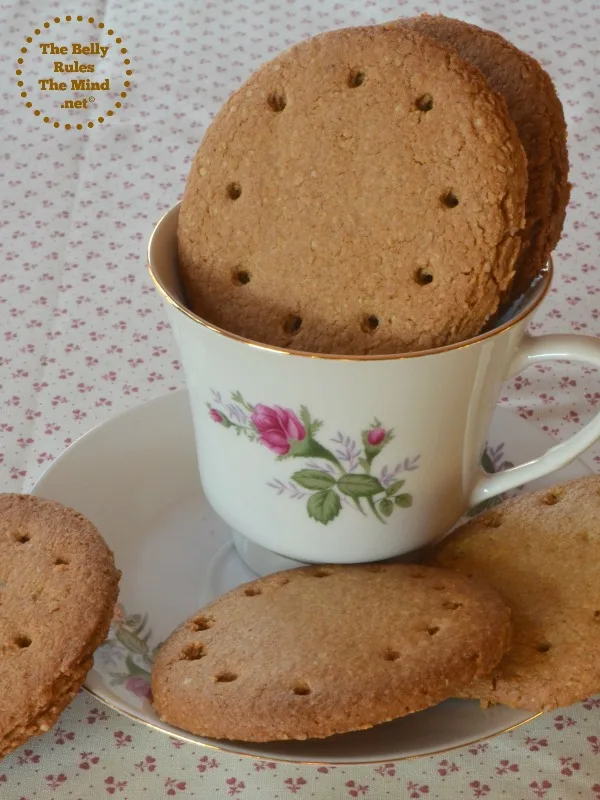 This dough is really easy to roll out and work with. I combined all of the ingredients in a Bowl, but you can also mix them with a pastry blender or your hands. :D
Ingredients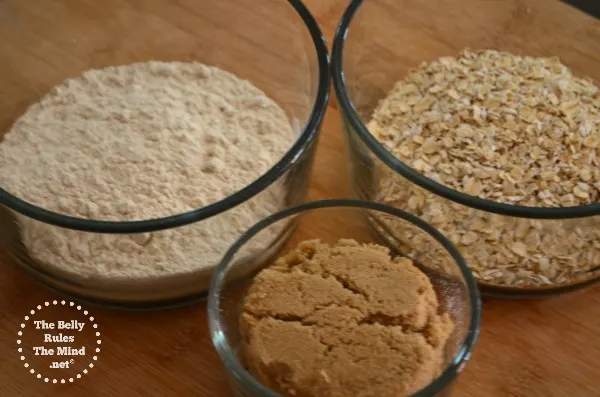 1 cup whole wheat flour
1/2 cup of rolled oats/roughly powdered
1/2 teaspoon of baking soda
A pinch of salt(Skip it if using salted butter)
1/3 cup brown sugar
4 tablespoon unsalted butter/col(you can even use coconut oil)
4-5 tablespoon of milk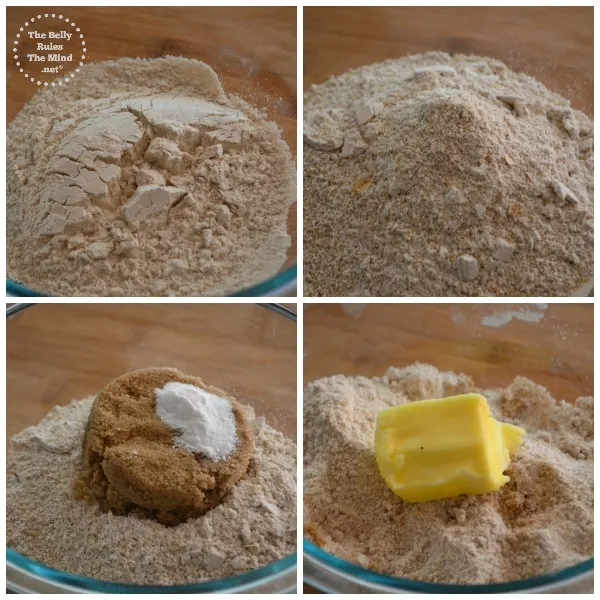 Roughly powder the oats in a food processor .
Mix it in a bowl with the whole wheat flour, brown sugar & baking soda. Dig a well in the center and add the butter although soft (not melted).
Mix it until consistency of coarse sand.Add milk slowly as needed .
Then mix up to form a ball of dough. Wrap the ball in plastic wrap and refrigerate 20 minutes .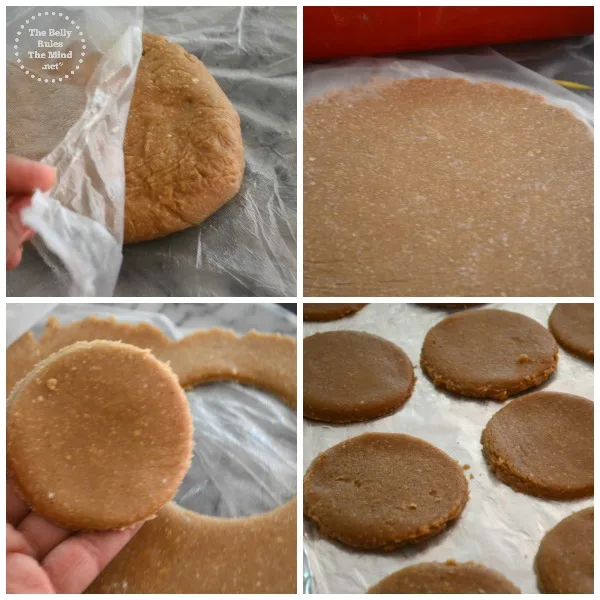 Preheat oven to 350*F Roll out the dough between two sheets of parchment paper /Approx 1/4cm thick.
Cut out cookies using cookie cutters 8 to 8.5 cm diameter (an inverted glass will do), place on a tray lined with baking paper. Prick with a Barbecue wooden stick and bake for 10 to 15 minutes. Make sure to keep an close eye after 5 -8 min .
We need the cookies are a nice golden color.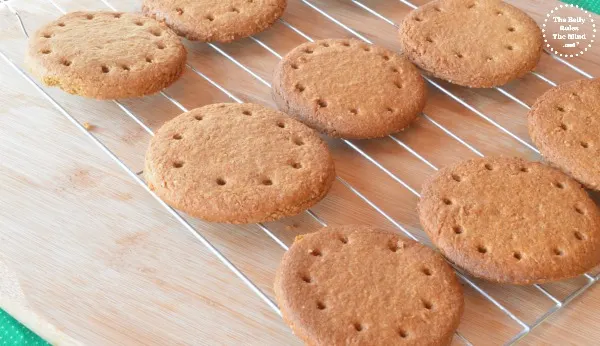 Take off the baking sheet with a spatula (they are soft) and allow to cool .They will harden as they cool off.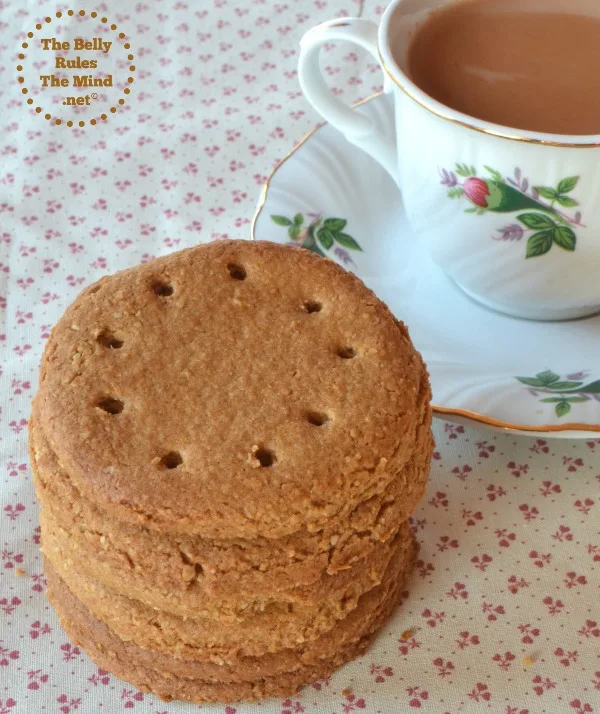 Home-made Digestive Biscuits
Ingredients
1 cup whole wheat flour
1/2 cup of rolled oats/roughly powdered
1/2 teaspoon of baking soda
A pinch of salt
1/3 cup brown sugar
4 tablespoon unsalted butter/cold(you can even use coconut oil)
4-5 tablespoon of milk
Instructions
Roughly powder the oats in a food processor .
Mix it in a bowl with the whole wheat flour, brown sugar & baking soda. Dig a well in the center and add the butter although soft (not melted).
Mix it until consistency of coarse sand.Add milk slowly as needed .
Then mix up to form a ball of dough. Wrap the ball in plastic wrap and refrigerate 20 minutes .
Preheat oven to 350*F Roll out the dough between two sheets of parchment paper /Approx 1/4cm thick.
Cut out cookies using cookie cutters 8 to 8.5 cm diameter (an inverted glass will do), place on a tray lined with baking paper. Prick with a Barbecue wooden stick and bake for 10 to 15 minutes. Make sure to keep an close eye after 5 -8 min .
We need the cookies are a nice golden color.
Take off the baking sheet with a spatula (they are soft) and allow to cool .They will harden as they cool off.
NOTE: if using salted butter (SKIP salt)