Everyone's favorite yellow Dal Tadka. A delicious lentil preparation served at Indian restaurants. You can now enjoy this restaurant style Dal at home as it's super easy to make. See what sets this Dal apart from the everyday yellow Dal and check out the step by step Instant Pot video recipe.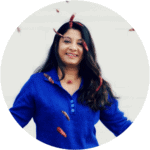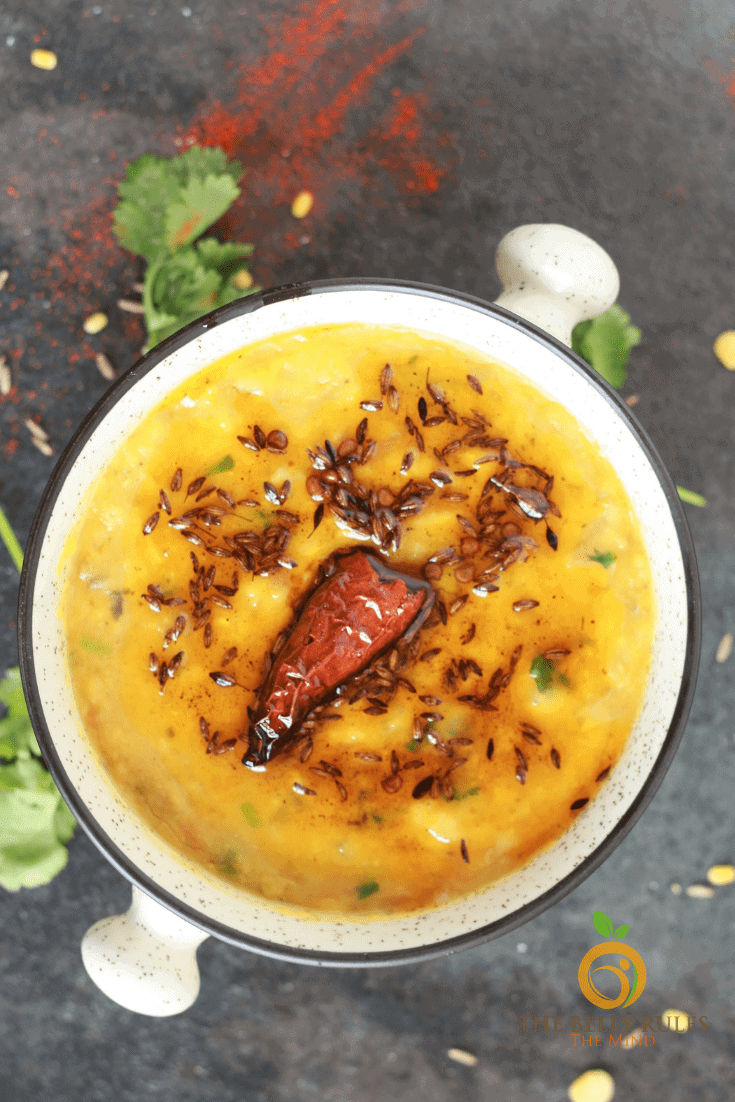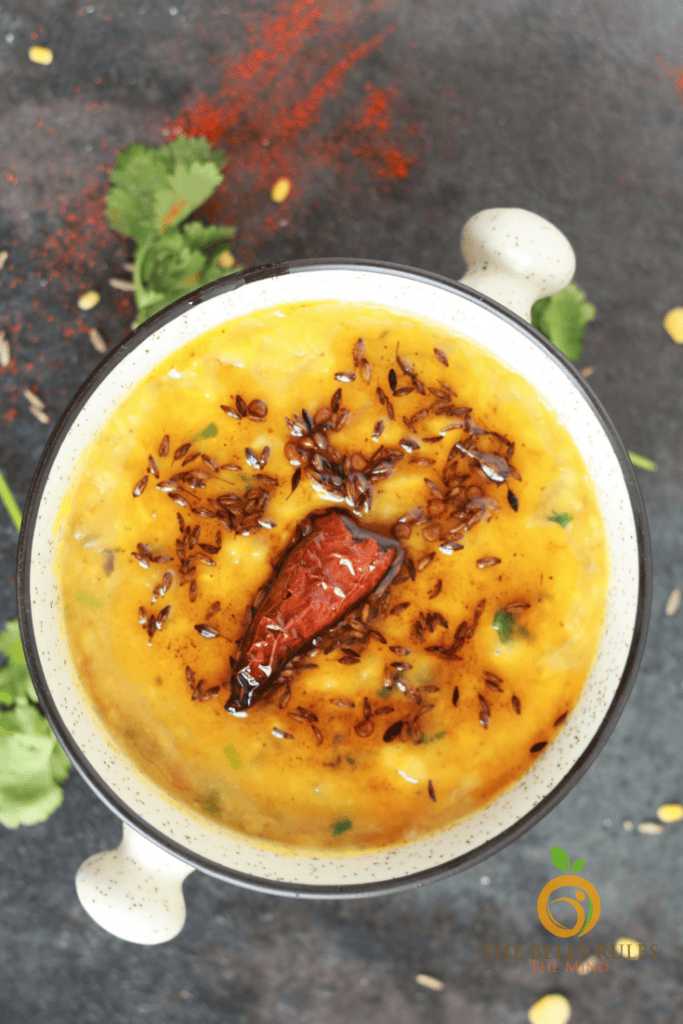 Dal Takda!!!
Yummilicious!!! is the word that describes this authentic Indian Dal Takda. It's very different from the also popular Dal Makhani or Punjabi Kadhi served at restaurants. This the yellow lentil soup made from a combination of Pigeon Pea (Toor) Dal & Mung Dal, served at the Indian restaurants or Dhabas (roadside restaurants n Northern India). Although each state has it's own variation of Dal, this Tadka Dal is everyone's favorite for reason. The flavors!!! Infused with spices and a dollop of ghee, this is not only the comfort food of many vegetarians in India but also a great source of protein. Dal is the lentil soup while the Tadka is the tempering of whole spices in ghee or oil and then adding it to the dish, thus the name Dal Tadka.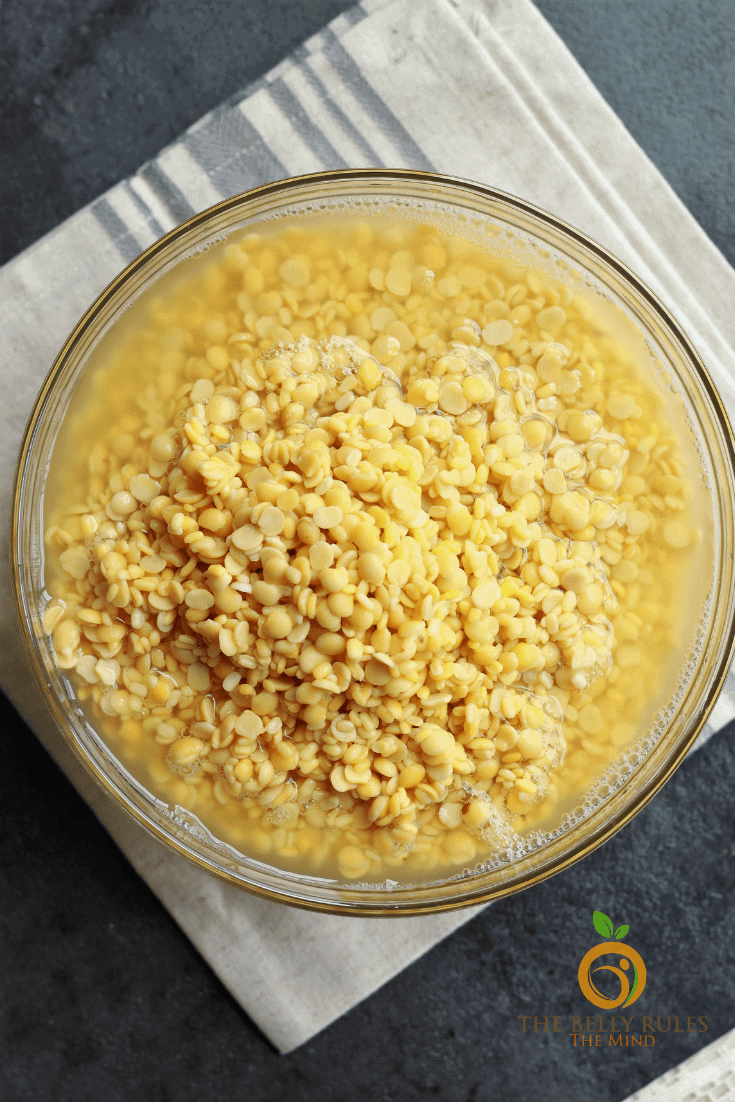 How is Dal Tadka different from the everyday Yellow Dal?
What sets this Dal apart from the everyday yellow Dal is Tadka. It is the tempering of spices in ghee not once but twice. Tadka is also known as the chaunk or bagar in different parts of India. Tempering is where this Dal gets is flavors from. It's tempered once in the beginning for cooking the dal with onions, tomatoes and other spices and then again before serving as a garnish. If you want to make this your everyday dal, you may choose to temper it once instead of twice. It just won't be the authentic way to enjoy this dal but it will still be flavorful. The picture below is of the cooked Dal with just the first tempering. This yellow Dal is suppose to be thick and creamy not very runny.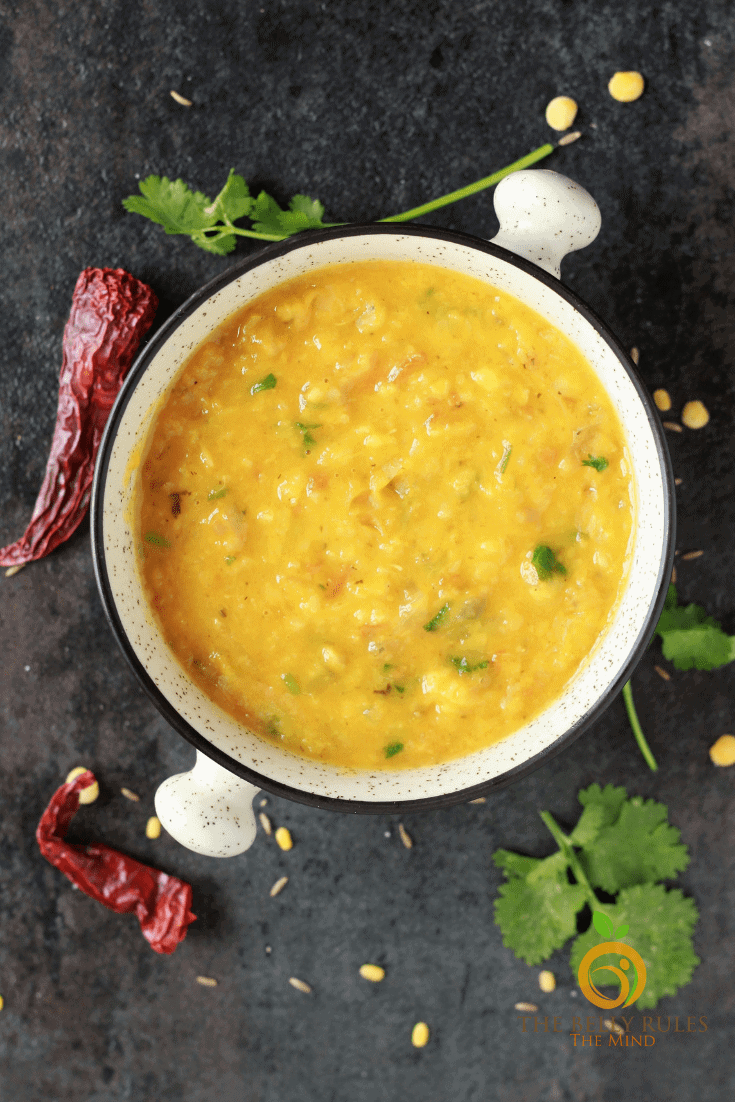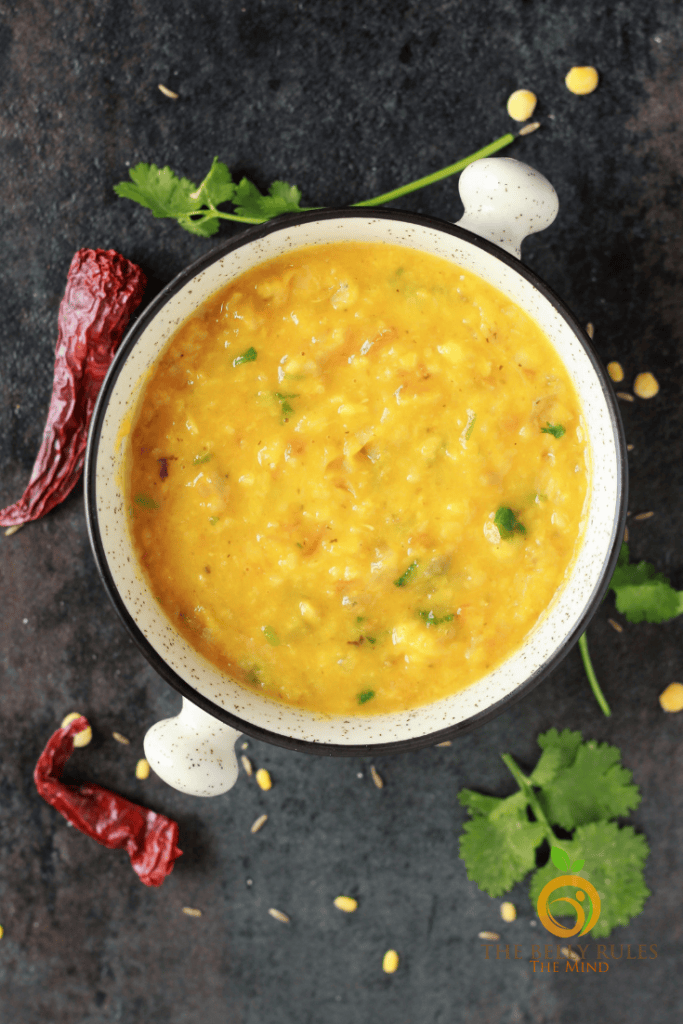 Variations of Dal Tadka
Every restaurant will have it's own variation of this Dal Tadka. However the authentic Dal Tadka calls for a combination of Dals – Pigeon Pea(Toor or Arhar) Dal and yellow hulled Mung Dal. This is a popular combination in the north. However I have seen different states have different preferences like some states combine the Pigeon Pea Dal with Split Chickpea (Channa) Dal, while some others prefer a combination of Pigeon Pea Dal and Red Lentils (Masoor).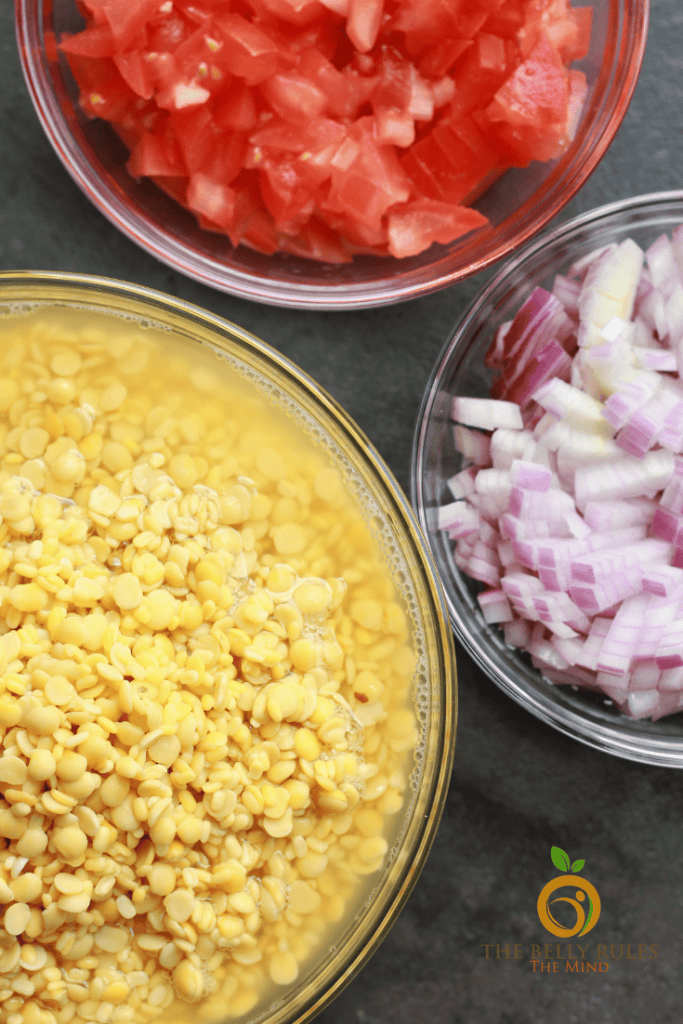 I have also seen different states using different spices for this preparation. Like in the northern states, they use cumin seeds, red chillies, red chilli powder for tempering. On the other hand in the West and Southern parts of India I have seen folks using, mustard seeds, curry leaves, green chillies for the tempering. Honestly I have tried them both and like them both. So I sometimes change the lentils I use and sometime change the tempering to give the Dal a twist.
In some variations, if you won't to avoid the double temperings you can even boil the dal seperately and then just temper it once in the end with all the veggies and spices. Often times, I even pressure cook the dal with onions and tomatoes and just temper it once. It's really upto you, how much time you have and how much flavors you would like to add to the Dal. Obviously sauteing the onions and tomatoes will definitely add more flavor as compared to pressure cooking them,
Vegan Dal Tadka
If you follow a Vegan diet then Dal this is definitely a great source of protein for you along with good complex carbs. all you need to do is replace the ghee with oil or vegan butter.


What to pair with Dal Tadka?
Dal Tadka is best paired with Roti (a type of Indian flatbread) or Rice. Check out how to make the perfect rice in your Instant Pot, here.Now a days people often pair it with Naans, Parathas etc., but my favorite pairing is Takda Dal with Rice. That is my soul food. As a matter of fact when we come back from a trip or something, all we (Little A, Dr.Mystery and myself) want to eat is Dal and Rice. It's comfort food for all of us.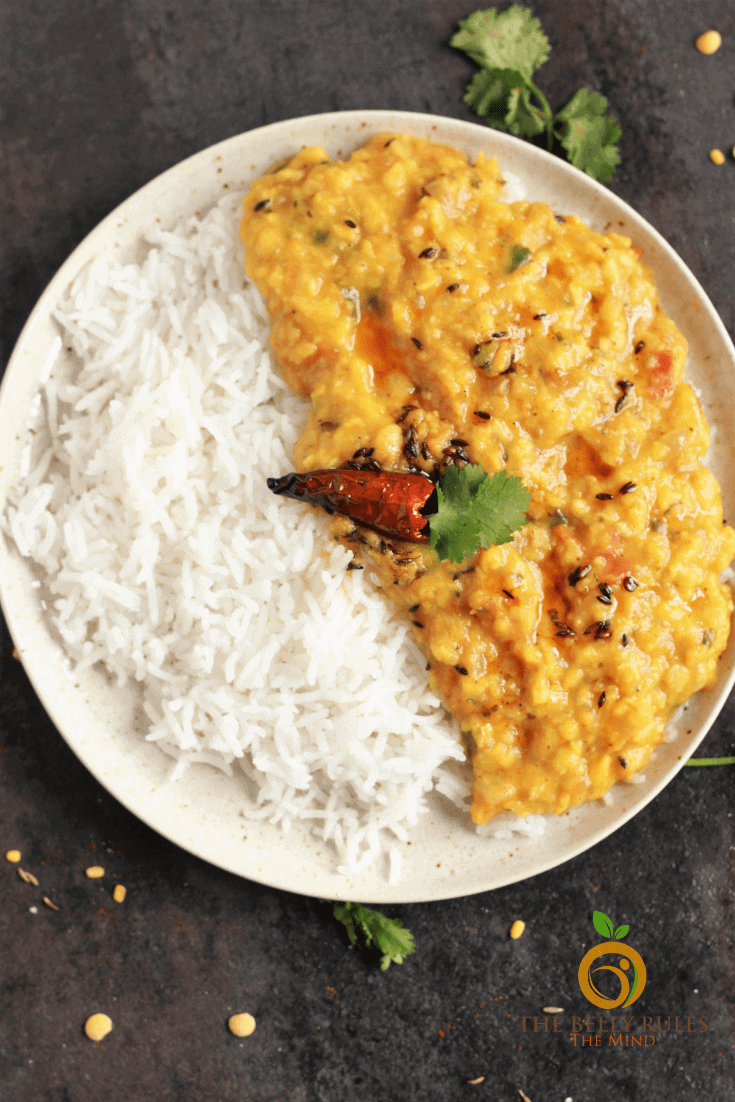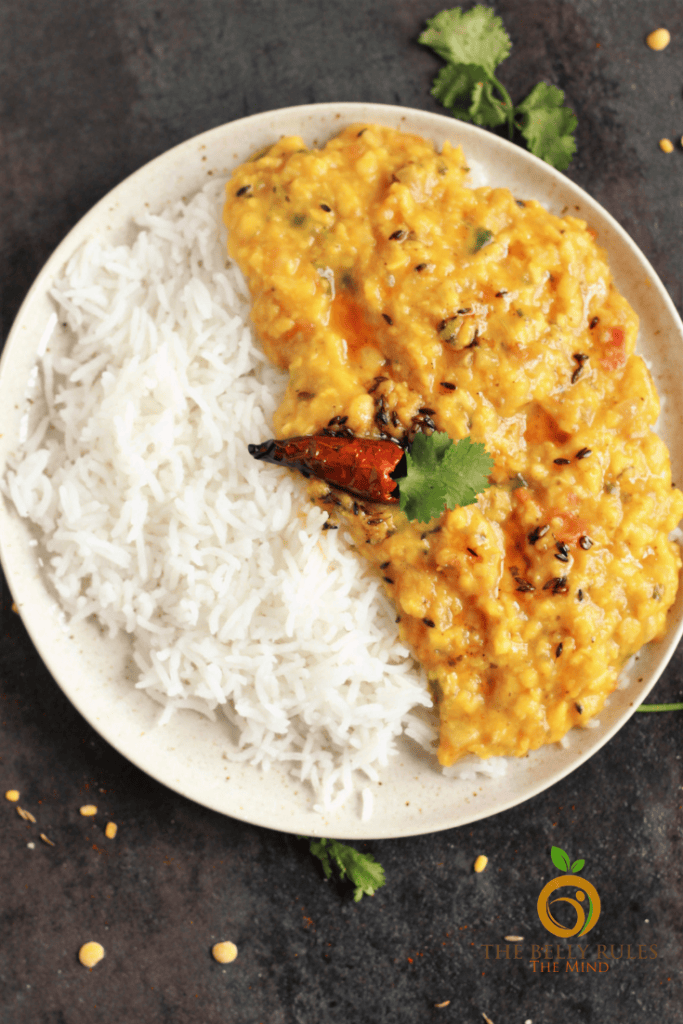 How to make Dhaba style Dal Tadka in Instant Pot?
Guess what, it's super easy to make this Tadka Dal. No fancy ingredients required. All you need is lentils, onions, tomatoes, spices (details in the recipe card), ghee or oil and 20 minutes of your time. You start with tempering the , onions and ginger garlic at first. When the onions become translucent, you add the tomatoes and spices. Sautee the tomatoes until the ghee starts separating and then finally add in the lentils and water and cooking for 10 minutes. Garnish with cilantro and temper it again with cumin seeds, whole red chilies and some red chilly powder.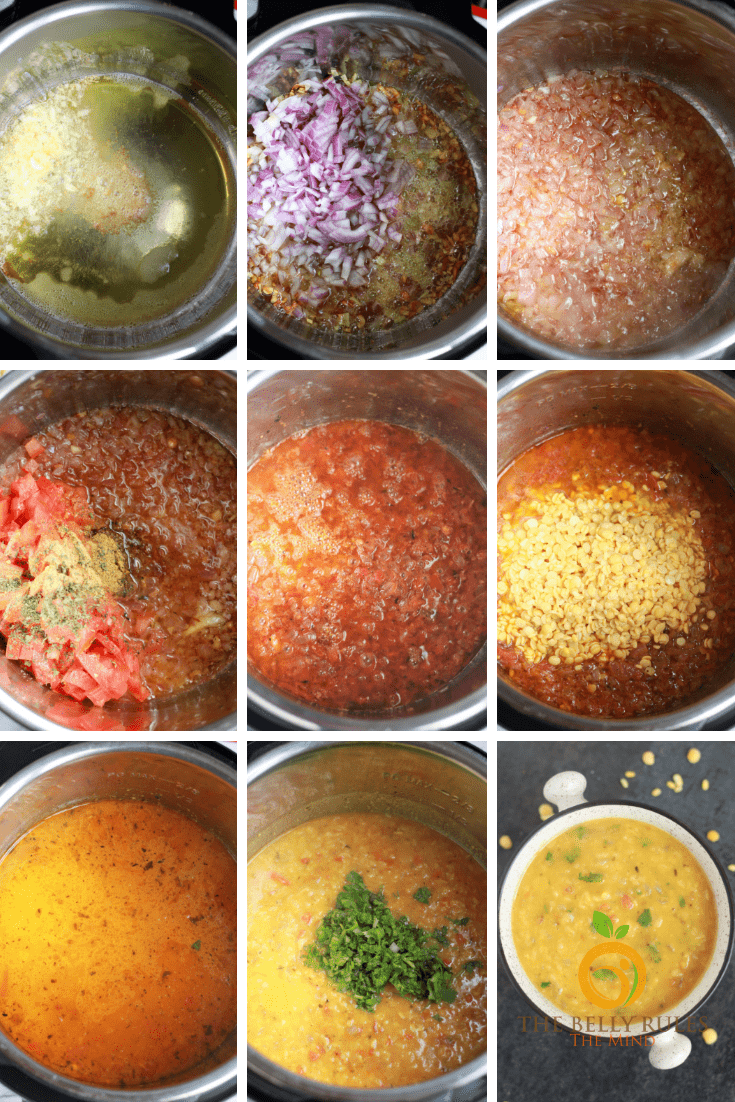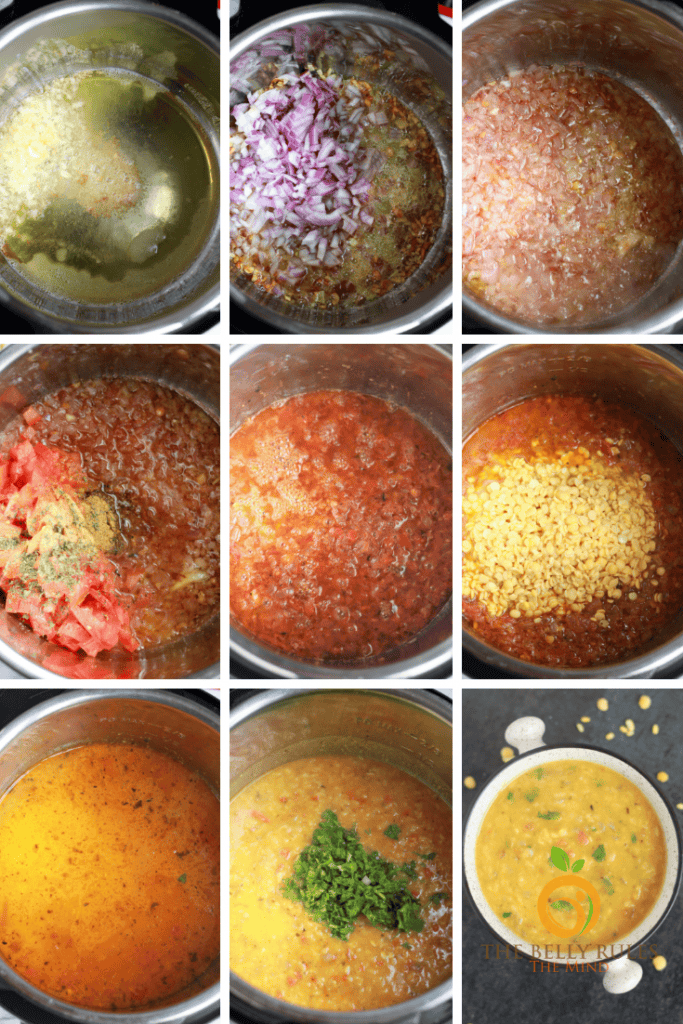 Pressure Cooking Alternative
If you don't have an Instant Pot, that's fine too. For the longest time until I had my Instant Pot I actually pressure cooked this Dal. You follow the same steps and just pressure cook it for 15 mins.
Why you will love this Dal Tadka?
Well first it's delicious, infused with lots of flavors. Second it's very easy to make and lastly, you don't need to go to a restaurant anymore to relish this Dal. It's a great source of vegetarian protein and complex carbs. It can easily be prepared for a large crowd and it's always a crowd pleaser. It's great for special occasions & potlucks. It's kid friendly. Several of Little A's international friends have tried this Dal Takda and they absolutely loved it. Infact I even pack it in the thermos for his school lunch or sometimes for Dr. Mystery too. You are sure to fall in love with it. Try it yourself!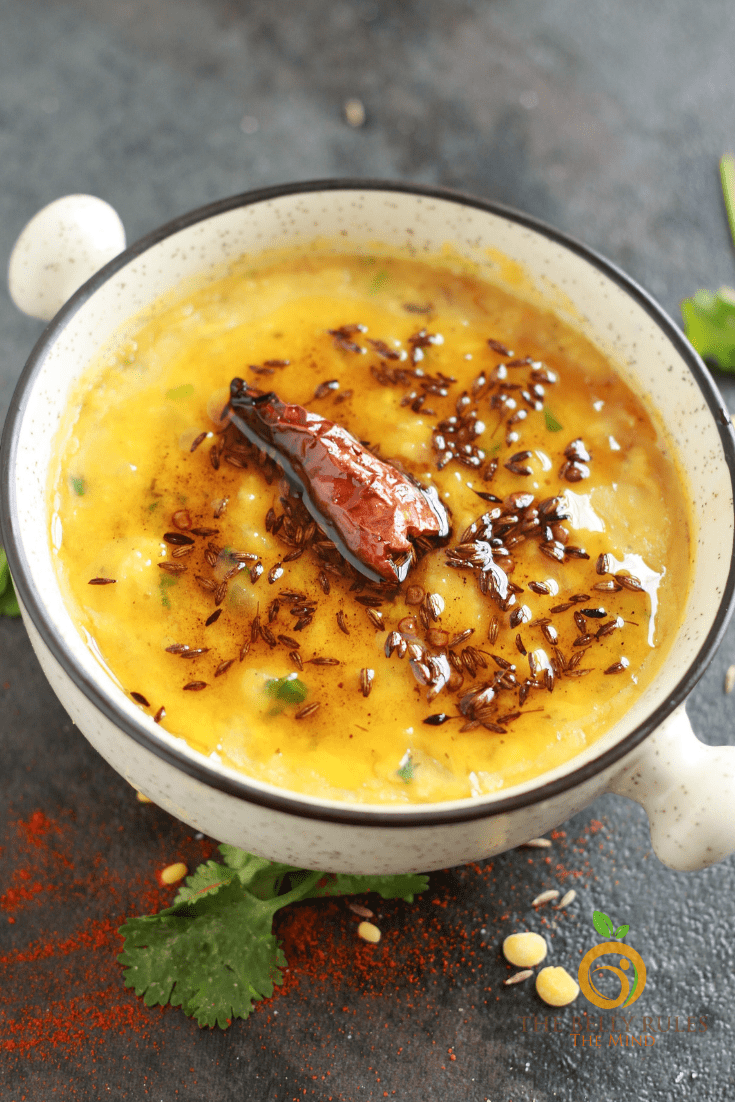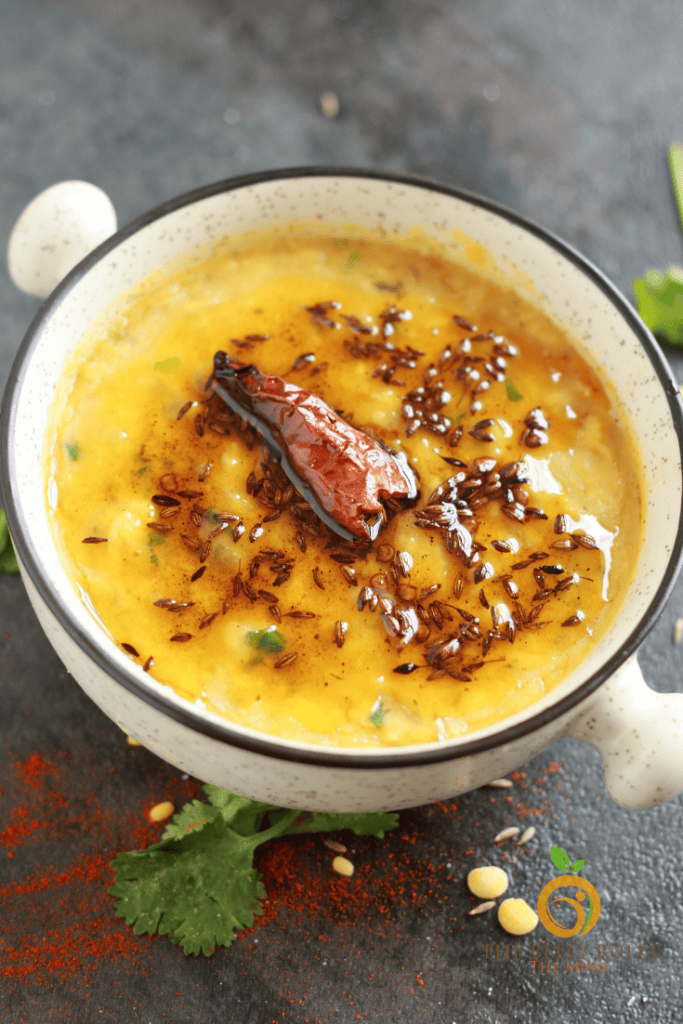 Step by step video recipe to make Dal Tadka
Yield: 4 servings
Instant Pot Dal Tadka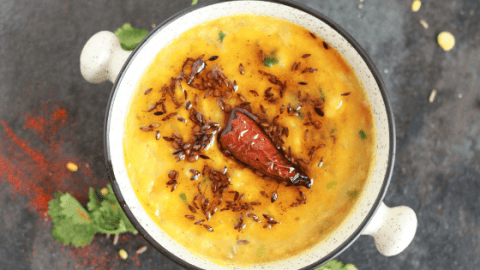 A delicious lentil soup preparation commonly served at Indian restaurants. Made with lentils, onions, tomatoes, spices , ginger garlic and a dollop of ghee or oil. Tempered twice to enhance the flavors. This authentic restaurant style Dal can be made at home very easily.
Ingredients
1 cup pigeon pea / toor / arhar dal
1 cup yellow hulled mung dal
3 tbsp ghee / oil / butter
1 tsp ginger, grated
1 tsp garlic, crushed
1/2 tsp asafoetida / hing
1 tsp coriander powder
1/2 tsp cumin powder
1/4 tsp dry mango powder / amchur
1/2 tsp red chilly powder
1/2 tsp turmeric
1 tsp dried fenugreek leaves / kasuri methi
1/2 tsp turmeric
3 cups water
1 cup tomatoes, chopped
1/2 cup onions, chopped
1/4 cup fresh cilantro, chopped
For Tempering (Garnishing)
1 tbsp ghee/ oil/butter
1/2 tsp asafoetida
1 tsp cumin seeds
2-3 whole red chillies
1 tsp red chilly powder (optional)
Instructions
Thoroughly wash the the lentil and soak them for a couple hours if you can. However if you don't have the time to soak you can just cook them directly too for a few extra minutes.
Heat the Instant Pot on Sautee mode. Add the oil and once it is hot, add in the asafoetida, ginger garlic and cook for a couple minutes.
Now add the onions and salt and saute until they turn translucent. Cover with a lid for a couple mins.
Add in the tomatoes and dry spices and cook for about 5-7 minutes until the oil starts separating.
Add the yellow lentils with 3 cups of water and cook on high pressure cooker mode for 5 mins. If using unsoaked dal then cook for 10 mins.
After the beep, preferably release the pressure naturally or else manually.
Garnish with fresh cilantro. Pour Dal into a serving bowl.
Add the second tempering just before serving. Heat ghee / oil / butter in a tadka pan and add asafoetida / cumin seeds, red chillies and red chilly powder. Once you hear the crackling sound pour it over hot Dal.
Notes
Soaking the dals is optional, but it makes them more digestible and fastens the cook time.
Add the second tempering just before serving. Make sure the Dal is hot before you garnish it with the tempering.
Recommended Products
As an Amazon Associate and member of other affiliate programs, I earn from qualifying purchases.