The world's most famous Green juice recipe. Joe Cross's Mean Green will even leave kids begging for more. 6 healthy ingredients, 5 minutes and a juicer is all you need to clean, detox and reboot.
Green jucies / smoothies are not something everybody can easily embrace. First of all the thought of just greens is very boring, secondly it's 80 % veggies and 20% fruit, lastly the notion that it's not pleasant for the taste buds. I have to admit I never thought I could have a green juice/ smoothie ever. For me it was primarily the notion that it will be difficult to even gulp it down my throat thinking it wouldn't taste good. So even before I decided to detox I wanted to try Jim Cross's Green Mean to make sure I can actually survive drinking green juices. I have to admit that I am not only in love with the Green Mean but my body now wants to have it everyday. I actually look forward to juicing during meal times. Not only do I love how it tastes, sweet and sour but I also love how it makes me feel. I always woke up with puffy eyes, feeling exhaustive even after a whole night of sleep and my skin was loosing it's glow. Surely juicing has helped me in a lot of ways, not only do I feel more energetic when I wake up but I noticed that the puffiness has drastically reduced. I no longer have the occasional hunger pangs that I would. I tend to drink so much water and juice during the day that I feel it has started to show on my skin. I feel like I am able to control my food craving for certain foods. I am hope my food cravings go away by the end of this. To sum it up I am enjoying juicing and it's effects on me. Although a lot of people juice for weight loss, for me and my family, we want to enjoy the health benefits. Best of all, it's easy and ready in 5 minutes, now this surely is making me lazy.
If you are still not sure if you can enjoy the benefits of this green juice, let me tell you my 4 year old is hooked onto this juice. He gets excited about the fact that we are juicing. The other day I offered him Immune Booster Juice and he told me that he likes the green juice more than that. I was pleasantly surprised that he enjoyed these flavors more than the flavors that one would expect a 4 year old to enjoy. Never the less, for him it turns out to be a great afterschool snack / drink. Ofcourse it makes me happy that he is getting from nutrients from fresh vegetables and fruits rather than him eating some kind of processed food. Another great way to sneak in some nutrients into my child's diet, isn't it? Ofcourse we often rotate our greens with spinach, lettuce, capsicums etc, but so far this has been our favorite green juice.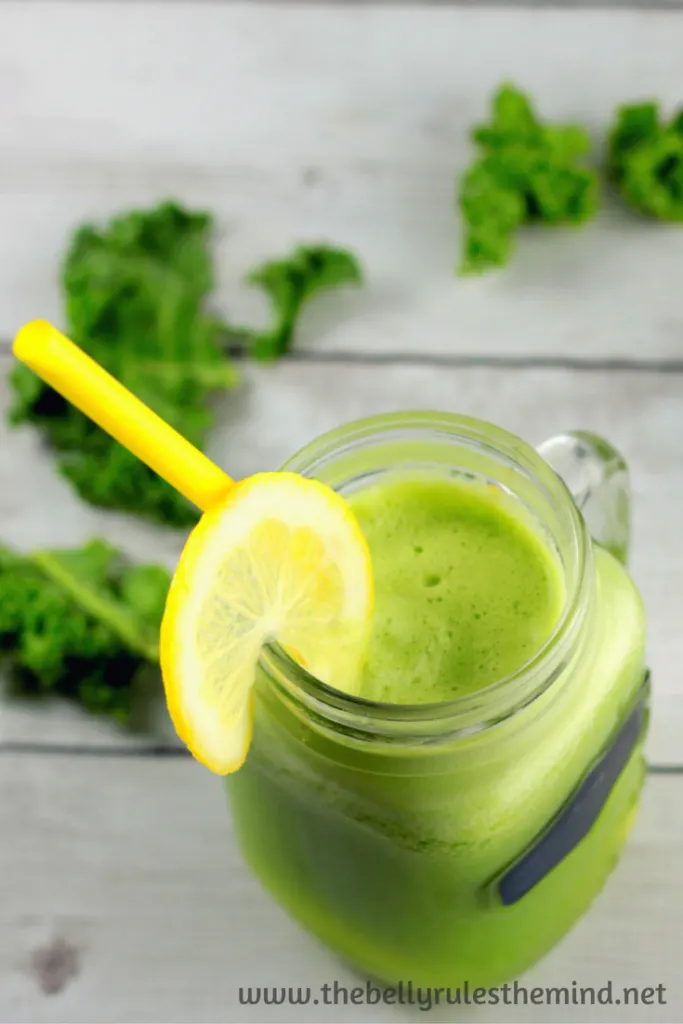 Have you ever tried a green juice / smoothie before? Tell us in the comments. Also if you would like to build your immunity this season, check out our recipe for Immunity Booster Juice. You could also try making these Vitamin C Gummies, which are always a big hit with the kids. For a stronger homemade remedy for Cold and Cough, check out the Candied Ginger recipe or this Turmeric Ginger Elixir is my go-to recipe.
For more healthy ideas and recipes subscribe to our email or follow us on Facebook to stay updated with all the healthy information we share. Check out our Pinterest boards for all the healthy eating inspiration you'll ever need. For an unending buffet of healthy photographed food, follow us on Instagram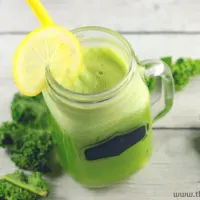 Mean Green Juice Recipe
Ingredients
4 apples
2 cucumbers
8 celery sticks
16 kale leaves
1 lemon
ginger root, 2 inch piece
Instructions
Toss all the ingredients in a juicer.
Juice and enjoy the healthy benefits.