Mix Vegetable Daliya / Dalia khichdi - Bulgur Pilaf is a savory, easy recipe to make for breakfast, lunch, or dinner! These healthy grains are so delicious, you will forget you are eating a healthy meal. Loaded with nutrients like protein, fiber, and vitamins, this is truly an Indian super food that you'll love feeding to your family.
LET'S BE FRIENDS ON PINTEREST! WE'RE ALWAYS PINNING TASTY RECIPES
Video Recipe
What is Dalia or Daliya?
Dalia or daliya are two different spellings of the same thing. Daliya translates to broken wheat. Throughout India, people eat dalia as a high fiber and protein breakfast option that helps you feel fuller for longer.
Dalia is very versatile. You can use it to make our deliciously sweet Lapsi or as a replacement for rice in several savory dishes.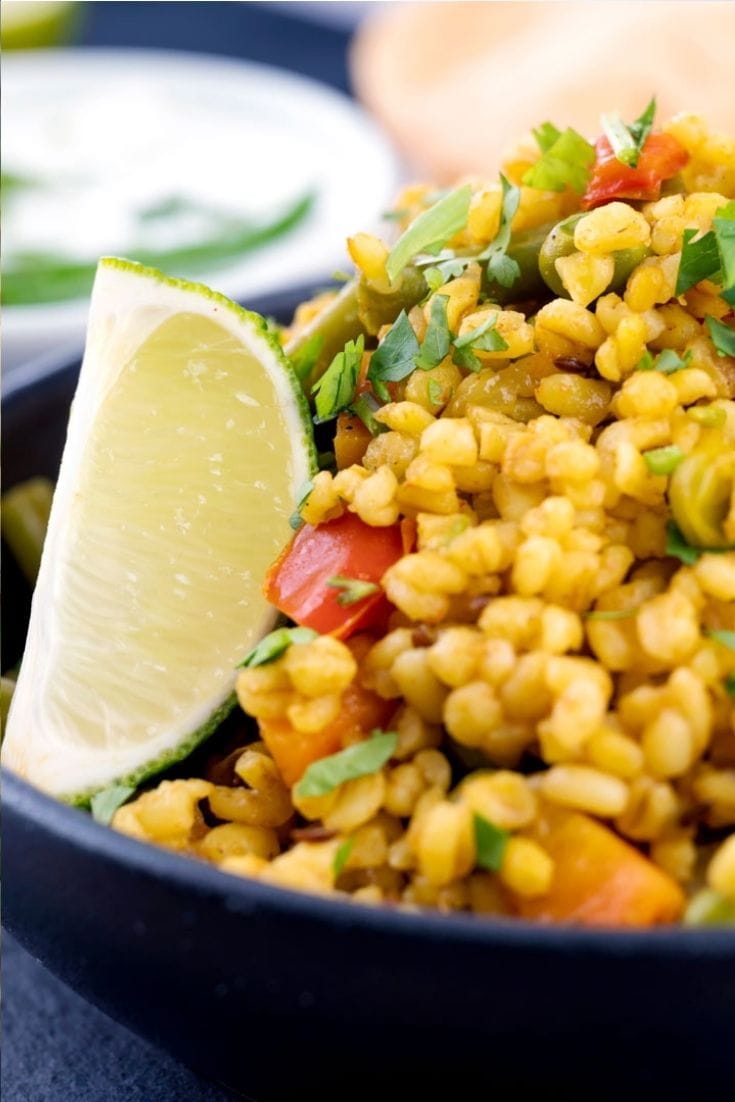 Why you will love daliya khichidi
Here are some reasons you will love this recipe:
it's super easy and takes less than 20 minutes to make

a healthy alternative to using white rice

broken wheat is nutrient rich, full of protein, and a great source of fiber

very filling meal

perfect meal for a cold evening

it's a one pot meal
What you'll need to make it
When you're ready to try this great recipe, here's what you'll need to have on hand:
Oil - You can use canola oil, olive oil, or another light oil.

Bulgur Wheat / Daliya - You should be able to find this at your local Indian grocery store, some grocery stores, or online if needed.

Green beans - I recommend fresh but you can use frozen if you prefer.

Red bell pepper - I like red best for this, but a green, yellow, or orange pepper will also work if that's what you have on hand.

Carrots - I like to use whole carrots that I peel and dice but frozen carrots or even carrots mixed with peas could work for the recipe.

Green peas - If you can't get fresh, you can use frozen for this.

Onion - I tend to use white or yellow onions for this.

Water

Spices - You'll need cumin seeds, salt to taste, red chili powder, garam masala, and turmeric powder.

Garnish - For topping the daliya, you'll need chopped cilantro and the juice of half a lime or lemon.
How to make daliya khichdi
Here's what you need to do in order to make this savory meal.
First, wash and drain your daliya or bulgar wheat to remove any debris from the grains.

Next, press the sauté button and when it reads "HOT," add the oil and cumin seeds. Before adding the onions, let the spices crackle and then sauté the onions for 1 minute.

Once the onions are starting to get fragrant, add all the chopped vegetables, daliya or bulgur wheat, salt, chili powder, turmeric powder, and water. Stir it together well.

Before placing the lid on the Instant Pot, turn off the sauté mode. Next, select pressure cook and set the pressure to high and the time to 6 minutes.
Once the timer goes off, do a quick release of the pressure. Carefully open the lid and fluff the grains gently with a fork.

Finally, spoon servings into bowls and top with chopped cilantro and lemon juice. You can serve it with Cucumber Raita,

homemade yogurt

, Papadums, pickles, or

Dal Tadka

.
Pro tips and tricks
Here are some pro tips and tricks for you to try when making daliya khichdi:
You can add additional vegetables, like diced potatoes or tomatoes if you like. They can add a bit of flavor and texture.

Don't allow the Instant Pot to do a natural release. It can overcook the broken wheat and turn it to mush.

Fresh ingredients tend to taste best, but you can substitute some of the veggies with frozen veggies if you like.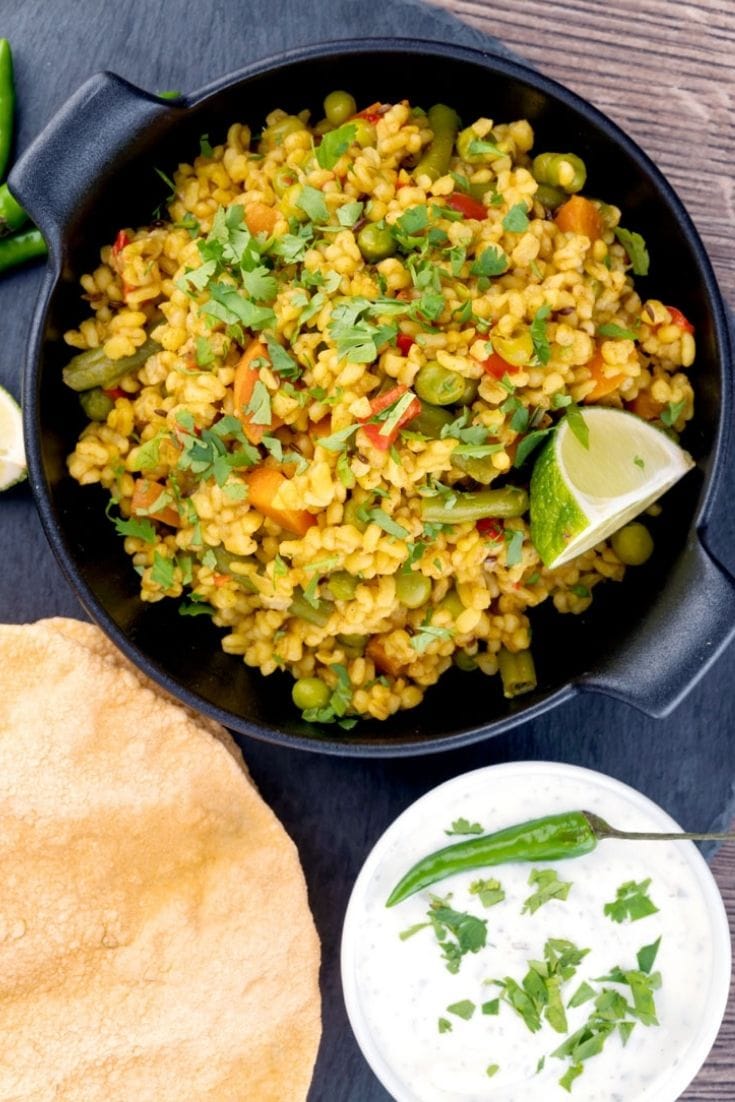 What do I serve with Daliya Khichdi
Daliya khichdi is a super versatile dish because you could serve it for breakfast, brunch, as a snack, lunch, or dinner. You can even make sweet versions of broken wheat to eat as a healthier dessert option.
Since it is so filling, you do not need to prepare a lot of extra sides. This is really a complete meal that includes plenty of veggies. But, homemade yogurt, Dal Tadka, Poppadum, or pickles are all great options to serve with this recipe on the side for added flavors and nutrients.
What is Daliya made of
Daliya translates to broken wheat. It actually uses parboiled groats of several different kinds of wheat and often sees durum wheat. These cracked groats are full of fiber and protein so they are very filling.
Can I make Daliya sweet?
Yes you can!
You can easily make daliya into a bit of porridge using sweeteners and mixing in fruits. Our Lapsi recipe has a great explanation of making a sweetened version of daliya.
Like this recipe, you can use your Instant Pot to create the sweet in only a few minutes. You'll need:
daliya

ghee or oil

sweetener

cloves and cardamom

raisins and almonds

water
To start, you need to toast the daliya in the ghee or oil along with the spices. Once it's toasted, you add the water and pressure cook for 10 minutes followed by a natural release of the pressure.
The extra cook times make for a softer final product, perfect for porridge consistency! You can get the full Lapsi recipe here
What type of daliya should I buy
You can buy whatever brand of dalia you can find at your local store. In some stores, you may be able to find it in bulk while others may sell it in a bag. If you can't find it at your local store, you can try to order it online.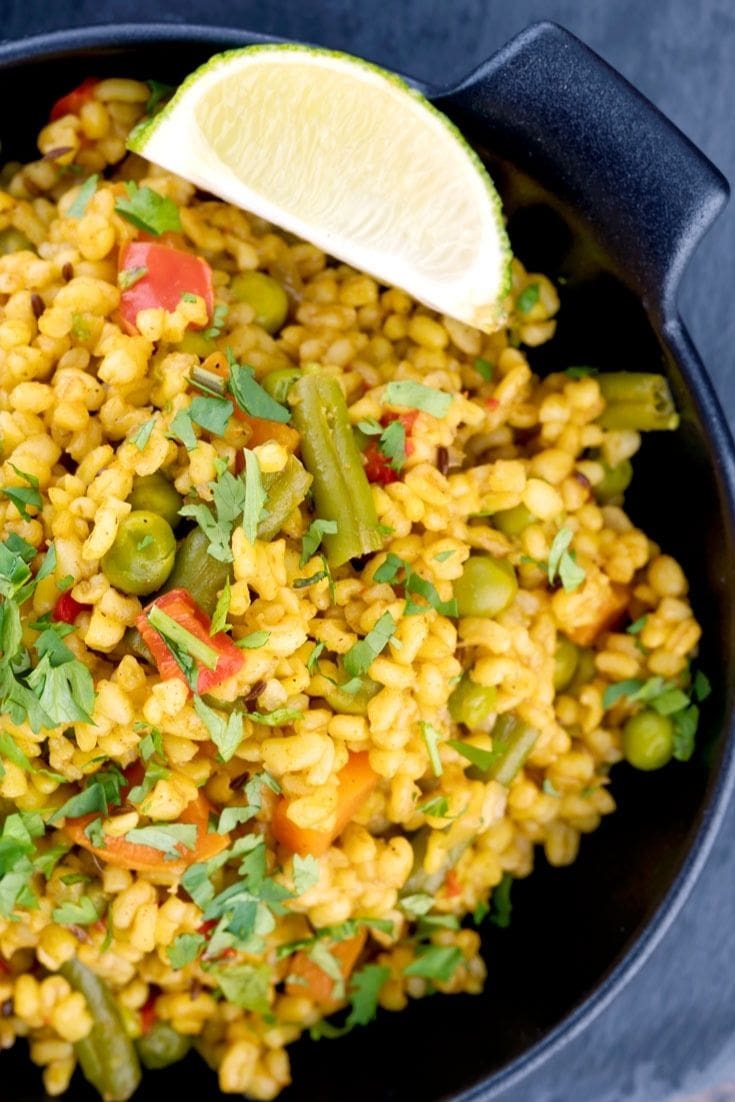 Is Daliya good for weight loss?
Dailya is an excellent source of dietary fiber and protein. The combination makes it quite filling, which means you can eat a smaller portion.
It is also packed with other vitamins and minerals both from the grain and the veggies you add to the dish. Many people in India consider it a superfood because it is packed full of necessary nutrients.
And daliya is a great substitute for rice in many dishes for those looking to reduce their intake of simple carbs.
For another healthy recipe, check out our Khichdi Recipe or our Quinao Pilaf. Both are healthy and filling recipes that are easy to make.
How to store
You can easily store this daliya / dalia in an airtight container in the fridge for about 4 to 5 days. If you want to reheat it, you can microwave a small portion or gently heat on low heat in a small pot, mixing until warmed through.
You can also freeze leftovers in a freezer safe container for up to 6 months. Before reheating, you should defrost in the fridge overnight.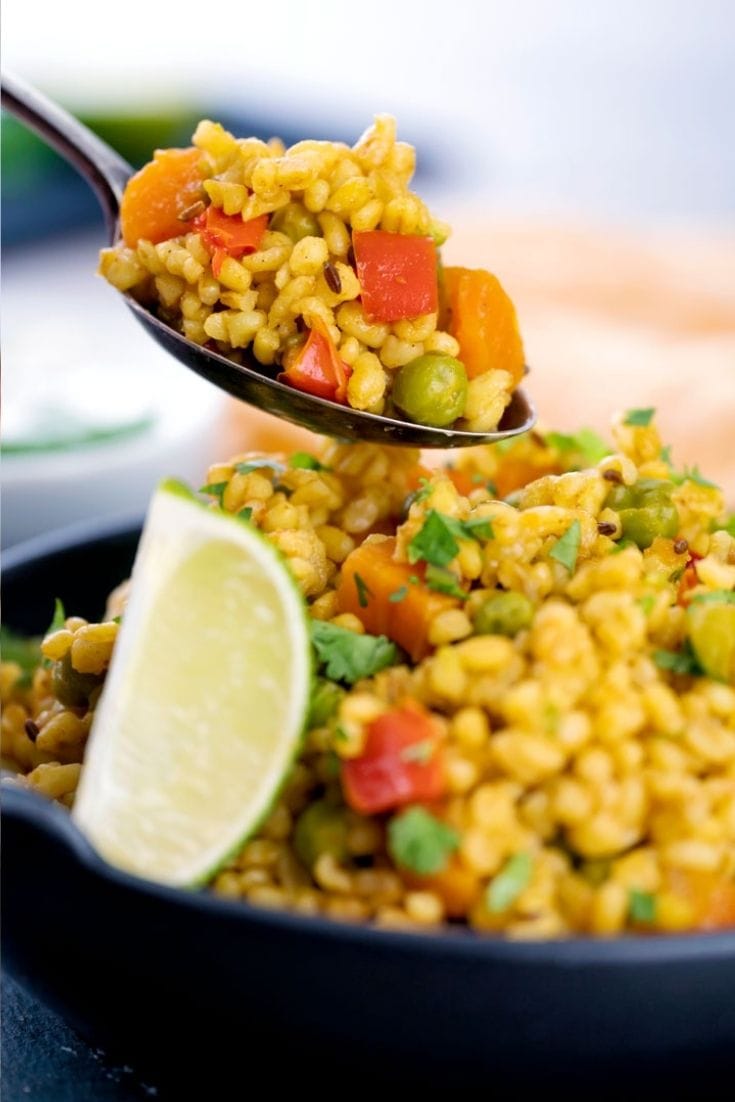 Are you an vegetarian Indian food lover? Then you will love our recipes
Let us know what you think
If you make the daliya, don't forget to let us know what you think and how you enjoyed! Be sure to take a pic and tag us on Instagram @dbellyrulesdmind or Facebook @thebellyrulesthemind!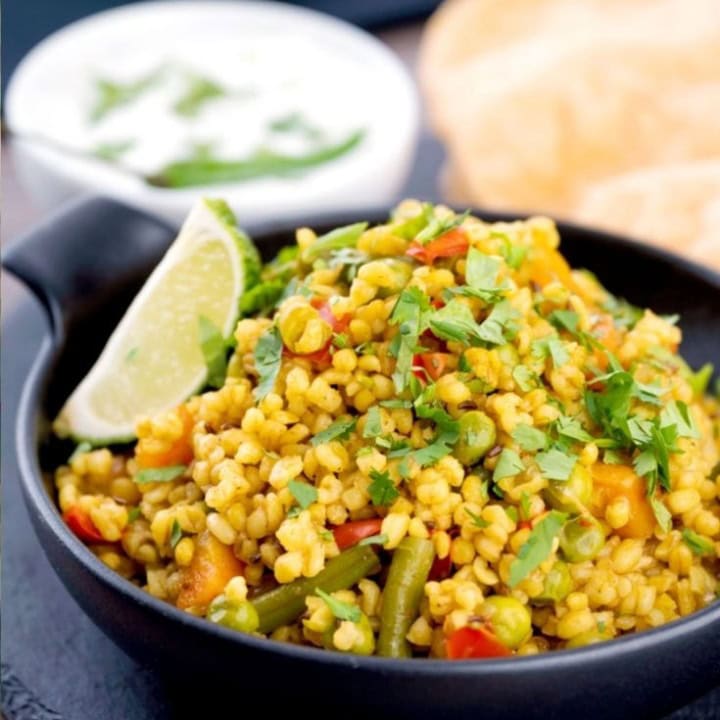 Daliya - Bulgur Pilaf
Ingredients
oil -1 Tbsp
Bulgur Wheat / Daliya / Ghav Na Fada -1 cup
Green beans / chopped -½ cup
Red Bell pepper / diced - ½ cup
carrots/ diced - ½ cup
Green Peas -½ cup
Onion, finely Chopped - ½ medium
Water- 2 cup
SPICES-
Cumin seeds - 1 tsp
Salt to taste
Red Chili powder -1 tsp
Garam masala -1 tsp
Turmeric powder -¼ tsp
Garnish
Cilantro, Chopped - 1 tbsp
lime or lemon juice -½
Instructions
Wash the Daliya / Bulgar wheat and drain the water.
Press Sauté Button, When HOT add the oil, cumin seeds.
Let it crackle add chopped onions. Sauté for 1 minute.
Add all the chopped vegetables, daliya/Bulgur
wheat, salt, chili powder, turmeric powder, and water. Stir well.
Turn off the sauté mode, close the lid, Pressure cook
High for 6 minutes.
When done, do a quick release (QR) of the pressure.
Open and fluff it gently with fork.
Add chopped cilantro and lemon juice.
Serve it with Cucumber Raita, Papadums and Pickle