Protein packed Uttapam- This is a delicious, tempting recipe that can be enjoyed as a healthy breakfast or as a fulfilling lunch or dinner. These are thick, crispy pancakes prepared traditionally using a batter prepared with rice and lentil. We at The Belly Rules The Mind blog try to bring about a healthy twist to most traditional recipes and are doing it here as well. The batter used for making these Protein packed Uttapam is made using the combination of Quinoa and lentil.
Quinoa is one of the super foods that is gaining popularity these days. I have been trying out a variety of recipes with it. Knowing the benefits that Quinoa has, i try and fit it in to our daily cooking as much as possible making sure that it does not compromise with the taste of the food we are used to. This is how I incorporated Quinoa in one of my family's favorite dish .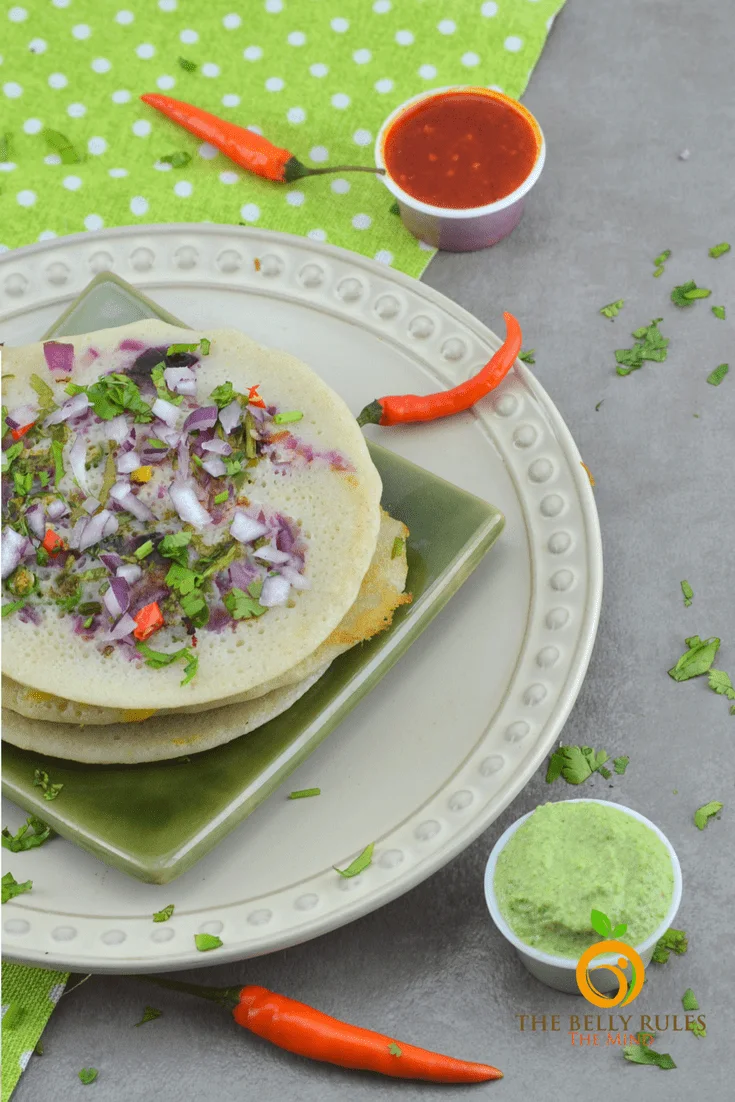 Uttapam is one of the popular dish in Indian restaurants, food court stores, and are even a bigger HIT on most street food joints in India more so in Mumbai . Mumbai is a fast pace city with people who are always running short of time. Keeping that in mind, a lot of street shops prepare and provide south Indian food that is quick to prepare.
Its fun to watch how they simultaneously make so many Uttappam on a huge cast iron tava /Pan visible to customers so we can all see how they're making it. Although making the Uttapam looks hard and seems to require special skill, it's actually quite easy and you can make it at home yourself.
You can add your favorite toppings to make this protein packed uttapam more delicious and appealing to your kids. This is also a great dish to make with your family and friends if you have a hot plate because you can all cook your multigrain uttapams together at the same time and have fun adding different toppings. The hot plate can also help engage your kids getting involved in selecting their own toppings for their uttapam.
It is a very versatile dish that has many adaptations and various topping options.The most common topping you will find is chopped onions with green chillies, but you can put whatever you like. I prefer mix veggies and my 10 year old R2 likes it with cheese , so that's the two toppings we used. But you may like to put tomatoes, chopped spinach, or grated beetroot too.
Do check out the video below to get a first hand look of how it is usually made.
Once you've added your topping and cooked the Protein packed Uttapam, you can serve it with chutney of your choice heres some of our favorite chutneys are
1 carrot chutney
2 spicy beetroot chutney
3 peanut chutney
4 pepperoncini pesto chutney
For more healthy ideas and recipes subscribe to our email or follow us on Facebook to stay updated with all the healthy information we share. Check out our Pinterest boards for all the healthy eating inspiration you'll ever need. For an unending buffet of healthy photographed food, follow us on Instagram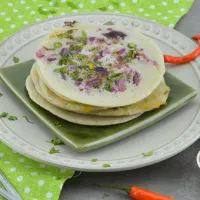 Protein Packed Uttapam (Gluten-free+ Vegan)
Ingredients
1/2 cup Chana dal (Bengal Gram Dal)
1/2 cup Yellow Moong Dal (Split)
1/2 cup White Urad Dal (Split)
1 /2 cup uncooked Quinoa
1-2 green chilles / optional
5 to 6 sprig Cilantro leaves/Dhaniya/ optional
2 inch Ginger/optional
Water , as required
Salt , to taste
2 to 4 tablespoon Cooking oil or ghee
Instructions
Soak the Dal for 2- 4 hours.
cook the quinoa as mentioned on the pack
grind the Quinoa & lentils together .
Add enough water and make a thick batter along with ginger and green chillies in a grinder (The ginger and chillies are optional.you can skip it if you are going to top the uttapams with onion and other topping ).
Add salt . Adjust water only if required. The batter needs to be thick like cake batter .
Heat a non stick pan. the pan should be too hot.
Lower the flame on low to med .Pour a ladle of batter and spread into a circle using the ladle.
add you favorite topping and few teaspoon od ghee or oil.
Flip them after few mins and cook it for few mins till done.
Serve it with chutney and sambhar!