A quick falafel wrap recipe is a yummy, nutritious vegetarian recipe. This satisfying wrap turns the classic dish from an appetizer into a wholesome, delicious meal. Made from scratch with budget-friendly staple foods, these are a healthier take on one of our favorite Mediterranean dishes. Delicious, satisfying, and only 30 minutes to prepare.
LET'S BE FRIENDS ON PINTEREST! WE'RE ALWAYS PINNING TASTY RECIPES!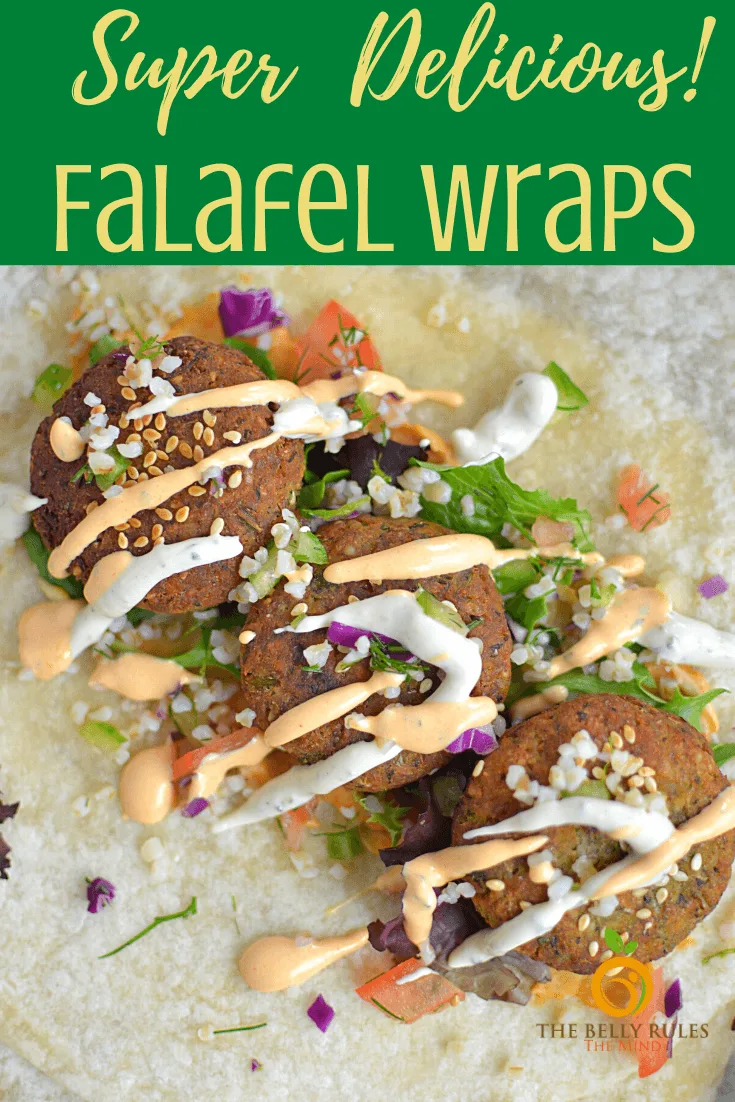 Jump to:
What is a Falafel wrap?
A falafel wrap is an easy way to enjoy falafel balls and salad greens. It is a convenient, hand-held food perfect for lunch and easy to assemble, even when you are on the go.
Falafel balls or discs are a traditional Middle Eastern food that uses either chickpeas, fava beans, or both along with various spices. They are often deep fried and served in pitas or wraps. If you want to avoid deep fried falafels, you could try this vegan, no fry falafel recipe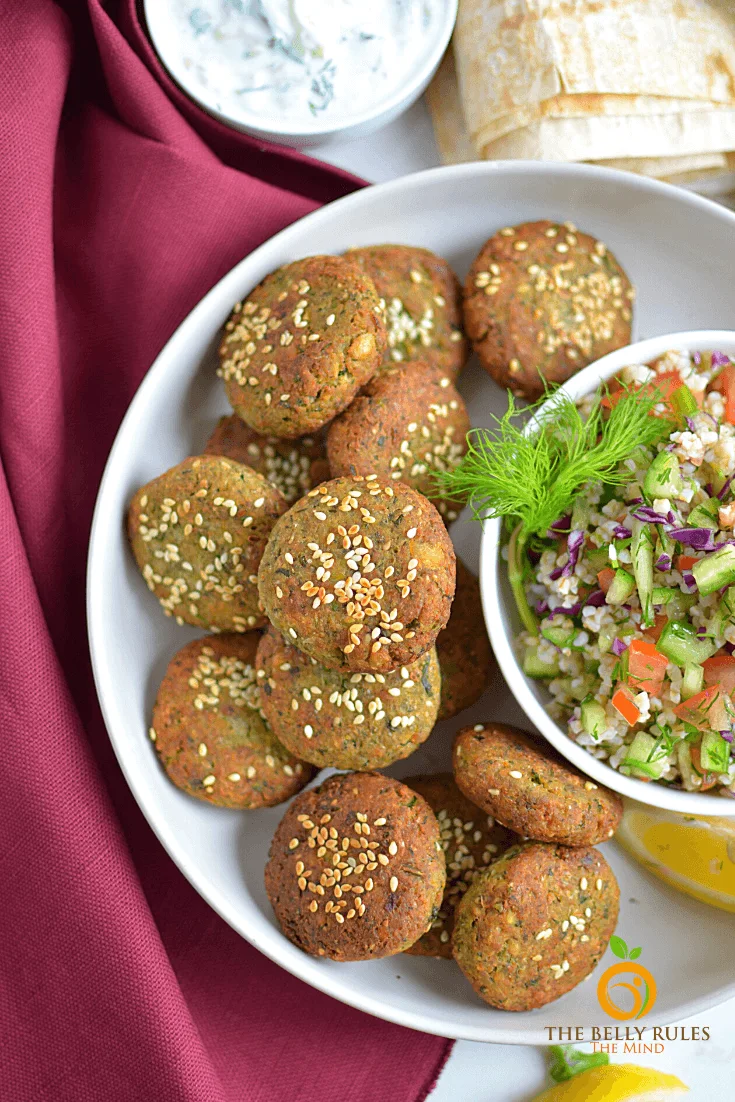 Quick, Easy and Ultimate Falafel Wrap Recipe
Falafel wraps are a very easy to make and quick lunch option for the whole family. You can send your family to work or school with the ingredients to make a wrap or you could quickly put them together on a warm day for a refreshing midday meal.
Once you have all the ingredients, assembling the falafel wraps takes only a few minutes. And though I highly recommend using homemade versions of falafels, hummus, tzatziki sauce, and tabbouleh salad, you should be able to find most of them at your local grocery store.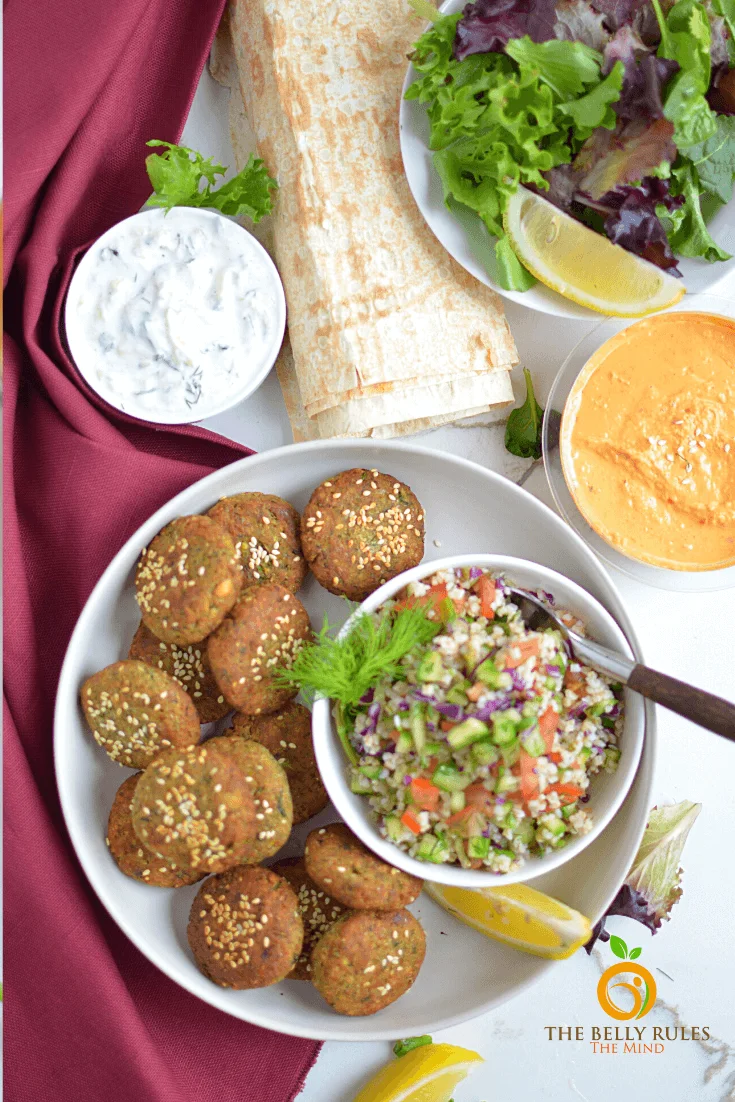 What goes in to a Falafel Wrap
Falafel wraps are a combination of falafel balls, hummus, and a mixed green salad - all rolled into a tortilla. Wraps are a great way to eat a salad with your hands.The ingredients for a falafel wrap are fresh and simple. You will need falafels. You can find a great recipe for Vegan Falafel here.
HUMMUS :For added flavor and creaminess, you will need humus, like this homemade hummus recipe
TZATZIKI SAUCE: You can find a homemade tzatziki sauce here.
TABBOULEH :For the crunch, you'll need tabbouleh salad. You can find instructions to make a great tasting tabbouleh salad here. Fresh mixed salad greens or lettuce
TORTILLAS OR WRAPS : And, of course, you will need medium to large size flour tortillas. Flour tortillas work much better than corn ones because they fold or roll better without cracking and have a more neutral flavor. Gluten free tortilla works well too .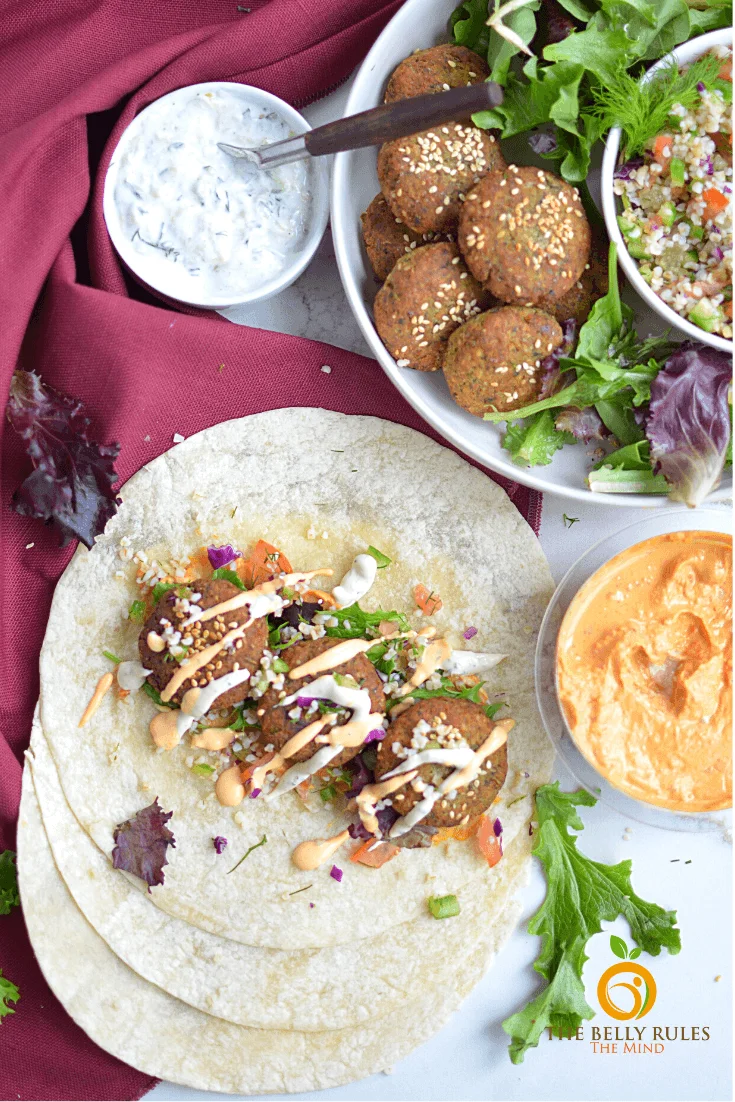 How to make this Falafel wrap recipe
Making falafel wraps is very easy if you get your ingredients lined up and ready before you attempt to make the wraps. So first measure and grab the salad greens, tabbouleh salad, tzatziki sauce, hummus, falafels and tortillas.
When you have all your ingredients ready, place the tortillas on a plate and microwave for about 10 to 20 seconds. This helps make the tortillas a bit more flexible and easier to roll.
Then, place the warmed tortilla on a plate and spread a spoonful of hummus towards the one side of the tortilla in a line, leaving about an inch of space between the one side and ends. Add a small amount of mixed greens and place about 3 to 4 falafel balls on top of the greens.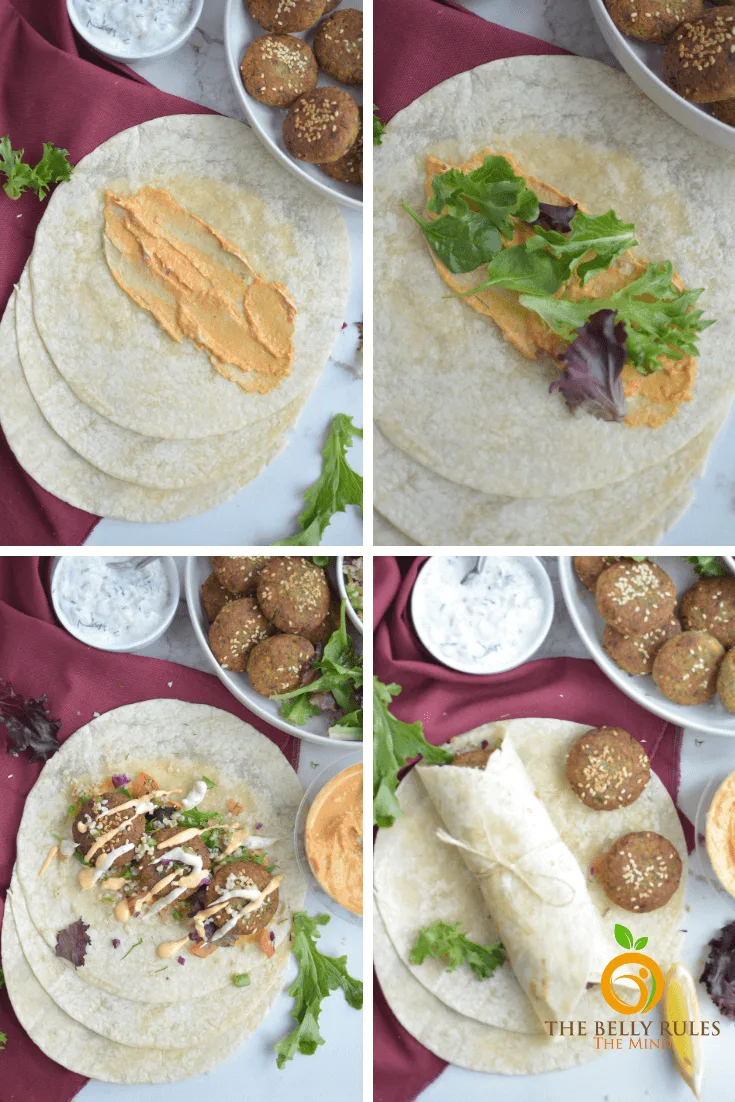 Next, add a small amount of tabbouleh salad and drizzle on a generous amount of tzatziki sauce.
You are now ready to roll the tortilla into a wrap. First, fold in each side of the tortilla towards the end of the line of ingredients. Next, start to roll the tortilla from the side the ingredients are placed on. Roll the tortilla fairly tightly and place on a plate.
Repeat the process until all tortillas are filled and ready to eat.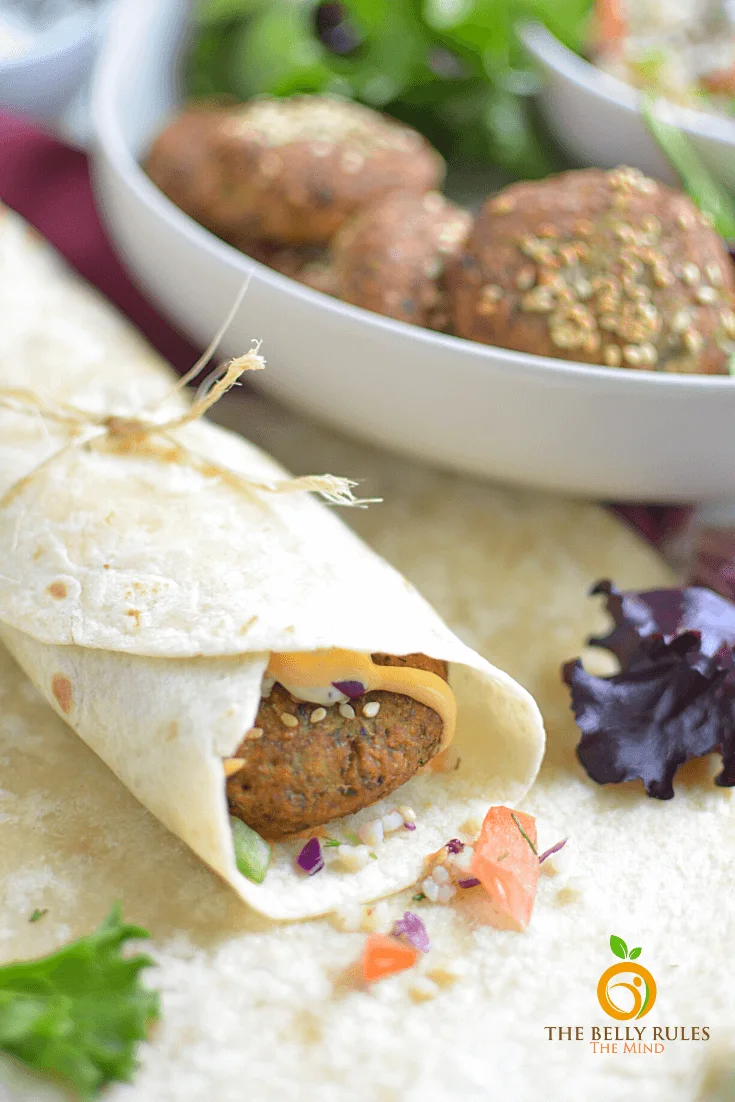 How to fold a wrap?
Filling and folding a wrap can take a bit of practice to get right. If you add too much filling, you'll find it oozing out the ends, preventing a fully rolled wrap, or it may burst out the middle. All still edible but it can get the hands very messy.
To roll a wrap well, follow these steps:
Gather the ingredients needed so they are easy to grab

Warm the tortillas in the microwave for about 10 to 20 seconds

Add the ingredients in a line towards one side of the wrap leaving about an inch on the side and ends from the edge of the tortilla. Use a small amount of the ingredients, 2 to 3 falafels and a small amount of greens, humus, and tzatziki sauce.

Fold the tortilla in at each end - this will create a pocket to hold all the ingredients in place and prevent them from dripping out the ends.

Starting at the end where filling is located, fold the end towards the line of filling and slowly roll the tortilla and filling tightly so it is not loose.

When plating, place the wrap so the flap is on the plate - this will help prevent the wrap from opening back up. You could use a string or foil to keep it together.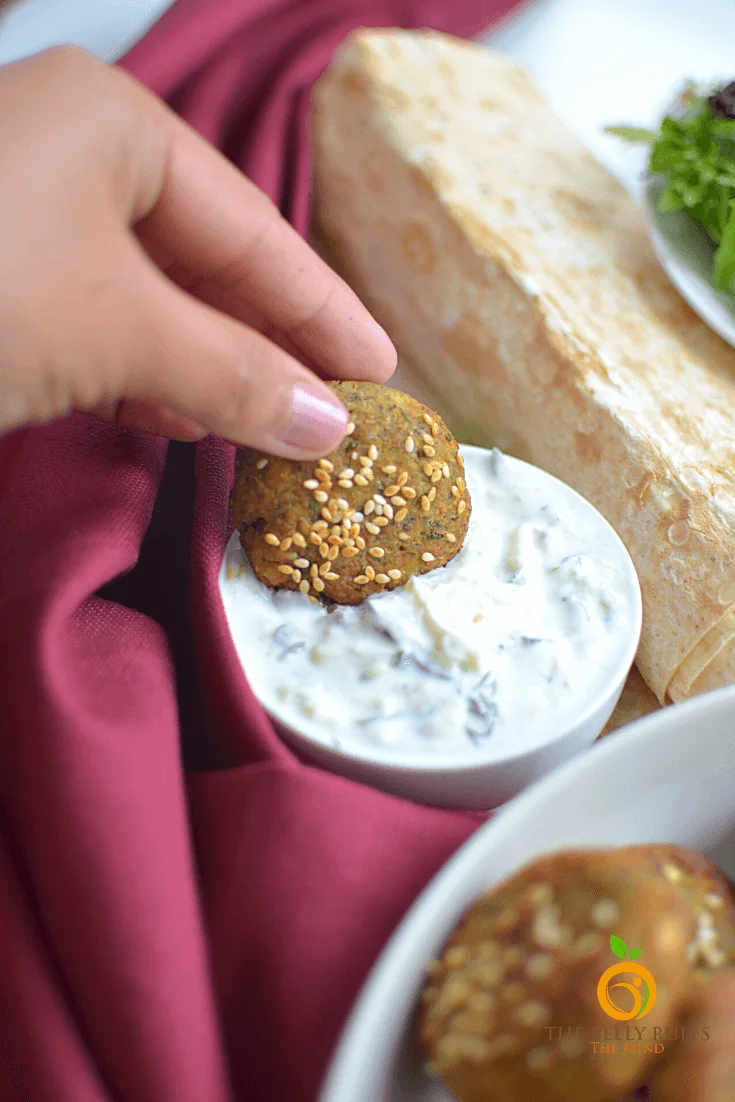 What to eat with falafel wrap
You can serve falafel wraps by themselves for a filling, nutritious lunch or even dinner. They include protein as well as veggies for your family to enjoy.
If you like though, Our Instant pot Mujadara goes very well ,you can serve them with Air fried Potato wedges because fries makes any meal better. Or for a fun alternative to fries, you could serve the wraps with these Air fryer green beans. You can also serve them with more tzatziki sauce for dipping.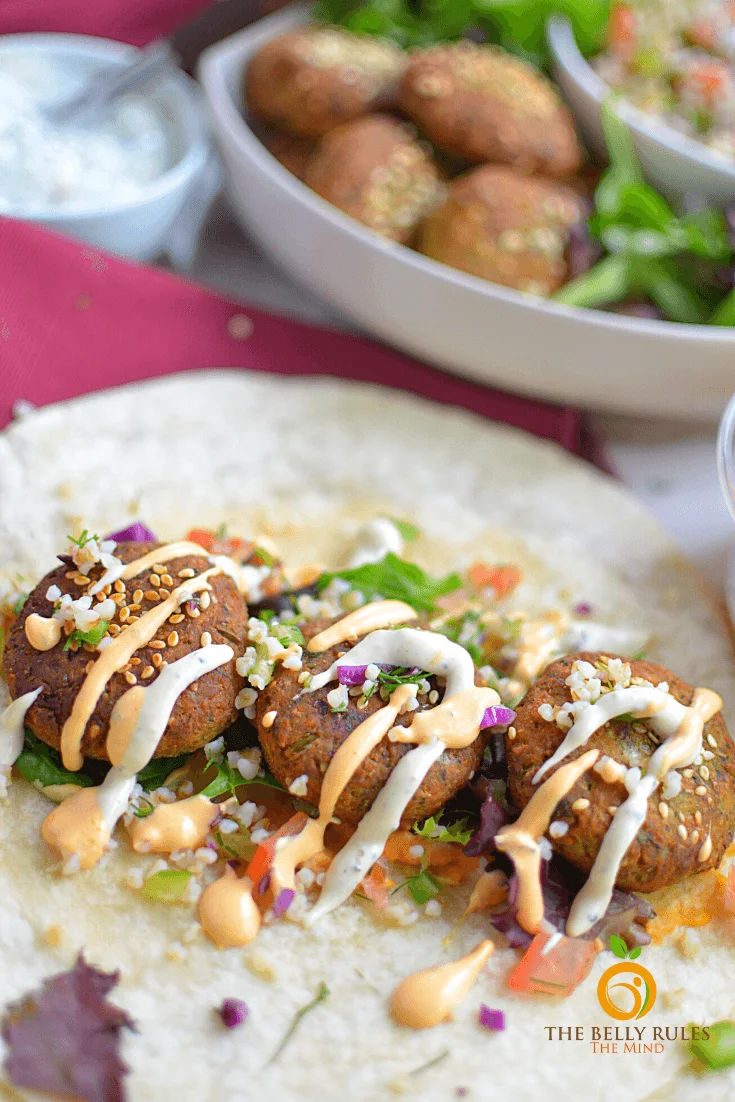 Is Falafel Wrap Vegan?
No. This recipe is not vegan as written because of the tzatziki sauce. Tzatziki is a yogurt based sauce. To make a vegan falafel wrap, omit the tzatziki sauce or use a vegan tzatziki sauce made with plant based yogurt.
Why make a falafel wrap with hummus?
It may seem redundant to add hummus to a falafel wrap. After all, hummus and falafel balls are both made using chickpeas.
But hummus adds a creaminess and added flavor to the wraps, which is why I include it in my wraps. They are a good contrast to the crispy falafel balls and salad greens found in the wraps.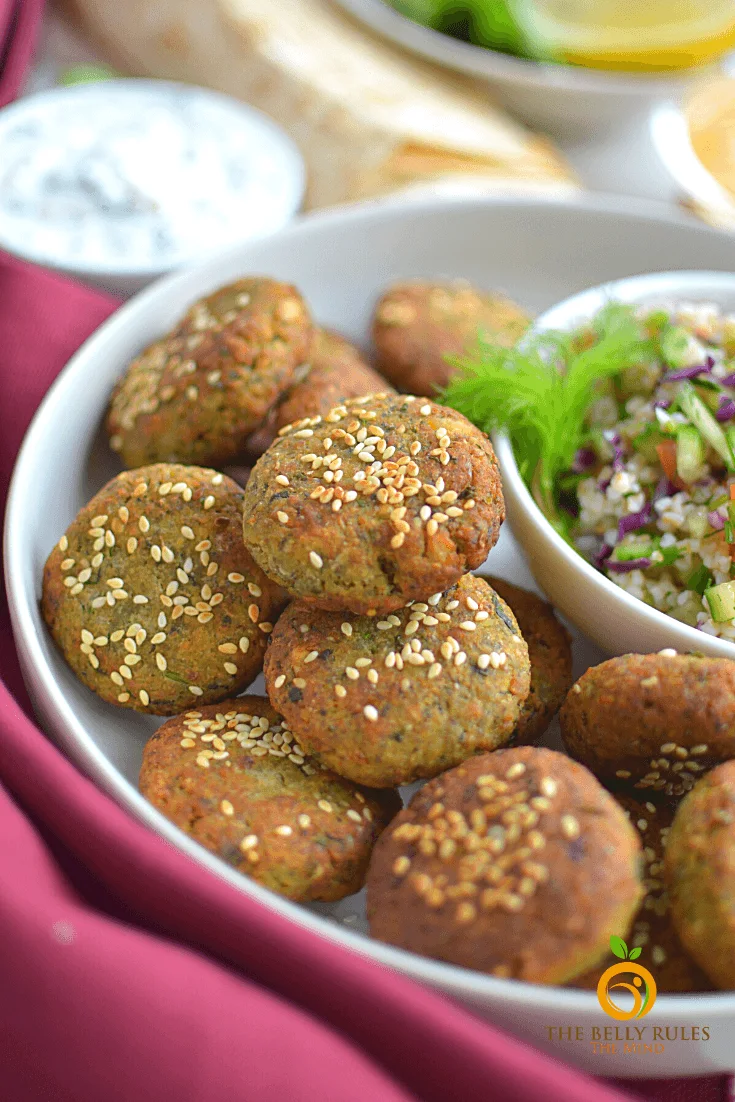 Falafel wrap for lunch box?
A falafel wrap can make a good lunch box addition. But I would recommend packing each ingredient into individual containers. Your kids or husband can then assemble the wrap easily in the cafeteria or wherever they eat their lunch.
I don't recommend making the wrap ahead of time and placing it in a lunch box. The wet ingredients will make the tortillas soggy and wet. It is best to keep them separated and allow your family members to make a fresh wrap when they are ready to eat.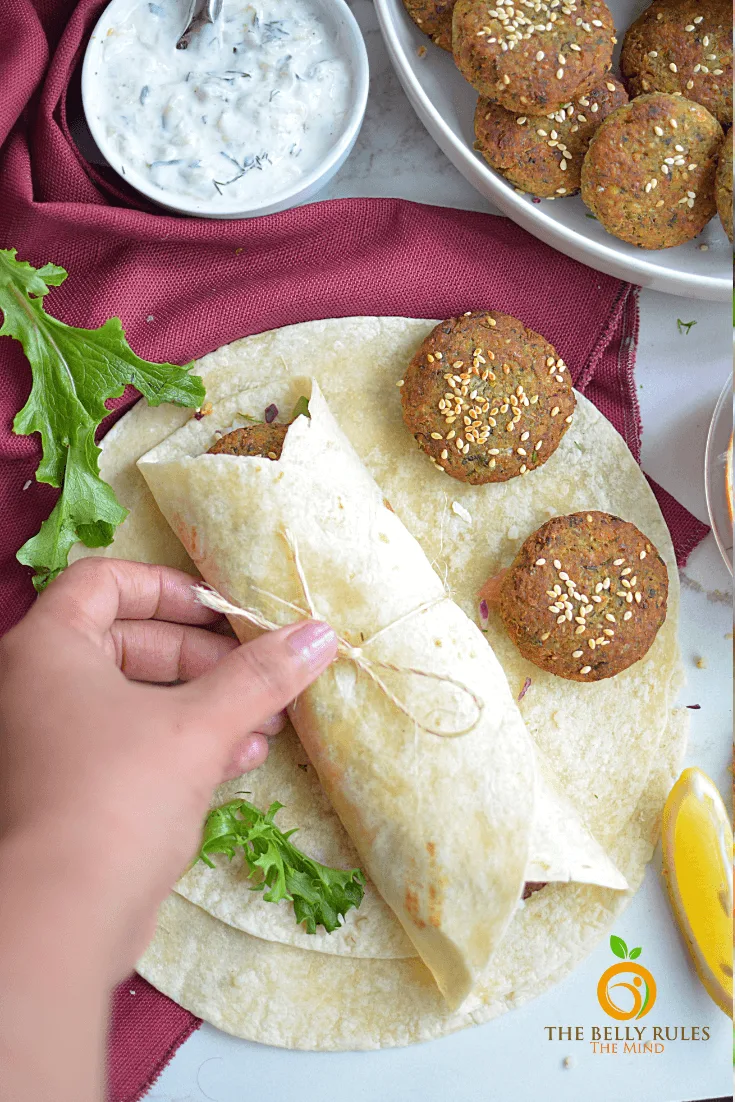 Can Falafel wraps be frozen?
You really shouldn't freeze assembled falafel wraps. The tortillas become soggy and wet when you thaw them. But you could make the falafel ahead of time. When you are ready to make the wraps, you just need to gather the ingredients and assemble the wrap. It is a lot tastier to eat fresh tortillas than frozen ones.
Quick Falafel Wrap Recipe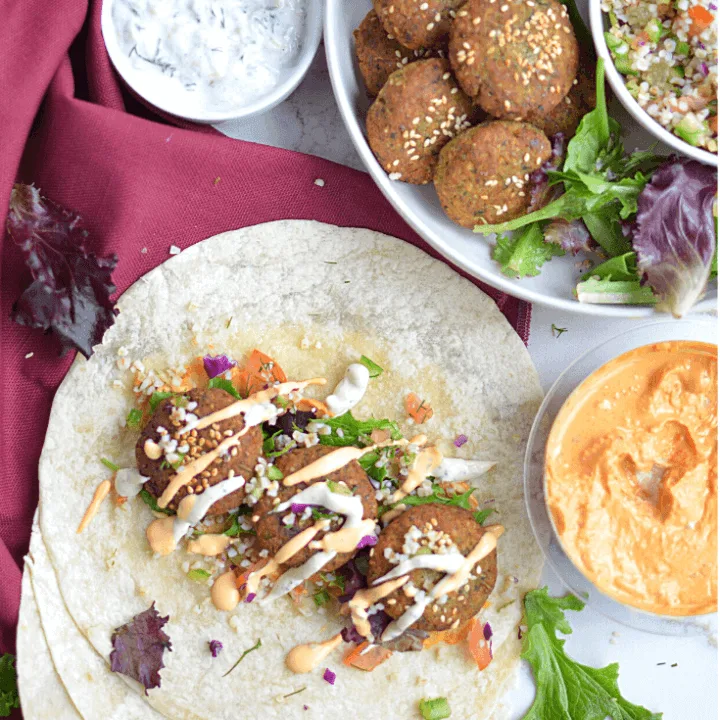 Quick Falafel Wrap Recipe
A quick falafel wrap recipe is a yummy, nutritious vegetarian recipe. This satisfying wrap turns the classic fried mashed chickpea dish from an appetizer into a wholesome, delicious meal.
Ingredients
Large tortilla wraps or flatbread - 5
Falafel - 15
Mix salad greens or lettuce - 3 cups
Hummus - 1 cup
Tzatziki sauce - 1 cup
Tabbouleh salad -1 cup
Instructions
Heat tortillas or flatbreads in the microwave for 10-20 seconds or warm it on a large pan on a medium heat for 1-2 minutes,
Spread a spoonful of hummus onto the flatbread or tortilla , place desired amount of mix salad greens on the tortilla .
Lay the , 3-4 falafel balls, and tabbouleh , and top generously with tzatziki sauce. Carefully, roll the stuffed tortilla.
Repeat the same step with the rest of the tortillas.
Notes
The amount of ingredients inside the wrap is up to you and depends on the size of tortilla wraps and how you wrap them. I used 3 falafel balls per wrap.