If you are looking for a quick and easy delicious vegetable snack or side, these Air Fryer Green Beans are a must try. PF Chang copycat, these green beans are super easy to make in 6 to 8 minutes. Vegan. Gluten-Free. Low Carb. Weight Watcher, Roasting & Broiling option given.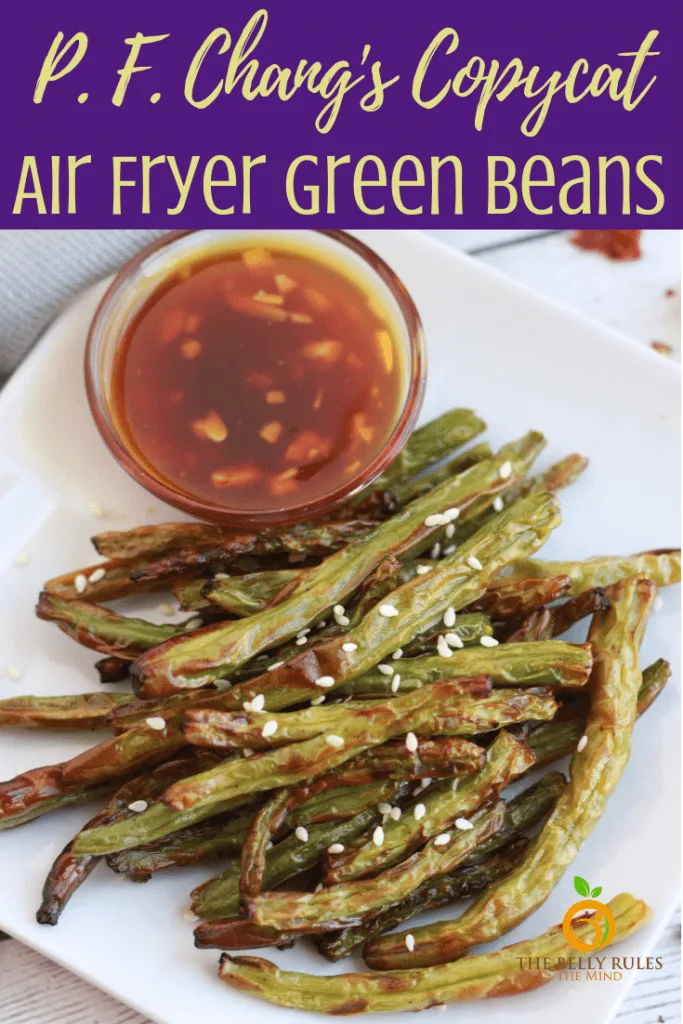 Green Beans
Remember when you mom told you to finish your veggies and she often made green beans. Well there was a reason. Probably your mom knew that green beans are among the best whole-grain food to eat. Green beans are a nutrition mine with several protein, carotenoids and other antioxidants. What makes them healthy is their level of starch and fiber. Instead of being totally processed right away by our digestive system, some nutrients of green beans are absorbed and continue to have an impact on your health , long after the rest of the bean has been digested and expelled.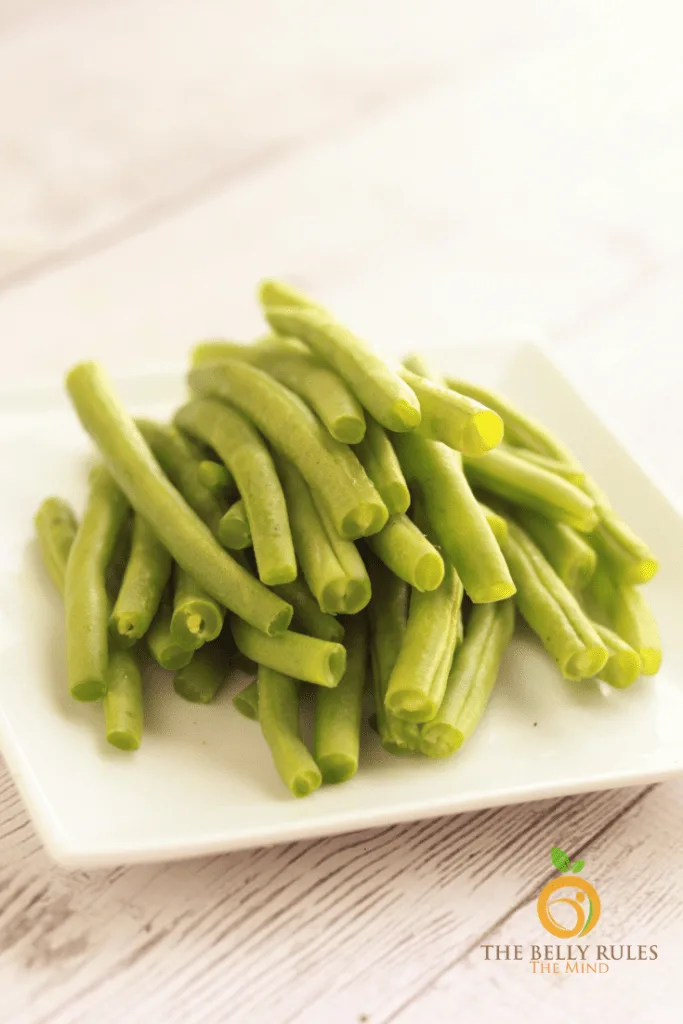 Due to the type of dietary fiber & carbs present in green beans, this veggie is considered a low glycemic index (as low as 20) food because the carbs release slowly in the system avoiding spikes and dips in glucose levels of blood.
I just only found out that there are around 130 varieties of green beans. I personally love green beans because of its nutrition and versatility and also the fact that unlike other greens, they can be frozen without losing their nutritional value. I love that they are easily available all year round and my family is a big fan of anything green beans. Specially Little A.
Air Fryer Green Beans
Whether you are a fan of PF Chang's Green Beans like me or not, these Air Fryer Green Beans are a must try because they too damn delicious to not try. They make a perfectly healthy side or snack in just 6 to 8 minutes. Like I always say, healthy doesn't have to be bland or boring, these are full of flavors!!! Enhance the goodness of these beans by serving them with a delicious spicy ( you can skip the spicy, if you like) chilli garlic sauce that is ready in a jiffy with easily available ingredients from the pantry. I have also shared a list of seasonings below for repeating this recipe without getting bored.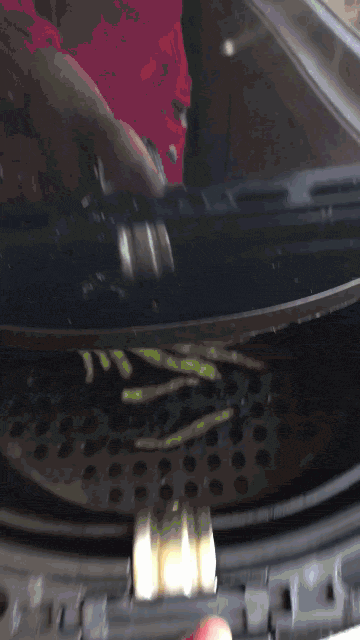 How to Cook Crispy Green Beans?
If you are wondering how to cook green beans, trust me it's super easy. All you need to do is rinse the beans thoroughly. Trim the ends. Coat them with oil and and salt and air fry them. If you don't have an air fryer you could even broil or bake them, I have shared the instructions below. Ofcourse you can always stir fry these green beans, the original P.F.Chang way. However Soniya and myself are in love with our Air Fryers so have been adding recipes to our Air Fryer collection.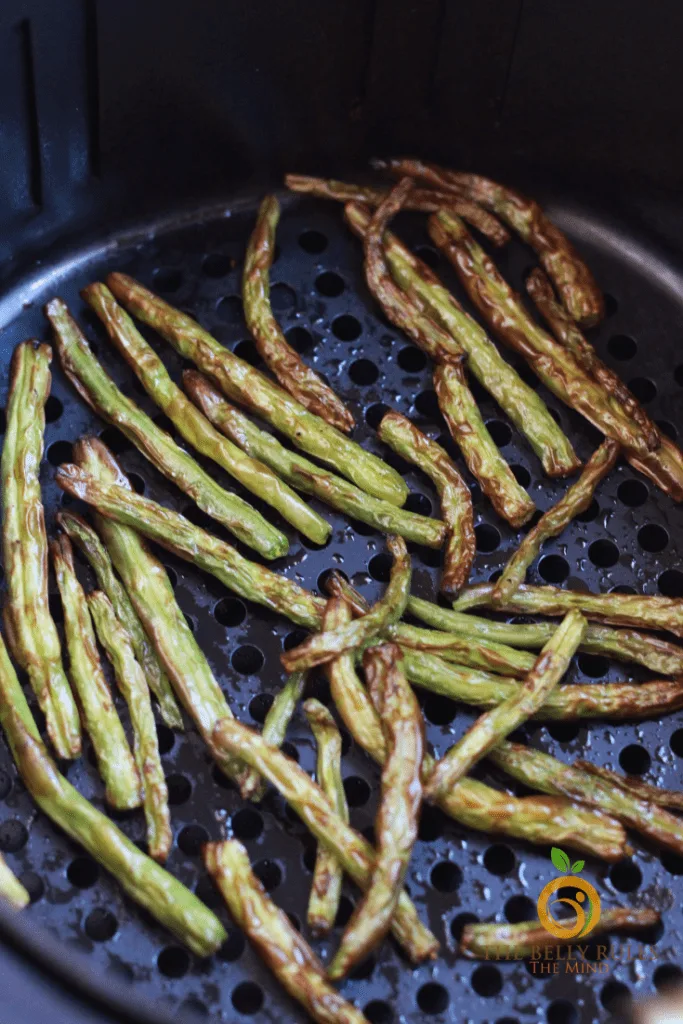 Air Fryer Green Beans Tips
We test our recipes before we share them with you.
Let me be honest here. It took me a couple attempts to get the perfect green beans. We just don't share recipes with you without testing them. Even if it takes us a few attempts to get the recipe right, we keep trying it until it's perfect before we share it with you on the blog. As you can see in the picture below that in my first attempt the green beans turned out slightly over charred. Not all bloggers will show you experiments that didn't get us the desired results. So I had a few learnings from here which I have shared below this picture.
The first time (picture above) I coated the beans with a batter of rice flour and chili garlic sauce. You can see the result above. So the next time I decided to just Air Fry the beans with oil and salt and then season it with my favorite chili garlic sauce later. Picture below
One of the most important tips is that never crowd the basket with too many green beans. If you want your green beans to be evenly cooked, make smaller batches to make sure the green beans are perfectly cooked. Prepare them in batches and enjoy them immediately, or else they will get soggy.

Always top and tail , I mean trim the edges :)One variety of bean is known as string beans. Since nobody enjoyed the strings while eating , people started trimming the edges. However most varieties now come without the string as the beans are genetically modified. Ofcourse trimming the edges is a chore isn't it, so the most efficient way I have found so far is to line up the edges and trim one side and then line up the edges on the other side to trim the edges.
Use a high heat oil like like sesame or avocado oil to brush or spray the beans to make sure you get crunchy beans.
Green Beans Seasonings
You will never get bored enjoying these beans. Once you've tried the asian flavors, tweak up the flavors next time and tell me which one was your favorite.
Asian
Chili
Italian
Curry
Mediterranean
Can I use frozen green beans in my air fryer?
Absolutely, you can use frozen beans. First you need to rinse them and then make sure they are dry or else all the excess moisture will prevent them from browning and getting that perfect fried or roasted effect.
Weight Watchers Option
Just stick to green beans, oil, salt and a serving of these green beans contain 0 Freestyle Points.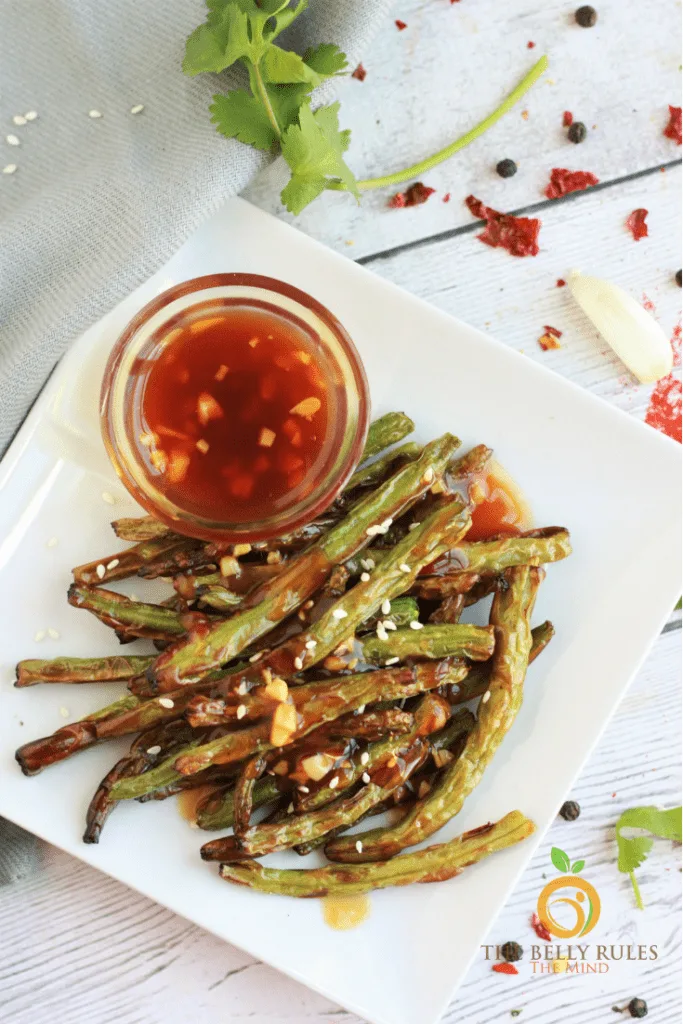 Can I broil the green beans?
Oh yes, you totally can.Toss in those green beans on a tray with some oil and place them on the top rack, making sure the tray is not very close to the flame. Broil for abour 3-6 minutes. Keep an eye out after 3 minutes ad the green beans get slightly charred and wrinkled. Take them out immediately.
Can I roast the green beans in an oven?
Yes again. Coat them with oil and salt and throw the beans on a baking sheet and roast them at a high temperature of 425 degrees F for about 18-20 minutes.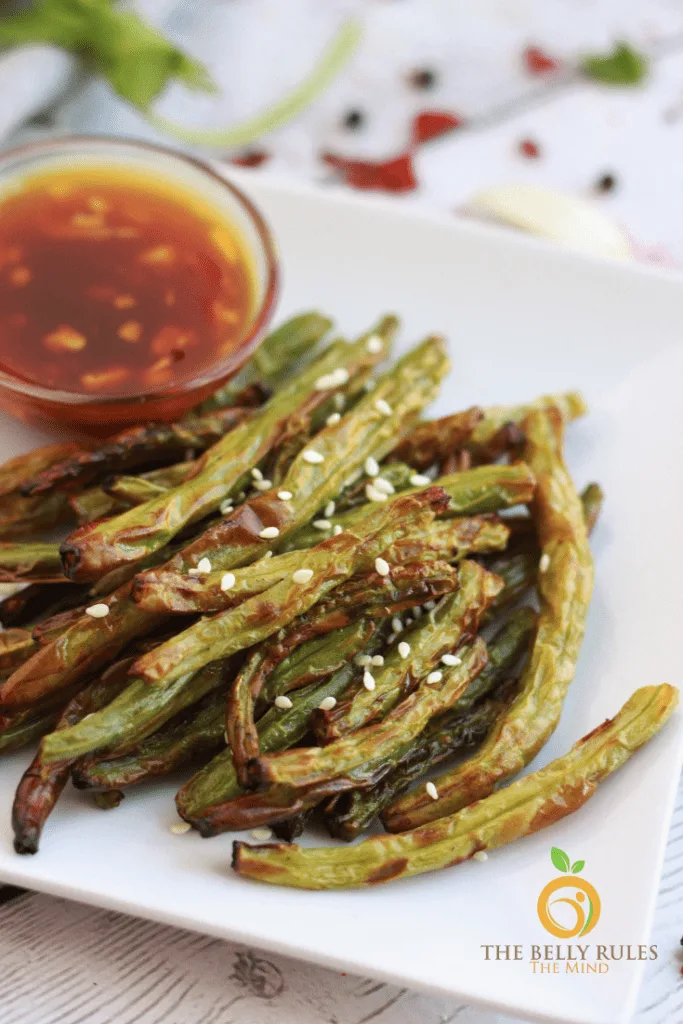 So let's get started on how to cook these green beans?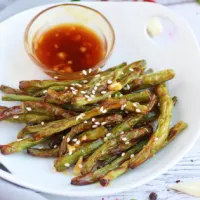 Air Fryer Green Beans
If you are looking for a quick and easy delicious vegetable snack or side, these Air Fryer Green Beans are a must try. PF Chang copycat, these green beans are super easy to make in 6 to 8 minutes. Vegan. Gluten-Free. Low Carb. Weight Watcher, Roasting & Broiling option given.
Ingredients
For Air Frying
Chili Garlic Sauce
Garnishing
Instructions
Preheat the air fryer to 400 degrees F
In a bowl toss in the trimmed green beans, spray some cooking oil and sprinkle the salt
Place beans in the Air Fryer basket. Make sure you don't crowd them.
Air fry them for about 6-8 minutes turning them once in between.
When the timer beeps, remove the beans and garnish with chili garlic sauce or your favorite seasoning.
For the chili garlic sauce mix all the ingredients together and serve with green beans
Notes
Instructions for roasting and broling giving in the post.
Tips to get perfectly Air Fryer Green beans giving above.
Recommended Products
As an Amazon Associate and member of other affiliate programs, I earn from qualifying purchases.
More Air Fryer recipes