Rice Pudding, a delicious comfort dessert made with rice and coconut milk. Sweetened with dates and maple syrup and garnished with almonds and raisins. It' just simply yum. Super easy to make in the Instant Pot, just dump-set-go. Vegan. Gluten-Free. Video Recipe.
Now that we have mastered making the perfect Instant Pot rice everytime (here), it was time for Rice Pudding.
Rice Pudding
It's the one dessert every culture has their take on this classic, and for good reason: it's absolutely delicious! The main ingredients are always milk and rice, however what sets the rice puddings apart is the different types or rice and milk used along with how it's flavored and the different consistencies. In some cultures it's a Christmas dessert while some in cultures it is enjoyed year round.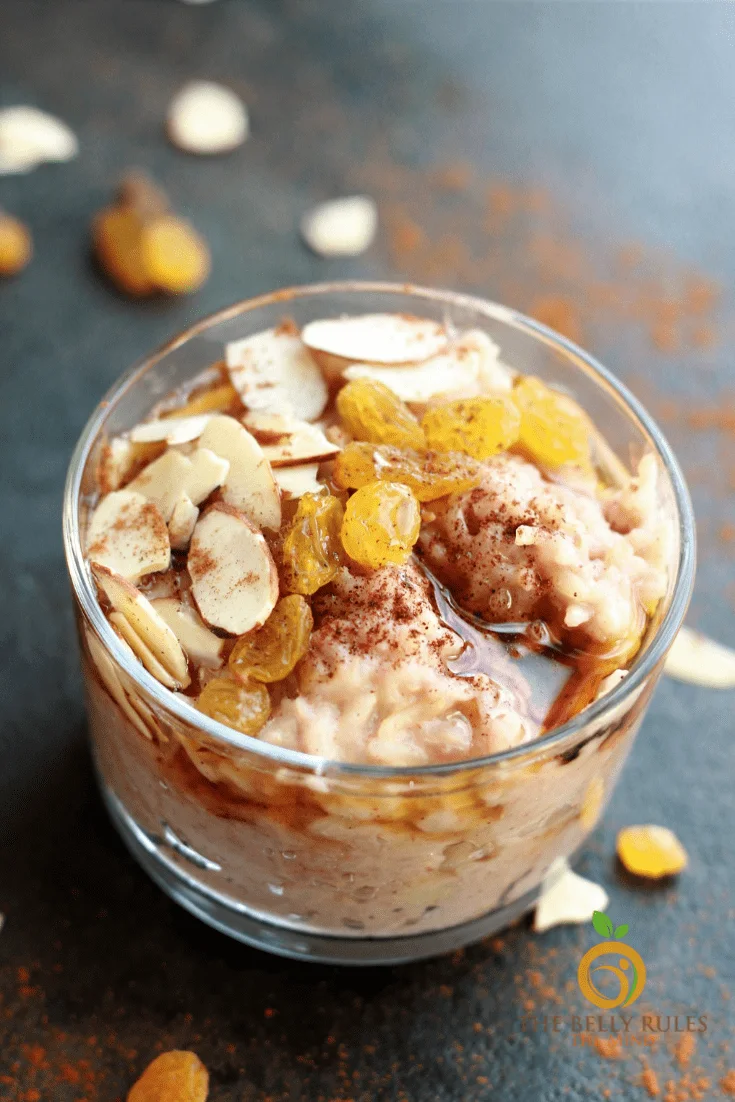 Coconut milk, whole milk, evaporated milk, nut milks, condensed milks, cinnamon, cardamom, nutmeg, ginger, vanilla, fresh fruits or fruit compotes, dried fruits and berries, nuts, the options are endless.
I wish at some point I could sample them all. You never know. Maybe someday.
Instant Pot Rice Pudding
I have had the opportunity to taste rice puddings from a few regions at restaurants or get-togethers and have always enjoyed relishing the rice pudding. So I had to sample some Rice Pudding in my Instant Pot before Christmas. I decided to keep it really simple.
Since I wanted to make a dairy-free I chose to use low fat Coconut Milk. You could use any milk you like. I used a combination of white and brown basmati rice. These are a staple at in my kitchen so it was just easier to use this than buy a new variety of rice.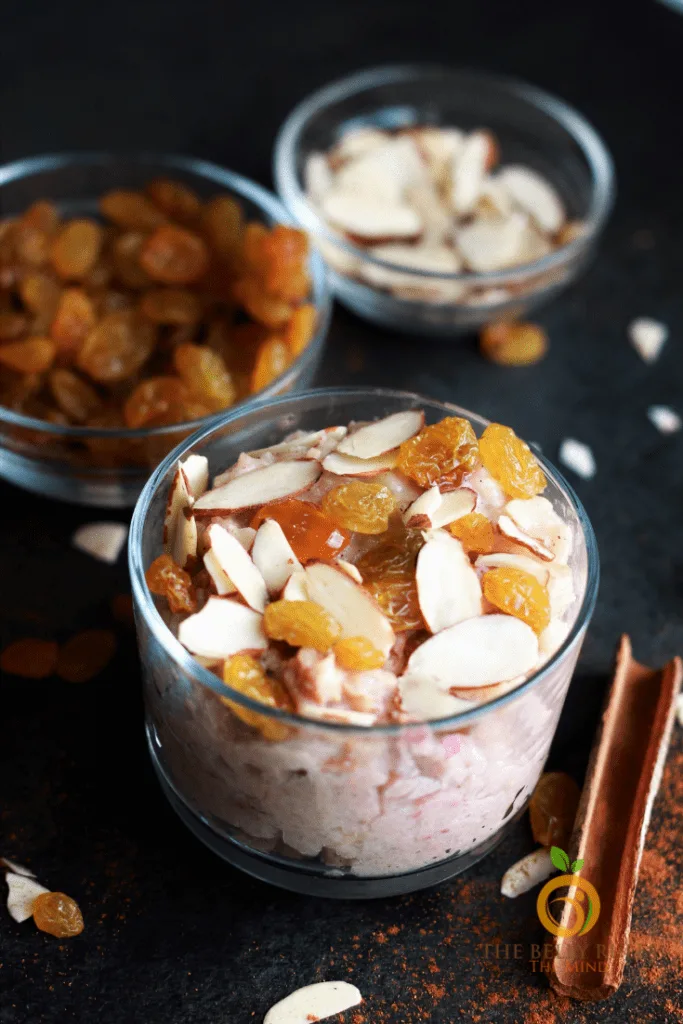 If you are like me who loves sweet treats specially this time of the year, then it's a great idea to switch to use natural sweeteners like maple syrup, dates, monk fruit extract instead of the traditional sugar. You can also check out one of our older post on satisfying your sweet cravings with healthier alternatives, here.
I literally just dumped the rice, dates, coconut milk, water and flavored it with cinnamon and vanilla essence and set my instant pot to porridge mode. Once the porridge was ready, I just garnished it with raisins and slivered almonds. dusted from cinnamon powder and drizzled a little bit of maple syrup.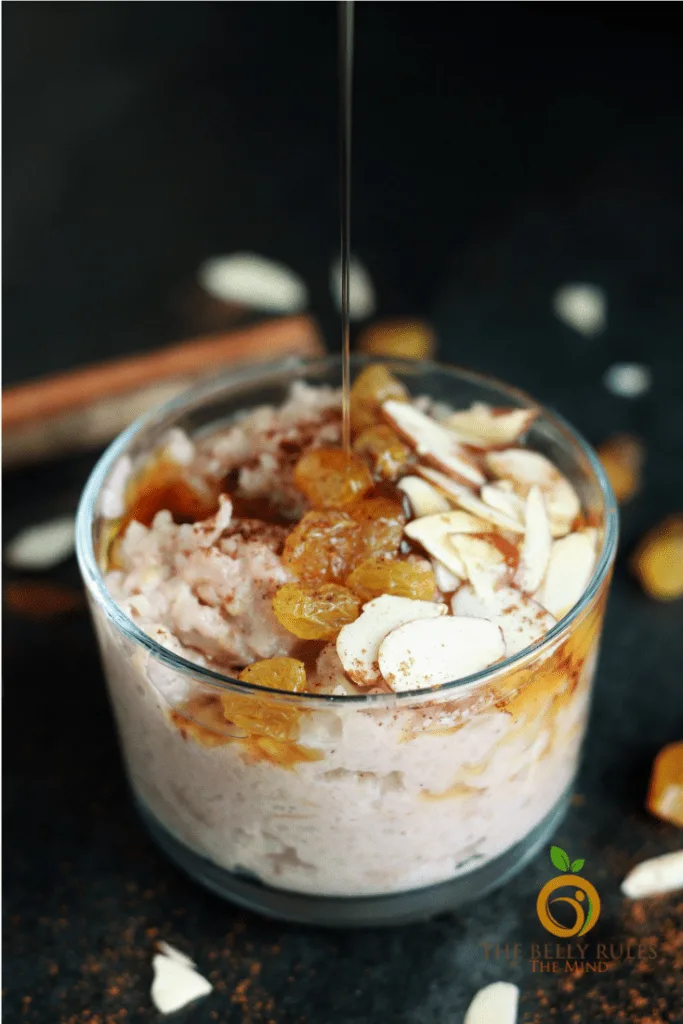 The first bite itself had all the different flavors and textures. I could taste the crunch from almonds, the soft and tender raisins, the juicy maple syrup on top of a thick and creamy pudding. This pudding is not only rich in flavors but also in nutrition. It's loaded with the goodness of coconut milk, dates, nuts, and dried fruits and grains too.
What I love about this rice pudding is that it can be enjoyed warm on a cold winter night, or serve it cold during summer. It's great for any time of the year. It's literally a comfort dessert for me. I also love the fact that it can be made ahead of time and its a great option when you want to spend time making a large dessert batch without babysitting it.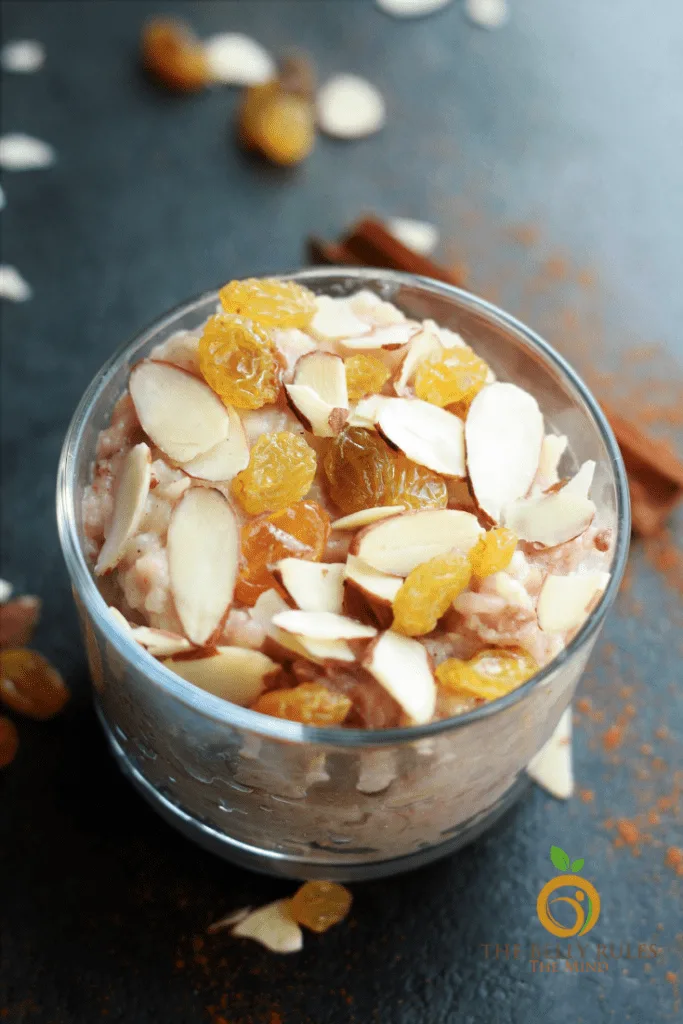 Rice Pudding around the world (Ideas)
Now there are so many different ways people consume their rice pudding so I thought I'd share some ideas with you incase you are looking for inspiration to make your own signature rice pudding.
India - I had to start with Kheer, as it's one of my favorite rice puddings. It's rice cooked in evaporated milk and sugar until the milk reduces to half while continuously stirring. So this is a rich creamy rice pudding flavored with saffron, cardamoms, pistachios, dates, nuts, dried fruits. The more runny consistency is known as Kheer while the thicker paste like consistency is known as Phirni.
UK - Known as Creamed rice or sweet rice pudding in the UK is made with rice, milk, cream and sugar. It is garnished with a dollop of berry jam and pinch of nutmeg.
Sweden - Can you imagine rice pudding with whipped cream and oranges? Apelsinris!!! for you.
Denmark - Ris a'la monde a popular dessert during Christmas. Served with whipped cream, vanilla, chopped almonds and a delicious cherry sauce.
Greece - Ryzogalo, cooked similar to the Indian Kheer, the trick is is not leaving the pudding to bubble away unattended, but to constantly stir it, much the same way as you would make a risotto. However it's flavored with cinnamon, lemon and a swirl of honey on top.
Morocco - Here it's an elaborate process. Firstly, the rice is boiled in water, then it's simmered in milk. A hint of cinnamon and orange are the signature flavors of this classic, although vanilla extract and orange blossom water are also common additions.
Mexico -Arroz Con Leche, a rich and creamy pudding flavored with cinnamon and raisins.
Thailand - Mango Sticky Rice is their rice pudding. cooked with sweetened coconut milk and served with mango and sesame seeds, this is an absolute treat, and one of my favorite too.
Hope you consider trying this Rice Pudding and when you do, don't forget to take a pic and share it with us. Tag us on Instagram or Facebook @dbellyrulesdmind.
Rice Pudding Recipe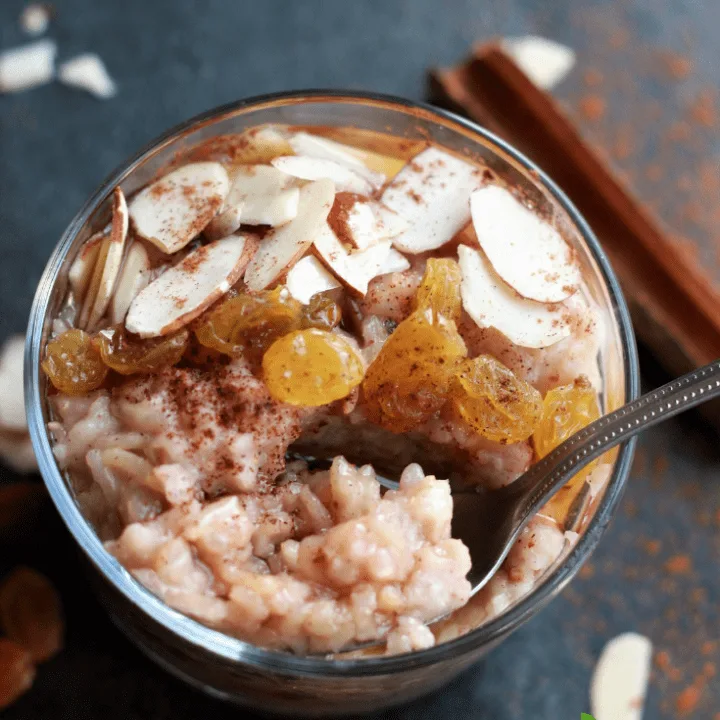 Instant Pot Rice Pudding
Additional Time:
15 minutes
Rice Pudding, a delicious comfort dessert made with rice and coconut milk. Sweetened with dates and maple syrup and garnished with almonds and raisins. It' just simply yum. Super easy to make in the Instant Pot, just dump-set-go. Vegan. Gluten-Free.
Ingredients
For the Puddind
1 cup water
5 dates, chopped
Toppings/ Garnish
1/4 cup golden raisins
Instructions
Dump all the ingredients from the Pudding list in the Instant Pot.
Close and seal the vent.
Set the Instant pot on Porridge. A preset option for 20 minutes.
Once the timer starts beeping, allow the natural release of pressure.
Move seal to vent. Open the lip and give the pudding a stir. Allow it to cool unless you like it warm.
Serve it in a big bowl or individual bowls.
Garnish with almonds, raisins and a maple syrup. Or you could choose from the above ideas and make this rice pudding your own.
Notes
Milk
Feel free to choose a milk of your choice, whole milk, condensed milk, evaporated milk, nut milks. adding water is a crucial step to make sure the milk doesn't get burnt and sticks to the bottom of the inner pot.
If using whole milk you will need to add atleast 3-4 cups of milk to cook the pudding in addition to the water.
If using condensed milk and whole milk or evaporated milk, use 1 can of condensed milk and 1 cup of any other milk along with 1 water
Sweetening
You could choose a natural sweetener like dates, maple syrup, monk fruit extract or agave.
If you are adding condensed milk then you don't need to sweeten your pudding as much.
Garnishing
You can refer to the ideas above in the post to dress up your pudding with nuts, dried fruits, fresh fruits, fruit sauce or compotes.
Recommended Products
As an Amazon Associate and member of other affiliate programs, I earn from qualifying purchases.