My easy, Instant Pot garlic noodles recipe gives you restaurant taste in the comfort of your own home with just 5 Ingredients !The perfect quick lunch or dinner your whole family will love. Make this today and get this Quick, no-fuss meal on the table in minutes!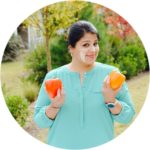 LET'S BE FRIENDS ON PINTEREST! WE'RE ALWAYS PINNING TASTY RECIPES!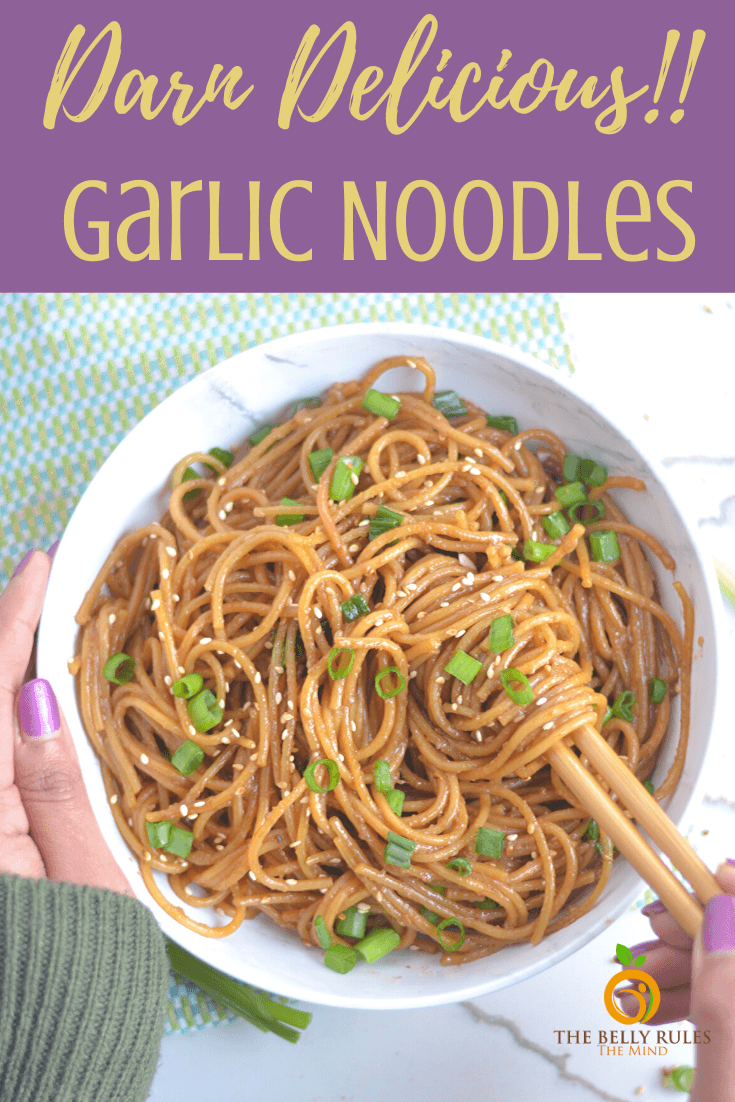 What are Garlic Noodles?
Garlic noodles are a popular noodle dish that are savory and filling. You can find them at many restaurants that serve Asian inspired foods. This is very simple dish that uses some common ingredients to create a big flavor. And, because you can throw the ingredients into your Instant Pot, it is fast and easy to make garlic noodles at home.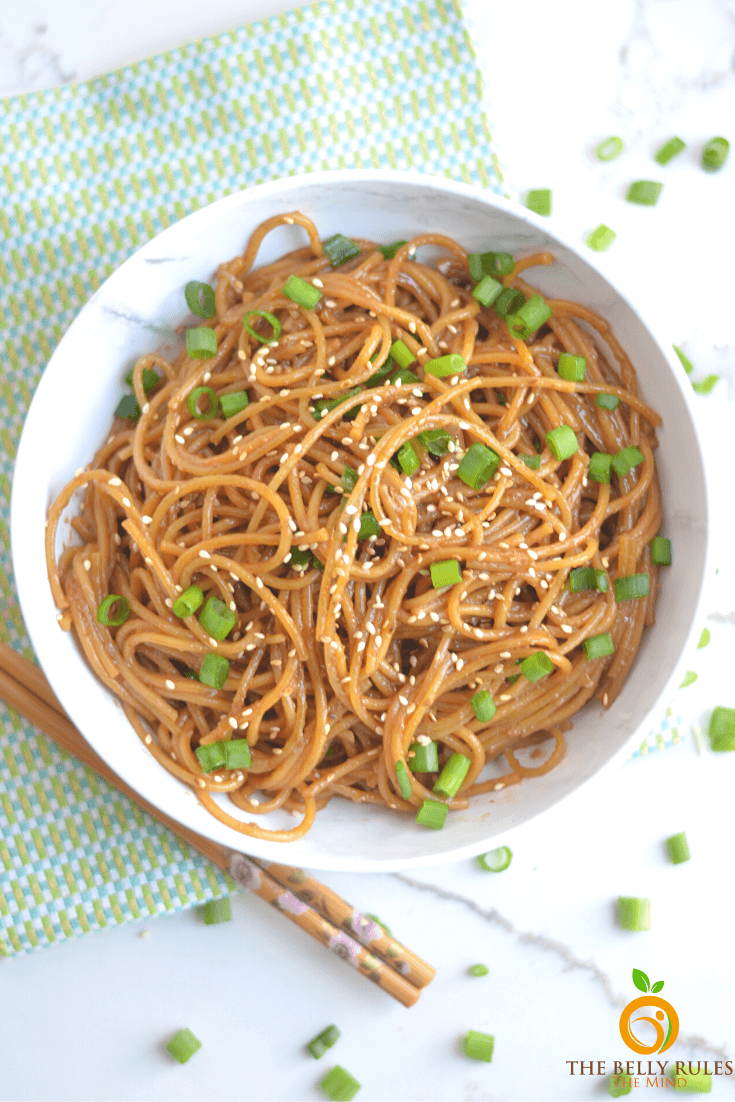 Garlic Noodles Kickin Crab Style
Kickin Crab is a popular restaurant near where we used to live in California. They serve garlic noodles that we get almost every time we would eat there. They are incredible with the combination of slightly sweet flavor of the hoisin sauce, a subtle spice from the garlic and the perfect level of salt and creaminess.
Their recipe is my inspiration for my garlic noodles. Since they are so easy to make at home, we can now have a very similar taste at home any time we want it.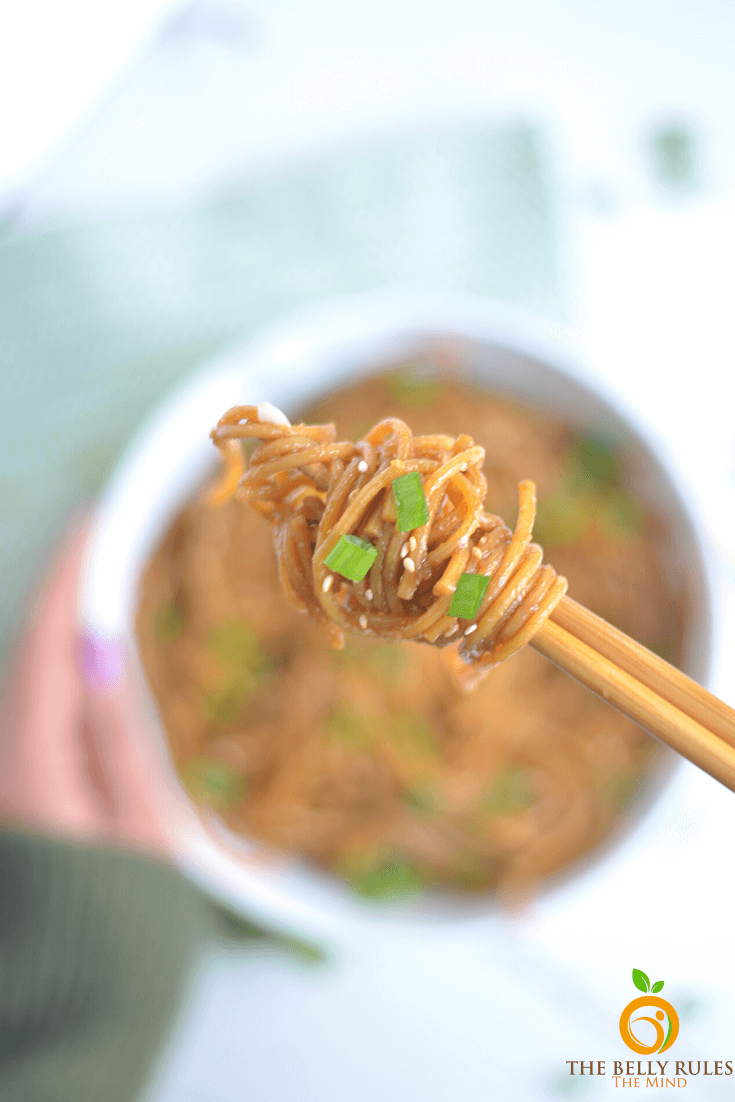 How do you make garlic noodles from scratch? Step by step recipe
Garlic noodles are incredibly simple to make and only take a few minutes thanks to the Instant Pot.
First, chop the garlic into small pieces. You should have enough for about 2 tablespoons. Turn on Sauté mode and let the pot get hot.
Next, add the butter (or oil if you are keeping it vegan) and minced garlic and stir fry for 1 to 2 minutes or until it turns a light golden brown color.
When the garlic is ready, add the hoisin sauce or vegetarian oyster sauce and stir the mixture.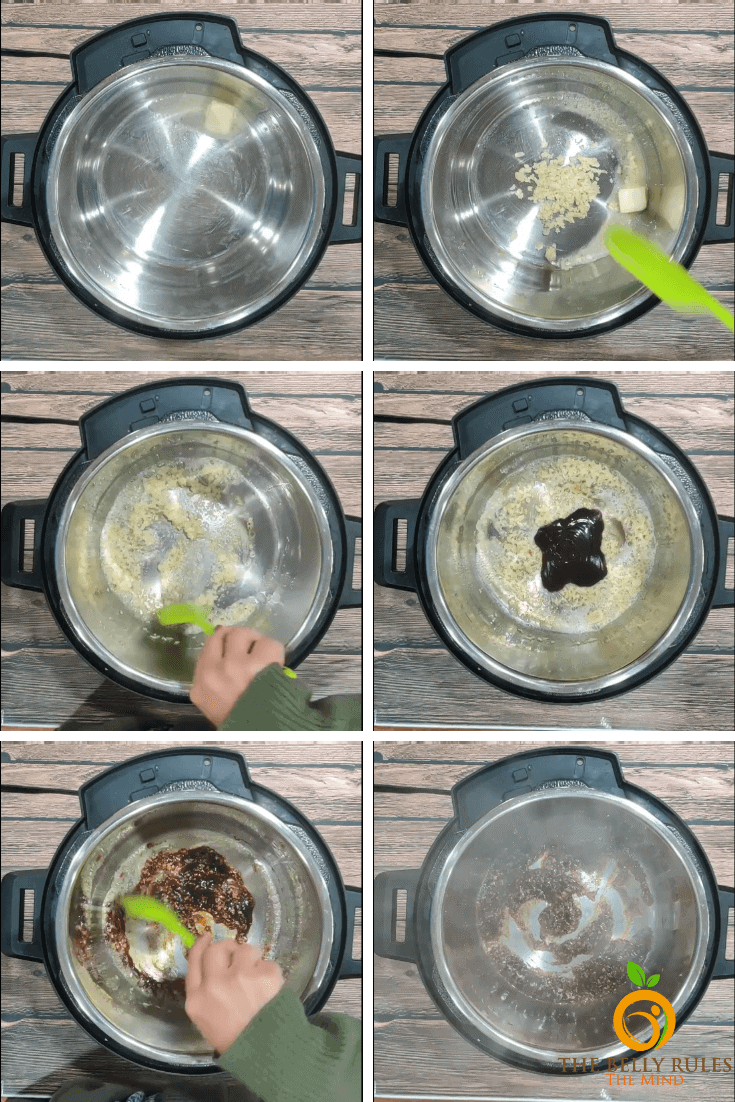 Next, break the spaghetti in half and spread them in one or two layers. If you use two layers, criss cross them.
At this point, do not stir any more. This is very important. You want to keep the noodles criss crossed on top of the sauce layer before you add the water. This allows them to cook in the Instant Pot without clumping together.
Finally, add the garlic salt and water but do not stir. Place the lid on the Instant Pot and lock it with the valve set to Sealing. Set the Instant Pot to manual high pressure and cook for 5 minutes.
When the timer goes off, allow a natural pressure release for 2 minutes and then quick release the remaining pressure. When the pressure is released, open the lid and stir the noodles and allow them to separate from each other.
Serve in plates or bowls and top with sesame seeds, green onions, and Parmigiano Reggiano cheese (optional).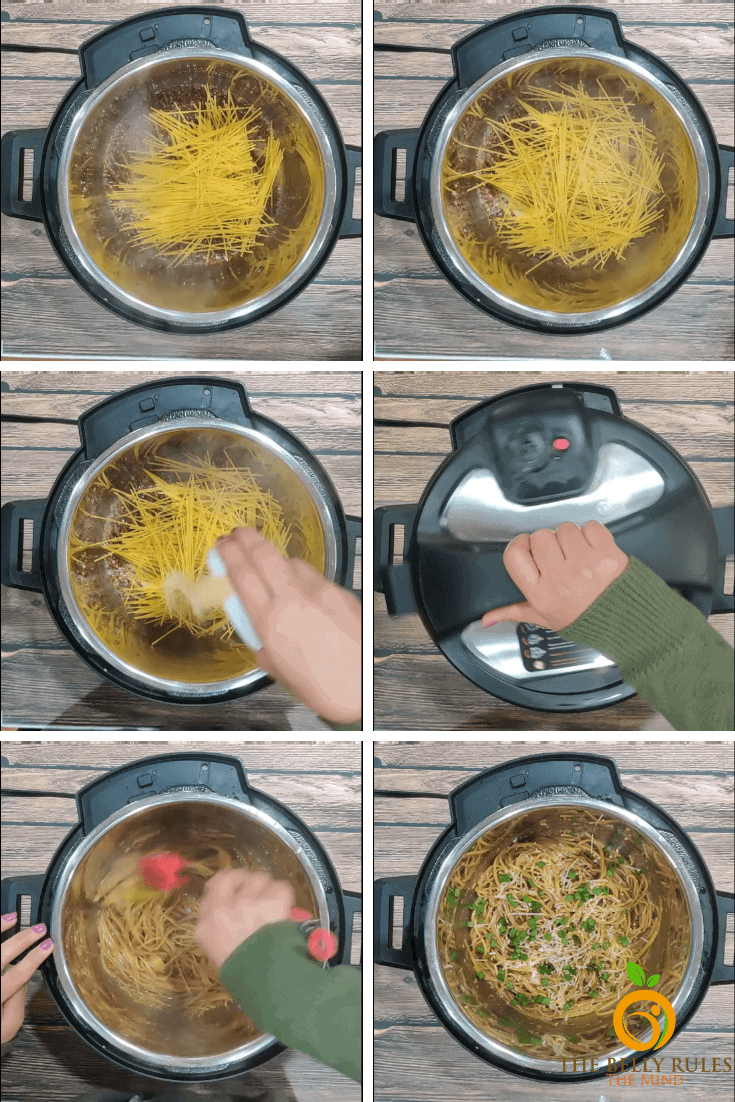 Tips & Tricks
When making garlic noodles at home, here are some tips and tricks to make it easy and delicious:
If you don't have spaghetti on hand, you can use linguine, thin spaghetti noodles, angel hair pasta.

If you prefer not to chop your garlic, you could use pre chopped garlic found in most grocery stores or use a garlic press to easily mince the garlic.

You can easily Double the recipe . Remember the time does not change.

Don't stir the pasta once you add in the noodles and before pressure cooking it.

If you are vegan, use olive oil or another oil in place of butter and use the vegetarian oyster sauce

To add to the meal, you can top with veggies like broccoli, zucchini, or mushrooms.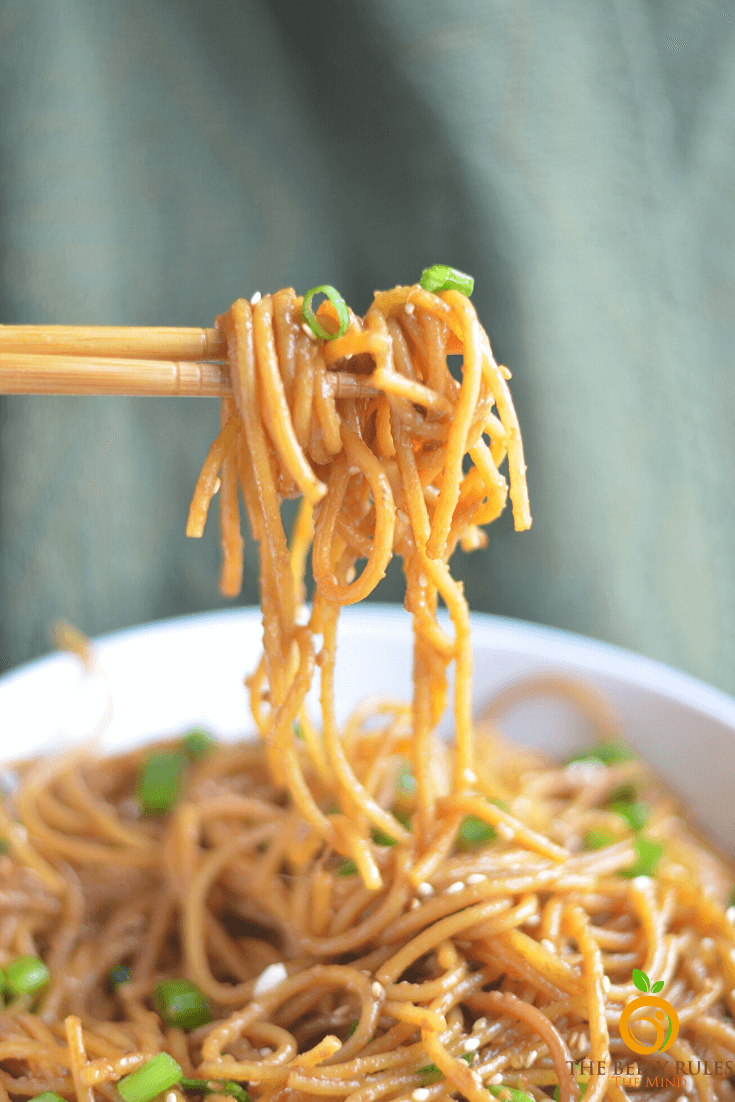 What goes good with garlic noodles?
These noodles pair well with almost any vegetables. I recommend sauteing or steaming them prior to serving.
You can also serve garlic noodles with bread or garlic bread if you want to as well. Also, you can serve garlic noodles with other Asian inspired dishes such as our Ginger-Garlic Eggplant with Homemade Asian Sauce .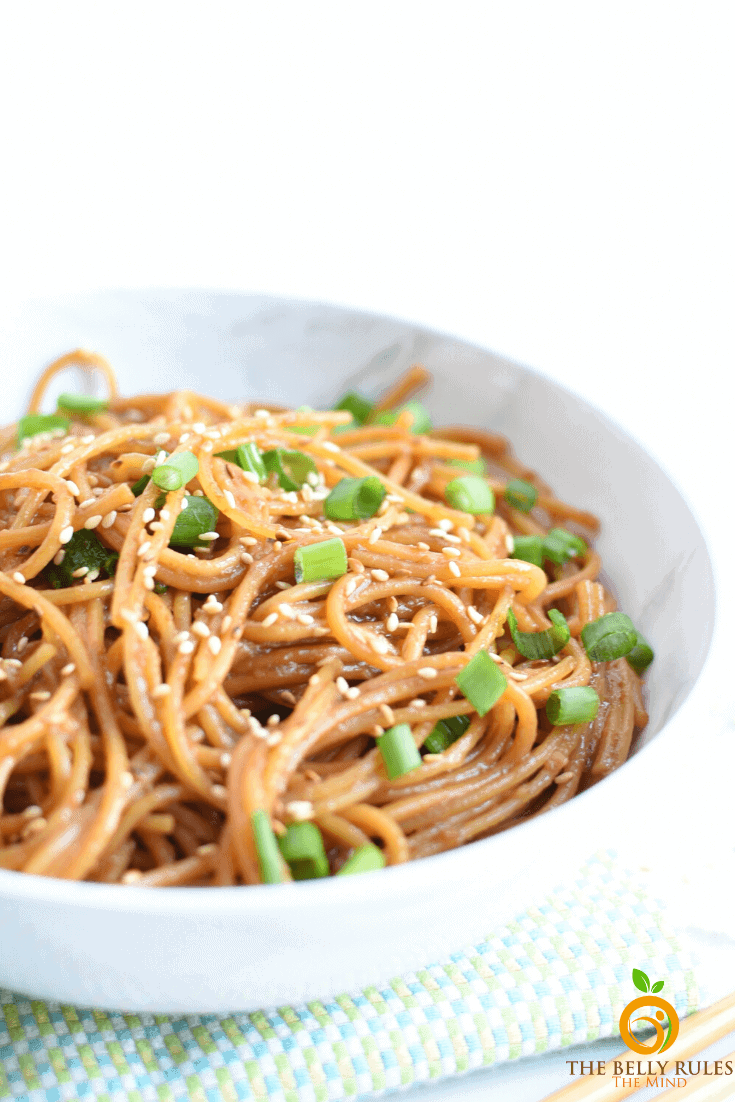 What veggies can you add to the Garlic Noodles Recipe?
This recipe is quite versatile so you can serve them with a wide range of veggies that will taste good with the noodles. Some suggestions include carrots, zucchini, mushrooms, broccoli, onions, or sugar snap peas. In most cases, you can saute the veggies on the stove top and then add them at the end.
Garlic Noodles Video Recipe
Garlic Noodle without Oyster Sauce
Hoisin sauce is a great substitution for oyster sauce. But, hoisin sauce is a lot sweeter than oyster sauce. Oyster sauce adds a rich, salty flavor to the noodles, which you may prefer. You can use either and make excellent tasting garlic noodles.
What type of noodles can I use for making Best Garlic Noodles?
One of the nice things about this recipe is you can use a wide variety of noodles to make these garlic noodles. I prefer Barilla spaghetti, which you can find at nearly any grocery store.
But, if you don't have Barilla spaghetti on hand, you could use any brand of spaghetti, thin spaghetti, or nearly any long noodle. You can also use rice noodles if that is all you have, just adjust the cook time to 3 minutes of cooking on high pressure. Gluten – free noodles work well too .
If you liked this Recipe, you will love our list of
Instant Pot Noodles and Pasta Recipes.
Check out the Best Instant Pot Vegetable Chow Mein recipe
Check out Instant Pot Aglio E Olio, Spicy Thai Noodles
If you make this Garlic noodles recipe, don't forget to come back and leave your feedback and star rating. We would be THRILLED if you would take a pic and tag us on Instagram @dbellyrulesdmind or Facebook @thebellyrulesthemind
Yield: 4
Best Instant pot Garlic noodles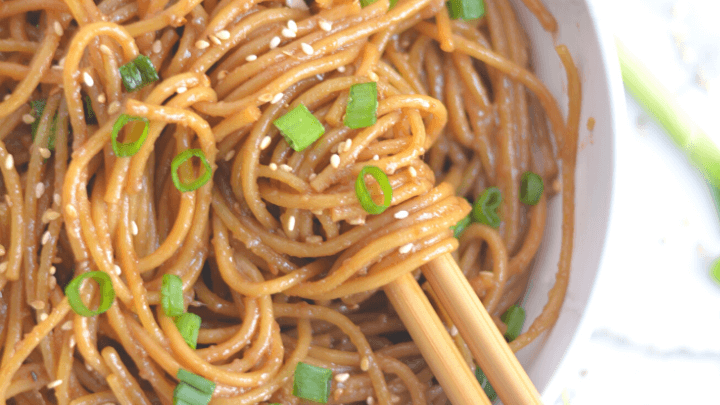 My easy, Instant Pot garlic noodles recipe gives you restaurant taste in the comfort of your own home with just 5 Ingredients !The perfect quick lunch or dinner your whole family will love. Make this today and get this Quick, no-fuss meal on the table in minutes!

Prep Time 10 minutes

Cook Time 5 minutes

Total Time 15 minutes
Ingredients
8 oz spaghetti 
4-6 cloves garlic
2 tbsp unsalted butter or olive oil
2 tsp garlic salt
4 tbsp hoisen sauce or  vegetarian oyster sauce
salt to taste
2 cups water
1/4 cup grated Parmigiano Reggiano cheese   ( Optional)
Instructions
Chop garlic. It should be around 2 tbsp .
Press Sauté, once hot, add the butter, minced garlic and stir fry for 1 -2 minutes.
When the garlic is light golden brown add in the hoisin sauce or vegetarian oyster sauce and stir.
Break the spaghetti strands in half and spread them in one or two layers (crisscross) . Do not stir from this point on.
Add the garlic salt  and water. Remember — no stirring here.
Lock on Lid and close Pressure Valve. 
Cook at High pressure for 5 minutes. 
Allow a 2 minute Natural Pressure Release and then manually release the rest of the pressure.
 Open the pot and stir the pasta noodles, allowing the noodles to separate
 Top with sesame seeds , green onions and Parmigiana Reggiano cheese ( Optional) and serve while hot.
Do leave your feedback and comments if you liked making the Garlic Noodles