Spaghetti Aglio e Olio is a perfect solution for those days when you are out of time, energy or are short on ingredients. With only a few pantry staples, this simple pasta recipe cooks up fast in less than 15 minutes. This delicious pasta dish will please you and your family alike. You'll love how fast it is and how your kids will clean the bowl up.
LET'S BE FRIENDS ON PINTEREST! WE'RE ALWAYS PINNING TASTY RECIPES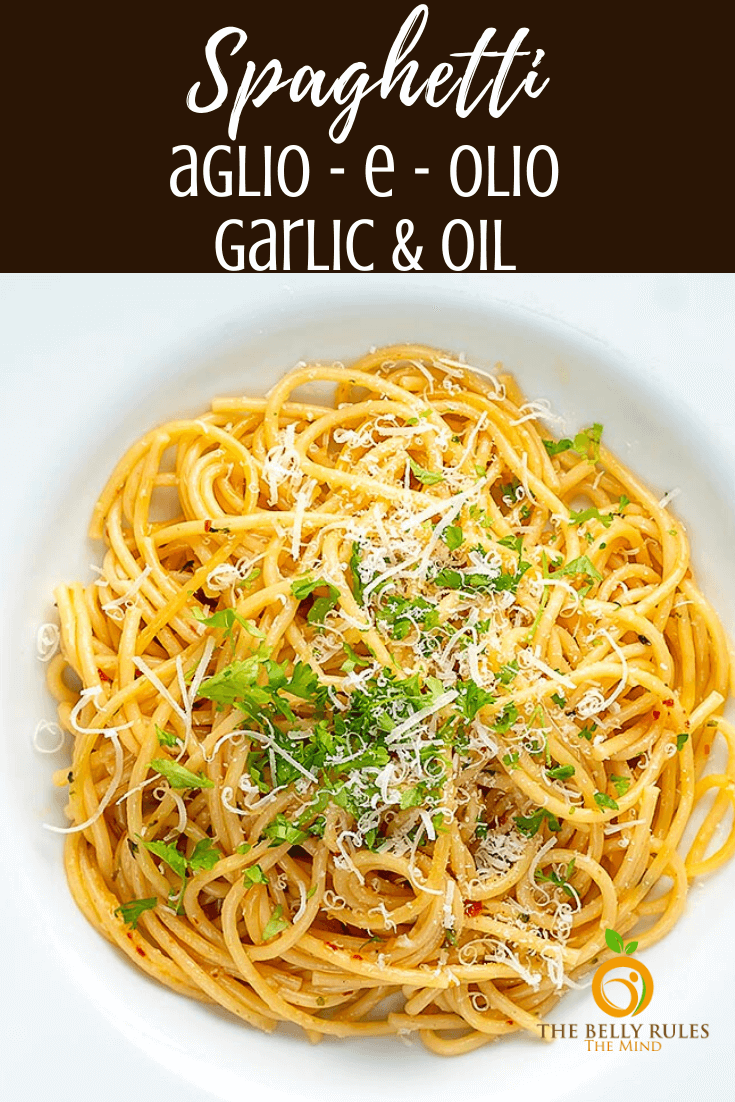 This recipe was originally published in Mar 2019 and has been updated with new pictures, simplified instructions and video.
Jump to:
What is Spaghetti Aglio E Olio?
Spaghetti aglio e olio is a traditional Italian recipe that originated in Naples. It is a simple dish that uses sauteed garlic, olive oil, and red pepper flakes to season the noodles. It is often served with a side of bread, but you can serve roasted vegetables and other classic Italian recipes with these tasty noodles.
Spaghetti Aglio e Olio Ingredients & Substitutions
These delicious noodles do not require a lot of ingredients. You may have many of them on hand already. You'll need:
Spaghetti

- we use regular spaghetti. You can use other, thicker noodles like linguine, but you may need to adjust the cook time a bit. Avoid using thin spaghetti or angel hair since these cook up very fast and can become mushy or burn.

Olive oil &Butter

- butter adds some flavor and creaminess, but if you are keeping the recipe vegan, omit the butter.

Garlic cloves -

we create silvers of the garlic cloves in this recipe, but you could use roughly chopped garlic too.

Red pepper flakes

- red pepper adds heat and spiciness to the noodles. If you can add more if you like spicier noodles, use less for a small amount of heat, or omit completely.

Parsley

- some garnish and fresh flavor

Parmesan cheese

- you can use freshly grated Parmesan cheese or prepackaged varieties. Omit if you are vegan.
Why make Aglio e Olio in an Instant Pot?
The Instant Pot is a great kitchen tool for making one pot meals quickly and easily. When you make spaghetti aglio e olio in the Instant Pot, you don't need extra pans, pots, or even a colander. When the noodles are done cooking, the extra liquid used during cooking will evaporate without need to drain the pasta. This will also help to increase the flavor.
Intimidated to cook pasta in your Instant pot? Don't be! We have you covered with our guide to the Instant Pot called Is the Instant Pot Worth It. The post will have you cooking anything in your pressure cooker like a pro and this pasta recipe is a great first Instant Pot meal.
How to Make Spaghetti Aglio e Olio
Place the olive oil and butter in the inner pot of the Instant Pot and turn on saute mode. Allow the butter to melt or the oil to heat through. Once the oil is hot or the butter is melted, add the garlic and stir. Allow it to cook until the garlic is golden brown in color. This only takes about 1 to 3 minutes. You'll need to stir it a few times as it cooks.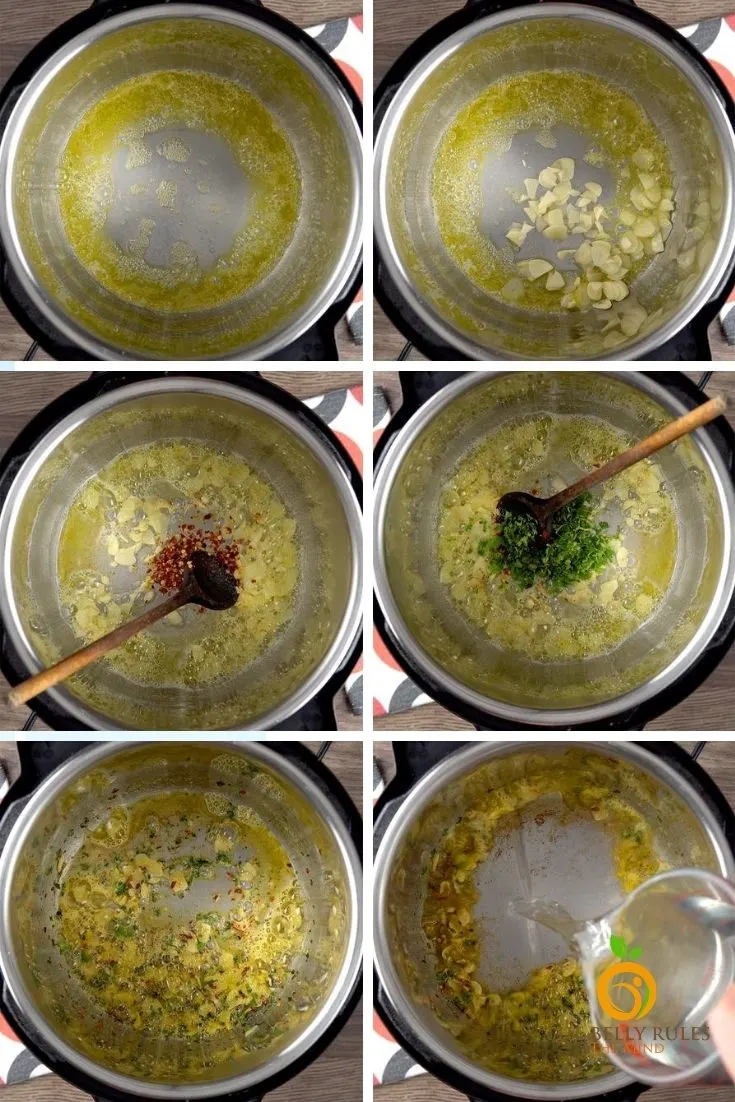 When the garlic is browned, stir in the red pepper and parsley. Turn off saute mode and pour in the water. Break the noodles in half and place half the noodles facing one direction and the other half facing a different direction so it looks like a T or a cross.
Use a spoon or spatula to press the noodles into the water a bit. They don't need to stay submerged, but they need to all be wet before placing the lid on the Instant Pot. Close the lid and set the valve to sealing.
Set the pot to high pressure and cook for 5 minutes. When the timer goes off, allow the pressure to naturally release for 5 minutes before releasing the remaining pressure.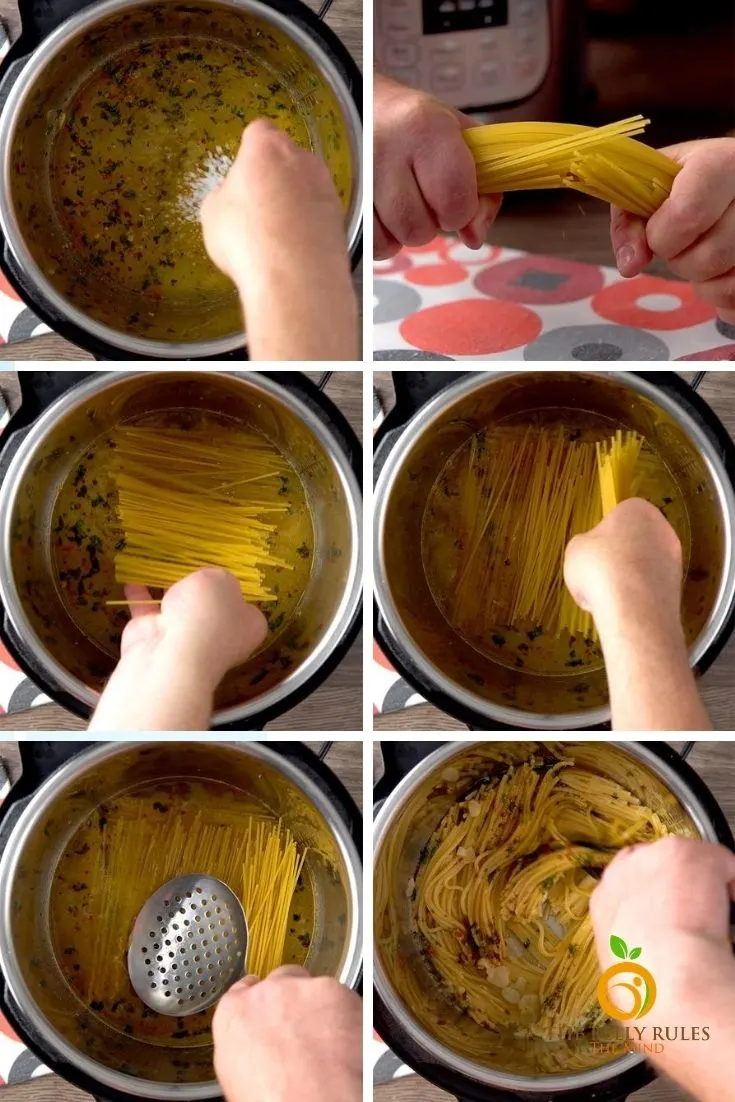 Carefully remove the lid. The pasta will still look watery. Use tongs to stir the noodles well and to pull apart any noodles that got stuck together. Allow the pasta to rest for about 5 minutes. This allows any extra liquid to evaporate. Stirring it occasionally during this time can help evaporate more liquid.
Serve the pasta with more parsley and Parmesan cheese on top and a side salad and bread.
Can I make pasta Aglio e Olio on the stove top?
Yes! If you don't have an Instant Pot or other pressure cooker, you can make the recipe on the stove top.
To start, bring a large pot of water to a rapid boil. When the water is boiling, add in the noodles. If you use spaghetti, you typically need to cook the pasta for about 8 to 10 minutes. We recommend following the instructions on the pasta box for 'al dente,' which is the shortest cook time.

You can use other varieties of noodles on the stove top than spaghetti. Just make sure you follow the box's instructions to avoid over or under cooking the pasta.

Once the pasta is done cooking, carefully pour the pasta and water into a colander and set aside.

Using either the same pot or a smaller pot if you prefer, add the butter and olive oil. Heat the oil and butter over medium heat. Once the butter is melted or oil is hot, add in the garlic. Cook the garlic until it becomes golden brown, which should take about 2 to 3 minutes. While it cooks, be sure to stir it on occasion.

Once the garlic is golden brown, stir in the parsley and red pepper flakes. Finally, use tongs or simply dump the pasta into the pot. Turn off the heat and toss the pasta with your tongs until it is evenly coated.
Serve the pasta with additional parsley and Parmesan cheese on top. For a complete meal, serve with a side salad, roasted vegetables, and these 4 minutes Air fryer Garlic bread Enjoy!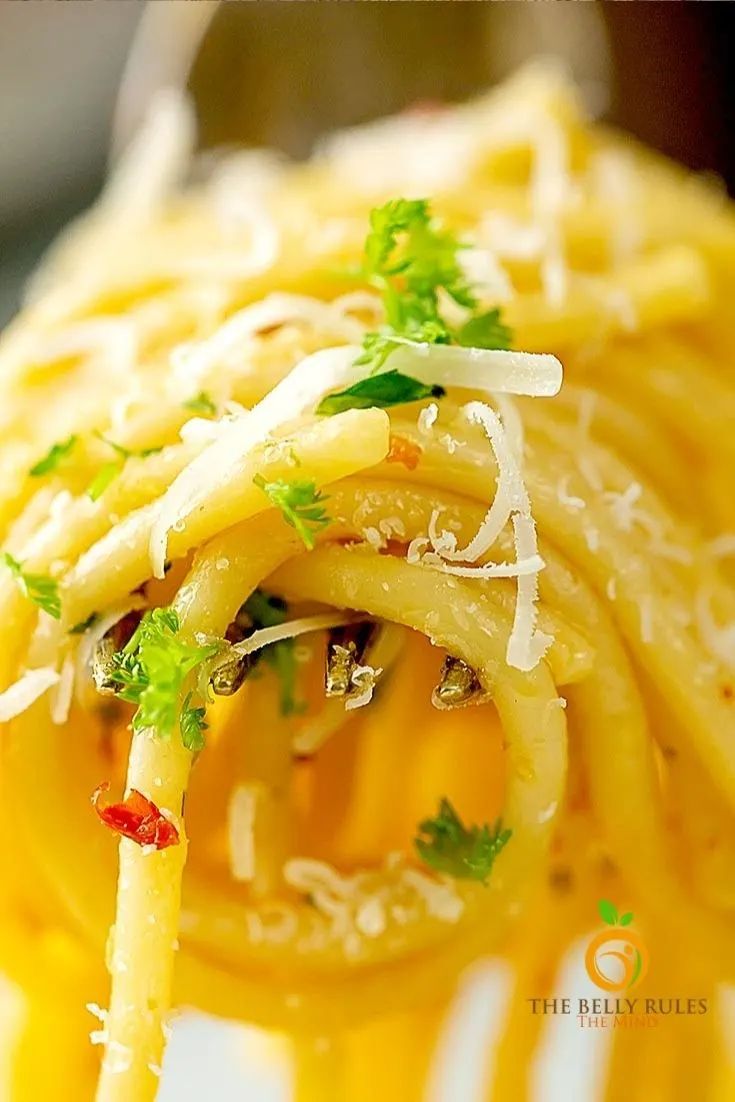 Aglio e Olio Recipe Tips & Tricks
Follow these tips and tricks to make the best spaghetti aglio e olio:
Worried about cooking pasta in the Instant Pot? Don't be! It's not hard, but for more tips on cooking the perfect Instant Pot pasta, check out our post on the best Instant Pot spaghetti.

Omit the red pepper for a less spicy noodle dish.

If you prefer not to chop your garlic, you could use pre chopped garlic found in most grocery stores or use a garlic press to easily mince the garlic.
You can easily Double the recipe . Remember the time does not change.

Don't use thin or angel hair pastas, they can burn or turn to mush in the Instant Pot easily

Stir the garlic as it cooks to help prevent burning. It is better to start over if you burn the garlic than continue using burned garlic.
What to Serve with Spaghetti Aglio Olio
Serve the noodles hot with plenty of Parmesan cheese and parsley. You can serve the pasta with a side salad, roasted vegetables, or a side of bread or rolls for a complete meal. You can also add additional Italian style cheeses on top of the noodles if you like.
We recommend serving these noodles with a side salad and bread or rolls. You could also add additional cheeses or roasted vegetables. It is particularly delicious with roasted broccoli or asparagus.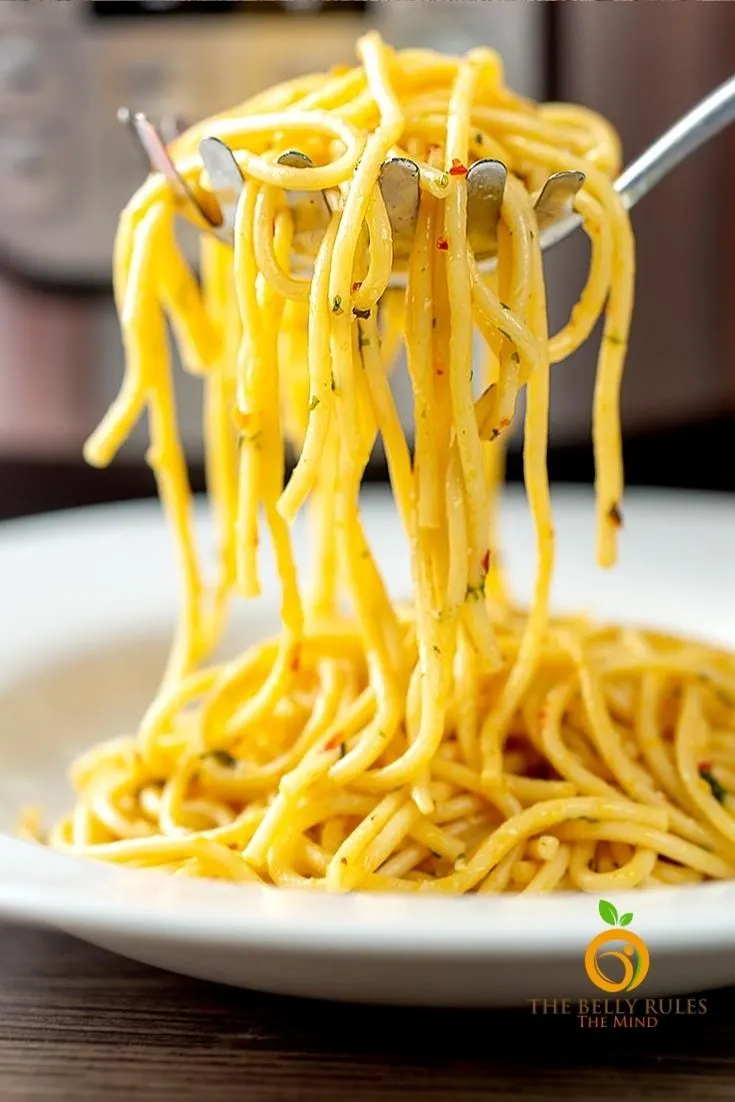 How to Store & Reheat This Aglio Olio Recipe
You can store the noodles for up to seven days in the refrigerator. If you plan to make the meal ahead of time, do not add Parmesan or other cheese to the noodles before storing. You can add them fresh when you heat the noodles up.
When storing, allow the noodles to completely cool. Once they are cool, use tongs (they are the best tool for picking up long pasta) to portion the noodles into individual containers or into one large container. Seal the container(s) and place in the refrigerator for up to 7 days.
We do not recommend freezing noodles. They don't reheat well.
When you are ready to serve the noodles, remove from the refrigerator and heat in the microwave for about 2 minutes. You could also reheat them in a pot on the stove. Add a small amount of olive oil and turn the heat on medium-low until the noodles are heated through.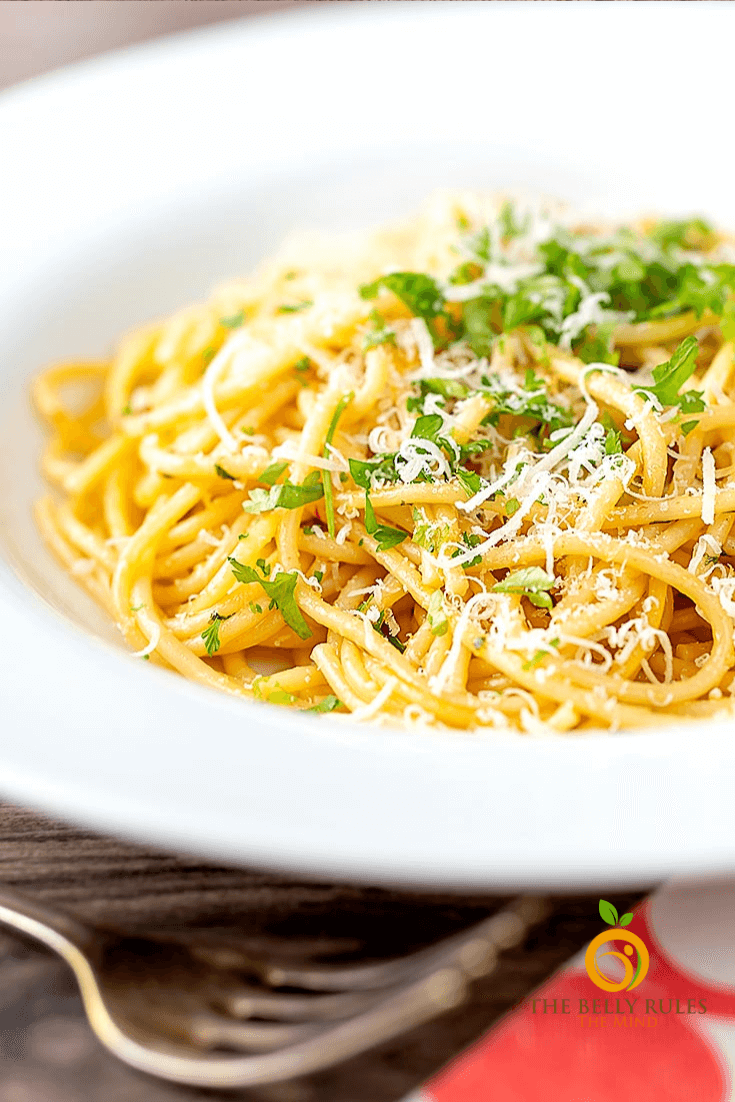 What noodles can I use?
We recommend using Barilla spaghetti noodles for the Instant Pot. The cook time is based on their thickness. Using thicker or thinner noodles can lead to under or over cooked noodles. Gluten- free spaghetti can be used for this recipe if you are allergic.
If you make this on the stove top, you can use whatever noodles you prefer. Just make sure you follow the box's instructions for the particular noodle you use.
Is this recipe vegan?
We use butter and Parmesan cheese to add some extra flavor and creaminess to the noodles. You can omit the butter and Parmesan cheese if you are vegan or substitute them for vegan varieties.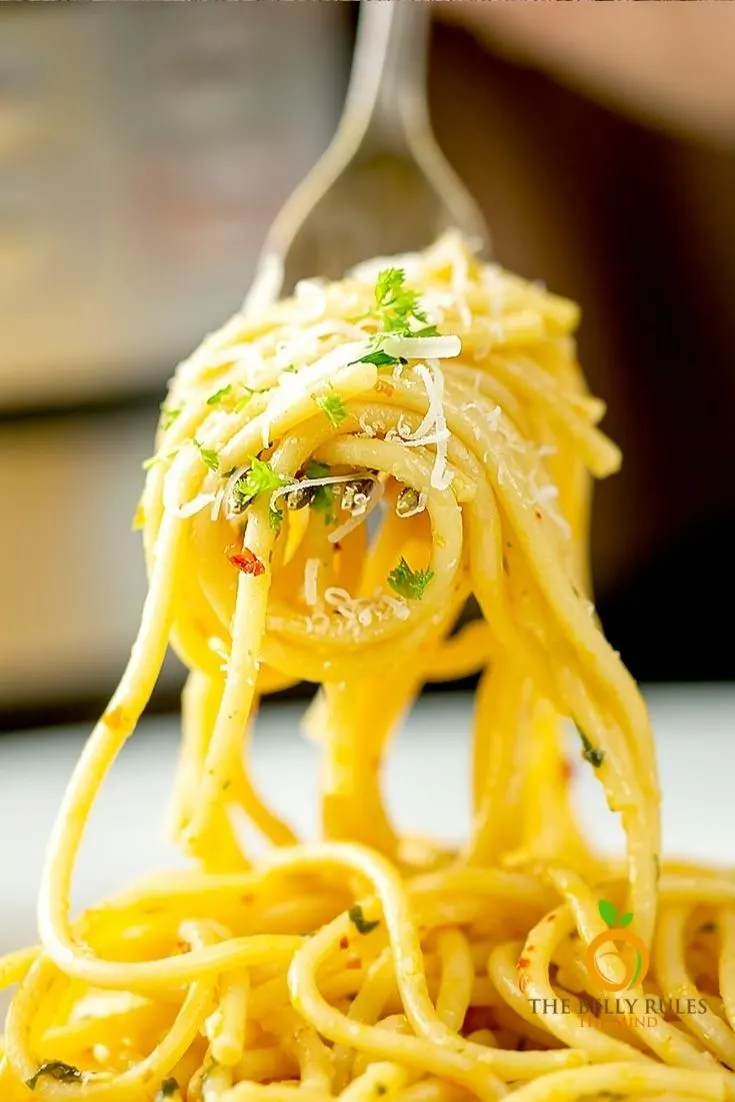 Do I have to use red pepper flakes?
The red pepper flakes add heat and spiciness to the noodles. If you don't like spicy foods, you can completely omit the red pepper or you could reduce the amount of pepper you use.
If you liked this Recipe, you will love our list of
Instant Pot Noodles and Pasta Recipes.
Check out the Best Instant Pot Vegetable Chow Mein recipe
Garlic noodles, Spicy Thai Noodles
Tag us on Instagram!
If you make this Spaghetti Aglio E Olio recipe, don't forget to come back and leave your feedback and star rating. We would be THRILLED if you would take a pic and tag us on Instagram @dbellyrulesdmind or Facebook @thebellyrulesthemind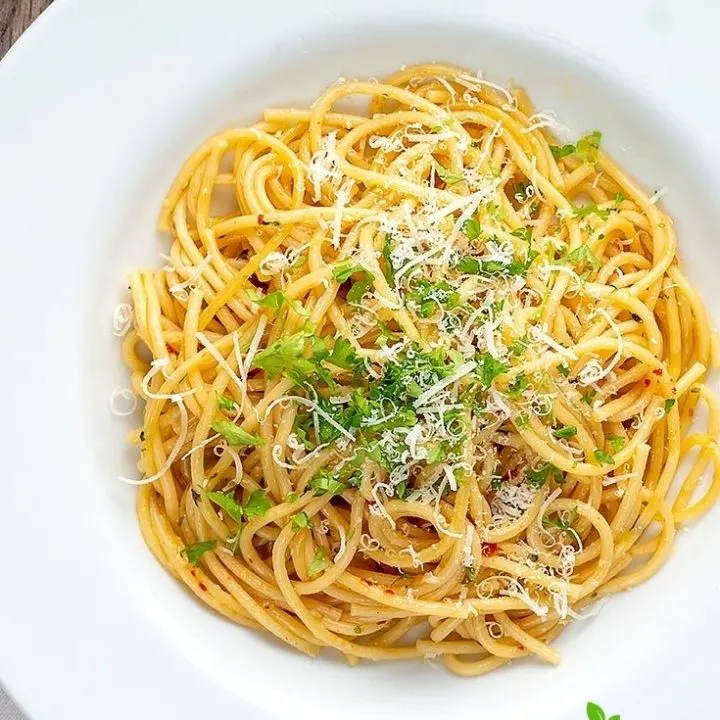 Spaghetti Aglio Olio
Additional Time:
5 minutes
Spaghetti Aglio e Olio is a perfect solution for those days when you are out of time, energy or are short on ingredients. With only a few pantry staples, this simple pasta recipe cooks up fast in less than 15 minutes. This delicious pasta dish will please you and your family alike. You'll love how fast it is and how your family .
Ingredients
8 oz. spaghetti imported from Italy or Barilla spaghetti
2 cups water
1tbsp olive oil
1 tablespoon butter
8 garlic cloves chopped julienne / thinly sliced (if you prefer less garlicky use around 3-4 garlic cloves)
½ tablespoon red pepper flakes/ increase or decrease according to your taste
1-1/2 tablespoon fresh parsley/ chopped
¼ tablespoon parmesan cheese/ optional
Instructions
Set Instant pot to Sauté Mode.When HOT add in the oil and butter.
Add the chopped and julienne garlic and stir. Cook for a few minutes until the garlic is golden brown while stirring occasionally.
Add red chili flakes and chopped parsley. Keep stirring. ( Do not let the garlic burn)
Press cancel.
Pour water and salt.
Break the spaghetti strands in half and spread them in two layers using a crisscross pattern.
Do not stir from this point on.
Use a spoon or spatula and kind of press down to make sure all the noodles get some water on them. They don't need to stay in the water, but just get all of them wet.
Close the lid and turn the vent to sealing position.
Set the Instant Pot to manual high pressure for 5 mins.
Once done, let the pot release naturally for 5 minutes, and then release the
remaining pressure with the manual pressure release.
Open the pot and stir the spaghetti, Use tongs to stir well, and pick apart any
stuck pieces. There will be a few stuck pieces.
Allow the spaghetti to rest for 5 minutes to let some of the liquid evaporate. You can give it a stir a time or two during this to help it out. The liquid will
reduce after a few minutes.
Serve with fresh parsley and Parmesan cheese, if desired
Notes
Leftover can be saved in the fridge for up
to 7 days.
Tongs are extremely useful for separating
the spaghetti.
Do NOT use angel hair pasta for this recipe.
Angel hair has a much quicker cook time than standard spaghetti noodles and will overcook and/or burn when used in this recipe
Recommended Products
As an Amazon Associate and member of other affiliate programs, I earn from qualifying purchases.