Daliya Dhokla( Broken Wheat Steamed Savory Cake ) is a healthy version of Gujarati Dhokla. I say healthy as it is prepared with the goodness of Daliya ( broken wheat) combined with Semolina (Sooji) and can be served during breakfast or even as a light snack anytime.
Dhokla is a vegetarian food item that originates from the Indian state of Gujarat. It is usually made with a fermented batter derived from rice and split chickpeas. The recipe I am sharing with you all is a healthy twist to this famous Gujarati farsan. Daliya is also known as Broken wheat, Fada, Bulgar wheat, Lapsi. I use this grain a lot in my cooking as it is very nutritional . As its made from whole wheat, its contains fibers and thus its healthy to include this in your cooking compared to rice. The soft spongy texture of the dhokla makes it exciting for kids to give it a try. I am confident that they would enjoy it as much as adults would and serving it with a sweet chutney or ketchup makes it enticing enough for them. It just breaks down in to flavored wheat granules in our mouth making it a minimal mess snack that can be given in the lunch box. You can temper it with mustard seeds, Fennel seeds, chilies etc to suit your taste and needs.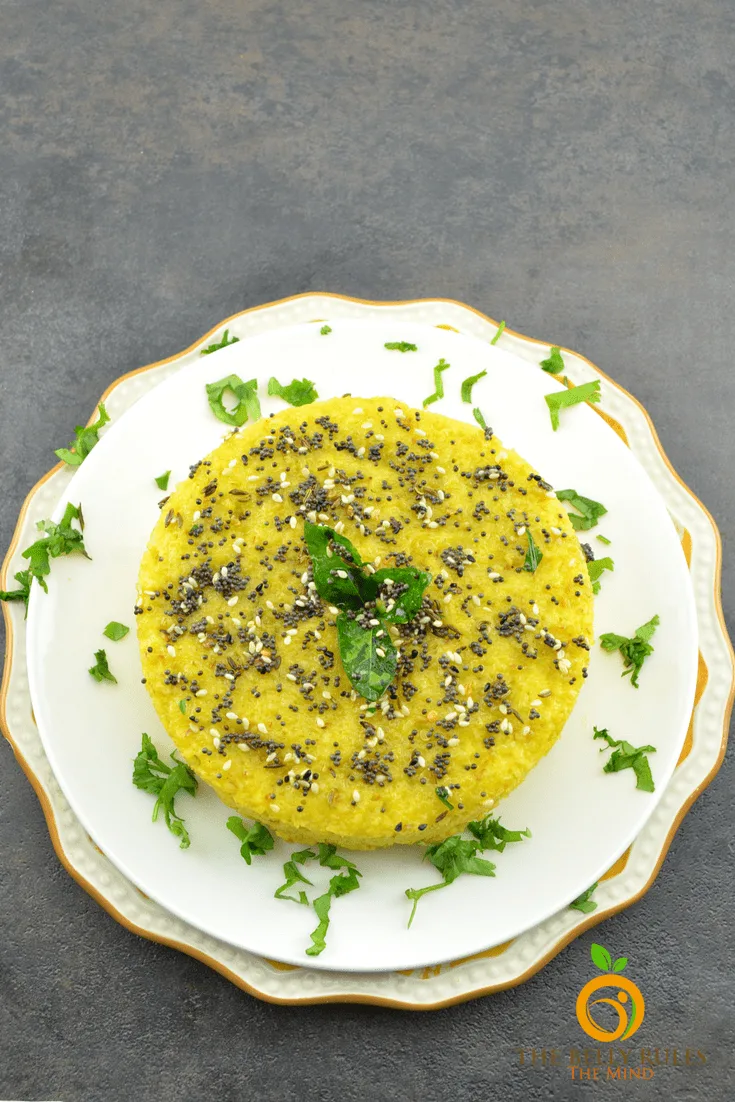 Devour this any-time snack with our Multipurpose green chutney for that extra zing or our Sweet Guava Chutney / Meethi Chutney / Goiabada Chutney. If you are not a big fan of whole wheat Daliya, we do have different types of dhoklas that you could try like Vegetable Dhokla, Oats and Semolina Dhokla, Green Peas Dhokla & Corn Dhokla.
Did you know
Bulgar wheat is a far better way of consuming wheat than the popular forms like refined and highly processed breads, cakes, cookies and crackers that make up a large portion of our diet.
It consists of wheat kernels that have been steamed, dried and then crushed? It's the same thing as cracked wheat, and is a great way to get whole grains into your diet.
Its low glycemic index, makes it a perfect candidate for diabetics.
High in protein.
High in minerals.
Low in fat.
High in fiber. (More than oats, buckwheat, or corn!)
Low calorie.
Great nutty taste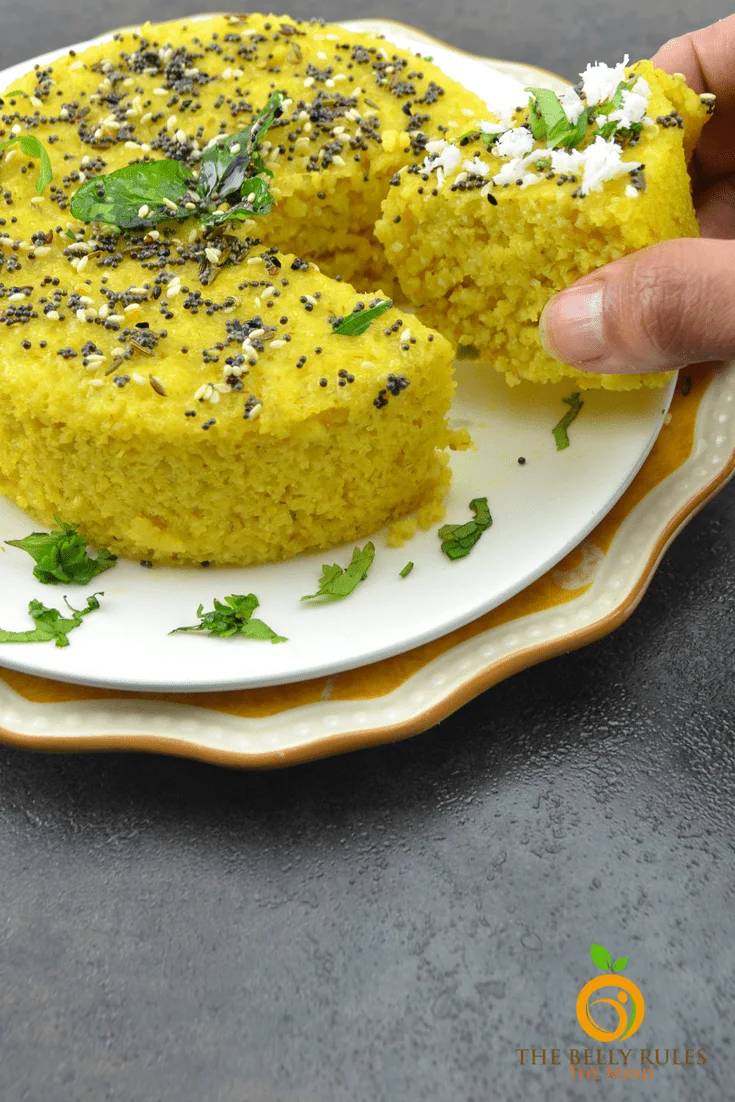 If you would like to introduce Daliya in your diet, you should check out our Breakfast Daliya porridge, cooked Bulgar wheat served with warm sweetened milk.
You can also checkout other Dhokla recipes on our blog. Do let us know which one is your favorite?
Vegetable Dhokla / Baked Vegetable Semolina Squares
Green peas Dhokla
Oats & Sooji Dhokla
Instant Corn Dhokla
Breakfast on the go
If you land up trying this recipe, don't forget to send us you pictures on Instagram and tag us. Or drop in your review on our Facebook page. Check out our Pinterest boards for all the healthy eating inspiration you'll ever need.
Products Used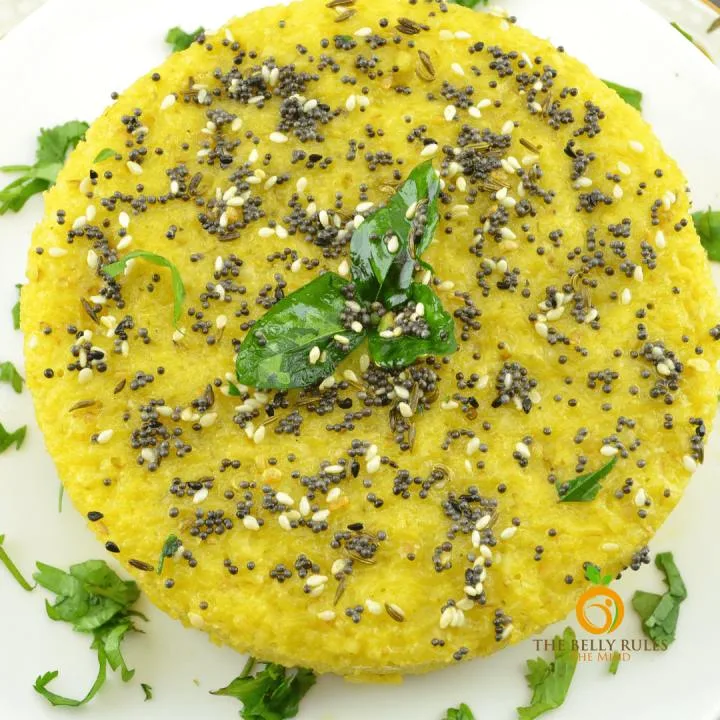 Daliya Dhokla ( Broken Wheat Steamed Savory Cake)
Ingredients
1 cup Daliya / broken wheat
1/2 cup semolina/ sooji
1 cup yogurt
2 green chilly/ finely chopped
1 teaspoon grated ginger
4-5 curry leaves
1Tsp Sesame seeds
1Tsp Fennel seeds
1/4 teaspoon hing
1/2 teaspoon turmeric powder/haldi
salt to taste
1 teaspoon fruit salt
2 teaspoon oil for tempering
Instructions
Roast the Daliya and Soak the broken wheat ( daliya) & Semolina (Sooji) in yogurt,add grated ginger, green chilly and stir well.keep it aside for 30 min.
Add 1/2 cup water if batter is thick and adjust the consistency. Add salt to taste
Heat 1/2 teaspoon oil in a pan. Add Turmeric powder (Haldi) and Asafetida (Hing).add this to the mixer .
Meanwhile, prepare the steamer and grease two 8 inch steel plates or any moulds of choice with a little oil.
Add the fruit salt to the Dhokla batter, mix well and immediately pour the batter into the prepared plates/moulds.
Cover the stock pot and cook the Dhokla on medium heat for 15 minutes.
remove the Dhokla stand from the stock pot. Let it cool for a few minutes.
The next step is tempering. In a small pan heat the oil and add the mustard seeds and once they crackle, add the sesame seeds , Fennel seeds , curry leaves and green chilies and take the pan off the heat.
Drizzle this tempering (tadka) over the dhokla using a spoon.
Serve it with green chutney and sweet date chutney