Baked sooji dhokla or savory semolina cake squares are loaded with the goodness of veggies and make a great warm breakfast, snack. Unlike steaming the classic Dhokla, these can be backed in large trays for a crowd.
Dhokla / Semolina Squares is a staple appetizer or snack often made in Indian households. These are super easy to make, they are lip-smackingly delicious and most of all they are a big hit. We can relish it for breakfast, snack or these even qualify for a party appetizer. Typically Dhokla is made of a fermented batter of rice and gram flour, which is yellow in color. However, I am a fan of these white squares made with Sooji (also known as Semolina).
I love this Dhokla recipe because
This is an instant recipe, no fermentation required.
I bake the Dhokla instead of steaming. Makes life convenient when making these for large gatherings.
I load these delicious squares with vegetables.
No matter how many times you make these, they are always a hit.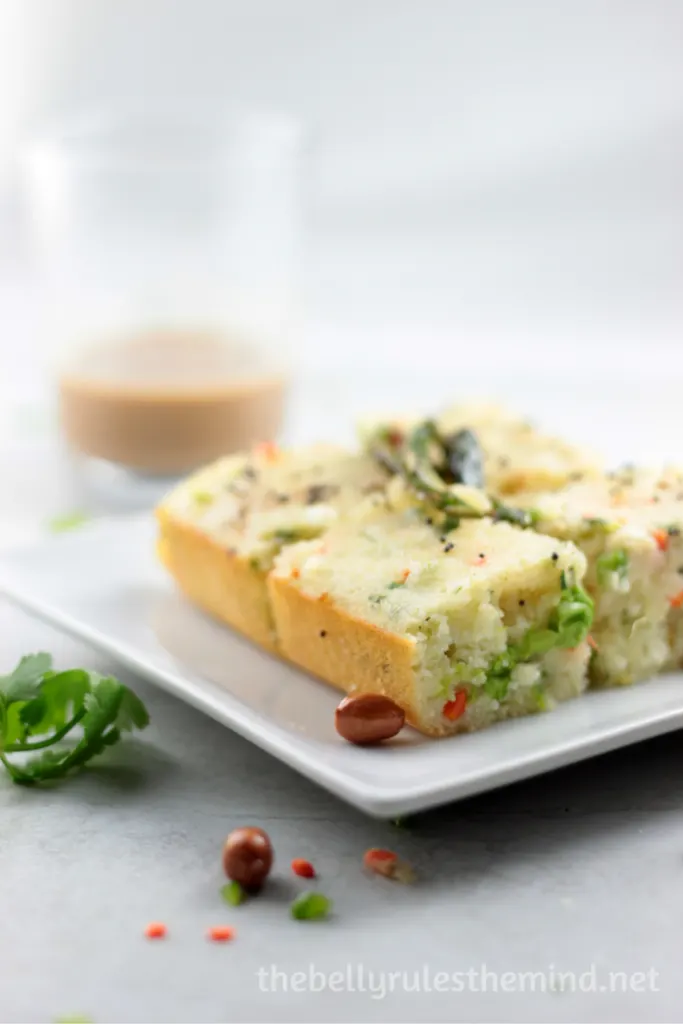 I was raised in Mumbai, before I moved to the US. Since the best of my friends were Gujratis, I was exposed to Gujrati food very early. Soon I became a fan of their Dhokla (savory cake squares). You can't grow up in Mumbai and not fall in love with Dhokla. The batter is steamed and cut into squares. Whats awesome about Dhokla is that it's easy to prepare and you can consume it for breakfast, or snack or serve it as a party appetizer. Today it has become a popular dish and is not just common among Gujarati households anymore. So I make Dhokla very often too. Sometimes I make it with gram flour but, most of the time I prefer to use our favorite 1 batter 7 dishes. This one basic batter alone can yield you 7 different recipes, with just minor tweaks in flavorings here and there. Make sure you check out that post after this one.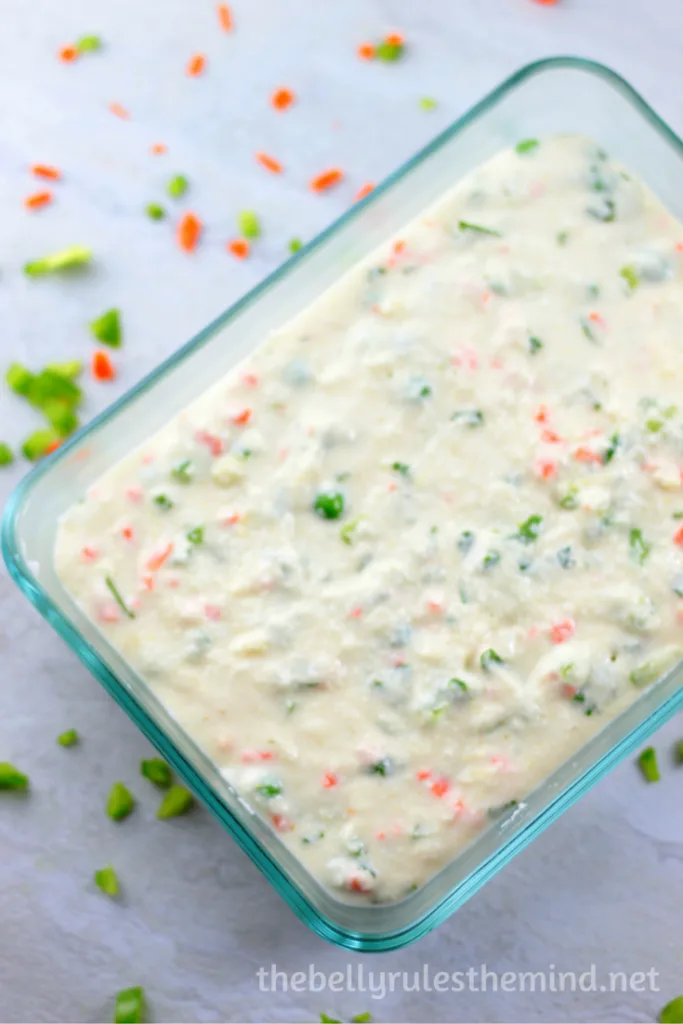 I often get asked why I don't steam my dhokla and how do I make it without steaming. Well, the thing is I don't really like to use a lot of steel utensils, just because I can't load them in my dishwasher. I am never satisfied with the outcome of steel being washed in a dishwasher. So I don't have the steam rack. Initially I had a microwave-safe rack which my hubby had from his bachelor days but eventually, I started baking my Dhokla. This allows me to make large party size portions in one single container without too much cleaning. You may think I am lazy but honestly, once you go this route you will never want to use the steam rack again. The best part you don't compromise on the soft and spongy texture at all.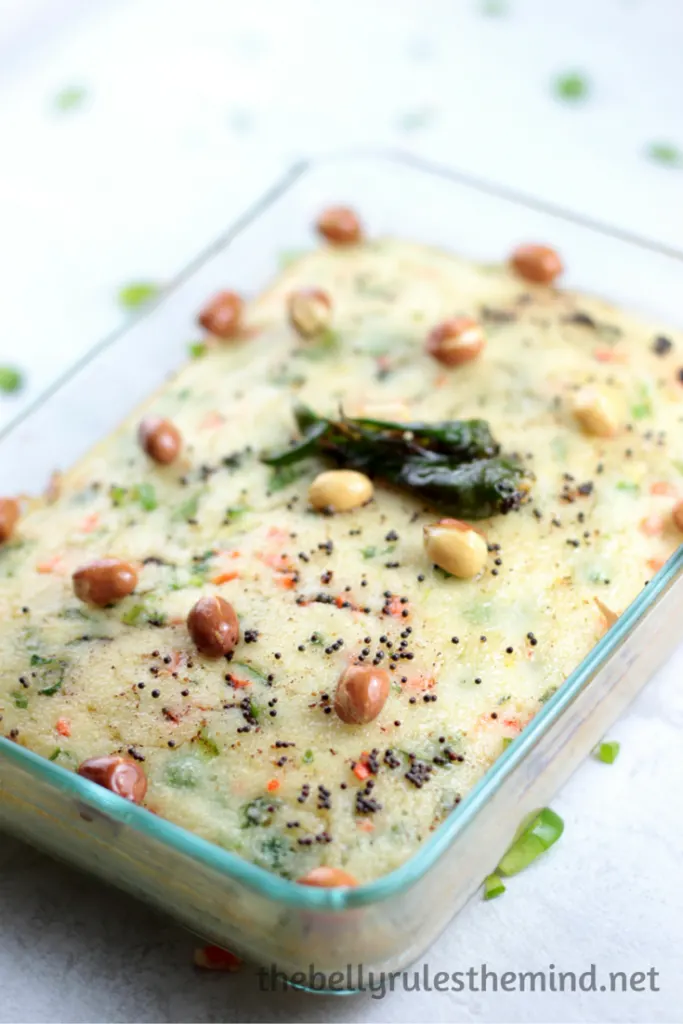 Little A and Dr.Mystery love Dhokla too. I often make Semolina Muffins, read it as dhokla muffins for Little A, however one time I wanted to take this version of Dhokla for a potluck and didn't want to do the muffin style so I chose to spread the batter in my Pyrex tray. Baked it and tempered it with peanuts and green chillies. Allow it to cool and cut it into squares and it's ready to be served. This recipe is very similar to the Vegetable Semolina Muffins except that the only difference is for the dhokla you will spread the batter in your baking tray instead of the muffin mold. Everything else remains the same. Once the dhokla is cooked, allow it to cool before you cut slices. Lastly temper it curry leaves, green chillies and peanuts and serve it with green cilantro chutney. Serve it with our avocado -cilantro dip or green chutney with a twist.
More Dhokla Recipes from the blog
Beetroot Khaman Dhokla
Mini Corn Dhokla
Green Peas Dhokla
If you try this recipe don't forget to tag us on Facebook or use #TBRTM on Instagram or Twitter. For more recipes using this batter click here.
For more healthy ideas and recipes subscribe to our email or follow us on Facebook to stay updated with all the health information we share. Check out our Pinterest boards for all the healthy eating inspiration you'll ever need. For an unending buffet of healthy photographed food, follow us on Instagram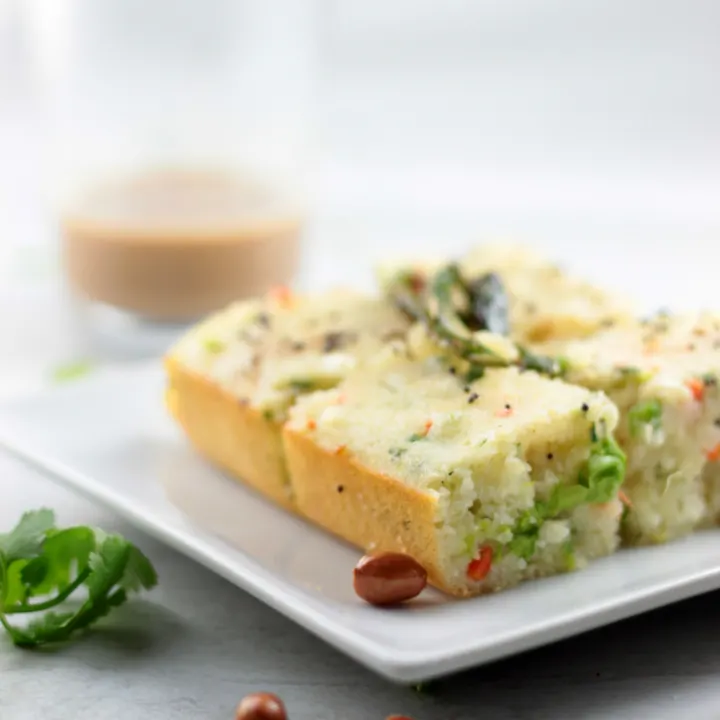 Baked Dhokla / Baked Semolina Vegetable Squares
Instructions
Prepare the batter using this recipe.
Grease an 8 x 11 pyrex tray or cake pan. Spread the batter in your tray instead of the muffin mold. Everything else remains the same.
Once the dhokla is cooked, allow it to cool before you cut slices.
Lastly temper it curry leaves, green chillies and peanuts and serve it with our avocado cilantro dip or green cilantro mint chutney.
Products Used