This delicious Gujarati khandvi recipe uses the Instant Pot to make perfect roll ups every time. If you want a savory, healthy snack your whole family will love, then you should make this khandvi recipe today. An easy and guilt free Indian snack perfect for parties as an appetizer! With full video and step by step pictures.
LET'S BE FRIENDS ON PINTEREST! WE'RE ALWAYS PINNING TASTY RECIPES!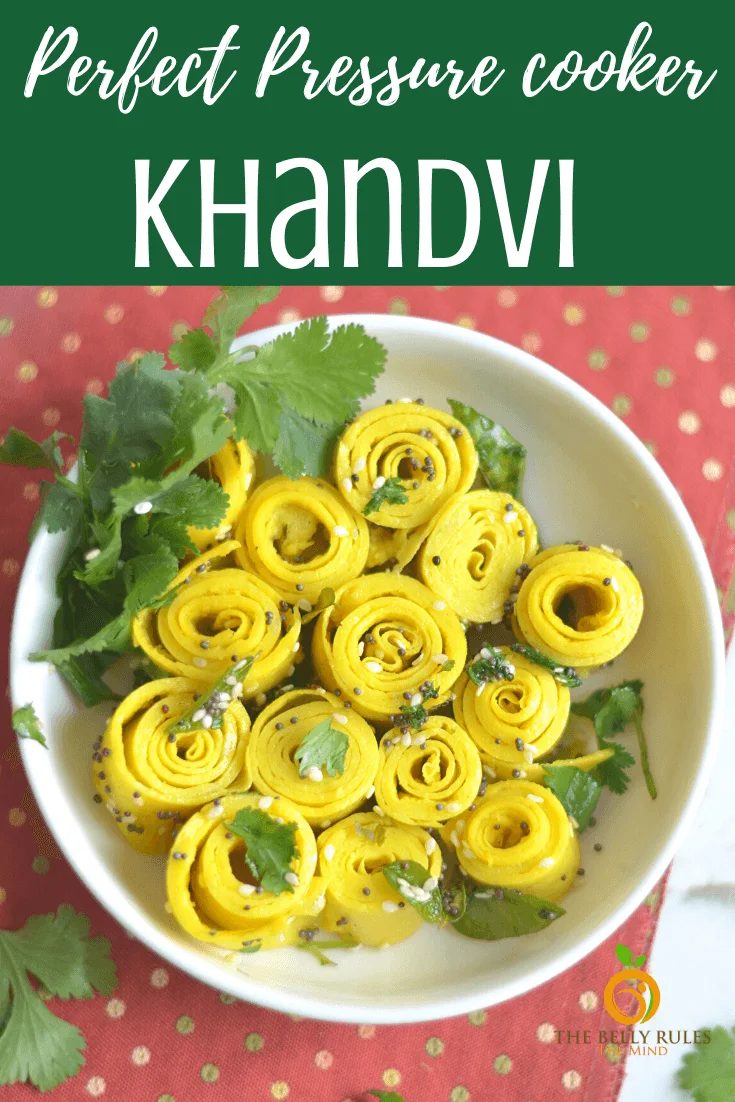 Jump to:
What is Khandvi?
Khandvi is a snack originating from the Indian state of Gujarat. Khandvi uses chickpea flour, also known as Gram flour or besan, along with yogurt to create soft roll-ups. You then season the khandvi with a tempering of spices poured over top. The tempering gives the khandvi a savory flavor that my family craves as a mid-afternoon snack. Dhokla & Khatta Dhokla are other popular Gujarati snacks that you would love.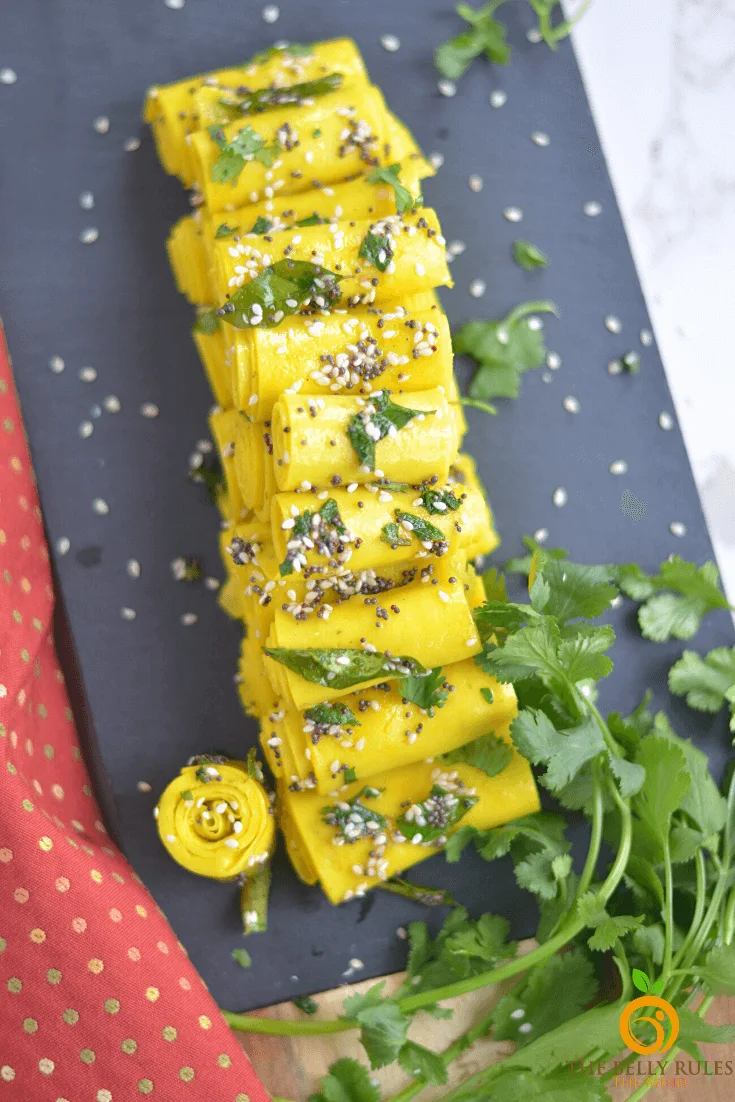 Why make Khandvi in an Instant Pot?
The Instant Pot makes a lot of cooking easier. Though you can make it on the stove top, the Instant Pot provides uniform cooking and pressure for consistent results each time you make it.
Plus you don't need to worry about watching the batter cook when you use the Instant Pot. It takes a lot of the guesswork out of making perfect khandvi. You will get a perfect batter every time.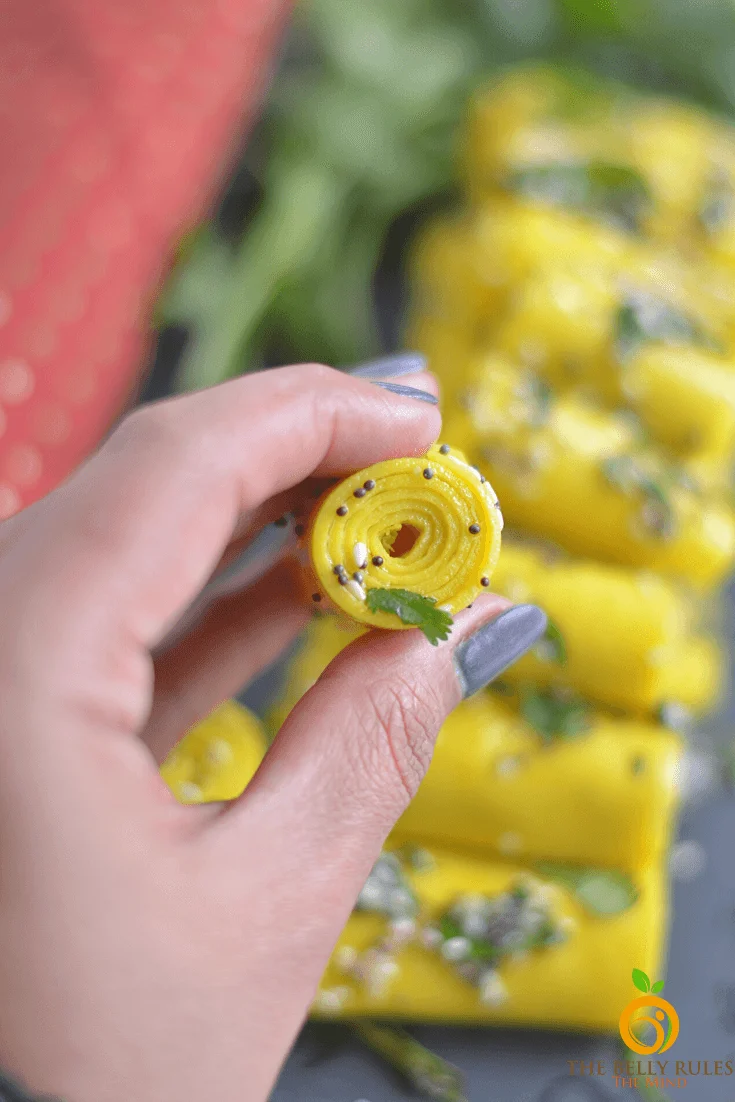 New to the Instant Pot and intimidated by it? Don't be! Check out our beginner's guide to the Instant Pot called Is the Instant Pot Worth It. The guide decodes all the buttons and functions so you can use it with ease to make any recipe.
Do you love Indian cuisine ?Here are more Instant pot Indian recipes you can enjoy cooking in your Instant pot.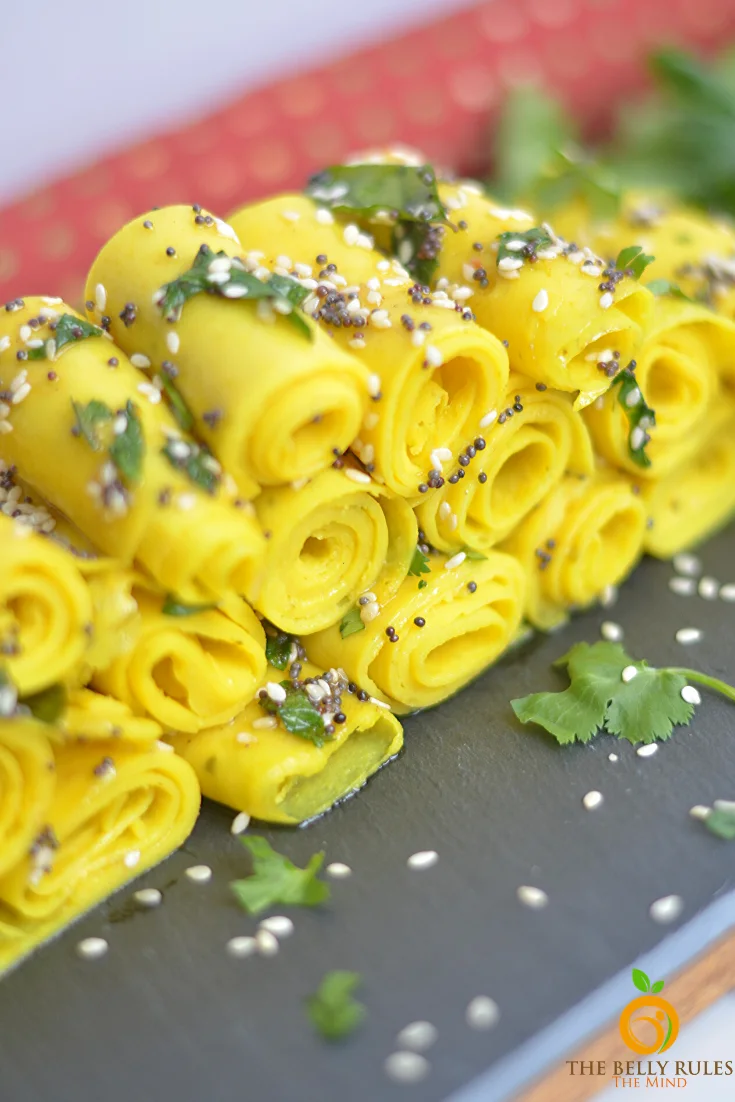 Gujarati Khandvi Video Recipe
How do you make Gujarati Khandvi in an Instant Pot?
Khandvi is an easy to make recipe, but it does require some careful cooking techniques. It's important to measure the ingredients exactly for any khandvi recipe.
First add the chickpea flour, yogurt(homemade preferable), ginger, green chili, turmeric, salt, and water to a small metal pot that can fit inside the inner pot of your Instant Pot. Use an immersion blender to make a smooth batter.

When the batter is smooth, add the water to the inner pot of the Instant Pot. Place the trivet into the inner pot and place the small metal bowl on the trivet.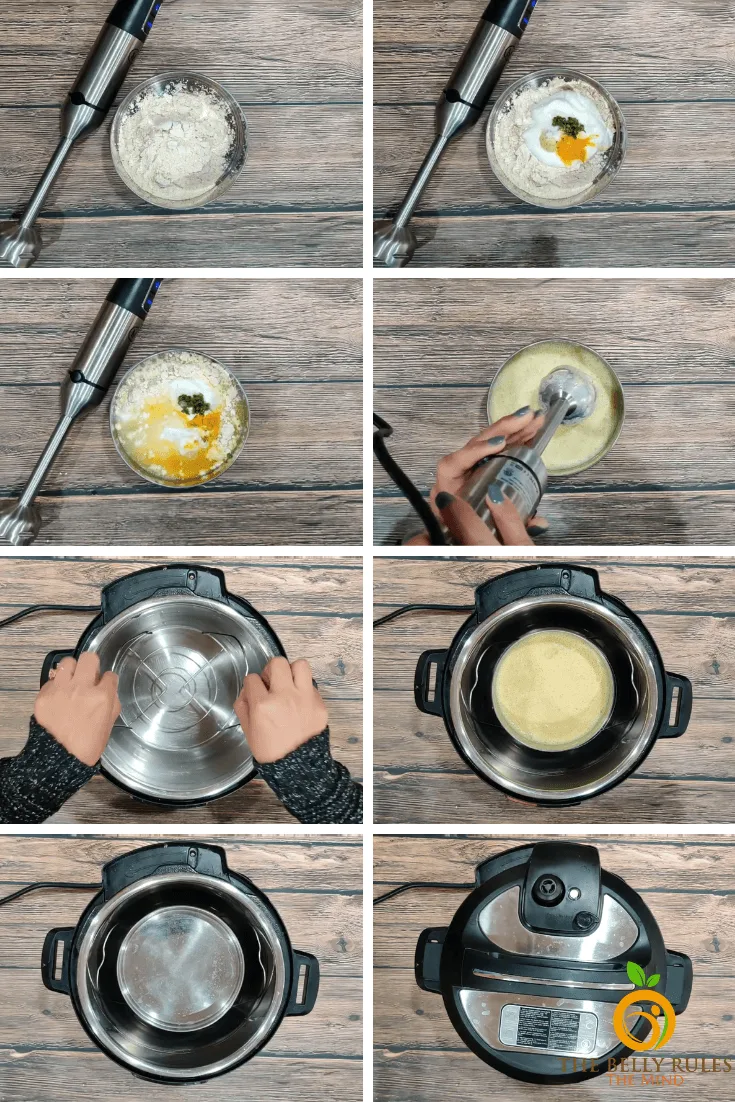 Put the lid on the Instant Pot and set the release valve to "Sealing".

Set the Instant Pot to manual and pressure cook on high for 12 minutes. When the cooking process ends, do a quick release and carefully remove the lid.

Carefully remove the small metal bowl from the Instant Pot and stir it well. Spread oil on several plates, trays, or your counter-top A. Once the oil is spread, give the batter a quick stir and then spread the batter over the oiled surfaces.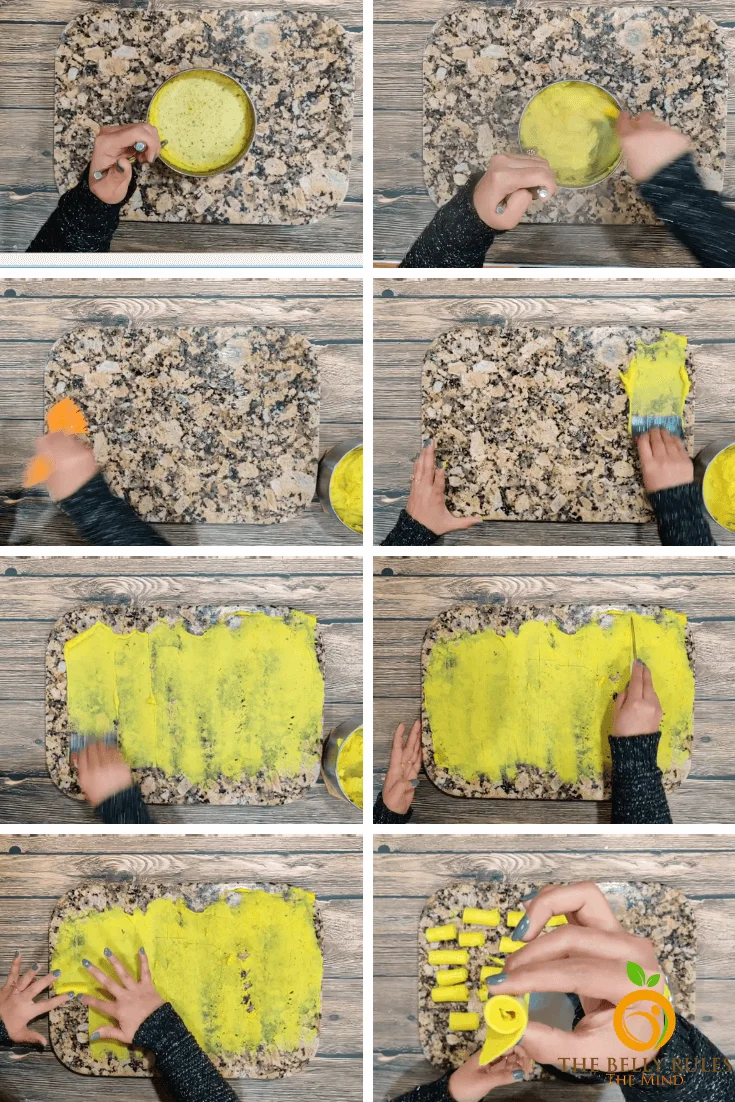 You can use a credit card or a dough scraper to evenly spread the batter. You want the batter as even as possible.

Once you've spread the batter, allow batter to cool for about 5 minutes. Use a knife to cut the spread, cooled batter into even strips.

When the strips are cut, gently roll the strips into tight rolls.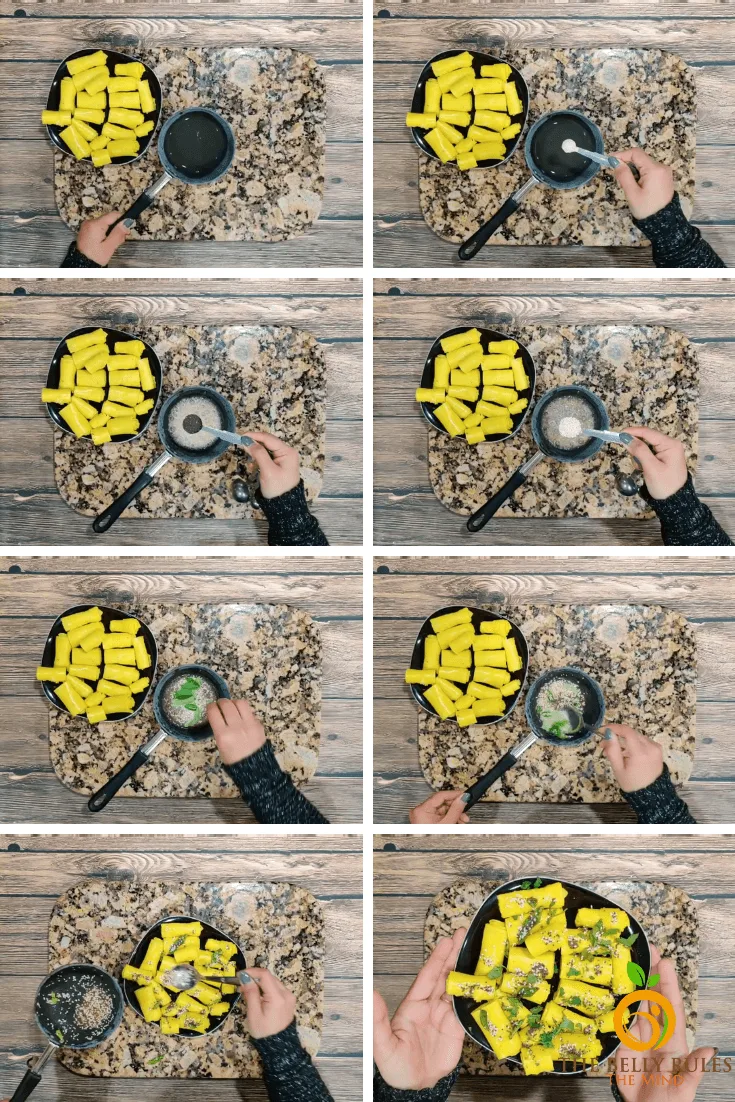 After the rolls are formed, you can start the tempering. To do this, add oil to a small sauce pan and let it heat up over medium heat.

Once the oil is hot, add the Asafoetida ,mustard seeds, sesame seeds and the curry leaves . Pour the tempering over the khandvi rolls. Serve the khandvi while it is still warm.
Is Khandvi Gluten Free?
Yes. This recipe is made by using chickpea flour / Gram flour. Gluten is a protein found in wheat. Since khandvi does not use wheat flour, it is naturally gluten free.
Is Khandvi vegan?
Khandvi is not vegan. My recipe uses yogurt and other recipes may use buttermilk. But it is a good, healthy snack if you are a vegetarian that eats dairy products.
How long can Khandvi be stored in a refrigerator?
You can store khandvi in the refrigerator for 1 to 2 days. Before you store it, place the khandvi in an airtight container. Let them cool to room temperature before sealing them in to help avoid too much condensation.
When you serve the khandvi, you should warm the khandvi up a bit. You could use a microwave for only a few seconds or place in a warmed oven on a tray. Khandvi is best when served fresh, but as long as you don't reheat it for long, you can still enjoy it later.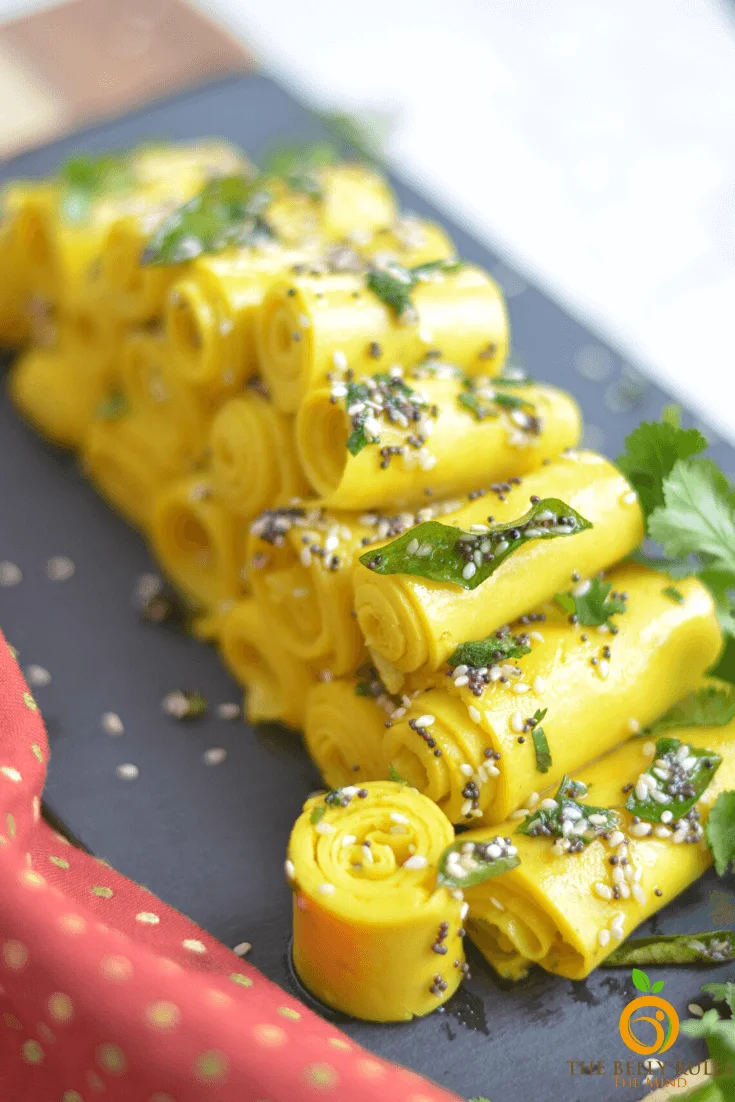 Pro tips and tricks
There are a few tips and tricks you can use to make your khandvi perfect every time:
Make sure to spread the cooked khandvi batter out when it is still hot or warm

Use a credit card or other flat, thin item to help evenly spread the cooked batter on a plate or counter-top

Grease a couple of steel plate or baking trays or a marble counter while the khandvi batter is cooking in the instant pot .

Make sure to measure the ingredients accurately to ensure the batter comes together properly

Once spread, allow the khandvi batter to cool for about 5 minutes before cutting into strips and rolling

Make sure you use enough oil to prevent sticking to your plates or counter

Don't forget to stir the cooked batter before spreading it over the plates or counters
If you make this khandvi recipe, don't forget to come back and leave your feedback and star rating . We would be THRILLED if you would take a pic and tag us on Instagram @dbellyrulesdmind or Facebook @thebellyrulesthemind
Gujarati Khandvi Recipe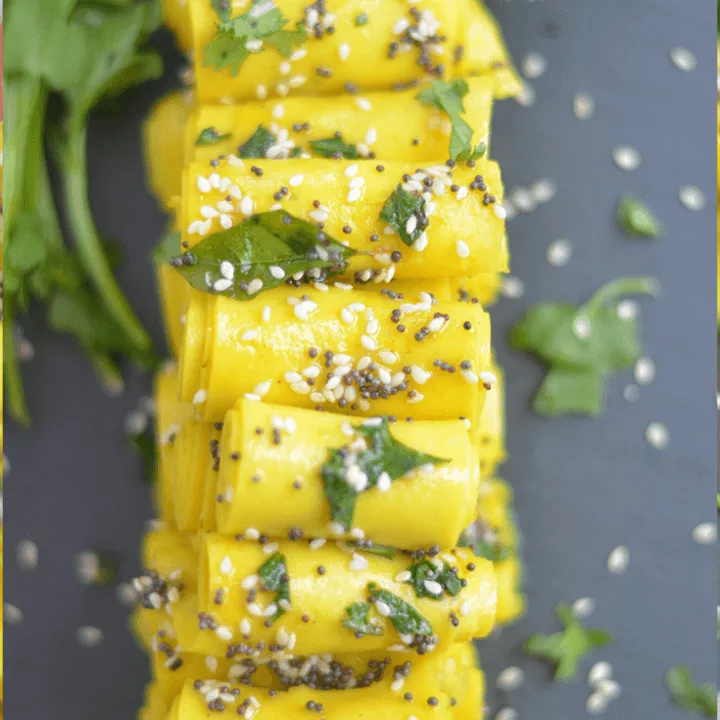 Easy Instant pot Gujarati Khandvi Recipe
Additional Time:
15 minutes
This delicious Gujarati khandvi recipe uses the Instant Pot to make perfect roll ups every time. If you want a savory, healthy snack your whole family will love, then you should make this khandvi recipe today. An easy and guilt free Indian snack perfect for parties as an appetizer! With full video and step by step pictures.
Ingredients
For the batter
Chickpea flour/Gram flour /besan - 1 cup
Yogurt -1/2 cup
Water - 1-1/2 cup
Turmeric powder -1/2 teaspoon
Salt to taste
Fresh Ginger/ paste 1/2 teaspoon
Thai Green chilies/ paste - 3
For Tempering
Oil - 1 tablespoon
Mustard seeds /Rai - 1 tablespoon
Sesame seeds - 1 tablespoon
Pinch of asafoetida / optional
Few curry leaves/ optional
Scraped coconut /optional
Instructions
In a metal Bowl add in the Chickpea flour, Yogurt (Homemade ), Ginger, Green Chili, Turmeric, Salt and water . Use an Immersion blender to get a smooth batter. (If using hand, whisk and keep on stirring and mixing till all the lumps are dissolved) .
Add water in the inner pot of your instant pot and place a trivet. Place the Yogurt and chickpea mix on the trivet and place the lid on the metal bowl.
Pressure cook for 12 minutes on high pressure. When done, do a quick release. Open the Instant pot carefully.
Use silicone gloves or metal pot holders to remove the batter bowl carefully from the pot .Be careful since the batter will be very hot . With a help a spoon give it a good stir .
Spread oil on plates or tray or on even on your kitchen counter-top.(Do this step when the batter is in the pressure cooker)
Quickly spread onto the greased plates or counter tops before it cools down. You can use a credit card or dough scraper to spread it evenly. Spread as thin as possible .Spread all the batter before you start to roll. Allow the batter to cool on the plate for 5 minutes
Let cool and then cut into 2″ wide strips.
Cut into equal sized strips and then gently roll each strip tightly.Assemble them in a tray .
For Tempering
Heat oil in a small sauce pan , add mustard seeds , let splutter then add asafoetida , sesame seeds , green chilly and finally curry leaves.
Sprinkle on the prepared khandvi and serve.
Notes
There are a few tips and tricks you can use to make your khandvi perfect every time:
Make sure to spread the cooked khandvi batter out when it is still hot or warm
Use a credit card or other flat, thin item to help evenly spread the cooked batter on a plate or counter-top
Grease a couple of steel plate or baking trays or a marble counter while the khandvi batter is cooking in the instant pot .
Make sure to measure the ingredients accurately to ensure the batter comes together properly
Once spread, allow the khandvi batter to cool for about 10 minutes before cutting into strips and rolling
Make sure you use enough oil to prevent sticking to your plates or counter
Don't forget to stir the cooked batter before spreading it over the plates or counters