Homemade Instant Khatta Dhokla -It's a quintessential snack of the state of Gujarat in India. You can eat it as savory snack, breakfast, quick meals, lunch Or dinner. Khatta Dhokla is also called White Dhokla (due to its color) or Idra. Gujarati snacks have a number of Dhokla recipes that are light to eat, taste delicious and ready in 20 minutes. This Khatta Dhokla is also one such instant variety that requires only a few readily available ingredients from our pantry.
This post is sponsored by the WonderMill Grain Mill but all opinions expressed in my post are my own.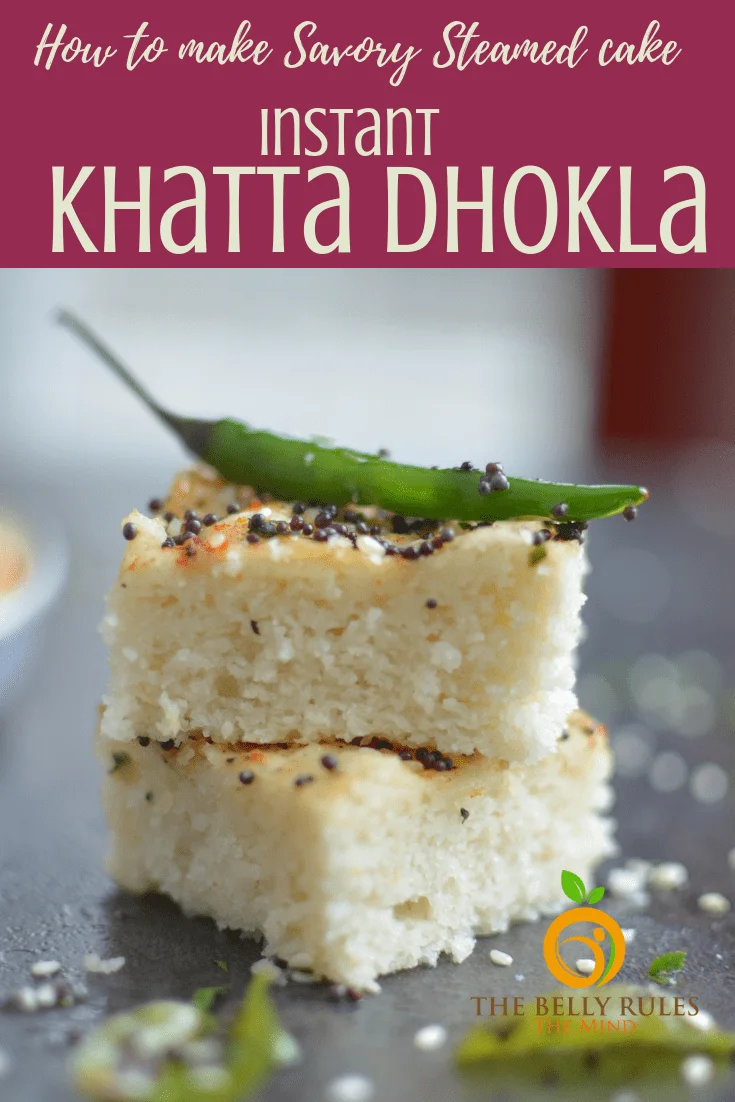 There are two popular varieties of this savory spongy cake which are also available in most eateries (farsan stores) and shops in India are Khaman (yellow in color) and Khatta Dhokla (white in color). So apart from the color, it is the main ingredient that sets them apart and actually give these two their own unique taste. Khaman Dhokla is made out of chana dal/Gram flour and Khatta Dhokla from urad dal/ split skinless black lentils and rice/rice flour. This Dhokla called as "Khatta Dhokla" because of its sour taste. In Gujarati & Hindi, sour means "Khatta". And we can get this sour flavor by adding the sour homemade yogurt.
What is Khatta Dhokla / White Dhokla / Idra?
Steamed cakes made from rice and split skinless black lentils flour by adding sour yogurt, chili, and ginger paste after fermenting for 8 hours. My version of White Dhokla is quick and easy to make, without requiring any grinding or fermenting, yet it is as fluffy and tasty as you would expect a Dhokla to be. Khatta Dhokla is sold at most general stores in Mumbai making it easily accessible.
Given that we are from Mumbai, we developed a liking for it and ofcourse soon it became our favorite snack. We make them quite often at home for breakfast in the morning or as a quick snack in the evening as my hubby loves to have them with tea. The ease of preparing it makes this an ideal dish to whip up for breakfast or evening tea-time. This steamed Gujarati snack is super tasty and amazingly soft too. Serve it with our multipurpose green chutney as an evening snack or breakfast or even kids lunchbox and can be made vegan too with a few changes!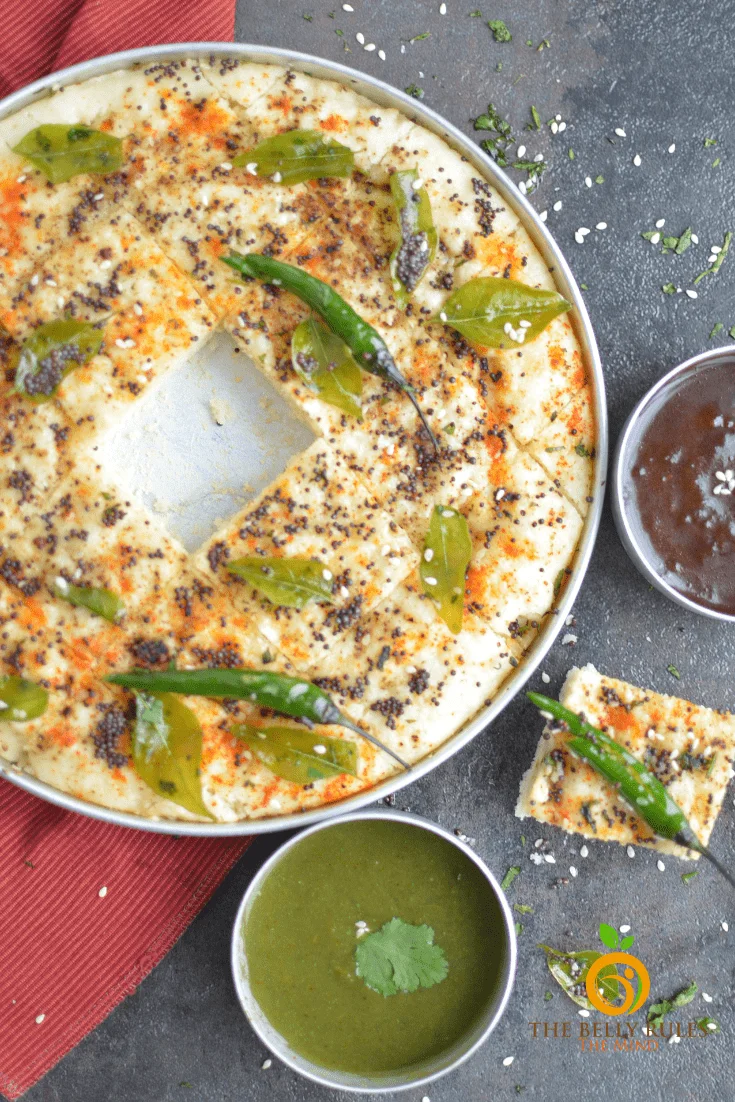 How to make freshly milled Dhokla flour at home
Although several ready mixes are available to do the job quickly, these cannot match the taste of traditional Khatta Dhokla made with a homemade batter. It has become so easy nowadays. Its a matter of convenience for people to buy ready made Dhokla flour from grocery stores because they think it takes too much time and effort to make it at home, but believe me it's so darn easy!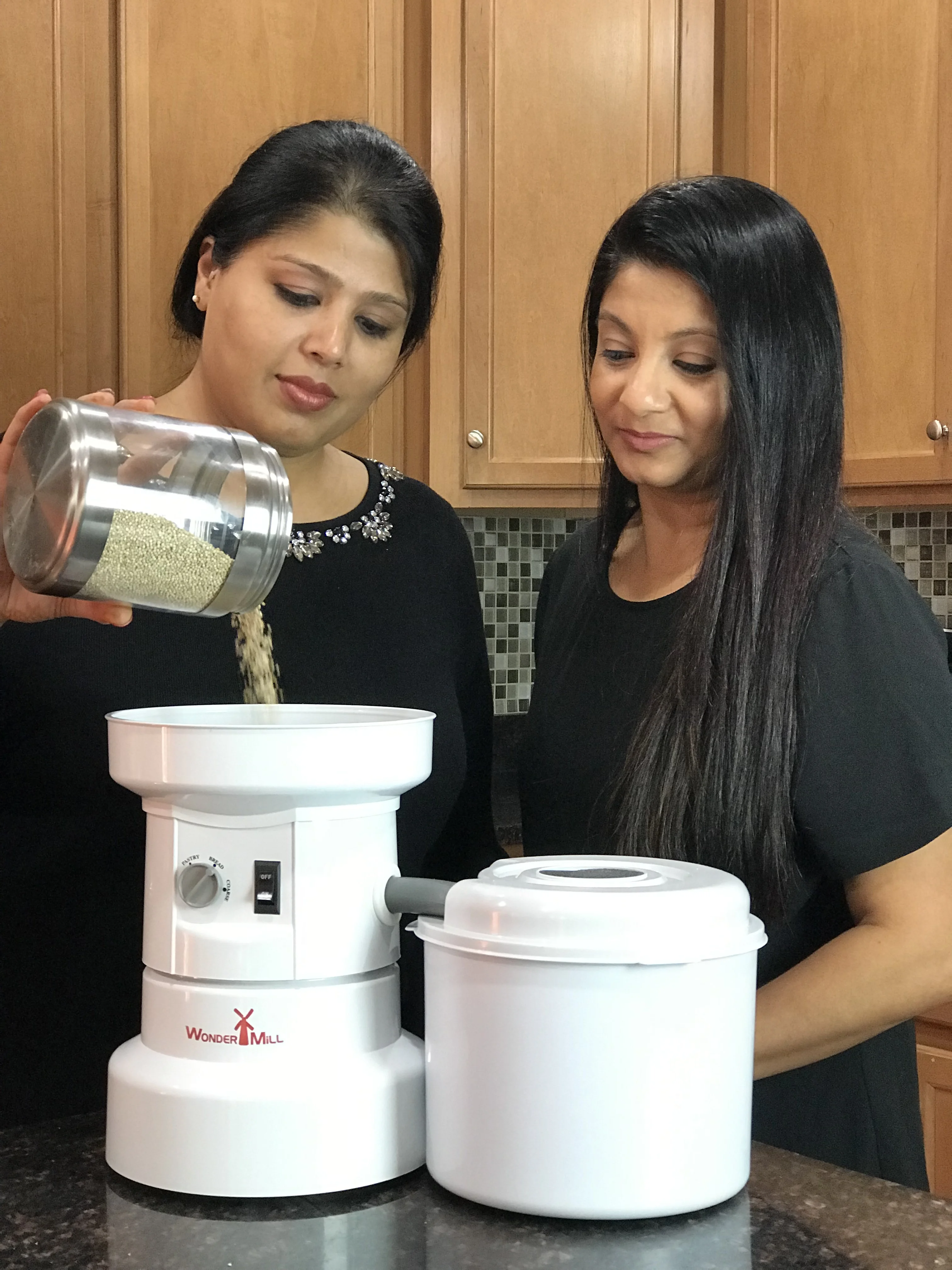 It requires no advance preparation and takes just minutes to make. If you have been following The Belly Rules The Mind for a while, you will know that both Anvita and myself have been hooked onto milling our own flours. Ever since we got our WonderMill Grain Mills, we have stopped buying flour to the extent possible. If you are wondering why, check out our guide on how and why we should mill our own grains, here. Once you start milling your own grains, there is no going back because you realize how good the taste and texture of any food is when cooked with fresh flour.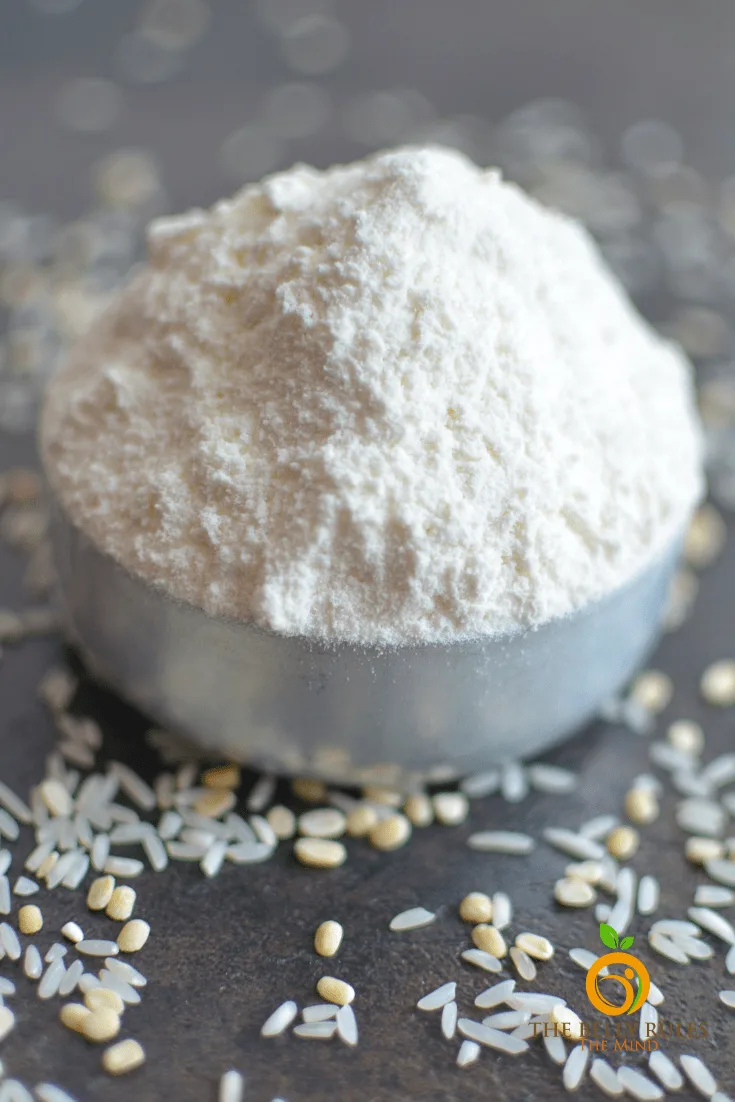 Nothing can beat preparing fresh flour for this recipe and as I mentioned, you do not even have to go to a flour mill to make it, as it can be ground at home easily using the WonderMill Grain Mills. Certainly an excellent addition to your kitchen gadgets
Coming back to the recipe, the rice and urad dal have to be ground into a fine-coarse powder, which means neither too coarse nor too fine, somewhere in between! Once ready, you can store it in a dry and airtight container for up to two months, to use whenever required.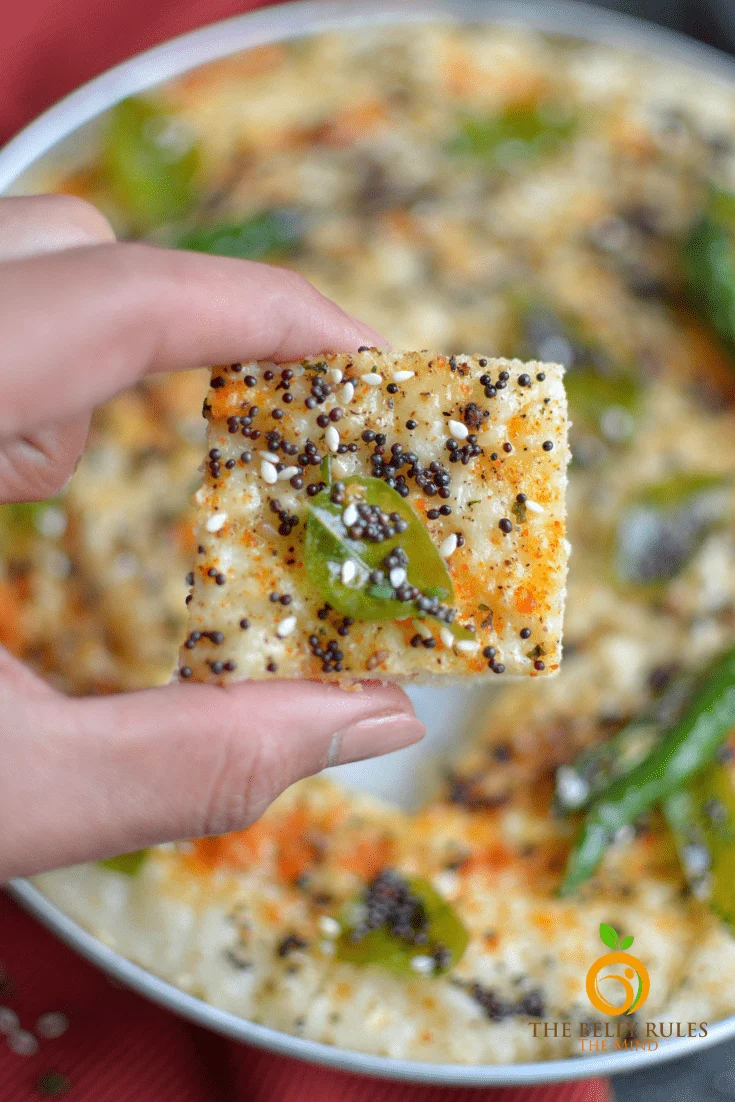 A Homemade White Dhokla Recipe with ZERO fermentation and soaking time and no grinding needed?
Did I mention that this recipe requires
no fermentation
no soaking
or grinding.
Here, we show you how to make instant Khatta Dhokla using rice flour and lentil urad ( Split skinless black gram). Seasoned with black pepper and chili powder. Just mix all the ingredients together, let them rest for few minutes till you plug in you Instant pot, and then steam the batter. Khatta Dhokla gets its additional fabulous aroma and special flavor from the tempering added on top. You can certainly skip the tempering if you feel, however it is highly recommended.
If you don't have an Instant pot, you can make them in an idli maker, pressure cooker or even in the microwave oven.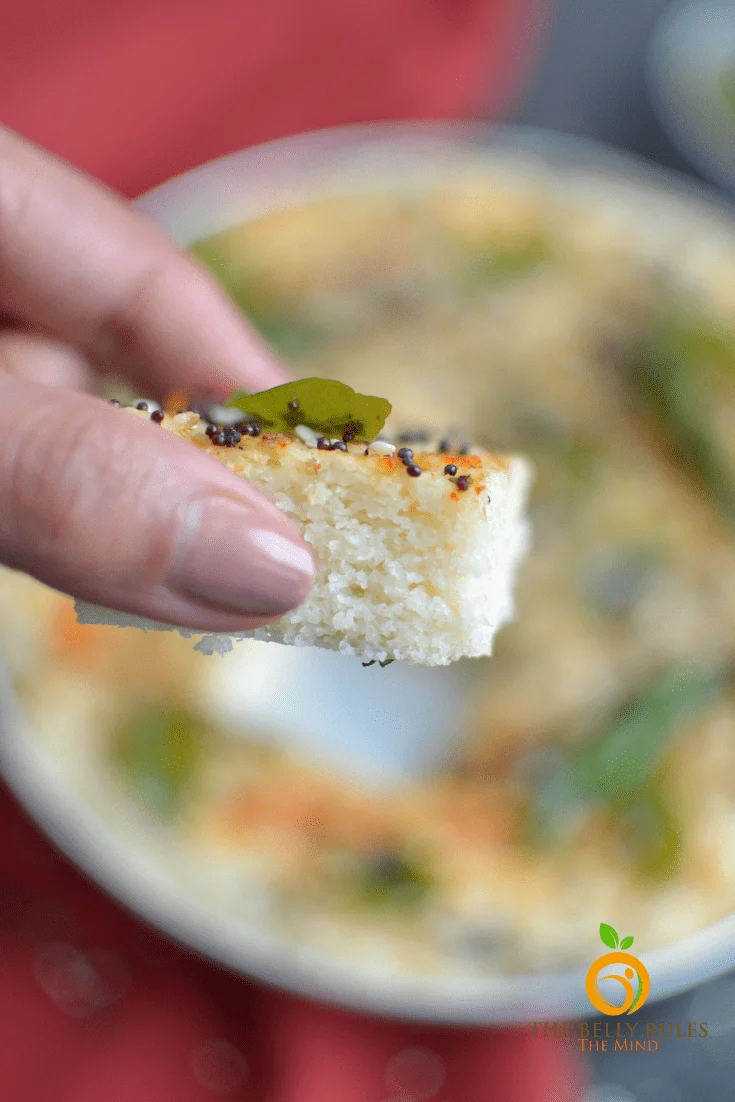 How to avoid mistakes with this Idada Recipe
Create batter with a cake like consistency for a more fluffy texture.
You could use baking soda however I have used fruit salt (Eno)
Add fruit salt at last, when you are ready to steam khaman.
add ¼ teaspoon lemon salt or 1 teaspoon lemon juice in it to make it sourer.
You can add or omit ginger and green chili paste in the mixed batter.
You can keep the mixture of rice flour and lentil in an airtight container and use it whenever you want.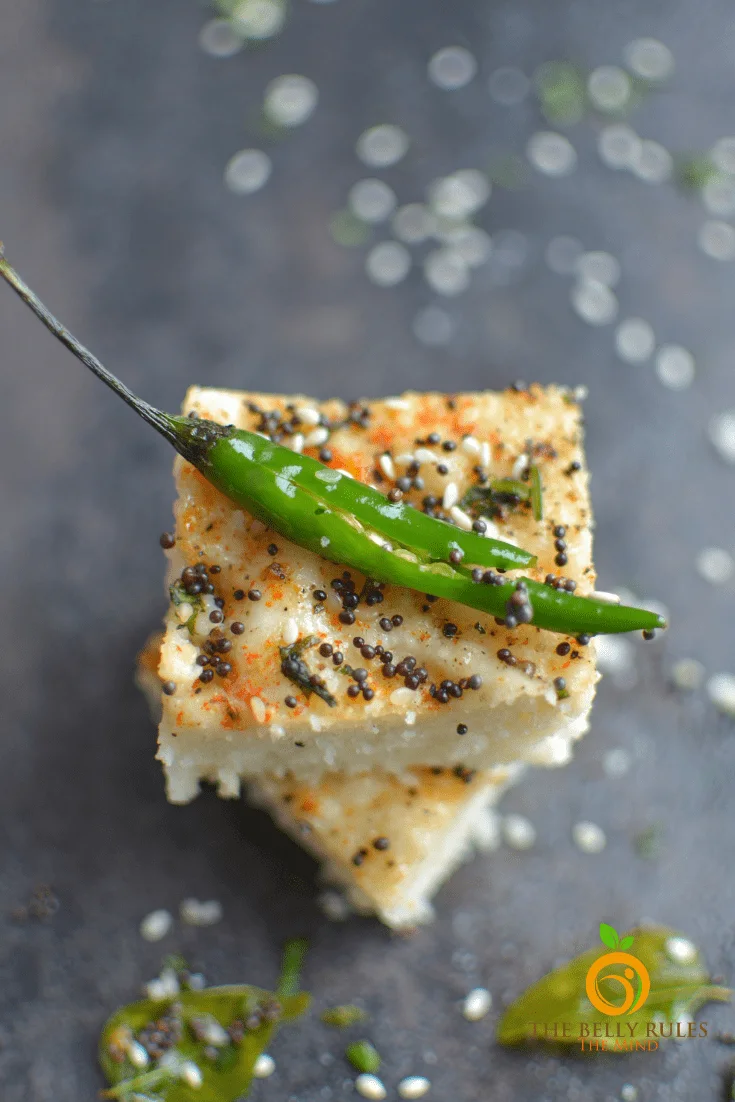 There are no words to express how soft and tender these bites are. I hope you consider trying these. For more Dhokla / Savory Cake recipes click here.
If you like Dhokla recipes, try our Khaman Dhokla, Oats Dhokla ,Beetroot Dhokla, Mini Corn Dhokla, Daliya Dhokla, Semolina Dhokla, Green Peas Dhokla
Looking for more Instant Pot recipes, Check out our 100+ Instant Pot Vegetarian Recipes. From Soups to Pasta and from Appetizers to Desserts and everything in between.
If you try the recipe and liked it, don't forget rate the recipe and leave us a comment. Thanks.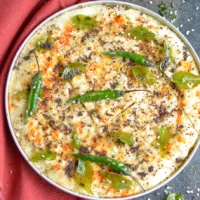 White Dhokla Recipe (Khatta Dhokla)
Additional Time:
10 minutes
Homemade Instant Khatta Dhokla -It's a quintessential snack of the state of Gujarat in India, eaten as savory snack, breakfast, quick meals, lunch Or dinner. Khatta Dhokla also called White Dhokla (due to its color) or Idra. Gujarati snacks have a number of Dhokla recipes that are very light to eat, healthy, ready in 20 minutes and taste delicious. This Khatta dhokla is also one such instant variety that requires only a few readily available ingredients from our pantry.
Ingredients
3/4 cup semolina/sooji
1/2 cup Rice flour
1/4 cup black gram flour/ urad dal flour
1 cup yogurt(https://thebellyrulesthemind.net/save-money-with-homemade-yogurt/)
1/2 Water/ add more as required
1 teaspoon Ginger/ minced
2 teaspoon Green chili / minced
1 tsp, black pepper powder
1 teaspoon ENO /
1 teaspoon Salt
1 teaspoon sugar
FOR TEMPERING
2 teaspoon Oil
1 teaspoon mustard seeds
4 green chili
for garnish cilantro/ chopped
Instructions
HOW TO STORE KHATTA DHOKLA FLOUR
Grind rice and lentil in a mixer to a fine coarse powder. Keep aside.
Combine the rice and urad dal coarse powder in a bowl and mix well.
Store in an air-tight container. Use as required.
HOW TO MAKE HOMEMADE INSTANT KHATTA DHOKLA
Add Semolina ,rice and black garam flour in a mixing bowl.
Add yogurt to the flour.
Add finely chopped ginger and green chili in the batter.
Season it with salt and add sugar
add some water and mix it well till batter consistency.
add the ENO( fruit salt). Mix it well.
Grease plate with oil and pour the batter.
Spread the batter evenly on greased plate.
Sprinkle Black pepper powder/ red chili powder on batter
Prepare Instant pot for steaming.Add 2 cups of water to the inner pot of the Instant Pot.
Place the trivet and turn on the Instant pot on Saute mode. Once the steam starts coming place the dhokla plate on the trivet.
Steam it for 15 minutes.Once the timer goes off, allow pressure to naturally release for about 5 mins.
Manually release the rest of the steam. Check if dhokla is well cooked by pricking it with a fork/knife.
Using a pot holder remove the container and allow it to cool for tempering. You could cut the cake into squares or diamonds either before or after tempering.and serve it in a serving plate.
Serve the khatta dhokla with coriander chutney.
HOW TO TEMPER
Heat oil in a pot and add the tempering mix to it. Once you hear the crackling, pour it over the dhokla