Vegan or not, you are going to love this smoothie-like Vegan Mango Coconut Lassi even more than the restaurant Mango Lassi. Try it yourself!!! Guess what? All you need is 5 simple ingredients plus it's naturally sweetened. Kickstart your day with this delicious Lassi, enjoy it on the side with your meal or simply wow your guests. You are sure to fall in love with this recipe.
It's almost time to wrap up the summer holidays and all the summer fun. So obviously I had to share one last recipe using Mangoes before they are out of season. A vegan version of the not-so-Indian Mango Lassi. Did you know that back home in India, Mango Lassi isn't even a thing?
Back home you typically get Sweetened or Salted Lassi. Sometimes you will find rose, cardamom, mint, masala or saffron flavored Lassi, but Mango Lassi was something I had never heard of until I came to the US. Although I admit that I fell in love with Mango Lassi the first time it. It also turned out to be Little A's favorite drink at the Indian restaurants. A few days ago he asked me to make some Mango Lassi for him at home. So I came up with this Vegan Mango Coconut Lassi.

How to make Vegan Mango Lassi?
The main ingredient of any Lassi is yogurt. Blend the yogurt with spices, herbs, fruit and water and a delicious glass of Lassi is ready. So for someone like me who is lactose intolerant and loves Lassi, I choose a vegan coconut yogurt to make my Vegan Mango Lassi. You might not like the sound of Vegan Mango Lassi but trust me, it's better than any Mango Lassi you have tried. You have to take my word for it until you try it yourself.
This Vegan Mango Coconut Lassi is made with easily available ingredients. All you need to do is just toss in some mangoes chunks, coconut yogurt, coconut milk, cardamom and some monk fruit extract, blend it all together and the Vegan Mango Coconut Lassi is ready. This Lassi can also be made when mangoes are out of season by using Mango Pulp which is available on Amazon here or the Indian grocery store. Back home my mom often makes large batches of Mango Pulp and freezes it for the rest of the year. You could also use frozen mangoes to make this recipe but you will have to add more coconut milk to get a drinking consistency.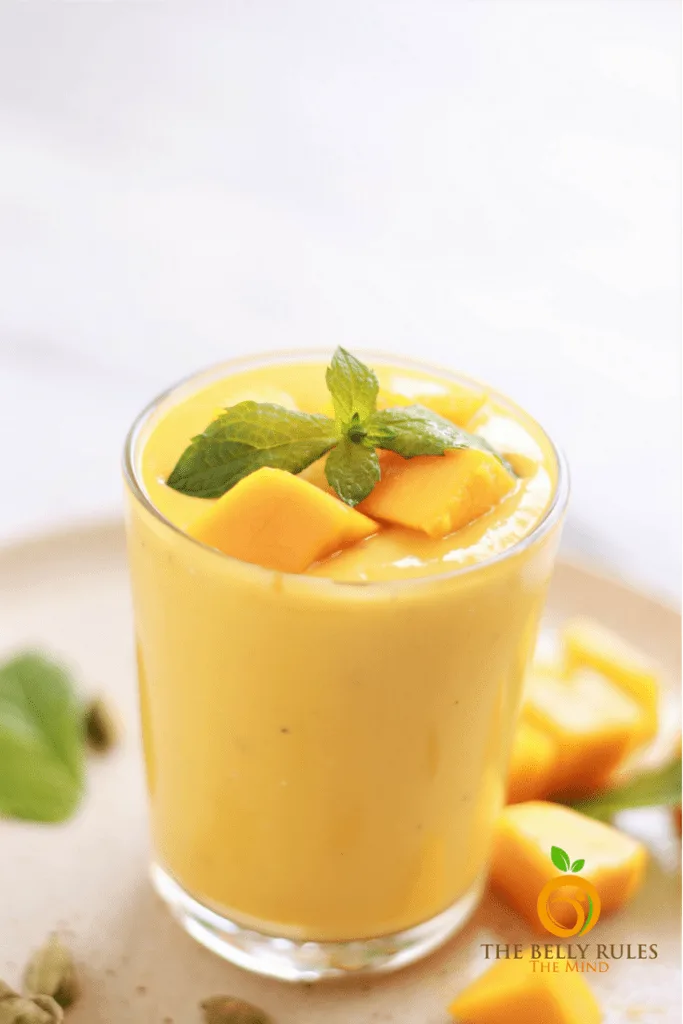 Why should you try this Vegan Mango Coconut Lassi?
This Vegan Mango Coconut Lassi is thick, creamy, naturally sweetened with loaded with the flavors of fresh mangoes and a hint of cardamom. When made with low-fat coconut milk and some coconut yogurt the health quotient just completely changes. It's so much healthier!!! When you are bored of the same old smoothies, replace this Lassi to kick-start your day and get your daily dose of nutrition. Makes an awesome pre-workout drink or the afternoon snack. It's quick and easy with no fancy stuff. Simply wow your guests by serving this beverage at your next party. sure to leave the guests asking for more. It's so yum.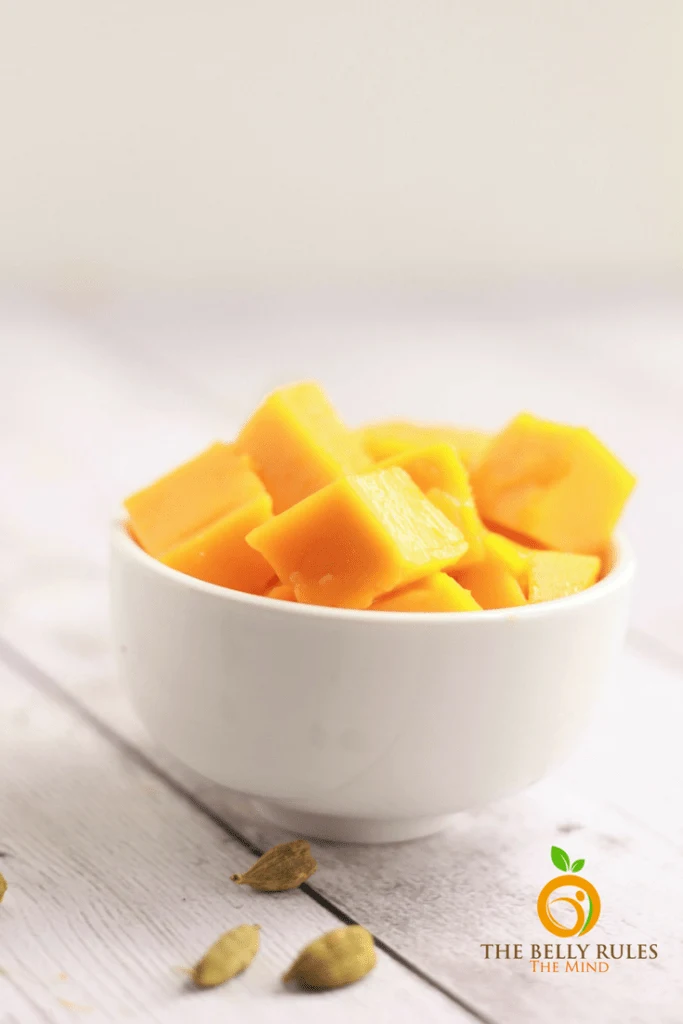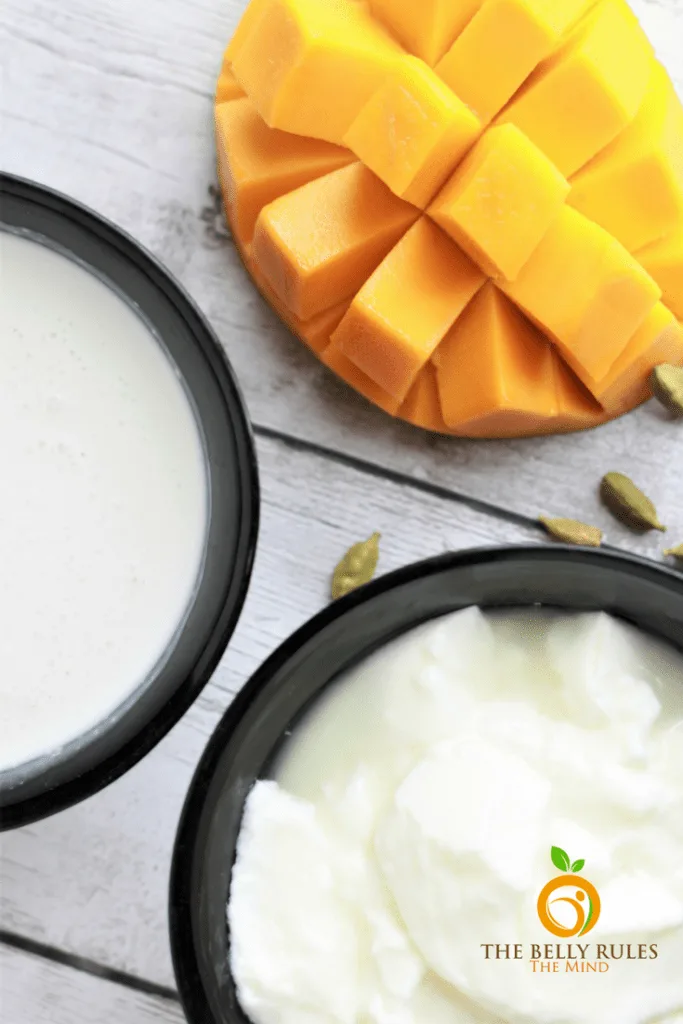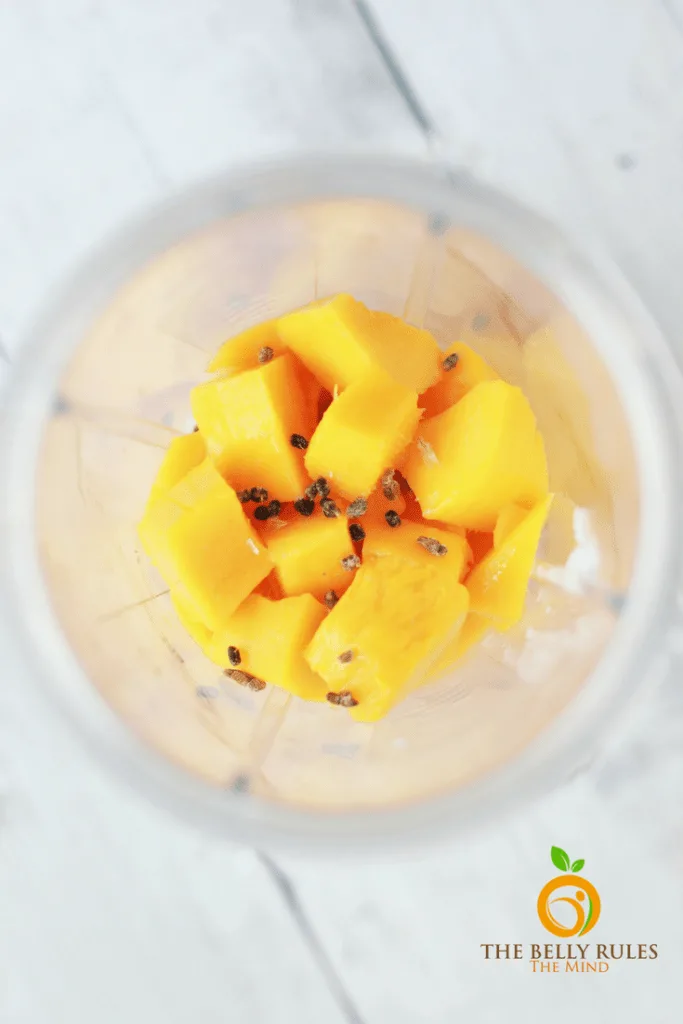 Health Quotient
Mangoes
I love mangoes not only for their taste but also because they are rich in fiber, antioxidants and Vitamin C. Mangoes are rich in beta-carotene and help boost immunity. Mangoes help relieve constipation in addition to a lot of other health benefits.
Coconut Milk
I hope you know that coconut milk is not 'milk' at all. Coconut Milk is the liquid that comes out of coconut meat when blended and strained. Coconut's lauric acid has antibacterial and antiviral properties. Coconut milk also helps prevent dehydration and diarrhea. Coconut milk calories provide quick and efficient healthy calories for the brain.
Coconut Yogurt
A healthier alternative to the dairy based yogurt which is free of lactose. The fermented sugars and tummy-pleasing probiotics aid digestion, promote gut healthy which in turn improve immune function.
Cardamom
Apart from the rich aroma and flavors, I love that this spice helps in killing bacteria that cause bad bread and in turn helps reduces cavities.
Monk Fruit Extract
I have replaced all my sweeteners with Monk Fruit Extract. Monk fruit contains compounds that, when extracted, are natural sweeteners 300–400 times the sweetness of cane sugar but with no calories and no effect on blood sugar. How good is that? I didn't have to go to any fancy store to find this, I got it from my local Walmart.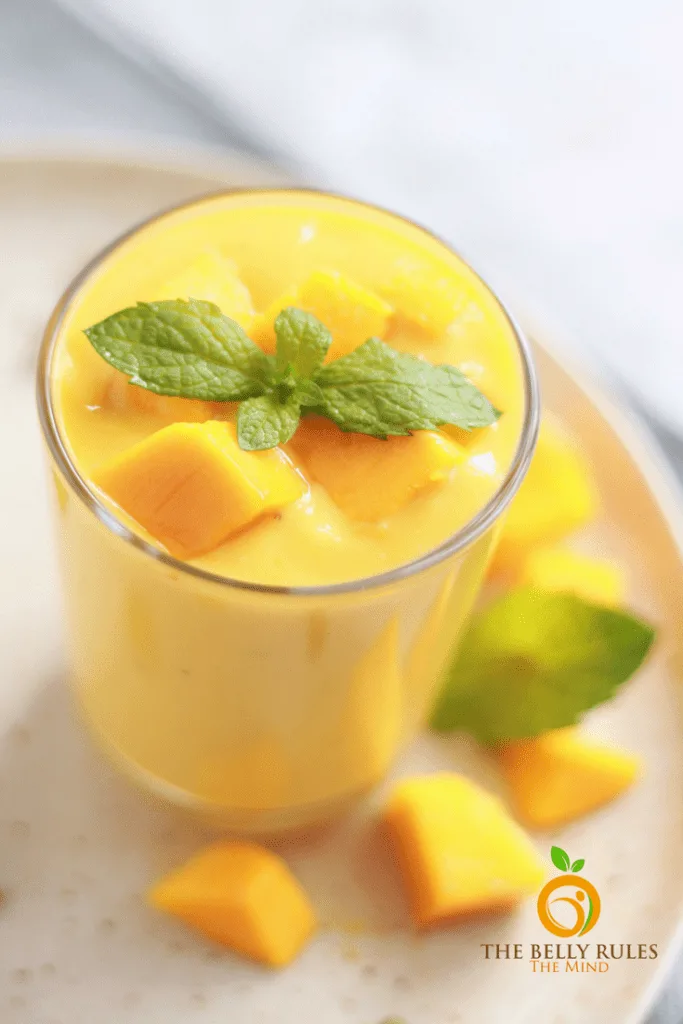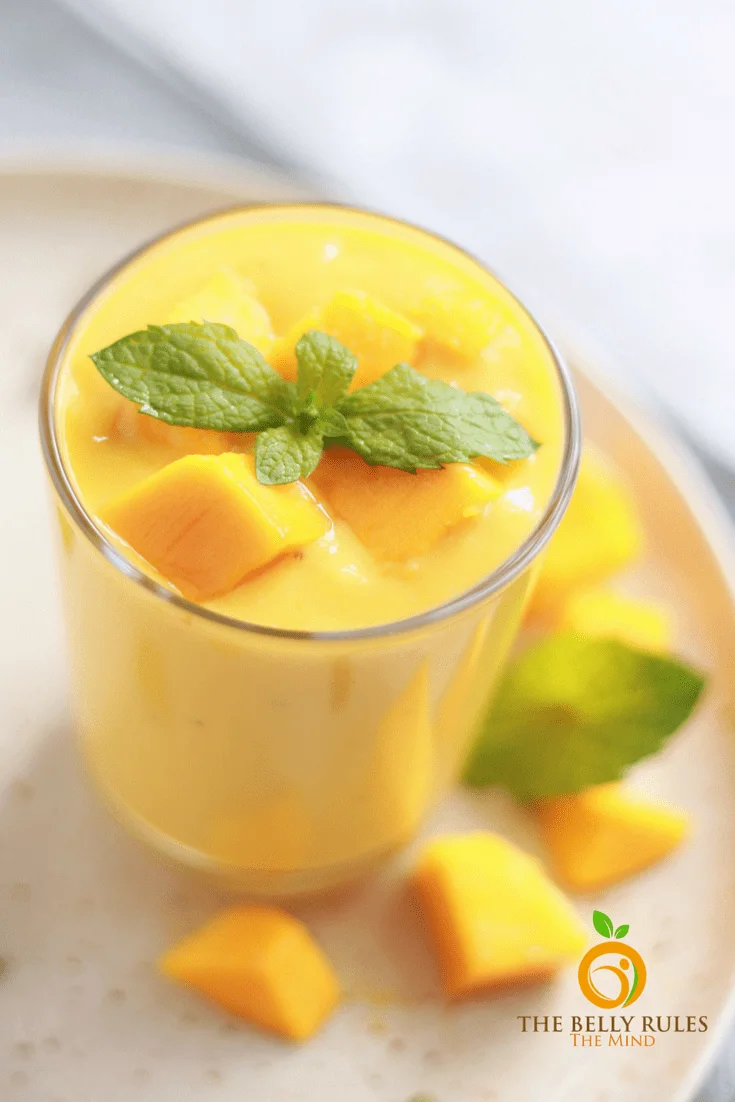 To make this recipe now, you can scroll down to the recipe card below. However, if you are a mango lover like us and want to explore more recipes using mangoes then check out our blog post 'Must-Try Mango Recipes'. Some of our very popular mango recipes are the Vegan Mango Semolina Cake, Vegan Mango Coconut Ice Cream, Tropical Mango Salsa and the Vegan Tropical Butternut Squash Smoothie.
Pin this recipe for later
If you would like to save this recipe for later, click on the pin below to save it for later.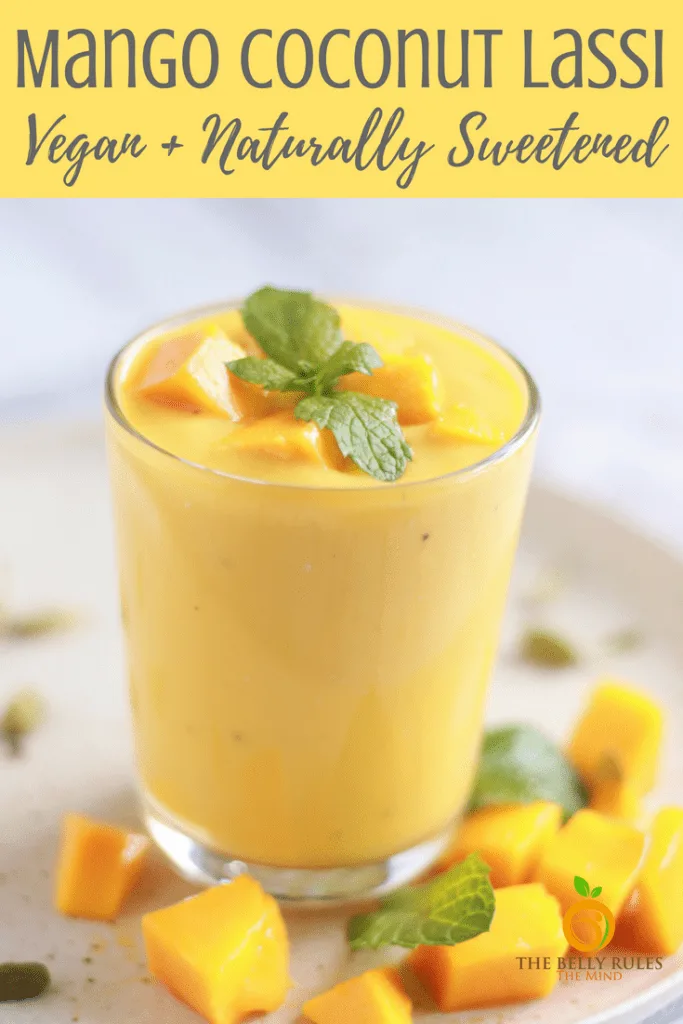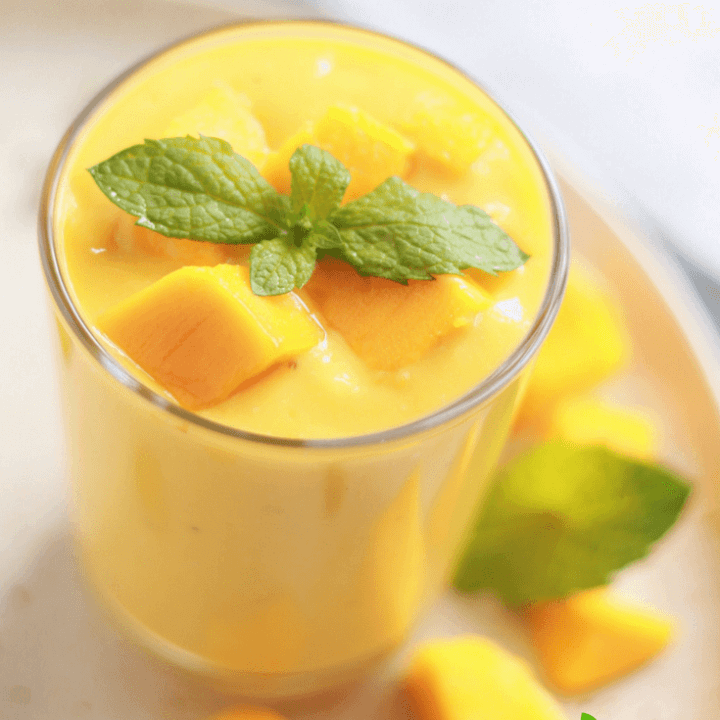 Vegan Mango Coconut Lassi
Ingredients
2 cups mango chunks
6 oz. vanilla coconut yogurt or yogurt of your choice
5 tablespoon low-fat coconut milk or milk of your choice
1/4 teaspoon cardamom seeds
2-3 tablespoon monk fruit extract or a sweetener of your choice
1/4 cup ice cubes (optional)
mint to garnish
Instructions
Add all ingredients into a blender and blend to get a smooth creamy texture.
Adjust the flavors as required.
if any leftovers store in refrigerator for upto 2 days or I would even freeze them in popsicle trays.