This Instant Pot Spaghetti with Lentils makes a perfectly hearty weeknight dinner with just 7 pantry staples in 10 mins. It's tasty, rich in protein, fiber and budget friendly. No gummy noodles plus you won't miss the meat at all. Vegan.Vegetarian. Gluten-Free.Kid Friendly. Video Recipe.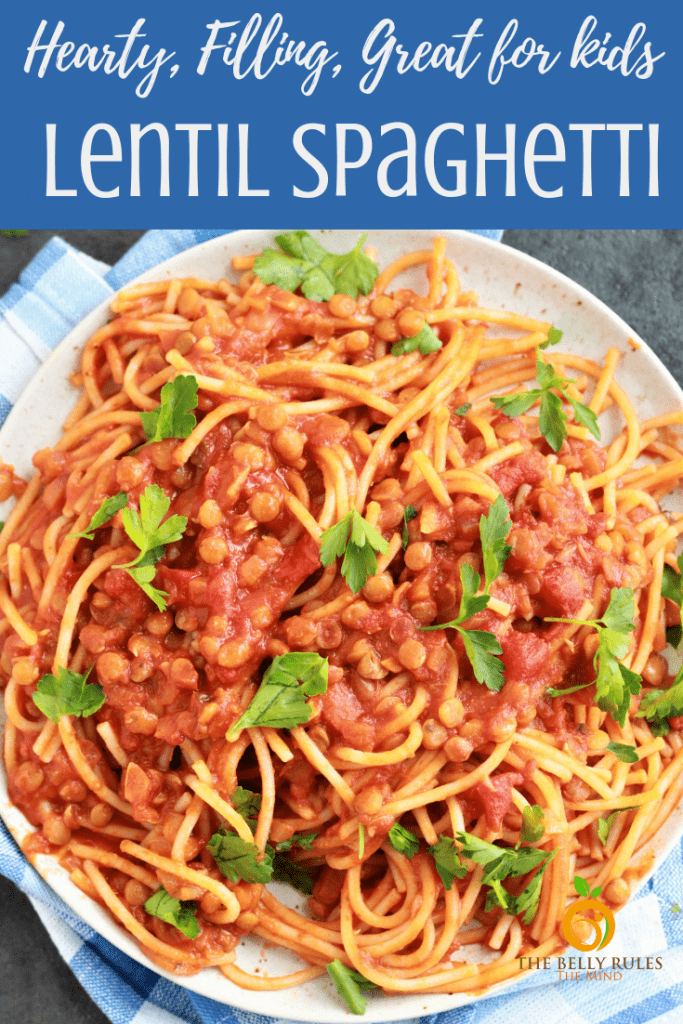 Lentil Spaghetti
Meatless Spaghetti for the veggie lovers. Have you ever tried combining lentils and spaghetti at all? I mean how could we not try the idea of combining two of our very popular recipes Italian Lentil Soup and Spaghetti Aglio e Olio. It's a killer combination and has become a new family favorite. It's super easy to make with basic ingredients readily available at home and makes a perfect weeknight meal. It's healthy and hearty with lots of flavors and texture. Packed with fiber and plant based protein. I mean what's not to love about this Lentil Spaghetti?
Instant Pot Spaghetti with Lentils
If you are thinking why Spaghetti in Instant Pot? Let me explain. If you think Instant Pot or pressure cookers are best for food with tough textures why make pasta in Instant Pot when it's already so simple to make it on the stove top. Well you are mistake here, my dear. Instant Pot Spaghetti is way easier, faster, tastier and hassle free when made in the Instant Pot.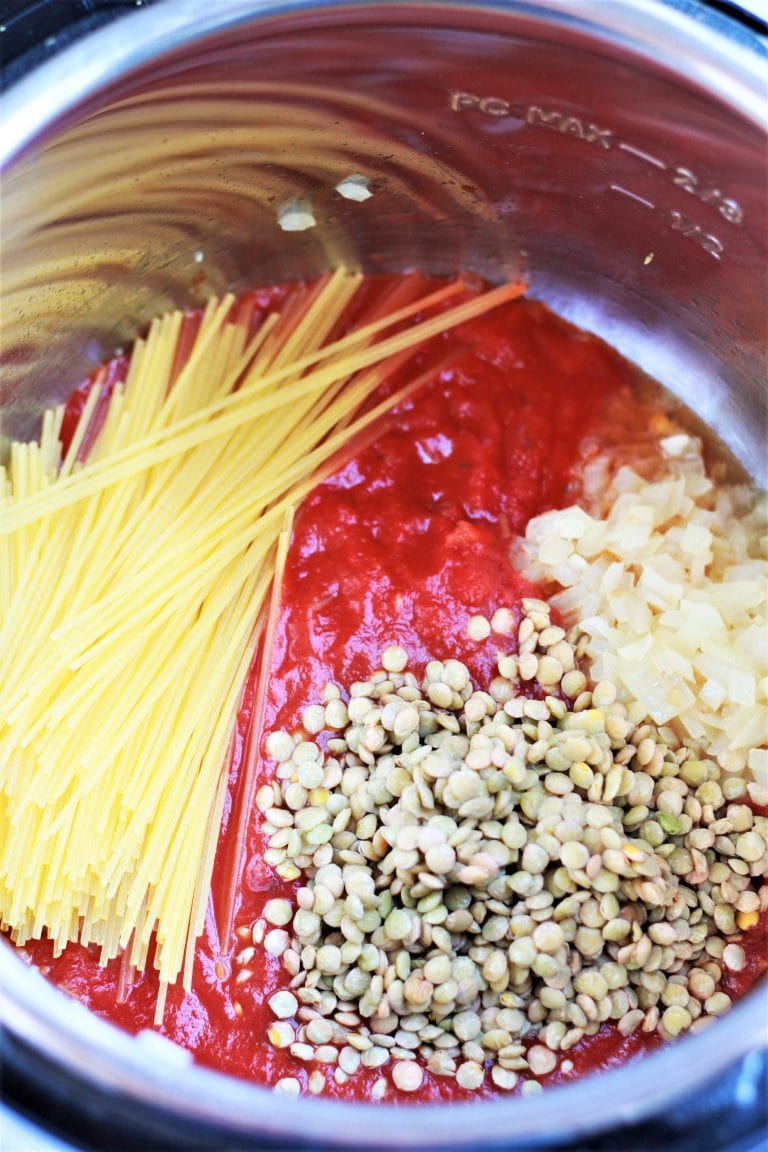 Honestly it's a one pot recipe. No washing and cleaning multiple pots and pans, isn't that golden? No continuous stirring or waiting for the water to boil. Just sautee the onion and garlic and toss in the remaining ingredients and the lentil spaghetti will be ready in 10 minutes. Best part unlike the traditional spaghetti where the spaghetti has to be boiled separately and then mixed in with the sauce. In the Instant Pot the Spaghetti is cooked along with the sauce which packs a lot of flavors into the Spaghetti. It's just a must-try.
If you are worried about gummy sticky noodles or uncooked lentils, don't be!!!Check out the video recipe, you can see how well the noodles and lentils are cooking without sticking to the bottom or burning. I don't know about you but I am never go back to making Spaghetti the traditional way. This is so much easier and tastier. Try it yourself.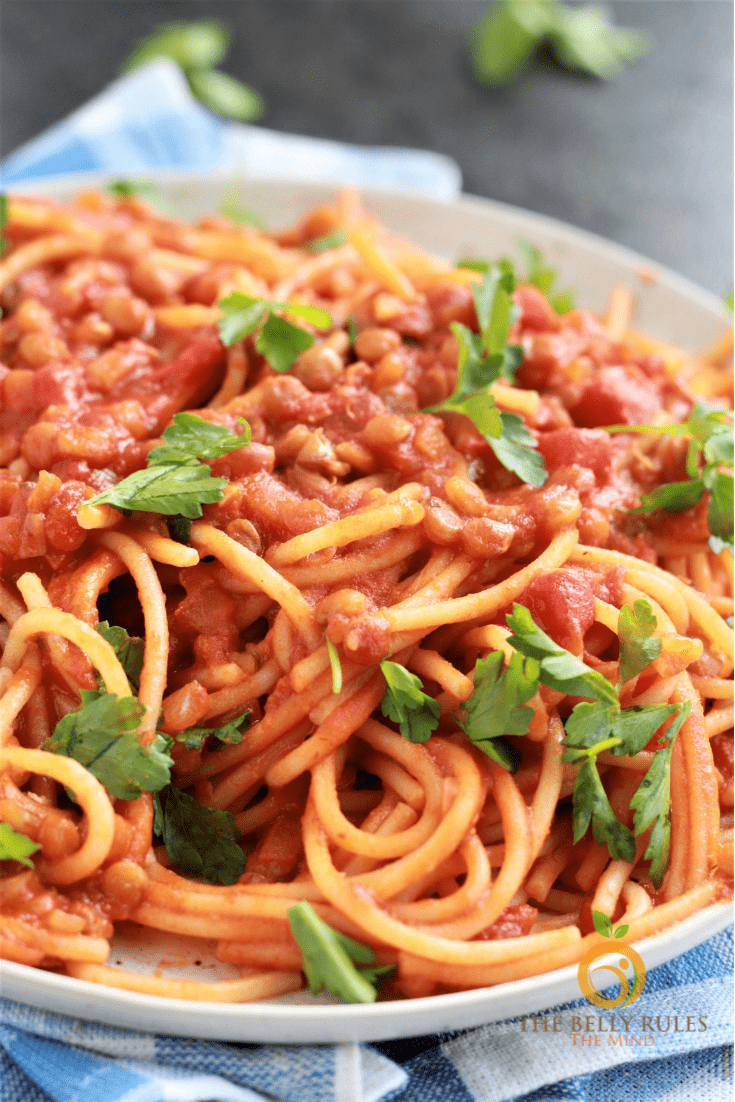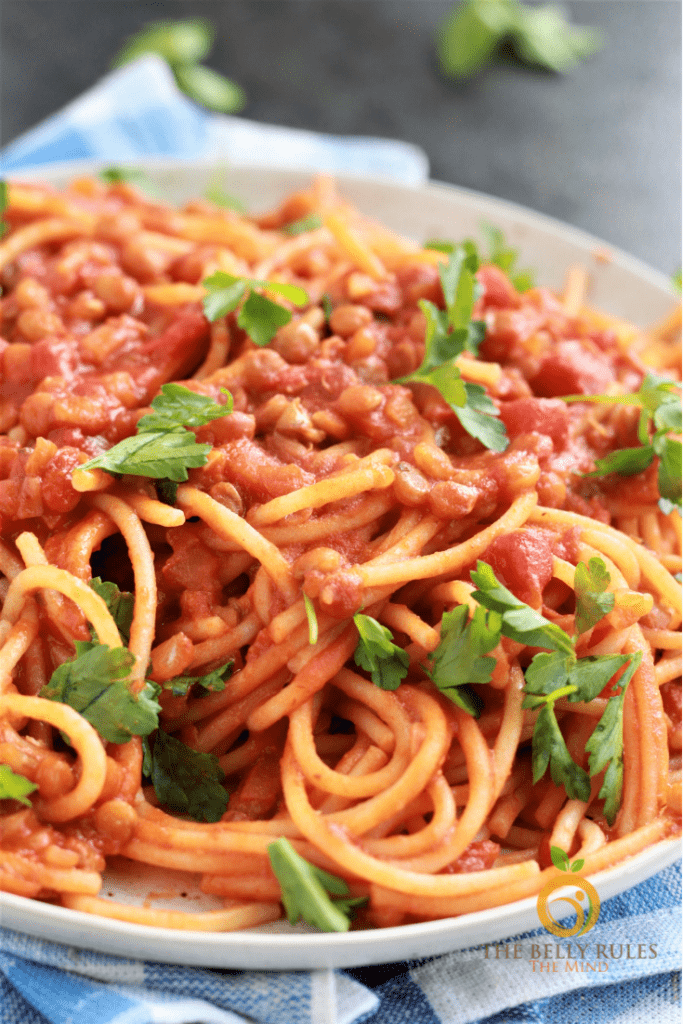 What Lentils can I pair with Instant Pot Spaghetti?
You can make this spaghetti with either, green, brown or even red lentils. The lentils and gluten-free spaghetti take the same amount of time to cook, 10 minutes so there can't be a better match than this. I personally haven't tried using red or brown lentils for this recipe, but typically when I want the lentil texture to be soft like for soups I cook my lentils for upto 8-10 minutes.
What can you serve with this Lentil Spaghetti?
Salad
Breadsticks
Roasted Vegetables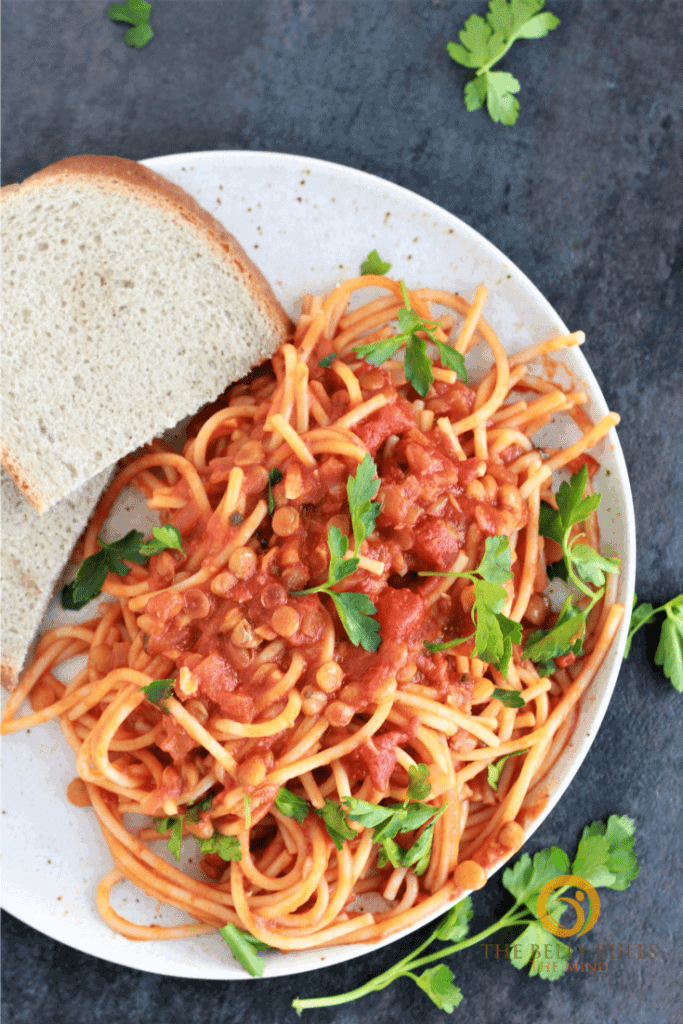 Tricks to keep in mind for a successful Instant Pot Spaghetti
As soon as the timer beeps, quick release the pressure. Initially the sauce may seem to thin. Gently mix together the noodles and sauce. Allow the spaghetti to rest for 5 minutes before serving and you will notice the sauce thicken to just the perfect consistency.
The pasta eating window where you can enjoy warm, tender and no gummy noodles or sauce is very small. So enjoying it while it is freshly made is always the best option.
Packing Spaghetti for Lunch
We use a Thermos Lunch box that keeps food warm. We have a few different ones at home that we use. Thermos Funtainer, Vaya Tyffin, Stainless steel lunchbox with insulated bag.
Freezing or Left Overs
If you have left overs or would like to make some extra and freeze it. Divide it into the portions you want. Place individual portions of Spaghetti into freezer safe zip lock bags. The morning you want to pack Spaghetti for lunch, run warm water on then ziplock for 15 seconds. This will help separate the sides from the bags. Then toss the portion into a microwave safe container add a couple tablespoons of water and reheat in microwave. Adding water will prevent the spaghetti from drying.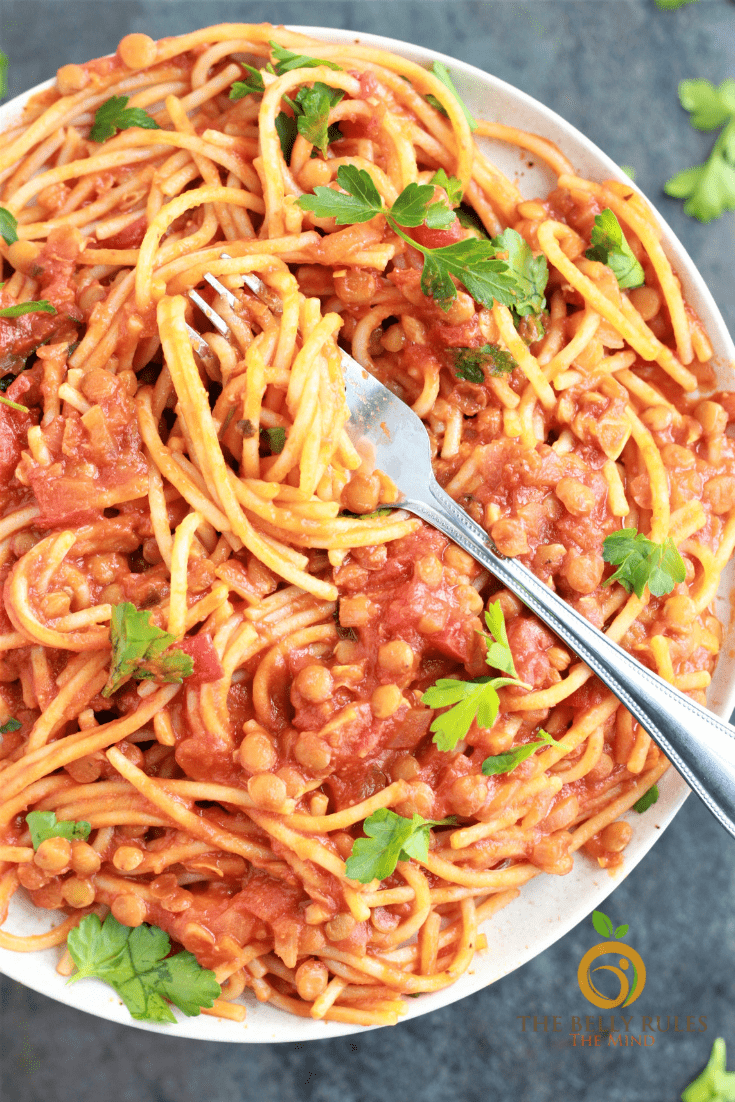 So let's get to the recipe. Hope you get around trying this Lentil Spaghetti. We would love to hear from you if you still prefer the traditional cooking method or we have converted you to use you IP to make your Spaghetti. Don't forget to take a picture and tag us on Facebook or Instagram. If you made any tweaks to this recipe, share them below in the comments. Hope you enjoy this Spaghetti as much as we did.
For more pasta recipes, click here.
Instant Pot Spaghetti with Lentils Video
Instant Pot Spaghetti with Lentils Recipe
Yield: 2
Instant Pot Spaghetti with Lentils
This Instant Pot Spaghetti with Lentils makes a perfectly hearty & filling weeknight dinner with just 7 pantry staples in 10 mins. It's tasty, rich in protein, fiber, budget friendly & great for kids. No gummy noodles plus you won't miss the meat at all. Vegan. Vegetarian. Gluten-Free. Video Recipe.

Prep Time 2 minutes

Cook Time 10 minutes

Total Time 12 minutes
Ingredients
2 tbsp olive oil
1 tsp garlic, crushed
1/2 cup onion, diced
8 oz. tomato or marinara sauce
1/2 cup lentils, rinsed
2.5 cups water
1 tsp salt
parsley for garnishing
Instructions
Heat Instant Pot to "Saute." Add oil, garlic, and onion. Cook until onions are translucent and garlic is fragrant for a couple minutes.
Add tomato or marinara sauce, lentils, spaghetti, salt and water. Stir to combine and make sure pasta is submerged in liquid. Cover lid and turn valve to Seal.
Pressure Cook on "High" or "Manual" for 10 minutes. When the timer goes off, turn valve to Vent to Quick release the pressure.
Toss in the spaghetti with sauce and Keep Instant Pot on Warm. Let it wait for about 5 minutes, before serving. Garnish with parsley.
Notes
You could also use Glutenfree spaghetti for this recipe.
Stove Top Method
If you don't have an Instant Pot and would like to make this recipe, use cooked lentils for this recipe. Cook the spaghetti as per the instructions on the package. In a pan heat oil, sautee the garlic and onion, until it's fragrant then add tomato or marinara sauce, cooked lentils, salt and cooked spaghetti noodles and allow to cook for a couple mins. Garnish with parsley and serve it hot.
Recommended Products
As an Amazon Associate and member of other affiliate programs, I earn from qualifying purchases.