More than a month's worth of vegetarian/vegan, diverse & easy kids lunchbox ideas. If you are like us where mornings are busy or rather chaotic and lunches are quick easy or meal prepped, then here are 40 easy kids lunch box ideas that will come handy soon. Bookmark this page or Pin it for later before you get distracted by all the ideas below :)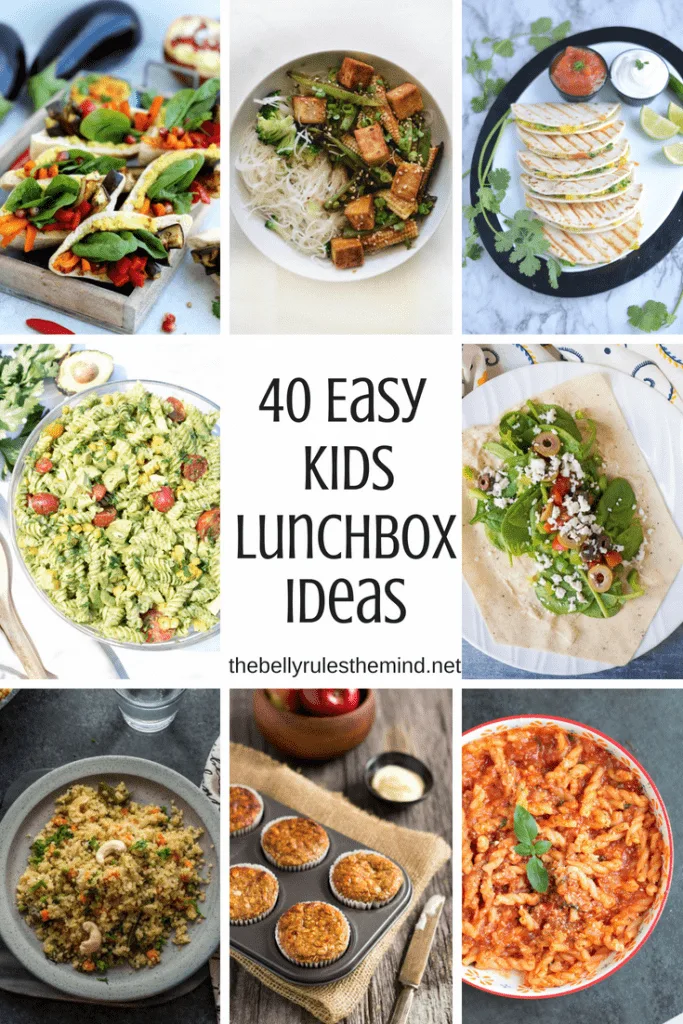 For this post, we collaborated with fellow bloggers, so a big shout out to each one of them for their contribution. Here you will find ideas contributed by fellow bloggers as well as some of our favorites from The Belly Rules The Mind. Each recipe and photograph is hyperlinked to its recipe page. Saved the best recipe for last :)
Broccoli Corn Quesadilla - Qusedadilla's are a great way to sneak in nutritious veggies like Broccoli. Our Broccoli Corn Quesadillas are always a hit and the kids always ask for more. The lunchbox always comes back empty. Get this recipe here.
Rainbow Wraps - These crunchy, fresh and nutritious, colorful wraps by Recipes from a Pantry make a perfect lunchbox idea. In fact I wouldn't mind some too. Slather your favorite spread like hummus, pesto or peanut sauce. Or make them Gluten-Free using Corn Tortilla. Try these wraps today. For the recipe, click here.
Muffin Tin Sushi Cups- These Muffin Tin Sushi Cups by Rhian's Recipes are super easy to make, so adorable and full of healthy goodness! They're vegan and gluten-free, and easily customizable. To try out this recipe, click here.
Paleo Green Buddha Bowl - Let's get innovative with kid-friendly Buddha Bowl by I Heart Umami. A perfect bowl to get the kids to eat more veggies. If you follow a Vegan diet, you can substitute the eggs with flax egg. You can try this recipe here.
Vegan Instant Pot Arrabbiatta Pasta -Ready in 15 minutes, from chopping to packing, it's my son's favorite. This isn't cheesy and sticky at all where you need to worry about reheating because it's vegan. Pack it in a thermos and nothing beats a bowl of warm comfort food, pasta for lunch at school. Can be made gluten-free. Try this recipe here.
Fruit & Nut Salad with Berry Vinaigrette - It's a good idea to introduce clean eating to kids. Once a week could be a clean eating lunch and this Fruit & Nut Salad with Berry Vinaigrette by Hezzi D's Books and Cooks could be a good starting point. It's super simple and easy to prepare too. You can get the recipe here.
Chickpea Avocado Salad, Vegan -Made with whole foods and plant-based ingredients, this salad by Cozy Peach Kitchen makes an awesome dip or spread it on a toast or wrap. Lunch is ready. Get the recipe here.
Greek Hummus Wrap - 10 minutes is all you need to pack this wrap by Hungry Healthy Happy for school lunch. Colorful & delicious flavors. Can be made vegan and gluten-free. Try the recipe here.
Keto Brownies, Gluten-Free - Who wouldn't love a surprise treat in the lunchbox. These flourless keto brownies with walnuts by Savory Tooth, are perfect for that. Only 1.5g net carbs each and easy to make. Great for low carb, paleo, sugar free, and gluten free diets.Can be made vegan too, replace the eggs with flax eggs. Get the recipe here.
Dhokla Savory Semolina Vegetable Squares - These squares are a super hit recipe from our blog. We bake these all the time. Super easy batter made with semolina, yogurt and lots of veggies. This one batter alone can make seven different recipes with just minor tweaks. Give them the shape you like, bake them into muffins in a sheet pan or sqaures, the kids will love the soft sponginess of these delicious bites. Get the recipe squares recipe here and the muffin recipe here.
Beetroot Falafel, Vegan - These baked Beetroot Falafels by Foodcow are super nutritious. Loaded with chickpea and veggies these are vegan, & can be made paleo and whole30 too. Easy to put together, you can make a large batch and freeze the uncooked falafel. Get the recipe here.
Burrito Pie Casserole - Delicious Mexican ingredients sandwiched between tortillas by Dinner Mom Cook. I would make this the night before for dinner, make some extra and pack it for lunch the next morning. Hitting two birds with one stone. Can be made vegan and gluten-free. Get the recipe here.
Cajun Tofu Wraps - Spicy baked cajun tofu covered in cajun ranch dressing and wrapped up with cheese and veggies in a high fiber wrap, by The Live-In Kitchen. How good is that? Can be made vegan and gluten-free.
Easy Chickpea Salad Sandwich - This Sandwich by Healthier Steps is not only delicious but super easy to make. It's vegan and made on gluten-free bread. Loaded with the goodness of fresh veggies. Check out the recipe here.
Burnt Garlic Cilantro Noodles - Another hit recipe from our blog that not only the kids love but we love too. A noodle preparation, where you can empty out your refrigerator and toss in all the veggies and protein you have. If you are not a morning person, prep the night before and all you need to do in the morning is just stir fry the noodles and veggies in a wok. These noodles are full of Indo-Chinese flavors. Get the recipe here.
Apple Protein Muffins - Who doesn't love muffins? If your mornings are like ours chaotic, then these Apple Protein Muffins by One Clever Chef make an awesome option to go in the lunchbox. A healthy recipe that is almost fat-free and loaded with plant-based protein. Can be made vegan. Get the recipe here.
Pita Pockets with Roasted Veggies and Hummus - These Pita Pockets by Happy Kitchen Rocks are nothing but nutritious. Pick wholegrain Pita for the fiber and the nutrients. Roast the veggies as that's the best way to cook veggies and flavor it with hummus, full of protein, fiber, and healthy fats. Get the recipe here.
Avocado Pasta Salad- This Pasta Salad by Served from Scratch is loaded with nutritious ingredients. It's super easy to make and has a secret ingredient, the kids would never guess. Check it out here.
Curry Spiced Lentil Burger Patties - These plant-based burger patties by Savory Spin are simple, easy and full of flavor. Pack them as is, in between a sandwich or burger buns and these will make an awesome lunchbox option. To try the recipe click here.
Mung Beans Crepes - These Mind Lentil crepes are known as Mund Dal Chillas in India. Think of these as the Indian Savory Crepes made with the might Mung beans. We make these all the time at TBRTM. these are vegan and gluten-free and literally as easy as tossing the ingredients into a blender to make a batter and then spread it on a pan or pour it in your waffle maker. Get the recipe here.
Veggie Tofu Stir Fry - A perfectly balanced bowl of carbs and protein by Shivani Loves Food. Noodles plus anything is always a hit. Can be made Vegan. Give it try here.
High Protein Vegan Breakfast Burritos - Full of nutrients and southwest flavors, although these are breakfast burritos by Beyond Mere Sustenance, they would make an awesome lunch option. Loaded with black beans and tofu, now that's gotta be good.
Sun-Dried Tomato, Chickpea Cakes with Cashew & Oats - An awesome vegan and gluten-free lunch option for the kids made from pantry staples by Jagruti's Cooking Odessey. Smash em on a Toast or enjoy them as is because they are super easy to make. Get the recipe here.
Heirloom Beans - These Heirloom Beans by Healthy Slow Cooking are super easy to make. Flavorful with a dense texture, these beans can be paired with quinoa, rice or simply use them in a burrito bowl. Get the recipe here.
Quinoa Bites - Our nutrition packed Quinoa Bites are a mess-free finger food and super easy to make. Instead of frying these are made in an Aebleskiver Pan or the Appe Pan, the Indian equivalent to the Aebeleskiver Pan. Get the recipe here.
Baked Cheesy Roti Chips - Give those leftover Rotis or Tortillas a makeover and turn them into the chips. Stuff the flatbreads with your favorite greens if you like and pair them with your kids favorite dip. Such an awesome idea by Herbivore Cucina. Get the recipe here.
Bread Poha - Giving yet another makeover to the classic bread, with Bread Poha by Simply Vegetarian 777. Ready in 20 minutes, this Poha comes together easily and is mess free. Enjoy the bold Indian flavors. Try this recipe here.
Easy Sheet Pancakes - OMG, pancakes just got so much easier Make your favorite pancakes without all the flipping and flopping. Love this idea by The Write Balance. Get the recipe here.
Spinach Artichoke Mac & Cheese - Mac and Cheese, just got healthier. Try Ministry of Curry's healthy additions like Spinach and Artichoke the next time you make Mac & Cheese. Yum! Get the recipe here.
Black Bean Corn Salad with Pichuberry Dressing- Our quick and easy Black Bean Corn Salad is super easy to put together on those busy mornings. Kids can enjoy this as a salad or as a dip, it's delicious with our Pichuberry Dressing. It's vegan and glutenfree. Check it out, here.
Paneer-Pistachio Spinach Stuffed Parathas - This is what you get when the easter Paratha (flatbread) meets the western Pesto. Imagine the burst of flavors when you stuff a delicious and nutritious Pesto in a Paratha style flatbread. Another awesome idea by My Roots My Rambles. Can be made vegan by using Tofu. Get the recipe here.
Lobhia Pulao Black Eyed Beans Rice - A leftover rice meal that can be packed for lunch the next morning by Let's Cook Healthy Tonight. Made with the nutritious and low-fat Black Eyed Beans, this is full of flavors. Get the recipe here.
Idli Manchurian - Another fusion that is a kids favorite by Vidhya's Home Cooking. The lip-smackingly delicious Indo-Chinese flavors in this Idly Manchurian come from giving those leftover Idlis a Chinese twist. Check out the recipe here.
Air Frier Bread Rolls - These vegan bread rolls by Ruchi's Kitchen are healthy, filling and made with simple ingredients. You can meal prep these the night before or the weekend and morning is a breeze. Try them out here.
Creamy Edamame Dip - If you want to keep lunch light and delicious, our Edamame Dip is a must try. Serve it with chips, crackers or veggies and sneak in some nutrition. It's vegan and gluten-free and above all it's yum. Try it yourself, get the recipe here.
Kidney Beans Patties with Swiss Chard - These Patties by Veena Azmanov are ready in less than 15 minutes. Super easy to make with some basic pantry ingredients. Get the recipe here.
Baba Ganoush - a roasted eggplant dip by Eating Richly that is full of flavor and nutrition. It's easy to make and a great way to get veggies in your kids without them even noticing. Pait it with flatbread and it will be yum. Get the recipe here.
Vegetable Quinoa Pulao - Just like a vegetable pulao or pilaf, this Vegetable Quinoa Pulao by Simmer To Slimmer is a delicious and great way to work more veggies into your meals with quinoa. For the recipe, click here.
Avocado Ranch Panini Sandwich - A perfect lunch option for those busy mornings by MrishTanna. Made with chickpeas, tomatoes, avocado and homemade ranch, this sandwich comes together easily. Get the recipe here.
Homemade Goldfish - Saving the best for last. This surely qualifies as a lunchbox snack that kids love. Our kids love Goldfish so we often make our own. We make ours with whole wheat and all you need is just five ingredients. So much healthier and better than the store bought Goldfish. To get the recipe and read all about why we prefer to make Goldfish at home, click here.
So bookmark this page or save it for later as it will definitely come handy once the school year starts. If you have a favorite that you would like to try first, leave us a comment. We love hearing from you. If you have friends and family who might like these ideas, please share this post with them on social media. If your still looking for more check out some of our other collections below that will make life easy for you.