Farali Pattice is a fasting recipe with tasty coconut and dry fruit stuffing covered with a crispy layer of mashed potatoes. Farali Pattice is the recipe that is highly in demand while festival seasons and while fasting (Vrat).
Fasting is an integral part of the Indian culture. Individuals observe different kinds of fasts based on their personal beliefs and local customs. Fasting is usually done to either show your sincerity and resolve or to express your gratitude. This is sometimes done by giving up some type of food or all food items for a day, a few days or weeks. Here is my low-calorie version of Farali Pattice, made in an appe pan(Aebleskiver pan)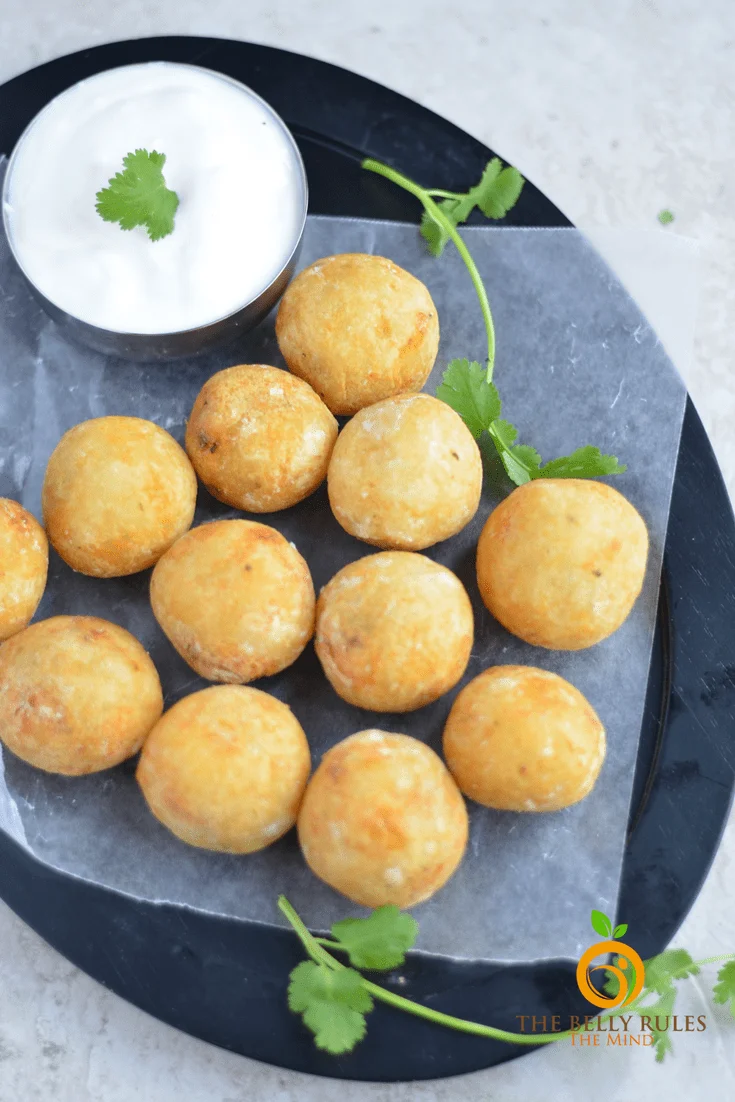 We at TBRTM have cooked a lot of things in appe pan over the past few years and have learned a lot of tricks as well. Do take a look at the 30 Appe Pan Recipes, Tips & Video outlining how the pan should be used. We have graduated a lot in terms of taking pictures and also understanding the nuances that our readers like. Coming back to the recipe... Today we hit the Mumbai street food on our blog. Most of you know the famous Batata Vadas, Sandwiches, Bhelpuri, Sevpuri and Dhoklas, however, not many have heard of another popular street food, the Farali Patties. I could say it is pretty much a North Indian version of Aloo Tikki, except that it's the stuffing that makes it special and different.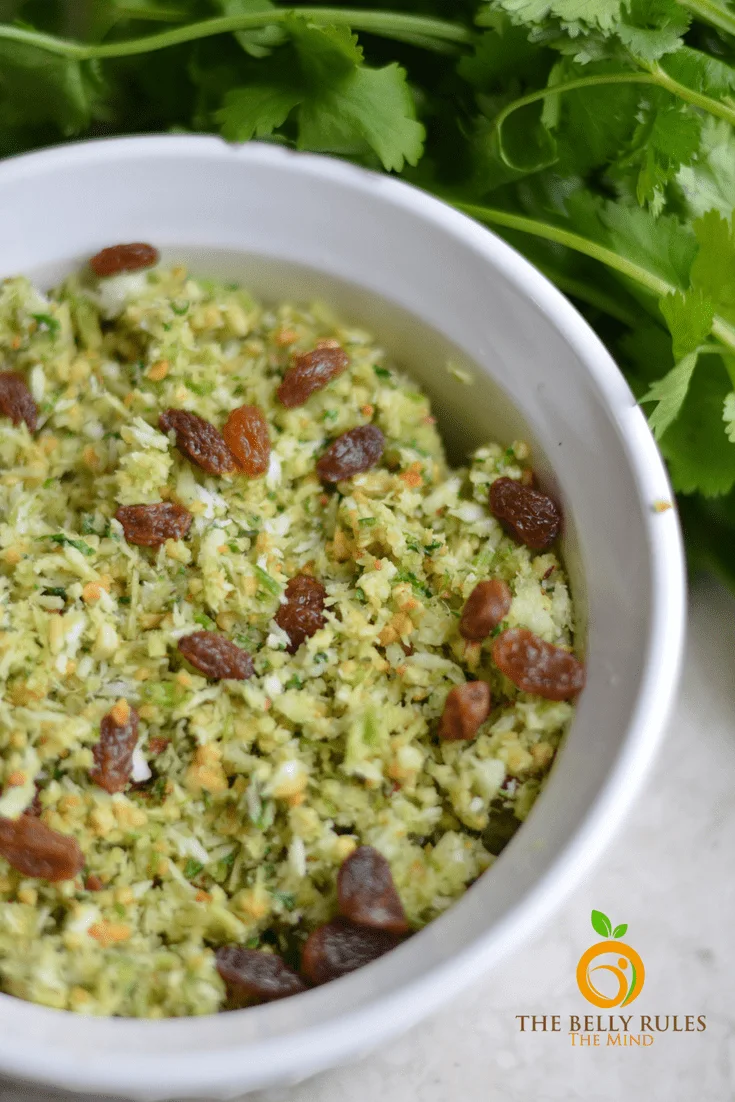 The word 'Faral' means fast or fasting. The stuffing is referred to as Farali as it is specially meant for those who are fasting. These patties are very popular in most Gujarati household during fasts. Typically, they are fried, but here is my low oil / no fry version of the same, made in an appe pan(Aebleskiver pan). The recipe is pretty quick to make and the long pole may be boiling and mashing the potatoes.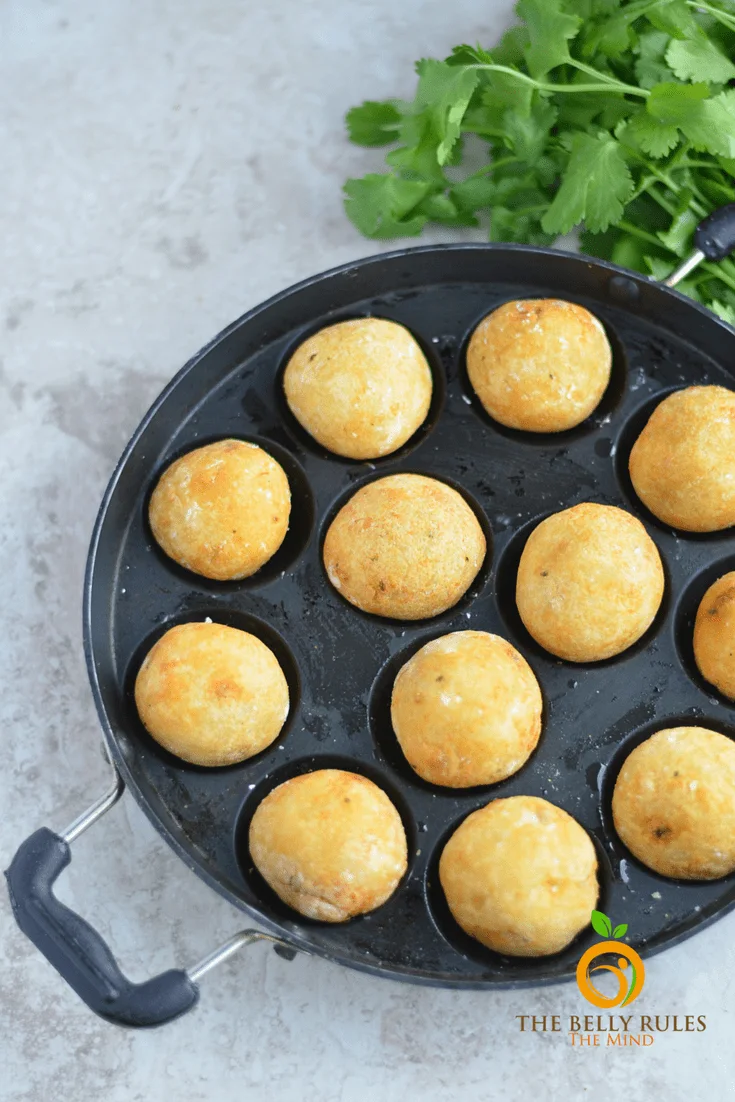 Farali pattice is a Gujarati recipe that is made during fasts. Sweet and spicy coconut, peanut and cilantro mixture stuffed in boiled potatoes, rolled in arrowroot flour. These are then fried until golden but we are cutting down the calories and making them in our appe pan..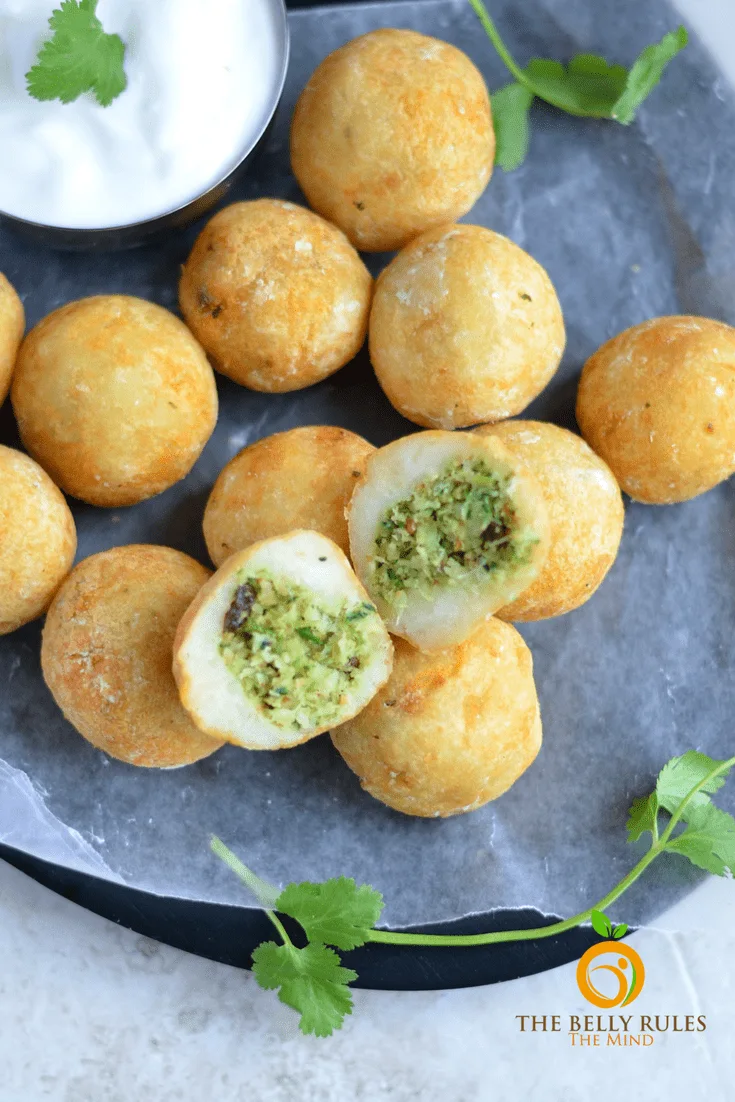 If you don't have a appe pan you can even shallow fry them. Enjoy with cilantro chutney, sweetened yogurt or tamarind chutney.
Though these patties are specially meant for vrat (people observing fast}, but you can enjoy them any time as I do !!
Use freshly boiled and mashed potatoes.
Use freshly grated coconut in the stuffing.
You can add more dry fruits if you like. I have added only raisins but you can also add cashew or even dried cranberries.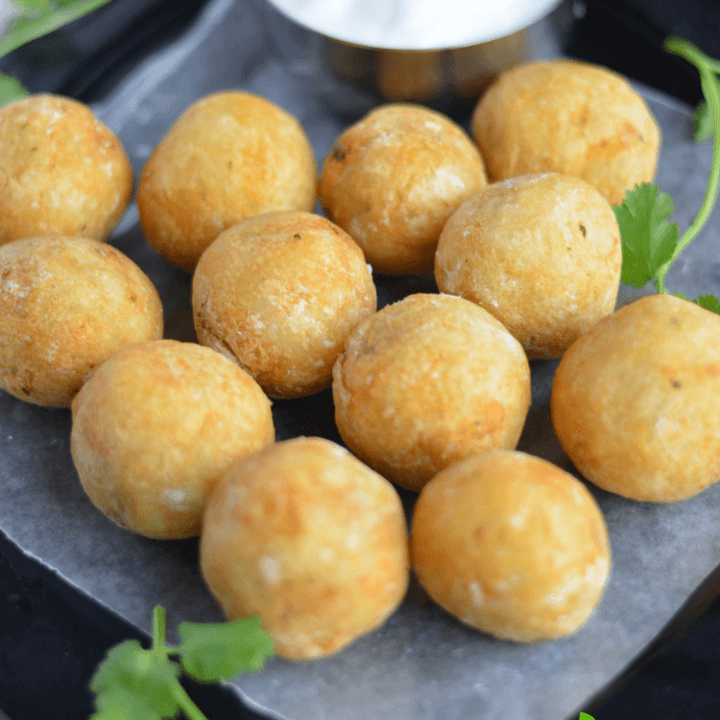 Farali (Fasting) Patties made in appe pan
Ingredients
For Stuffing
5 tablespoon coconut, freshly grated
3 tablespoon peanuts, roasted and coarsely powdered
3 tablespoon cilantro, finely chopped
1 1/2 teaspoon raisins, chopped
1 1/2 teaspoon cashews, chopped (optional)
1 tablespoon ginger - green chilly paste
1 1/2 tablespoon sugar
1 tablespoon lemon juice
salt to taste
Mashed Potato Mixture
1 3/4 cups boiled, peeled and mashed potatoes
salt to taste
Coating
Arrowroot powder
Serve it with
Sweetened Yogurt
1 cup fresh yogurt / dahi
3 tablespoon sugar
a pinch of salt
Instructions
Boil the potatoes , peel and mash them nicely.
In a chopper add all the stuffing ingredients and give it a nice whirl.
Evenly divide the mashed potato mixture & stuffing into equal parts.
Take a portion of the potato mixture and flatten it.
Put a portion of the stuffing mixture into the flatted potato mixture.
Bring together the edges of the potato mixture in the centre to seal the stuffing and shape it into a ball.
Coat them in arrowroot. Keep aside.
Heat the appe pan with oil in each section of the appe pan.
Cook each side on slow - medium heat for approx 5-6 minutes. Once cooked, keep tossing the side to make sure, the balls are evenly colored.
Serve them hot with either a chutney of your choice or sweetened yogurt.