Folks, welcome to yet another roundup of our most popular, most viewed and most pinned recipes. Our Appe Pan /Aebleskiver Pan roundup where we showcase Appe Pan Recipes or Appe Recipes that are unique and exotic and are made healthy. Now for those of you who don't know what an Appe pan is, don't you worry we have got you covered. In our post today we will share with you everything about the Appe Pan and some tricks that will help you get the most out of your Appe Pan.
You will not find most of these Appe Pan recipes / Appe recipes on the Internet (at the time of publishing of this article) as we have put in efforts and some innovative thinking to create recipes that are traditionally prepared with a deep fried ingredient. A lot of these items are prepared frequently by us for snack time, get-togethers or even at lunch and dinners.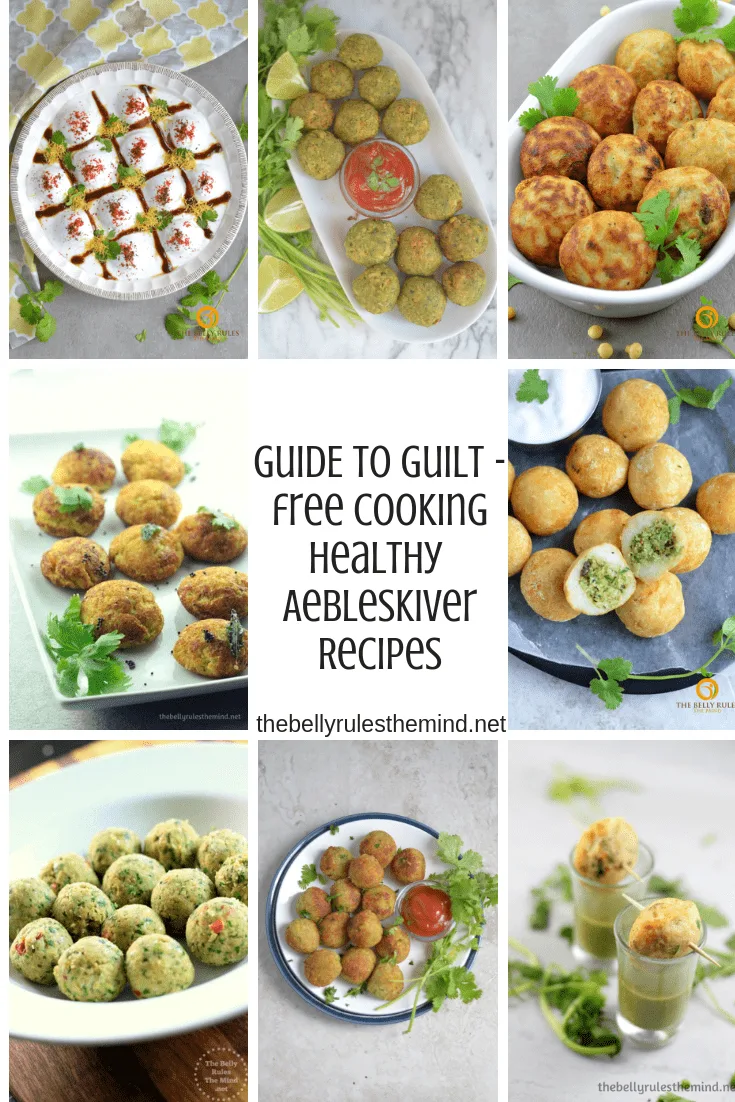 Appe Pan - One Pan Different Names
Appe Pan is known differently in different parts of the world and it's interesting to explore the different kinds of dishes made in it. It is also known as Paniyaram pan, Appampatra pan, Paddu, Unniappam, Aebleskiver Pan, Takoyaki Pan, Puff Pancake Pan, Paniyarakal pan. Some popular recipes are the traditional Appe or the Danish Ableskiver balls or Pancake Puffs. However we have taken the Appe Pan to a whole new level. We made, savory, sweet, spicy, crunchy, soft, moist, stuffed all kinds of balls in our Appe pans. Today we showcase some really exotic recipes from around the globe that we have made using our Appe pans.
Dahi Vada in an Appe Pan Video Recipe



We have been asked numerous times about how the Appe pan will cook ingredients that have a thick batter. To help answer that question, we created a video of Dahi Vada prepared in the Appe pan. The Dahi Vada batter is pretty thick and by viewing this video, you will get a good idea on how to turn the ingredients when one side is cooked. The video is unedited to help you view the process and the time it can take while making your recipe. Hope you like it.
Frequently Asked Questions for the Appe Pan / Ableskiver Pan

Q : Why buy this pan?
A: Both of us (Anvita & Soniya) love using our appe pans because it's such a great alternative to frying. We often hesitated to make recipes that involved frying. So now some of our favorite that we didn't make that often can be made guilt free and healthy without frying.
Q :Where to buy?
A : In India : Available at a local cookware store or you can order it online using Amazon or Flipkart.
Outside India : Available at an Indian Grocery store or Amazon .
Q : What brand should you buy??
A : We have personally tried the brands like Tabakh, Anjali, Prestige, Vinod, Nirlep and have been happy with them.
Q : What kind to buy and with how many cavities?
A : We personally prefer a nonstick because of the ease of use, cleaning & maintenance . However it's your personal choice and you can buy a cast iron too. We prefer to buy a pan with more than 6 cavities as it's easier for batch cooking atleast for a family of 3-4. Some come with a lid and some don't. It doesn't really matter. You can use any lid that is at home, if required. Most of the times we cook without the lid.
How to make sure the food is cooked from the inside in the Appe Pan?
Make sure the batter is similar to the consistency of or pancake batter. You should be able to pour the batter into the cavities. Before you begin to pour the batter make sure you grease the cavities 2-3 drops of oil or clarified butter and heat the pan. Don't hesitate to fill the cavities to the top. Make sure you are cooking on slow to medium heat. The first side takes couple a couple minutes to cook and turn golden brown. Once you start seeing bubbles in the cavities, it means it's time to turn the balls and cook the other side. Before turning, run a skewer around the edge of each cavity to ensure the ball is not sticking to the sides. To make a perfect round shape, make sure the batter doesn't stick to the pan, use a nonstick or very well-seasoned, heavy, cast iron pan. Make sure you practice the perfect balls a couple times before inviting someone over. Still remember our first batch. However we have come a long way. It sure takes a little practice to get the timing and the rhythm of turning just right. After you get the hang of turning , you will find the process quite easy.
Q : What kind of cooking range is it compatible with?
A : Works best on gas, induction and coil.
Q : How to clean it?
A : As soon as your done using the pan, wipe the grease off the cavities with a dry paper towel. After that pour some hot water ans detergent and keep it aside for a few minutes. Scrub & rinse and your done. T ensure it's longevity, please do not wash it in the dishwasher or use a metal scrubber.
Appe Pan Recipes / Appe Recipes / Appam Recipes

Now that you know a lot about the Appe Pan, we are giving you 30 ideas by means of 30 Appe Pan Recipes that you can immediately try with your Appe Pan. These recipes are in no means the only recipes you can make with Appe Pan, however this will give you a good head start to your healthy no-fry way of living. Get cooking !. You can click on the name or the images to open the recipe you like.
Quinoa Bites - These dip-worthy bites are pan-fried instead of deep-fried, hand rolled and cooked in Aebleskiver pan aka Appe pan. These Quinoa bites are delicious on top of a salad, or just as finger food for your next get together. The quinoa is blended perfectly with a white bean (in this case, cannellini beans) to make these bites a perfectly filling and feel good food.
Vegan Hara Bhara Falafel Kabab - The Vegan Hara Bhara Falafel Kabab are healthy, easy to make and delicious! You'll love this vegan Fusion recipe and it has a crispy texture with the perfect blend of flavors! They're rich in proteins too!
Savory Semolina Pancake Puffs / Sooji Appe Kid approved, savory pancake puffs / balls made with Semolina and loaded with the goodness of veggies. A perfect way to kickstart you morning.
Chickpea Fritters / Punjabi Kadi Pakode - Spinach & Chickpea dumplings dunked in awesome yogurt gravy, goes best with a bowl of steamed rice.
Paneer Manchurian Balls (Dry) - This Indo-Chinese lipsmacking snack is not only everybody's favorite but also made healthy. No panfrying, no cornstarch and still loaded with flavors. This one's a keeper. Best of all, it's kid approved too.
Dahi Bhalle/Dahi Vada- A popular street food snack where lentil dumplings are served with spiced and flavored yogurt, sweet and spicy chutneys.
Chickpea Quinoa Balls - These high protein balls made with chickpeas and quinoa make a healthy burger or sandwich lunch. Sure to keep you 'food satiated'. Vegan & Gluten Free
Veggie and Chickpea Flour Fritters - Soft and tender on the inside and crisp on the outside, these bite size dumplings are made with veggies, chickpea flour, semolina. Enjoy these healthy for breakfast, snack or dump in the curry.
Stuffed Paneer Pakoda - Soft cottage cheese cubes stuffed with a green chutney & garlic chutney, dipped in a chickpea batter and cook them in your Appe pan
Stuffed Bread Rolls-Non fried bread rolls stuffed with potatoes mixture is a healthy, delicious and tasty breakfast recipe.
Squash Kofta Curry / Lauki Kofta - Exotic vegan and gluten free vegetarian koftas / meatballs made with either calabash, zucchini or squash dunken in creamy Indian curry. Kid friendly and a great way to incorporate more veggies into your diet.
Tapioca Fritters / Sabudana Vada-A healthy take on delicious sabudana vada,easy and quick snack recipe made with tapioca pearls, boiled potatoes, roasted peanuts.
Mumbai Street Food - Batata Vada-Potato Fritter served in a burger style from the Streets of Mumbai is one of the most scrumptious Street Food you will ever eat.
Quinoa Lentil Vada -These easy, healthy Quinoa & Lentil Vada / fritters made in Appe Pan are Protein packed, gluten free and Vegan!!

Ragda Patties-These patties are made from boiled mashed potatoes and peas. You can use a filling of your choice for the patties like french beans, paneer, corn etc

Tapioca Potato Fritters / Fasting Dahi Vade - These dish can be made quickly when you are observing fast , are delicious and healthy too.
Moong Dal Chat / Lentil Fritters - Loaded with the goodness of protiens, these are a are a tweaked version of the popular Mung Dal Crepes. These energy balls can be enjoyed as dumplings or chaat.
Chickpea Flour Cilantro Fritters / Kothmir Vadi - A popular snack from the Maharashtrian state of India, made with chickpeas and cilantro as the main ingredients. Typically these are steamed however, we often make them in our appe pan.
Vermicelli Fritters-Try these delicious, low-fat vermicelli fritters/semiya pakoda.A perfect crispy pakora to serve with tea as evening snack especially during monsoon days.
Shahi Malai Kofta-Dumplings made with cottage cheese and Potatoes stuffed with cashews & raisins then simmered in a creamy gravy. Goes very well with Naan or rice.
Pesto Stuffed Mushrooms-they are fabulously tasty little flavor bombs!! it's such an EASY recipe and they are cooked in only 20 minutes!
No Fry Falafel - These Healthy Falafel recipe that is no-fry, vegan & gluten free. Packed with flavors of fresh Dill, Parsley and Cilantro. Not only are they healthy but guilt free too.
Zucchini Tots - Loaded with zucchini and some cheese . It's the perfect way to sneak in veggies, and it's just so good that they won't realize they are eating Zucchini
Farali Patties -A popular snack from the streets of Mumbai, which is not only consumed during fasts, but even relished an evening snack. These potato balls are stuffed with Cilantro, peanuts and Coconut.
Stuffed Taro Croquettes- Vegan & Gluten Free, lightly spiced taro root/arbi patties,add them in your choice of curry or have it just like that.
Vegetable Gold Coins-Bread roundels with a scrumptious mixed-veg topping & sesame seeds
Vegetable Manchurian - Manchurians are very popular form the Indo-Chinese cuisine. These manchurian balls are made with mixed vegetables and can also be served with fried rice or noodles
Shaam Savera - Spinach and Paneer stuffed balls served with Indian curry are a very popular maincourse full of greens and protein.
Hara Bhara Kabab- is a quick & easy vegetarian kebab made with goodness of spinach ,green peas, broccoli & bell peppers.Gluten free & Vegan recipe its an excellent starter snack.
Strawberry Donuts - Popular Danish pancake balls with stuffed strawberry, made in the traditional Aebleskiver Pan