Punjabi Kadhi with Spinach Pakora  – Kadhi Pakora is a Punjabi delicacy made very often in northern households.Made with yogurt, fenugreek seeds, and chickpea flour. Enjoy this recipe with Plain Boiled White Rice or Chapati! A very popular dish in entire South Asia with different regional versions: Rajasthani, Gujarati, Marathi, and Punjabi.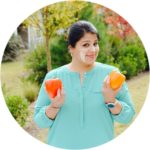 Kadhi is a flavored dish made in different parts of India. The cooking style, some key ingredients vary based on the regions. Punjabi kadhi is easily recognizable because it has Pakodas, fried dumplings made of chickpea flour. The pakoras could be Batata Vada or potato fritters, Zucchini Tots,  Spinach Pakoda / fritters (recipe in this post) etc.check out our Instant-pot Punjabi Kadhi recipe
Punjabi Kadhi Pakora is one of the yummiest of food memories from my childhood. It's different from any other curry you have ever eaten and oh so delicious! This recipe is from my mum's kitchen and believe me it turns out to be really lip-smacking every time. Sometimes, I don't even wait for rice to get cooked, rather I end up eating a bowl of Kadhi while tasting itself. Make sure you simmer the kadhi for just a minute or two after adding the pakodas/fritters so that they absorb the flavors but do not become soggy.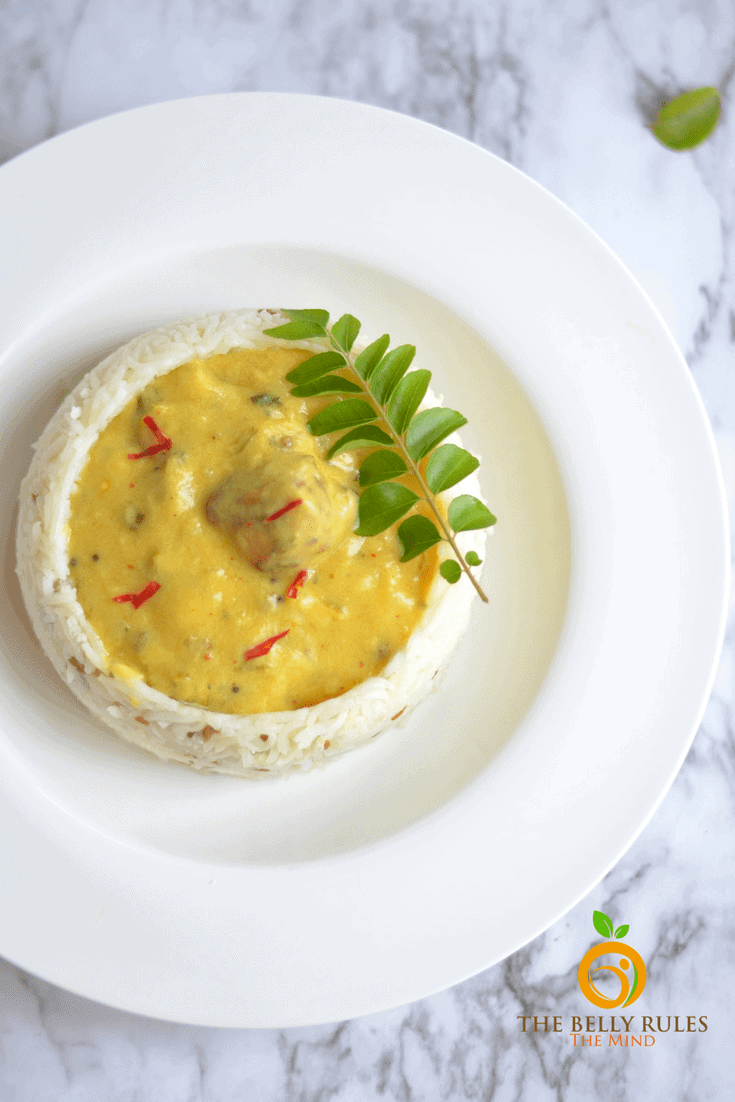 The best Kadhi is made with a day or two old yogurt that has gone a bit sour. I usually keep the yogut out of the refrigerator for 8 to 12 hours. If you don't have sour yogurt, you can make it sour by adding a little lemon juice or Dried mango powder ( Amchran) before cooking.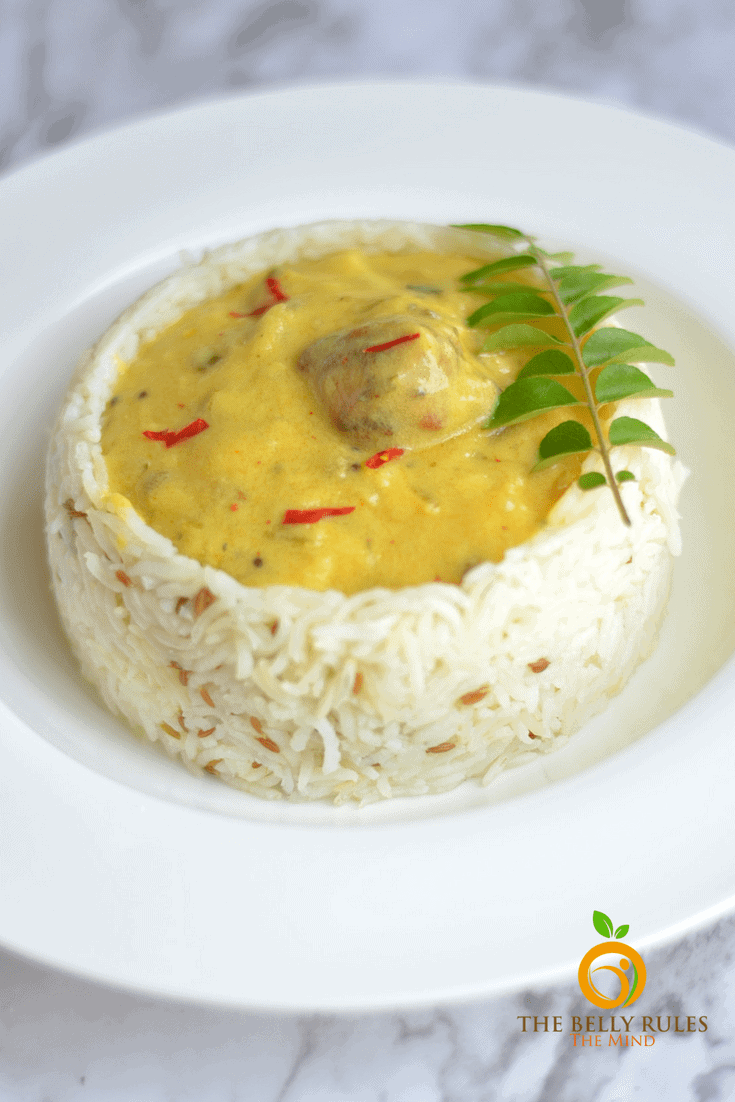 Making it might seem difficult but trust me it's not! The only thing you need to worry about is getting the kadhi to the correct consistency because the rest is pretty straightforward. Check out the recipe at the end and when you make it do let me know how it turned out in comments.
Coming back to more Punjabi recipes here are few for you :
Dal Makhani
Instant pot Dal Makhani
Tofu Matter
Makhane Matar
Instant-pot Punjabi Kadhi
If you liked this recipe and need some ideas and inspiration to enjoy guilt-free cooking, check out our most popular post on the blog: 30 Appe Pan Recipes, Tips & Video. If you would like to buy the Appe pan, we recommend buying the Tabakh brand from Amazon.
Punjabi Kadhi with Spinach Pakoda Appe pan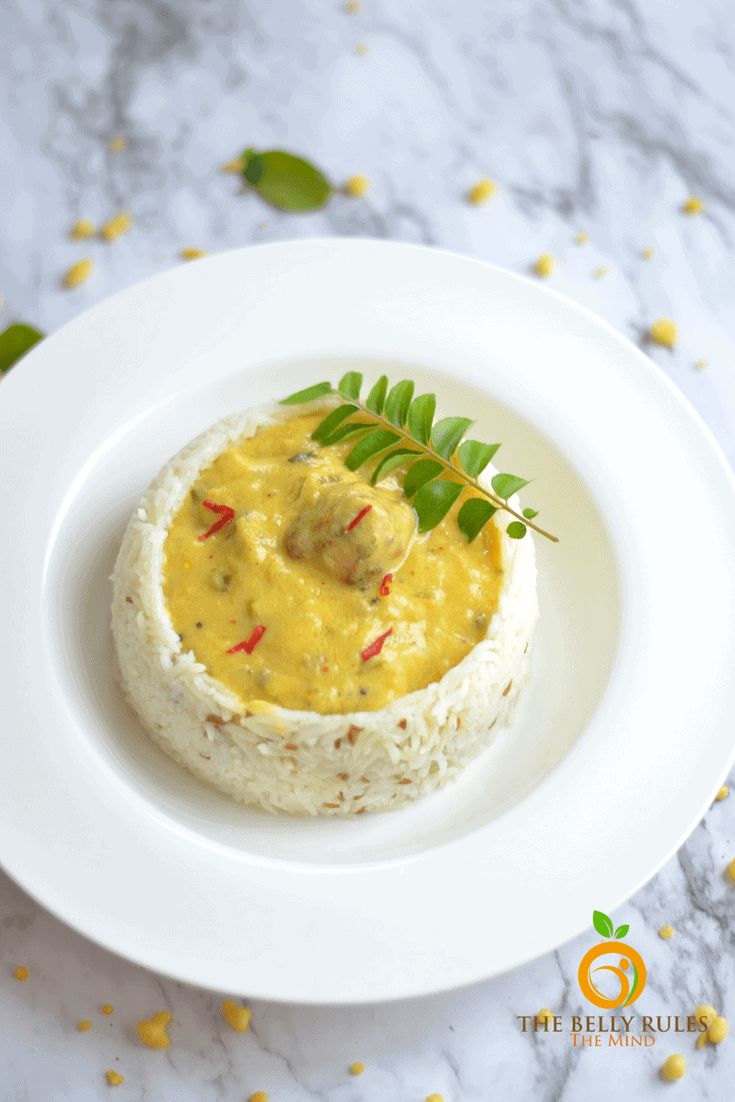 Ingredients
2 cups sour Yogurt/curd
1/2 cup Gram flour/Besan
1 Onion/ chopped
1/3 Tsp Asafoetida
1/2 Tsp Cumin seeds
1/2 Tsp Fenugreek seeds/methi daana
1/2 Tsp Coriander seeds
1/2 Tsp Turmeric powder
1/2 Tsp Red chilli powder
1Tsp Cumin/Corriander powder
Salt to taste
5-6 cups Water
1 Tbsp Oil
For the Spinach pakodas/fritters
1 cup besan /bengal gram flour
1 Bunch Spinach/ palak / Chopped
1 small Onion / Chopped
1 small Potato/ Grated
1/4 tsp turmeric powder /Haldi
1 tsp cumin seeds /Zeera
1 green chilli/ chopped
salt to taste
1 Tbsp Oil
Instructions
Combine the Yogurt,bengal gram flour , cilantro& salt .
Add 5-6 cups of water and whisk well using a whisk. Keep aside.
Heat the oil in a deep non-stick pan, add the mustard seeds ,cumin seeds, Coriander seeds, fenugreek seeds, curry leaves ,ginger & few green chillies and sauté on a medium flame for a few seconds and then add the chopped onions and sauté till translucent.
Add in turmeric powder, red chilli powder & coriander powder , add the Yogurt, black gram flour & water mixture, mix well and cook on a medium flame for 20-25 minutes, while stirring occasionally.
For the Spinach pakoda
Combine all the ingredients along with few Tbsp of water in a bowl and mix well to form a dough.
Apply little oil or water and make small golf size balls.
Heat the pan , add few drops of oil.
Add in the spinach fritters /pakoda in each cavity. Keep rotating it after every minute to get a nice round shape and even color on the pakoda. it will take around 8- 10 mins .
Just before serving Add the pakodas, mix gently and cook on a medium flame for 1 to 2 minutes
Notes
** If the Kadhi gets too thick after cooking , add some water and cook a little. **If Kadhi stays thin even after cooking for 20 minutes then add some more chickpea flour ** you can even make this punjabi kadhi in a Instant pot or a slow cooker .
https://thebellyrulesthemind.net/punjabi-kadhi-spinach-pakoda-appe-pan/