Cacio e pepe is a 4 ingredient recipe that is perfect for busy weeknight dinners. This easy pasta recipe uses pantry staples to create a delicious, authentic Italian meal right in your pressure cooker. Our cacio e pepe is ready with minimal fuss in less than 15 minutes. You and your family will love every bite and want to make it over and over again.
LET'S BE FRIENDS ON PINTEREST! WE'RE ALWAYS PINNING TASTY RECIPES!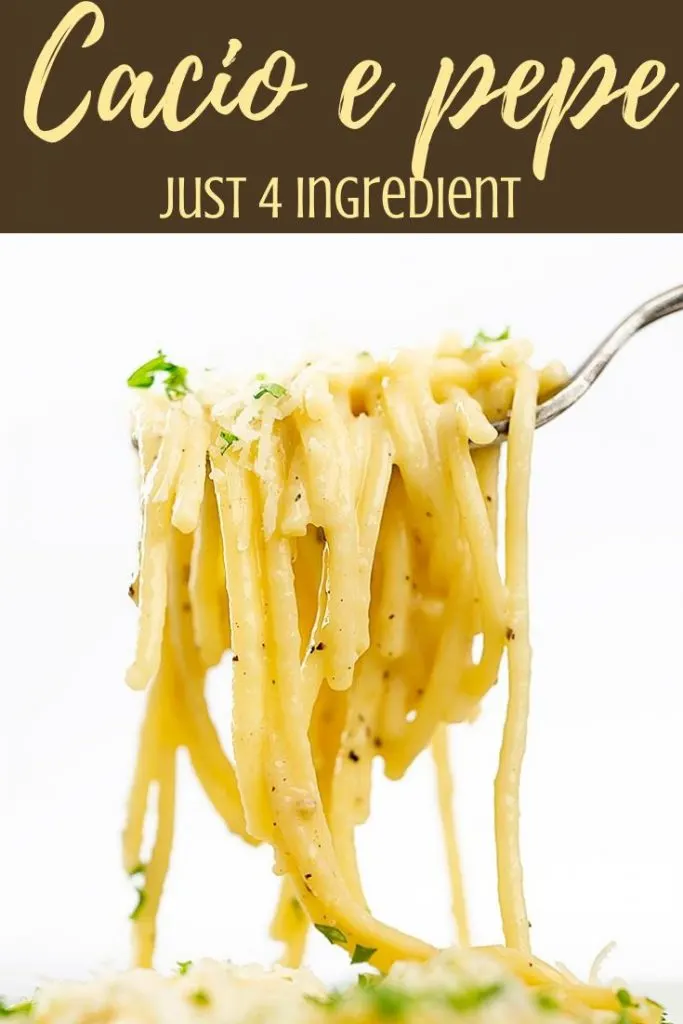 What is cacio e pepe?
"Cacio" is the Italian word for cheese. "Pepe" is the Italian word for Pepper. Put 'em together and you've got a humble Pasta with cheese and black pepper .
Cacio e pepe, pronounced 'ka-tchee-oh eh peh-pay,' is a favorite pasta of Rome, Italy. It is a simple pasta made traditionally with about 4 ingredients. Though it is short on ingredients, it is big on flavor with the salty, creaminess from the cheese and butter and a little bite from black pepper.
This it the perfect fast and easy weeknight pasta and one of our favorite standby recipes.
You can make it in less than 15 minutes in the Instant Pot or use your stove top for a quick, one pot meal.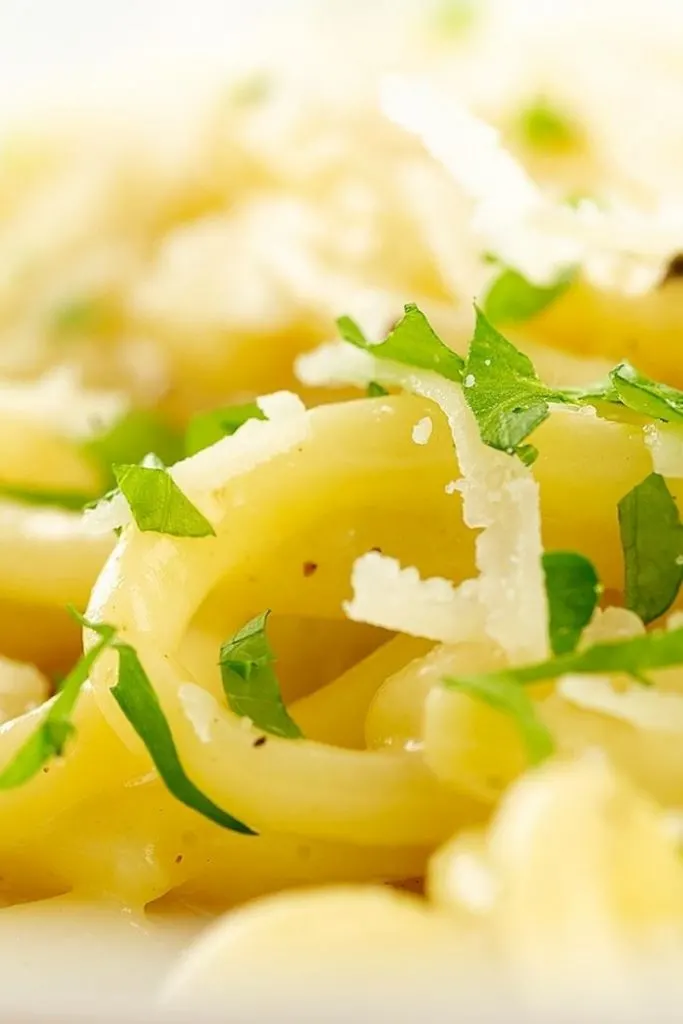 Cacio E Pepe Recipe Ingredients & Substitutions
You really don't need much to make cacio e pepe. It is one of the reasons we love it so much. You can make this recipe from ingredients you probably already have in your pantry and fridge even if you haven't had a chance to go grocery shopping yet.
Here's what you'll want to gather:
Spaghetti - bucatini or tonnarelli are highly recommended , but spaghetti works really well too.

Low sodium vegetable broth-adds tons of flavor.

Butter- Salted butter is my go to for this pasta dish, but you can use unsalted if you prefer.

Cheese- both Pecorino Romano cheese and Parmesan cheese

Freshly cracked fine Black pepper powder-
How to make cacio e pepe in the Instant Pot
Cacio e pepe is one of the easiest pasta recipes you can make. It's just like our Garlic Noodles in that regard. When you are ready to make this recipe, here's what you need to do.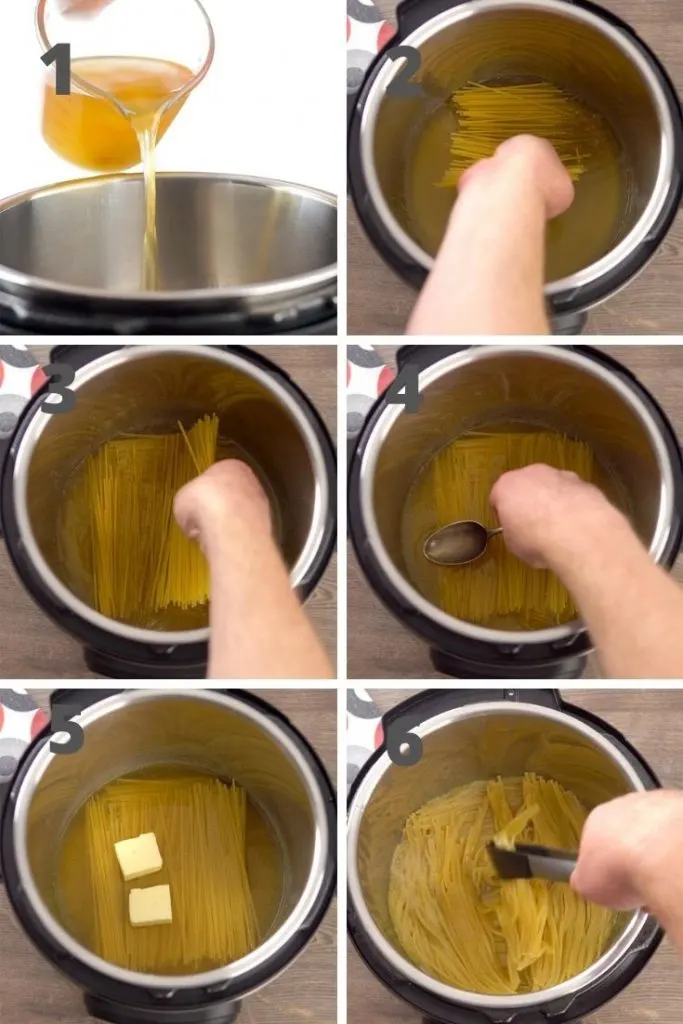 Start by pouring the broth into the inner pot of your Instant Pot. Next, break the noodles in half and place half the noodles in the broth. Add the second half on top using a crisscross pattern.

Use tongs or a spoon to gently push the noodles into the broth just enough to get them wet. Add 2 tablespoons of butter and place the lid on the Instant Pot. There is no need to stir the noodles once you add the butter.

Make sure the vent is set to sealing and set your Instant Pot to cook on high pressure for 5 minutes. Once the timer goes off, allow the pressure to naturally release for 5 minutes before turning the vent to open to do a quick release of the remaining pressure.

Carefully remove the lid on your Instant Pot. Use your tongs to stir the noodles and break apart any stuck piece of pasta. Stuck pasta is common when cooking noodles in the Instant Pot, so don't worry!
How to Make Cacio E Pepe Pasta on the Stove Top
We love using the Instant Pot for cacio e pepe, but you can make this recipe easily on the stove top too if you don't have one. Here's how to do it.

In a large pot, bring water to a boil. Add the noodles to the boiling water and cook according to the box's instructions. Often spaghetti takes about 8 to 10 minutes in boiling water, and you will need to stir it on occasion. You can also add a little bit of salt if you like, but that is optional.

Once the noodles are done cooking, drain the pasta and return it to the pot. Mix in the butter, cheese, and black pepper. Stir until the butter is completely melted and the ingredients have come together.

Serve it hot with your favorite roasted veggies, salad, or rolls. Sprinkle more cheese on top as a garnish.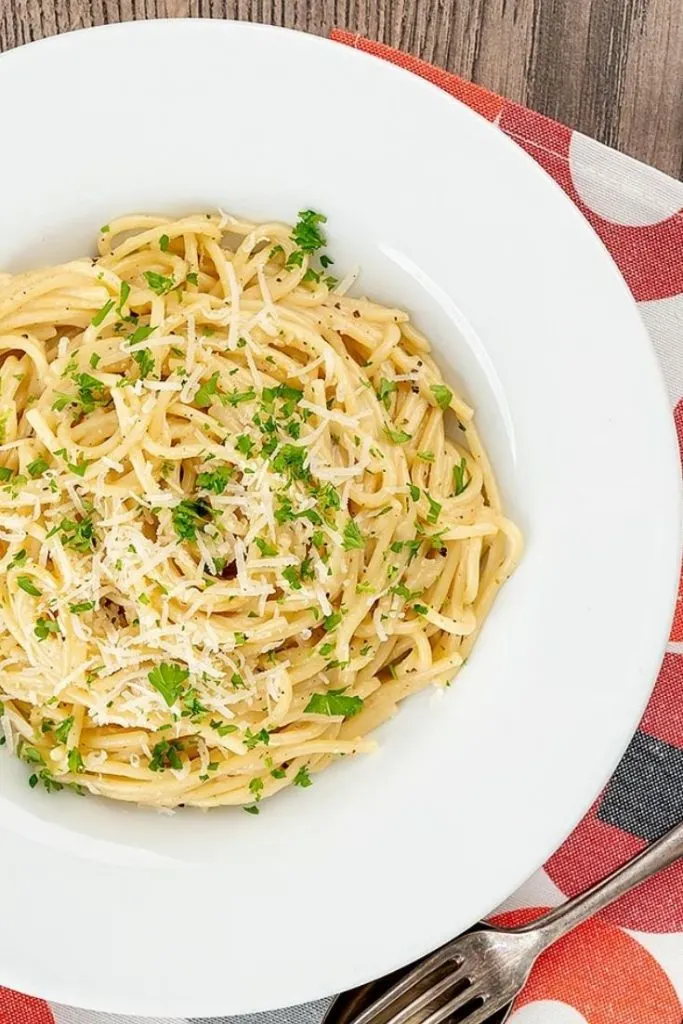 Pro Tips & Tricks for Cacio E Pepe Cheese & Pepper Pasta
Here are some tips for making the best cacio e pepe.
Make sure you turn off the Instant Pot, even warming, before adding the cheese. This helps prevent the cheese from clumping up.

Try not to substitute out the Pecorino Romano, this is the authentic cheese of the dish and offers a unique flavor to the dish.

Don't wait to add the cheese once it is done cooking. If you wait too long, the butter and cheese won't melt right.

For the best flavor, add in freshly grated peppercorn. They contain a lot more flavor than previously cracked black pepper which just offers added heat and little else.

Don't over cook the pasta if you are using the stove top. The noodles taste best when they are al dente which is soft with a small amount of firmness.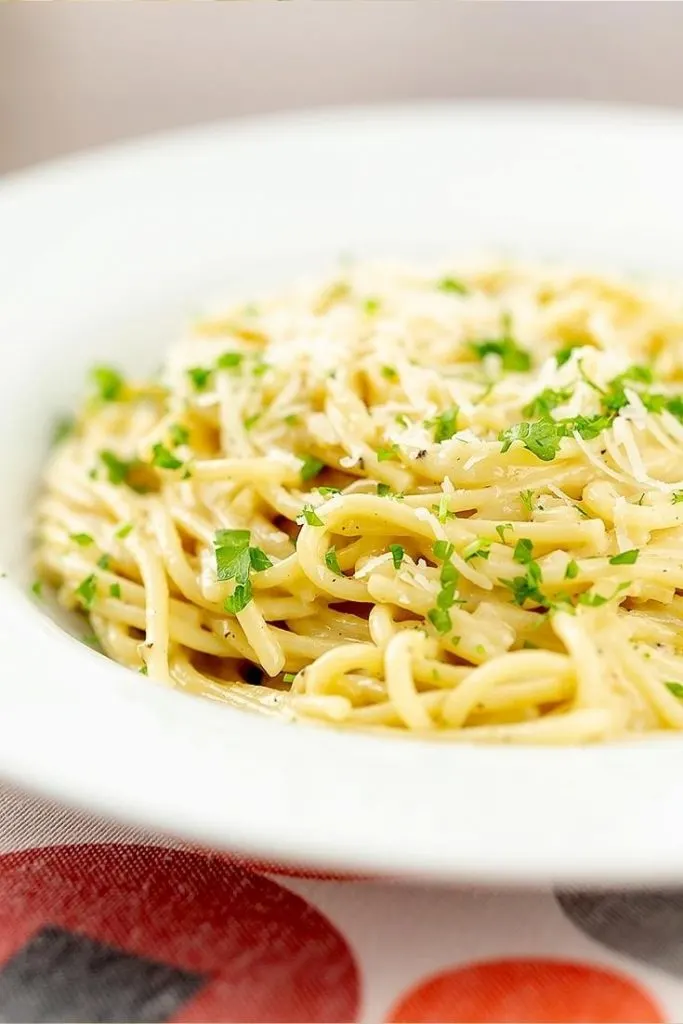 What other noodles can I use?
Cacio e pepe is made using tonnarelli in Rome. Depending on where you live, tonnarelli can be hard to find. You can use Bucatini or and thick spaghetti because it is about the same size.
How Can I Store Pasta Cacio E Pepe?
If you have left overs, you can easily store them for about 3 to 5 days in the fridge. To do this, allow them to cool to room temperature. Place them in an airtight container and place in them in the fridge.
To reheat, you can microwave them for a quick lunch or you could saute them in a small pot. If you use a pot on the stove top, you may want to add a small amount of butter or oil to rehydrate the noodles a bit.
We don't recommend freezing the noodles or making them ahead. They taste best fresh and you can make them in less than 20 minutes so they are a great meal for a night you are in a hurry.
Can I make this vegan?
You can make this vegan, if you prefer. To do this, you could use vegan butter and vegan cheeses. Or you could use olive oil and vegan cheese substitutes for parmesan.
Vegan Cacio E Pepe
Yes! You can definitely add vegetables to cacio e pepe. We recommend roasting veggies like mushrooms, peppers, onions, zucchini, or any of your favorites to add at the end. You could also saute them using either a separate pan or in the Instant Pot using a little bit of butter or oil, salt, and pepper.
If you don't want to add veggies directly to the pasta, we also recommend serving this recipe with a side salad.
Can I make this gluten free?
You can easily substitute in gluten-free noodles. The cooking time should be the same. If you use the stove top, make sure to follow the instructions on the box to make sure you cook them properly.
More Great Italian Pasta Recipes
If you are like us, you love Italian pasta. Check out these recipes for a taste of Italy any day of the week.
Made it? Tag us!
Did you make this recipe or one of our other recipes? Upload a photo on Instagram and tag us @dbellyrulesdmind or rate and leave us a comment below and let us know how you liked it!
4 Ingredient Cacio E Pepe
Additional Time:
5 minutes
Cacio e pepe is a 4 ingredient recipe that is perfect for busy weeknight dinners. This easy pasta recipe uses pantry staples to create a delicious, authentic Italian meal right in your pressure cooker. Our cacio e pepe is ready with minimal fuss in less than 15 minutes. You and your family will love every bite and want to make it over and over again.
Ingredients
8 0z Spaghetti
2 cups of low sodium broth
1/4 cup of grated Pecorino Romano cheese
4 tablespoon butter, divided in half (so you have 2 tablespoon + 2tbsp)
1/4 cup of grated Parmesan cheese
1 teaspoon of freshly cracked fine black pepper powder ( add more according to taste)
Instructions
Pour the broth in the Instant Pot
Break the spaghetti strands in half and spread them in two layers using a crisscross pattern.
Use a spoon or spatula and kind of press down to make sure all the noodles get some water on them.
They don't need to stay in the water, but just get all of them wet.

Add 2 tablespoon of butter. Do not stir from this point on.
Close the lid and turn the vent to sealing position.
Set the Instant Pot to manual high pressure for 5 minutes.
Once done, let the pot release naturally for 5 minutes, and then release the remaining pressure with the manual pressure release.
Open the pot and stir the spaghetti, use tongs to stir well, and pick apart any stuck pieces.
There will be a few stuck pieces. Stir in the rest of the butter 2 tbsp, cheese and give it a nice stir.
The sauce will start to thicken.
Add in the freshly cracked black pepper and give it a quick stir
Serve it hot garnish it with some more grated cheese

Recommended Products
As an Amazon Associate and member of other affiliate programs, I earn from qualifying purchases.