These Baked Crispy Chickpea Snack Sticks are a simple and delicious recipe and a real treat for weight watchers. They are usually deep-fried and contains loads of calories, however, we are presenting you a baked version to help you snack better. You can learn how to make them crispy by baking them in an oven through this recipe post. Munch them at any time of the day when hunger strikes.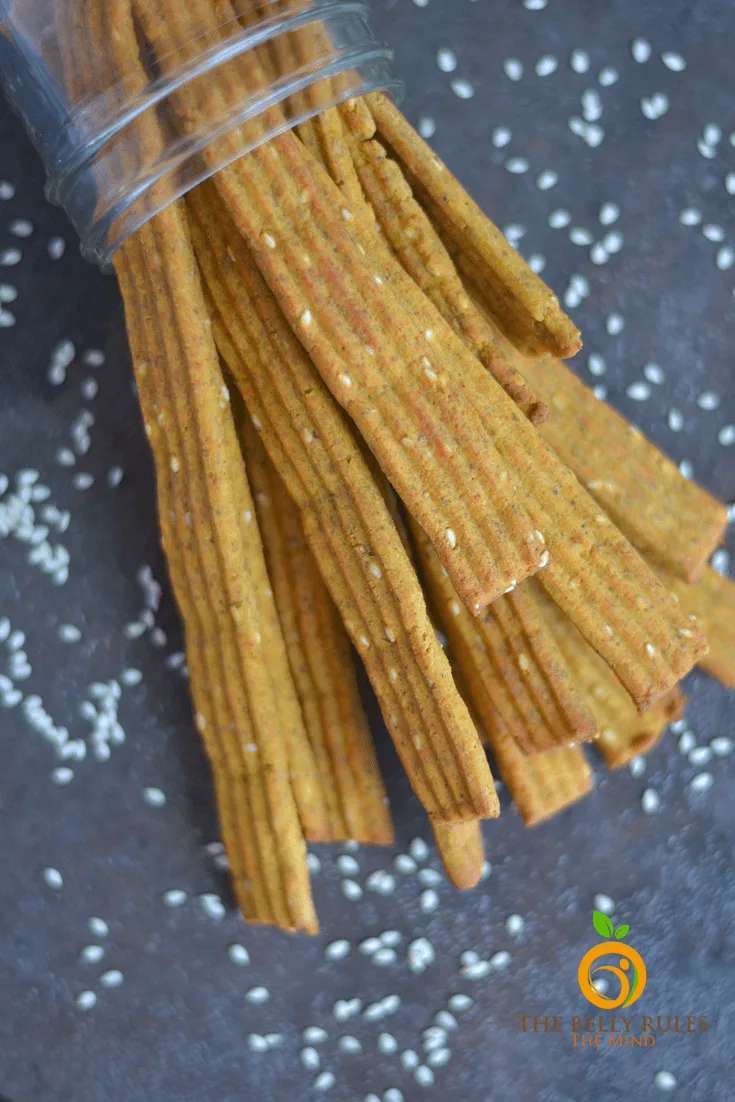 This Baked Crispy Chickpea Snack Sticks tea-time snack has a unique shape and has several names. People call it Murukku, Chakli, chickpea sticks etc. Summer Vacation has just started in the USA and my kiddos, R2 & R3, being home are hungry all the time :P They love to snack on crackers or chips or anything crispy as the love crunchy stuff. We try to give healthy home-made snacks to our kids so that we know what ingredients the kids are eating. Our whole wheat mathri snack is always a big hit in my house and recently I had huge success preparing the multigrain flour lavash. The crispy nature of these snacks makes them an instant hit with the kids.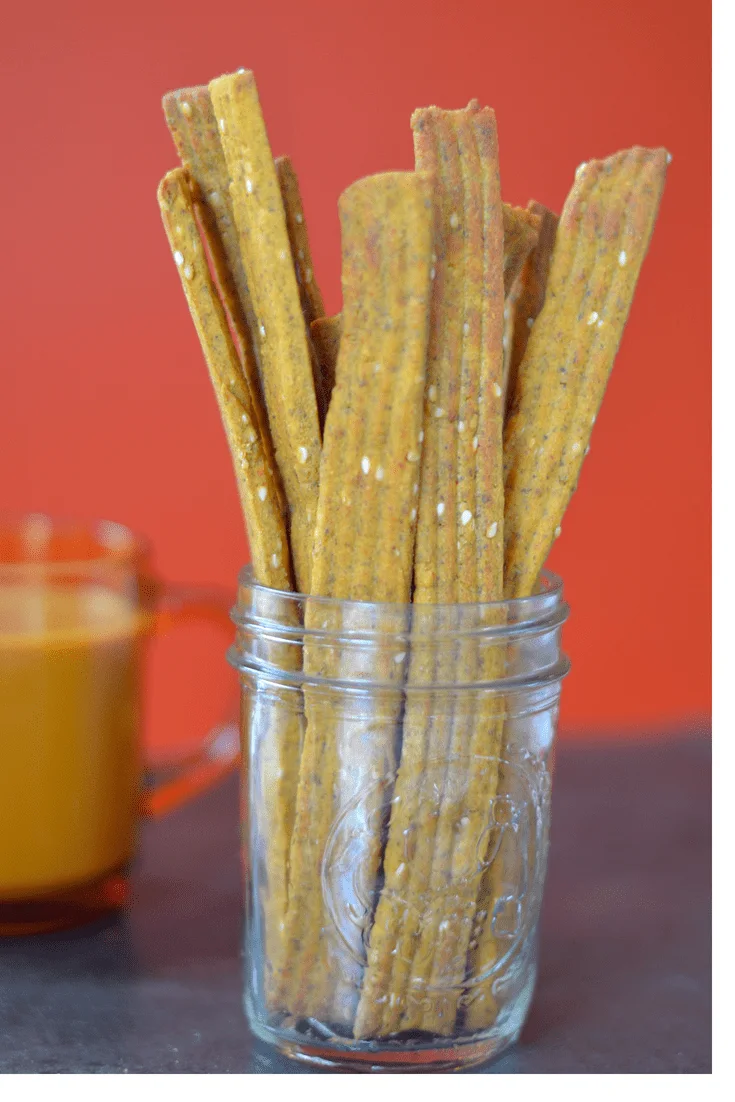 I enjoy making this Baked Crispy Chickpea Snack Sticks with both my kiddos, my not so tiny anymore helpers, and instead of going the traditional way or preparing chakli / murukku, we used my cookie press and they simply loved the experience in making these. We made it in a form of sticks so that its easy for kids to hold and eat< -------(This was my 11-year-old R2's idea). We try to engage the kids in cooking as that they feel they are preparing snacks for themselves and they are more inclined towards eating them.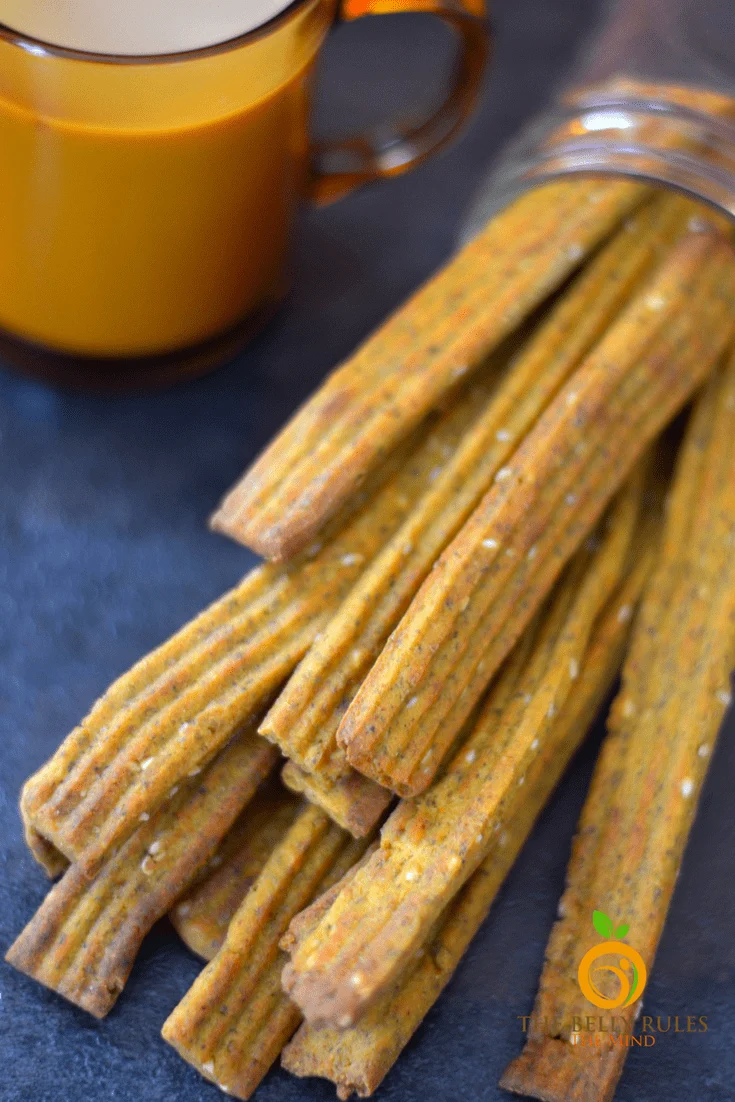 I will be making these Baked Crispy Chickpea Snack Sticks for this Diwali, am sure everyone will love this snack especially kids! Those from the store are definitely not healthy and have too many unwanted ingredients. That is why we made my own. All you need is few basic ingredients easily available in your pantry! My kiddos like them, and I like them, which means they are a winner. With summer at hand, we always look for snack recipes that are road trip worthy and don't mess up kids clothes. Do check out Healthy Road Trip snack recipes that you could prepare at home and snack on while traveling.
These Baked Crispy Chickpea Snack Sticks are an easy-to-make, delicious and savory snack – and they are also great served alongside a bowl of soup or a salad or even as a tea time snack! Very easy to make and they keep well in an airtight container.
Store them when cooled in an airtight container for up to 2 weeks. Be sure that they're dry once baked. Undercooked crackers will become stale very quickly and cause the others in the jar to do the same.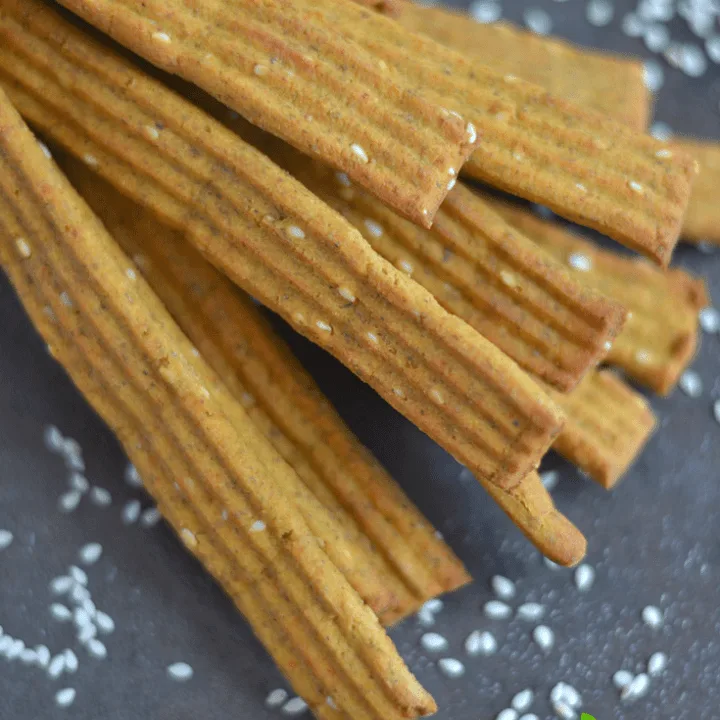 Baked Crispy Chickpea Snack Sticks (Vegan + Gluten-free)
Ingredients
1 cup bengal gram flour
1/4 cup rice flour
2 teaspoon sesame seeds
1/2 teaspoon chilli powder
1 tablespoon dried Fenugreek leaves/optional
1/4 teaspoon asafoetida
1/4 teaspoon turmeric powder
2 tablespoon oil (reserve 1tbsp for brushing it on the stick before baking
2 tablespoon yogourt / use coconut yogourt for vegan version
salt to taste
Instructions
Combine all the ingredients in a bowl.
Mix well and knead into a soft dough .
Now take your cookie press and place the long thin cookie plate with zigzag design on it
Make long strips and then cut it in desired length.I have cut it into thin sticks with a help of a pizz cutter (as Seen in the picture)
Bake them in a preheated oven at (360°f) for 20 minutes
Cool and store in an air-tight container.