It's that time of the year when the weather is finally getting warmer and nicer and the long weekend is around the corner. In the US, a long weekend in summer mostly translates to either a shopping holiday, beach holiday or a roadtrip. So if you guys are planning a road trip for the upcoming long weekend, and wondering what food to carry that is healthy and lasts you atleast a week. Here's a list of 20 healthy snacks for the Road Trip from the blog. Some are sweet, some are savory while some can be made into kids projects. Please note that these are some of our older posts so the pictures are not the best, but those of you have tried our recipes can vouch for our recipes. Back then we didn't realize the importance of taking good pictures for a food blog. However we can proudly say we have stepped up our game now :) Thanks.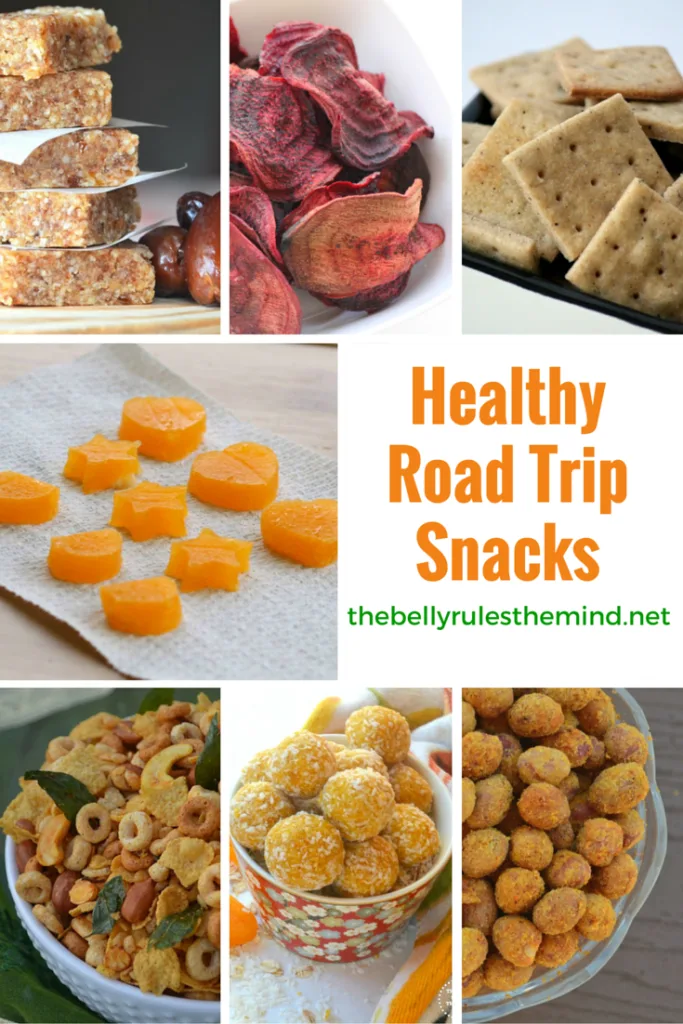 [adinserter block="2"]
Wheat Crackers - These wheat thins are ready in under 10 minutes. Bake them with your favorite seasonings. We like to flavor them with cumin, carom, dried fenugreek leaves or even spinach. A huge hit with the family.
Apricot Energy Bites With just 3 healthy ingredients these are ready in under 10 minutes. These are Glutenfree, Dairy Free, Sugar Free, Vegan & Paleo.
Almond & Date Squares Healthy treat for the road loaded with the goodness of dates and almonds.
[adinserter block="2"]No Bake Cereal Bars With just 5 ingredients these no bake treats are a great project with the kids.
Vitamin C Gummies With just 3 ingredients these gummies are a perfect treat for the kids when on the road.
[adinserter block="3"]Tutti Fruti Cookies Everybody enjoys a sweet treat on the road specially when they are mildly sweet, crunchy and crisp.
Fruit Rollups Although it's best to consume fruits as it, who doesn't enjoy a variation. These make a great kid snack as they are fruity and healthy.
[adinserter block="2"]Date & Nut Balls These no cook balls are made with dates, nuts and peanut butter. How good is that when you don't even have to cook them?
Cranberry Cookies These delicious cookies are made with whole wheat. Add your favorite dried fruit and make them your own.
[adinserter block="3"]Taro root Chips Slice them, season them and they are ready in under 15 minutes.
[adinserter block="2"]Trail mix Make you own raw and unprocessed trail mix in 2 minutes, by adding your favorite nuts and seeds.
Instant Masala Peanuts Spice up your road trip with these Vegan and Gluten free masala peanuts
Cereal Chivda This is a perfect medley of cereal, dried fruits and nuts with a dash of spice.
Zucchini Chips - Healthy snack loaded with flavor and crunch.
[adinserter block="3"][adinserter block="2"]Goldfish crackers These are an absolute delight to make with the kids. Take their favorite cookie cutter and make crackers with them.
Beetroot Chips Lover of all things crispy and crunch, you will love these Beetroot chips.
Roasted Peas - Surprisingly easy to make. Flavor them with your favorite seasoning and enjoy this delicious crispy crunchy snack.
[adinserter block="3"]Potato Chips Don't have too much time on your hand, try these last min Potato Chips for the road.
Veggie Biscuits These savory biscuits are loaded with the goodness of veggies are a great way to sneak in veggies in your diet when on the road.
[adinserter block="2"]Kale Chips Fresh kale leaves baked into delicious good for you chips
Do you have a favorite? Which is the first one you will try? Don't forget to tag us when you try these recipes. If you are looking to pack a perfect travel bag, the Travelling Panda has some awesome ideas to share with you. Click here to read the post.