If your kids love Goldfish crackers, here is why you need to ditch the store-bought Goldfish and start making your own. Recipe included. This super easy and quick goldfish cracker recipe is fun to make with kids.
[avatar user="thebellyrulesthemind" size="thumbnail" align="right" link="https://thebellyrulesthemind.net/about-us/" target="_blank" /]
Raise your hand if your child is a fan of Goldfish Crackers. Ours too. They were not introduced to Goldfish at home but they were introduced to it in pre-school. Too bad huh!!! Why, you ask? You are probably wondering what is wrong with those cute little fish crackers that almost every child loves? That is exactly what this post is all about. Hopefully, after reading this post you will throw away your stash of Goldfish and start making your own. This Goldfish crackers Recipe is super easy to make.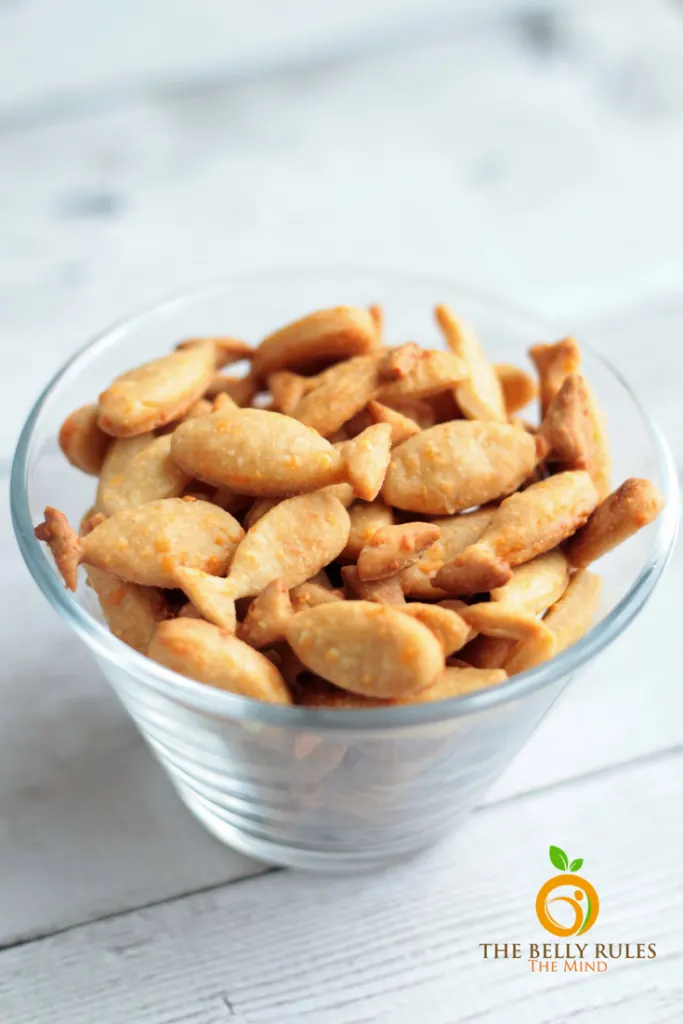 Did you know that in 2013, a lawsuit (hyperlinked) was for filed against the makers of Goldfish, Pepperidge Farm for misleading consumers by using the word 'Natural' when the product contains GMOs. The sad part is that not many people were aware of this.
Although the packaging looks very different today, the ingredients haven't changed much. Let's go through some of the red flag ingredients.
Unbleached Enriched Wheat Flour [Flour Niacin, Reduced Iron, Thiamin, Mononitrate (Vitamin B1), Riboflavin (Vitamin B2), Folic Acid] - Agreed the flour is enriched with Vitamins, but the flour is refined which is why is the fiber content is less than 1 gram. Barely anything, isn't it? Even if you look at the whole grain version of Goldfish, it still contributes to only 2 grams of fiber.
Vegetable oils (Canola, Sunflower and/or Soybean) - It's not like the name suggests. These vegetable oils are GMO oils and read more about why these oils are not healthy, here. GMO's are banned in many other countries but seems like the lobbyists are working too hard make sure that doesn't happen in the USA.
Salt - A serving of Goldfish is 55 pieces. The sodium content for the little kids is pretty high about 230-250 mg.
Autolyzed Yeast is a form of MSG. It is used a flavor enhancer. MSG is known to be a silent killer in our kitchens ( read the hyperlink) which makes our processed, canned and frozen foods taste better, feel fresher and smell better.
Coming to rainbow-colored Goldfish, please, please, please do not buy the rainbow-colored Goldfish as they are the worst amongst all, given the fact that they are loaded with artificial colors like Blue 2, Red 40, Red 3, and Blue 1.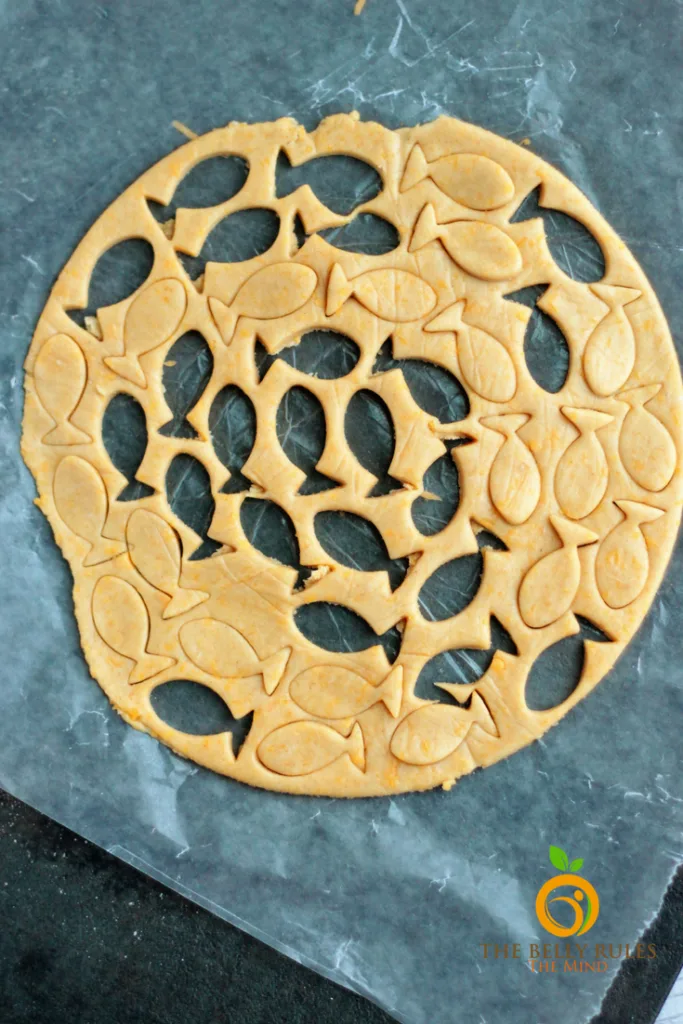 3 Ingredient Simple Goldfish Crackers Recipe
Honestly, none of this sounds like something you want to feed your child in the form of crackers right? In fact you will be surprised at how short the ingredient list of homemade Goldfish crackers is compared to the store bought. So get ready to toss your store-bought Goldfish and start making your own. It's super easy the best part is to involve your kids and make it a fun activity. The kids love it.
Flavored Goldfish Cracker
This goldfish cracker recipe is delicious, kid (read many kids) approved and has only 3 ingredients. Let your imagination run wild and flavor it with herbs & spices for extra flavors! There is no doubt that these homemade goldfish make a perfect homemade snack for your little ones who love snacking on Goldfish. Serve it during playdates, pack them up for your travel. We are sure your kids don't need a reason to have Goldfish. Super easy and delicious. Once you make these, you won't buy Goldfish again:D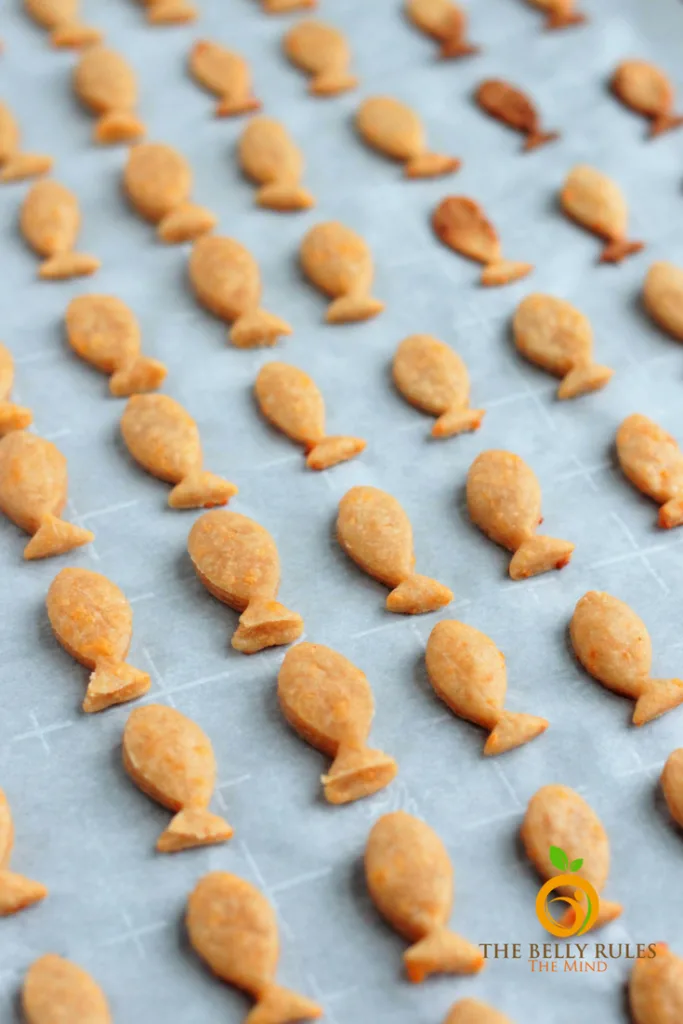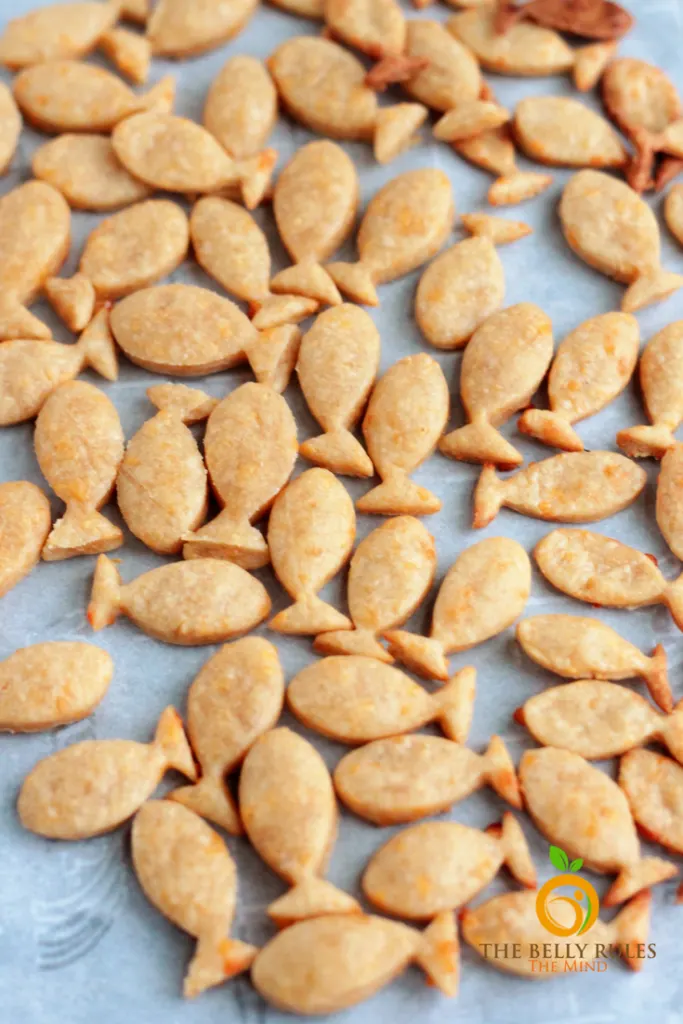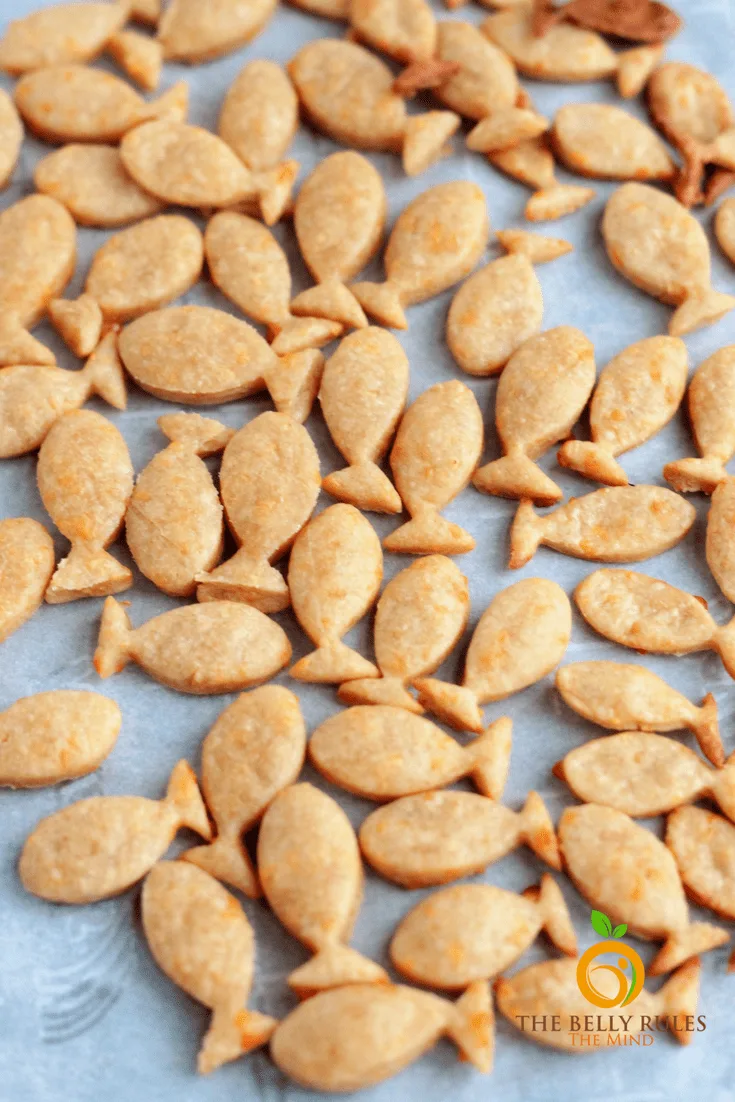 When you try this recipe and make these Goldfish don't forget to tag use the hashtag #TBRTM on Instagram or tag as @dbellyrulesdmind. If you like this recipe, you might also like our Whole Wheat Crackers flavored with dried herbs also knows as Mathri or the Pizza Flavored Crackers also known as Namak Pare. Mind you these are all baked.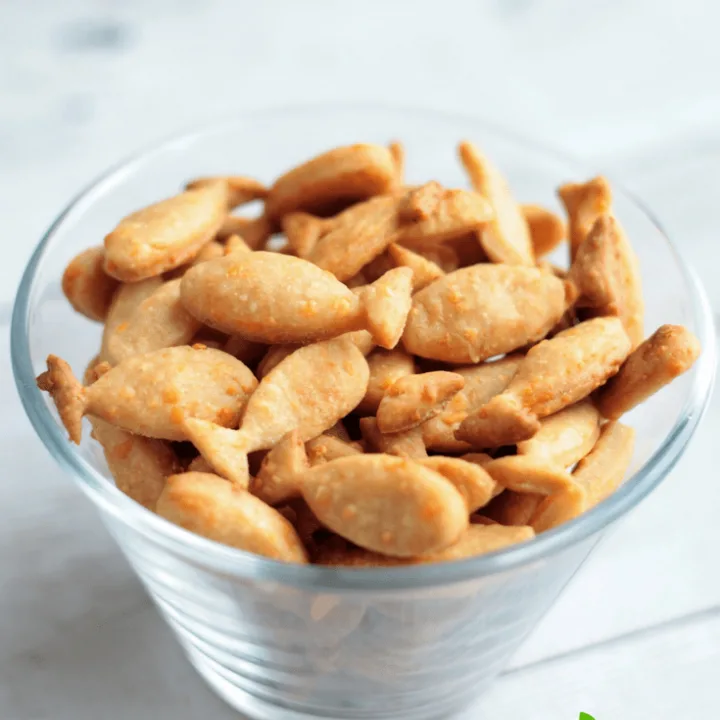 Home-made Goldfish cheese cracker
Inactive Time:
10 minutes
Total Time:
40 minutes
32 seconds
Ingredients
Goldfish Crackers
1 cup unbleached & unbromated whole wheat flour
1 cup 75% reduced fat sharp cheddar cheese shredded
4 tablespoon unsalted butter
1/2 teaspoon salt
3 tablespoon water
For Goldfish Cookie Cutter
Aluminium Soda or Beer Can
Packing tape or staples
Instructions
To make Goldfish Cookie Cutter
Don't worry you don't have to buy a goldfish cookie cutter. You can make your own at home :D We made ours with an aluminum can and it took us a few minutes to make 2 of them so easy.We cut a thin strip of the aluminum can and formed our fishy, then taped the edges together with clear packing tape. It was so much fun :D
For Goldfish Crackers
Preheat oven at 350 F.
Add in all the ingredients except water in your kitchen aid and knead until you get a course mixture. Add in the cold water, 1 tablespoon at a time until the dough turns in a ball.
You'll be able to press it into a ball with your hands. Wrap in plastic wrap and chill for 30 or so minutes.
Roll & flatten the dough out to 3mm (1/8 in) thickness. The thinner the crispier.
Cut out shapes with your choice of cookies cutters and transfer to baking tray.
Gather all the trimmings and re-roll. Repeat until all the dough is used up.
You can make them any size or shape you want, really but whats a cheese cracker that does not look like goldfish .
Bake for approximately 15-17 minutes, until the crackers are crispy and golden around edges.
Timing will vary according to size and shape of your crackers.
Cool for 10 minutes on baking tray before transferring to a wire rack to cool completely. Store in an airtight container.
Notes
If you need flavored Goldfish Crackers, you can add the herbs that you like.