Instant Pot Kadai Paneer - a delicious Indian comfort food. This mouthwatering recipe found in most Indian restaurants. It is one of the most popular Indian curries and cooked throughout the world. Quick to make, you can delight your family with any day of the week with this dish.

[avatar user="soniyasaluja" size="thumbnail" align="right" link="https://thebellyrulesthemind.net/about-us/" target="_blank"]Soniya Saluja[/avatar]
LET'S BE FRIENDS ON PINTEREST! WE'RE ALWAYS PINNING TASTY RECIPES!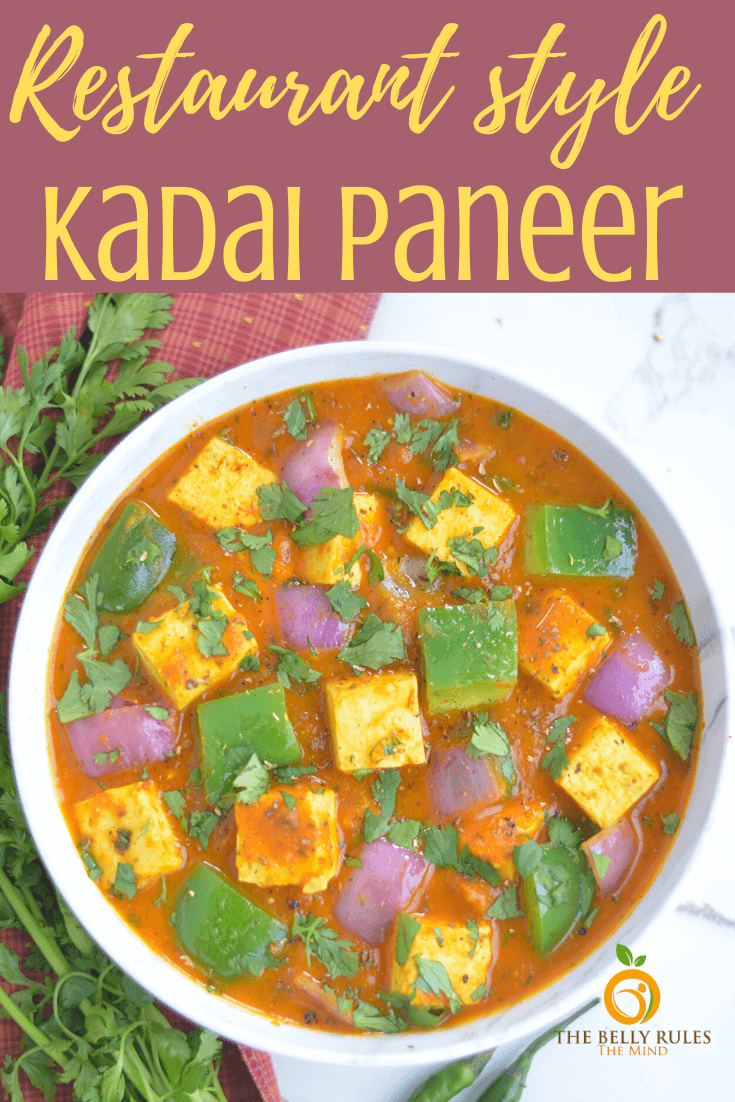 * This recipe uses Mealthy's Immersion Blender provided by Mealthy, however this is not a sponsored post and the views provided are mine only.
This Recipe's Index
What is Kadai Paneer?
Kadai paneer is a type of Indian curry that uses cubes of green peppers and an Indian cottage-cheese (paneer). Karahi or Kadai refers to the wide, round pan that you traditionally cook kadai paneer in.
Kadai paneer gets a lot of its flavor from the kadai masala, which uses cumin seeds, black pepper, and coriander seeds. Its unique, delicious flavor makes it one of the most popular dishes at Indian restaurants.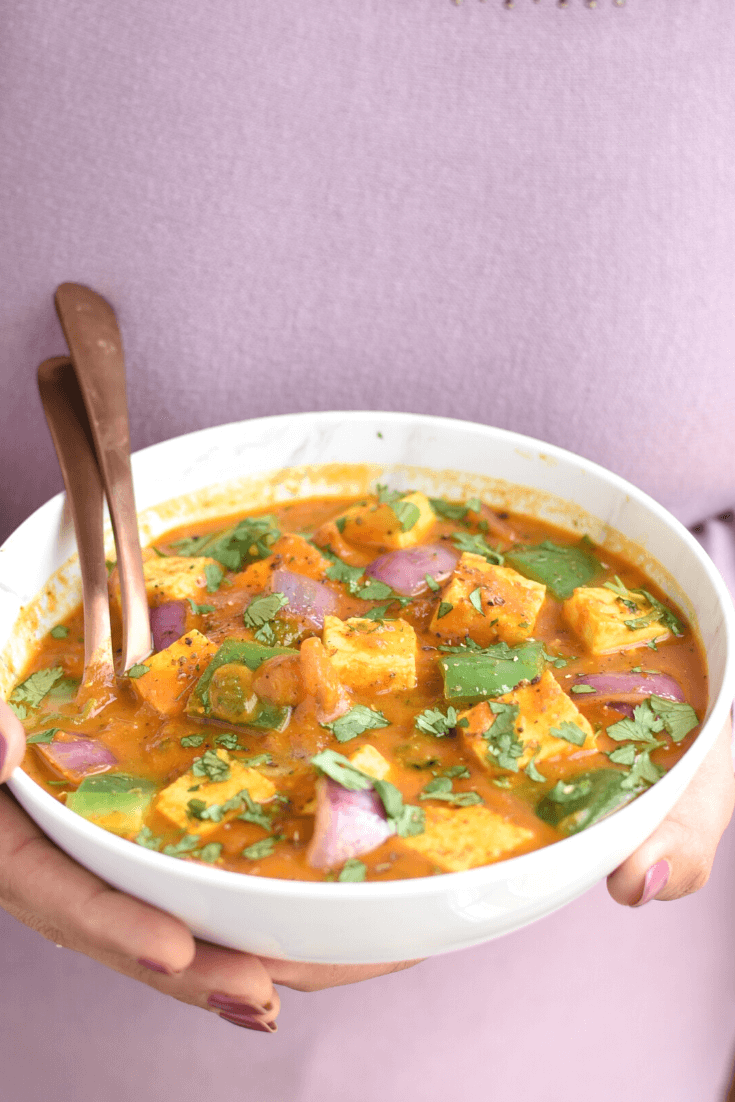 Why make Kadai paneer in the Instant Pot?
Instead of making kadai paneer in a traditional kadai, this recipe makes this kadai paneer masala in the Instant Pot. When you make this vegetarian curry recipe in the Instant Pot, you not only cut down on your cook time, but you are also ensuring that your veggies & paneer will turn out perfectly each time you make it.
Plus, not everyone has a kadai or a karahi readily available to make this flavorful curry. The Instant Pot makes the perfect substitute for the traditional round Indian cookware 🥘.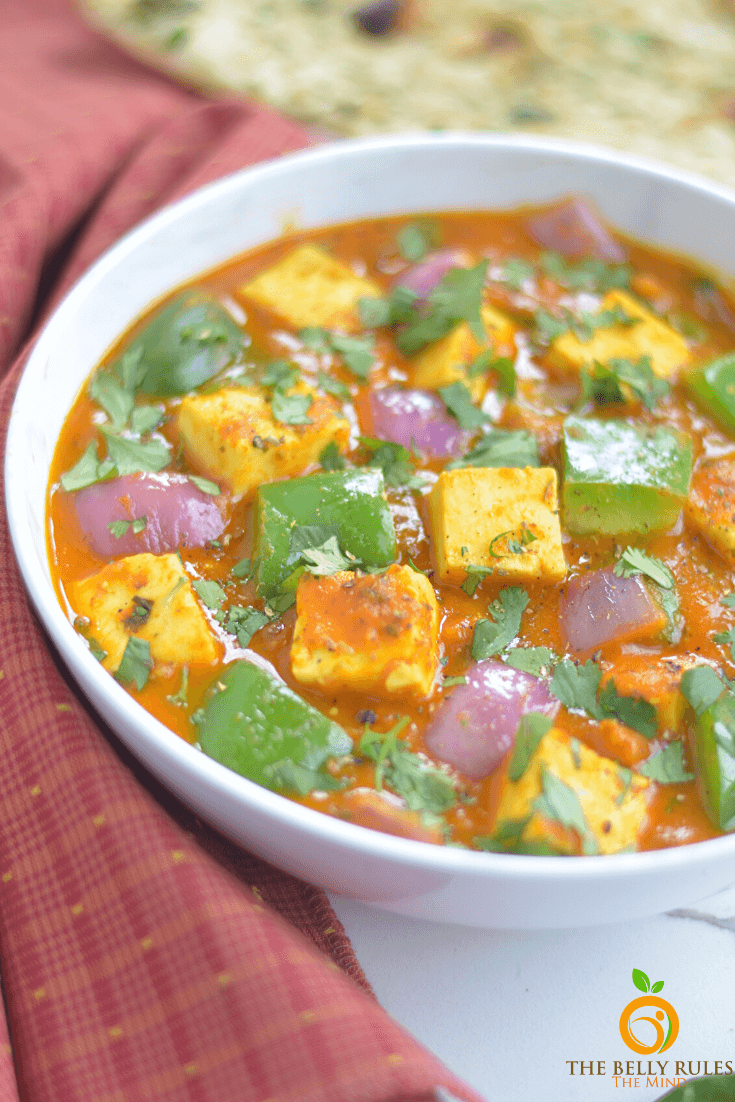 New to the Instant Pot and feeling nervous about trying to make kadai paneer in your Pot? Don't be! We break down everything you need to know about Instant Pot cooking in our Beginner's Guide to the Instant Pot.
How to make restaurant style Kadai Paneer?
You can easily make restaurant style kadai paneer at home in your Instant Pot or other pressure cooker. Part of what makes this recipe as good any kadai paneer you'd get at a restaurant is the fresh ingredients and the perfect blend of spices.

To make the kadai paneer, start by making the Kadai Masala. To do this, put the inner pot in the Instant Pot and turn on saute mode. Give the Pot a minute to get hot. Then add the spices for the kadai masala and dry roast them in the Pot for a minute or two or until they get nice and fragrant. Once the spices release their fragrance, take the spices out and grind them in a spice grinder or use a mortar and pestle to grind the spices into a fine powder.
Once you've ground the spices, you are ready to make the kadai paneer.
To make the Kadai paneer gravy,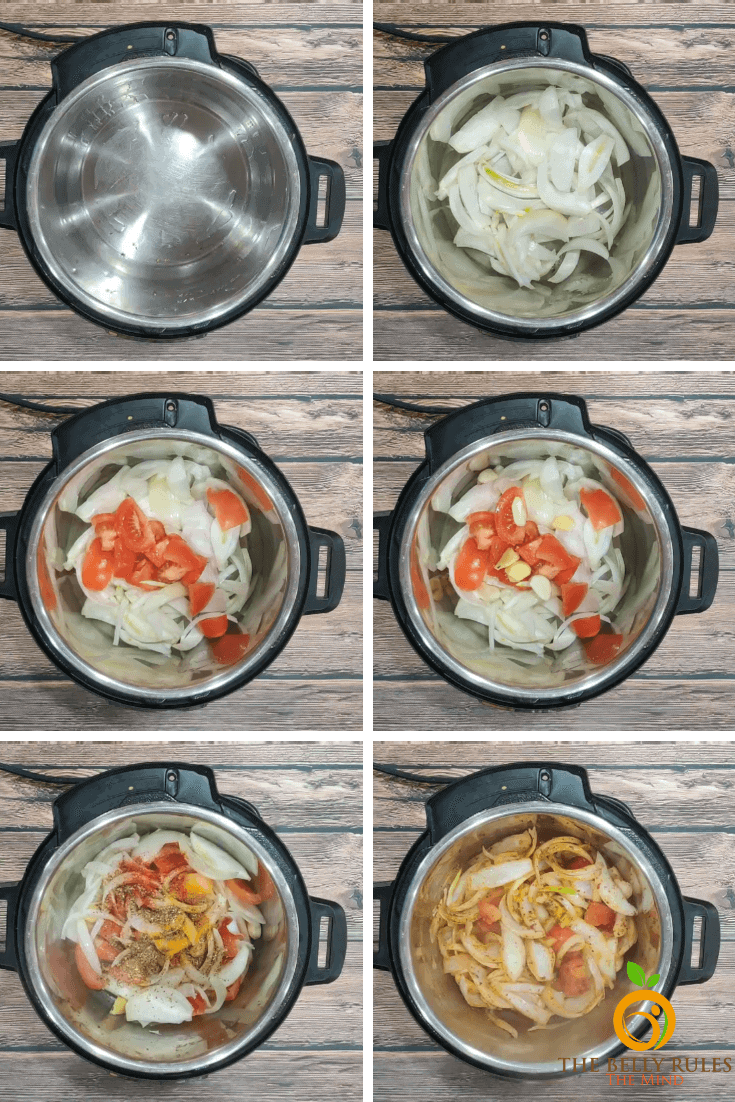 Turn saute mode on the Instant Pot back on and pour oil into the inner pot. Add the chopped onions, garlic, ginger and tomatoes to the hot oil and stir. Saute the veggies for a minute, then add in the salt, turmeric, red chile powder and the masala powder you've just made. Mix everything well.

Then pour the water into the pot and put the lid on the pot. Make sure the valve is set to sealing. Pressure cook on high for 5 minutes and then do a quick release.When the pressure is finished releasing, remove the lid from the pot and use an immersion blender to blend the onion, tomatoes, ginger and garlic into a smooth paste.We love our Mealthy immersion blender because it give great results with Indian cooking especially when you need soft silky curries. The turbo mode is super useful for Indian cooking. If you are looking for an immersion blender, you can get a Mealthy here.
Add in 2 -3 tablespoons of ketchup and sprinkle the dried fenugreek leaves and the bell pepper cubes, paneer (homem cubes, onions Finish the kadai paneer by putting the inner liner back into the pot. Turn saute mode back on and cover it with a glass lid . Then cook on saute mode for 2 to 3 minutes. Mix well and serve hot.
What is the difference between Kadai Paneer and Paneer Makhani?
Kadai paneer and paneer makhani are similar dishes from India. They often have some similar spices and they can look similar when cooked.
The main difference between the two is that makhani is a type of curry cream sauce and is a tad sweet. To make it, you add cream, butter, nuts, onions, tomatoes, and some of the spices added. It has a creamier and often sweeter taste to it as well.
What do I serve Karahi Paneer with?
You can serve karahi paneer with naan or roti, which are popular Indian flat breads. You can also eat it by itself. Or if you want to fill it out a bit, you can serve it over rice.
Is Kadai Paneer sweet?
Kadai Paneer is usually not sweet, however I added some sweetness by adding some ketchup though it is optional. The flavor is a bit of sweet and savory combination.If you prefer a spicier kadai paneer, you can double the amount of chili powder and black pepper. These spices give the kadai paneer a bit of spice and heat. For a sweeter flavor, lessen those spices.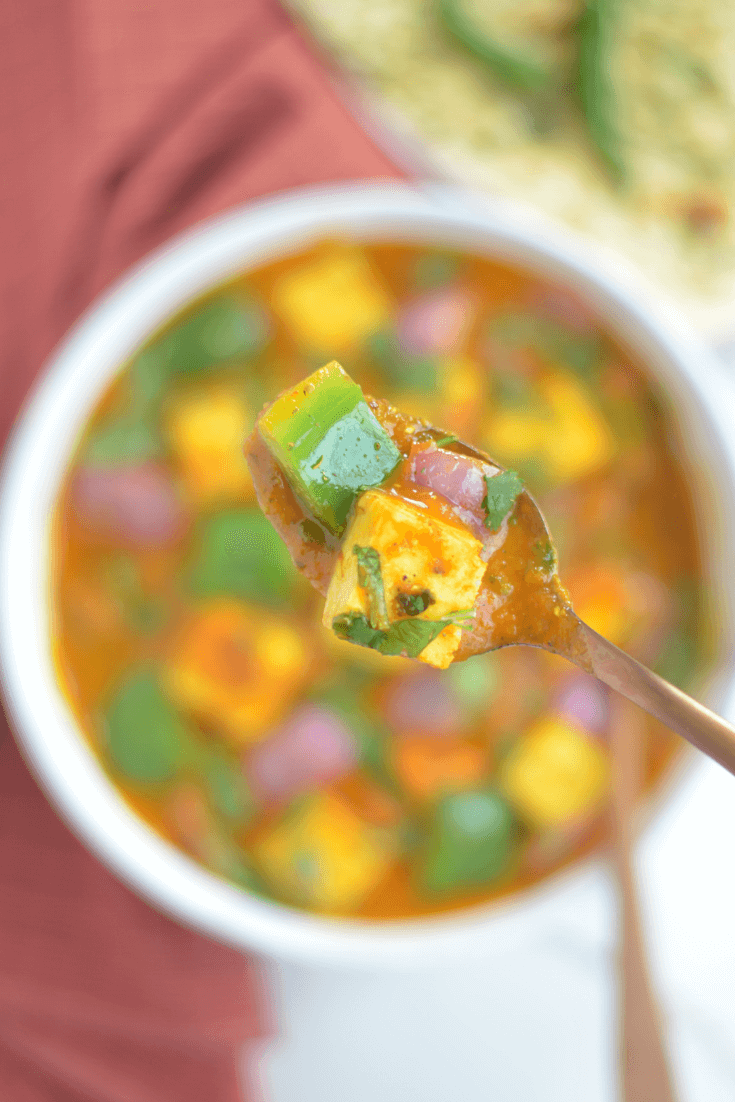 Pro-Tips for Best Karahi Paneer Recipe
For the best results and taste, follow these helpful tips and strategies to make your karahi paneer taste even better:
Soak store-bought paneer in warm water for about 20 minutes before cooking
follow the steps to make fresh kadai masala, don't use pre-made spices from the store
try adding a small amount of sugar, it will help bring out all the flavors
You can also add some ketchup to give add some sweet flavor
cut the pepper into squares that are about the same size for even cooking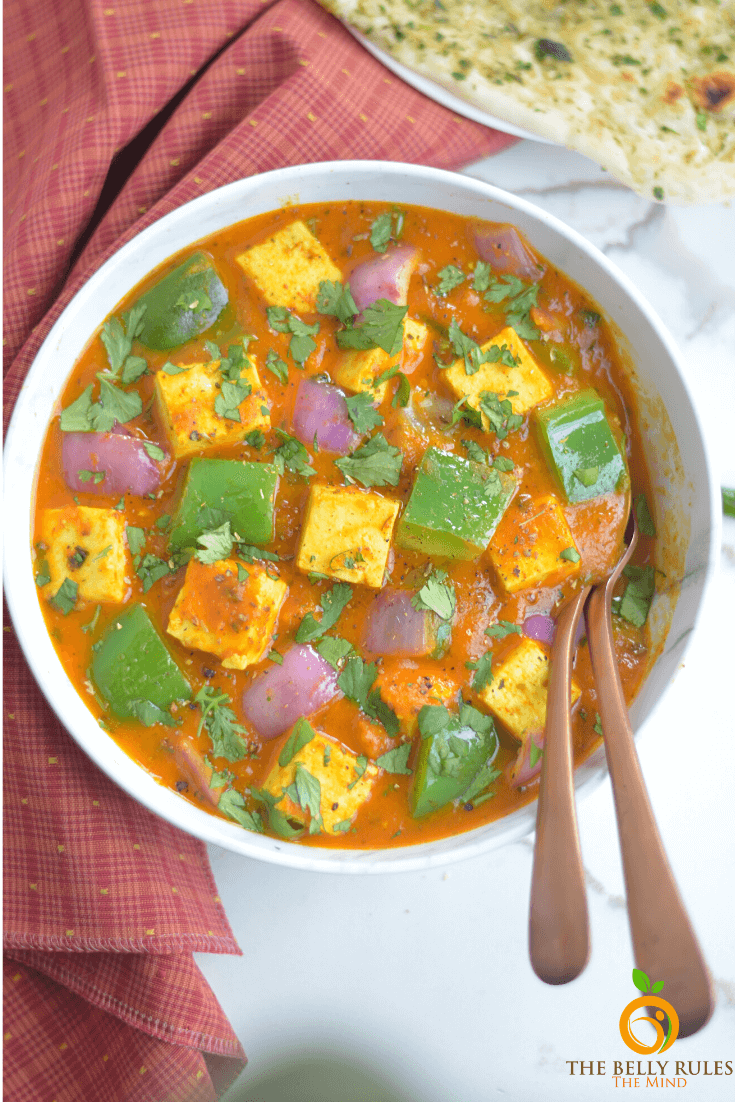 More delicious Indian Instant pot Recipes
If you make this recipe, Don't forget to come back and leave your feedback and star rating. We would be THRILLED if you would take a pic and tag us on Instagram @dbellyrulesdmind or Facebook @thebellyrulesthemind
Kadai Paneer Recipe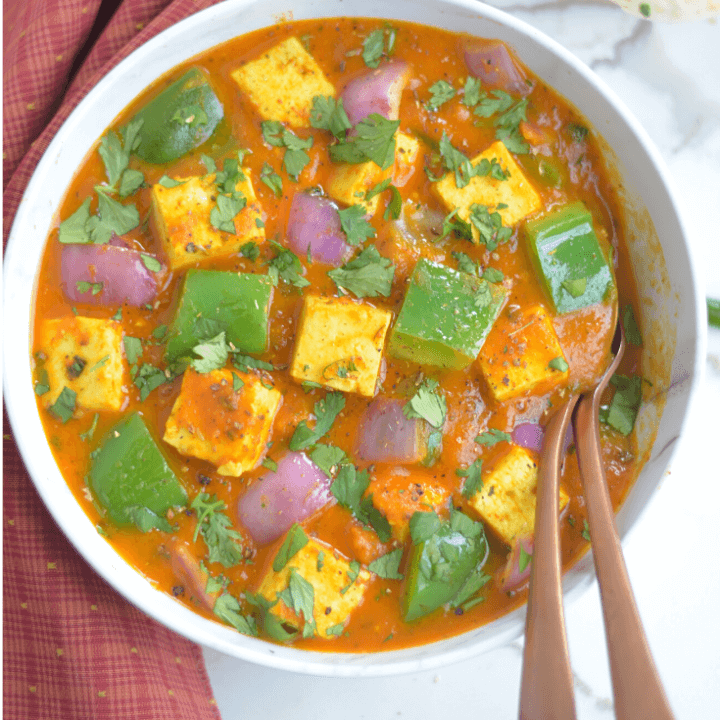 Instant pot Kadai Paneer
Additional Time:
5 minutes
Instant Pot Kadai Paneer is a delicious Indian comfort food. Kadai paneer is a mouthwatering recipe found in most Indian restaurants. It is one of the most popular Indian curries and cooked throughout the world. Quick to make, you can delight your family with any day of the week with this dish.
Ingredients
FOR KADAI MASALA:
2 tsp coriander seeds
1 tsp cumin seeds
½ tsp black pepper
For Paneer Masala
2 tbsp oil
3 clove garlic
1 inch ginger, chopped
1 onion, roughly chopped
2 tomato, roughly chopped
salt to taste
1 tsp turmeric
1 tsp red chilli powder
Kadai masala powder
1 tsp dry fenugreek leaves
1/2 cup water
3 tablespoon ketchup
½ onion, petals
½ capsicum, cube
1 cup homemade or storebought paneer / cubes
Instructions
Press saute, when HOT dry roast the spices for kadai masala for 1 or 2 minutes until fragrant.
Transfer the roasted spices to a spice grinder or mortar pestle and grind to a fine powder.
Pour the oil , add the chopped onions, ginger , garlic , tomatoes and give it a stir and saute it for 1 minute . Add in the salt, turmeric powder, red chill powder and the kadai masala and mix it well. Pour in the water and place the lid on and pressure cook it for 5 minutes.
Cover with lid,VENT to SEALING. pressure cook for 5 minute. when done Quick Release.
Using an immersion blender, blend the onion, tomatoes, ginger and garlic into a smooth paste.
Turn on the instant pot in saute mode.
Add in 2 -3 tablespoon ketchup and the bell pepper cubes, paneer cubes and sprinkle the dried fenugreek leaves cook for about a few minutes.
Mix well and serve hot. Enjoy!