This Instant Pot Three Bean Chili, is a must try weeknight meal. It's warm, hearty, packed with flavors, perfect texture and super easy to make. Plant-based protein. Vegan.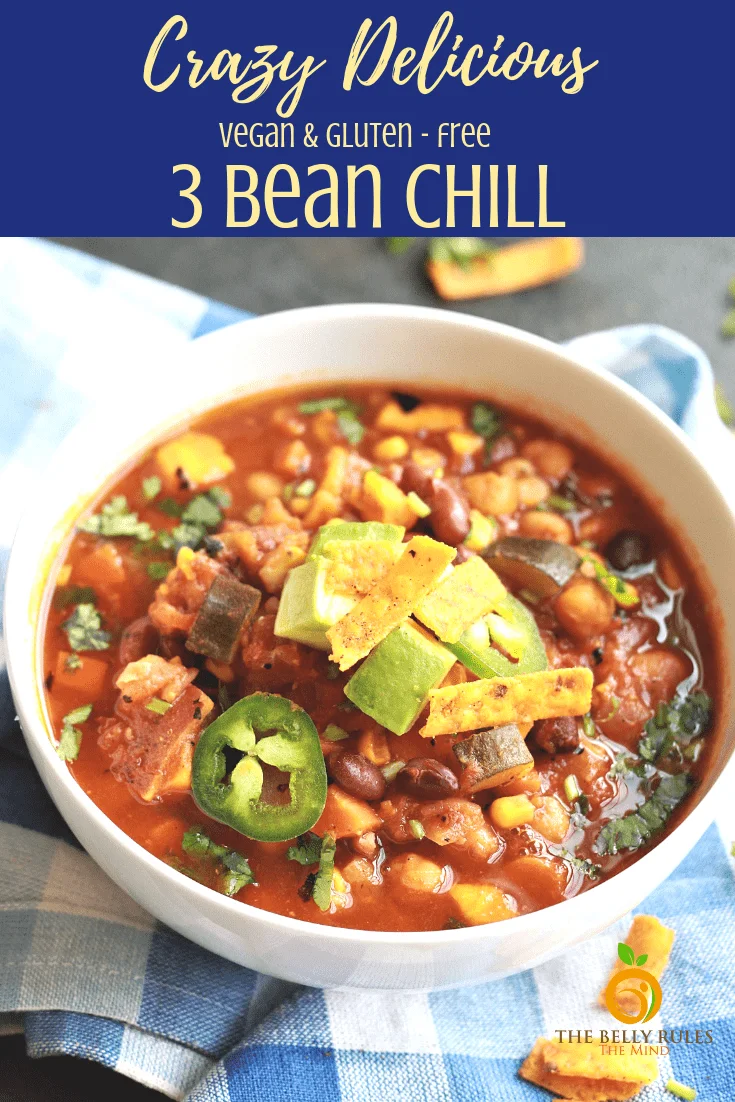 Just when I thought the days were getting warmer, the temperatures here in NC dropped last week. On one hand, the cherry blossom tree in our backyard was in full bloom and then suddenly there was a week full of rainy days and nights. So last week was all about warm comfort foods that are quick and easy to make, literally dump and stir recipes. My menu literally consisted of dump and stir recipes from the blog that are quick and easy.
Let me remind you it was the week when the packers were coming and my family was getting ready for the big move to Germany. If you have been following Belly Rules The Mind for a while, you will know that my family is relocating for a couple years. This time tomorrow I will be on our flight to Germany. So you can imagine how crazy this last week was. Trying to wrap up the house plus making sure I don't leave you guys stranded so during my transition to Germany so I had to prep up a lot of interesting recipes for you to share over the next few weeks.
So last week my menu was some really easy and quick recipes from the blog that are comforting. Italian Lentil Soup, Restaurant style Dal with Rice, Steel Cuts Oats, Minestrone Soup, Burrito Bowls, Charro Beans, Black Bean Soup. We wrapped up the week with the grand finale of this Vegan Three Bean Chili.
If you are looking for a warm comforting bowl of meal, then this chili recipe is a must-try.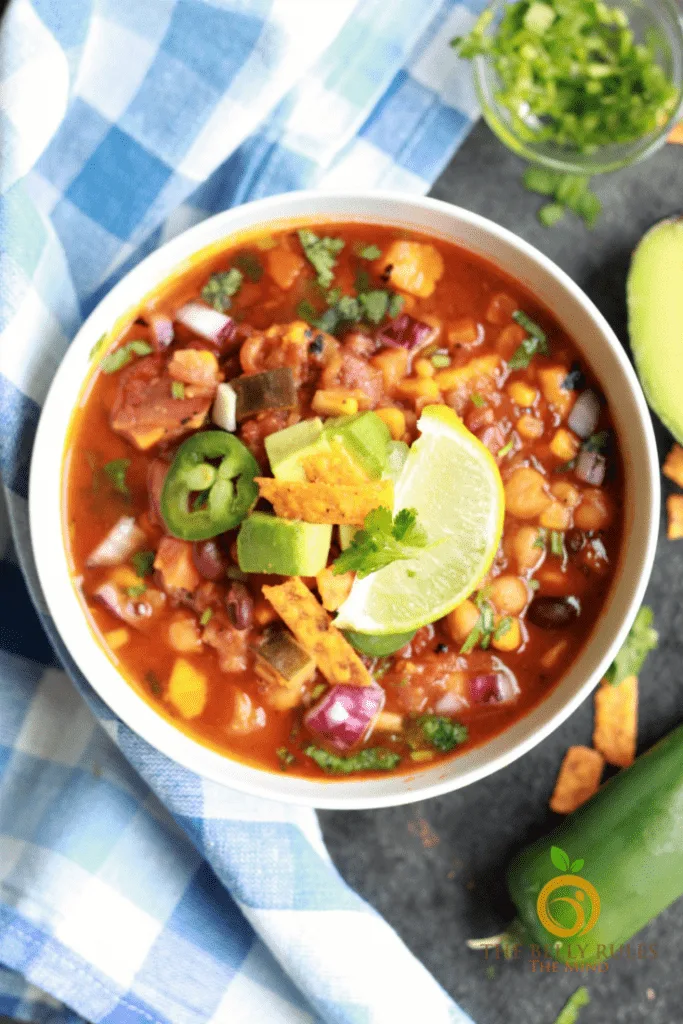 Instant Pot Three Bean Chilli
This chilli is packed with flavors and the goodness of plant-based proteins. It's loaded with lots of veggies and is the best vegetarian chili ever - I promise. You are sure to fall in love with it's thick texture and flavors. After mastering the art of cooking the perfect beans in my Instant Pot, I couldn't stop myself from making this chili. All you need to do is just dump the ingredients in the pressure cooker and walk away. Finish some errands and when you come back, you are going to love the aroma in your kitchen.
How to make Three Bean Chili in Instant Pot?
I am in love with my IP and everything that I used to slow cook before is now cooked in my IP. So all you need to make this three bean chili in the Instant Pot is, some garlic, onions, chunky roasted salsa, zucchini, carrots, corn, sweet potatoes and the three beans. Throw in all of these ingredients and the add the seasonings.
The roasted salsa ads a lot of flavor to the chili. If you don't have roasted salsa, you can use a homemade salsa too. The sweet potatoes give this chili the perfectly thick texture. Lastly the beans makes this chili hearty.
Then I add my own blend of cumin powder, black pepper, paprika, chili powder, and oregano. These flavors are a bomb. You will enjoy the aroma once it starts spreading from the kitchen to your rooms.
Lastly, I pour in my vegetable broth and cook the chili for 10 mins. Allow the pressure to naturally release and your chili is ready to be served.
Now it's time to get creative with your toppings.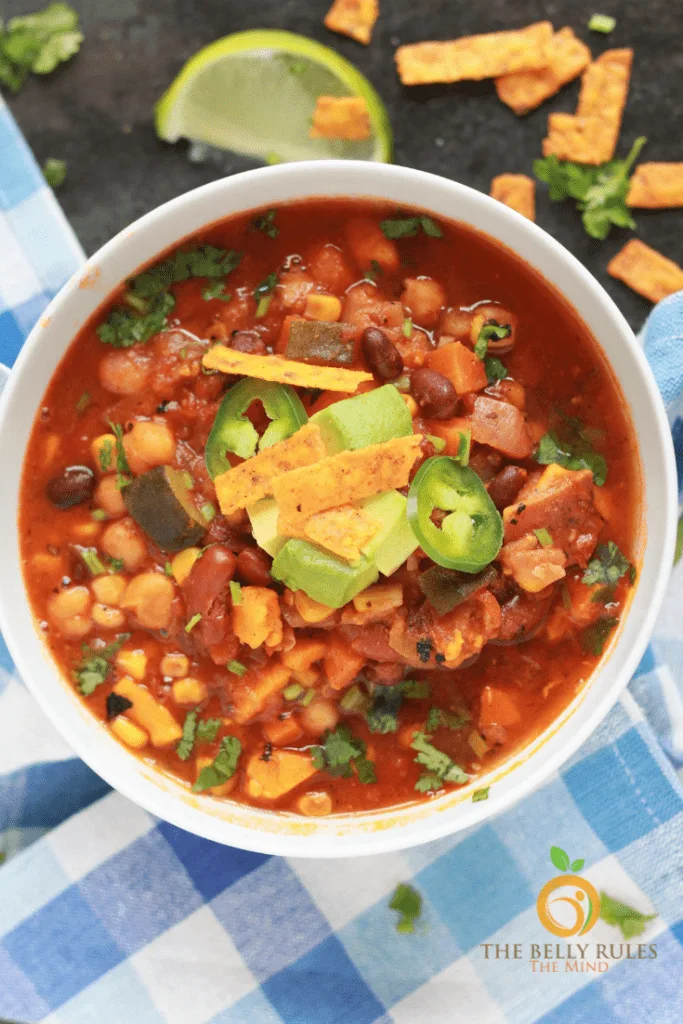 Topping Ideas
Avocado slices
Guacamole
Tortilla strips
Lime slices
Freshly chopped cilantro
Jalapeno slices
A dollop of sour cream
Cheese
Diced red onions
What kind of beans can I use to make vegan chili?
I like to use garbanzo beans or chickpeas, kidney beans and black beans as these are easily available in my pantry. If you don't have them all handy you can just use any one too.
Canned Vs. Cooked Beans Vs. Dried Beans
Beans are a staple at my house. I often cook a large batch of dry beans and add them to curries, soups, salads and even sprout them in summer. Initially, I used to use canned beans but thanks to the IP, cooking my own beans is so much more faster and totally not a hassle. By all means you can used canned beans but once you start cooking your dry beans you will realize it's so much more economical and healthier to cook your own beans. When you cook your beans you can control the sodium that goes into the beans. Here is how to make the perfect bean is Instant pot.
Although the idea of throwing in dry beans in the chili is really awesome. I personally don't do it as I always like to soak the beans before consuming them, as it's easier to digest beans that are soaked overnight and then cooked. That ways you can eliminate passing wind and bloating :)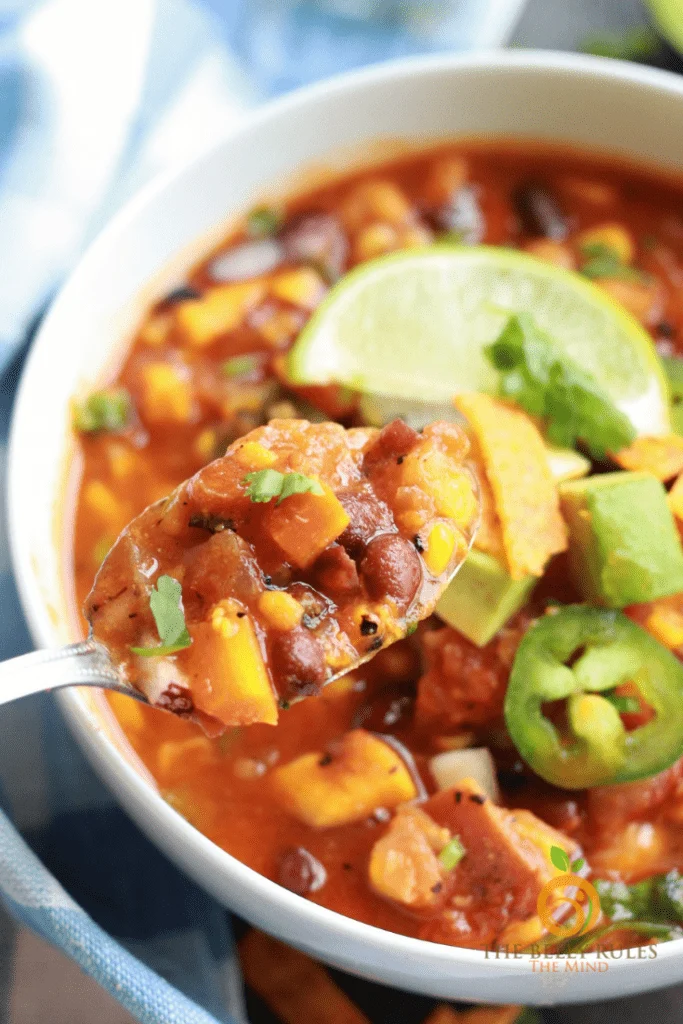 Can I freeze this Vegan chili?
Yes absolutely. if you make a big batch of this vegan chili and want to use some during the week, save it in freezer safe zip lock bags. You can thaw it the night before and if you feel the need to water it down a little you can add some broth when you are heating the chili.
Three Bean Chili Recipe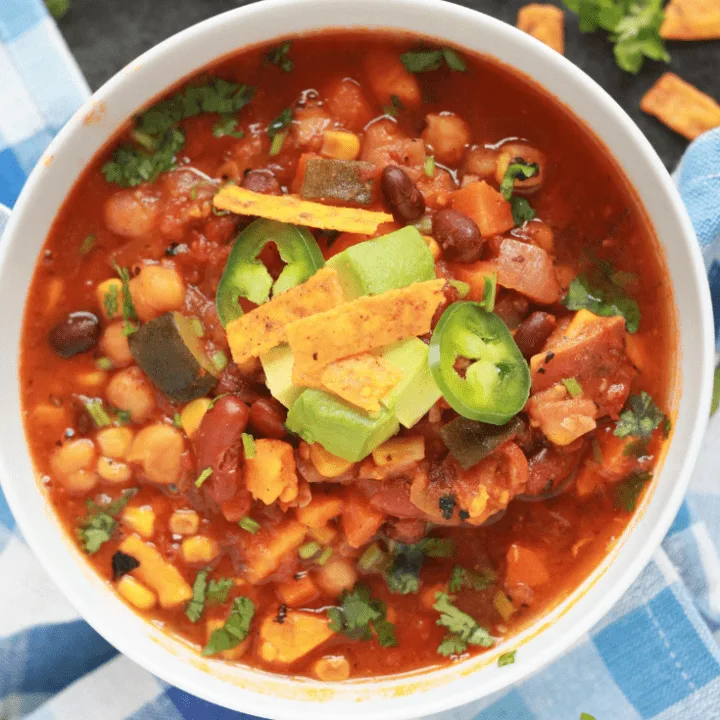 Instant Pot Three Bean Chili
This Instant Pot Three Bean Chili, is a must try weeknight meal. It's warm, hearty, packed with flavors, perfect texture and super easy to make. Plant-based protein. Vegan.
Ingredients
For the chili
1 tablespoon oil
1 teaspoon garlic
1 large onion, chopped
1 carrot, diced
1 zucchini, diced
1 cup corn
1/2 sweet potato, diced with skin
1 cup chunky roasted salsa
1/2 cup garbanzo beans, cooked or canned
1/2 cup black beans, cooked or canned
1/2 cup kidney beans, cooked or canned
2 cups vegetable broth
1 teaspoon black pepper
1 teaspoon cumin powder
1/2 teaspoon paprika
1 teaspoon chili powder
salt to taste
Cilantro chopped
Avocado, chopped
Jalapeno slices
Tortilla Strips
Lime Slices
Instructions
Set a 6-qt Instant Pot to the high saute setting.
Add garlic and saute.
Then add onion, zucchini, corn, carrots, sweet potatoes, and three beans.
Now add in the spices, cumin, chili powder, paprika, black pepper and salt.
Pour in the broth. Stir
Pressure cook on high for 10 minutes. When finished cooking, allow pressure to naturally release.
Garnish with your favorite toppings like avocado, lime, tortilla strips and jalapenos.
Serve immediately or allow it to cool before freezing.
Recommended Products
As an Amazon Associate and member of other affiliate programs, I earn from qualifying purchases.