Instant Pot Paneer Biryani / Paneer Pulao - is a brightly flavored rice and paneer cheese dish. This recipe for Instant Pot paneer pulao gives you restaurant quality and taste in your own home for a fraction of the time and cost. Your family will love this hearty vegetarian dish for any meal.
LET'S BE FRIENDS ON PINTEREST! WE'RE ALWAYS PINNING TASTY RECIPES!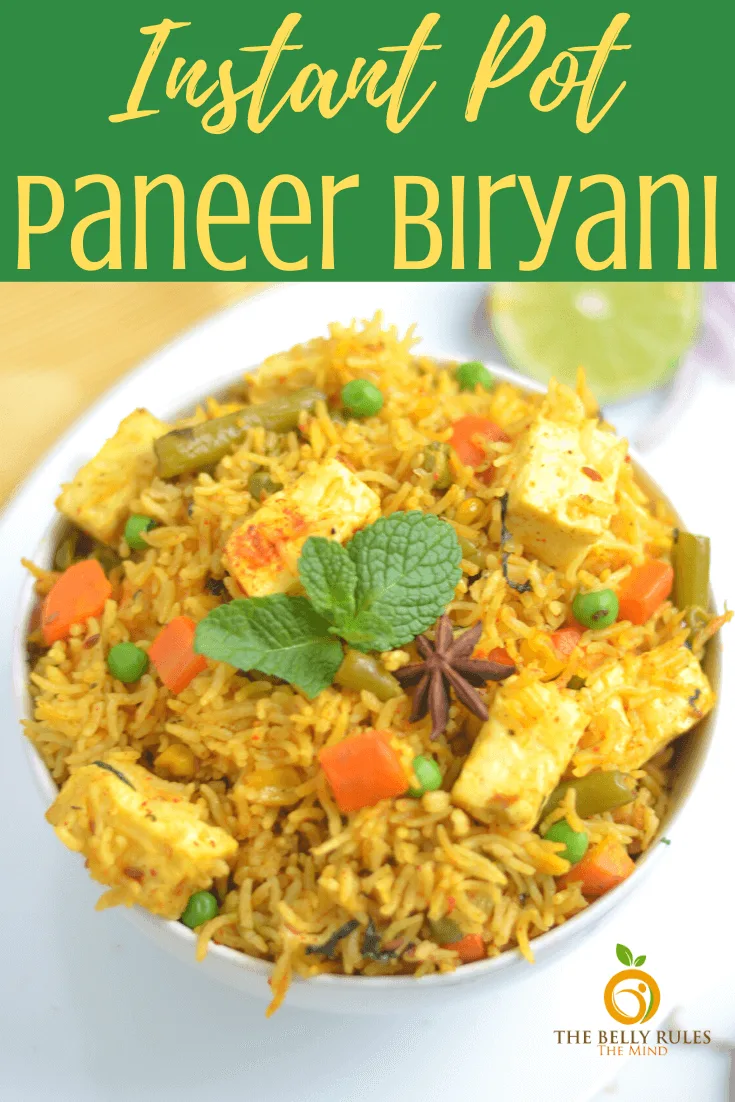 WHAT IS PANEER BIRYANI?
Paneer biryani is a layered, lightly spiced rice and Paneer, which is a type of crumbly cheese, served in India. It bursts with flavor and textures from the of spices, vegetables, rice and paneer.
PANEER PULAO / PANEER BIRYANI RECIPE VIDEO
PANEER BIRYANI IN THE INSTANT POT
With this Instant Pot paneer biryani recipe, you can make this savory dish at home right in your Instant Pot. The Instant Pot will cut your cook time down and makes the most perfect rice with the use of the manual button. While your Instant Pot does have a rice butter, manual mode allows you to control the cook time better ensuring you can adjust it to make perfect, fluffy rice each time.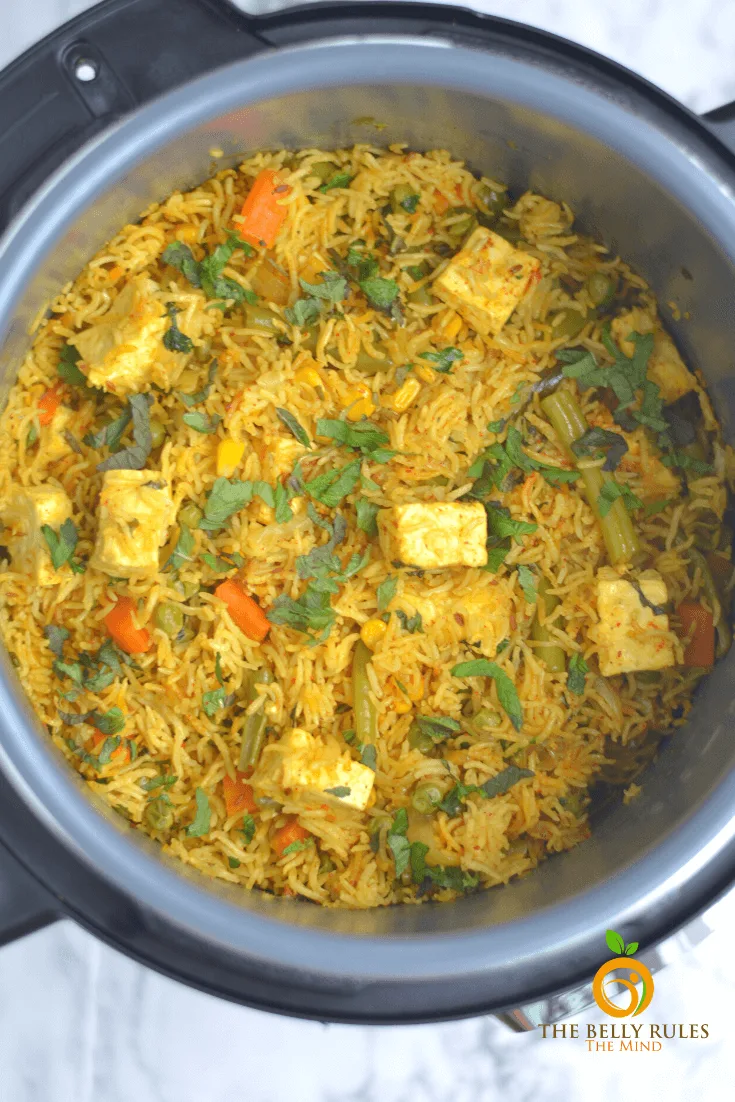 If you're an Instant Pot beginner, don't worry! We tell you everything you need to know to use your Instant Pot and tell you exactly what all those buttons do on our complete beginner's guide to the Instant Pot, called Master the Instant Pot with 3 Buttons. If you are looking for other easy Instant Pot recipes to try, check out our 15+ Quick and Easy Instant Pot Recipes for Beginners. You can also check out our 100+ Instant Pot Vegetarian Recipes for all your Instant Pot recipe needs.
PANEER BIRYANI IS A BURST OF FLAVORS IN YOUR MOUTH!
This delicious Vegetable Paneer biryani combines lots of flavor in each bite. You get a little bit of sweetness from carrots, peas, ginger, and corn. After the sweetness, you also get some heat from the various spices like red chili powder and garlic. And the paneer adds another layer of flavor and creamy texture that makes this dish like no other.
HOW TO MAKE PANEER BIRYANI IN THE INSTANT POT - A STEP BY STEP RECIPE
When you make paneer biryani in the Instant Pot, it is an incredibly easy process. It is also very fast compared to traditional methods of cooking Biryani.
You can either use homemade paneer or store bought paneer for this recipe.

To start, turn your Instant Pot onto "Saute" mode. When the inner pot is hot, add your ghee or oil. When the ghee or oil is hot, add the whole spices which include cardamom pods, whole black pepper , and Star Anise.

Once you add in the whole spices, add the onions and green chilis. Saute them for 3 minutes. They will get soft and fragrant. Next, add the ginger paste and garlic and stir it together.


Now, add in the chopped vegetables and paneer. Then add the salt, red chilli powder, Turmeric, and Garam masala. Once the spices are added, put the chopped mint in the pot.

Finally, add the rice and water to the inner pot and give it a stir.

Place the lid on the Instant Pot and set the valve to sealing. Push the pressure cook button and set the Instant Pot to cook the paneer biryani on high pressure for 5 minutes.

As soon as the timer goes off, turn the valve to quick release the pressure. When the pressure has released, you open the Instant Pot lid and serve the paneer biryani immediately.
HOW CAN I MAKE PANEER BIRYANI ON THE STOVE TOP?
Cooking paneer biryani on the stove top is a bit more involved. But if you don't have an Instant Pot, you can make the biryani on the stove top following these instructions.
Start by soaking the rice in a bowl for 30 minutes.

In a large pan heat the ghee or oil over medium heat. Then saute the whole spices in the heated ghee or oil. Now add the onions and green chili and saute for 3 minutes. Then add the ginger paste and garlic and stir it together.

Now that you've got the base of flavors, add in the chopped vegetables, paneer salt, red chili powder, turmeric and garam masala. Saute until the oil starts to separate a bit.

Once the oil has spread, add the pre soaked rice over the vegetables. Then top it with the mint and add two cups of water. Cover the pan with a lid or aluminium foil. Simmer for 20 minutes or until rice is cooked fully.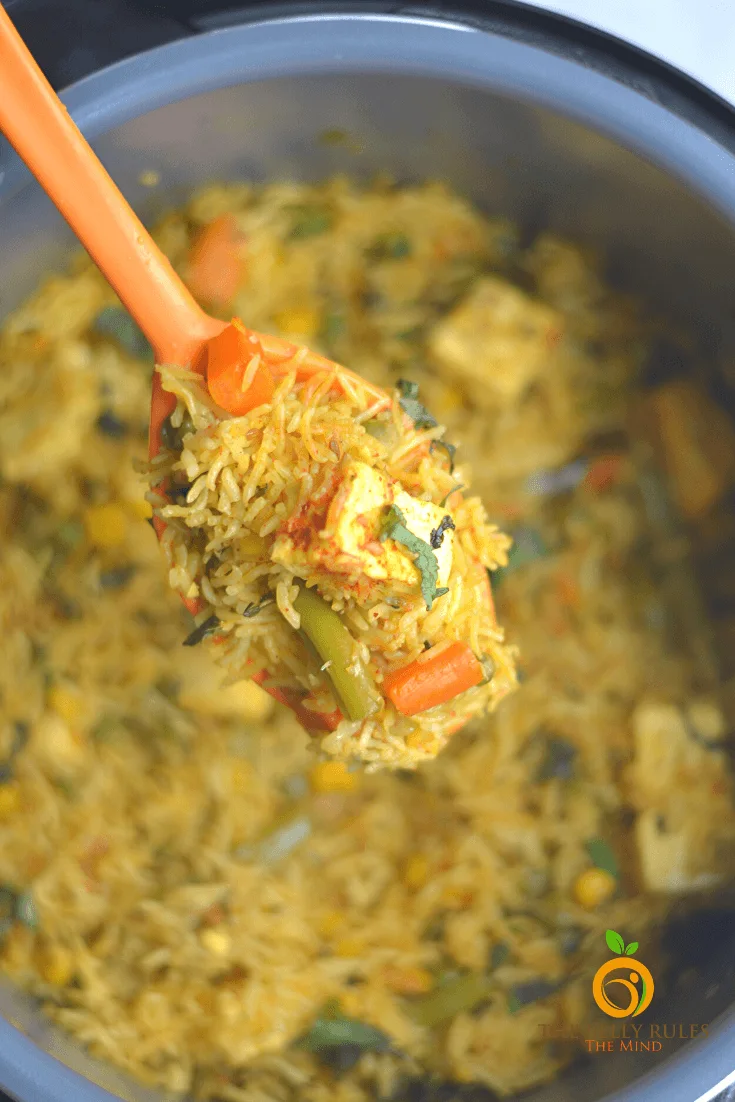 CAN I FREEZE PANEER BIRYANI?
Yes, you can freeze paneer biryani. If you'd like to freeze this dish, let it cool and put it an airtight, freezer safe container. Freeze for up to 2 months.You can also store leftover biryani in an airtight container in the refrigerator. I often portion out the biryani into lunch size amounts and send it with my husband and kids throughout the week.
WHAT DO I SERVE WITH PANEER BIRYANI?
Paneer biryani works well when served in a bowl or plate on its own. I often serve delicious biryani with cool yogurt relish or raita. You could also serve paneer biryani with Dal makhani , vegetable korma ,Roti or naan.
HOW LONG DOES PANEER BIRYANI LAST IN THE FRIDGE?
You can store paneer biryani for about 3 to 5 days in the refrigerator. You want to make sure you use an airtight container. Alternatively, you can scope it into seal-able bags, but I find it easier to use containers because you can reheat the paneer biryani in the containers easily.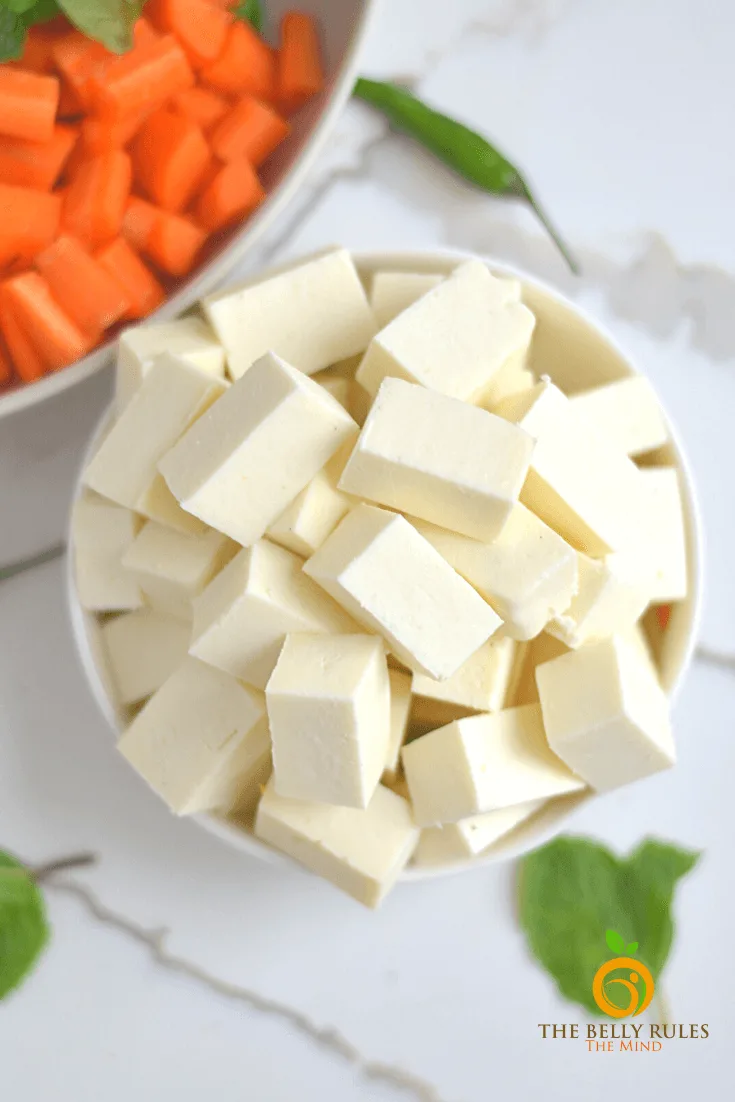 WHY DOES PANEER BECOME CHEWY?
Pressure cooking paneer can cause store bought paneer to become chewy. If you find your paneer is too chewy for your liking you could also saute the paneer in a nonstick pan on the stove-top and add it to the biryani after it has been cooked. Lastly, you could use homemade paneer instead of store bought paneer.
HOW TO AVOID THE INSTANT POT BURN WARNING
To avoid this, make sure you stir the ingredients well. Before you put the lid on, scrape the bottom of the inner pot. This will release any of the ingredients that may have gotten stuck on the bottom when you added the ingredients.
For other information and details you can refer to our post What is Instant Pot Burn Notice .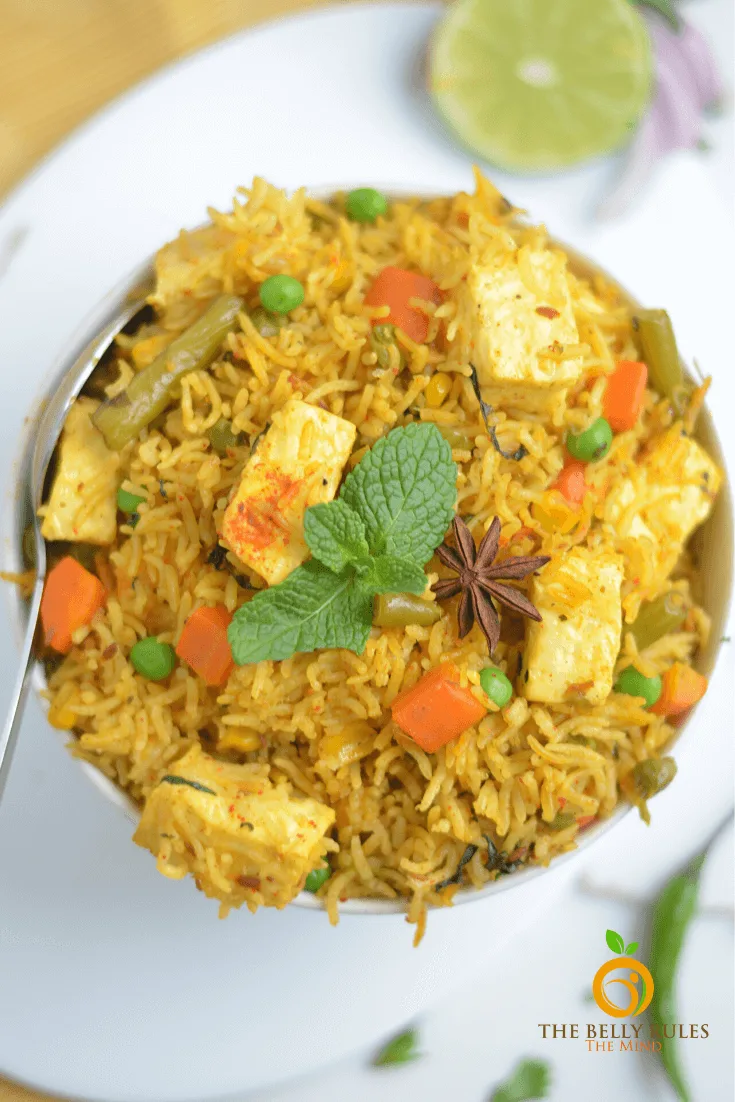 WHAT TYPE OF RICE SHOULD I USE FOR PANEER BIRYANI?
In my recipe, I use basmati rice. Basmati rice is native to India and gives the paneer biryani a slightly nutty flavor. It is available as both a brown and white version. You can use either based on your preference.Another type of rice that is similar to basmati is jasmine rice. Jasmine rice also has a nutty flavor. However, if you don't have either of these types, plain white or brown rice will work.
CAN I MAKE THIS PANEER PULAO VEGAN?
Paneer biryani is a vegetarian dish that uses cheese and ghee. If you follow a vegan diet, you can easily make your Biryani vegan. Instead of using ghee, you would use oil. You can simply omit the paneer and use tofu ,which will make the dish vegan.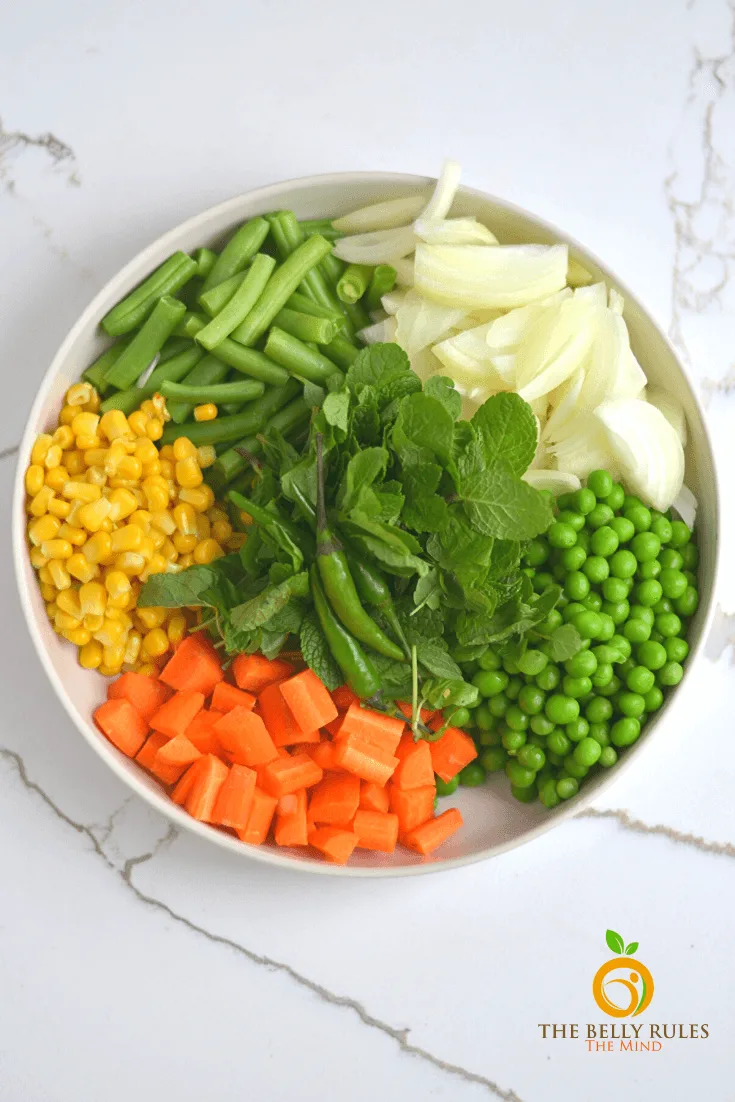 WHAT OTHER VEGETABLES GO WELL WITH PANEER BIRYANI?
If you are looking for additional vegetables or add ins for your paneer biryani, there are some other variations you can try. Some additional ingredients and vegetables you can try with your paneer biryani include:
cauliflower

bell peppers

almonds or cashews (adds a crunch)

tomato
CAN I SUBSTITUTE QUINOA FOR RICE?
You can add quinoa in for rice. However, you will need to adjust the cooking time for quinoa. Most varieties of quinoa can cook in about 2 minutes. So instead of setting the Instant Pot to five minutes, set it to 2 minutes. Otherwise, follow the same steps in the cooking process.
If you make this recipe, Don't forget to come back and leave your feedback and star rating. We would be THRILLED if you would take a pic and tag us on Instagram @dbellyrulesdmind or Facebook @thebellyrulesthemind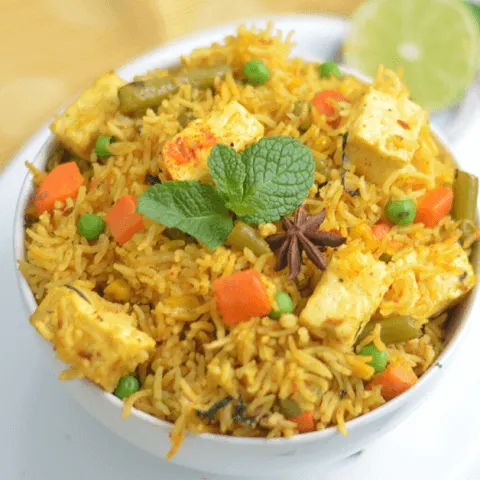 Instant pot paneer biryani
Instant Pot Paneer Biryani / Paneer Pulao - is a brightly flavored rice and paneer cheese dish. This recipe for Instant Pot paneer pulao gives you restaurant quality and taste in your own home for a fraction of the time and cost. Your family will love this hearty vegetarian dish for any meal.
Ingredients
Basmati rice , rinse and soaked 10 minutes - 2 cup
Ghee/( Vegan version Olive oil or coconut oil)- 2 tbsp
Whole spices
Cardamom pods- 2
Bay leaf- 1
Star Anise/ optional-2
few whole black pepper/optional
Cumin seeds-1 Tbsp
Vegetables
Carrots/diced- 1 cup
Onion/sliced-2 medium
Green beans-1/2 cup
Peas-1 cup
Corn-1/2 cup
Water-2 cup
Ginger & garlic paste-1 Tbsp
Cilantro leaves for garnish /chopped
Mint leaves/ chopped-1/2 cup
Thai green chilli-2or3 optional
Spices
Salt to taste
Red chiili powder-1 teaspoon
Garam masala-2 teaspoon
Turmeric powder-1 Tsp
Instructions
Rinse the basmati rice in cold water and set aside.
Press the saute,when HOT, add the ghee or oil to the pot
Add the whole spices and give it a quick stir.
You can now add the onions / green chilies and saute for 3 minutes.
Add the garlic & ginger paste and stir well.Now add all the chopped vegetables , paneer .
You need to add in the salt, red chilli powder, Turmeric, Garam masala. and chopped mint .
And finally add rice, and water to the pot and stir.
Close the lid, close the pressure valve and cook for 5 minutes at high pressure.
When done , release pressure , open the valve to release remaining pressure.( Do not let the biryani sit in the instant pot after its done , cause you will get mushy rice)
Serve it with coll Yogurt Relish / Raita .
Recommended Products
As an Amazon Associate and member of other affiliate programs, I earn from qualifying purchases.