Ready for the easiest soup recipe of your life? You won't believe the flavors in this easy-to-make Instant Pot Vegetable Quinoa Soup! Who knew healthy could taste so good. This healthy soup is vegan, gluten-free, vegetarian. Don't forget to checkout the video. Do a search for more Instant pot inspirations on TBRTM for your healthy and tasty twist.

LET'S BE FRIENDS ON PINTEREST! WE'RE ALWAYS PINNING TASTY RECIPES!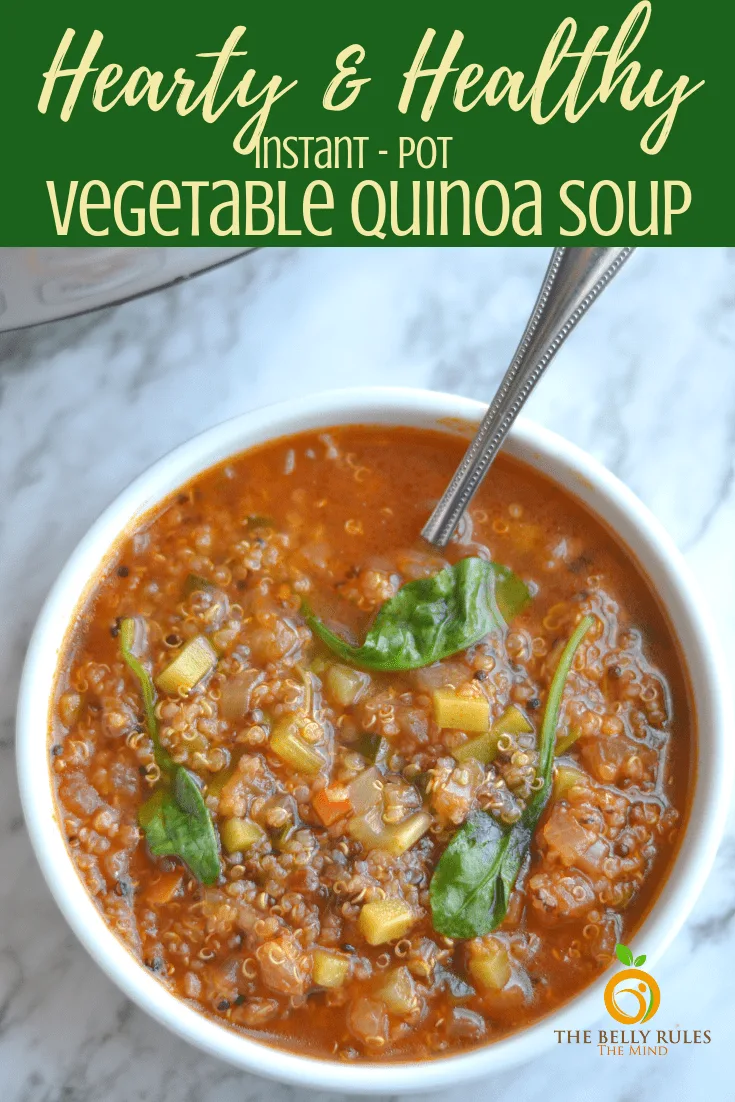 Easy Instant pot Quinoa Soup - It cannot get easier than this
I don't know about you, but for me, there's nothing more comforting than a bowl of hot soup. And while I love everything from Manchow soup to Sweet corn soup to classic Minestrone soup, this Instant Pot vegetable Quinoa soup is one of my favorites! Whether you're sick or not, this Instant pot Quinoa Soup will warm you up from the inside out. It's thick, hearty, and perfect for any season.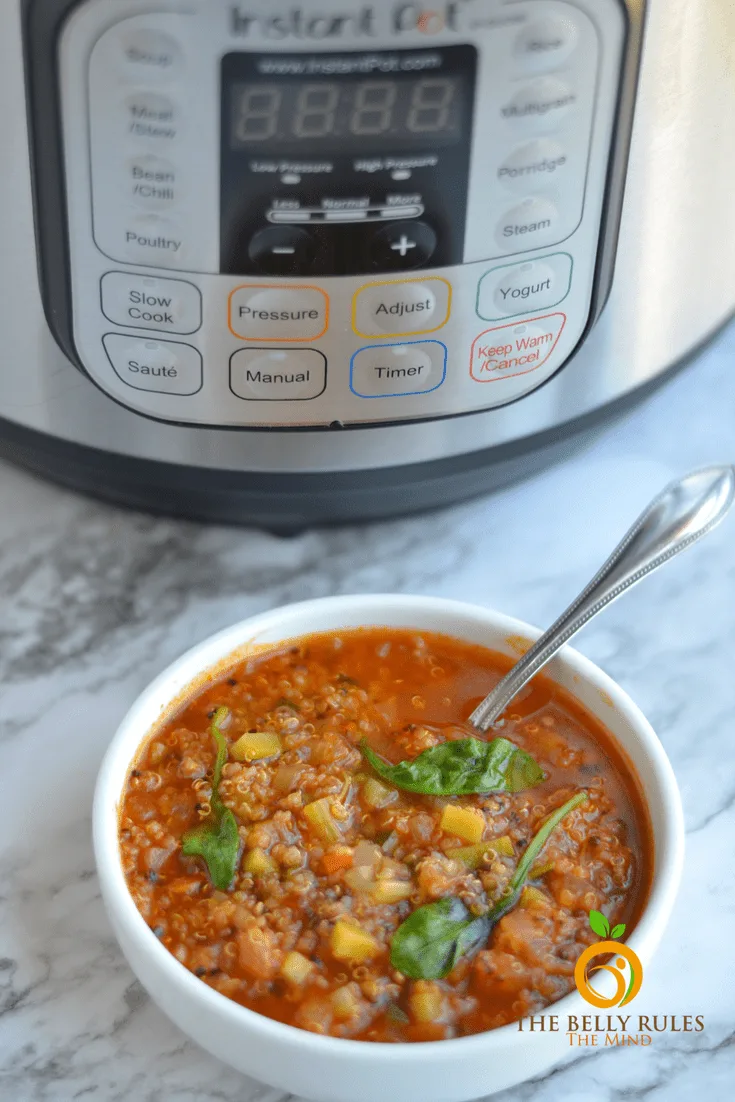 Instant pot Quinoa Soup to the rescue!
I and my husband avoid carbs at dinner time, so a lot of time our go-to dinner meals are soups This Soup recipe is one of our favorites because you can skip the meat and you don't even notice it's missing. The hardest part is doing all that chopping ;) But just wait till you taste the results of your hard labor. This Instant pot vegetable quinoa soup is one that you'll definitely want to add to your dinner rotation.
Instant Pot Vegetable Quinoa Soup is Vegan, Gluten-free, and Freezer friendly
You are going to love this easy to prepare recipe. The best part is this is a one-pot recipe, packed with tons of healthy veggies, and it is vegan too. A bowl of soup for lunch or dinner is a great way to up your vegetable intake providing your body with all the essential nutrients that it needs. It is SO yummy and ridiculously easy. It also makes amazing leftovers and an incredible freezer meal. Win, win, win! You can make a large batch and enjoy it over the week.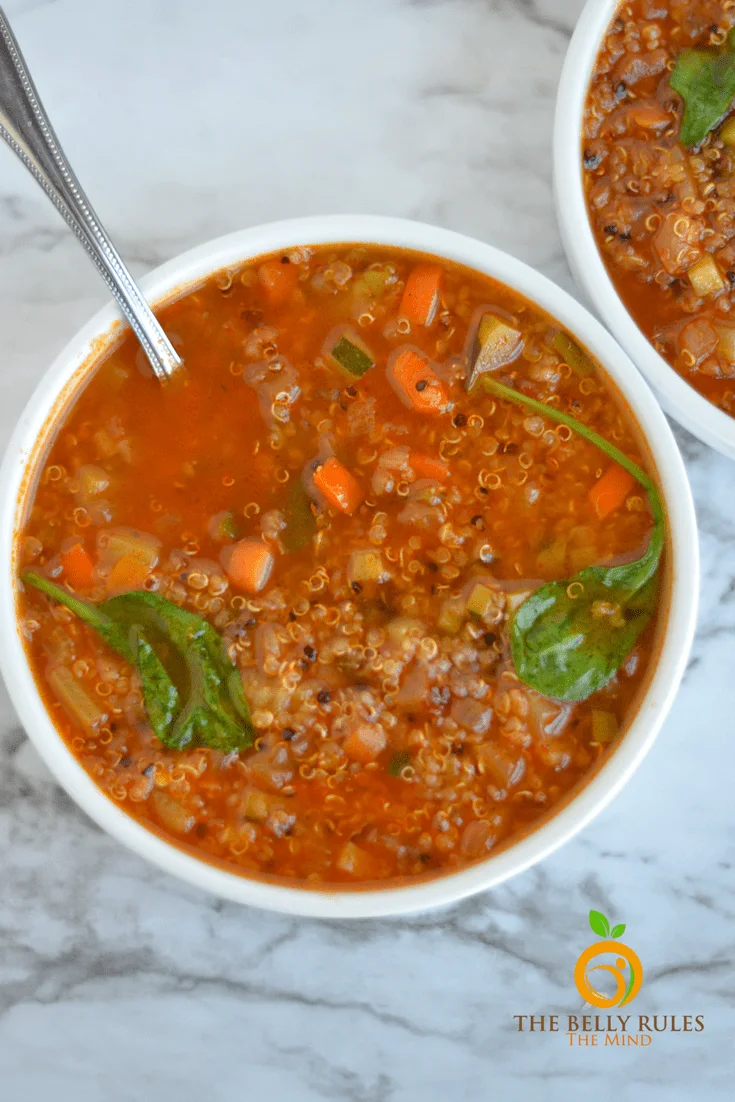 Easy to make, filling and delicious, incorporating a bowl of the stuff into your day-to-day life is a win-win. Oh, and did we mention that it was delicious?
How to make Instant pot Vegetable Quinoa Soup Recipe video below
Our pressure cooker recipe for this favorite dish can be ready in as little as fifteen minutes. It is an easy one-pot meal that is overflowing with Healthy flavor!
Loved this Instant pot Vegetable Quinoa soup and want more Instant Pot Vegetable Soup options?
If you liked this Instant pot Vegetable Quinoa recipe, then check out all of our amazing Soup Recipes! Yum … there are so many tasty options.
1.Instant Pot Vegan Pumpkin Soup
2. Instant pot Minestrone Soup
Are you looking for more Vegetable Soup options?
Do try out the following soups and share on how you liked it.
1 Manchow soup
2 Sweet corn soup
Are you a fan of Mexican food? Do try out our vegetarian burrito bowl, Quinoa burrito bowl, Vegan Cauliflower burrito bowl and you will be considered as an expert chef.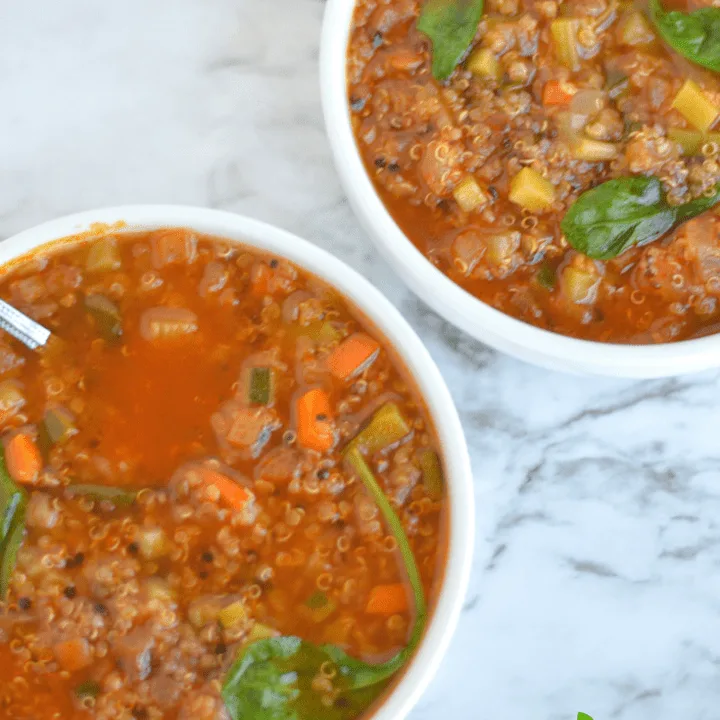 Instant Pot Vegetable Quinoa Soup
Ingredients
2 1/2 tablespoon olive oil
1Tbsp Italian seasoning
1 cup chopped onion
1 cup peeled and chopped carrots
1 cup chopped celery
6 cups low-sodium organic vegetable broth
1 cup Quinoa
1-1/2 cup tomatoes puree
Salt and freshly ground black pepper to taste
1/2 cup chopped fresh green beans or Asparagus
1 chopped zucchini
3 cups baby spinach
Instructions
Heat oil in pressure cooker set to Sauté on Normal.
Cook onion, carrots, zucchini , asparagus, celery and baby spinach in hot oil and give it a quick stir.
Add in the tomato puree ,add the quinoa and vegetable stock, add Italian seasoning , salt, pepper to taste .
Lock pressure cooker lid in place and set steam vent to Sealing.
Select Soup/Stew and cook for 3 minutes on High pressure.
Once the cooking cycle has completed, set steam vent to Venting to quick-release pressure.
Stir the soup and season with salt and pepper to serve.