Savory Vegetable Breakfast muffins - Give your mornings a healthy savory twist with these breakfast muffins. Packed with the goodness of veggies and sugar-free, these savory muffins are super delicious and might become your new favorites. They come together very quickly and perfect for those busy mornings. They are perfect not just for breakfast but also kids lunchboxes or a party appetizer. Egg-free. Vegan option included. Instant Pot Egg Bites option included. Meal prep idea. 10 Ingredients or less. Video Recipe.
This post is updated with new images and Instant Pot instructions on Aug 8th 2019.
Healthy Breakfast Muffins
Who says all breakfast muffins need to be sweet. You can still enjoy a delicious savory breakfast muffin like this one without any guilt. It's savory and packed with only goodness. Flourless, and is so easy to make. These are our faimly favorite cos they are so full of flavors and they come together so easily. I literally prepare the batter at night and then just pour it into the molds in the morning and the batch is ready, it can't get easier than this guys.
These Savory Muffins are one of our most popular recipes too. It was high time I gave the old post needed a makeover with newer pictures (although I love the older pics cos I have memories of making these muffins with Little A) and I answer some of the most commonly asked questions folks have about these muffins. In the process, you will find out why this is one of our very popular recipes and towards the end of the post I share a video demonstrating how easy it is to make these Savory Vegetable Muffins.
Instant Pot Egg Bites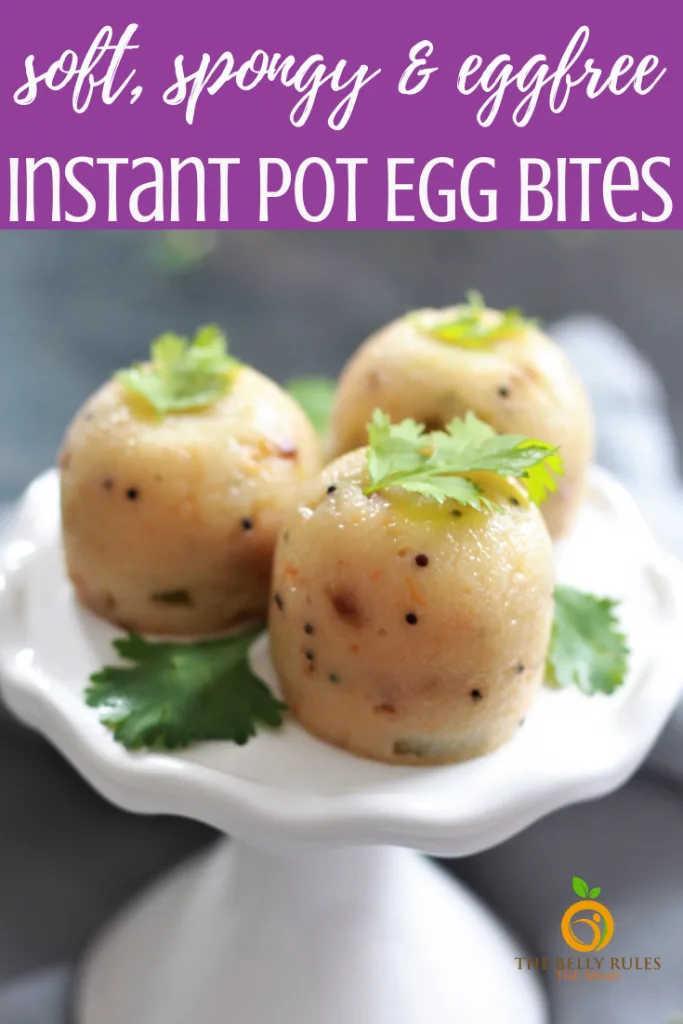 If you want a change from baking you can also give these muffins an elegant twist by steaming them in your egg bites molds. These turn our to be an awesome party appetizer or a perfect snack for my high tea. I serve them with our Avocado Cilantro Dressing . Always a crowd please and leave folks asking me for the recipe.
Sometimes I temper the batter with oil and mustard seeds (you can see the black seeds in the picture below), but that is totally optional. In the recipe card below I have shared baking this batter into savory muffins or steaming the batter in egg bite molds.
Healthy Breakfast Muffins
Here is why I love these savory muffins
Hearty and loaded with the goodness of veggies like peas, carrots, spinach, semolina and yogurt
Sugar-free, enjoy them without any guilt.
Portion controlled.
Come together easily, specially when the mornings are crazy.
Can be made ahead of time in a large or small batch.
Easy Peasy Savory Muffins
One of the reasons this is a very hit recipe is because these vegetable muffins are really easy to prepare with no fancy ingredients. Just toss in the semolina (sooji), yogurt (vegan option listed below), veggies, flavorings and thats it.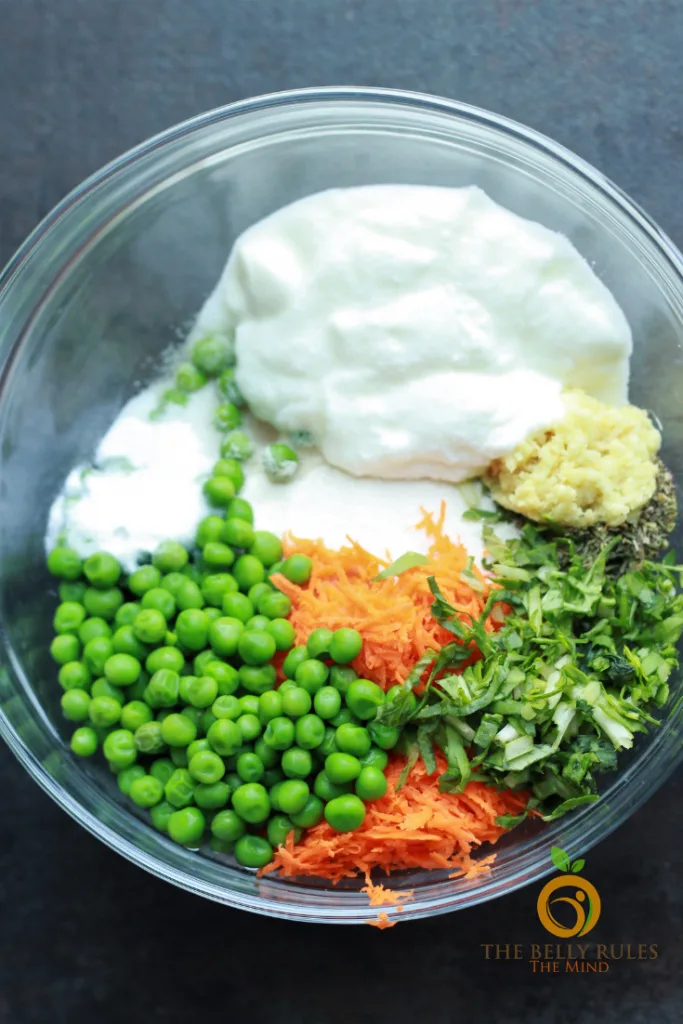 Can I make these Breakfast Muffins Vegan ?
Traditionally, these savory muffins are made with yogurt and instead of cheese I try to add a little element of crunch by grating some Indian Cottage Cheese (Paneer) over them. However I have tried making these with vegan yogurt too. My family prefers the traditional taste I guess because they are used to it. You could either completely skip the cheese, it's optional or maybe just add some vegan cheese on the top. What I personally love about these Savory Vegetable Muffins is that most savory muffins are made using eggs, these are egg-free!!!
Are these Healthy Breakfast Muffins Kid Friendly?

Kids love these Savory Vegetable Muffins. They make a perfect breakfast-on-the-go option and I often pack them in Little A's lunchbox. Perfect back-to-school recipe. It's finger food, packed with veggies. I often bake these with Little A. This recipe is a great way to get your child engaged with you in the kitchen. Here are pictures of Little A baking these muffins with me when he was like 3 years old. They love exploring textures, measuring and mixing ingredients is like a little experiment to them. My observation has been been when kids are involved in making something they often tend to love it. So have fun in your kitchen when making these savory muffins.
How about Finger Food for entertaining friends at a Party?
Did you know these muffins make an awesome party appetizer. I have baked these at so many parties and different shapes and size and they are always a crowd pleaser. A quick and easy fingerfood to entertain large or small friends and family gatherings . If I need to make a large batch I often take a couple of 24 cup mini muffin trays and double the proportions. I have even baked them into a savory cake in my circular or rectangular cake pans. Recently I baked a mini bundt cake out of this batter too. These muffins go best with our Avocado Cilantro Sauce or pair it with any hot sauce you like.
Can I prepare the batter ahead of time - Meal Prep Idea?
The one thing that definitely come handy is prepping the batter ahead of time. Although the preparation for this Savory Muffin recipe isn't a biggie, it sure does come handy. Especially during the busy chaotic mornings or when you are baking these for a party. I typically prepare the batter a night before and all I need to do in the morning for breakfast or the day of the party is just pour it into the muffin pan. Less anxiety for me :)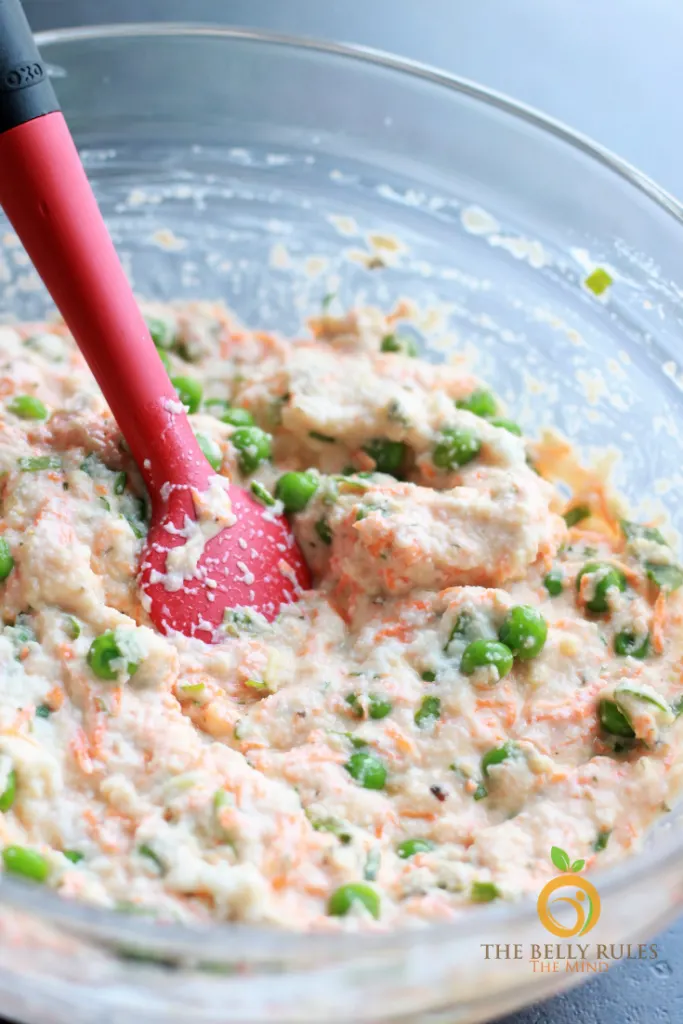 Quick baking tips to ensure the breakfast muffins are a hit.
This Savory Muffins recipe calls for a lot of veggies so don't skimp on the veggies. Feel free to throw in the veggies like carrots, peas, spinach & zucchini. You could also temper the veggies in a wok with your favorite seasonings before you add them the better.
I don't toss the juices from grated veggies as it's full of nutrients. Instead I make up by not adding additional water to my batter. I used the juices from the veggies instead.
Greasing the muffin tins is very important or else you can end up with bottom or sides of the muffin stuck to the pan. For best results use silicon muffin molds which ensure the muffins can come out easily.
Check the doneness of the muffins by doing a toothpick test. If the toothpick comes out clean it's time to cool down the muffins, if not bake for more time.
Keep a eye in the baking time, depending on different ovens it might require 20-25 minutes to bake these vegetable muffins. From my experience they can be done anytime after 20 minutes.
Cooling the muffins is an important step, or else you will realize that the muffins are wet and sticky from the inside. Give it 5-10 mins for the muffins to cool down for the perfect texture and consistency.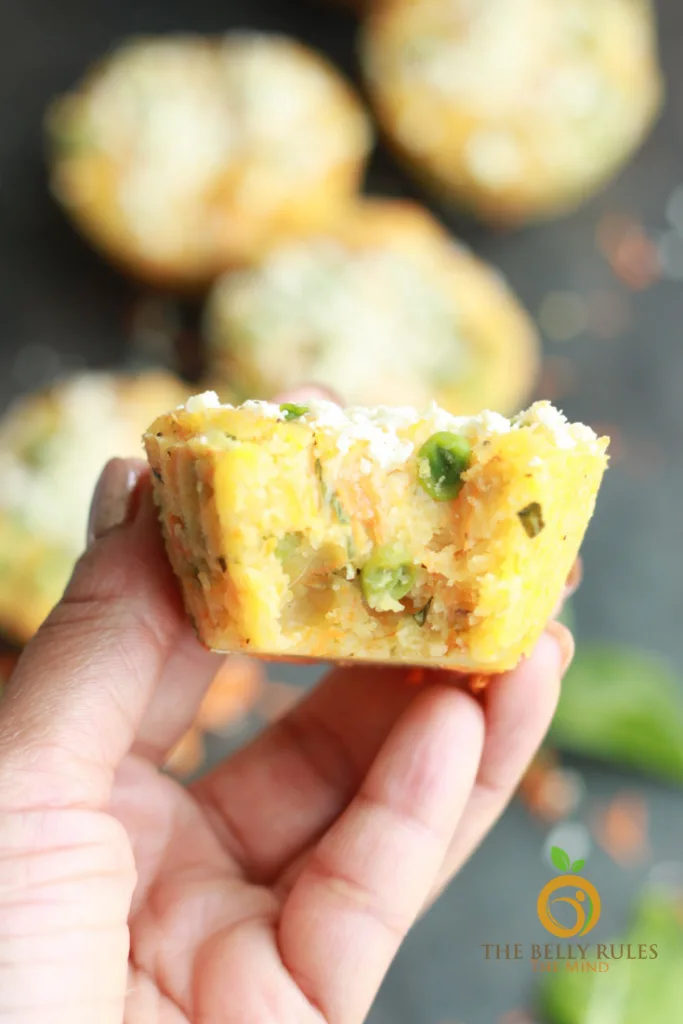 Are these Vegetable muffins Freezer friendly? What do I do with the excess left overs
I never had a scenario where I had any left overs of these awesome bite size muffins, however if for some reason, I've had some left over from a party, I refrigerate them for a couple days if I know they will be consumed in a couple days. Anything more than that I freeze them in a ziplocks. I either bring them to room temperature become consuming them or them sprinkle a little water and microwave for a min or so to make them nice and warm.
What else can I do with this batter?
If you like to experiment like me, we've made waffles, crepes, savory pancake puffs, loaf cake.
Breakfast Muffin Recipe
Let's dive into this easy savory muffin recipe now.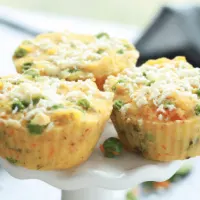 Savory Vegetable Breakfast Muffins
These Savory Vegetable Muffins / Egg Bites are super easy to make. Packed with vegetables and semolina (sooji), these Savory Muffins are perfect for breakfast, kids lunchboxes or a party appetizer. Egg-free. Vegan option included. Meal prep idea. 10 Ingredients or less. Video Recipe.
Ingredients
1 cup semolina
1/4 cup carrots, finely shredded
1/4 cup green peas
1/4 cup spinach, chopped
3/4 teaspoon ginger garlic paste
1/4 teaspoon black pepper
1/2 teaspoon italian seasoning
1/2 teaspoon baking powder
2 green chillies, chopped (optional)
salt to taste
1/2 cup water
3/4 cup yogurt or vegan yogurt
1 teaspoon oil
1/4 cup cottage cheese, shredded (optional)
Instructions
Baking Muffins
If you plan to bake these with your kids, check !here to see how I baked these with Little A.
Preheat the oven at 350 degrees F and grease the muffin tray. This will yield you either 8 regular sized muffins or 16 mini muffins. I used a mini muffin tray.
In a mixing bowl, add semolina, yogurt, carrots, peas, spinach, green chillies, ginger garlic paste, black pepper, italian seasoning,salt, baking powder and oil. Add water and fold the batter in. At this point, you could taste the paste to make sure the ginger garlic and salt is as per your taste.
Grease the muffin pan with oil or use greased silicon muffin molds.
Pour in the batter to the the top.
Sprinkle some grated cottage cheese or you can skip this step completely.
Bake them for about 20-25 minutes at 350 degrees F until a toothpick comes clean from the center of the muffin. Allow them to cool and serve it with our Avocado Cilantro Sauce
Instant Pot Egg Bites Recipe
Prepare the batter following step 3 from above.
Pour the batter into your egg bites mold and cover the lid. The vent doesn't matter here.
Pour 1 cup of hot water in the inner pot and turn on the Steam function and allow the egg bites to steam for about 10-12 minutes.
Open the lid, allow the mold to cool down a little before you open it.
Enjoy the egg bites with our Avocado Cilantro Sauce.