Homemade Fresh Vietnamese Summer rolls served with Peanut dipping sauce are refreshing rainbow colored rolls that require no cooking and make an awesome party appetizer or a healthy snack or light lunch.[avatar user="Anvita" size="thumbnail" align="right" link="https://thebellyrulesthemind.netabout-us/" target="_blank"]Anvita[/avatar]Summer is coming to an end soon, so I am making the most out of it while the sun is shinning bright. I think the fact that summer will end soon is making me want to relish all my favorite summer recipes before I enjoy them again next year. So one such summer recipe that is my favorite is a Vietnamese Rainbow Summer Rolls. I still remember the first time I tried these Summer Rolls at a restaurant in Maryland by the name of Red Parrot Asian Bistro. Back then we lived right across the street from the restaurant so very often on the weekends we would dine at this restaurant. I am a lover of Thai food and their food and ambiance was perfect to unwind a busy, crazy week (I was doing an office job with a 2 hour commute one way). Phew!! Ever since the first time I got hooked onto these colorful delicious summer rolls that made. Not only did I fall for how appetizing they look but also for the taste.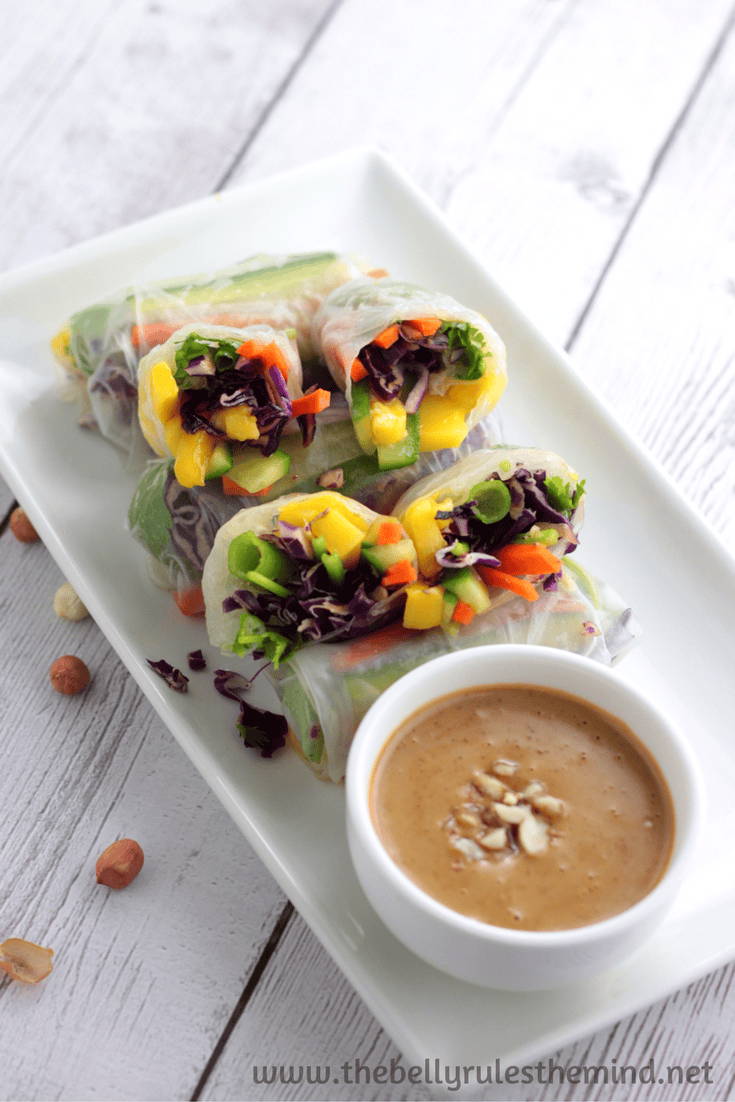 Summer rolls make a great healthy summer snack, light lunch or a crowd pleaser at a party. The raw beauties are healthy and super easy to make as it's just stuffing in the veggies and fruits you like in a rice paper. They are ready in just 20 minutes, how good is that. I often make these with Tofu & rice noodles too (ofcourse that will have to be cooked), but this time I just wanted to keep it super light as I was making it as a party appetizer. You can use almost any fresh vegetables and fruits available in your refrigerator. The most common combinations are lettuce, purple cabbage, carrots, cucumbers, bell peppers, avocados, green onions, mint leaves, cilantro, alfalfa sprouts, mung beans or even add your choice of protein like tofu. A lot of folks also like to add fruits into their rolls, like mango, strawberries, kiwi or as a matter of fact just make an entire fruit roll in itself. Vietnamese rolls are best served cold with a peanut dipping sauce.
Over the years I have realized that home made summer rolls are far more better than the ones served at a restaurant and best of all I can keep trying different combinations without overpaying.
Another Vietnamese recipe that I love making at home is the Bahn Mi Sandwich, don't forget to check out the recipe.
For more healthy ideas and recipes subscribe to our email or follow us on Facebook to stay updated with all the healthy information we share. Check out our Pinterest boards for all the healthy eating inspiration you'll ever need. For an unending buffet of healthy photographed food, follow us on Instagram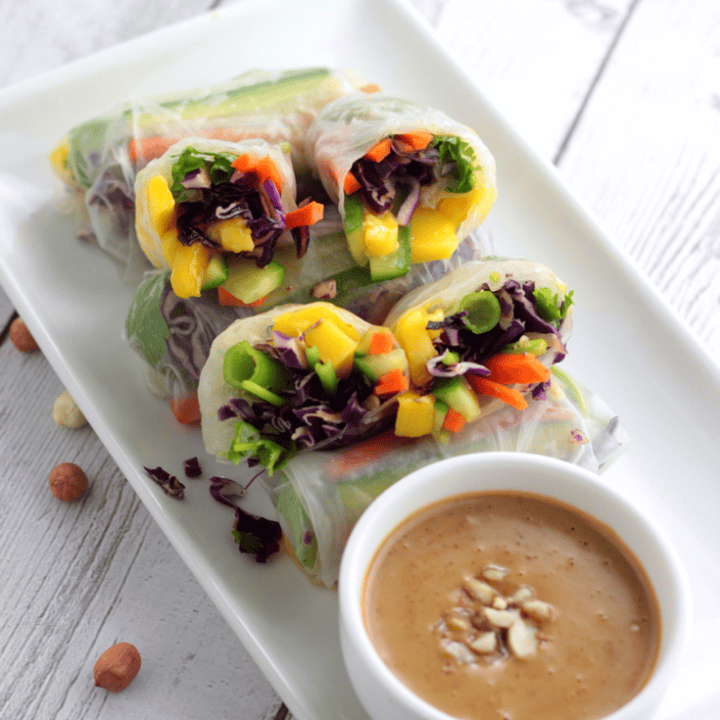 Vietnamese Summer Rolls
Ingredients
2 large carrots, peeled & juliened
2 large cucumbers, juliened
3 large mangoes, peeled and juliened
6 green onion stems, juliened
12 cilantro stems
1/3 cup chopped purple cabbage
1/4 cup mint / basil leaves
For the pickle
2 tbsp. [Ching's soy sauce|http://amzn.to/2cgW8Gy] / [Eden Organic Tamari |http://amzn.to/1UML0mI]
1 teaspoon rice vinegar.
1 tablespoon maple syrup
warm water
Instructions

Make sure all the ingredients for the Summer Rolls are washed, chopped and ready to assemble.
Pickle cucumbers and carrots ahead of time - Place carrots and cucumbers in a jar of soy sauce ,vinegar and honey. Add water to make sure the vegetables are completely immersed.
Prepare the rice paper - In large 9 inch bowl, add some luke warm water. Dip a rice paper in the bowl for about 15-20 seconds until it is soft, but still a little firm.Place it on your workstation on a chopping board or plastic mat.
Fill the rolls - Using the bottom one third of the surface, layer the carrots, cucumbers, mangoes, green onions, purple cabbage, cilantro stems and a couple mint leaves horizontally.
Roll the rolls - To roll the wrap tightly, you need to first roll the bottom of the wrap upwards. Next fold in the side and lastly roll it tightly all the way till the top.
After rolling you can cool them and either serve them as is with the 5 minute thai peanut sauce or cut them into halves.
Storing tip - Wrap them individually in a plastic cling wrap.

Products Used