With our Air Fryer Onion Bhaji, you can make restaurant quality onion pakora at home for a healthier version of this famous Indian snack. Our recipe yields a crispy vegan onion fritter with a fraction of the fat as a fried onion bhaji but all of the flavor.
[avatar user="soniyasaluja" size="thumbnail" align="right" link="https://thebellyrulesthemind.net/about-us/" target="_blank"]Soniya Saluja[/avatar]
This post was sponsored by the WonderMill Grain Mill but all opinions expressed in my post are my own.
LET'S BE FRIENDS ON PINTEREST! WE'RE ALWAYS PINNING TASTY RECIPES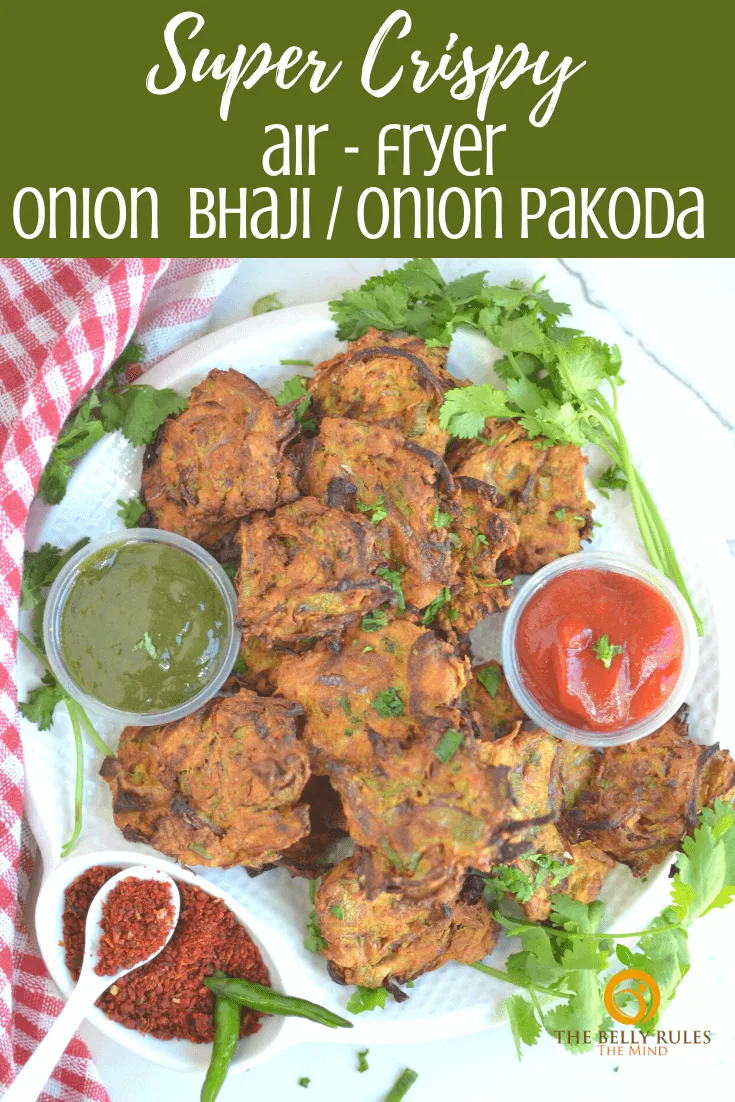 WHAT IS ONION BHAJI
Onion bhaji is a fried fritter with onions and spices. This traditional, popular Indian street food is served around the world in Indian restaurants as an appetizer or starter. You may have had this tasty dish before but call it something else, depending on where you are and have eaten it.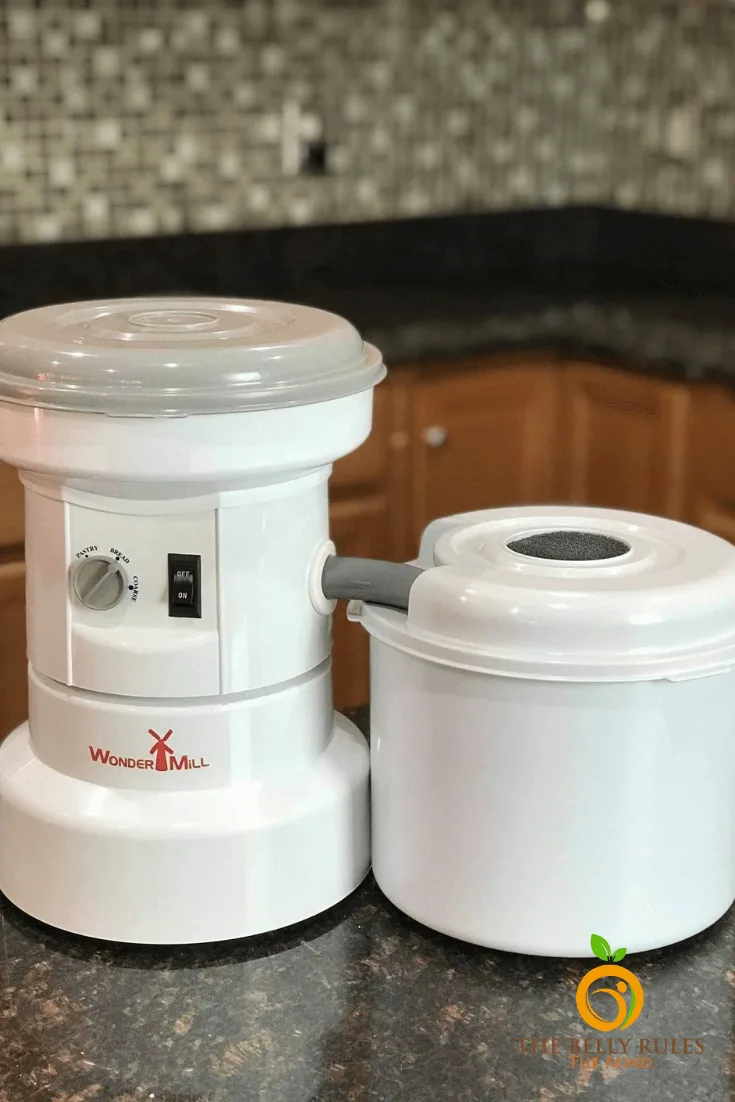 MILL YOUR OWN GRAIN AT HOME
WonderMill has certainly been a "wonder"ful machine for us and we at The Belly Rules The Mind no longer purchase most of our flour from stores. We do it at home using the WonderMill Grain Mill. It is certainly easy to mill your own flour at home and you can read about the benefits here. Its not only cost effective ( I can get 50% more flour for the same cost), but healthier option as it does not have any added preservatives. I love making my flour at home and ensure that the needed grains are always there in my kitchen pantry. I usually stock them when they are on sale. This also helps us save money.
HOW DO I MAKE THE BEST ONION BHAJI?
The primary ingredient of the onion bhaji is the Split Channa Dal or Bengal Lentils(Besan) and rice flour. Besan is a common ingredient we use in a lot of Indian recipes, like Khaman dhokla Eggfree Frittata, Punjabi Kadhi, Chickpea Snack Sticks, Guilt-Free Fritters,and more. I usually make a small batch that can last for a week or two using my WonderMill Grain Mill and store it. It is rich in protein and certainly a good option for your proteins. Rice flour provides the crispness needed for the onion bhaji. The freshness of these home milled flour takes the onion bhaji to a whole new level. I can assure you that once you start milling your own grains, there is no going back. Because you will realize how good the taste and texture of any food is when cooked with fresh flour.
WHY SHOULD I MAKE ONION BHAJI IN THE AIR FRYER
Air fryers are a healthier option for people who are looking to reduce the amount of fat and calories they eat. Air frying also involves less mess - you don't have to figure out what to do with the cooking oil once you are done with it. There is also no splattering of oil on the stove and countertop.
The Airfryer also makes healthy fried food easy! When you pan fry onion bhajis you have to be careful to keep the oil good and hot. If it gets too cold, it won't give the nice crispiness you want from fried food. With the Air Fryer, you set the temperature and it will consistently cook the food.
If you love using your air fryer, you should check out some of our other great snack options like apple chips and banana chips !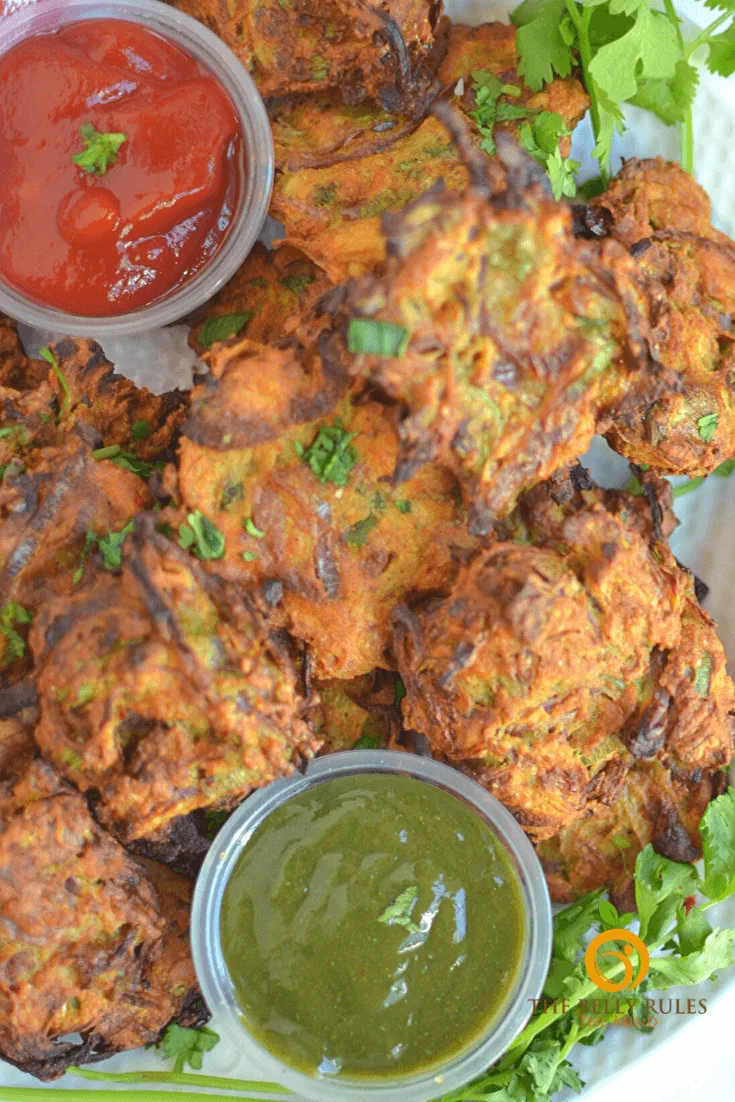 KANDA BHAJI / ONION BHAJI /ONION PAKORA DIFFERENT NAMES, ONE AWESOME DISH
Onion bhaji has a lot of different names. They are commonly called onion pakora in India. But around the world they are known as:
kanda bhaji
onion bhaji
onion pakora
This fried Indian street food is also served in many Indian restaurants as appetizers. At home, you can make onion pakora as either an appetizer for a get together or as a snack. And since you'll be using an air fryer to make the onion pakora, you're making a healthier version of these delicious fried snacks for your kids and hubby to enjoy.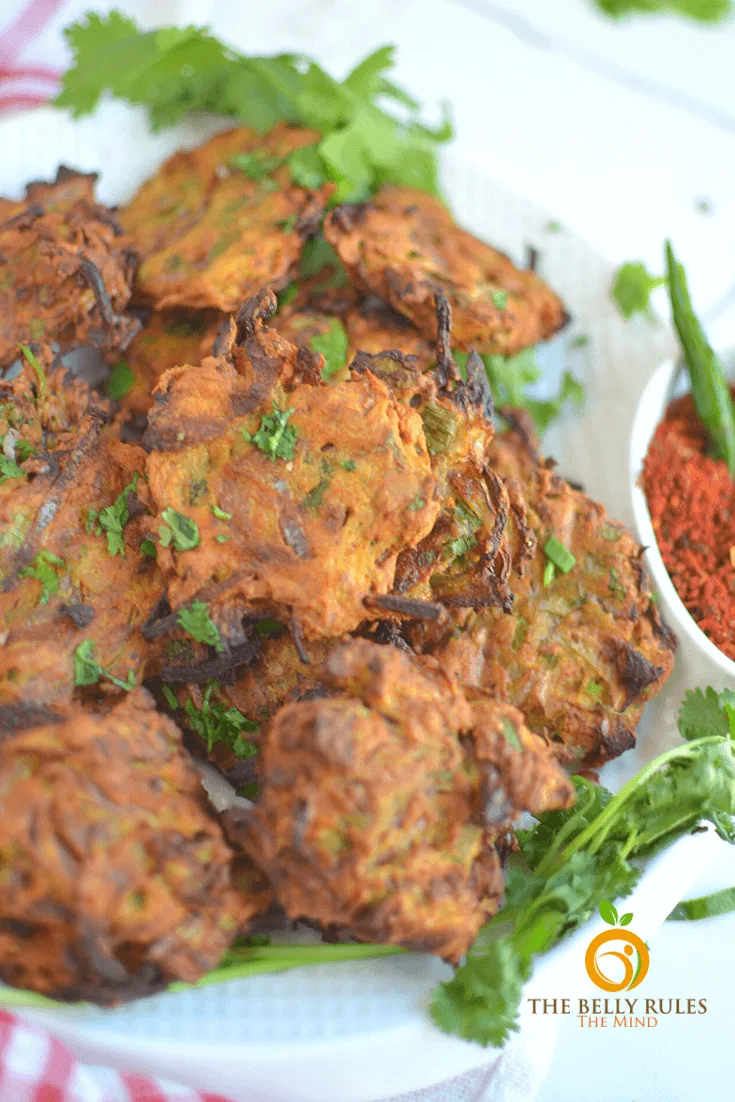 CUT THE CALORIES WITH THIS AIR FRYER ONION BHAJI
Air fryers are great for cutting down on calories. Onion bhaji is traditionally made through deep or pan frying the onion pakora. When you deep fry or pan fry a food, the batter absorbs some of the oil, which adds extra fat and extra calories.
An air fryer helps avoid this by cutting down on the amount of oil you use. Instead of cooking them in an oil bath, you add just a bit to the outside of the onion bhaji discs. This cuts down on the extra fat and calories.
HOW DO I MAKE ONION BHAJI?
Onion bhaji is easy to make. The hardest parts are slicing the onion and grating the potato. And neither of those things are hard, they just require a little patience.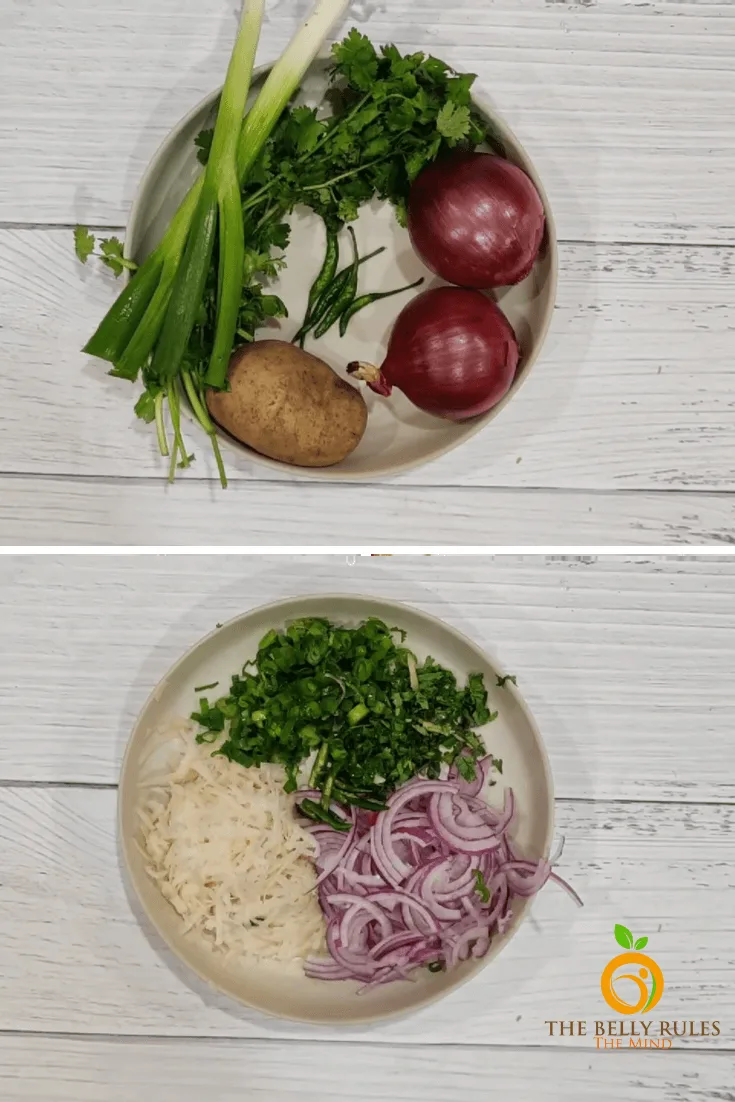 For the potato, peel the potato first so you avoid clumps of potato skin in the bhaji. But if you prefer, you could leave the skin on, just note the batter for the onion bhaji won't be as smooth. To grate the potatoes, you can use a hand grater or an attachment to a food processor or other electronic grater. When they are grated, place them into a small amount of water to help prevent browning.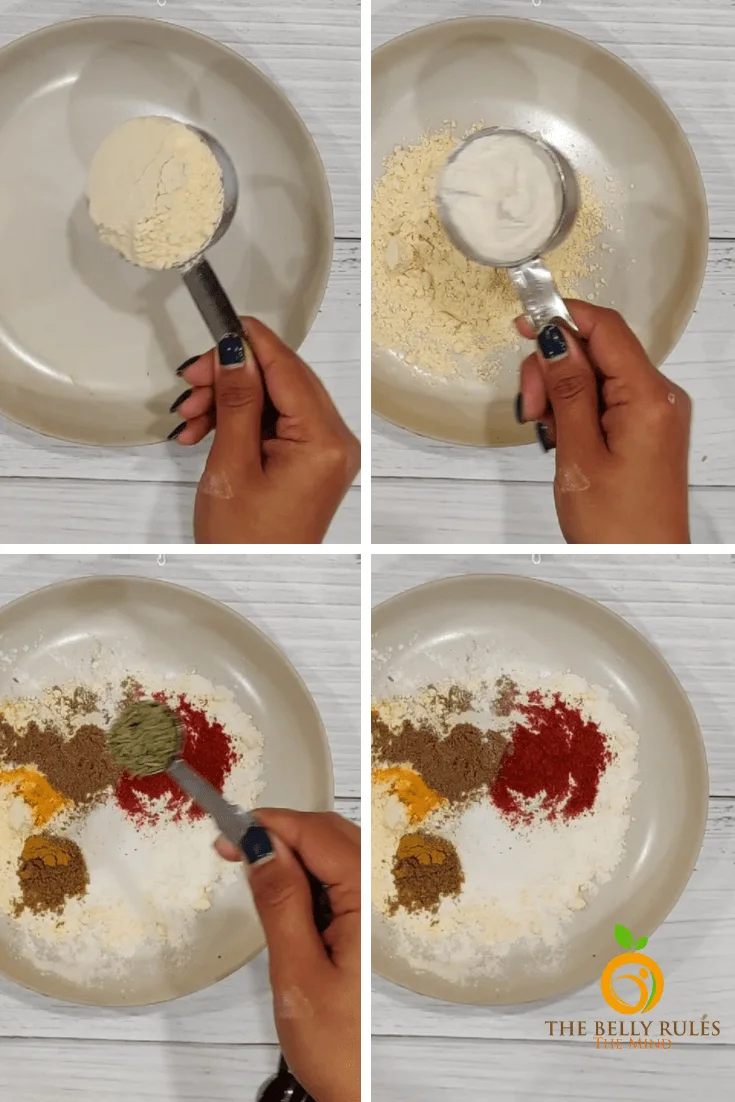 When the onion is sliced, add all the ingredients into a medium mixing bowl. It is easiest to mix the ingredients with your hands so you can squeeze the moisture out of the potatoes as you mix.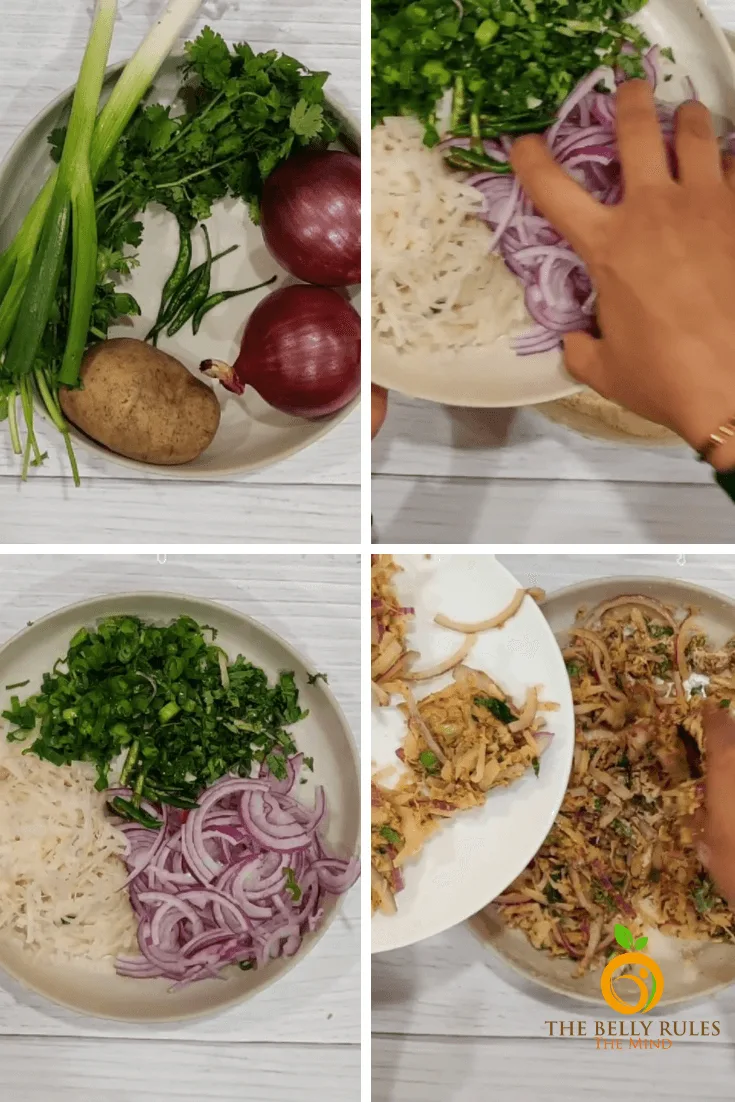 Once the ingredients are well incorporated, wet down your hands a bit and form the onion bhaji batter into flat discs. Spray them with a bit of oil and place in the air fryer. When they are in the fryer, cook for 12 minutes at 180°C or 350°F. When the timer rings, reset the heat to 200°C or 400°F respray with oil and cook for a further 4 - 6 minutes.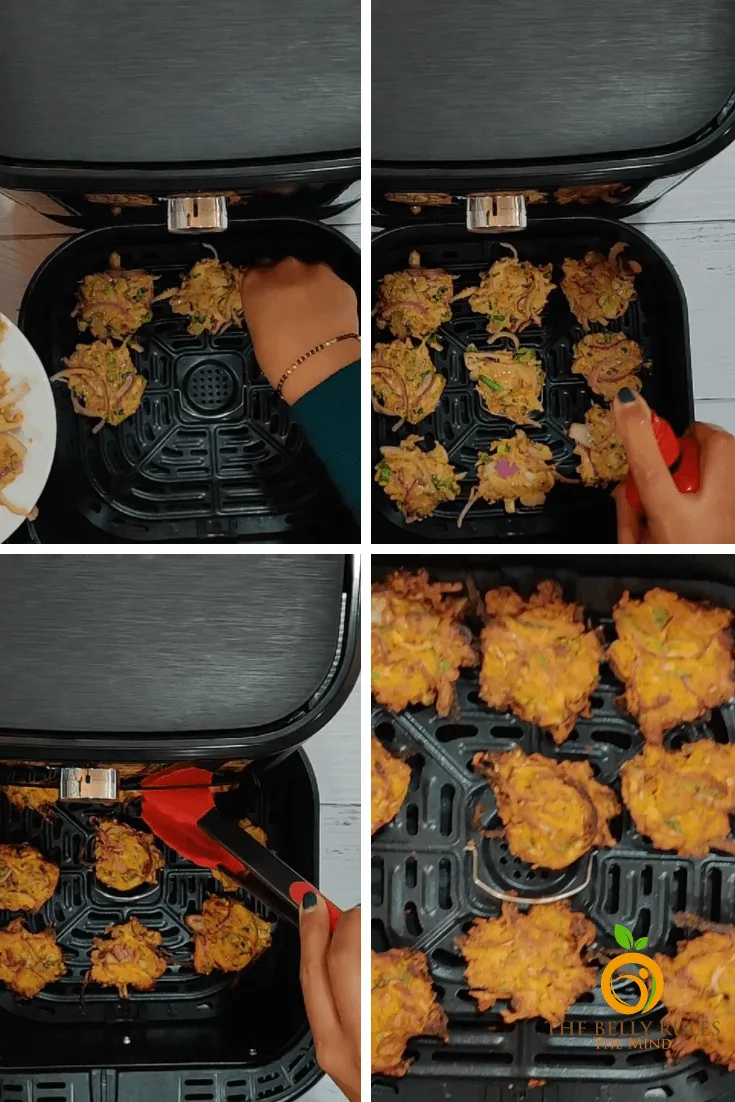 Serve the onion bhaji straight out of the fryer with on their own or with chutney or ketchup.
WHAT TYPE OF ONIONS ARE BEST FOR ONION BHAJI
You can use just about any onion you prefer. But the ones I typically use include:
I love using red onion but you can use any other . Also, I tend to use medium to large size onions as they are easy to work with.
HOW THIN SHOULD I SLICE THE ONIONS?
I prefer to slice the onions thinly. I find thinner onions cook up nicely and give the onions a bit of tenderness. If you prefer thicker cut onions, you can do that to. Just keep in mind, the thicker you cut them, the crispier they will be when they are done cooking.
IS ONION BHAJI GLUTEN FREE?
Onion bhaji are gluten free. Gram flour comes from Split Channa Dal or Bengal Lentils which do not contain gluten.
IS ONION BHAJI VEGAN?
Yes, onion bhaji is vegan. You use only plants and plant products to make onion bhaji, so you do not need to make any substitutions to make them vegan because they already are.
HOW DO I SERVE THIS ONION PAKURA?
You should serve the onion pakura straight from the fryer. If you are making a lot of onion pakura to serve your guests or large family, you can keep them warm in the oven set to 200 degrees. Just place a baking tray in the oven to stack them on.
Onion bhaji is a great snack or appetizer that you can give your kids or hungry husband any time of day. If you want, you can make them on the weekend an serve them as an after school snack. To do this, all you need to do is store them in the fridge in an airtight container or bag.
You can serve these onion pakura with your favorite chutney, such as avocado chutney, or with ketchup. You can also eat them as is if you prefer.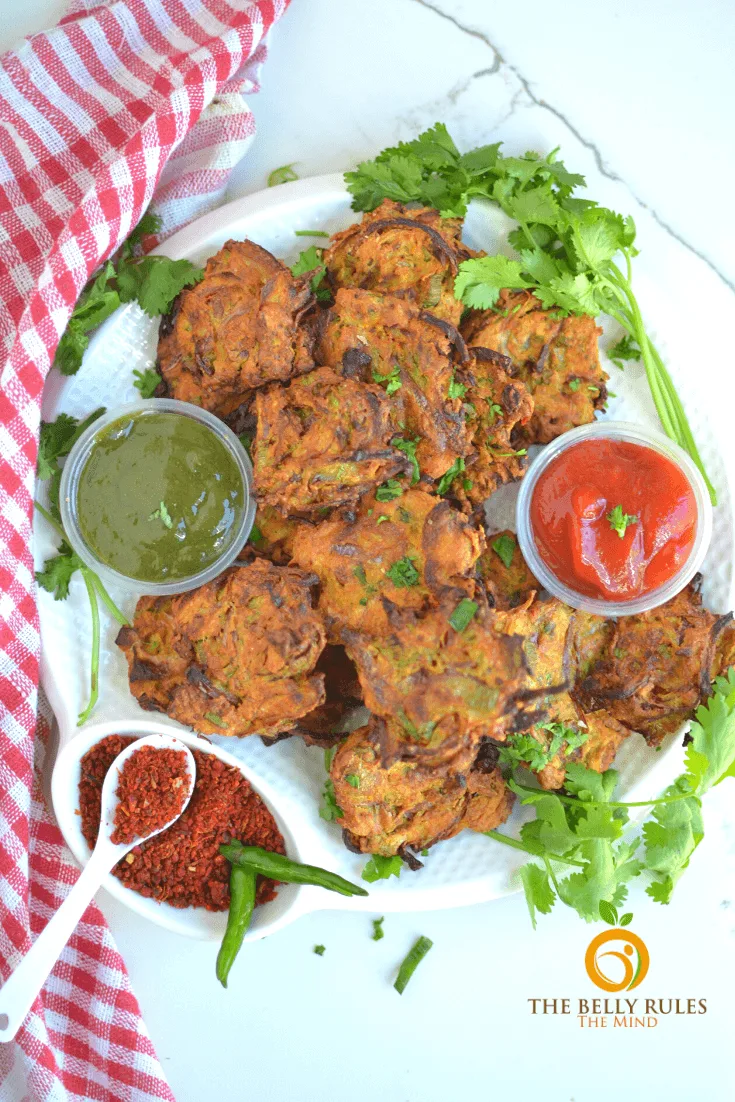 PRO TIPS AND TRICKS FOR THE BEST AIR FRYER ONION BHAJI
You can store your onion bhaji in either a shallow, airtight container or a sealable plastic bag for 3 to 5 days in the refrigerator if you have left overs.

You can freeze onion bhaji in a freezer bag or other airtight container for up to 1 month. When reheating the onion bhaji, defrost them and then heat in a hot oven.

You don't need anything but your hands to mix up the onion bhajis. In fact, mixing with your hands helps create a thicker batter with the grated potato.
Do you have a sweet tooth? You should check out our Healthy Sweet snacks & No Sugar Vegan CornBread Muffins to reduce the sugar intake and not feel guilty about eating sweets.
Our other Awesome Air Fryer Recipes, try our Apple Chips, Air Fryer Southwest Egg Roll, Crispy Air fryer Potato Wedges, Air Fryer Crispy Tofu Buffalo Bites, Korean Air Fryer Cauliflower Wings, Air Fryer Roasted Chickpeas,etc.
If you are a fan of healthy eating and have just purchased an instant pot, Try out our 100+Instant Pot Vegetarian Recipes. From Soups to Pasta and from Appetizers to Desserts and everything in between.
Air Fryer Onion Bhaji Recipe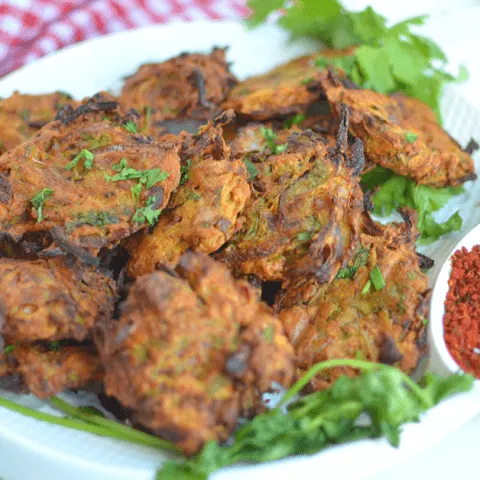 Air Fryer Onion Bhaji- Onion Pakora
With our Air Fryer Onion Bhaji, you can make restaurant quality onion pakora at home for a healthier version of this famous Indian snack. Our recipe yields a crispy vegan onion fritter with a fraction of the fat as a fried onion bhaji but all of the flavor.
Ingredients
MILLING YOUR OWN FLOUR
Split Channa Dal or Bengal Lentils-1 cup
Rice -1/2 cup
Or use store bought flour
Gram Flour- 1 cup
Rice Flour -1/4 cup
1 large or 2 medium Onion/ chopped length wise
1 medium Potato/ grated
Turmeric-1/2 Tsp
Cumin- coriander powder-1/2 teaspoon
Red chili powder-1/2 teaspoon
Fennel seeds - 1/2 teaspoon ( optional)
few green chili
Salt to taste
Cilantro / chopped-1/4 cup
Few tablespoon of Water
Cooking Oil Spray
Instructions
Peel the onion and remove the skin, then cut in half and finely slice from the top to bottom ( Length wise). Grate the potato and soak it in water ( so it doesn't get brown) squeeze the water with your hands when making the batter.
In a mixing bowl add all the ingredients . I find this step is easiest if you just mix with your hands.
Once you've got a thick batter,Wet your hands and form into fairly loosely formed flat discs.
Place the discs in the air fryer, spray with oil spray and then cook for 12 minutes at 180°C or 350°F.
After 12 minutes increase the temperature to 200°C or 400°F
Respray with oil and cook for a further 4 -6 minutes till your onion bhajis are golden brown in color and crispy.
Serve these hot on their own or with a avocado chutney or ketchup and enjoy