Don't have too many things left in your pantry? Spice up your dinner with this fiery and delicious Spaghetti Aglio E Olio with minimal ingredients! This quick and easy recipe made in the instant pot will have you in and out of the kitchen in no time! Aglio e Olio is one of my favorite pasta recipes and my kids love it too. All you need is pasta spaghetti noodles with tons of garlic, olive oil, butter, and red chili flakes and fresh parsley, and grated parmesan cheese for garnish. It's a big bowl of comfort food that you can make when you are tired or just need a quick meal without the fuss.
Quick and Easy Spaghetti Aglio E Olio Pasta Recipe in under 15 minutes
Dinners cannot get easier than this Aglio E Olio made in an instant pot in under 15 minutes. Everyone loves pasta and this recipe is one of the simplest recipes for making pasta. It does not require a whole lot of ingredients and is flavorful. You can call it one of the most satisfying and loved pasta recipes! You simply cannot go wrong with this spaghetti recipe. If you like hot and spicy dishes, you MUST make this recipe soon!!
What is Spaghetti Aglio e Olio?
Spaghetti Aglio e Olio might sound fancy, but this classic Italian recipe originates from Naples and simply translates to "spaghetti with garlic and oil." It's usually cooked by first sautéing minced garlic in olive oil and then mixing with spaghetti, grated parmesan cheese, red pepper flakes, and parsley. A quintessential pasta dish made with a handful ingredient, packed with so much flavor, and it is amazingly garlicky without being too overpowering. The key is the extra Parmesan cheese that goes right on top for serving which is almost as crucial as the crusty garlic bread served along with the dish. It's important to ensure that the spaghetti and other ingredients are cooked to perfection and that is where the recipe gets interesting. We are removing the guesswork of what to do and how to do it by using an instant pot to achieve perfect results every time. Go ahead, call yourself an experienced chef.
What is different about this Aglio E Olio Recipe?
This recipe uses an instant pot to achieve the same flavor and texture of the authentic recipe with minimal efforts. All of the recipes that you will see or search for spaghetti Aglio e olio will ask that you cook the spaghetti noodles in a separate pot of boiling water. We make everything in the same pot, our latest kitchen gadget Instant-pot, including the spaghetti. So now you will ask what are the benefits of doing this? Firstly you don't need to wrangle more than one pot for this recipe. Pasta water, or water used for boiling and cooking the pasta, is automatically re-used to form the pasta sauce for the spaghetti.
This is the ultimate dump and start Pasta Aglio E Olio recipe.
The Aglio E Olio Pasta recipe is quick and easy and is ready in under 15 minutes. That is a good enough reason to persuade you to make it. If that didn't persuade you, the fact that it cooks in instant pot with no guesswork will absolutely seal the deal for this being the best weeknight dinner meal ever.
This dish doesn't need you to make a trip to the grocery store Seriously, No kidding just a few ingredients and your very own Instant- pot and you are all set! When it comes to pasta, simple is often best. This spaghetti Aglio e Olio is creamy (without a lick of cream), satisfying, and slightly spicy.
It's our lazy weekend dinner night where we don't really want to do any chopping or too much cooking and let the instant pot do its MAGIC and we would much rather spend that time on the couch in our favorite PJs and catch up on our favorite Tv shows.
What kind of spaghetti is used for this recipe?
I use spaghetti type artisan pasta / Barilla Spaghetti I found in my favorite store (Homegoods) for this recipe, so the cooking time estimate below is specifically for spaghetti. If you use a different type of pasta, your cooking time will differ. This recipe works great with traditional pasta, whole-wheat, and even gluten-free pasta –and making it work for any dietary need is a bonus in any household. 15 Minute Spaghetti Aglio e Olio is the quickest and easiest weeknight or weekend dinner or lunch recipe. It's a simple spaghetti recipe that's bursting with big delicious flavors!
Spaghetti Aglio E Olio Recipe Video
Some tips on how to serve spaghetti Aglio e Olio
I use spaghetti type pasta for this recipe, so the cooking time estimate below is specifically for spaghetti. If you use a different type of pasta, your cooking time will differ. I recommend using thin noodles only so that it doesn't take long to cook.
You can skip the parmesan cheese and refrigerate the pasta for up to 7 days. Just warm it up in a microwave or stovetop, sprinkle the parmesan and you are ready to go.
Do not use Angel hair pasta as it is thin and may cause a burn notice and overcook.
This dish is best eaten while hot. Once it cools, the noodles will become sticky since it's covered with parmesan cheese. You want to eat it while it's hot and the noodles are still silky smooth. Keep the dish on a warm to keep it hot if you're not serving immediately.
You can eat this spaghetti on its own, or pair with a salad or bread. Garlic bread goes well with this dish
Having easy recipes that come to the rescue with kitchen staples are a must! Bonus: this dish makes a terrific thermos lunch for both my kiddos. Win-win!
I have to admit that they're a bit too spicy for my youngest two kiddos, so I usually make something a little more mild for them! But for me and my hubby, we love them!! hope you all try and enjoy this recipe like the rest of our recipes! Bon appetite!
check out our Italian recipes :
Do you Love Noodles? You will simply love our Spicy Thai Noodles and Vegetable Chow Mein Recipe.
Are you a big fan of Mexican Food? In that case, you have to try our burrito bowl recipe or if you are a Quinoa fan, try out our quinoa burrito bowl recipe. Tired of trying to find the correct way of preparing rice in an Instant pot? Try out our instructions for jasmine rice instant pot, instant pot basmati rice, or how to cook brown rice in instant pot. You will never go wrong with these instructions.
Indulge in your love for Indian food with Vegetable Biryani in Instant Pot. Want to save money by making things at home, try our Instant Pot Beans or Homemade Yogurt to save money. Do check out How to cook Broccoli for kids approved broccoli recipes.
If you are a fan of healthy eating and have just purchased an instant pot, Try out our 80+Instant Pot Vegetarian Recipes. From Soups to Pasta and from Appetizers to Desserts and everything in between
Instant Pot Spaghetti Aglio E Olio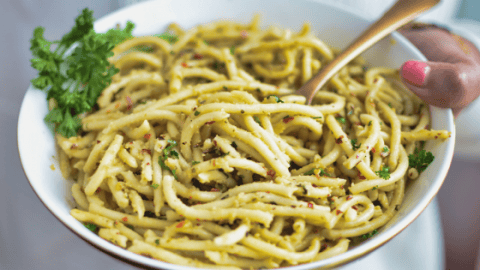 Spice up your dinner with this fiery and delicious Spaghetti Aglio E Olio with minimal ingredients! This quick and easy recipe made in the instant pot will have you in and out of the kitchen in no time! Aglio e Olio is one of my favorite pasta recipes and my kids love it too.
Additional Time
5 minutes
Ingredients
16 0z spaghetti imported from Italy or Barilla spaghetti
3 cups water
1Tbsp Olive oil
1 Tbsp butter
15 garlic cloves chopped/ thinly sliced( if you prefer less garlicky use around 8-10 garlic cloves)
1/2 Tbsp red pepper flakes/ increase or decrease according to your taste
3 tbsp fresh parsley/ chopped
1Tbsp Parmesan cheese/ optional
Instructions
Add olive oil and butter ( you can skip butter if vegan)and let the butter melt
Add the chopped and julienne garlic and stir. Cook until the garlic is golden browned, a few minutes, stirring occasionally.
Add red chili flakes pepper, and chopped parsley and stir.( Do not let the garlic burn)
Pour the water and place the spaghetti ( if using regular spaghetti break the spaghetti noodles in half, and place into the water)
Use a spoon or spatula and kind of press down to make sure all the noodles get some water on them. They don't need to stay in the water, but just get all of them wet.
Close the lid and turn the vent to sealing position. Set the Instant Pot to manual high pressure for 5 mins.
Let the pot release naturally for 5 minutes, and then release the remaining pressure with the manual pressure release.
After the pressure indicator has lowered, remove the lid carefully. It will look watery at this point.
Use tongs to stir well, and pick apart any stuck pieces. There will be a few stuck pieces.
Allow the spaghetti to rest for 5 minutes to let some of the liquid evaporate. You can give it a stir a time or two during this to help it out. The liquid will reduce after a few minutes.
Serve with fresh parsley and Parmesan cheese, if desired
Notes
Leftover can be saved in the fridge for up to 7 days.
Tongs are extremely useful for separating the spaghetti.
Do NOT use angel hair pasta for this recipe. Angel hair has a much quicker cook time than standard spaghetti noodles and will overcook and/or burn when used in this recipe.
Recommended Products
As an Amazon Associate and member of other affiliate programs, I earn from qualifying purchases.