Golden Cauliflower Soup, is rich, anti-inflammatory, healing for the gut and comforting without the need for heavy creams or butter. It's the most luscious vegan Instant Pot Cauliflower Soup out there! Delicious, creamy, that is dairy-free and comes together in less than 15 mins! Perfect for lunch, dinner, or served as an easy starter, you'll love this healthy Cauliflower Soup Recipe.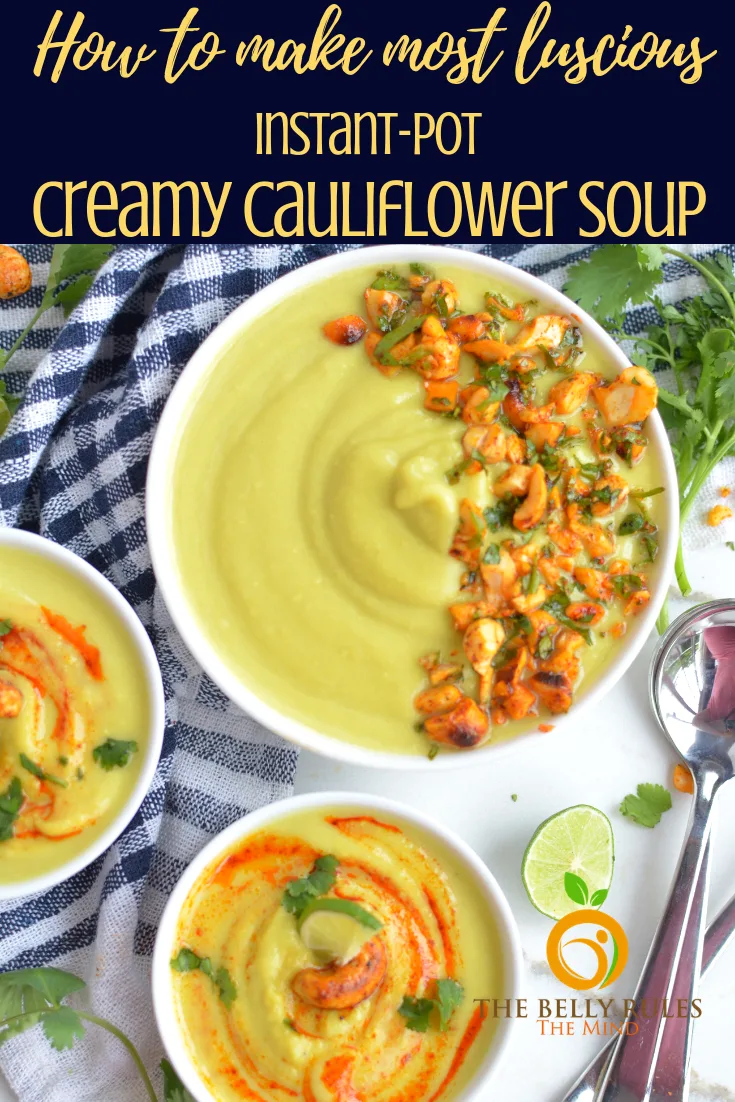 Warm greetings to our old and new readers! I am so excited and pumped up. The reason is I just came back home after attending my first ever Food conference and it was not just any conference, it was the "EVERYTHING FOOD CONFERENCE". I learned so much but more importantly, met the most amazing people + lots of bonding experiences and friendships were born. The camaraderie, the energy, the spirit cannot be replicated elsewhere. Came home with so many swags from amazing sponsors can wait to try them and share it with you all :)
If you've been following our blog, you may have noticed that we really love cauliflower. It's healthy, delicious, low-calorie, and low in carbohydrates. Cauliflower also makes a great substitute for rice and potatoes. So I am very excited to share today's recipe with you all. This Instant pot Golden Cauliflower soup is an anti-inflammatory powerhouse, this soup is comforting, delicious, and beyond simple to make, almost effortless. Works great in the Instant Pot, a pressure cooker, or on the stove top!
I was really inspired by Lindsay's Golden Soup recipe at Pinch of Yum and was making this soup quite often. I always wanted to make the Instant Pot version to simplify my stirring, waiting and baby sitting. So I have done the hard work of trying this recipe multiple times to provide you with fail proof steps.
How to make Cauliflower Soup in Instant Pot?
Whether you are following a strict diet or not, it's hard not to love this Instant pot creamy cauliflower soup. The secret to making it rich and smooth: Cashews! Whether you are vegan or not, this ingenious kitchen trick is an excellent way to get the same creamy texture and taste without the cream and of course the health benefits. I use cashews in this soup to make it so rich and creamy without a drop of dairy. This soup is made up of less than 5 ingredients and takes under 15 minutes. You probably already have most of the ingredients in your kitchen.
What to garnish Cauliflower Soup with?
Top the velvety smooth soup with air fried spicy roasted chickpeas for a protein-packed crunch or the crispy roasted spicy Cashews for some added crunch and texture. It's totally optional but it's really good if you have the ingredients and the time. The crunch does give the cauliflower soup an interesting twist.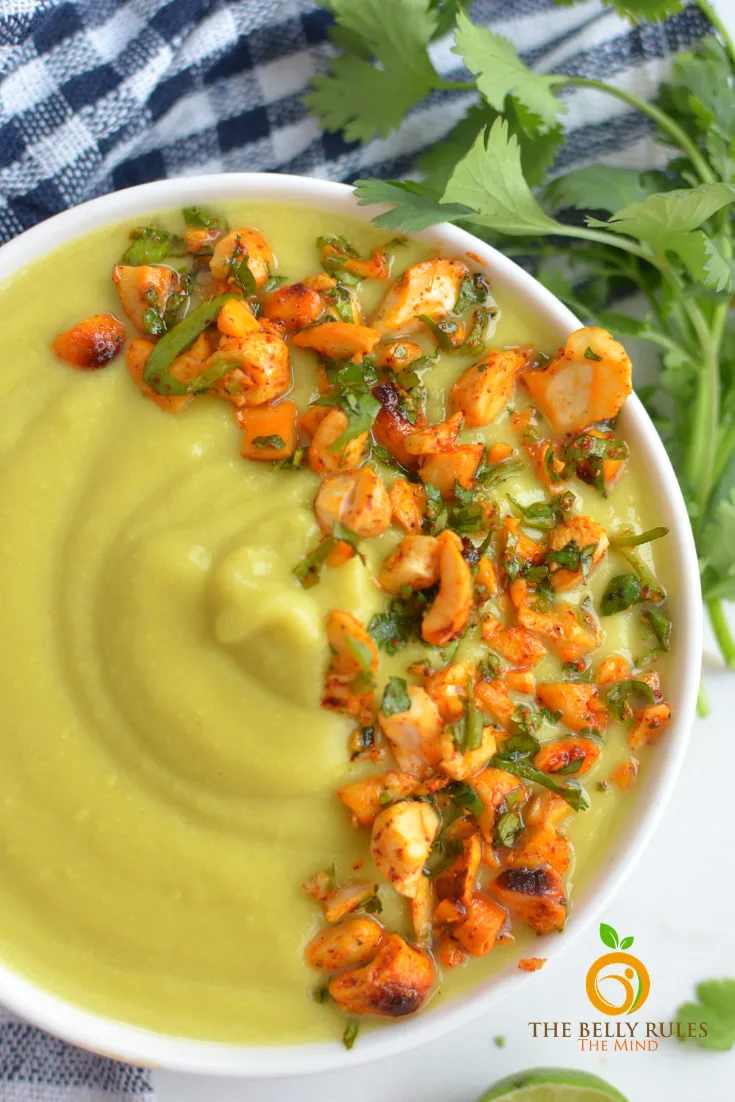 Can you freeze Cauliflower soup?
Yes. This is a great soup to freeze. Especially if you want to make a big batch and save half for later. Allow the soup to cool down before transferring to the refrigerator. You don't want to leave the soup out for too long at room temperature, however, it's also bad to place a hot pot of soup directly in the refrigerator. Once the soup has cooled to room temperature or cooler (you can always freeze the next day), portion the soup into freezer bags or freezer safe containers. If you just have a small portion of leftovers, you can refrigerate it. This soup tastes terrific for up to 3 days if stored in the refrigerator.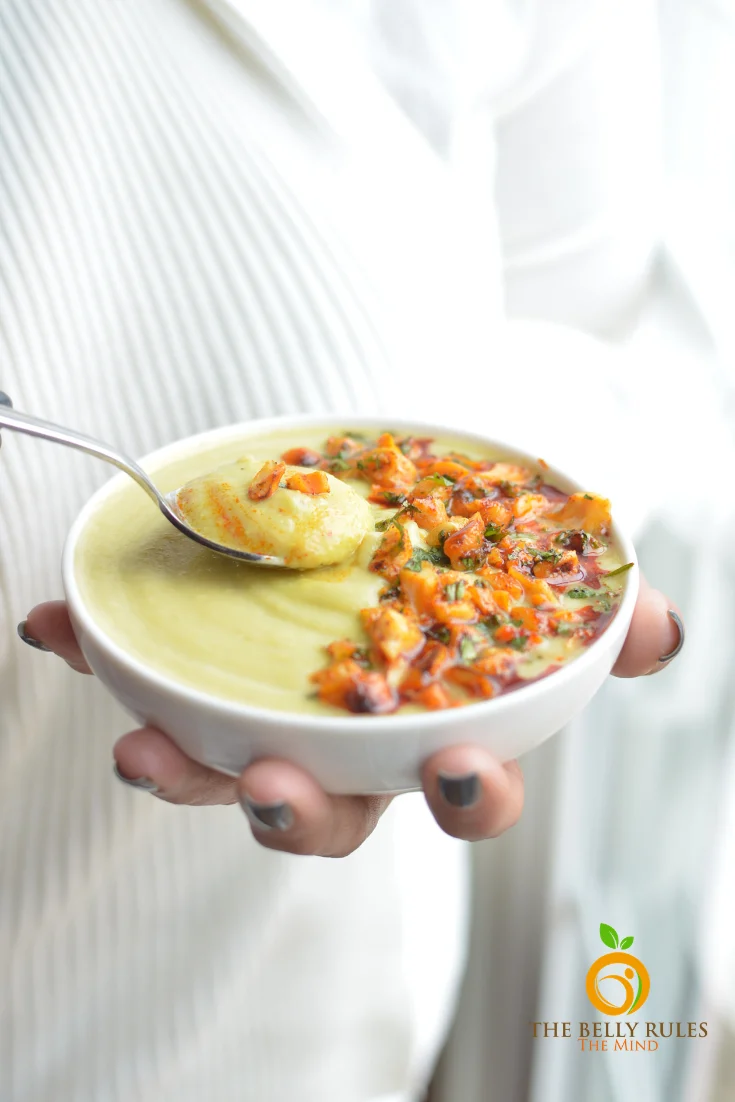 Is Cauliflower Soup healthy?
This super creamy vegan cauliflower soup is beautiful and perfect for any time of year. Super nutritious, hearty and delicious soup ready in 15 minutes. It is Paleo, Vegan, Gluten-free ,Soy-free ,Sugar-free, Grain -free and Weight watchers friendly only 4 smart ww points. Make a double batch and freeze it to have plenty of leftovers for the coming weeks! You should try this recipe now if you have cauliflower in your refrigerator else, I recommend getting them asap because this soup is amazing! I had 2 bowls in one sitting! You will not regret the trip to the grocery store!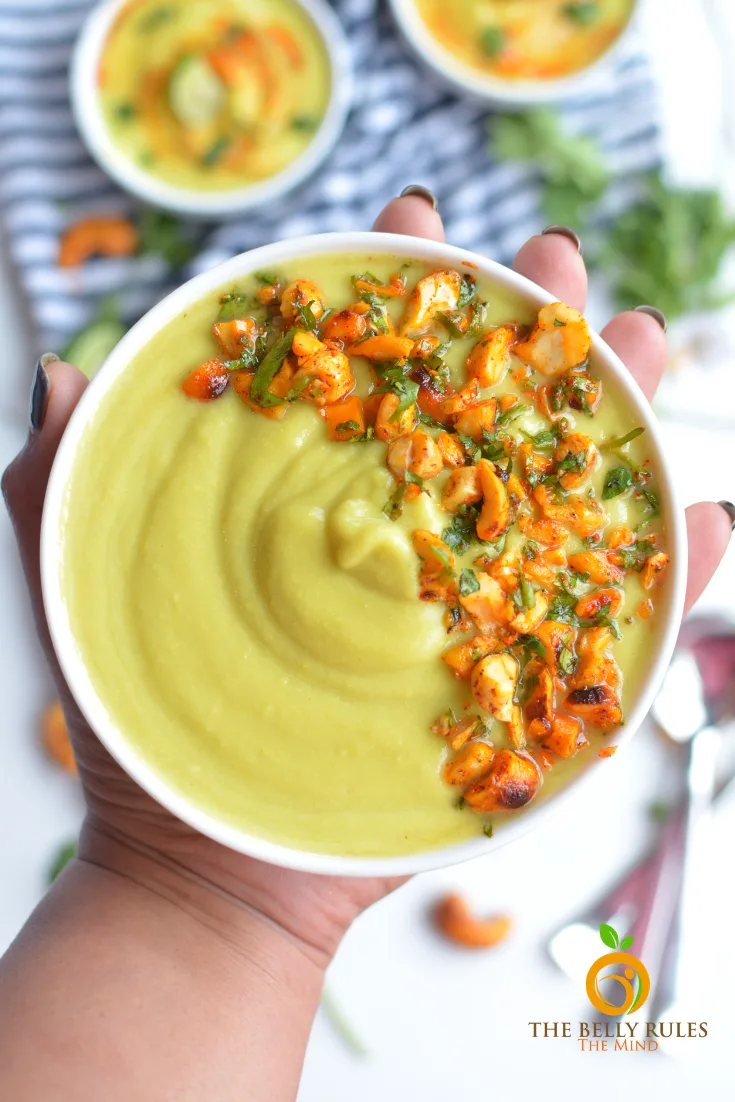 What do you need to make this Creamy, no-cream cauliflower soup?
Cauliflower -We are going to use a big ol' head of fresh cauliflower. Yes, you read it correct florets and the steam are cooked to perfection in the instant pot in 1 min, and ready to be pureed with the rest of the ingredients.
Onions - You can use red or yellow onion in this soup recipe. I have made this with both and didn't find any difference in the taste. So whatever you have in your pantry grab one :)
Garlic - you can use as much or as little or garlic you want in this recipe. I particularly like garlic flavors so go up to 6-7 garlic cloves.
Cashews - Cashews are loaded with powerful nutrients, promote heart health, digestion, and healthy brain functioning. Even though cashew nuts are considered as fats, it contains good cholesterol.
Turmeric -This soup contains a ton of antioxidants, and immunity-boosting and anti-inflammatory properties thanks to the turmeric.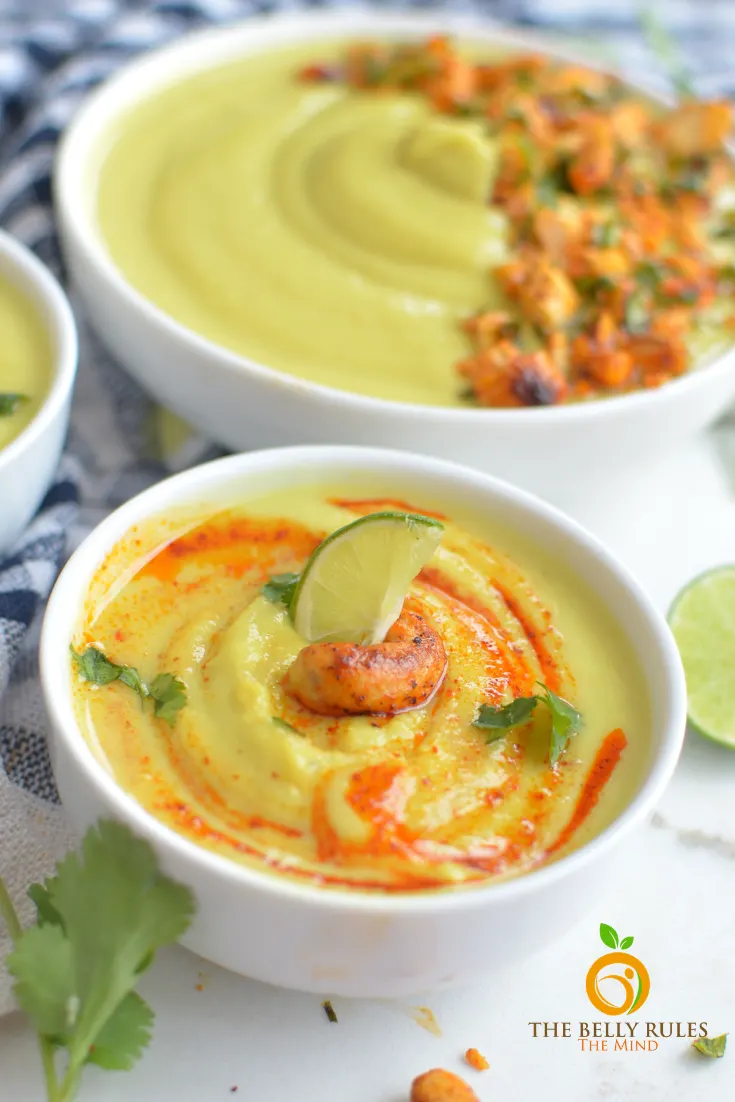 Tools used to blend soup-
Immersion (hand) blender. This is what I used for this soup. Immersion blenders work great because you don't have to worry about removing the soup from the instant pot.
Regular high-speed blender. This is what I use when making on the stove top or( should I say used too) to puree and blend my soups together. Works amazing, just take care when pureeing the hot soup. Always work in batches.
Food Processor. It works just fine and definitely gets the job done, but the immersion blender and definitely is my go-to gadget.
If you happen to be a huge cauliflower fan like me, here are our a few of our favorites you should try
Vegan Cauliflower Burrito Bowl
Eating healthy is also easy with our favorite Healthy soups ready for any season
And finally, if you have an air fryer at home and do not know what to make, try the Airfryer Spicy Roasted Chickpeas Healthy plantain chips, healthy apple chips or the Airfried Okra
So, enough talking here's the recipe.
Cauliflower Soup Recipe Video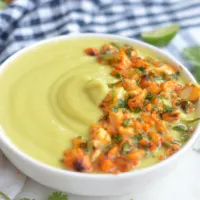 How To Make Cauliflower Soup That's Super Delicious
Additional Time:
5 minutes
Golden Cauliflower Soup, is rich, anti-inflammatory, healing for the gut and comforting without the need for heavy creams or butter. It's the most luscious vegan Instant pot cauliflower soup out there! Delicious, creamy, rich that is dairy-free and comes together in less than 15 mins! Perfect for lunch, dinner, or served as an easy starter, you'll love this healthy Cauliflower Soup Recipe.
Ingredients
2 teaspoon olive oil / For plant based you can skip the oil and use water
1 Medium size head of cauliflower / chopped (5 cups of florets)/ you can use frozen too
6 cloves garlic/ chopped
1 medium onion
3/4 cup cashews
1 teaspoon turmeric powder
5 cups water
salt to taste
1 lime juice
1 cup roasted cashews or chickpeas for garnish
Instructions
Press SAUTE when hot add the oil , onion, garlic, cauliflower, cashews,salt and turmeric.Give it a stir .
pour the water and press CANCEL.
Pressure cook it for 2 mins. Do a Quick release( QR).
Take a emulsion blender and blend into a creamy consistency.
Press Saute and let it come to a boil (which will just take a minute).
Squeeze of lime juice. Give it a nice stir. cancel saute .
When serving top with roasted cashews or roasted chickpeas and cilantro .
Enjoy a bowl or 2 :)
Recommended Products
As an Amazon Associate and member of other affiliate programs, I earn from qualifying purchases.
Nutrition Information
Yield

8
Serving Size

1
Amount Per Serving
Calories

164
Total Fat

10g
Saturated Fat

2g
Trans Fat

0g
Unsaturated Fat

8g
Cholesterol

0mg
Sodium

177mg
Carbohydrates

16g
Fiber

4g
Sugar

4g
Protein

6g
All information and tools presented and written within this site are intended for informational purposes only. We are not a certified nutritionist and any nutritional information on TheBellyRulesTheMind.net should only be used as a general guideline. This information is provided as a courtesy and there is no guarantee that the information will be completely accurate. Even though we try to provide accurate nutritional information to the best of our ability, these figures should still be considered estimates.