Instant Pot Quinoa Fried "Rice" tastes just like your favorite takeout meal, packed with veggies and can be on your table in under 15 minutes – less time than it takes to get delivery! This vegan quinoa fried rice is a lovely blend of sweet and savory flavors, is packed with proteins and gluten-free. It's easy to make it in large quantities and reheat for your weekly meal prep.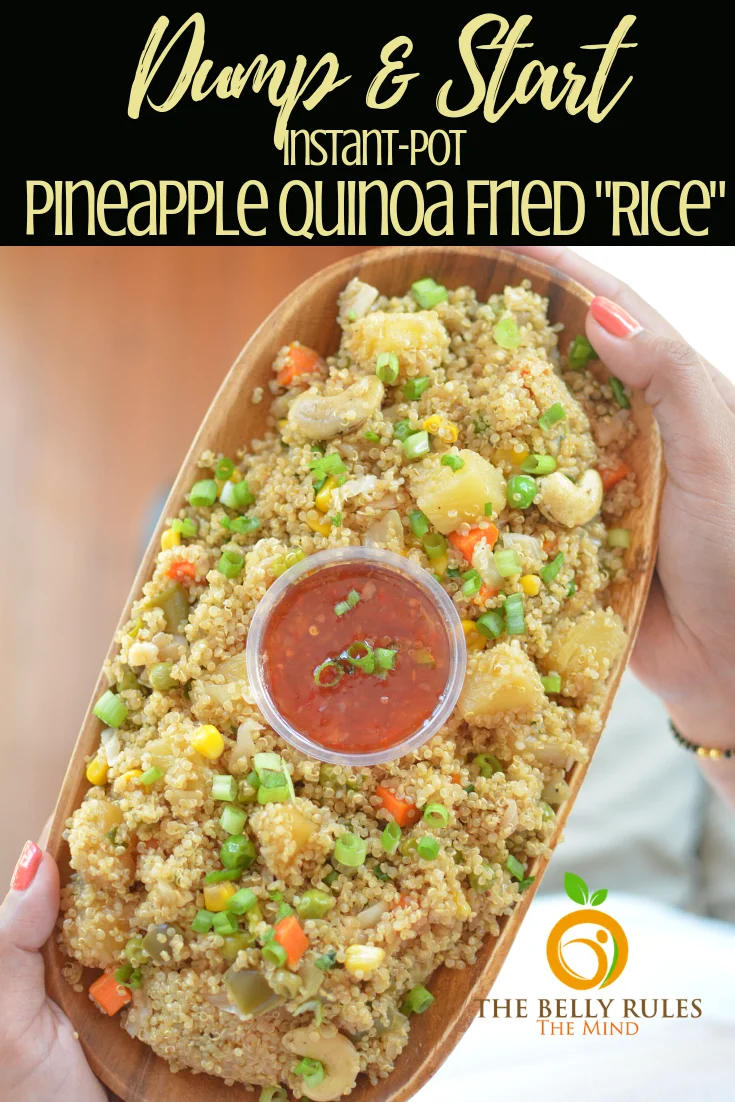 This recipe was originally published in Sep 2016 and has been updated with instructions for instant pot and new pictures.
Quinoa- An excellent superfood.
Quinoa is an excellent superfood and TBRTM has been providing healthy recipes using quinoa. As we believe in the thinking process that eating healthy need not be boring. We have provided delicious and tasty ways to incorporate Quinoa into your lifestyle without compromising on taste. Yes, we know that eating Quinoa is sometimes challenging, however with proper supporting ingredients, its an awesome replacement for white rice.
Today's recipe for this Instant Pot Pineapple quinoa fried rice is actually a remake. It was one of the earlier recipes I posted here on the blog in 2016. Every recipe needs a fresh perspective towards making it better and looking back at my favorite recipes, I feel there is a lot I can do to elevate the taste. Also with the trial and error and the process of learning how to take pictures, I feel I have come a long way. This recipe is one of my favorites and I wanted to make this in an instant pot as a dump and stir recipe!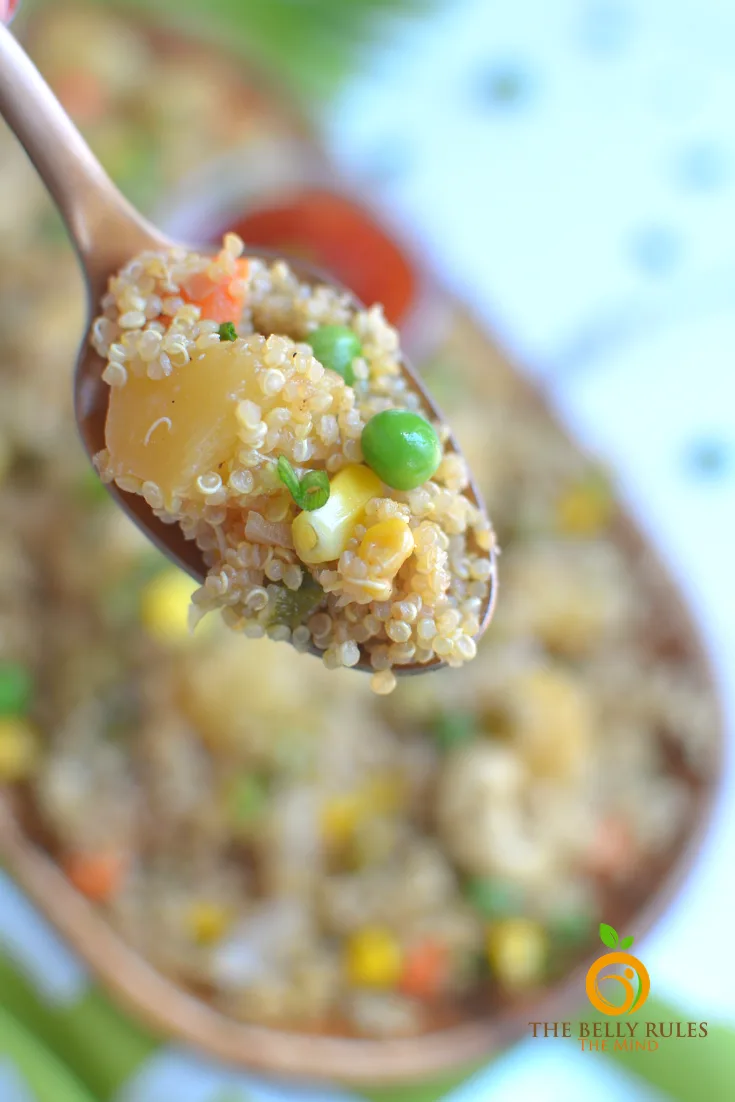 Quinoa is a perfect summer food for hungry kids at home
Summer has been flying and seems like I am much busier than usual and my kids are hungry all the time :P. I am sure you must be having the same dilemma at home. That gets us to today's recipe>>> my family LOVES Asian cuisine and I will confess its one of my guiltiest pleasures. It's one of those dishes that we always use to order whenever we got Chinese takeout Fried Rice alongside with chow mein/ lo mein, of course) So this is our healthy twist to our favorite takeout and it's easy to prepare, and every bit as delicious as the original!
PINEAPPLE Quinoa Fried rice is the Best Meal EVER!
because it's
Quick + easy (Dump and Stir Recipe)
Ready in under 15 minutes start to end
Fresh
Flavorful
Customizable
Nutrient-packed
& Super delicious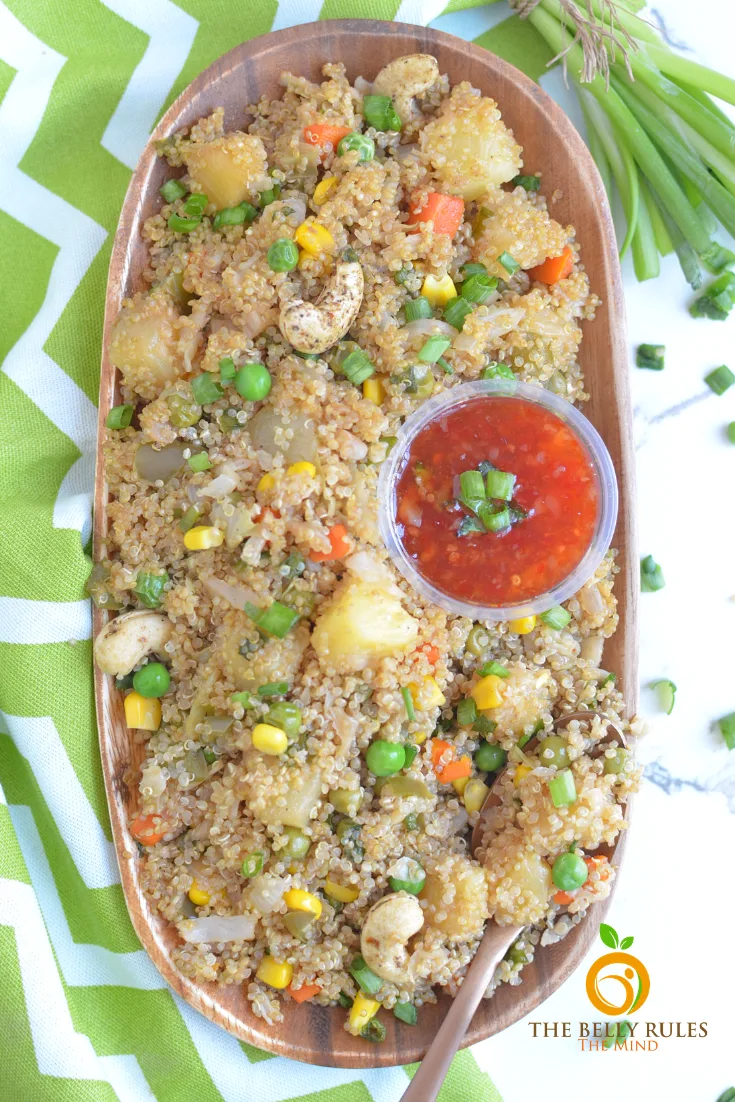 I dunno about you, but in summer I like to keep dinner very simple, light yet flavorful. Pineapple Quinoa fried Rice fits the bill and is a perfect example of the kind of high-flavor, low-effort dishes that I like to make around this time of year. It is a super flavorful dish which everyone would love. Apart from the flavor, it is also so colorful and appealing to the eyes, making it a favorite for kids too. Pineapple is certainly among one of my favorite fruits when I grew up and my kids love it too. You will see pineapple on SALE in summers and I always get a few (3-4) as my family can go through them pretty FAST! If you got too many pineapples, you can create your own homemade Instant pot Pineapple jam. You can also check out other interesting Pineapple recipes
Try this Pineapple Quinoa Rice dump and stir recipe and you will skip the takeout
Pineapple Quinoa fried rice is a perfect family weeknight meal. As I have mentioned before Fried Rice is one of my family favorite things to order at a Chinese restaurant or to make it home. The addition of quinoa instead of rice is a very healthy option. We make this at least once every week in summer. It's one of those things everyone loves and it's the perfect way to use up any leftover veggies. This recipe is very forgiving and hence you can easily add in any vegetables you have on hand (corn, mushrooms, green beans, edamame, purple cabbage, and diced peppers are all great) and any type of protein( tofu or even tempeh).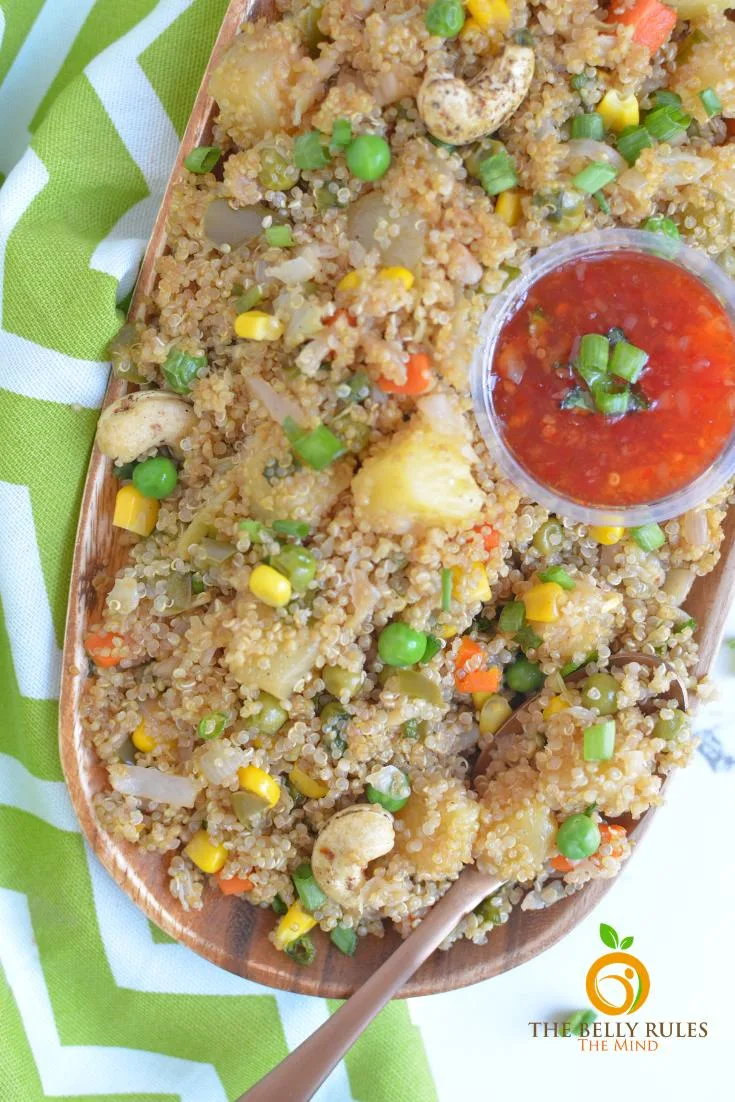 You can check out our recipe to get perfectly bloomed quinoa every time. Apart from the steps mentioned in the recipe, the trick is to let it sit for some time with the lid closed after its ready. That would give the quinoa a chance to absorb all the added flavors. This Pineapple Quinoa fried rice should be one of the best choices for your kid's & hubby's lunchbox. The result is a well-balanced meal that makes a big 'ol bowl of nutrient-dense food for your family.
What can I do with extra cooked quinoa?
If you already have cooked Quinoa, this meal comes together so fast easily and makes a quick lunch or dinner. You can just add cooked quinoa to the sauteed vegetables with the spices and let it sit for a few minutes to absorb the flavors. You can also make Quinoa Pilaf, Quinoa Burrito Bowl, Asian Quinoa Salad to name a few. I make a big batch ( 2 cups that yields around 5-6 cups) of quinoa on weekends to keep for the week and love tossing it into my salads at lunch, or have it for a quick breakfast, or even a quick dinner. It might seem like a lot, but it never goes to waste.
This Quinoa fried rice is protein-packed and gluten-free. It's easy to make in large quantities and reheat for your weekly meal prep. It is kind of like the Teriyaki Fried rice which we have made with brown rice, but just swapping in brown rice and adding the pineapple. I also added in some Roasted Cashews, which you could choose to ignore if you like it to be nut-free!
What You'll Need to Make This Quinoa Fried Rice
quinoa
veggies ( frozen Veggies if you prefer)
garlic + Ginger
toasted sesame oil (or coconut oil if you prefer) Skip if you want to make it plant-based
gluten-free soy sauce
vinegar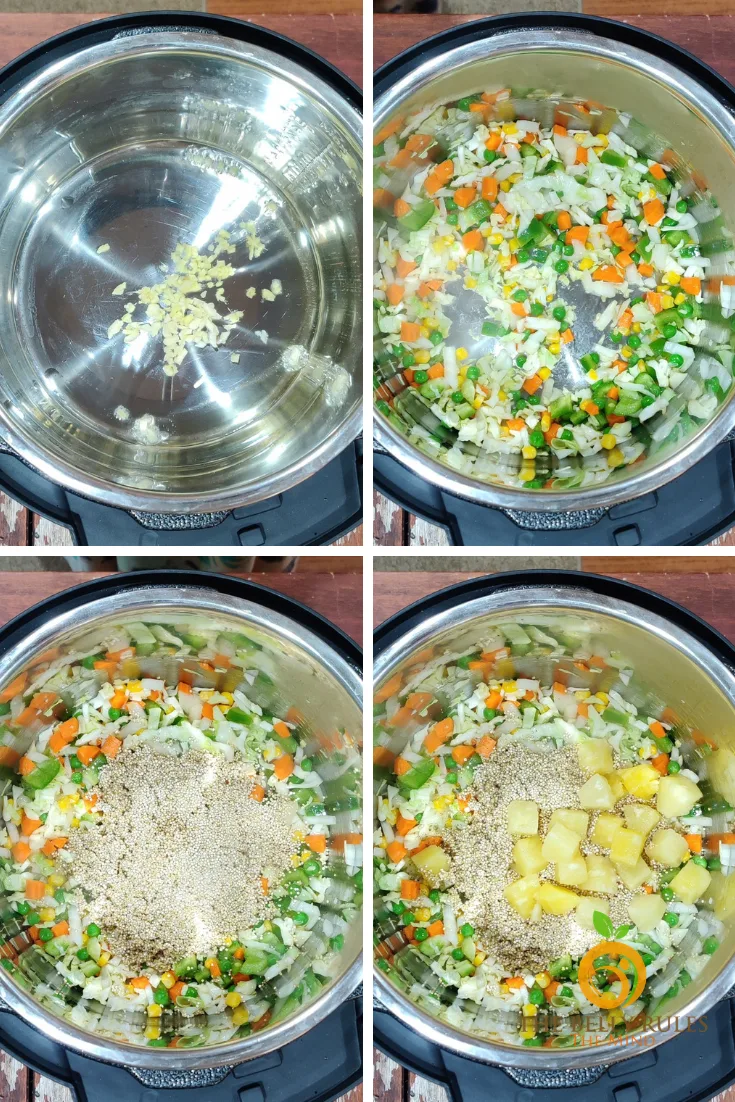 Is Quinoa better for you than white rice?
White Rice has a high glycemic index- in simple words, it means that consuming it can potentially have your blood sugar levels shoot up quickly. The quick shooting up of blood sugar levels is usually not good for your health and one of the common reasons why people avoid eating sugar / sugary food. White rice is refined starch and therefore the nutritional benefits of white rice are limited. Quinoa, in addition to being rich in protein and fiber, has lower calories and carbohydrates, more filling and above all the surplus of fiber can help to lower cholesterol and control blood sugar levels. As a disclaimer, please note that we are not dieticians and the outline is based on studies conducted by researchers and can be read over the web. do not treat this as an advice to
Can Quinoa be substituted for rice?
Other ways you can substitute quinoa for rice include:
I hope you'll give this a try! If you do, pop back over and leave a comment & rating letting me know what you think.
Pineapple Quinoa Fried Rice Video Recipe
Pineapple Quinoa Fried Rice Recipe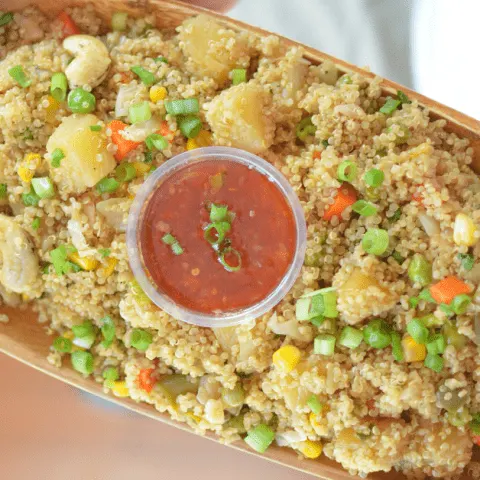 Instant Pot Pineapple Quinoa Fried Rice
Additional Time:
10 minutes
Ingredients
1 cup Quinoa/ uncooked
1 cup water or vegetable stock
1/2 cup green peas/ frozen
1/2 cup Bell peppers/any color
1/2 cup Onion/ chopped
1 cup fresh pineapple/ chopped
1/2 cup green onions/ chopped
1/2 cup carrots/ chopped
1/2 cup cabbage/ chopped
1/4 cup corn
2 garlic cloves / chopped finely
1/2 teaspoon ginger/ chopped finely
1-1/2 teaspoon Coconut Secret Coconut Aminos or soy sauce
1 teaspoon vinegar
2 teaspoon sesame oil or olive oil
Handful of roasted cashews or peanuts
Instructions
Heat the pressure cooker on the SAUTE setting.

When HOT add oil, ginger /garlic and all the veggies and give it a stir.

Add the rinsed quinoa, pineapple chunks, low sodium soy sauce, vinegar, salt, and black pepper to taste.
Add water, close the instant pot lid and pressure cook it for 1 minute. Natural release ( 10 minutes)

Open the lid carefully and sprinkle green onions and roasted cashews or peanuts, if desired.

Serve hot or warm

Add red hot chili flakes or Sriracha for a kick of heat.

Quinoa fried rice stovetop version

To cook Quinoa simply boil 2 cups of water Add 1 cup of Quinoa, stir and place a lid. Cook on low heat for 10-15 minutes or until all the water has been absorbed.

In a skillet, heat oil over medium-high heat

Add the chopped garlic & ginger saute it for a minute, then add in the veggies and cook for 2-3 minutes

Add the pineapple and the sauce stir it nicely.

Add in the cooked quinoa and stir until combined.

Sprinkle green onions and serve.

Enjoy
Notes
* Add red hot chili flakes or Sriracha for a kick of heat.
Nutrition Information
Yield

6
Serving Size

1
Amount Per Serving
Calories

197
Total Fat

6g
Saturated Fat

1g
Trans Fat

0g
Unsaturated Fat

5g
Cholesterol

0mg
Sodium

151mg
Carbohydrates

31g
Fiber

4g
Sugar

6g
Protein

6g
All information and tools presented and written within this site are intended for informational purposes only. We are not a certified nutritionist and any nutritional information on TheBellyRulesTheMind.net should only be used as a general guideline. This information is provided as a courtesy and there is no guarantee that the information will be completely accurate. Even though we try to provide accurate nutritional information to the best of our ability, these figures should still be considered estimates.
For more healthy ideas and recipes subscribe to our email or follow us on Facebook to stay updated with all the healthy information we share. Check out our Pinterest boards for all the healthy eating inspiration you'll ever need. For an unending buffet of healthy photographed food, follow us on Instagram