Learn how to make perfect, fluffy Instant Pot quinoa- It's fast, flavorful, and easily made in advance for speedy lunches and sides for work, school, or home! Serve it warm or cold. Sprinkle quinoa onto salads, serve as a side dish, fold in chopped veggies, seeds, beans or nuts or even make 'breakfast quinoa' in place of oatmeal. Use in tacos, veggie burgers and so much more.
LET'S BE FRIENDS ON PINTEREST! WE'RE ALWAYS PINNING TASTY RECIPES!
If you're an Instant Pot beginner, take a deep breath and don't let yourself be afraid of your Instant Pot .Check out our complete beginner's guide to the Instant Pot,15+ Quick and Easy Instant Pot Recipes for Begginers. Also check out our 100+ Instant Pot Vegetarian Recipes for all your instant pot recipe needs. From soups to pasta to desserts everything under one umbrella!
WHY SHOULD I MAKE QUINOA IN THE INSTANT POT?
It's definitely not a secret that we are a obsessed with quinoa! For good reason :) We can't seem to get enough of the stuff and crave the stuff more and more each day. This superfood/grain-like seed cooks up super fast, is protein and fiber packed and can be flavored in just about any way possible.
The electric pressure cooker is perfect for making quinoa dishes It takes Just 1 Minute of the time than it takes to make QUINOA on the stovetop. Most importantly the Instant Pot makes cooking this healthy quinoa easy and reliable.
Instant Pot Quinoa Recipe
I hope you have been following us all along, on our cooking adventures, with our favorite gadget in the kitchen, our pressure cooker ( Instant Pot / Mealthy). Quinoa is a simple but mighty and tasty dish. If cooked properly and mixed with proper spices, it can be an awesome replacement for rice and pasta. Today, I am just talking about creating plain old Quinoa. In the coming weeks, I will share more side dishes using Quinoa.
A painter always starts with a blank canvas whenever they are trying to create a masterpiece. Think about Quinoa as that plain canvas that can be used/filled with various colors and flavors of spices to make it enticing enough to replace your carbs cravings. Quinoa has an earthy taste when eaten without any spices or flavoring. We have used Quinoa in a lot of recipes. From soups, kids lunchbox meals to main dishes, Quinoa is very versatile and a loved item if used correctly.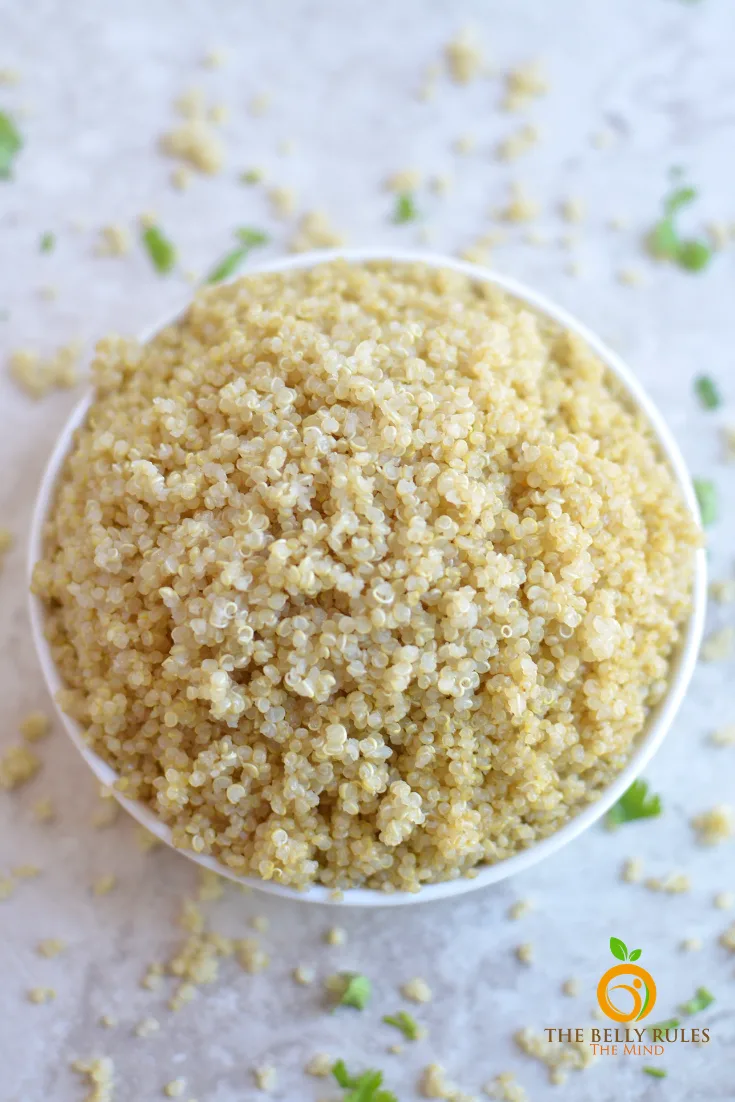 Quick and Easy way to prepare Instant Pot Quinoa
This is both an easy and healthy recipe and I love when these combinations come together to create a Quinoa recipe that packs a nutritional punch, it's a cinch to make, and it can be used in a variety of ways. Quinoa is so versatile, lightly textured, slightly nutty in flavor and did I mention ... healthy! Make Perfect, fluffy Quoina every time! follow these simple steps to master it!
Quinoa is a crazy healthy side dish it's packed with protein and fiber! If you've never had it before, it's a great alternative to rice or pasta. You can find it in instant, pre-flavored boxes in most supermarkets– but I prefer cooking my own and adding my own flavors. It tastes fresher, and I can add what flavors I want.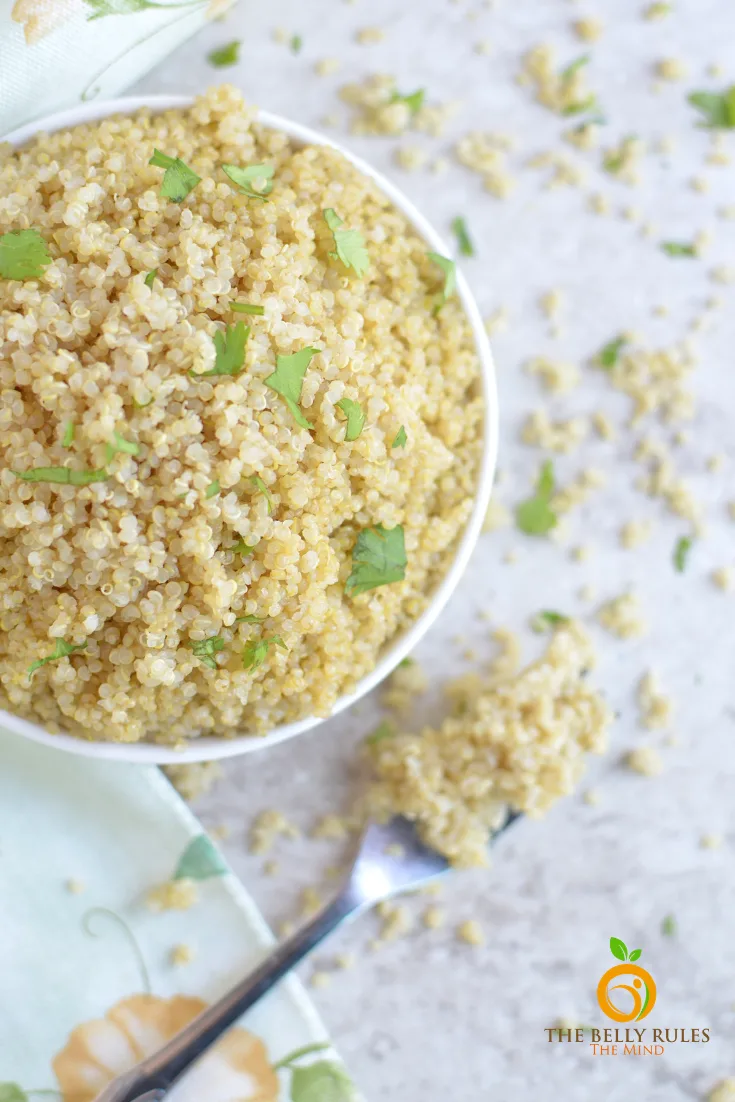 What is Quinoa?
Quinoa is a 7000-year-old ancient seed (yes, it's not a grain but a seed) that originated in the mountains of South America. It's best known for its nutrition. Quinoa (pronounced keen-wa) has become quite the trendy grain over the past few years. It is also a gluten-free carb and is a must-have for energy. It's a great source of vegetarian protein (over 5 grams per serving) and also contains all nine essential amino acids, making it a complete protein.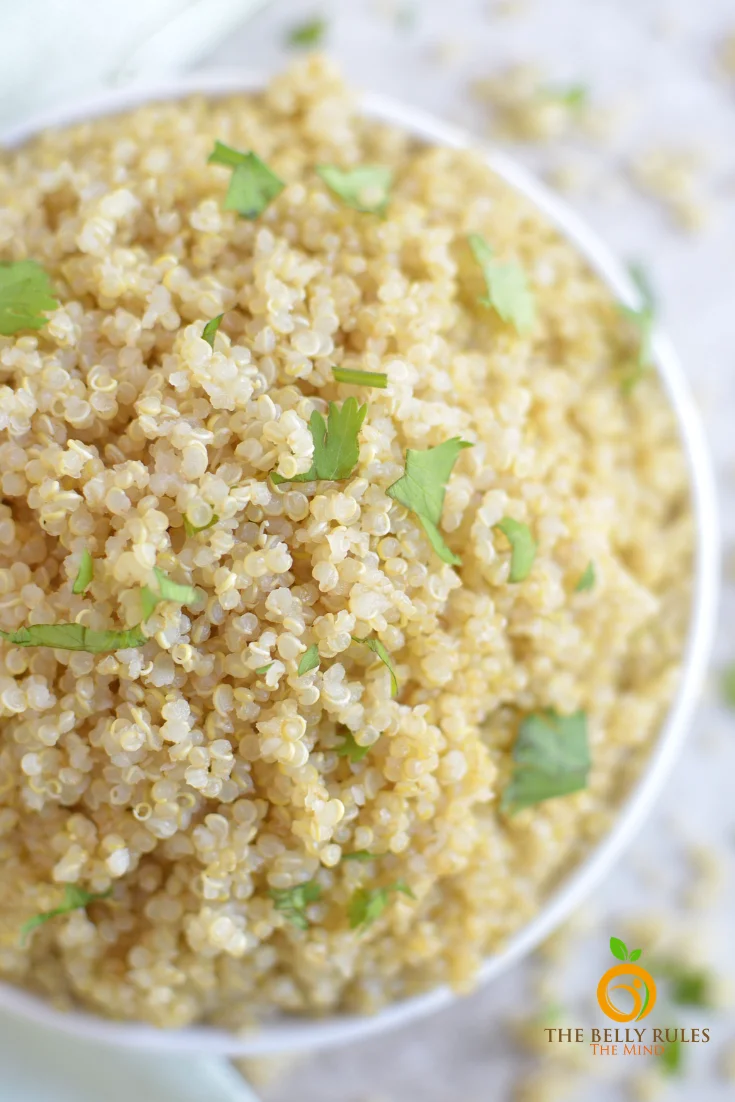 What type of Quinoa should you buy? Where to buy Quinoa?
You can find quinoa in most groceries, usually near the rice or flours, or in the health food section. Though there are over 120 varieties of quinoa, the most common you'll find three main kinds in your grocery.
White: most common, a bit softer and more interchangeable with rice or other grains
Red: holds its shape well, great on salads or sprinkled on dishes for color contrast
Black: sweeter, earthier, bolder.
Mixed Variety Pack: Sometimes I buy the mixed variety pack, which adds a little color to dishes and is a little more firm in soups
I don't really have a preference for one type over the other; the regular white quinoa is easily available and is a good start for quinoa beginners to build their taste.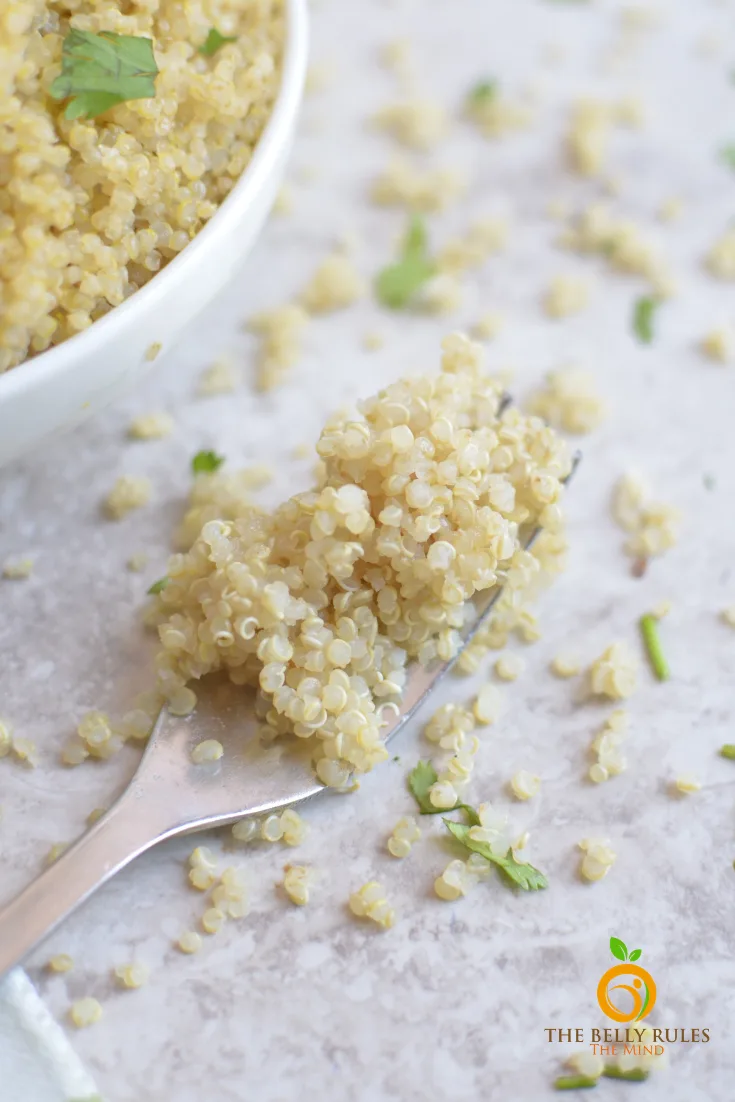 What's the best way to cook quinoa?
You can cook quinoa in water, but for more flavor, you can cook it in vegetable broth. While quinoa is perfectly fine on its own, it also pairs quite well with the addition of other ingredients, such as beans, roasted or sauteed vegetables, or your favorite fresh herbs. It cooks quickly and even quicker in a Pressure cooker – 1 minute + Natural release and the end result is a bowl full of fluffy perfectly bloomed Quinoa.
How to make Perfectly cooked Instant pot Quinoa (PIP method)
Rinse Quinoa multiple times and add the quinoa to a smaller vessel that can fit in your inner pot of your Instant pot.

Add water to the quinoa.

Add 1 cup water in the inner pot of your instant pot and keep a trivet inside. Place the smaller vessel containing quinoa on top of the trivet.

Close the lid and cook in manual high pressure for 5 minutes and let the pressure naturally.
How to Make Fluffy Quinoa Every Time: More Pro Tips
Rinse it: Saponin is the compound which gives Quinoa the bitter taste. Although most Quinoa you buy from the store is pre-rinsed, it doesn't hurt to give it another rinse under cold water. Rinse your dry quinoa in water before cooking. This makes the flavor cleaner and less bitter.
Coconut oil: I have tried this quinoa recipe so many time in my pressure cooker with and without oil, but I have an amazing result when I add coconut oil.
Let it Sit (Natural Release): After cooking and before you open the lid, Let the quinoa sit for a good 5-10 minutes. Again - Patience!
Fluff it with a fork: Give your quinoa some love by fluffing it with a fork.
How do you make quinoa taste good?
Once you've got the basic method down you can mix it up by switching the cooking liquid to stock /broth, coconut milk or some other ingredient that will work in your recipe. Sprinkle in your favorite herbs or spices (like thyme, lemon zest or cumin), too. Salt can be added or left out.
How to store quinoa?
Uncooked: store in an airtight container in a cool, dark pantry for 2 to 3 years
Cooked: Perfect for meal prep!Store covered in the fridge for about a week, or in the freezer for a year
Do check out our healthy snack recipes that will help you take care of the afternoon hunger attack. Move towards a healthy lifestyle
Try out our Air fried Apple chips, Beetroot chips, Baked Carrot fries, Sweet Potato curly fries , Roasted whole moong beans, and Roasted green peas
Do you have a sweet tooth? You should check out our 20 Healthy Sweet snacks for the sweet tooth to reduce the sugar intake and not feel guilty about eating sweets. You should also check out our No Fry Appe Pan Recipes with tips and tricks to cut down your calories on deep fried food.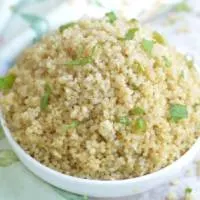 How to cook perfect Quinoa in Instant Pot
Additional Time:
10 minutes
Learn how to make perfect, fluffy quinoa recipe - It's fast, flavorful, and easily made in advance for speedy lunches and sides for work, school, or home! Serve it warm or cold. Sprinkle quinoa onto salads, serve as a side dish, fold in chopped veggies, seeds, beans or nuts or even make 'breakfast quinoa' in place of oatmeal. Use in tacos, veggie burgers and so much more.
Ingredients
1 teaspoon Coconut oil / any of your choice / For plant based you can skip oil
2 cups quinoa (rinsed in a fine-mesh sieve)
2 -1/2 cups Water or Vegetable stock
Instructions
Put the quinoa in a fine-mesh strainer and rinse under running water for a few minutes.
Press Saute when HOT add in the coconut oil , water and Rinsed Quinoa.
Cover and secure the lid. Make sure the valve is set to "sealing." Set the manual/pressure cook button to 1 minute on high pressure.
When time is up, open the pressure cooker with the Natural pressure release approximately 10 min.
Open the lid.
Fluff quinoa with a fork and serve.