Save money by making Homemade yogurt at less than half the cost of store bought. It tastes amazing, fresh, and you will know exactly what is in yours – no more reading labels. All you need is Just 2 ingredients and just 2 steps! You can also try creating different flavors of yogurt once you master this instant pot homemade yogurt recipe. Instructions for homemade Greek yogurt are also included.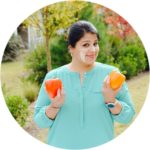 Creamy and refreshing yogurt/ dahi or curd as it is commonly known in India is a staple side in most Indian households. It is an excellent probiotic that may help keep your gut health in check. In some studies, it has been noticed to reduce the incidence, duration, and severity of the common cold to the immune system.
Make yogurt with ZERO prior experience!
Yogurt has been something I have been making for more than 20 years and used to call myself an expert. I had mastered the art of making yogurt in Mumbai, India and then life brought me to Virginia. Making yogurt at home in winters in Virginia is nothing less than a disaster or a disappointment and a huge chore. I used to wrap the container in towels, keep it in a warm oven, and there were all kinds of ways to keep a constant warm temperature yogurt needed. With the method provided, you will get thick and creamy yogurt every time. You do not have to be an expert in making yogurt.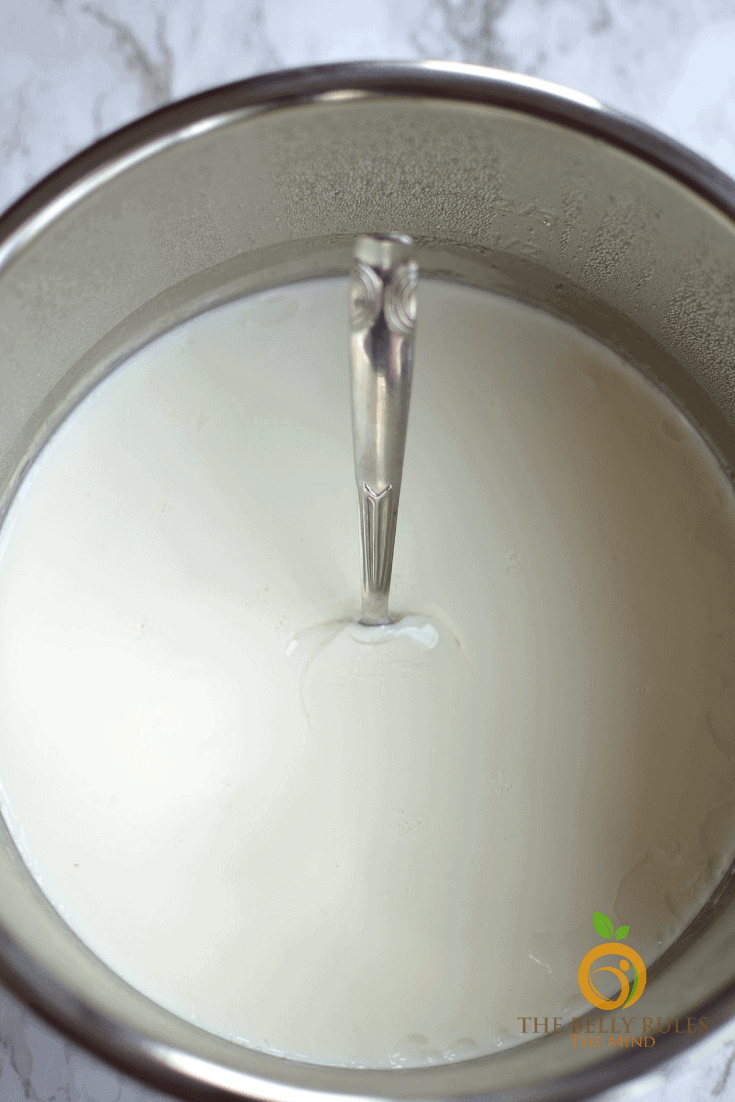 Just Two Ingredients and Two Steps are needed for this Instant Pot Homemade Yogurt !
When I purchased my first instant pot, I would use it only for making yogurt for a long time and that was a 4 step recipe. Step 1: BOIL the milk to a certain temperature. Step 2: COOL the milk to a certain temperature then proceed with the remaining 2 steps. In case you are wondering, yes I tried different yogurt making machines and always had different results every time. I wanted to remove the guesswork out of something I believe I was a master at. The instant pot certainly revolutionized the homemade yogurt recipe. After trying it out with different starter options, I am sharing with you a fail-proof method of making homemade yogurt. This is a No Boil Instant pot Yogurt method that eliminates the the guesswork of boiling the milk at exact temperature.
The yogurt button on your Instant Pot is a life and money saver. You will be able to effortlessly make homemade yogurt and save money $$ and last time I checked, everyone wants to save money. I love my instant pot and I love making soup, Rice, Beans, however, this is the BEST feature that I have found in the instant pot and for 1 reason I will for sure keep it around FOREVERRR.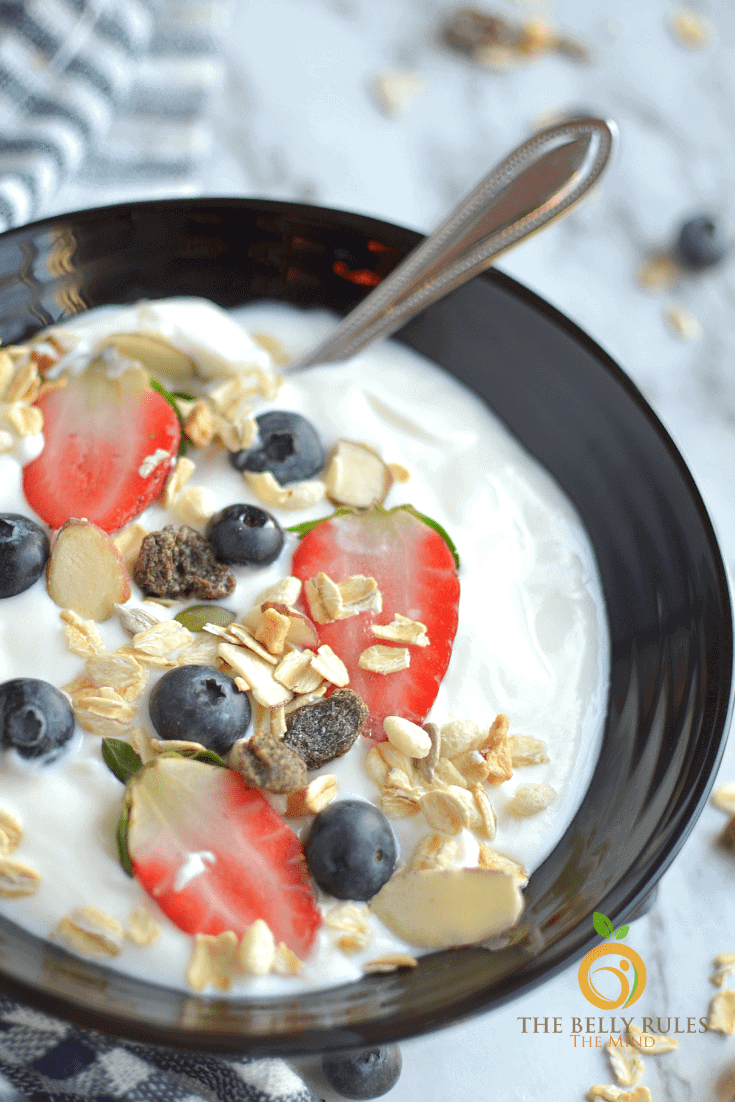 Homemade yogurt tastes way better than store bought yogurt!
If you are a yogurt lover like us, you will end up spending a small fortune on the thick, creamy wonder of all the leading brand available nowadays in store. Of course, you still need to read the label to read the ingredients and hidden facts about your favorite yogurt brand. Its the artificial flavors, sugars and preservatives that make store bought yogurt a health problem. You know what, you can easily make delicious, fresh yogurt at home with two simple ingredients—milk and a starter culture. It always seems more convenient to grab a pack of yogurt from the supermarket, but there is nothing like fresh, homemade Yogurt. You can tell the difference in taste and it is very easy to make and master at home. If you like sweet, thick and creamy, follow these simple tricks and tips and you'll never be disappointed. Once you taste the homemade yogurt, there is no going back!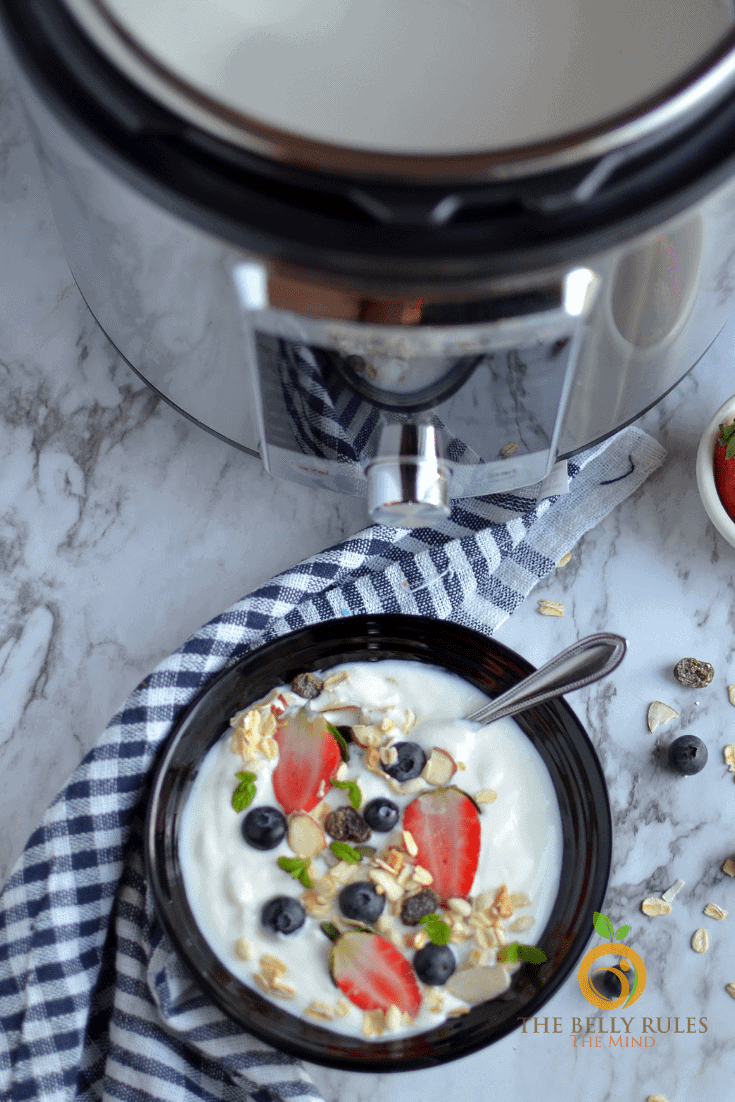 How to make yogurt in summer, winter or any season with this Fail-proof technique
When I used my first instant pot for the first time to make yogurt, My reaction was "Oh my goodness…….I made homemade yogurt at home IN WINTERS !!. This is without the pain of the efforts I took to control the environment for supporting yogurt preparation. This was by far the BEST, coolest and easiest use of INSTANT- POT I have done so far. The instapot controls the environmental aspects to allow easy setting of the yogurt. The result is creamy and thick yogurt EVERYTIME!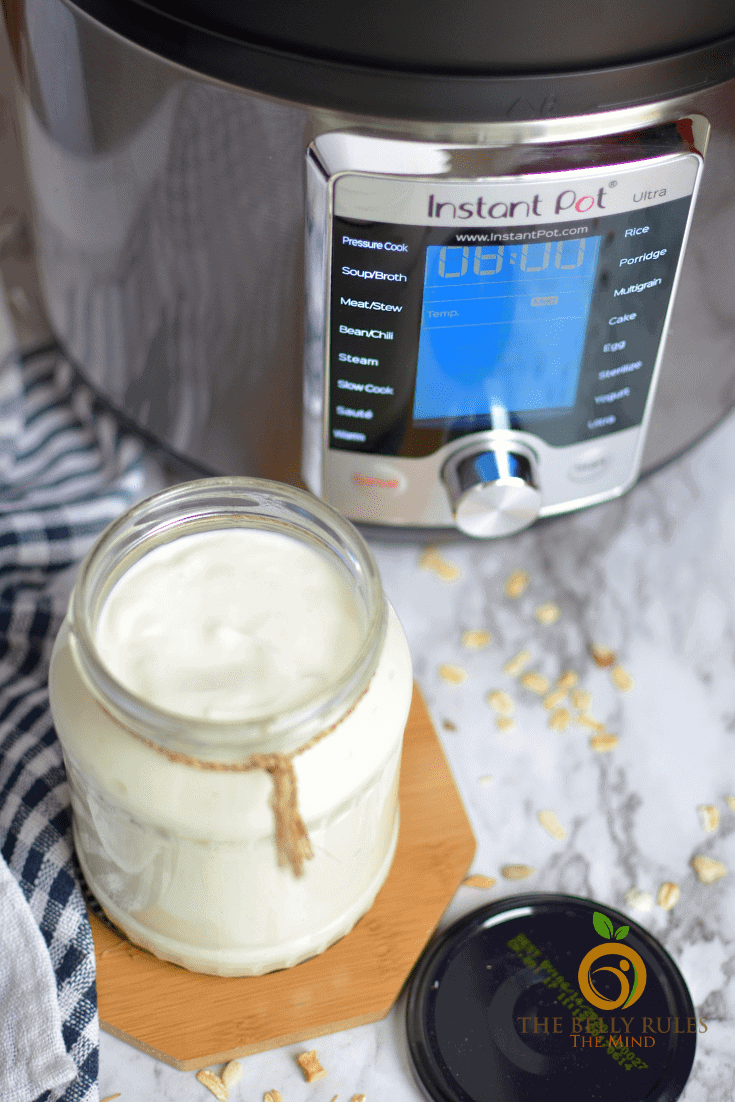 How long does homemade yogurt last?
Homemade yogurt can generally stay good for up to 2 weeks when refrigerated. Of course, the taste will change once it gets older. We usually use the culture from the freshly made batch to use for the next batch. The culture can be used within 2 weeks to ensure success. If I want to take a break, I tend to save 2-3 tablespoons into freezer-friendly containers and the culture can last up to 3 months. You will need to thaw the culture before using it for your next batch.
How to make Greek yogurt from homemade yogurt?
To make Greek yogurt, follow instructions to make homemade yogurt first. To make Greek yogurt you need to strain out the whey. This process can take up to 6-8 hours based on the desired consistency needed. You can have it fairly good to go in about 2-4 hours. We'd recommend investing in a Greek Yogurt Strainer that is super easy to use, store & clean up, creates less mess and it's reusable! You can also use a cheesecloth strainer.
Can you use this Instant pot homemade yogurt in other recipes?
Yogurt is such a versatile ingredient. In Indian cuisine, it is used in so many different varieties of dishes. Both great natural cooler drink which controls body temperature in summers. Dahi is also used in many Indian curry recipes such as Punjabi Kadhi, Dahi Bhalle, Dhokla/savory steam cakes, Semolina savory muffins, etc.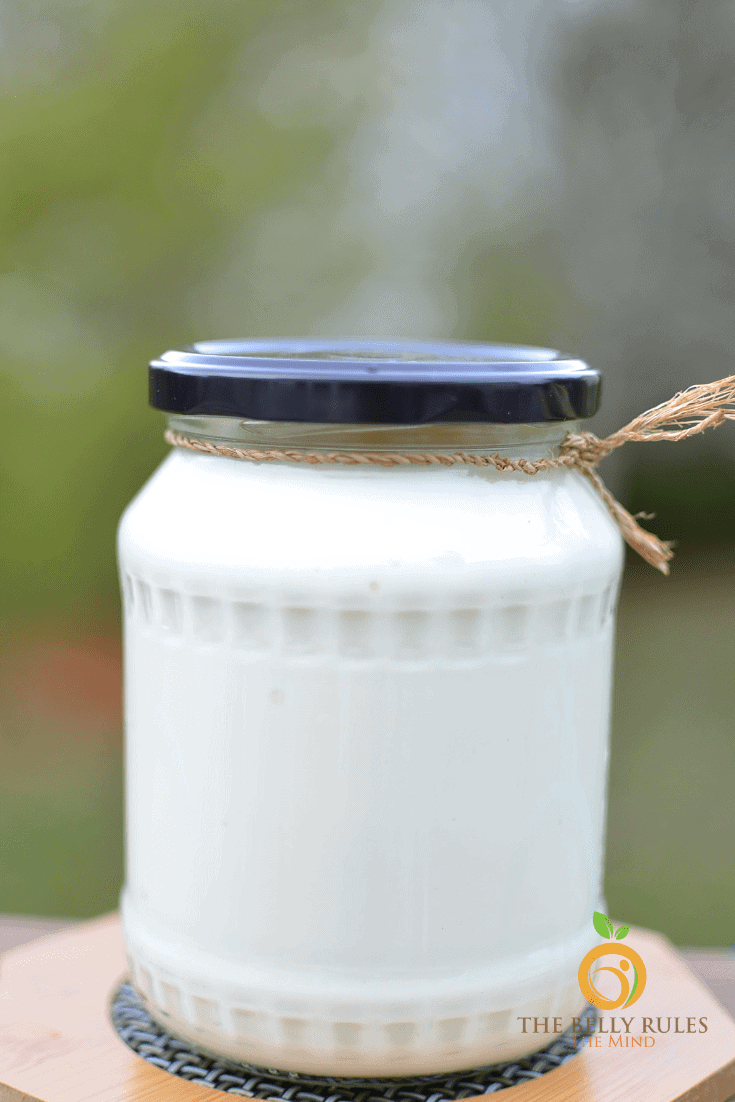 Is it cheaper to make your own yogurt / Is this homemade yogurt worth the cost and time?

YES – a tub of yogurt costs between $4-$6 at the stores. You can buy a gallon of milk at a local store for around $3.00-$3.50 and it will make around the same amount of greek yogurt. So you are saving money by making it yourself. Although it is super simple to make, making yogurt does take around 8 hours to make. Most of it is just sitting there, so it's not labor intensive. It does the work itself. To me, it's worth the time since I use yogurt almost every day and the savings are great too. Reap the benefits of homemade yogurt! It is almost 50% cheaper than buying store bought yogurt and most importantly there are no preservatives.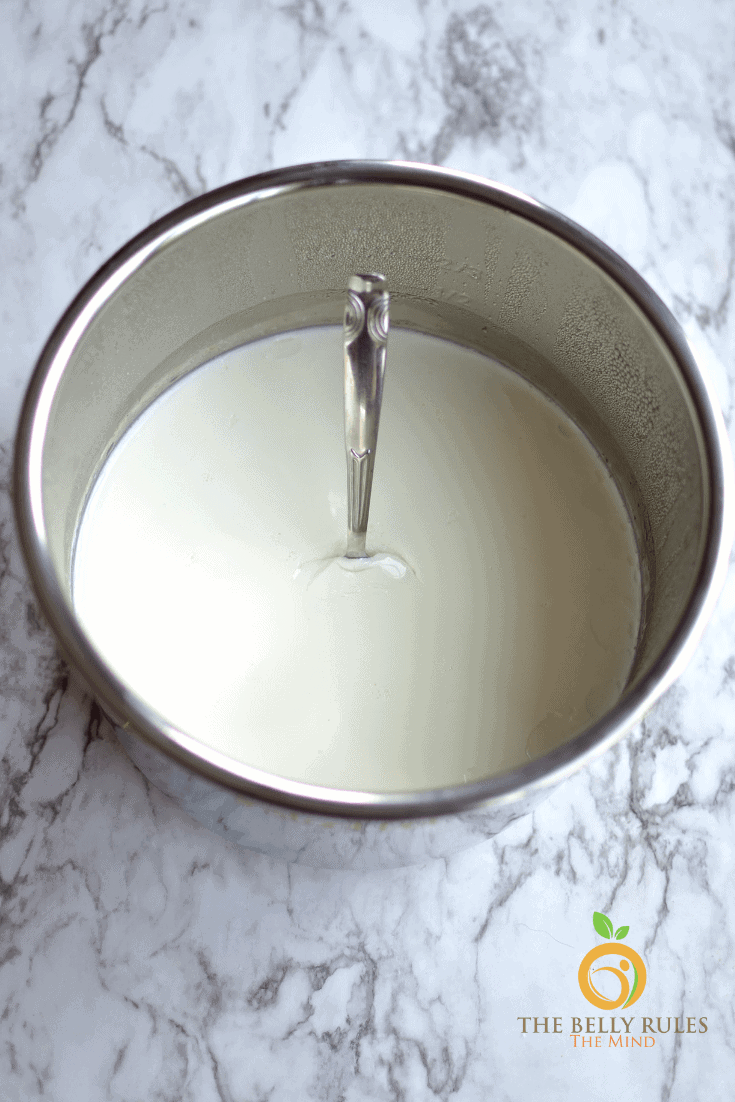 Can this homemade yogurt recipe be made using Pot in Pot using and Instant Pot?

Yes, you can use the Pot in Pot method. In the inter pot of the instapot, I add 2 cups or less water, put the metal stand inside the pot, put the bowl on the metal stand and then close the instant pot with its lid on venting & set yogurt button for around 8 hours. Chill it for 2-4 hours. Get the yogurt in your favorite pot.
Why do I get Runny Yogurt?
The Runny yogurt or liquid yogurt usually happens due to the quality of culture used. Try using natural organic store bought culture / yogurt to set the first batch.
How can I make flavored Yogurt?
You can add the flavors you want after the yogurt is set. Check out our post for homemade flavored yogurt for more inspirations. We have tried vanilla, mango, strawberry to name a few.
What happens when less yogurt culture is added to the milk?
The taste of the yogurt will not taste good or
Will not ferment soon or
Will not ferment at all and become sticky
What happens when you add more yogurt culture than required?
The yogurt will become sour or
Sometime it would form bubble on top and smells sour or
It would not be edible at all.
In case the yogurt get sour don't worry! There are many uses of it and many different dishes using sour yogurt.
How to make yogurt in instant pot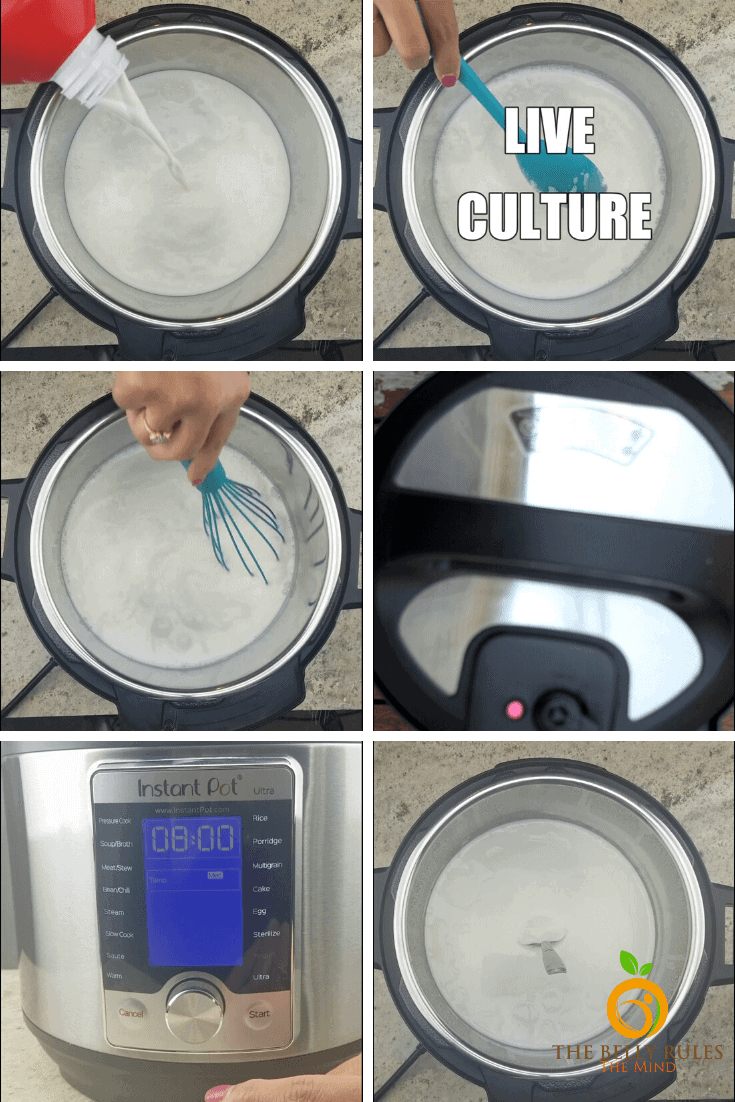 Pour the ultra pasteurized milk in your instant pot.
Add in the Yogurt to the milk.
Whisk it nicely and place the lid on .
Push the Yogurt button and use the +/- buttons to set time to 8 hours. the setting should be "Normal."
When Yogurt cycle is finished, open it gently due to water condensation in the inner side of the instant pot lid
.Place a kitchen paper towel and a lid ( the paper towel will help collect all the condensation )and transfer to refrigerator to chill for 1-2 hours.
Enjoy the most creamiest and delicious yogurt!
Tips to get perfect homemade yogurt every time !

choosing whole milk over skimmed milk which will help create thicker and creamy yogurt.
Make sure the culture that you use is not sour; otherwise it will make the yogurt sour too.
Ensure that the culture or starter is not too old. The good bacteria in the starter are killed if it is too old.
Once the yogurt is set, do not leave it in the open for a long time and refrigerate it immediately, else it may turn sour, especially in summers
Use starter from the previous batch of yogurt to set the new batch, IF YOU RUN OUT OR FORGET knock on your neighbor's door :P
If you are a fan of healthy eating and have just purchased an instant pot, Try out our 90+Instant Pot Vegetarian Recipes. From Soups to Pasta and from Appetizers to Desserts and everything in between.
If you make this recipe, Don't forget to come back and leave your feedback and star rating. We would be THRILLED if you would take a pic and tag us on Instagram @dbellyrulesdmind or Facebook @thebellyrulesthemind
Homemade yogurt recipe video
Save money with Homemade Yogurt!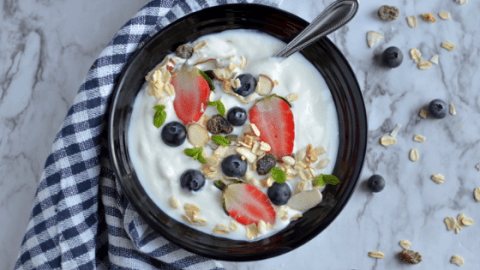 Ingredients
1 Whisk
1 Instant Pot
52 ounces Ultra-Filtered-Pasteurized ( tried and tested with Costco Kirkland organic whole milk & Fairlife whole milk )
2 Tbsp Fresh Yogurt ("Starter") live cultures/fresh yogurt (like chobani /fage/oui/greek yogurt)
Instructions
Pour the milk in your instant pot.
Add in the Yogurt to the milk.
Whisk it nicely and place the lid on .
Push the Yogurt button and use the +/- buttons to set time to 8 hours. the setting should be "Normal."
When Yogurt cycle is finished, open it gently due to water condensation in the inner side of the instant pot lid
.Place a bounty tissue and a lid and transfer to refrigerator to chill for 1-2 hours.
Enjoy the most creamiest and delicious yogurt!
Notes
This cold start yogurt can only be made in Instant Pot Mini DUO (DUO Plus, DUO, Smart, Ultra) they have yogurt button.
You can place on your IP Lid or a Glass Lid or any plate while making the yogurt (IP is not under pressure).
Do not use raw or regular milk, as it contains bacteria and it needs to be boiled first.
Use fresh yogurt starter(it should contain live active cultures
Important you need ultra-pasteurized Milk for this recipe.we have successfully made it with costcos kirkland organic whole milk + fairlife
you can use 2%Ultra pasteurized milk to ( yogurt sets well)
Recommended Products
As an Amazon Associate and member of other affiliate programs, I earn from qualifying purchases.